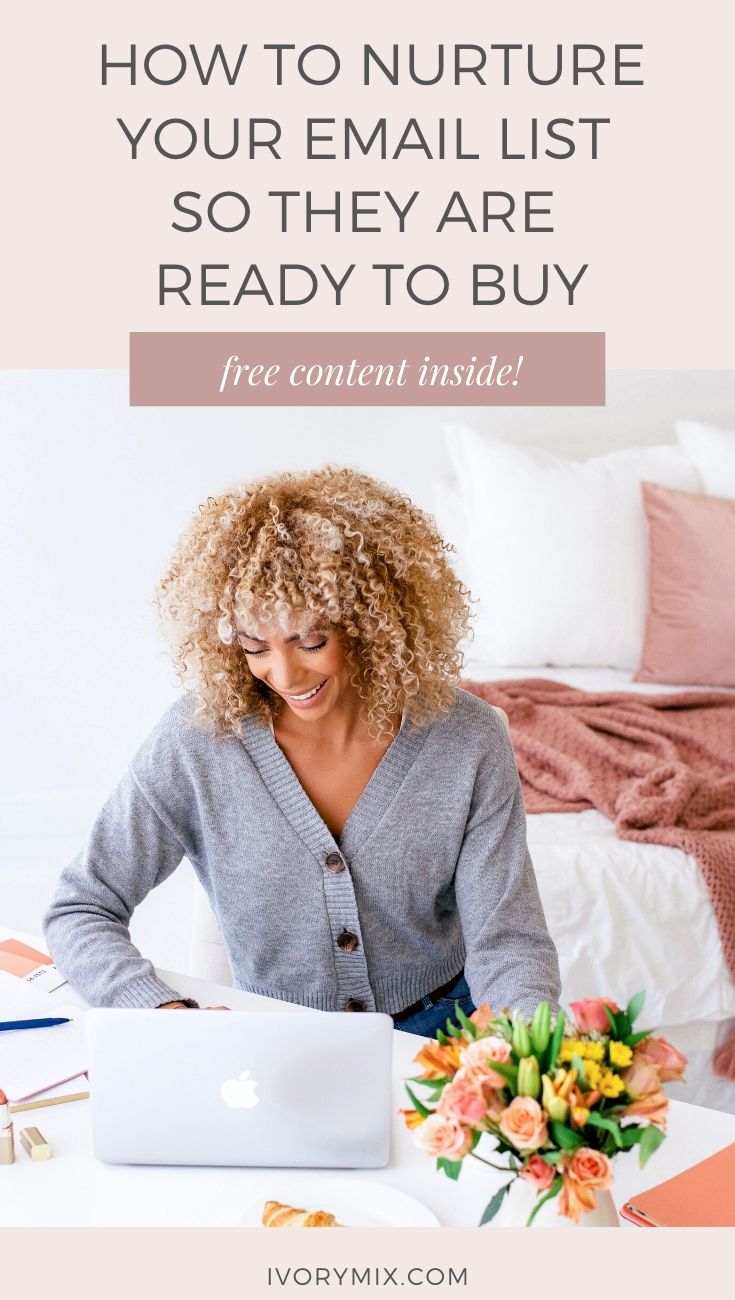 You're tired of spinning your wheels when it comes to selling your products. If you're searching for a way to build a powerful connection with your audience that results in more sales, look no further than your email list. 
It's simple; email marketing is the #1 strategy for online business owners to ramp up their income. The advice I give to any business owner who has just started their business or is pivoting is to always start with building a strong e-mail list building strategy. Emails are a powerful, versatile way to connect with people on a deeper level. 
Connecting to your audience through strategic email marketing will help you
Grow and nurture a passionate community around your cause

Grow your social media following, gain more subscribers to your YouTube channel, or listeners on your podcast

Sell products and services that are specifically aimed at

 YOUR audience

Promote affiliate partners to boost your income

Sell-out events if you host in-person meetups

Validate any new business ideas or products you want to release
Conduct thorough market research
In this post, I'm going to show you how to create an email content plan and increase sales and affiliate income by writing emails your audience actually looks forward to reading.
Okay, but what about social media? Can't I accomplish all of these things through my Instagram account without having to mess with emails, too?
Yes, you can build your entire business on social media platforms, but I wouldn't recommend you place all your eggs in one digital basket. Platforms such as Facebook and Instagram are great ways to engage with your audience and build brand visibility. However, trying to market through social media alone isn't the best strategy for most businesses. 
Here are a few reasons why building an e-mail list is critical for business growth: 
YOU own your list. The reality is — Facebook and Instagram could shut their digital doors tomorrow (anyone remember Myspace or other social media platforms?). The thing is social platforms own your pages and audiences, and content, not you. If those platforms disappear tomorrow, say buh-bye to your audience! By migrating your audience from your social media channels onto your list, you are minimizing any risks of your audience disappearing overnight.
If your e-mail provider was to close down tomorrow, you can simply export your email list and import this into a new system.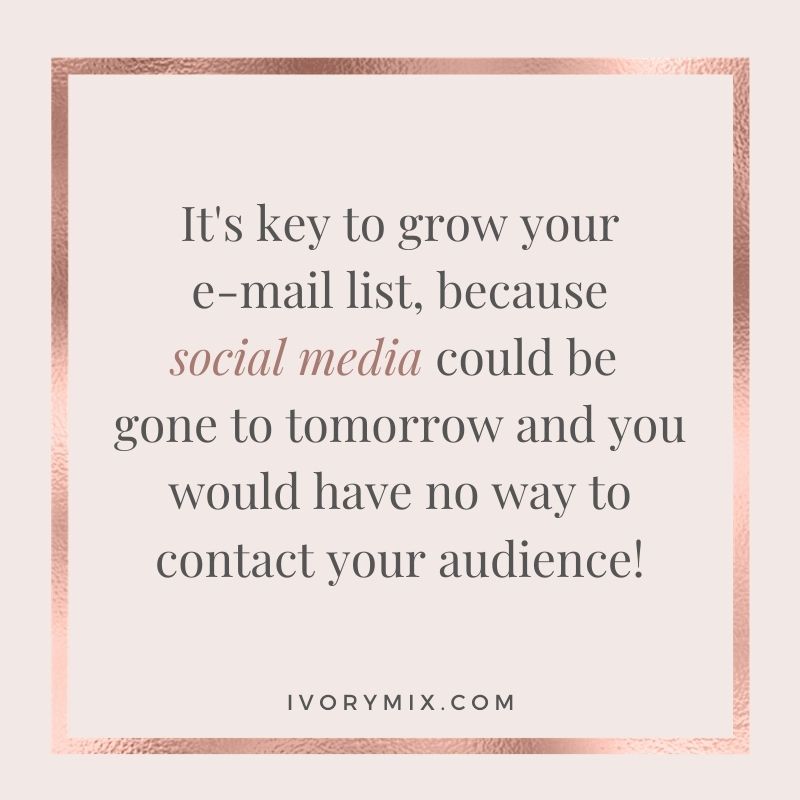 Email subscribers are your most dedicated and loyal fans. It's easy to simply like a Facebook page, but when someone gives you their email address, you know they really want to hear from you. Many of us only hand over our e-mail addresses to people we WANT to hear from. Your email list is full of your truest fans.
There are no complicated algorithms or algorithm changes. When it comes to email marketing, you don't need to battle the ever-changing algorithm Can I get a cheer. When you post on social media, between 5- 10% of your followers actually see your posts. Whereas a good e-mail list sees open rates that are between 20-30%. That's potentially DOUBLE the number of eyes on your hard-earned content. Email marketing gives you a significantly higher chance of your audience receiving and seeing your content, no matter what time of the day you post, or what hashtags are included. 
Email marketing is highly personalized. When it comes to emails you can be as short or as long as you like, and make your content highly personalized. You can Embed videos, automate your strategy with a welcome sequence, and personalize the message however you see fit. Email is an incredibly versatile way to speak to your audience while infusing your own personality.
The conversion rate is high. Emails have a higher conversion rate than social media. People prefer to make investments through email, as often when making a purchasing decision (especially a higher value one), your audience will read your e-mail and think about their investment before jumping in. It's much harder for them to find your sales post on your feed or in your stories after seeing it that first time.
*Remember people need to see something between 5-7 times before they buy. Your e-mail list ensures you are in front of your audience regularly. Your subscribers open their inbox looking for benefits and solutions to their problems, and in being that solution you are more likely to close sales.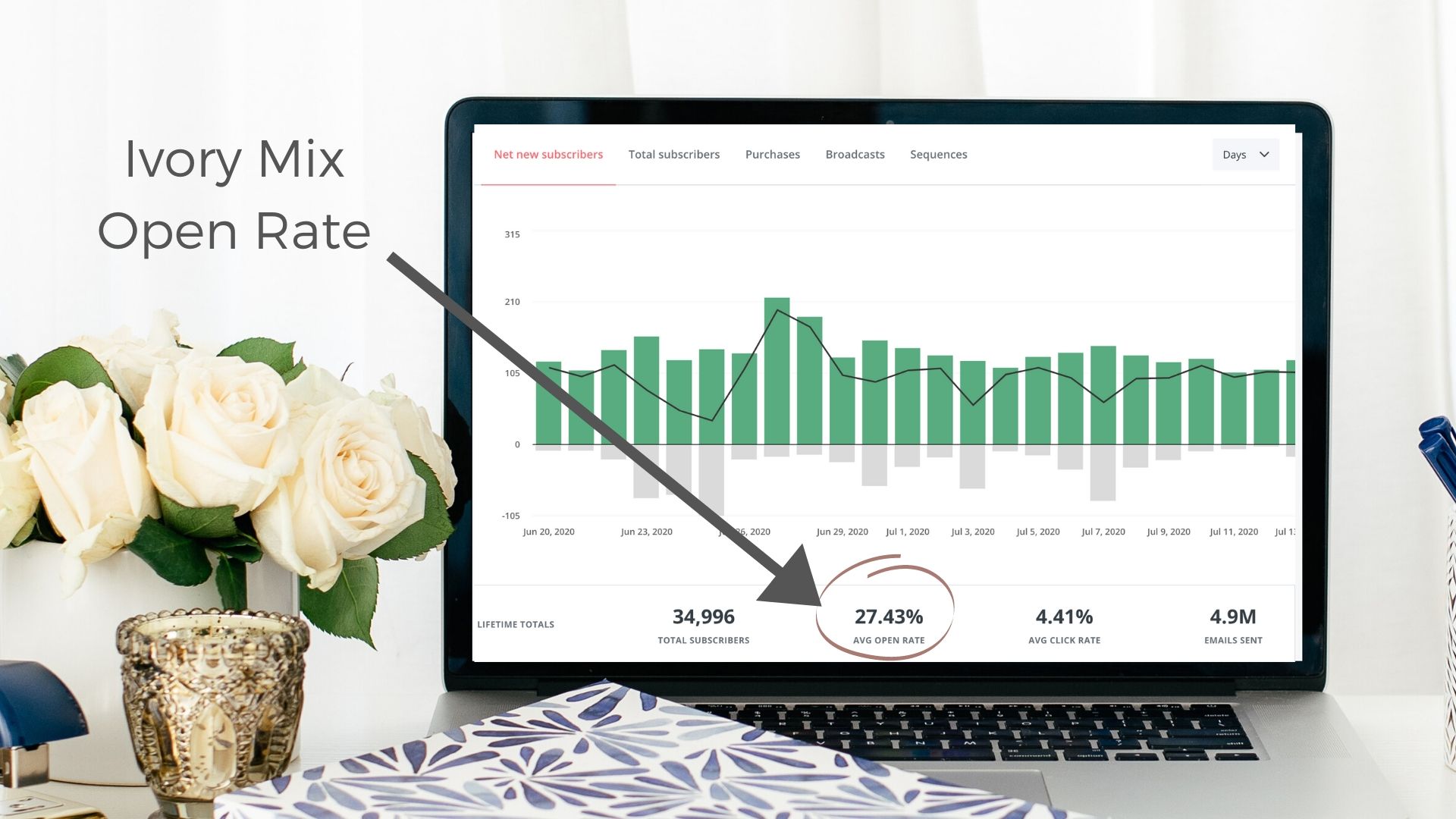 You can build relationships on auto-pilot. When setting up your e-mail provider, you can create an automated sequence of e-mails that are automatically sent out to subscribers. These e-mails build relationships with your subscribers on auto-pilot. No matter when they join your list, you can create a sequence of automated emails to be delivered to your following.
I know building an email list and email marketing strategy can seem complicated. It's hard to know where to start, so I'm going to break it down into a few, easy steps.  
If you're ready to start growing your email list and are feeling inspired to start now, click here to grab this free workbook full of 10 actionable assignments to take for growing your email list fast!

Create Your Elevator Pitch and Transformation Statement Before You Send an Email
You have unique gifts, talents, and experiences that can help others in their journey, and your email list is a powerful place to share those with your audience. To create a successful email marketing strategy, you want to go back to the beginning and start with your mission — the reason WHY you do what you do. 
A mission statement is a simple sentence that describes who you help and what the outcome is. 
I am the person (what you do) for (who you serve) in order to (the transformation).
A few examples:
I help brides plan their wedding on a budget  
I help busy moms make self care a priority.
I help female entrepreneurs build their brands.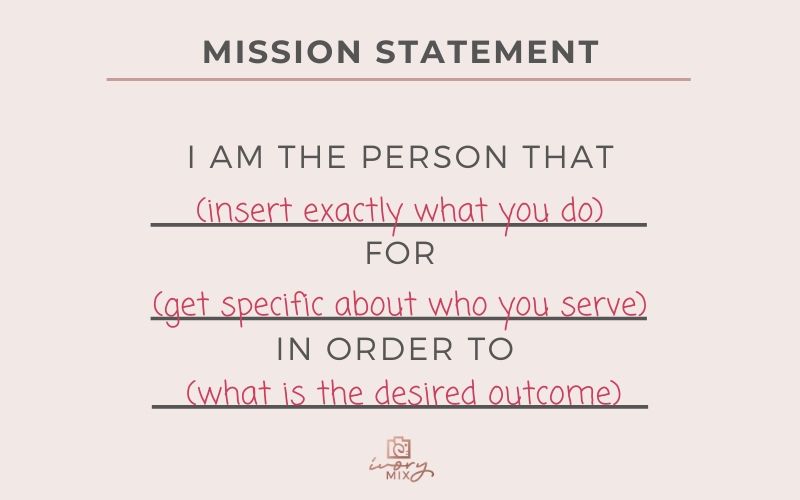 Take the time to really think about who your audience is, what you have to offer them, and how you help make their lives better. Then, create your own mission statement to refer back to when creating content for your email list. Once you understand your mission and your target audience, everything else will fall into place. 
My mission statement is: "Obsessively making it EASIER for creative experts to grow their biz!"

Identify Your Audience's Pain Points before you start sending emails
To really resonate with your audience and create products that they'll want to purchase, you must dig deep and understand what frustrates them — the things that keep them up at night. Pinpoint your audience's pain points by: 
Identifying their problems

Asking WHY this is a problem in the first place

Asking WHY the outcome they're not getting is something they want

Figuring out WHY they desire that outcome

Asking WHAT is the deeper reason this problem is important for them to solve
To narrow down on your audience's pain points, even more, you can conduct research by asking questions in Facebook groups and forums. One of my favorite tools to conduct research into the questions my audience might be asking is to use Ask The Public or Buzzumo. These are primarily used for SEO purposes, but your audience will be searching for their problems which you can solve via search engines. See which topics come up over and over, but also which ones have the most potential views. 
Lead with value in your emails, then ask for the sale.
You've heard that giving value first is the best way to build trust with your audience, and this strategy is based on that idea. Your e-mail list is a great way to build authority in your niche, to educating your audience, deliver mini transformations, and guide them through their problems. This way you become their go-to source for help.
When your audience knows that you can deliver transformation and that you help them solve their problems, when you ask for the sale, they are ready to buy.
When you lead with value, you'll load up your email audience with tons of valuable content upfront before you ask them to purchase anything. Some practical ways to share value upfront with your email list :
Teach a valuable strategy

Share your favorite resources, tools, and apps

Share your latest blog post

Share a free challenge or e-course

Invite them to take part in a giveaway or event

Share your back story, how you got to where you are now
Break down some industry myths or misconceptions
Share your client transformations and stories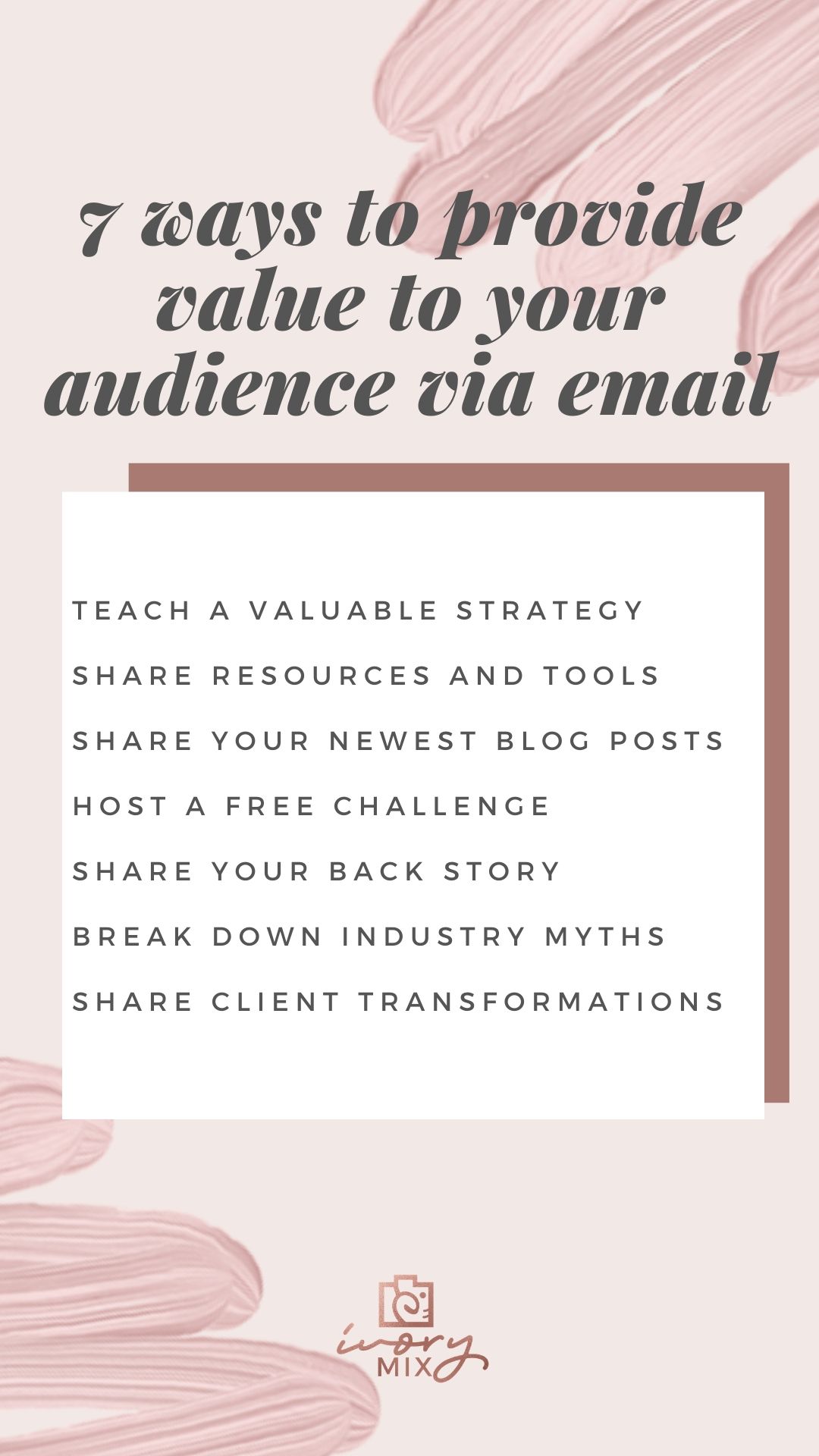 Capture your audience with Stories Inside your Emails
When you share these value-driven emails, try to use a story format that helps your audience connect with the information on a personal level. Think of each email as an individual story. Look for ways to include examples that will bring your topic to life and make it more memorable or relatable. 
The best way to capture your audience's heart is to share your own transformation and your own business stories that you know your audience will relate to. 
When you share what's worked and what hasn't worked in your business, you build trust with your audience. Sharing the strategies which have skyrocketed your business, and those which didn't quite deliver makes you relatable. No business journey is smooth sailing, so knowing that others have had similar experiences, builds the like and trust factor.
The Sales E-mail Structure Goes Something Like This…
When it's time to sell, don't be shy, after all, you are in business to make money and serve your audience. By the time you are asking for the sale, you've given so much value, your audience is full of raving fans. They know you're an expert and an authority in your niche, and now you have a service to offer which can deliver a transformation.
Be sure your ask email paints a picture that highlights the benefits of the transformation you're offering. What story can you share to make the benefits of the product you are selling clear?
A few more tips to take your email marketing to the next level include: 
Email regularly. Stay top of mind with your audience by emailing at least once a week. If you only email your list when you want to make sales, they will be less ready to buy from you.
Don't neglect your subject line. Your audience actually has to

open

the email to reap the benefits, so brush up on your subject-line copywriting skills. 47% of people decide to open based on the subject line!  Make sure you're not being too salesy or you could be reported as spam, and that's no fun.

Remember your values and beliefs, use your own voice when composting your emails. Be yourself and share your own style and personality. What do you want people to think of when they hear from you?
Sell the transformation of your products or services. When you write a sales e-mail be sure to highlight not only the packages and structure of your offer but also sell your audience on the transformation and results they receive through purchasing your products.
Learn to repurpose your best content by turning popular blogs and social posts into emails, click here to learn more about repurposing
Inside each email make sure you include a call to action. Ask your audience to:
Click a link

Watch a video

Follow you on social

Listen to a podcast

Download a freebie

Join your Facebook group

Purchase a product

Hit reply and respond back to you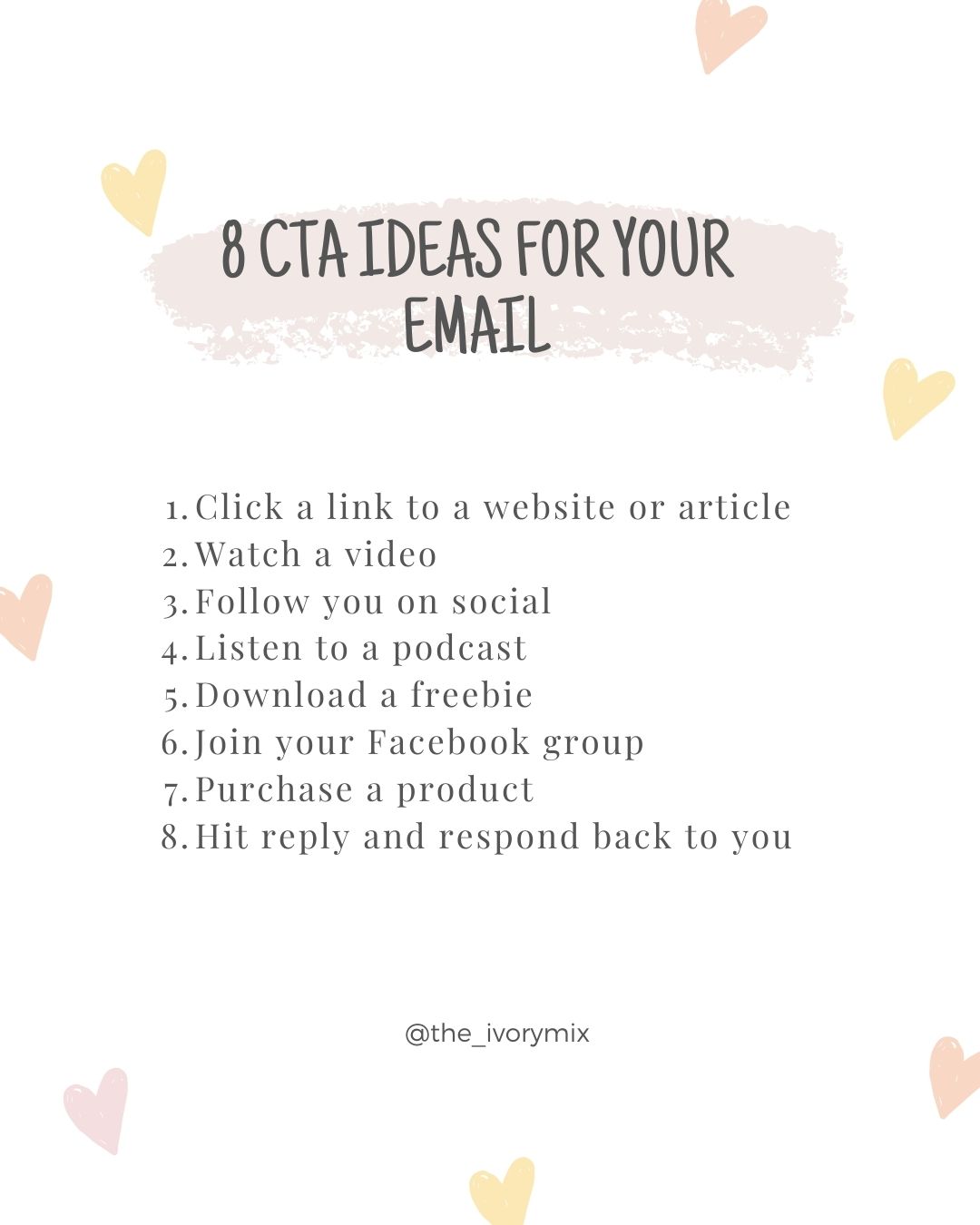 Email marketing is one of the best ways to grow your relationship with your audience and become more memorable in their eyes. Creating content that speaks to your ideal client and lands directly in their inbox is a smart, proven way to boost sales of your products and services. 
Not sure how to start or grow your e-mail list? Don't worry here at Ivory Mix we have you covered.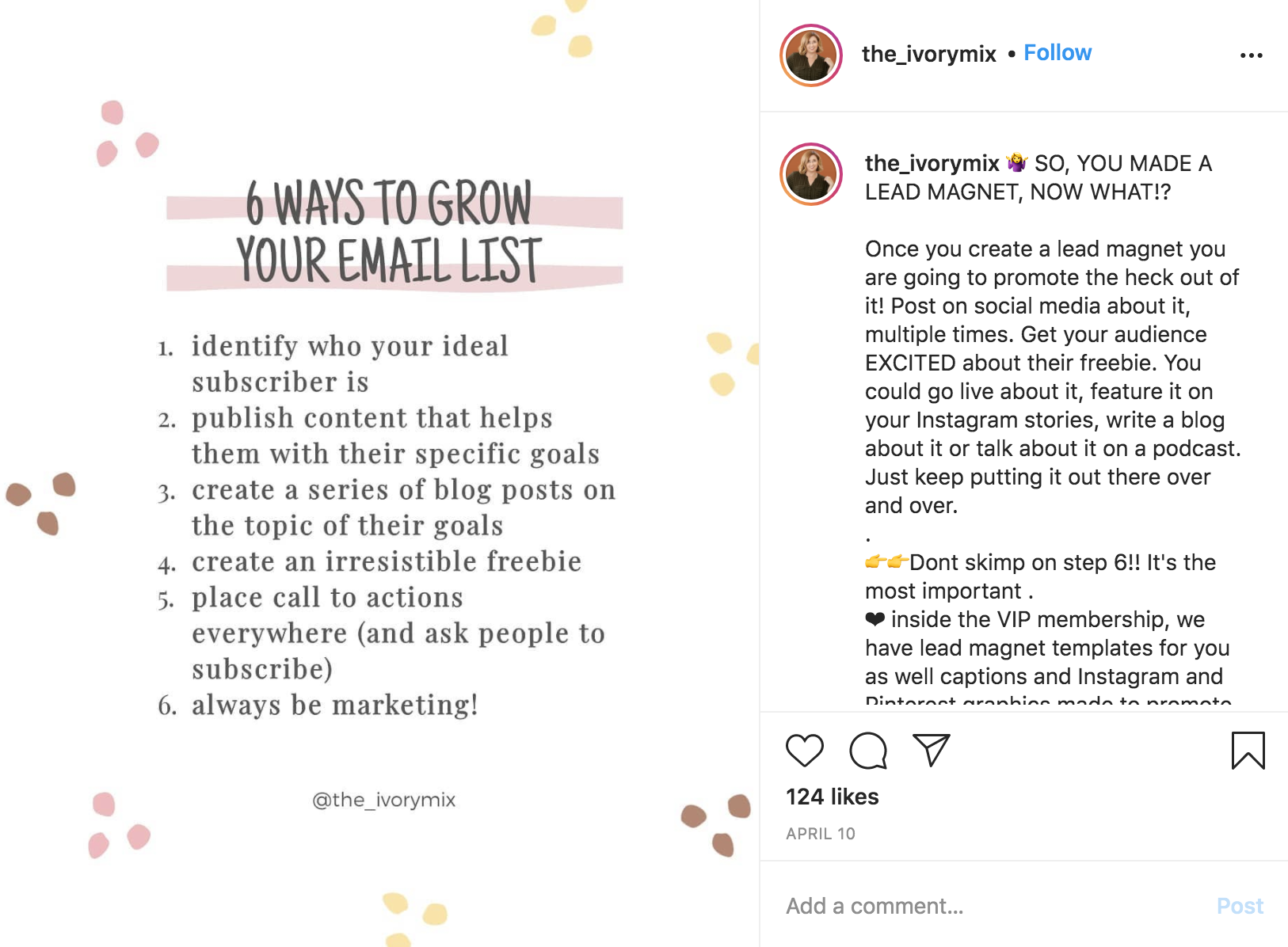 Create a lead magnet for your audience, which in exchange they will give you their e-mail address. Click here to view my blog post on how to grow your list by 12K subscribers.
Build your e-mail list with Pinterest. If I was to start my business again from tomorrow, I would start by growing my e-mail list on Pinterest. I would advise any business owner, new or old who hasn't started using Pinterest as a list generating tool to do so today. Pinterest is one the fastest ways to grow your list and get qualified leads into your business. Click here for a blog post on how to start and grow your Pinterest account.
Inside the Ivory Mix membership, you can find a whole host of content, Canva templates, workshops, stock photos, and captions to help you grow and future your e-mail list. This workshop can be found inside the membership which is the ideal place to start when it comes to creating a lead magnet to start building your email list..Learn more about the membership where you can find email list building workshops and lead magnet templates like these below.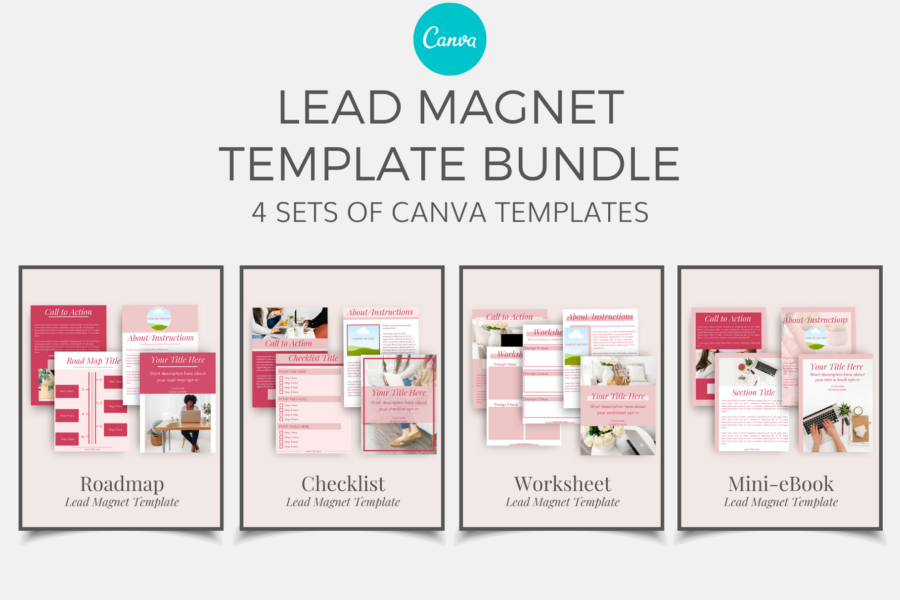 If you're ready to start growing your email list and are feeling inspired to start now, click here to grab this free workbook full of 10 actionable assignments to take for growing your email list fast!

LOOKING FOR MORE TIPS ON GROWING WITH EMAIL? CHECK OUT THESE ADDITIONAL BLOG POSTS: