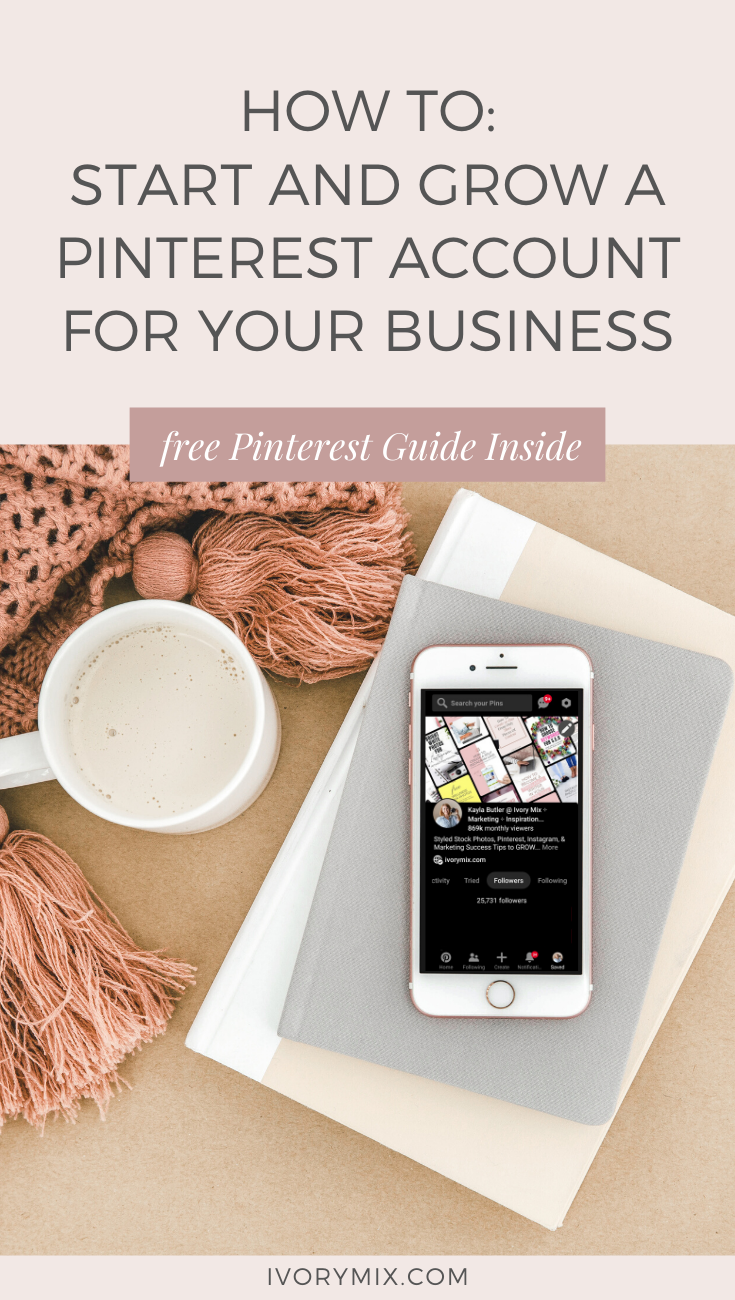 Let me start out by saying, if you're truly a beginner at Pinterest marketing, you should grab a copy of my free Pinterest workbook. Click here to grab a free copy of this complete guide to Pinterest Marketing.
I'll be the first to admit — Pinterest is intoxicating. 
On a lazy Sunday afternoon, losing yourself in an endless stream of dream vacation guides or diy-holiday decor provides the ultimate escape from reality. 
Another caramel apple mimosa recipe? Don't mind if I do!
Trying to master Pinterest for business, however, can be a less exhilarating experience. In fact, it can sometimes be downright confusing. 
Today I'm sharing my top tips to help demystify Pinterest and harness the power of this biz-building platform. 
From basics to pin design to growth strategies and everything in between, we're rolling up our sleeves and diving into all things Pinterest.
Pinterest Basics
Create a Verified Business Account. First things first, in order to utilize all of the sweet tools Pinterest has to offer to build your biz, you need a business verified account. When you become a verified business, Pinterest recognizes you as a content creator. 
(Pssst….Pinterest loves content creators!) 
Why? Because content creators make Pinterest successful! You're the ones filling up the platform with creative pins and linking them back to quality content on websites. When you set up a verified business account, you're telling Pinterest that what you're pinning is worth sharing with users. 
Establish Your Brand Identity. To maximize your impact, the components of your Pinterest account need a cohesive look and feel. These include:
Your Headshot Image — We all know by now, users of any platform like a consistent experience. Make sure your Pinterest headshot image is recognizable and on-brand. 
Your Pinterest Name — Create your Pinterest name by mixing your name, your business name, and words people search Pinterest for that are related to your products or services. 
Your Profile Text — Add more about you, your business, and other keywords that your audience is searching for. Include a call to action to convert visitors to email subscribers.
Your Boards —  These are searchable places to store the pins you'll share. Aim for 25-50 quality pins per board and organize them according to topics that resonate with your audience. 
The goal is to eventually fill your boards with your own content, but in the beginning, it's totally fine to add other people's content as well!
Your Keywords — Keywords are the fuel for your Pinterest account. The more you add to your titles and descriptions, the easier it will be for your ideal audience to find your pins, and the more clicks you'll receive.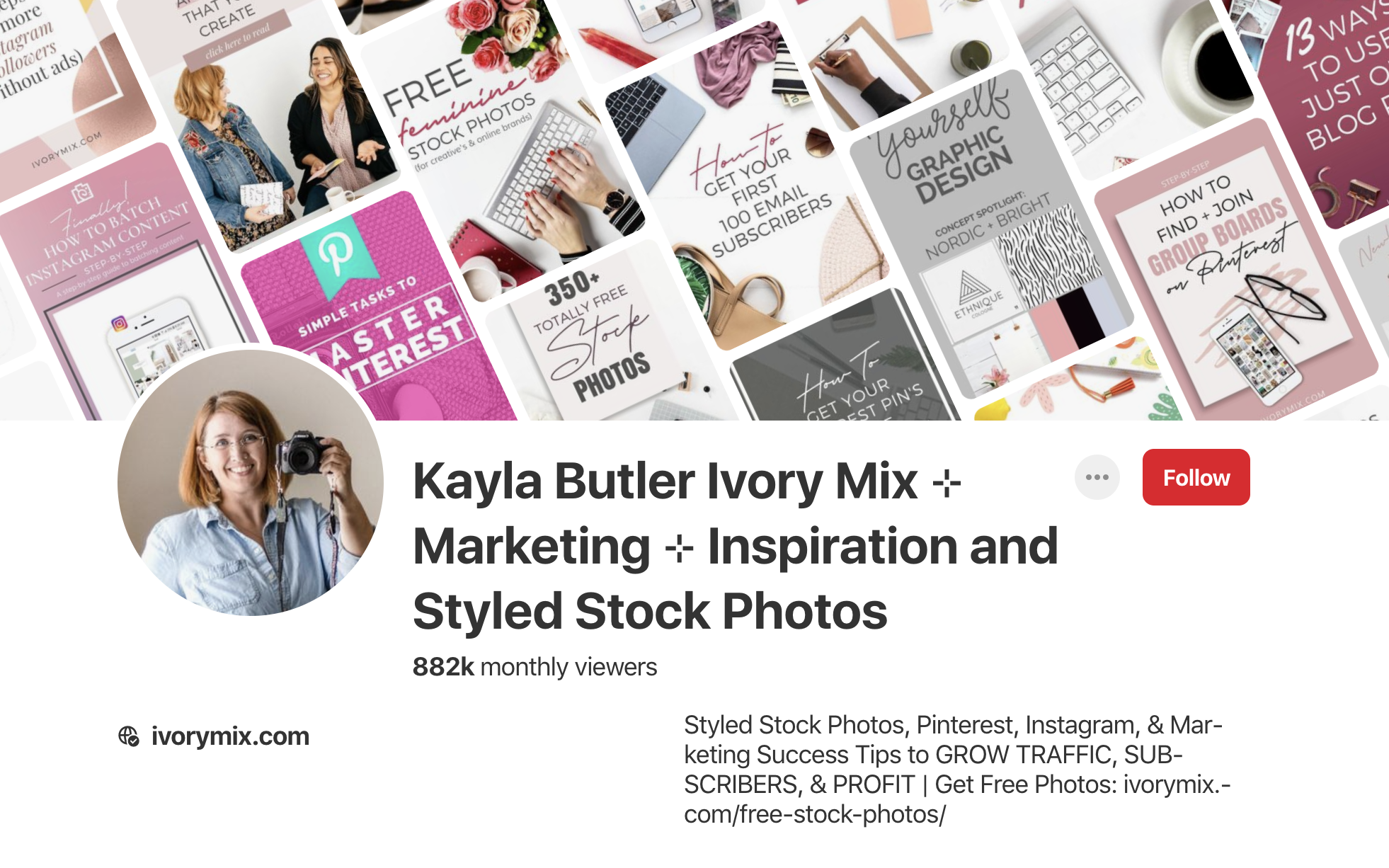 Perfect Pin Design
As every Pinterest peruser knows, a pin that grabs your attention with captivating text and an eye-catching image is a pin you just wanna click. 
These attention-grabbing images are easier than ever to create with the help of tools like Canva. Canva is a free, easy-to-use, drag-and-drop image builder. It offers pre-sized templates that are perfect for Pinterest. 
A successful Pinterest image is actually simple to create. It contains two main components: text and image. 
When creating your pins, make sure the words you choose are what your audience is searching for. The most important text needs to be bold, simple, and easy to read.

Create urgency by showing the actual image of your content. Giving away a freebie? Show a picture of it right there on your Pinterest graphic. Selling a product? Showcase a quality photograph of the product on the pin.
Don't forget, you can get 550+ free stock photos in the Ivory Mix library.
Related Post: 5 smart pin design ideas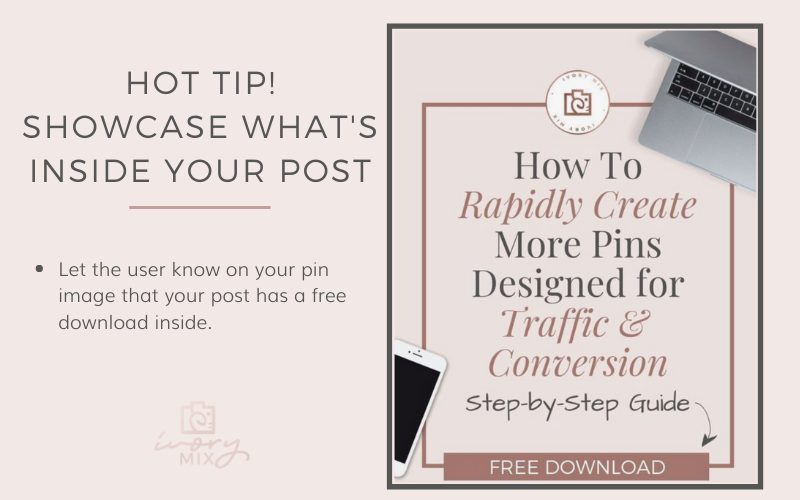 Identify Your Pinterest Goals
Why are business owners on Pinterest anyway? 
While your goals may differ slightly, most business owners use Pinterest to drive traffic to their website, gain email subscribers, and ultimately make more sales. If these are YOUR goals, create graphics that will urge people to click through to your website or landing page, so you can convert them into buyers and subscribers. 
Pinterest Growth Strategies
Traffic Strategies — creating graphics or pins that clearly showcase what the user searched for right on the pin.
Sales Strategies — using keywords to reach people who are looking to solve a problem right away. Show them the solution visually and give them the option to buy that solution.
Viral Strategies — give your readers the option to save your pin and read the content later, creating a viral sensation.
*Here's a brilliant example: When you create a new blog post and send it to your email list, insert a link in your email to your Pinterest pin. Encourage your readers to save that pin to Pinterest and read the blog post later if they can't read it right away. This causes your pin to be saved several times in one day. Pinterest will take notice and show it to EVEN MORE people on the platform! This starts a chain reaction known as a viral strategy.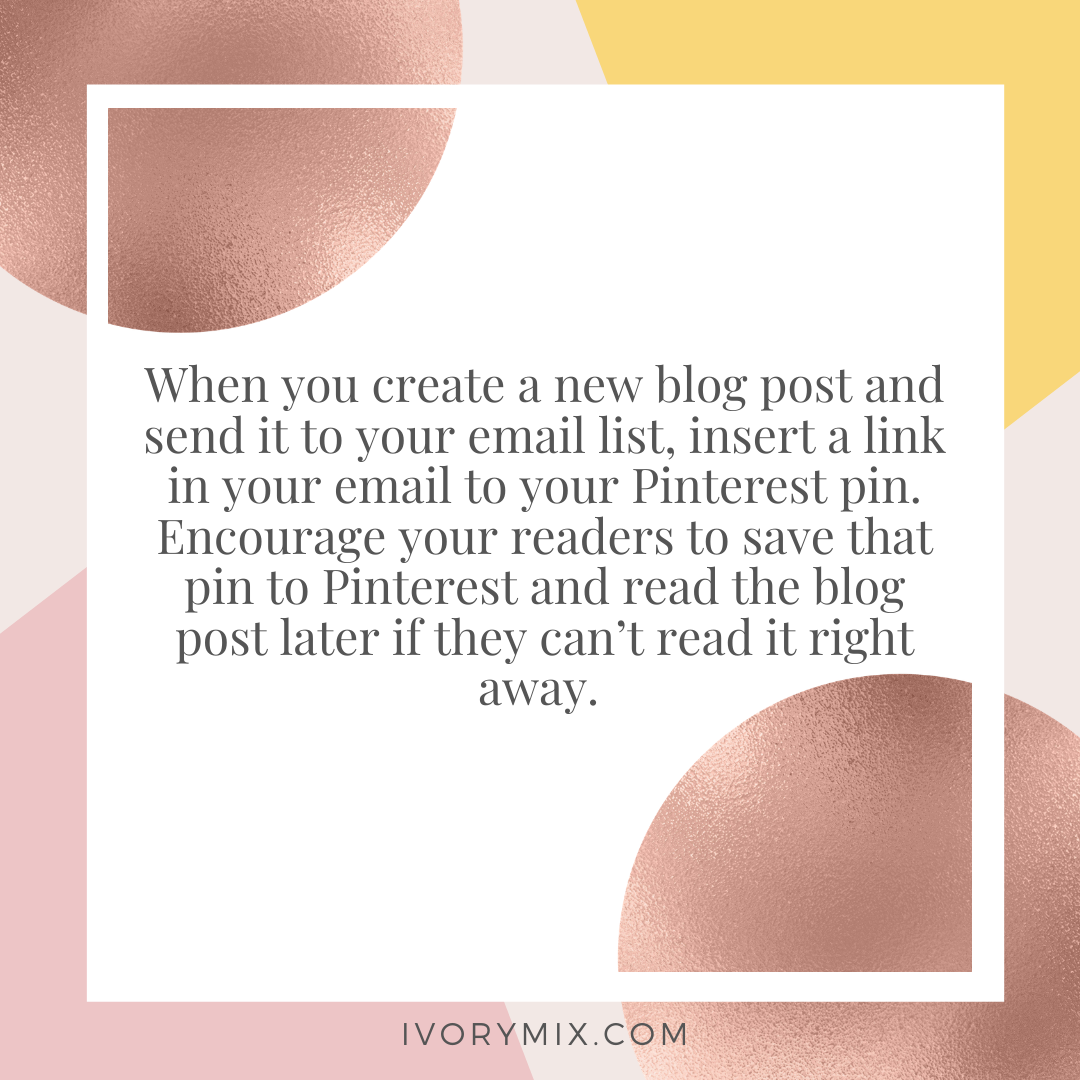 Use Tailwind and Group Boards for a Viral Boost
These essential tools will help you automate Pinterest for success: 
Tailwind is a system used to manage your pins and getting things scheduled across all of your boards. Since it's better to space out your pins, but no one actually has the time to do that, Tailwind pins them for you on a pre-set schedule.
Tailwind Tribes

are pin-sharing communities. They're a place where you can share your content with other pinners in your niche and a place to find great, quality content to share with your own audience!

Smart Loops on Tailwind

are set up for you to share your evergreen content on an ongoing basis. This way you can reshare your best pins when it's most effective to share them without having to do it manually. 

Group Boards

If you're new to Pinterest, it can be hard to get your content out there. Group boards are a great way to get eyes on your pins. Once you're approved by the owner to join a group board, you're able to pin to the board and the group's followers can see your pins.
*Here's a tip: To get your feet wet, start with a group board that isn't too big. Make sure it's full of good content that will resonate with your specific audience and has a great board description!
With over 291 million monthly users, Pinterest is no doubt an incredible resource for online businesses. With this info in your arsenal, I hope you feel more equipped to jump in and use Pinterest to skyrocket your visibility!
LOOKING FOR MORE INSTAGRAM TIPS AND TRICKS? HERE ARE SOME OF OUR FAVORITES:

Click here to grab a free copy of this complete guide to Pinterest Marketing.

First, make sure you read this blog post about creating 30 days worth of Instagram content here and learn how to create a colorful month of content in as little as 5 minutes.
Plus, check out these Instagram tips: