Know when to post on Instagram by Understanding Your Audience Better
One of the best ways to decide on the best time and day to post content on Instagram is by taking a closer look at who your audience is and where they live.
When considering who your audience is, you should be taking a look at certain things like their daily habits if they work full-time, or part-time, or maybe they're at home most of the time?
For instance, if your ideal audience and readers are stay-at-home parents, then their habits may include some free time between 8 a.m. and 3 p.m.. Compared to someone who works in an office full-time and may only have free time to check social media during lunch and after work.
Once you have an idea of your audience daily habits, you can take a closer look at where they live. The best way to do that is by researching through the native analytics shown through the Instagram app insights (only available when you change to a business account).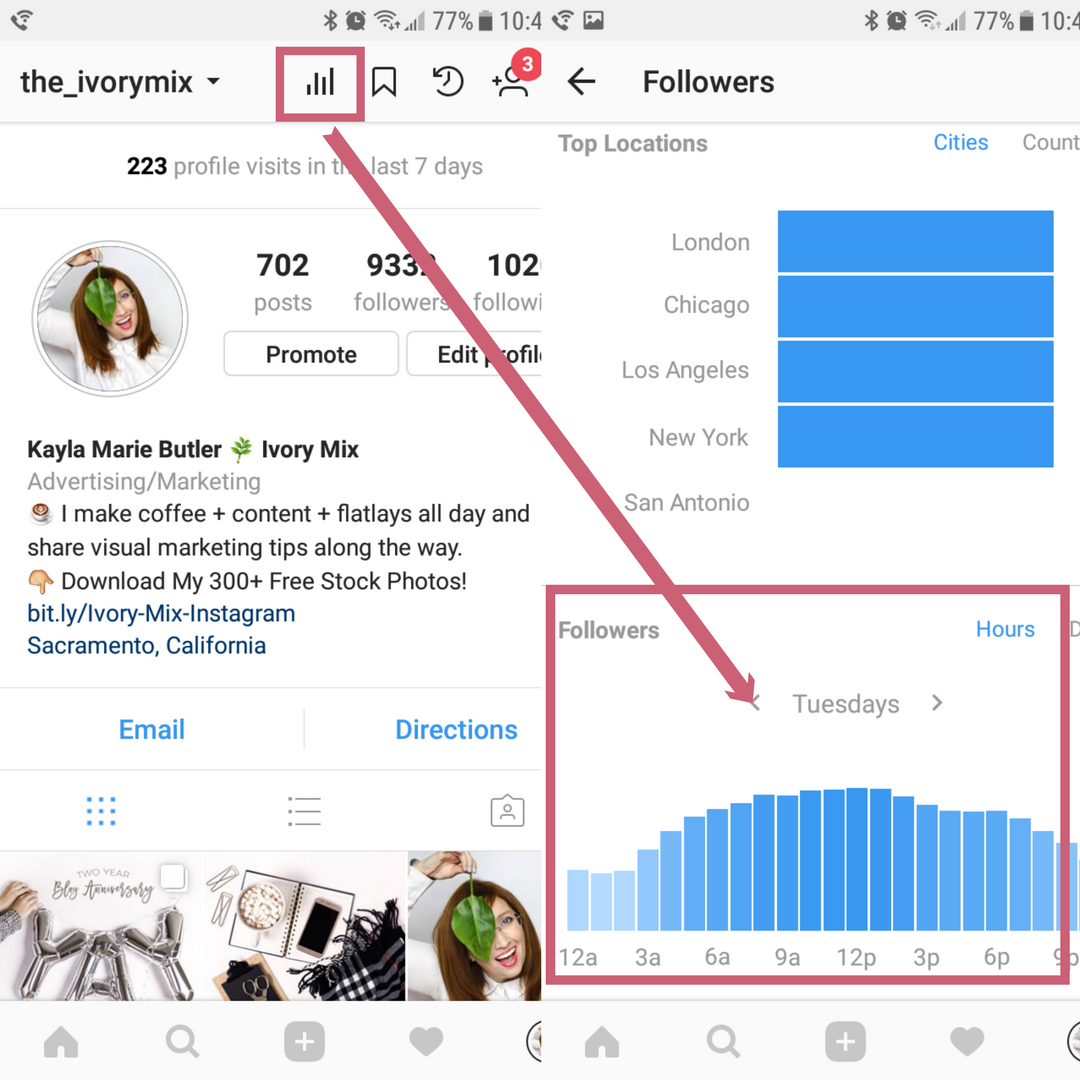 Instagram insights are available to marketers who have created a business account and allows them to see things related to their audience (like where they live).
Check out this quick video tutorial for finding your best times to post using the native Instagram app AND a few other tools that I enjoy using, just to give you some much needed extra benefits, features, and options to enhance your Instagram strategies ;).
Once inside your Instagram insights, you'll see that there's a lot of information for you to gather about your followers. In fact, Instagram will show you the times of day, and for each specific day, when your followers are most active.
Use the best time to post suggestions (from apps like PLANN, LATER, TAILWIND or VIRAL TAG)
There are multiple apps and services that can help you find the absolute best time to post. I've tried most of them and here, I'm sharing a few of my favorites.
One of the first Instagram planning and scheduling apps that I first started using and still use to this day is the PLANN app. When looking at the performance area inside the app, you'll see a lot of information available to you, but most importantly you'll be able to gather the best time to post.
Another service that comes in handy is Later. Later has a feature called the 'best time to post' which tells you the top times for your exact Instagram account and audience. Using this feature on Later makes it pretty easy to know when to post content on Instagram for the best engagement possible.
Another service I've used is called ViralTag. Much like Later, Viraltag offers Social Services for both Instagram, Facebook, Pinterest, and Twitter. Viraltag has a feature called get 'recommended times'. These times for posting are based on data from the social sites that you share with it.
Another tool that I've tried and like is Tailwind. Tailwind's Instagram scheduling is fairly new but they do provide you with the best time to post, and they call it a 'smart schedule'. You simply insert how many times a day you would like to post on Instagram and it generates Specific times for each post based on their data gathered from your Instagram profile.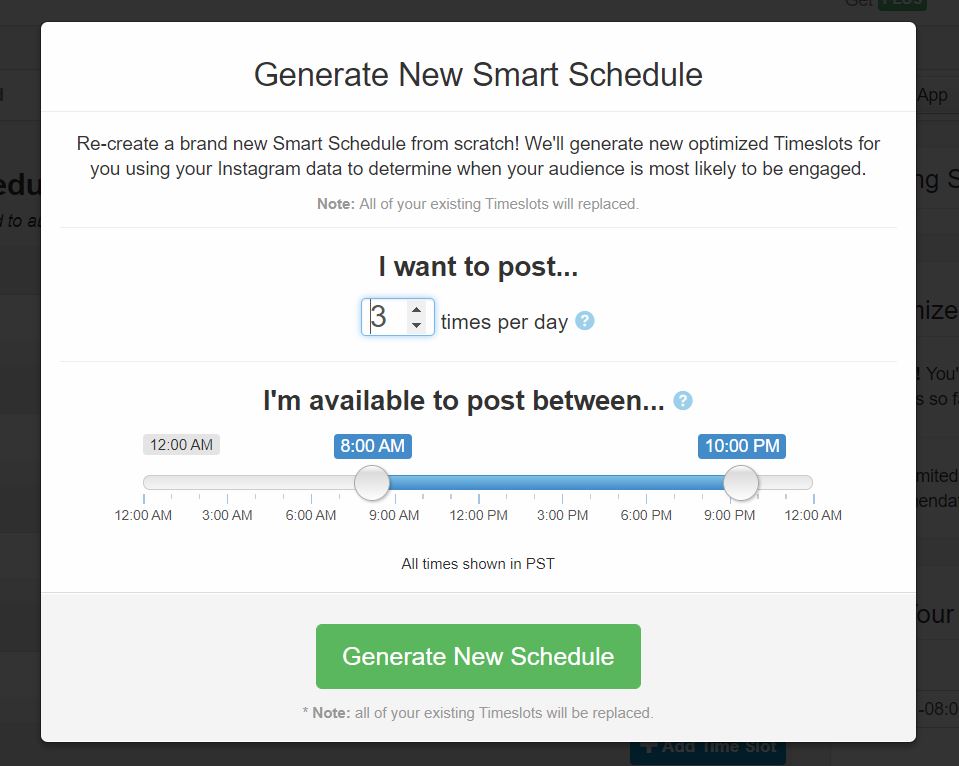 Why should you care what the best time to post is?
Not too long ago, Instagram updated their algorithm, which we discussed in depth here. But, what this means is, instead of showing new post to users in a chronological order, they now curate posts to users based on other data to increase and drive engagement from their users. Instagram's goal with this algorithm was to improve the user experience and there's no argument that this algorithm works to do that.

However, now that we know the algorithm chooses when our posts are shown to our audience, it makes you wonder if choosing the right time to post even matters?!
But, let me assure you, posting your Instagram content at the right time still matters because if you post when your audience is most likely to be active on their account, then chances of your post being seen and you driving as much engagement to that post as possible – is at its absolute highest.
The more engagement you have, the more your post will be shown to other users, which in turn boosts your engagement even further and the cycle goes on to grow your account. Understanding the Instagram algorithm and posting at the right time is a win-win for you and your audience.
Pro tips and general rules to remember when picking times to post on Instagram
Pro Tip #1 Generally speaking, the best time to post on Instagram are during lunch and in the later evenings. Just think for a moment when you are bored and checking your Instagram the most. If it's standing in the lunch line at the deli or while sitting on the couch between commercials, then your audience is probably most active during the same time frames.
Pro Tip #2 Weekends tend to be lower on engagement, so save your best content for the weekdays and you'll drive more likes and engagement!
Pro Tip #3  Find your sweet spot and be consistent with your content and times to post.
Need more Instagram Tips?
Check out some of our favorites for creating more stunning content and a loveable account.
– How to create 30 days of content for Instagram in 8 simple steps
– Why you should create an Instagram Challenge for engagement
– Why you shouldn't ignore Instagram in your social marketing
– How to style the perfect flatlay