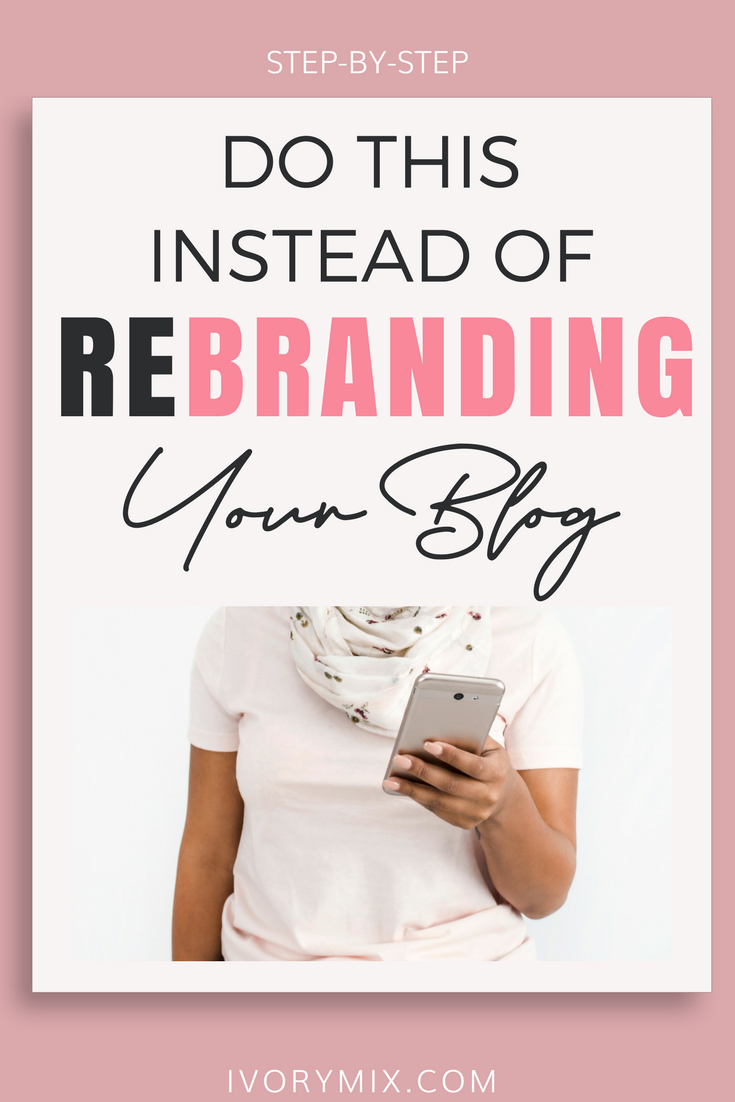 There are certain times of the year where you may notice a dip or a spike in your traffic on your blog. There are multiple ways to diagnose these changes in your traffic, but sometimes, the best thing you can do is refresh your content to get new eyes on existing blog posts and pages.
In this post, we're going to talk about some of the reasons you will want to implement a refresh to your brand and content so that you can get more traffic.  We'll also discuss why you may want to implement this strategy on a 6 month or annual basis.
Why it's crucial to implement a mini brand refresh once  a year
One of the things that we've already touched on is the fact that there are often regular dips and spikes in traffic based on seasonal changes in your niche.
These seasonal changes can come from anything related to the activities of your ideal audience. For instance, if you sell products or blog about products that people search for during the holidays because they're searching for gift ideas then you might see a spike in your traffic during the end of the year.
And the opposite is also true during the summer months, if your blog is mostly about information and education it's probable that your audience won't be indoors and glued to their laptops or cell phones for learning. they're probably outside enjoying the summer weather, which means your traffic might go down.
Which is exactly why a refresh to your brand once or twice a year can increase traffic. A brand refresh not only catches the attention of new readers but it will also catch the attention of existing readers. Imagine what will happen if they see new visuals on a blog they already love. It will peak interest, clicks, share, and ultimately, gain you some new awareness.

Plus, the occasional update on your website will get picked up by Google and search engines, which may help you with additional traffic and ranking in search.
Avoid "rebranding" – What a brand refresh is not!
When we talk about refreshing your brand, we're not talking about rebranding, coming up with new logos, new color schemes, or new websites.
I'm simply just referring to new images, photos of products, and things along those lines. So, let's get into what you can do to refresh your brand in a few simple steps.
Review your brand mission statement
Before we get started on redoing any of our brand images or graphics, it's worth taking a look at our brand mission statement. A brand mission statement is your purpose and why your blog or online business exists in the first place.
The last thing that you want to do is change up your graphics and anything related to your brand, and somehow miss the mark when it comes to a lining those with your mission.
 For example, BMW's current missions statement is:
"The world's leading provider of premium products and premium services for individual mobility."
In this case, BMW, of course, will share photos and graphics related to their actual cars but what they shouldn't do is create any new brand elements that don't support the idea that they have premium products and premium services. Posting low-quality content wouldn't be on brand nor would it match their mission.
Keeping your mission statement in mind is something you should do as we go through some of these various things that you can do to refresh your brand.
Update older pins on Pinterest
One of the best things you can do to gain more traffic from refreshed content is by updating or adding new pins to older blog posts and sharing them again.
Creating new pins gives new life to older content and appears visually new in the Pinterest feed. This should help you may attract new readers to save and click on older content, plus some of your existing readers might stumble across content they haven't read yet either!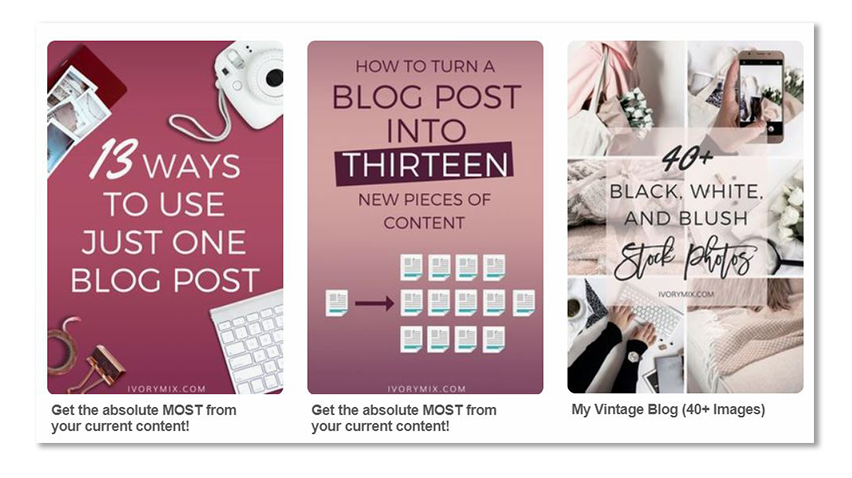 Pro Tip: When updating older pins it's a good idea to consider the benefit that someone receives by reading your blog post and including that benefit on your PIN. One benefit might be that you have a freebie content upgrade. If that's the case, make sure to highlight that like some of these examples above. Doing this will get you more clicks along the way.
Related Post: 65 content upgrade ideas to gain more email subscribers
Update your Facebook Page and Twitter Cover
One of the lesser utilized visuals is the cover areas on brand pages, like that of Facebook and Twitter.
Consider updating your Facebook page cover with a video. This is one of the newest features that Facebook rolled out in 2017.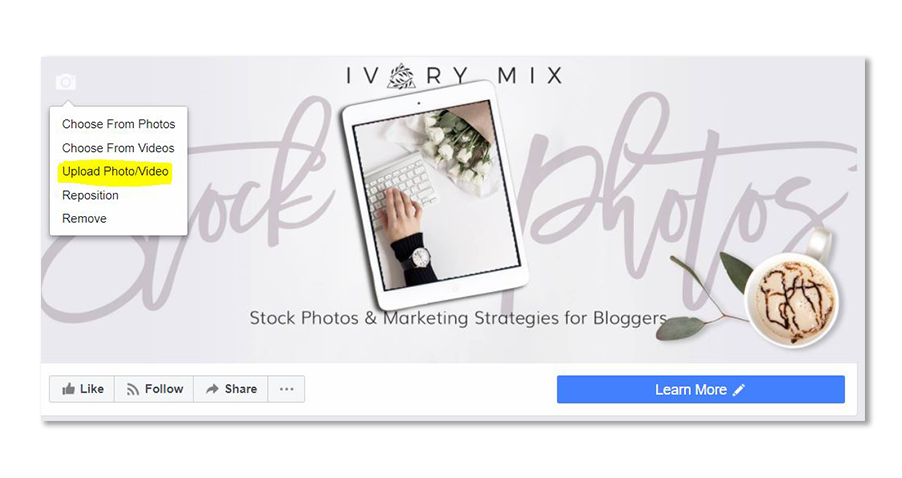 Pro Tip: Don't neglect to utilize some form of a call to action on your Twitter or Facebook cover. Adding a simple CTA with an arrow to the button can gain you more traffic and subscribers in no time.
Create new Social Media templates
It's a good practice to have multiple templates for share graphics on social media, But it's often a misconception to utilize just 1 – 3. if you have 1 2 3 standard social media templates, use this opportunity to double that and consider archiving your older templates.
The more on-brand variety you have among your social graphics, the more likely you are to reach a higher number of people, generate traffic, excitement and engagement on your posts. Having a variety of social graphics doesn't mean cluttering up your feed with a bunch of different looking content.
It simply means spicing up a good concept to make it better.
Because after all "variety is the spice of life".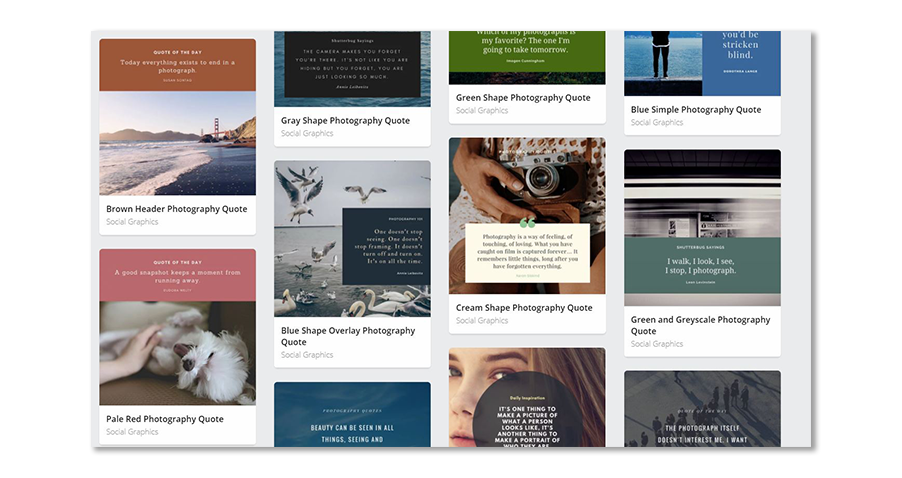 Pro Tip: If you use Canva then you've probably noticed they have a file system. Utilize that filing structure to save and reuse your existing social templates. make it a common practice to update your templates every 6 months and you'll find that it's much easier to stay on brand and still seem fresh.

Get new Business Cards
If you've ever gone to an in-person logging or business conference venue found the need to make yourself some business cards. Luckily buying business cards in designing business cards is as easy as a few clicks. however, that's also the downside.
the first set of business cards I created came in a pack of 500. in a perfect world, all 500 would be gone by now. but here we are 6 months later and I still have about 400.
That said, when I created those business cards, I forgot to add some key elements like the actual URL to my website! Luckily I did add my email address to any person with common sense could figure it out, but here I am with 400 business cards that I'm not entirely happy with.
Prot Tip: Order business cards in smaller quantities and make sure you add all of the important information!
Get a new headshot and update your social profiles
Don't underestimate the importance of the first impression. if you're on Facebook groups and in any forums to promote your blog and business, then I hope you are headshot is a clear, high-quality and engaging.
Here are examples of my own "selfie" headshots. Yes.. I took all of these myself. Two used a window for lighting and the other two used simple light kit. All of them required a tripod (or a steady surface), and a timer or remote. Obviously, some came out a bit better than others and my brand went through a weird bright colored stage, but now we're back to the true and more natural me.

Recently, I've connected with a few people and other bloggers here locally in my town and one thing that I've heard a few times is that my headshot is what caught their attention first in our local Facebook group. Who would think that a photo you take yourself can make that much of a lasting impression?
Here are a few tricks you must at least try to improve a few things in your photos before you take a selfie like mine:
• Stand near a window, facing the outside at 45 degrees. (this gives some definition to your features with light on one side and shadows on the other)
• Use a tripod (they make attachments and tripods specifically for cell phones too)
• Give an expression that matches the mood and energy of your brand
• Clear your background of clutter and wear an outfit that closely matches your brand colors.
Related Post: 7 Tricks to improve any photo for your brand
Update your email template
If you're like me and you've been blogging for a while then you've probably gained a few subscribers to your email list over time. Don't let your loyal readers get bored of your email content. Freshen up your template with a new header or maybe just include your new headshot at the bottom near your signature. 😉
There's no need to go crazy, but simple tweaks like this once or twice a year is enough to keep your readers engaged and interested in seeing what new thing you've got to share in your next email.
Update your tagline
One of the toughest things to come up with in the early stages of blogging and starting a business is our tagline. until you have a large breadth of content and available products, it can be difficult to really hone in on a tagline that expresses your brand entirely.
Is it possible that your first tagline that you created 6 months ago or a year ago doesn't quite live up to where you are today?
Take some time to review your current tagline and consider the following tips for a simple update.
• Make sure to keep it simple and as short as possible
• highlight what makes you and your brand unique
• ask yourself if it stands the test of time
• get input from others who know your brand well
Conclusion
Refreshing elements of your brand is not rebranding!
When going through these updates, make sure you keep your goals and mission in mind and that your new brand elements won't clash with existing ones. Your goal is to avoid confusing your current audience, but instead gain their attention, and generate new buzz.
Utilizing the right tweaks and updates can generate some much-needed eyes and ears on your content, which can bring a nice boost to your traffic!