PINTEREST FOR BUSINESS BASICS: GETTING STARTED
Although  I like to mostly focus blog posts on the different smart ways to make a splash with your marketing efforts of Pinterest, it's important to start the right way.
For example, many small business owners who use are trying to use Pinterest don't use a Pinterest Business Account. This is a shame because that type of account offers some of the most important features for businesses. If you're new to Pinterest for busines marketing, you should grab my free 40-page starter eBook for How to take full advantage of Pinterest for business. 
A Pinterest business account offers:
• Rich Pins
• Promoted Pins
• Analytics
All of which we will discuss further later. If you enjoy using Pinterest personally, don't worry, you can keep your personal profile and add a business one to it and, you won't lose anything.

To get started with a Pinterest Business Account, go to Pinterest and chose:
1. Start a Business Profile
2. Convert your Personal Profile into a Business account.
Your next step is to fill out your profile completely, including most recent headshot or logo. Add a good description of what your company does. Add what you are passionate about and what you love to Pin. This will help Pinners find and connect with you. Don't forget to include your website address in your profile.
You'll need that to verify your site, which you must do to access your Analytics.
TO LEARN MORE ABOUT SETTING UP YOUR BUSINESS ACCOUNT, CLICK HERE.
Your next step is to verify your website on Pinterest
How to Get Your Website and Rich Pins Verified on Pinterest:
YOU CAN FIND STEP-BY-STEP INSTRUCTIONS ON HOW TO VERIFY YOUR SITE BY CLICKING HERE.
Once you've verified your site, you can request access to Rich Pins. Now's a good time to do that, so you'll have the ability to do it when you're ready for it.
What are Rich Pins on Pinterest?
Basically, Rich Pins provide more context about your idea because they show the visitor additional information directly on the pin .
Pinterest describes them as:
"Rich Pins are Pins that include extra information right on the Pin itself. Currently, there are four types of Rich Pins: recipe, article, product, and app."
This is a great benefit to businesses because it lays out more of the information people will need to know about your business.
Here's a rundown of how Rich Pins can provide outstanding marketing value for your business:
1. Product—you can show the description of the product, price and stock level/status on pins from your website.
2. Recipe—you can show ingredients, cooking time, type of food (sugar-free, paleo, etc.) and servicing size from pins on your site.
3. App Install—you can take iOS users directly to the app store, so they can download your app.
4. Articles—you can show the title, headline, description, and author of the article and blog posts on pins from your site.
Rich Pin images also have special features that make them stand out more. The feature makes your pins pop with bolded heading and subheading, a different, more extensive description, link to article and author details.
Can you spot the rich pins in this screenshot below?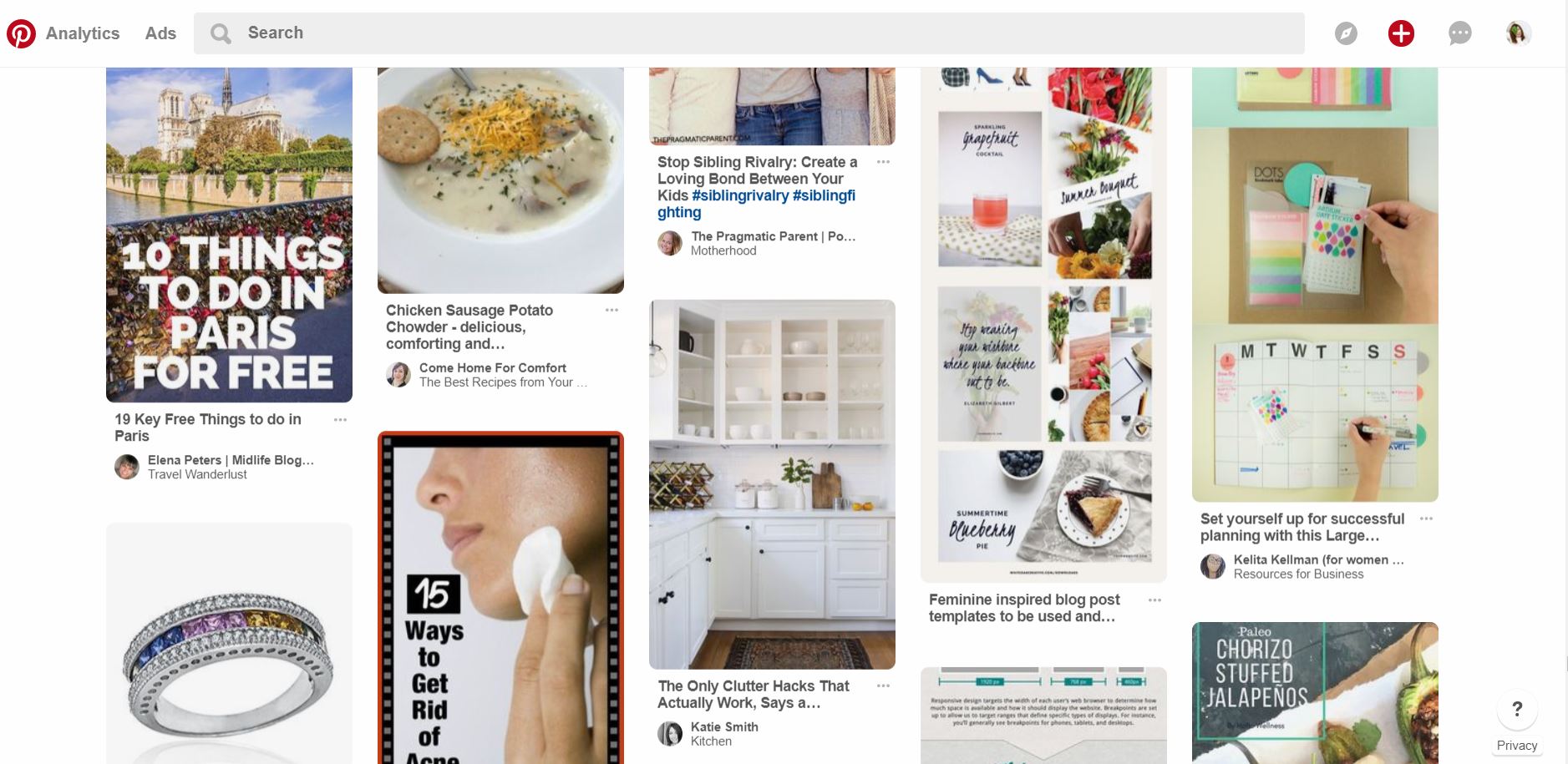 Every pin shown here is a rich pin, except for one. The rich pins shown here are "Article Pins" and are the ones that have the pinners little round headshot next to their name with details about them and their website, which helps them take up more space in the smart feed.
These little extras (among many other things for different types of rich pins) make a big difference to people who are considering clicking on the pin.
By supplying them with more of the important details, they'll know right away if you have what they are looking for, which offers you a more targeted audience on your site.
Remember that you must get access to Rich Pins and after that, you have to verify your approval, so it's wise to ask for access as soon as you set up your profile and verify your website.
It can take a week to get your approval verified, so go ahead and take this step now, so you're ready for anything later.
TO LEARN HOW TO SET UP RICH PINS FOR YOUR SITE, GO HERE.
LOOKING FOR SOME MORE PINTEREST TIPS? CHECK OUT THESE OTHER BLOG POSTS: