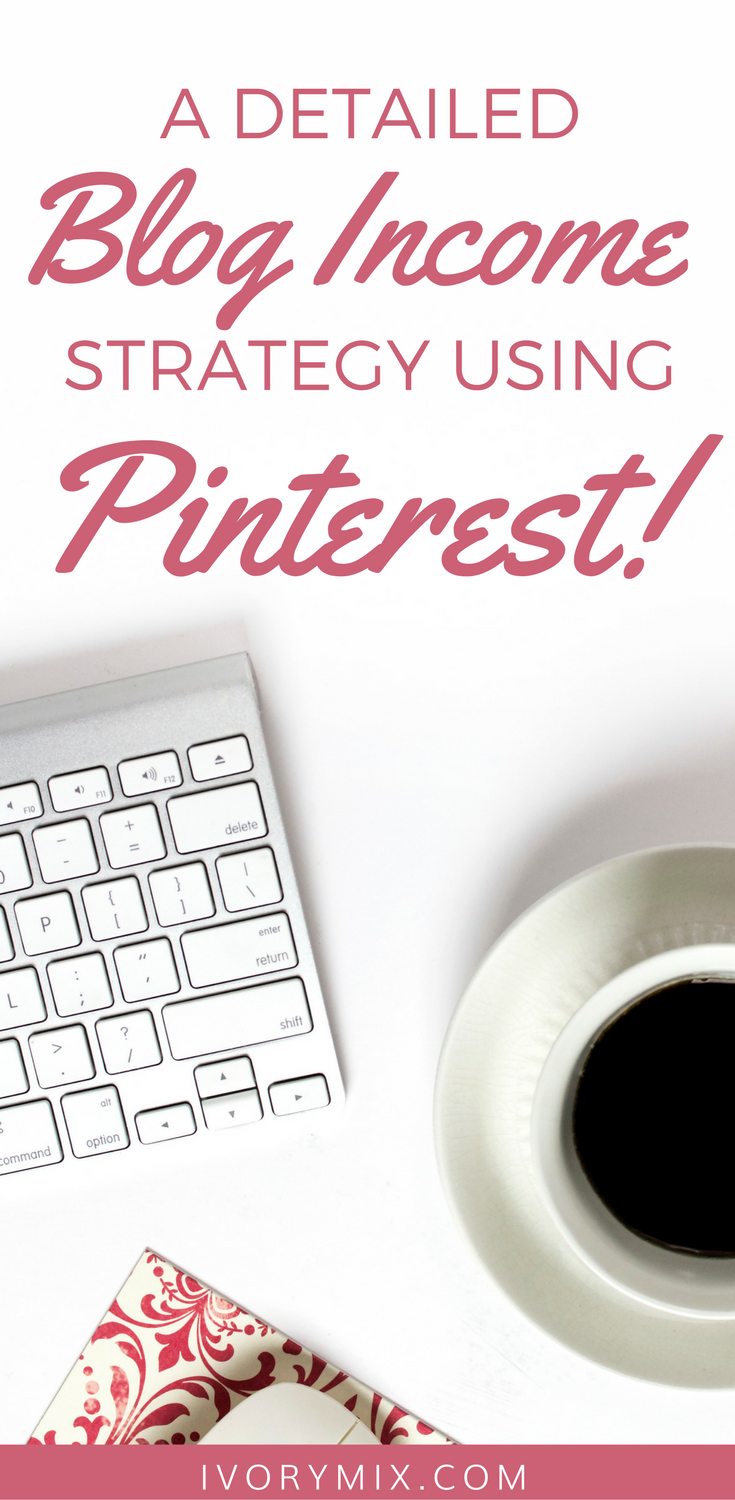 Pinterest, again? I feel like a broken record sometimes when I write about the same topics, but it seems there's always something new to share and more details to dive into. So, yes. . . we're diving into Pinterest again but this time, it's all about what to do with your traffic from Pinterest.
Why use Pinterest traffic as the start of your Sales Funnel
We recently discussed 50 unique strategies to grow your blog using Pinterest and hundreds of bloggers and business owners took advantage of the challenge that helps take you through each of the 50 strategies.
I used to care a lot about my traffic numbers. I say "used to care" pretty loosely, because I still care, it's just that I care more about what I am doing with those numbers. You see, at the end of the day, getting loads of traffic from Pinterest is what has helped us gain traction in our business, but even more than that, having a sales funnel in place that converts Pinterest traffic into fans, email subscribers, and eventually buyers, is what has taken everything to the next level.
Seeing as 70% of our blog's traffic is from Pinterest, it's an easy conclusion that we should have a sales funnel in place that gets activated by Pinterest traffic.
What is a Sales Funnel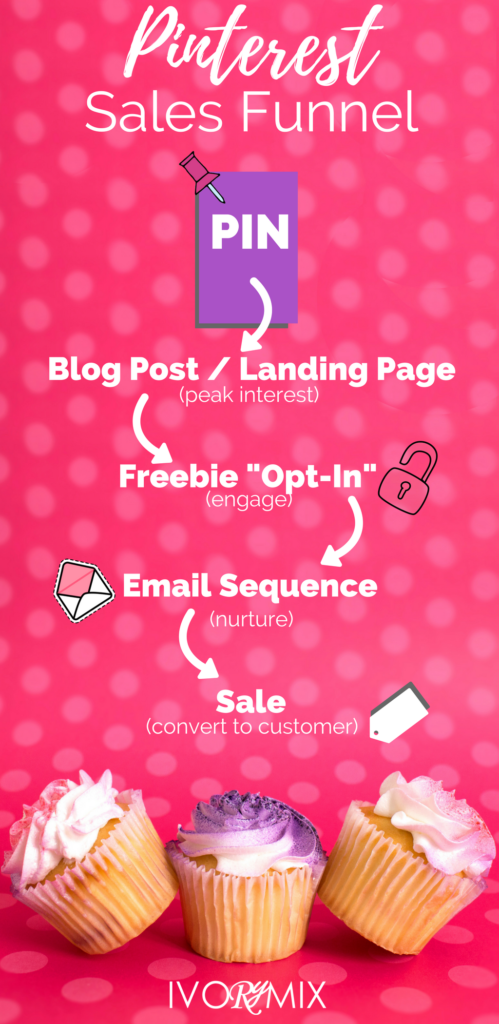 Ideally, a sales funnel is what will help you turn your blog and business into a passive income money making a machine that churns cold leads into hot raving fans of your products and services. Much like a real funnel, it takes a large group of people in the beginning but sends them slowly through the other end.
"Why is it done slowly, Kayla? I want sales fast and now!"
Have you ever heard about the tortoise and the hare? Slow and steady wins the race. As we learn about sales funnels today, you'll see that you can send everyone the same information and offers at the same time, however, some people will warm up to your products faster than others. Having a way to nurture your different audience types through the process with different freebies, automated emails, landing pages, and so on, will help you to turn each one of them from cold, to warm, to hot.
The nurturing is what a funnel is all about.
What do you need in place for a good sales funnel?
Besides a way to gain traffic from Pinterest to your website, there are many other things to put in place so that you can capture the attention of that traffic. Along the way, you'll want to establish:
What products and services you'll offer
Why your items solve your audience's problem
Who your target audience is
A content plan (blog and social media posts, etc)
Landing and Sales Pages
Automated email sequences
A review and improvement plan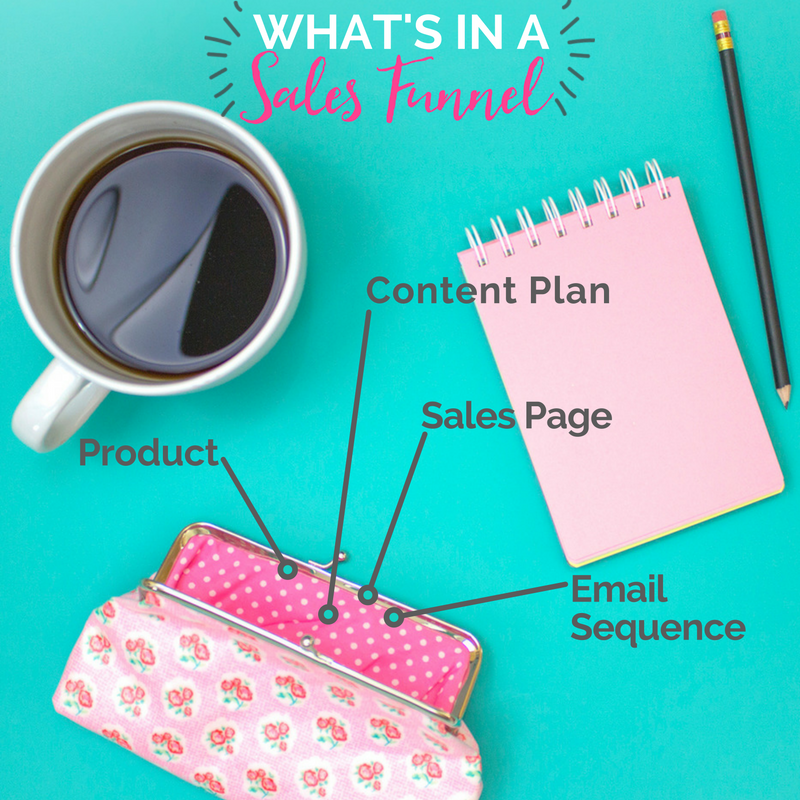 What to Identify before starting a Sales Funnel
If you've got nothing to sell and no way to make revenue from your current blog, then this should be your first priority. Many bloggers begin this journey because they heard it would be a good side income or possibly a way to go full-time blogger and quit that 9-to-5, and it's possible. But, you need to establish what you're selling and what your focus is going to be.
Beyond knowing what you're selling, you should have a good idea of who your target audience is. If you're at these beginning stages, then a sales funnel is probably not the right thing for you to be reading right now.
If you've got all that in place, then you also have a good idea of how you solve your target audience's problems. Knowing how you make a difference and why your products are needed will help you establish its worth to your audience over time.
Create a Content Plan (and don't forget to share your content on Pinterest)
Now that you've got the basics set up, your next task in the sales funnel is creating things to help expose your audience to you and your brand. These aren't sales pages or advertisements. These are simple pieces of content that help your audience understand more about you, what you care about, what your brand and business do, and above all, gives them something useful.
Being useful and having great content that people want to share because it is so jaw-droppingly good, is what you should be going for. Make it unique and loaded with magic and this will catch their eye and start to warm your new found target audience over.
Here are some ideas for your content plan:
Social media posts

Blog posts

Guest Blog Posts

Reports, Lists, roundups and case studies

Videos

Interviews
Opt-ins, Freebies, and Content Upgrades
Once you get your audience to click through some of your content and you've got them engaged and learning more about you and your business, then it's time to send them on a mission to grab a freebie and bonus piece of content. This content expands upon the original content but dives deeper. If you've attracted the right audience, then most of those people will want to give you their email to see and learn more.
For example, one of my most popular services for bloggers and business owners is Custom Photos for their brand. In order to gain the trust of my audience and get them to know me a bit better, I offer free stock photos now and new ones every month. In exchange for their email address, I am offering bloggers this free service and because I am consistent and always strive to provide a quality free product, those who are ready to take their branding to the next level now have a sense of trust in me and my service.
Here are some ideas for freebies and content upgrades you can create: 
Secret Blog Articles
Exclusive Interviews

A simple newsletter

A Video series

Workbooks, Checklists, or Tutorials

Mini Ebooks
Email Challenges
Expanded Reports
 
Automated Emails
Once you've delivered your freebie and opt-in, and you've got your new subscribers email address, you must not let that email address just sit there. Your next step in the sales funnel is to establish the timeline that it takes to turn new subscribers into ready to pay customers.
This timeline is different for every business and is dependent on the cost of your products and services, in comparison to the demand and how near or far your target audience is primed and ready to buy. In any case, automated emails can be set up based on the specific freebie you've offered, the audience that takes the freebie, and the specific product or service that would be right for them. These emails take your audience through various steps from cold to hot.
A sample automated email campaign might look like this: 
Email 1: Welcome and Here's your Freebie
Email 2: Follow up and ask how they enjoyed the freebie
Email 3: Share a story related to the struggles someone might have without your product or service
Email 4: Share testimonials from previous customers and provide your first offer
Email 5: Outline all of what is included in your product or service and what the transformation might look like if they buy today
Email 6: Let them know the offer ends Tomorrow
Email 7: Send them a reminder about the offer ending soon
Identify secondary opportunities
Once the automated email sequence has ended, and once your audience has made a purchase, there's no reason it has to stop there. This is where you might Up-sell. At some point during your process of sending out newsletters and updates, there will become secondary opportunities for you to offer the next higher priced product to your customer.
Or, perhaps there's an opportunity to cross-sell. It's possible that in your automated emails, you'll be able to add value to their process by offering complementary products. For instance, I've got courses in branding, photography, and Pinterest. They are all different, but one can go with the other for the right person.
So don't forget that cross-promoting your own products could improve your sales funnel too and consider places in your process and funnel that you can introduce special promotions to your customers to help.
Create a landing and sales page for everything you offer
Whether it's a free email challenge or $500 course, your products need a sales page. A sales page is great for many things, but above all, it contains compelling items that motivate your audience and convinces them that your product or service is right for them.
You can link to and send your audience to a sales page no matter where they are in your sales funnel. It may be your first step or it may be your last step. Here are some key items to include on a sales page:
Attention-grabbing headline

Compelling written content that thoroughly explains the benefits

Proof of the benefits with examples and testimonials

A Motivation to act now

For instance, you can Create scarcity with a limited number, or a limited time offer

Call to action

Test, refine, and test again
Once you've got everything in place, you can't just set it and forget it. It's best to test all the different elements of the sales funnel process including email links, sales page links, and how each element appears on various browsers. You want your process to be easy and user-friendly. 
Not sure what to sell? Here are some blog posts with more ideas and how to do it:
After a short while, you'll begin to see the benefits of your hard work and should also be watching closely on a few stats to see if there are areas for improvement.
Here is a short list of things to track in your sales funnel:
Track Email open rates

Track Email click-through rates

Double check all Links and calls to action on sales pages

Track your conversion rates on sales pages (how many views compared to how many sign-ups)

Set up a schedule for maintenance and tracking (weekly, monthly, annually)
What next?
Want to learn how to get more traffic from Pinterest to fill your new sales funnel? Click below to grab this 40 page ebook to grow your Pinterest traffic!