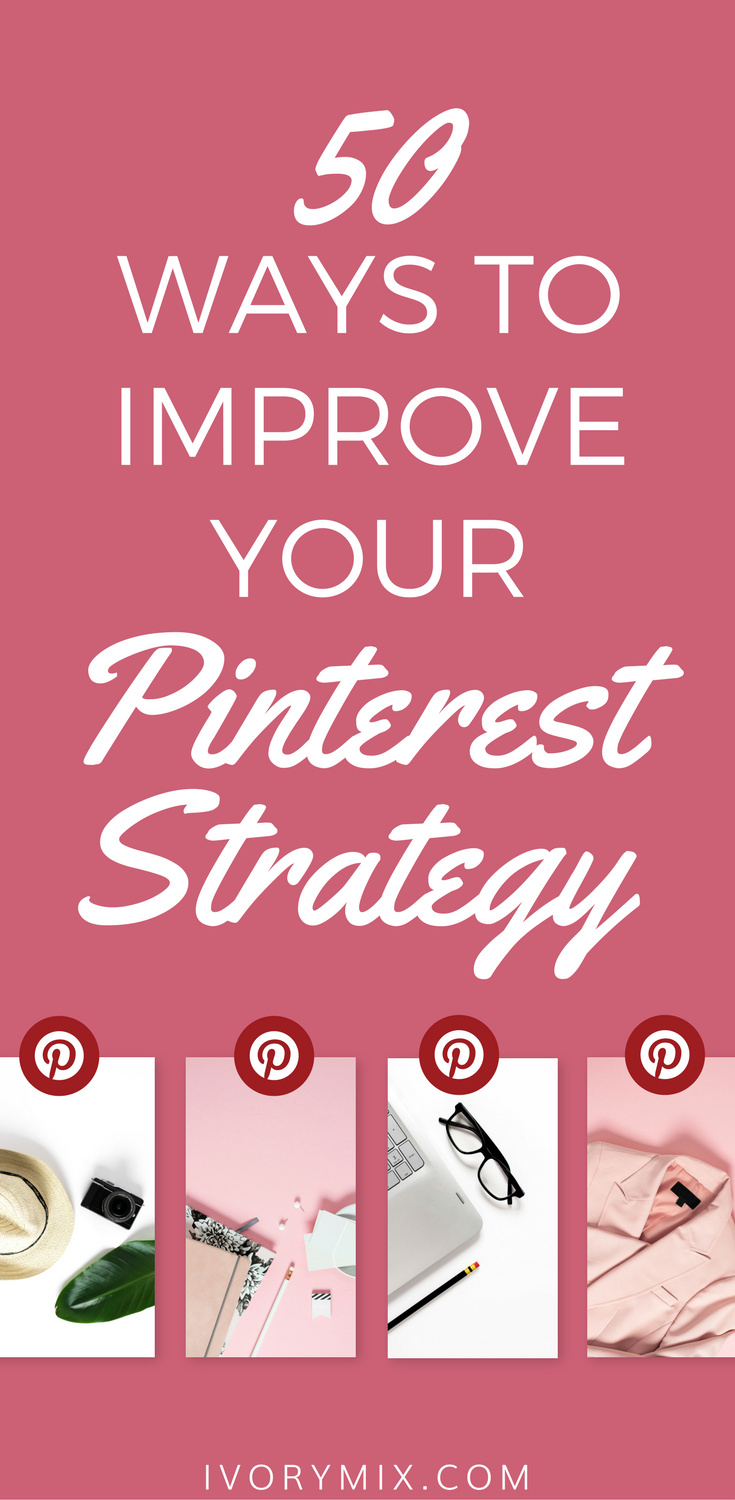 Discover how Pinterest works to help bloggers and businesses grow
Create content & they will come – right? Sort of.
Pinterest for bloggers and business owners is a tool that helps us grow because it brings traffic to our websites. The secret to Pinterest for business is creating content people can find, that they want to click on, and that they want to save and then share. It seems simple enough, but creating content and sharing content on Pinterest isn't enough to grow your blog and business.
You need strategies and the cool thing is we've got a complete list of 50 individual strategies that I challenge you to try, today.

This blog post includes referral links indicated with an asteric *
Optimizing your Pinterest Account to be found by your target audience
Before I discovered how to truly use Pinterest to grow brand recognition and get noticed, I was getting very few eyes on my account.  I decided to improve some things to make sure my audience was able to find me, which included adding more detailed keywords in my profile description and account name, my boards, to my pins, creating a business account and watching / responding to the analytics that Pinterest provided.
Just making some simple changes to the SEO and Keywords on my account helped people find my pins and content faster. Soon after, I had some things go truly viral and I now get at least 60% of my daily traffic from Pinterest. 

Creating striking and eye-catching graphics for your brand
One of the easiest ways to grab the attention of pinners you want to click through to your website is by using eye-catching pins. Things that catch the eye of pinners are tall images, the colors red and pink, and images that are uncluttered. The other thing you can do to stand out is by being unique and not doing something others are doing.
So, that probably means stop using the Pinterest templates from Canva and start thinking outside of the box. 
The other thing you can try is making a few templates of your own and testing them out. See which ones perform better and start making multiple versions of the same pin. Not only does this help you test out which pin graphics style does best, it also get's your content out there even more. The more frequent you change your graphics, the more eyes and interested pinners you are likely to reach.
Utilizing your Pin Boards for maximum results
Have you noticed that once you pin something on Pinterest, you immediately get a recommendation to either follow that account or to follow the board that the original pin came from? How often do you click "follow" at that point? I'm sure your reasoning for following depends on multiple factors but realize that your target audience is getting the same recommendation every time they pin one of your pins.
There are ways to utilize your account and particularly your boards to make it enticing for new pinners to find, follow, and share pins from your boards.
Creating a cover graphic for the board that tells pinners exactly what is being pinned there is one way.
Creating and sharing links and developing a Call to Action strategy that gets people clicking and sharing
Before implementing all of these Pinterest strategies, we were getting 10 or fewer email subscribers daily. Now, we're getting up to 100 subscribers a day!

That's because we're not only getting people to pin our content, but we're putting our pins to use with different CTA's (call to action) and making it easy for pinners to get the information they need and have them wanting just a bit more. Having pinners want more means getting them on an email list and having them enter your "sales funnel". This means helping more people, getting more regular traffic to your blog, and having returning customers for your business.
Implementing these strategies will surely improve your Pinterest marketing efforts and could possibly help your first blog post / pin go viral:
Strategy #1 Put your best boards at the top of your profile
Your best boards will have Pins with a high amount of repins
These Boards have the most followers
The Pins here are mostly all tall
Pins are related to your niche/target audience
Pins include some of your content (but not all)
The Pins on the board get repined often
You're pinning on the boards frequently
Strategy #2 Pin at least a 50/50 mix of your & other's pins
Pin from similar pinners
Pin from followers
Pin from followers of followers
Strategy #3 Engage with & follow others (even in your niche)
Don't be shy about stalking pinners in your niche
Respond to follower comments
Comment on follower pins
Follow popular boards
Invite influencers to pin on your group boards
Build influencer relationships
Use the "find friends" from Twitter and Facebook
Strategy #4 Post Frequently
Post 30 – 100 times a day
Use secret boards to save your pins for use later
Strategy #5 Occasionally, pin items that aren't all about your niche
Pin items about personal things
Give your audience a glimpse into who you are
Strategy #6 Create a business account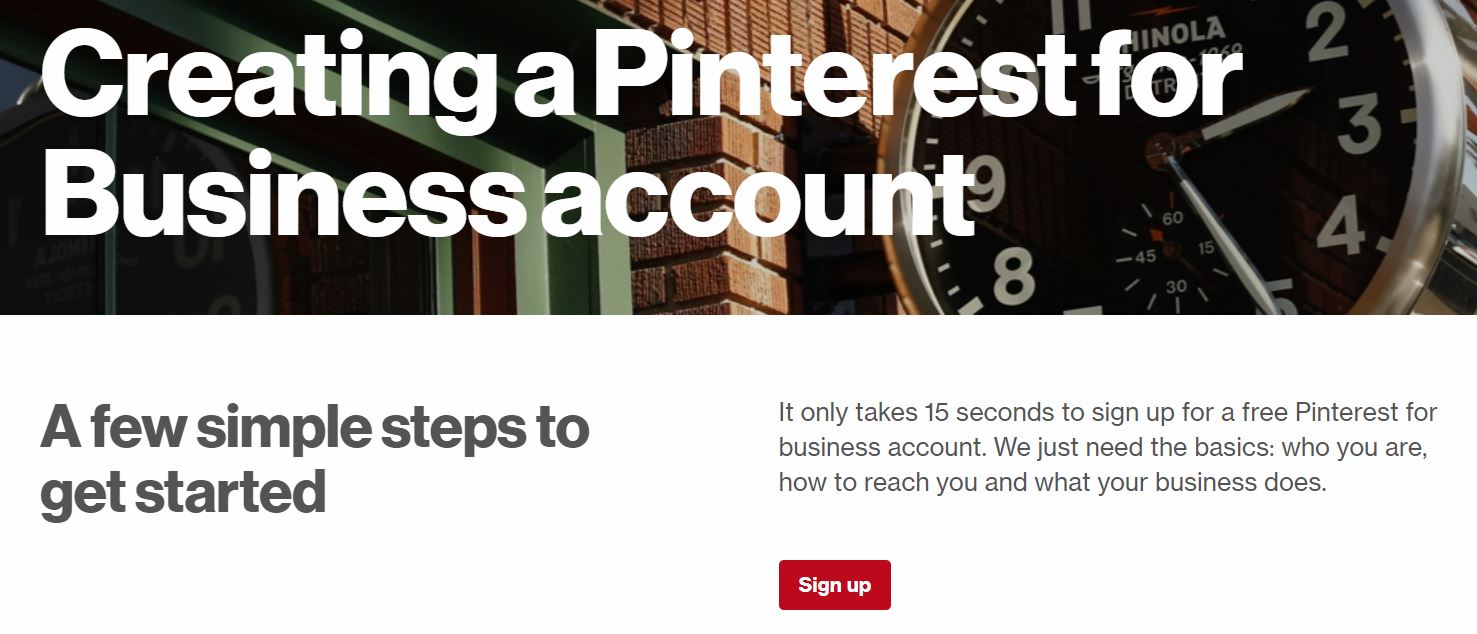 Strategy #7 Create rich pins

Strategy #8 Read and respond to Pinterest analytics
Ensure that you review Pinterest analytics at least once a week. Evaluate your click progress, impression and repin. This will help you know which images and boards are attracting more attention.
Which pins/boards people love most

What people like to save from your website

Who your audience is (gender, location, etc)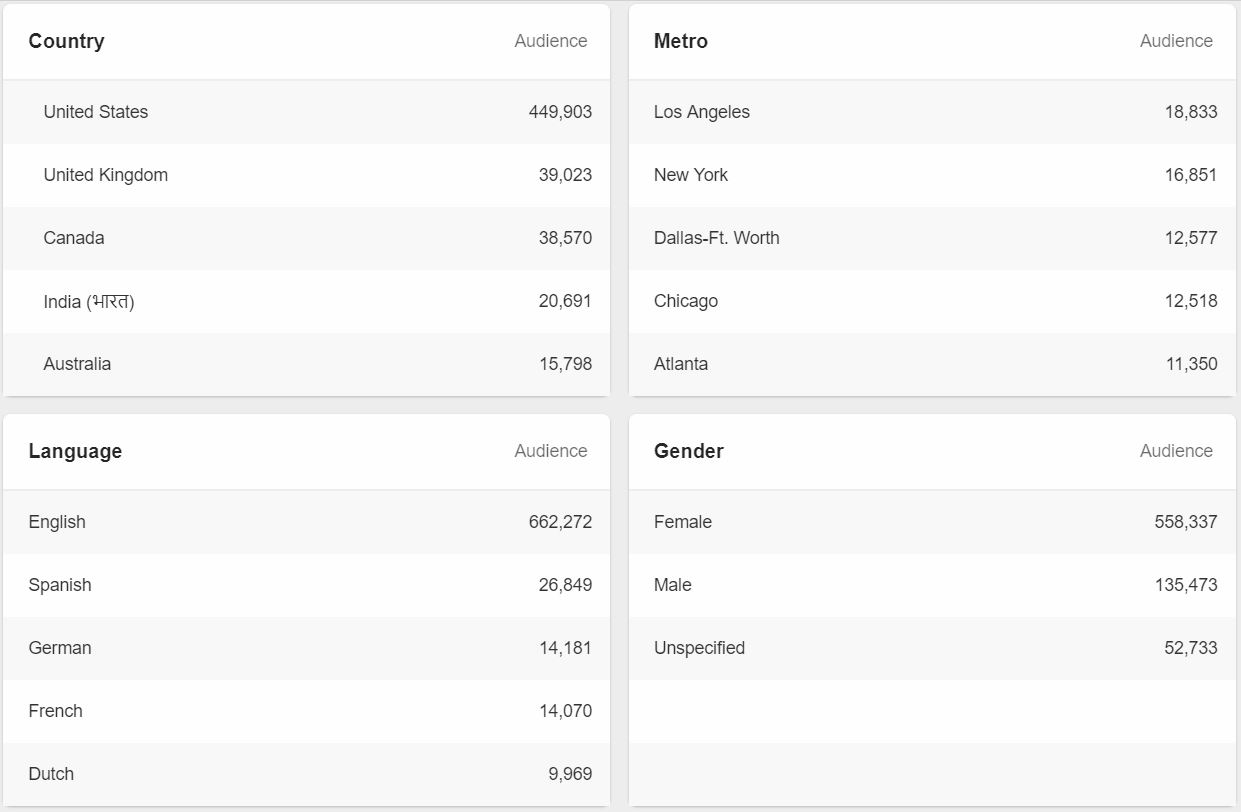 Which devices people use when they're pinning
Strategy #9 Use keywords in your account name
Let people know who you are and what you are all about, but with relevant keywords to improve your search ranking.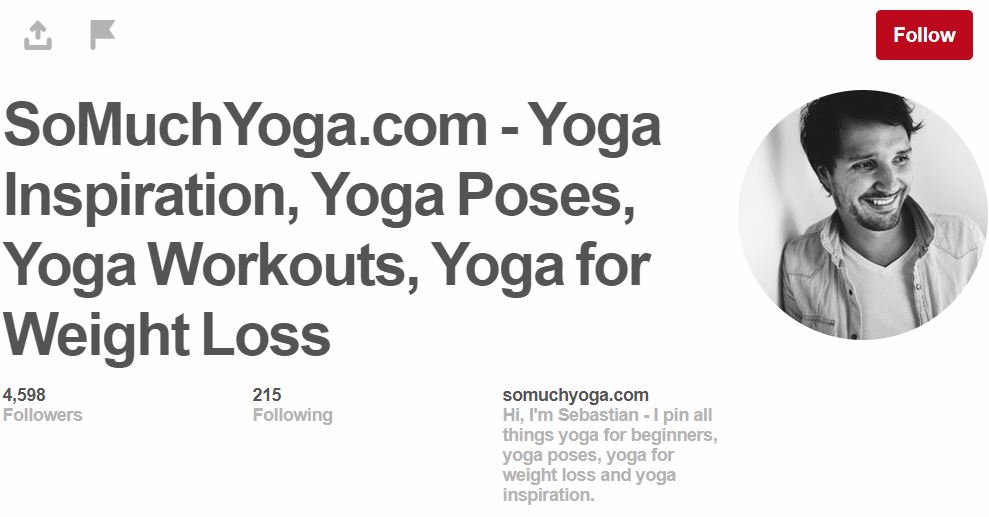 Strategy #10 Add a detailed keyword rich profile description
Include a link to your website/landing page
Don't use hashtags in your profile description
Strategy #11 Name your boards using keywords
Don't be cute with board names. Use keywords people use in the search for your type of content.

Strategy #12 Include keyword rich descriptions on boards
You can use keywords abundantly here

Strategy #13 Include keyword rich descriptions on pins
Use keywords in a conversational way and less like a robot
Strategy #14 Use tall pin images instead of short ones
736 x 1102 (or go even taller!)
Strategy #15 Using Bright colors (Pink and red do best)
Catch their attention with bold bright and on brand colors.
Strategy #16 Update older pins that aren't performing
If your posts aren't getting traffic from Pinterest, it could mean your pin is not as attractive as it could be.
Strategy #17 Create multiple pin images per blog post
The best way to determine what an attractive pin looks like is to test a few styles on every blog post.
Strategy #18 Hide extra pin images in blog posts
Using a bit of html , you can add extra Pinterest images to blog posts but keep them hidden from view.
Here's a complete video on how to do this. It goes fast, so, pause as needed.
This can help keep your pages and posts uncluttered.
Strategy #19 Use striking and eye-catching stock photos
Check out our free stock photos (wink wink)
Use images that match the content topic as closely as possible.
Strategy #20 Use your own unique photos
Having photography that can't be found anywhere else will surely help you stand out in the Pinterest feed.
Strategy #21 Avoid photos that show the face
Research shows that images of people on Pinterest perform better on the face isn't visible.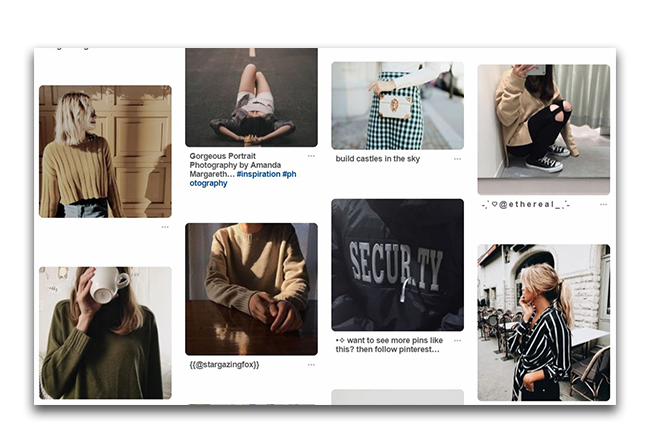 Strategy #22 Use brand fonts on Pins
Be consistent with your branding and fonts and people will start recognizing your brand!
Strategy #23 Put your website URL on Pins
Just in case your image and link get disconnected, this will help readers search your URL.
This can also deter those unethical spinners who like to steal popular pin images and change the link to their own. (Yes that happens)
Strategy #24 Put a watermark/logo on Pins
Deter theft of your images with a logo.
Strategy #25 Utilize secret boards for personal interests
If you don't want to manage multiple accounts, try keeping your personal boards as secret boards
Strategy #26 Start your own group board(s)
Group boards are great for gaining traffic from a new shared audience. Why not give that opportunity to other collaborators as well?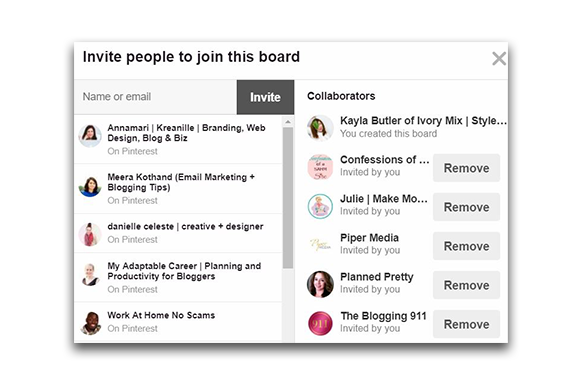 Strategy #27 Create board cover graphics
Imagine being an average pinner on Pinterest, and stumbling upon another Pinner's boards with an amazing color scheme. Having a cover photo for your boards provides an immediate place to create a memory point for new followers. That first impression is priceless
Strategy #28 Remove poor performing pins
Quality over quantity is your goal
Strategy #29 Pin to Group Boards Daily
Expand your reach to more pinners by joining really great and quality group boards
Strategy #30 Include only targeted boards that are relevant
If you're a fitness blog, then try to stay away from having boards about knitting.
You don't want to confuse your audience. Instead, keep those unrelated boards private/secret.
Strategy #31 Create a great first impression
Only pin high-quality pins related to the board
Strategy #32 Pin things to boards that are helpful & inspiring
Ensuring that your pins fit into these two categories will get you more repins and clicks.
These are the two things (helpful and inspiring) that people search for most on Pinterest.
Strategy #33 Treat pin boards like art galleries (only pinning high-quality items)
If someone else's pin is really ugly and doesn't fit with the rest of the pins on your board, then don't put it on your board.
Always aim to create an amazing high-quality experience for your followers by sticking to this simple rule.
Strategy #34 Stick with a brand color palette on boards
Branding is an experience for your audience. Try to pin things in your color pallet and you'll keep them coming back for more!
Strategy #35 Include a link to Pinterest in your blog header
Help your blog audience find your Pinterest Profile by including a Pinterest icon in your social sharing buttons.
Put your most valuable links around, in, or near your blog header for more attention.
If your website theme doesn't have a place for social sharing buttons, start looking for a plugin that works for you.
Strategy #36 Include a link to Pinterest in the blog footer
You don't have to limit your social buttons to one location.
Strategy #37 Include a Pinterest widget on a Sidebar
Put a pretty image together and place it in a Widget in your sidebar (or use a plugin) to highlight your profile, with a button that says "Follow us on Pinterest"
Strategy #38 Add "Pin it" hover button above blog graphic
Strategy #39 Add a Pinterest share button above/below every blog post
Strategy #40 Create and share pins for landing pages and courses
Some bloggers forget to create pins for products, but don't forget, many Pinners are looking for things to do or buy.
Include a pin on your sales pages will help you get more direct sales from Pinterest,
Strategy #41 Create and share pins for freebies and opt-ins
If you use landing pages from Convert Kit, don't forget to create a Pinterest image.
You can upload images to Pinterest and add a unique link.
Strategy #42 Put Pinterest traffic into a sales funnel
Encourage people who are coming to your website from Pinterest to sign up for your email list,
If they are signing up, what are you doing to turn those leads into sales?
Develop and test different funnels and repeat what works.
Strategy #43 Schedule pins via Board Booster/Tailwind
This is one of the best strategies to keep your account active during times when you don't want to pin manually or on the weekends. It is recommended that you do this for at least 5 minutes on Fridays after posting your daily pins. When Scheduling pins, you can choose a number of tools including Tailwind, Boardbooster, Buffer or Viralwoot to post images. Tailwind is a better option as it allows you to schedule pins through your browser extension.
**Note: Unfortunately, as of June 2018, Boardbooster is no longer available and has closed their doors**
I recommend reading this blog post to learn how to pin your Pinterest pins.
Click here to grab that free trail from Boardbooster*
Strategy #44 Watch and responding to analytics from Board Booster/Tailwind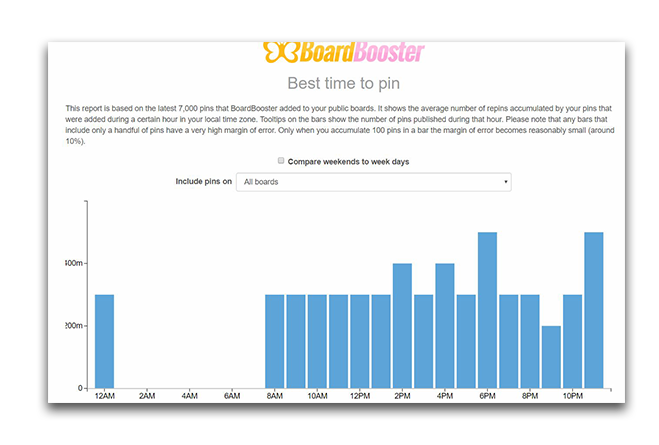 Strategy #45 Promote pins (running ads)
Strategy #46 Promote your Pinterest account on other social media
Strategy #47 Mention "Follow me on Pinterest" as a Call to Action (CTA) at the end of Webinars
If you're not promoting your profile at least some of the time, it won't grow as quickly as you may have hoped.
Strategy #48 Mention "Follow me on Pinterest" as a CTA at the end of Facebook Live
How many people who follow your Facebook page are also following you on Pinterest?
Strategy #49 Mention "Follow me on Pinterest" as a CTA in Instagram Stories
Put a link to your Pinterest account inside of your Instagram profile bio.
If you have multiple links to share on Instagram, using Link Tree can help with that and it's free.
Strategy #50 Mention "Follow me on Pinterest" as a CTA at the bottom of a Newsletter/email
If you're already emailing your list once a week, imagine how many more followers you can get on Pinterest if you included a simple "P.S. – Have you followed us on Pinterest Yet?"
Strategy #51 Mention "Follow me on Pinterest" as a CTA at the end of their blog posts
If you don't ask your readers to follow you, nothing will happen.
But, if you do ask them to follow you, at least some of your readers will do it. (I'd say that's better than nothing!)

Looking for some more Pinterest tips? Check out these other blog posts: