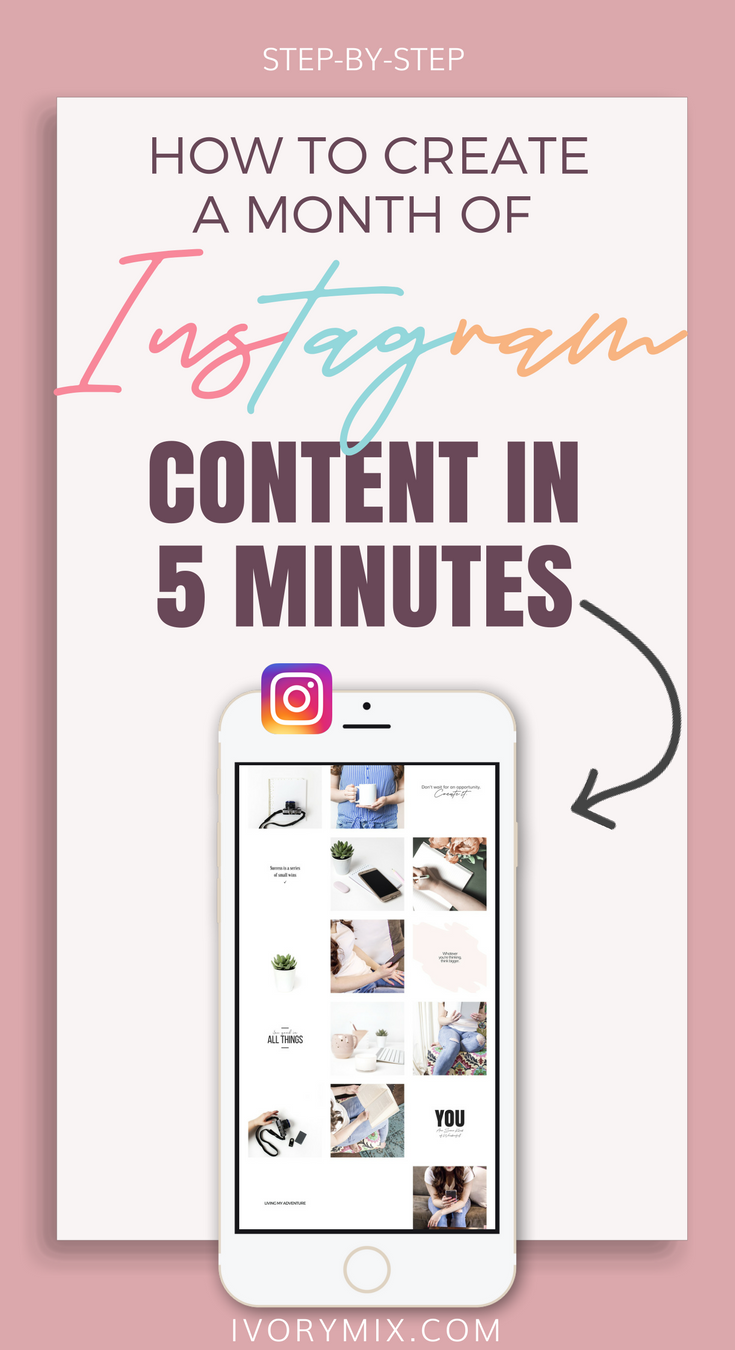 The key to any marketing plan and visual content strategy is having a story to tell. What story? The story of your audience and the story of you/your products and services.
How you plan to tell that story should directly impact how you plan your content calendar on social media and especially on the visual platform that is Instagram.
Because, what better way is there to tell a story than with photos, videos, and captions?
So, when planning an entire month of content for Instagram, make sure you read this blog post about creating 30 days worth of Instagram content here. But, also remember to write out your customer's and your product's story and reference it during your content creation.
Before we get into my 5-minute strategy, I want to know, what's the "story" you're business is engaged in this month?
Do you have new blog posts, product launches or behind the scenes you need to share? Are their testimonials of resent clients or collaborations you're engaged in? These are things you can share as part of your story.
But what about the story of your audience?
For instance, maybe you want to post 3 times a day. If that's the case, consider what your customer is doing or thinking about during each time of the day you plan to post content.
How does their daily, weekly or monthly schedule and personal story relate to your products, services, and your story?
Take this post (see below) by Target for example. They've used what is known as "UGC" or user-generated content to fill their feed. A lot of their Instagram feed is photos of their customers using their products and they make it relatable to the time of day!
So, think of captions and visual stories that represent the wins, fails, and daily life of your audience and customers. Consider using UGC too but ALWAYS ask for permission from the content creator.
Now, batch your content curation 
Whether you create your own photos and graphics, or not. Batching your content creation will save you loads of time. Then, if you go and add a resource for graphics and stock photos to your assets, you can easily create a month of visual content in 5 minutes.
In just 5 minutes, I was able to put together this pleasing collage of photos using two of our stock photo and graphic bundles and I still have photos and quotes left over to use for another month!
Now that I have a visual plan , I can start taking into consideration the daily life of my audience and begin to plan my captions to help tell the story of this fictitious brand.
(Scroll down to see how the sample grid turned out)
The bundles I used are:
Bundle #1 – March 2018 Ivory Mix Quotes
Bundle #2 – The Social Creative Bundle

The key to this visual strategy of batching is to grab a bundle of photos, graphics, and quotes that match your brand's aesthetic and the story you want to tell. This is why I personally create multiple bundles every month in various color schemes and for different niches. I do this because every brand and every audience has their own unique story. As a photographer, it's my job to tell that story – visually.

For instance, if you wanted a more subtle and neutral color scheme, you might use the same quotes bundle I mentioned above, but then add in this other styled stock photo collection, study & learn. Now the grid has a more neutral vibe to it. see below..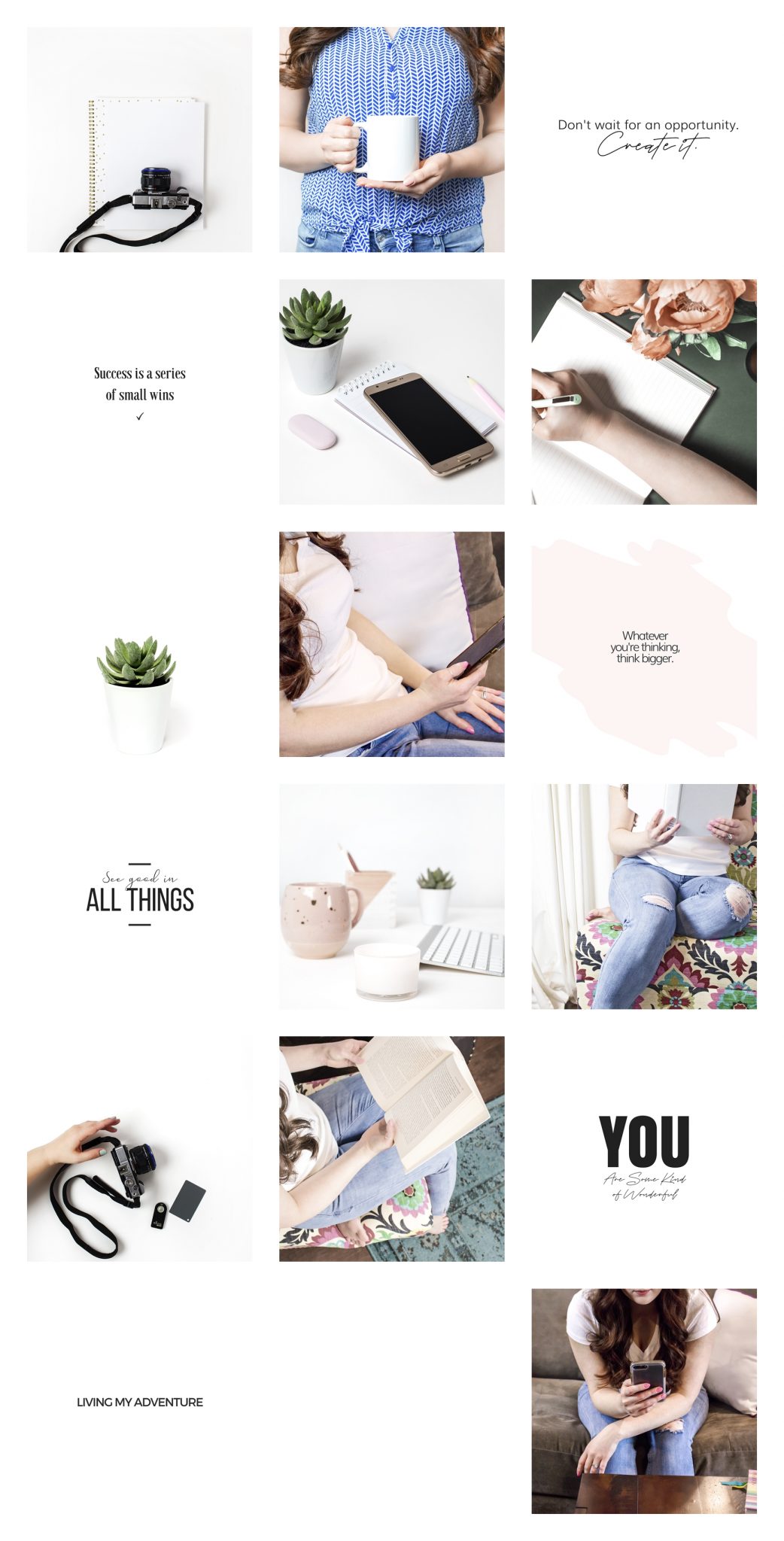 The one thing that these themes are missing are photos of you and any related people or products that are related to your blog and business.
That's why I've got photos of mock-ups and etc too. So, in a pinch, if you didn't want to snap your own photos. You could mock up screenshots of your website onto one of our photos.
Stock photos work really well at filling in between those special photos of your work, or of you. But, the one thing these stock photos and these other assets give you is a plan to start with.
Content planning is hard when you've got a business to run. Batch creating an Instagram strategy ahead of time takes an entire platform off of your plate!
Want to get started batch creating your next month of Instagram content?
Click here to browse our collections of styled stock photos and graphics.
Be sure to check out the affordable membership where I deliver over 100 stock photos every month in various color schemes and niches.
Looking for more tips?
Check out these other related blog posts: