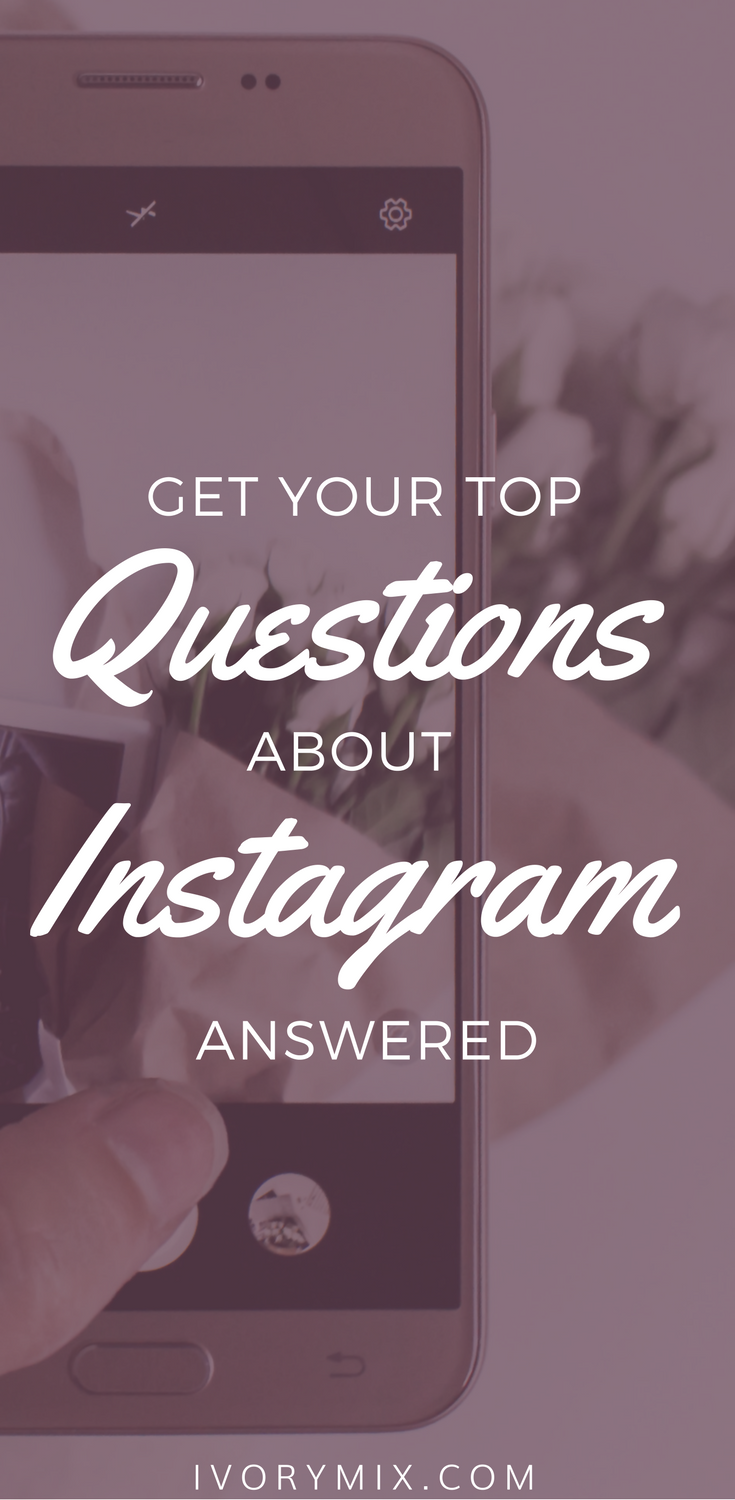 Instagram. Is it a social media platform or another universe full of mystical creatures and wizardry? I'm not sure anyone truly knows the answer to that question but the following questions, I'm going to take a stab at.
If there's one platform for social media marketing that I was afraid of most, it was Instagram. Which is why I devoted the last year to try my best at figuring it out. Why do people like it so much? How do these accounts grow to thousands upon thousands of followers?. . and why are people following my account today just to unfollow me tomorrow?
These questions are just some of the questions that were going through my mind a year ago, but since then, I've managed to figure most of it out and grow from a following of zero to nearly 7k followers. It's not 20k or 100k – but it's a start.
Which is why I've opened up the blog for the next few days to a few Q and A posts. Last week, I set up a few Facebook threads in our Facebook Group for questions and was sent many. Because of the volume of questions, I felt like they needed more than just a few sentences in one blog post to answer. So, I've broken it up into a few different posts for the next few days.
Your Top Instagram Questions Answered (PART 1)
#1 What can I do to avoid Instagram shadowbanning?
Question from @travelbeautyblogg
Shadowbanning is a relatively new term that's spreading through Instagram communities and what it means is that when you post new content to your Instagram account and use hashtags, your new post won't show up when you search through the feed of that hashtag.
This shadowbanning is resulting in a decrease in engagement for many brands on Instagram. For most, the reason this has occurred is that you've been using the same hashtags on your account for too long. If you've been using a particular set of hashtags on your account for a few months without changing, then it's time to do a refresh.
Stop using those old hashtags immediately and gather together a new set. The next time you post, use the new set of hashtags and then submit your account to a "shadowbanning" checker – like this tool here.
That tool will tell you which hashtags your new post can be found under. If your new post can be found under all of your new hashtags, then you're great to move on! If not, remove the hashtags that aren't working and try a  new set.
The next step is to set up a few different groupings of hashtags you can cycle through, because the last thing you'll want to do is have this new set banned for you too.
#2 How can I stay true to my brand and gain the right followers? (not just followers of similar brands)
Question from @Heather.LeGuilloux

The key is definitely in the proper execution of the following:
using targeted hashtags
having stunning visual content on your feed (top 9 posts)
building REAL relationships with your following
hammering out a consistent brand message
You can see more about creating a visual theme and stunning images, but in order to first reach people on Instagram that are 'outside of your niche'  and stay true to your brand is by reaching out to your target audience through means of building awareness and starting relationships.
Be where they are, know how to find them through the hashtags they use, and even though other influencers they follow.

Make sure to comment on their Instagram posts with thoughtful comments (not to convert a sale, but to build a friendly report and relationship). This all might sound daunting and arduous but remember that this can have a snowball effect. Stay consistent with your actions and your target following will begin to notice.
Remember that people on Instagram love sharing the accounts and content they love and can't get enough of with their friends. If you share the right content and are consistent – eventually – your target audience will start to come to you through recommendations too.
Related Post: 30 Days of Instagram Content in 8 steps
#3 What's the best engagement strategy to find an audience of followers?
Question from @besimplyit
When we use the word "strategy", we are often hoping for clear steps that lead to a result. Although there are many ways to gain engagement and find an audience of followers on Instagram, I want to share my favorite EASY series of clear steps for finding your target audience and increasing engagement and follows.
STEP #1: Follow 2 kinds of people and stick to this strategy:
Follow Your target audience
Follow other brands in Your Niche who follow your same target audience
By sticking to a rule of only following your target audience and brands who are also in your niche, you are more or less guaranteeing that your home feed and search feed will be curated with MANY new potential followers who are also your target audience.
Related Post: How to Hack the Instagram Algorithm for More Engagement
STEP #2: Know the many different ways you can now find your new potential followers through your home feed  (without searching hashtags)
The way you can find new potential followers without using hashtags is through the engagement of your existing following. Here are two examples of ways you can find and engage with new people:
Find and engage with the accounts you see making comments on the posts in your home feed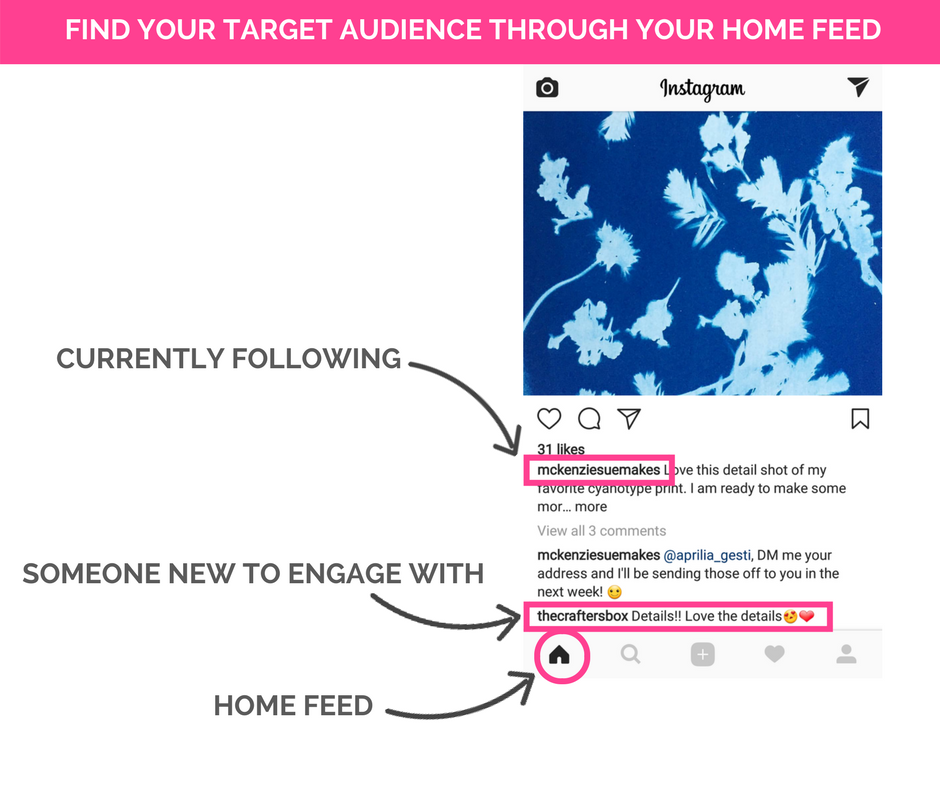 Find and engage with the accounts that your following is engaging with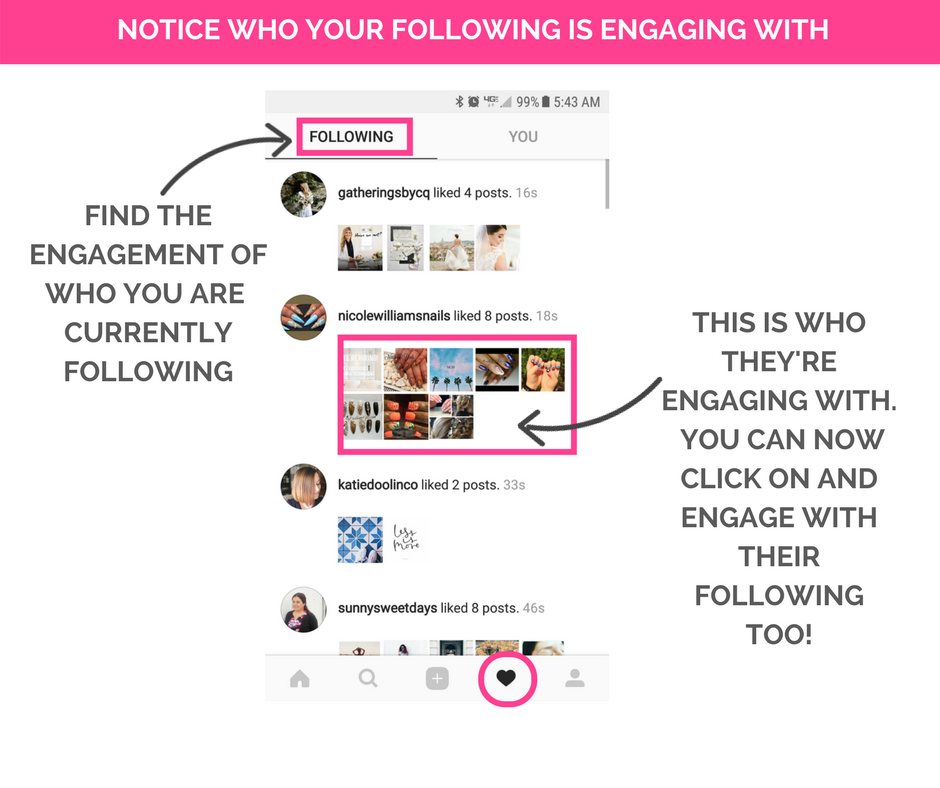 These are really good places to start when it comes to finding new people to engage with, without having to always search for and through hashtags.