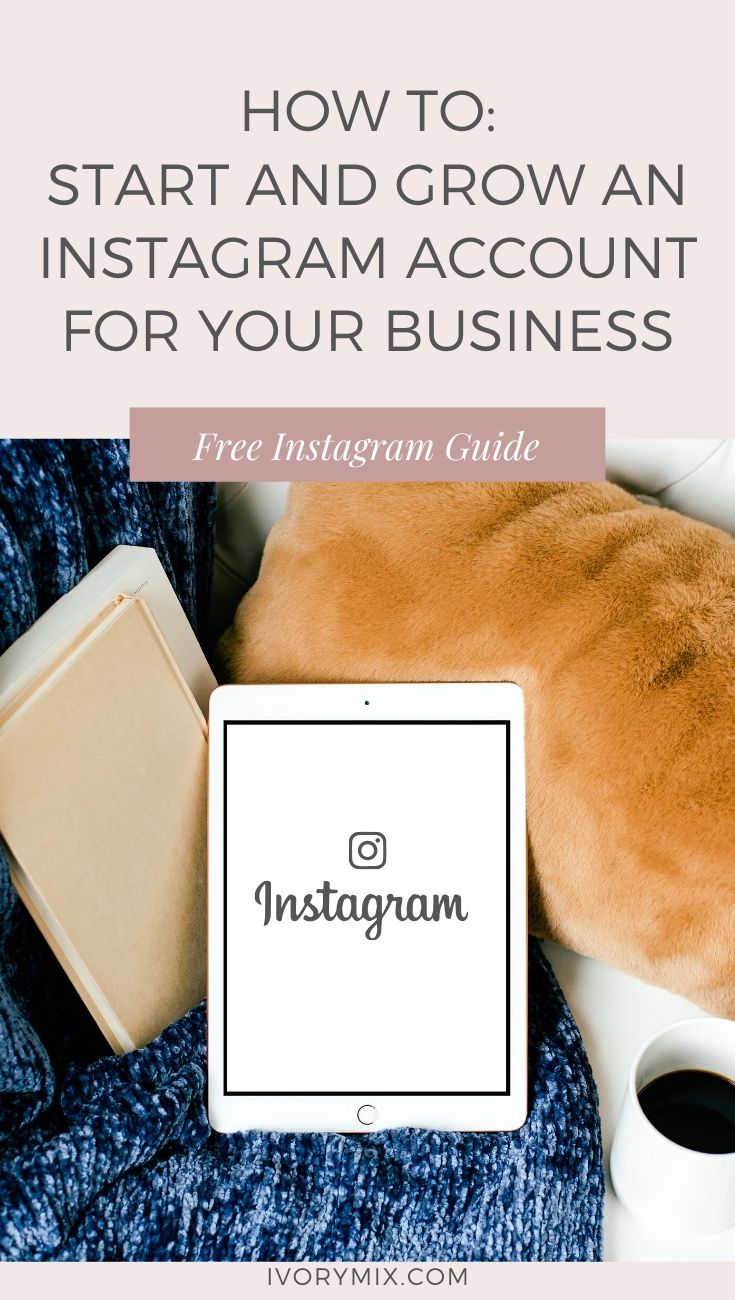 Instagram is no doubt the hottest visual content hub on the internet these days. 
Where else can you use your visual content to reach a massive audience, engage with them in an authentic way, and build amazing connections with your followers?
If your business hasn't taken the leap and created a business account on the platform, today's the day! 
The InstaBasics
Setting up your account is pretty straightforward. When you're naming your account, try to choose one that's as similar to your business name as possible. 
Now, if you cannot snag your EXACT business name, no biggie! 
Get creative by using underscores or throwing in an additional keyword to your name. Another option — add your real name to your business name to add a personal touch.
Bio and Highlights — aka your chance to SHINE. Here's your shot to share your mission statement. You'll define what you do, highlight your strengths, and tell your audience they are in the right place.
Your bio can also be a lead generation tool by including a call to action. (You don't want to miss the chance to gain subscribers, do you??)
*Tip: make your bio easy to digest by using bullet points to break up your writing.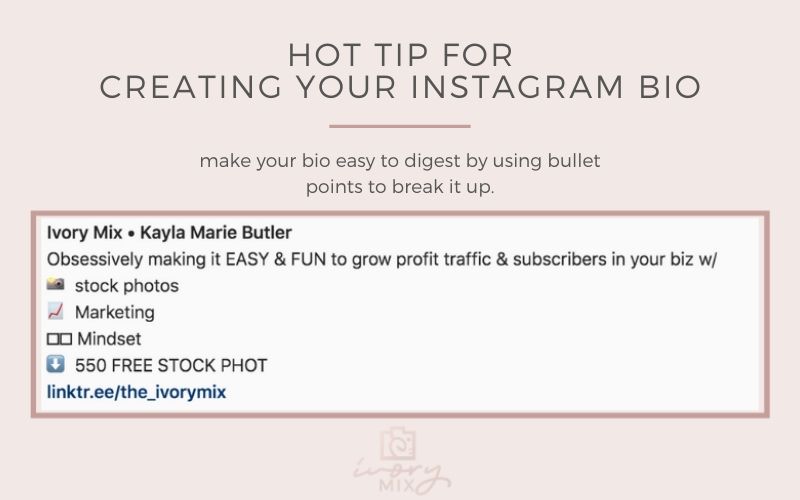 Story Highlights are the little circles featured right under your bio. They are essentially a place where you can group your old stories together. For a business owner, they work as an extension of your bio to show even more of your personality and give insights into what you do.
Highlights are the perfect place to educate your audience about your biz, feature specials products or evergreen courses, and invite viewers to check out your other social platforms or website. 
Identify your Audience
For Instagram to work for your business, you must have a good grasp on who your audience is.
Instagram is social, so business owners must approach the platform in that way. If you clearly define your audience and understand why they're on Instagram, you'll be able to bridge the gap between what they are there for and what YOU have to offer them that meets those needs.
Is your ideal audience looking for inspiration? Create content that inspires.
Are they looking to be entertained? Let your fun and goofy-side show. 
Are they looking to connect with others? Share insights into your life and give them a glimpse of who you are behind the scenes. 
Whatever your audience is craving, Instagram is a space where you can share a visual story with them that they can connect with. 
Because you've done the branding work we covered in the first workshop of this series, you're already ahead of the game. You've identified and narrowed in on your key audience. 
Since you know who they are, what they like, and what their pain points are, you can use this information to craft your unique Instagram strategy. 
Establishing your Instagram Aesthetic
Gone are the days of matchy-matchy graphics and perfectly patterned Instagram feeds. 
Yes, there is value in making your feed look cohesive and on-brand. Sharing beautifully curated images will grab attention, but while a pretty feed is pleasing to the eye, that alone is not enough to pull potential customers back to your account again and again. 
Users want engagement and inspiration. They want to feel connected. There needs to be more 'meat' to your Instagram content than mere aesthetics.
What people really want to see? YOU. This is why Instagram is such an incredible tool for your biz — it's a platform that gives you the opportunity to engage and connect with your tribe in a real and authentic way.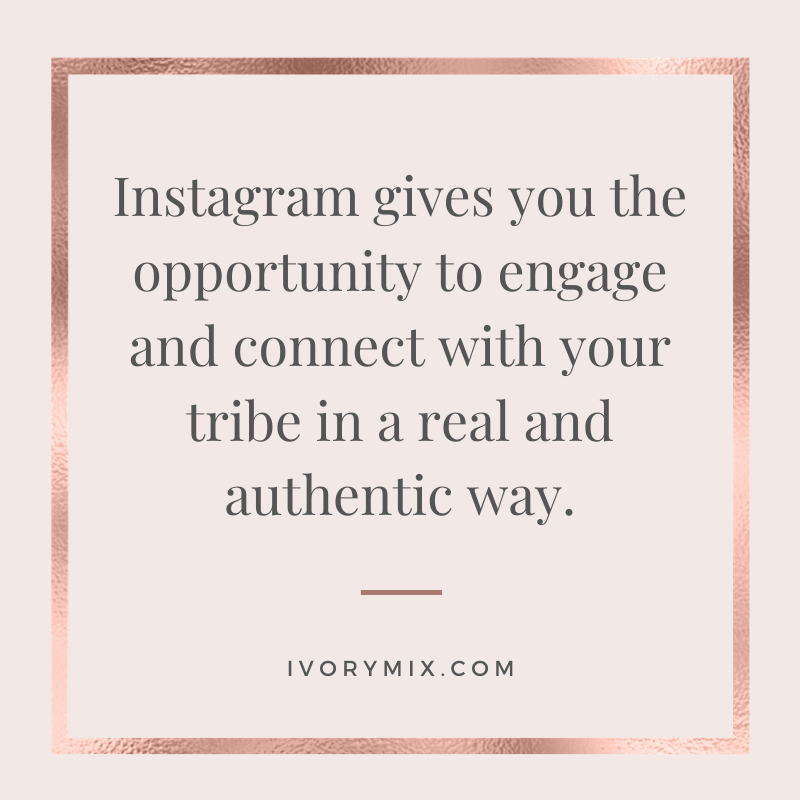 Design and Aesthetic Options
The most important thing to remember when creating an Instagram design strategy is to Stay. on. Brand. 
If you are keeping your brand message at the heart of the images you share, your feed will begin to take on the look and feel of your brand. 
There isn't one right way to accomplish this. Take a look at a few of our favorite accounts that are nailing it in the design department. Each has its own approach to organizing their feed — all very different, but all meet the needs of their ideal customers.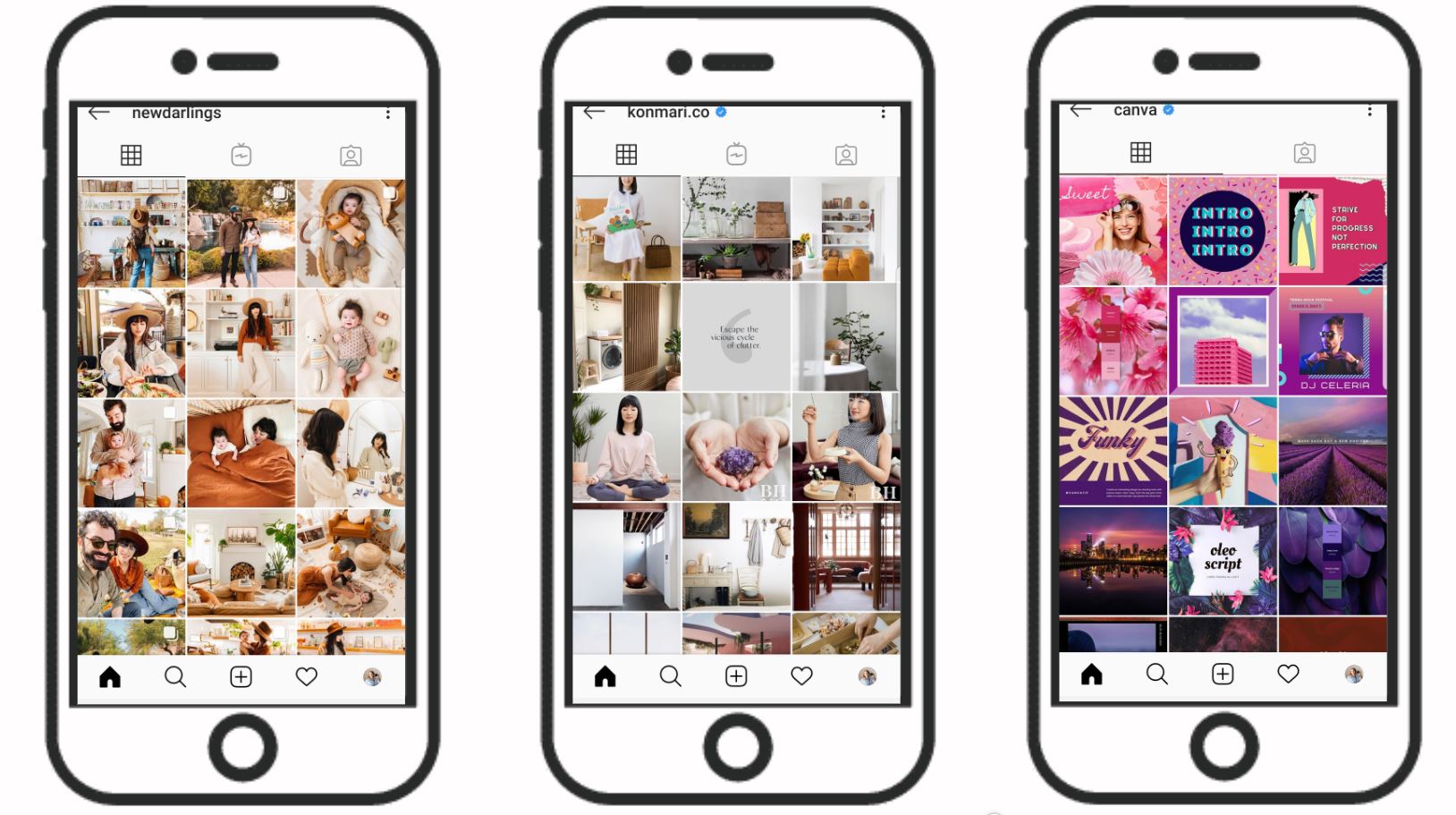 Canva

uses the rainbow effect and creates images with the same color scheme for multiple days in a row. As a graphic image tool, this is a fun way to introduce their product to their audience and show them how it can be used!

Marie Kondo

's brand is all about being organized and tidy. Her Instagram account just

feels

clean and minimal, yet she interjects her personality into her images as well. Her audience gets to see even more glimpses of her gentle personality and brand.

New Darlings. These lifestyle bloggers share their young family's adventure living in the southwest. Their incredibly gorgeous feed gives glimpses of their family life, home and travels with desert colors and images as the backdrop. Their photos are all very different, but they carry their earth-tone theme throughout their feed.
Don't forget, you can get 550+ free stock photos in the Ivory Mix library.
Let's Talk Captions! 
One of the biggest complaints we hear from our own audience is how hard it is to constantly crank out captions for social posts. I get it, it can be hard to keep your brand voice consistent without sounding robotic or repetitive. 
Here's my secret to creating captions that are real and authentic, yet engaging and thoughtful:
Creating captions which speak to your audience and encourage engagement is key to growing a successful Instagram account, and this is exactly why I've added "captions that convert" as a feature to our Ivory Mix membership
Related Post: How to get more engagement from your followers on Instagram
The Headline to Deadline Approach
It's pretty simple. Approach your captions with a specific goal in mind! Before you start typing away, really think about the goal of the particular post you're writing. Then make sure your first sentence is clear and attention-grabbing (the headline). After this clear sentence, quickly give call to action that is compelling (the deadline). 
Whether you want the reader to click a link, leave a comment, check out your stories, tag a friend or share the post — your deadline must tell them what to do next.
Another fun element to add to your captions are emojis! Use them to communicate your mood. Emojis are great for breaking the text and conveying your personality. 
Lastly, don't forget you're talking to a real person. You want them to listen up and take notice of you, so meet them where they are and talk to them like a friend. You will gain their trust and respect, and ultimately you may gain their business, too!
Hashtag 101
Do Your Research 
Yes, hashtag research is a real thing, and yes, you really should be doing it! 
Here's the bottom line — the Instagram platform is powered by hashtags searches. Figuring out which hashtags are working well in your industry and using them effectively is one of the easiest ways to reach your potential followers on Instagram. Don't let these powerful, free tools go to waste! 
How do I research hashtags? It's easy peasy! Go back to your Instagram insights on a particular post and see how many people reached that post through a hashtag. This can give you a great understanding of which ones are working to reach your particular audience.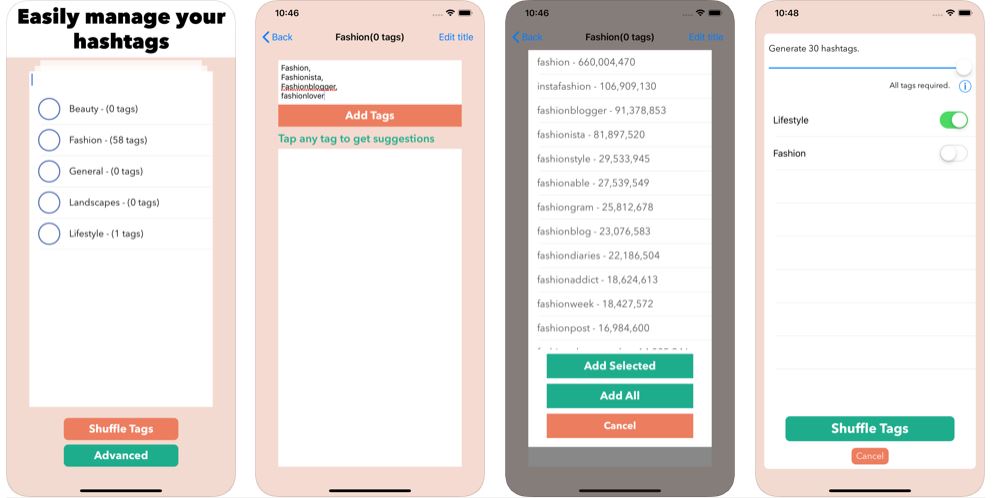 A couple of addition tools for hashtags include:
Hishhash

This app helps you create categories for your hashtags and autogenerates them in a random order to avoid shadow banning.  

The 10-10-10 method

is how we recommend mixing up your hashtags! Since each Instagram post allows 30 hashtags total, we advise you to use ten very high-performing ones, ten medium-popular ones (under a million), and ten that are lesser-known hashtags (under 500k). This keeps things fresh and evolving. It also ensures you aren't just using uber-popular hashtags and getting lost in the crowd. 
Related Article: How to find and use the best hashtags 
Instagram Stories
Video is how people are connecting on social media right now, and Instagram stories provide the perfect opportunity to be YOU in front of your audience. 
Instastories are NOT rocket science. The key to better stories are to: 
Have a plan in place so you aren't rambling

Just show up!
What do I share?
Anything! Your audience wants to see YOU, so share something funny that happened during your day, something new on the horizon for your biz, or even spotlight a product you love. 
If you need a little inspiration on what to share in your stories, keep a running list. When it's time to turn on the camera, you have an arsenal of ideas to turn to!
*A little tip: To increase engagement on your stories, create text captions. That way people who are watching without sound (at work or next to their sleeping partner for instance) can engage with you as well!
Related Post: 5 ways an Instagram story strategy can grow your followers
Identify Your Instagram Goals
Why should you bother with Instagram for business anyway? Can it really help your bottom line? The answer is – absolutely. 
Instagram doesn't have to be one thing for every business — it can mean different things to different business owners. 
The platform can help you bring traffic to your website, sell products and services, and build your email list. It can also be used simply to add social credibility to their brand. 
Work Smarter, Not Harder
To maximize your time on the Instagram platform and reach your goals without becoming overwhelmed, be sure to: 
Batch your content so you develop a rhythm and a flow to your schedule 

Use MSI (Meaningful Social Interaction) and Engagement Hacking to narrow in on your most engaging content. If certain posts are getting lots of comments and click-throughs, that's what your audience wants, so post more of that type of content! (Simple enough, right?)

Check your insights to learn more about your audience. Continue to improve and develop your strategy based on these insights. Figure out what type of engagement your audience responds to and stay in your lane. 
Instagram's one billion active users are hard to ignore. Creating a business account is a brilliant move for entrepreneurs who want to create more meaningful connections with their customers. 
I challenge you to take these actionable tips and develop a plan to take Instagram by storm for your business in 2020!
Let us know how your Instagram journey is going! Be sure to tag us along the way @the_ivorymix and @crystalclearphotographyaz
LOOKING FOR MORE INSTAGRAM TIPS AND TRICKS? HERE ARE SOME OF OUR FAVORITES:
Click here to honestly and authentically grow your Instagram 

First, make sure you read this blog post about creating 30 days worth of Instagram content here and learn how to create a colorful month of content in as little as 5 minutes.
Plus, check out these Instagram tips: