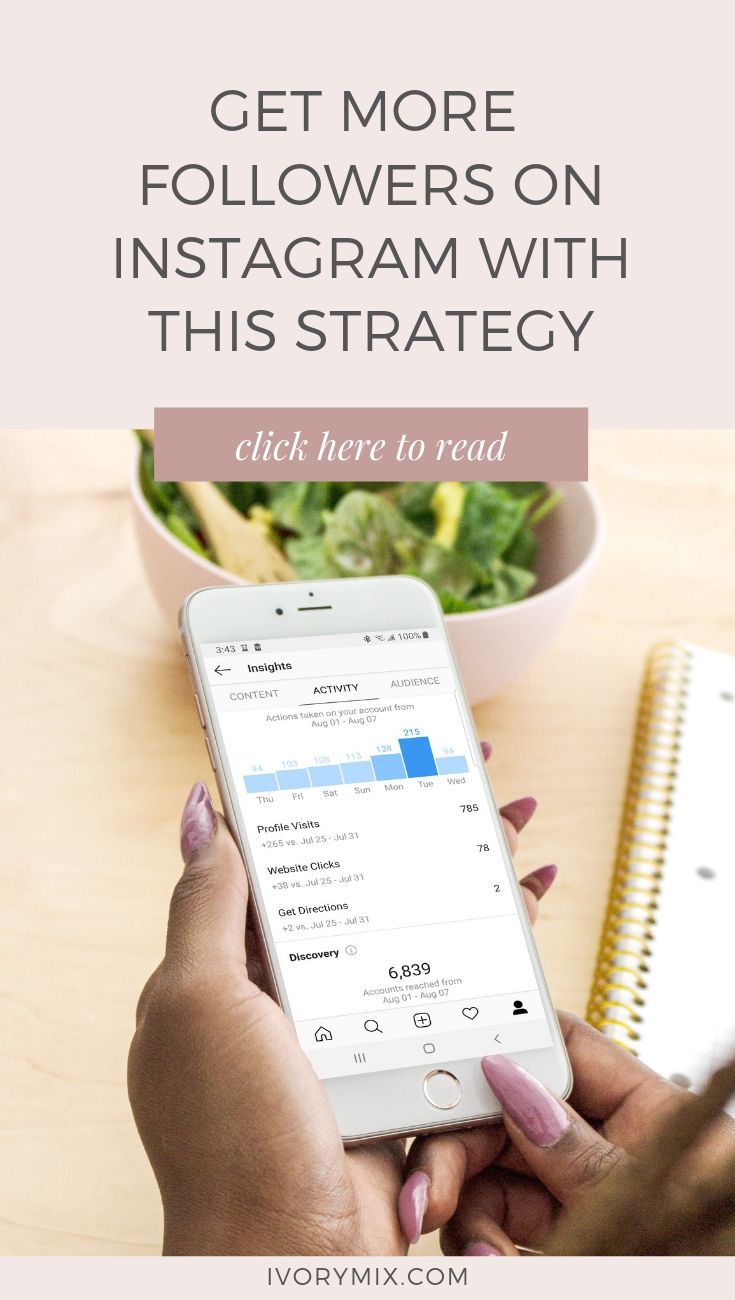 Fun fact! One in three of Instagram stories is created by businesses while over 500 million users watch stories on a daily basis. if you are using Instagram for business and have trouble creating strategies, then today's post is for you.
When used to their full potential, stories can be a great way to build your audience base and convert followers into customers. While paid ads in Instagram stories may naturally be a great way to get seen by more people, your organic Instagram strategy would benefit a lot if it included several other features.
Here are some of the key ways that Instagram stories can upgrade your approach to Instagram marketing.
#1, Build more meaningful relationships with Polls, Quizzes, and Surveys
Did you have a magic 8 ball as a kid? Just this past week, my husband and I decided something based on a magic 8 ball. That last sentence wasn't true, but it's funny to think because it might be – right? People just absolutely love to have their fortune read and they also love to share their opinion.
That's why polls, surveys, and quiz stickers are so fun on Instagram stories.
Before you go worrying about getting new followers to help you make more sales through Instagram, you might do yourself some good to think about the followers you already have. Stories can be a great tool for establishing that stronger and deeper connections in which both client and business gain increased insight.
The best ways to achieve that deeper connection with existing followers is through interaction and personalized engagement. What better way to do that with a good-old-fashioned poll or quiz?
Use your Instagram story to ask a question relating to an image or video posted on your feed and send new visitors there to deepen their knowledge and grow more followers.
Alternatively, you could do what I like to call "engagement hack". The way this works is you run a poll within your Instagram story and then tease the poll on your Instagram post for the day. This will bring people from your feed to your stories, sending engagement signals to Instagram which boosts your views and deepens those relationships too.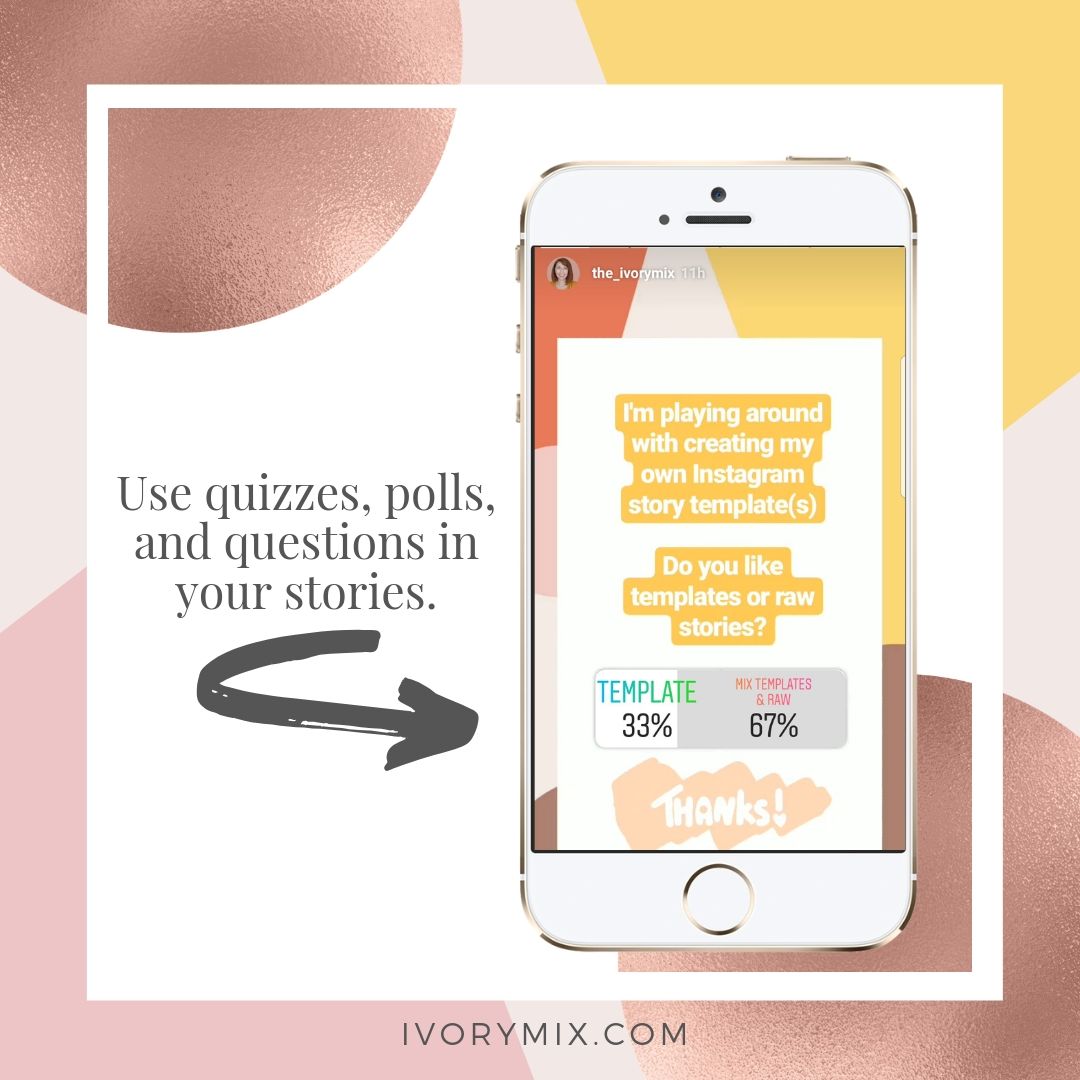 #2. Reach new audiences through hashtags in your stories
I know your following is a little stagnant lately. It happens! But, despite how it may seem, social media platforms like Instagram are ideal vehicles for reaching new audiences and getting new followers.
There are literally millions of people browsing Instagram for content each day. Which is why one of the easiest ways for them to find the content they love is to click a hashtag that is related to the things they love.
Whether it's #holidayplanning or #bulletournalling doesn't matter as long as it's targeting your perfect audience. Adding those tags to your stories will attract new viewers from the explore page. If the content resonates with them too, your follower count will climb.
To add hashtags to stories, click on the "STICKERS" icon and click on #HASTAGS.
#3. Get social in your stories (host a takeover)
Are you a "solopreneur"? Being in business for yourself as a freelancer or as a one-woman shop can often leave you feeling like you're living on an island. But, in the world of digital marketing, losing the "us versus the world" mentality is vital to massive growth.
Connecting with other brands and business owners can be the perfect way to become a part of the conversation and can be the key to gaining followers from other businesses that share a similar audience to yours.
Consider tagging another brand in a post. They may share it with their audience. When they do, your brand is automatically shown to their followers too.
Another way to do this is to just message the brand and say "hey, let's collaborate". We've recently done this with Instagram take-overs and the response has been so much fun. Not only do I get to share valuable content with my audience and introduce them to brands I love, but those brands also share my account with their followers. Win-win.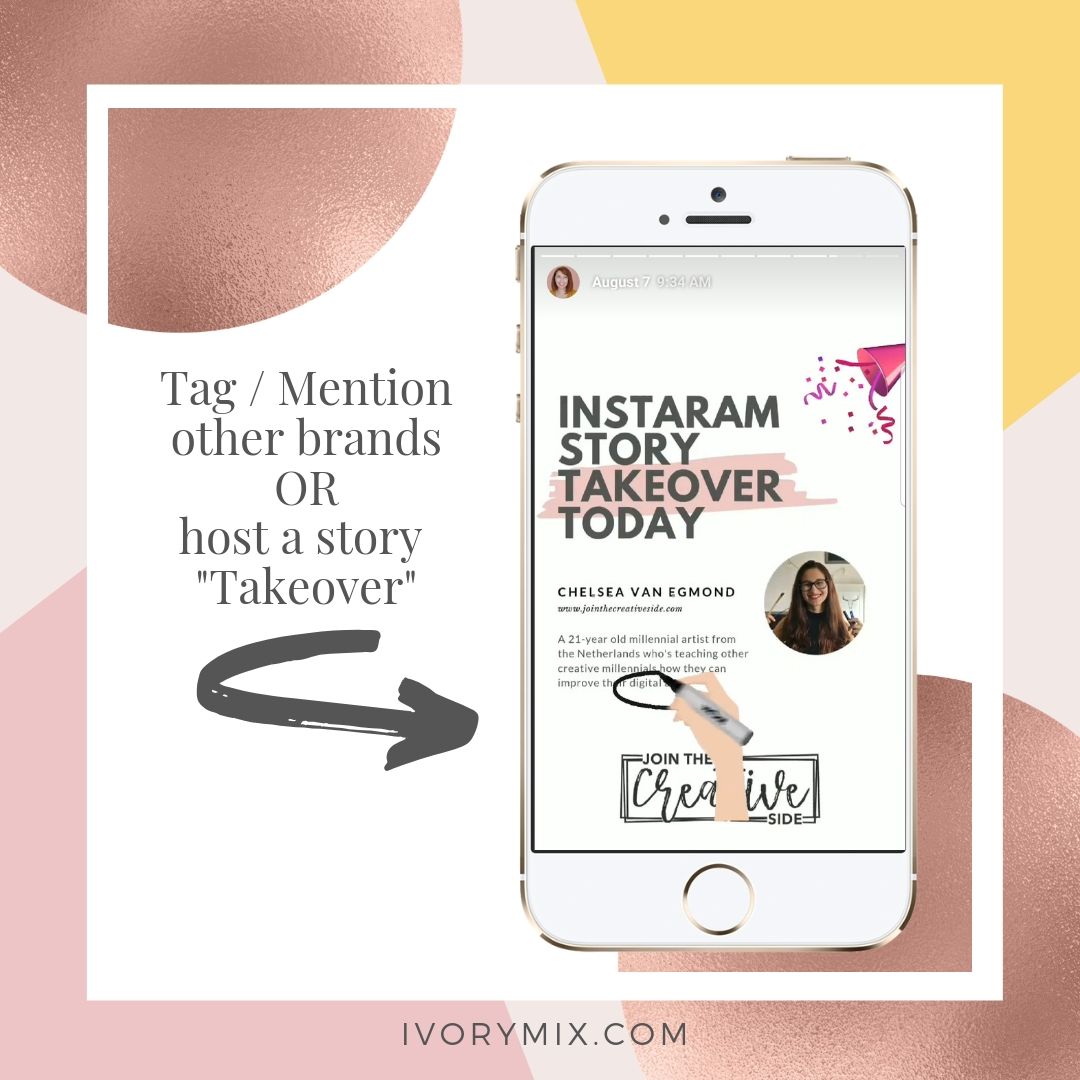 #4. Post previews of content in your stories and spark curiosity
Instagram algorithms can be tricky. 90% of your followers won't see your Insta posts, particularly if they rarely leave comments or send your DM's. However, your Instagram stories feed can be a great way to incite curiosity and redirect them to your profile.
Story updates that inform users with previews of your content and that you have a new post are particularly useful. One way to do that is by using a graphic or an emoji to blur out the post itself as people will naturally be tempted to click your profile to see what it is.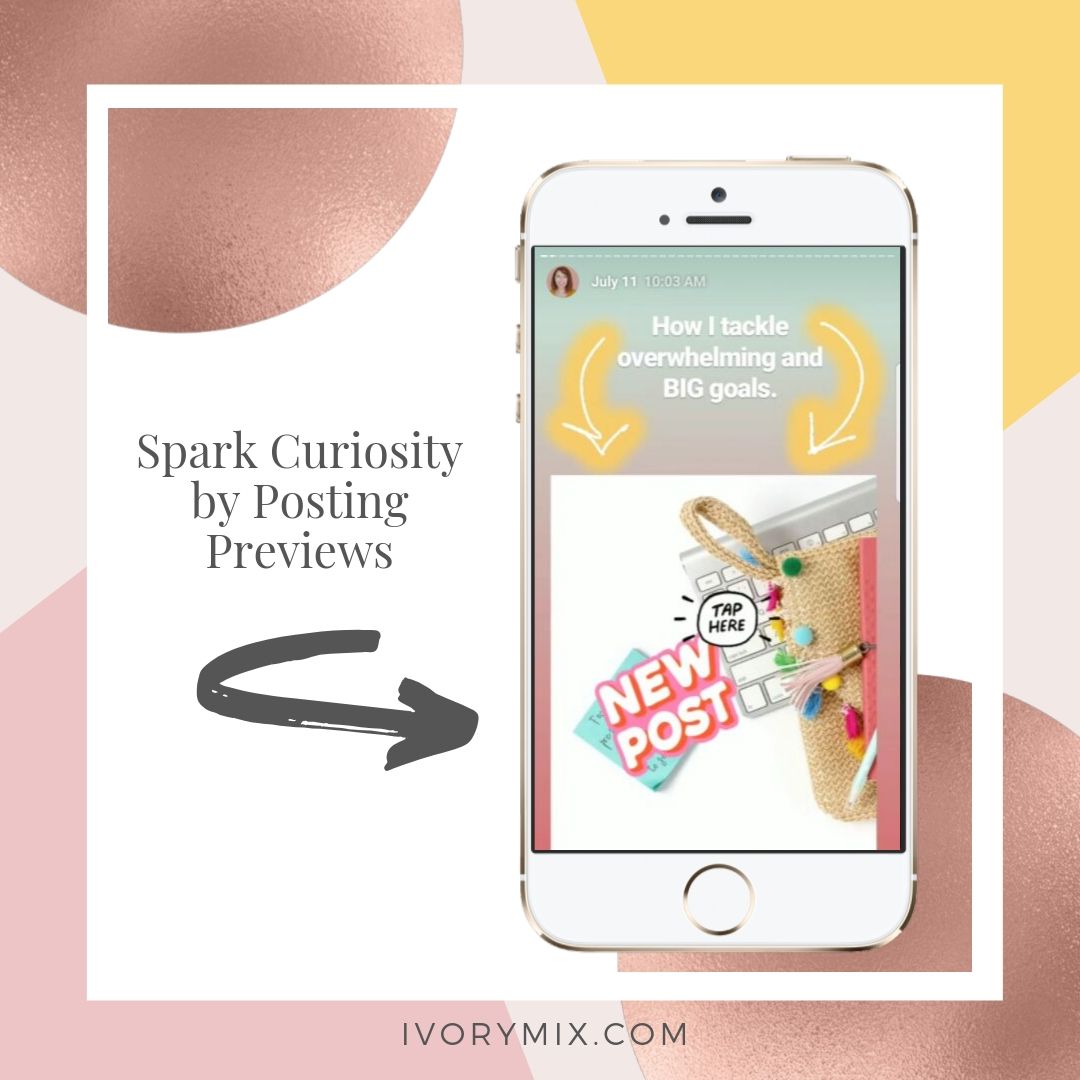 Another popular option is to run a countdown or partial reveal of a new product. Once again, this can be a great way to increase engagement and get them taking action.
#5. Promote stories across platforms
Instagram is cool, sure, but there are still plenty of other social media users and potential followers that have yet to open an Instagram account. However, this needn't stop you from getting that the content of your Instagram stories seen by more people.
These days, repurposing videos and photos to other platforms like Facebook and Pinterest are easy.
For instance, you can instantly send them to Facebook right from the Instagram app's settings or use automation from zapier or IFTTT to download them from your own feed and then share them.
This can save you the hassle of creating new content for all platforms and ensures that people without Instagram still get to connect with the brand on the platform they choose. It's also a great way to stagger the schedule so that you hit different audiences throughout the day.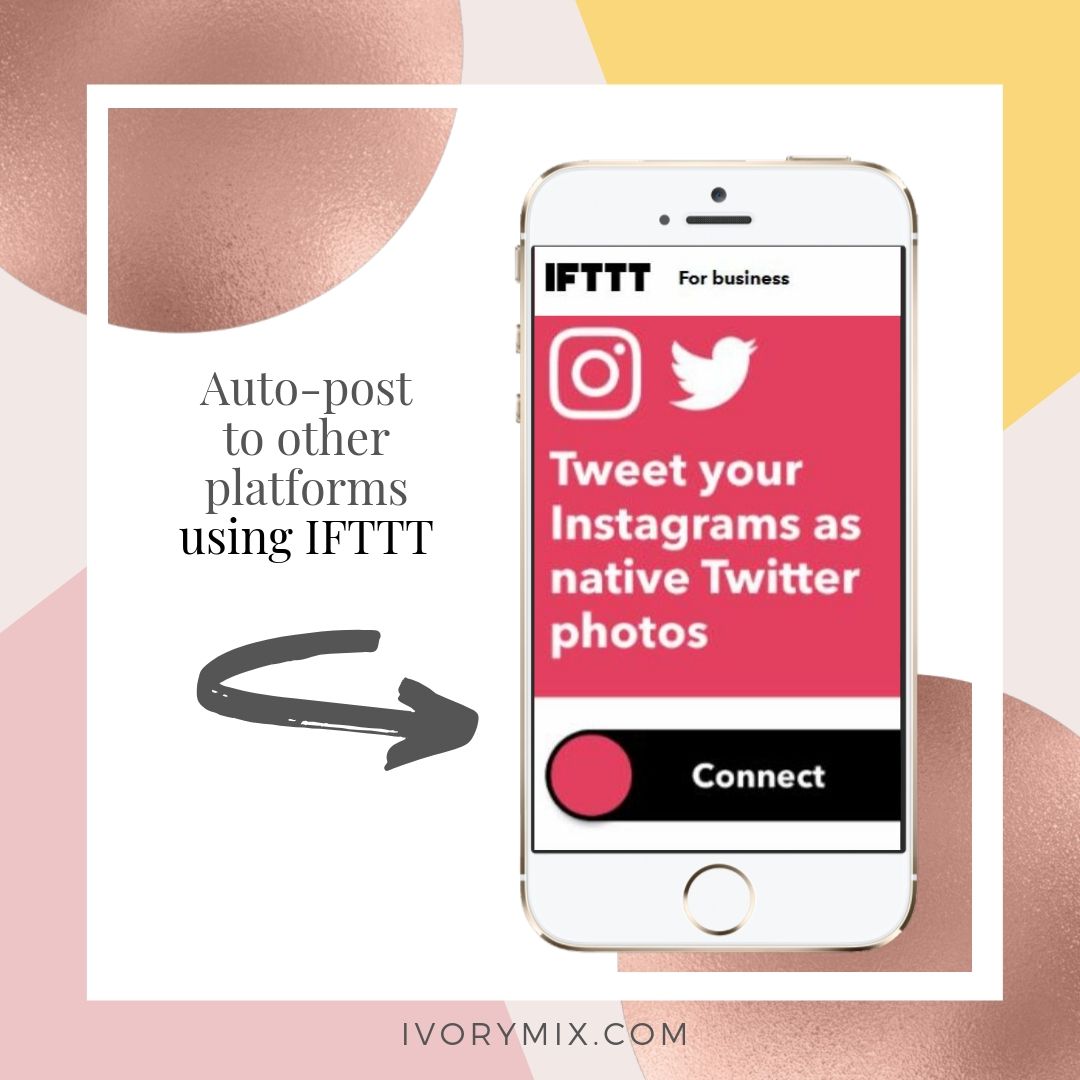 LOOKING FOR MORE INSTAGRAM TIPS AND TRICKS? HERE ARE SOME OF OUR FAVORITES:

First, make sure you read this blog post about creating 30 days worth of Instagram content here and learn how to create a colorful month of content in as little as 5 minutes.
If you've already started publishing to Instagram for your business, grab this habit tracker so that you don't skip a beat.

Plus, check out these Instagram tips: