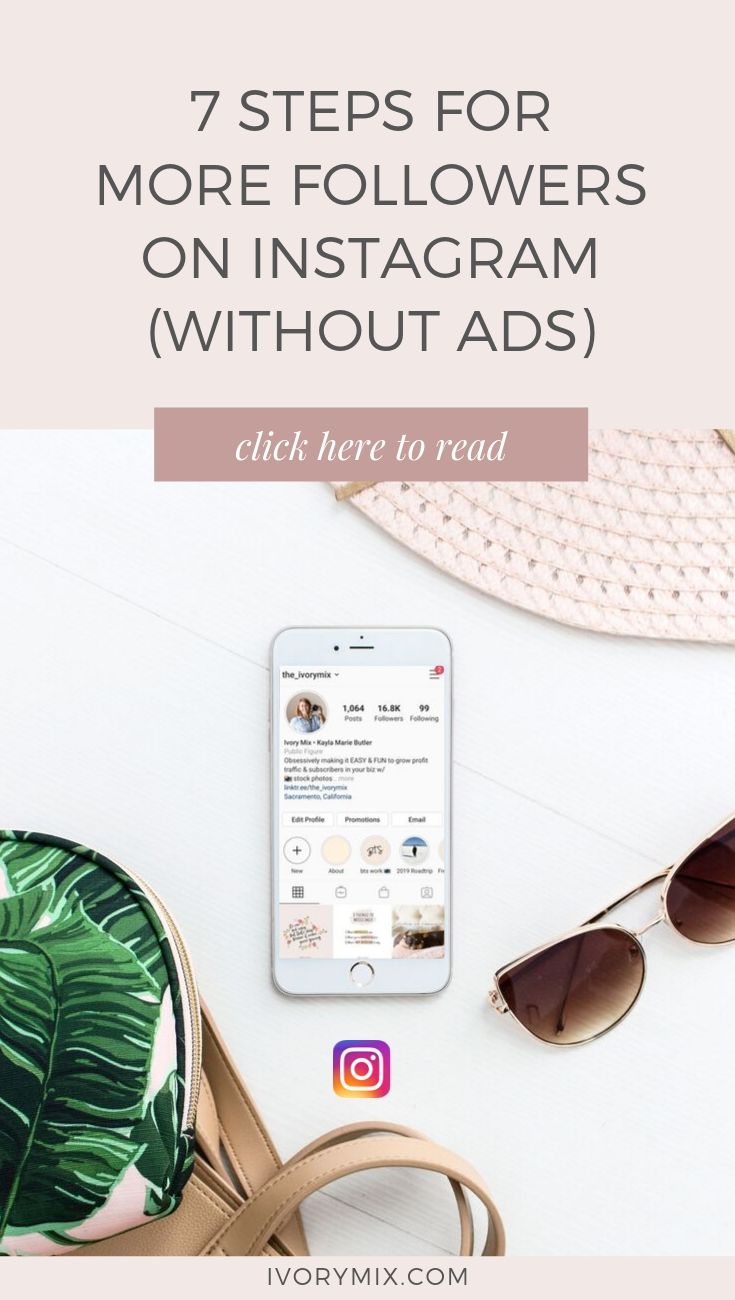 While setting up an Instagram account for your business may be easy, actually getting noticed by your ideal audience is not so much. Am I right? There's a lot of competition and getting the right people to start following you can take some effort. In the beginning, you may even be subject to follow/unfollow behavior be other marketers and it can be a terrible experience all-together.
What I desperately don't want is for you to think that the follow/unfollow behavior is how people get followers. I also don't want you to think it's a "pay to play" game either.
While you can pay for ads and even pay for new followers (yikes don't do that), increasing your follower count organically and with the right people is STILL the best thing to do on Instagram.
Luckily, there are lots of steps that you can take to gain more of the right Instagram followers, organically without becoming subject to the follow/unfollow headaches.
Here are some of the things that you could be doing to grow your Instagram following.
Post Content that Sparks Meaningful Social Interactions
Let's cut to the chase. There are two types of interactions you can have on Instagram. Passive and Active.
Passive Interactions = Likes, Views, Clicking
Active Interactions = Comments, Saves, Shares, Direct Messages
So, if you want to know how to grow your Instagram account following, then your goals should be to create content that sparks active interactions (aka MSI =Meaningful Social Interactions).
These active interactions build upon your relationships and ultimately signals Instagram's algorithm to show your content to those people more frequently.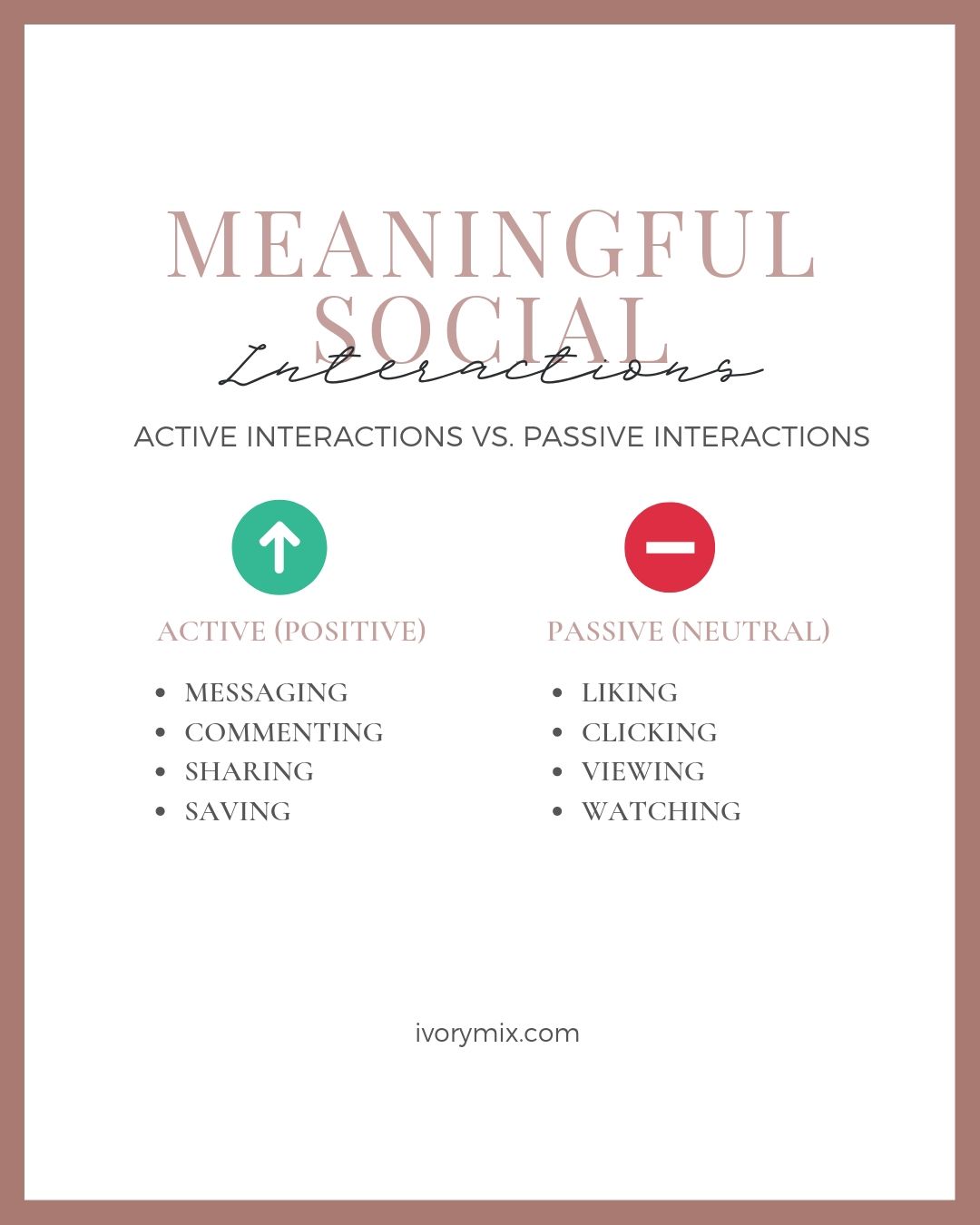 Use Call-to-Actions
One way to get active interactions from people who view your content is to use your call to actions for asking your audience to leave comments, save posts, share with a friend, or even ask them to DM you.
Yes.. you can ask for a DM. 👉 Think about something they might get from you if they do the actions. For instance, can you reward them for DMing you? Will they get a special link from you? A coupon code? A quick direct q&a with you?
These interactions build upon your relationships and ultimately signals Instagram's algorithm to show your content to those people more frequently.
Related Post: The essential Instagram strategy for service-based businesses
Make the Most of the Link in Your Bio
Your profile can make a difference when you're trying to get people to follow you. If they click on your name to take a look at your account, they'll see your short bio description and bio link. You can only have one link in your bio, so making the most of it is essential. You might link to your main landing page, but there is also the possibility of sharing more content.
Using a tool like Linktree, you can add multiple URLs to a single link so that you can share even more.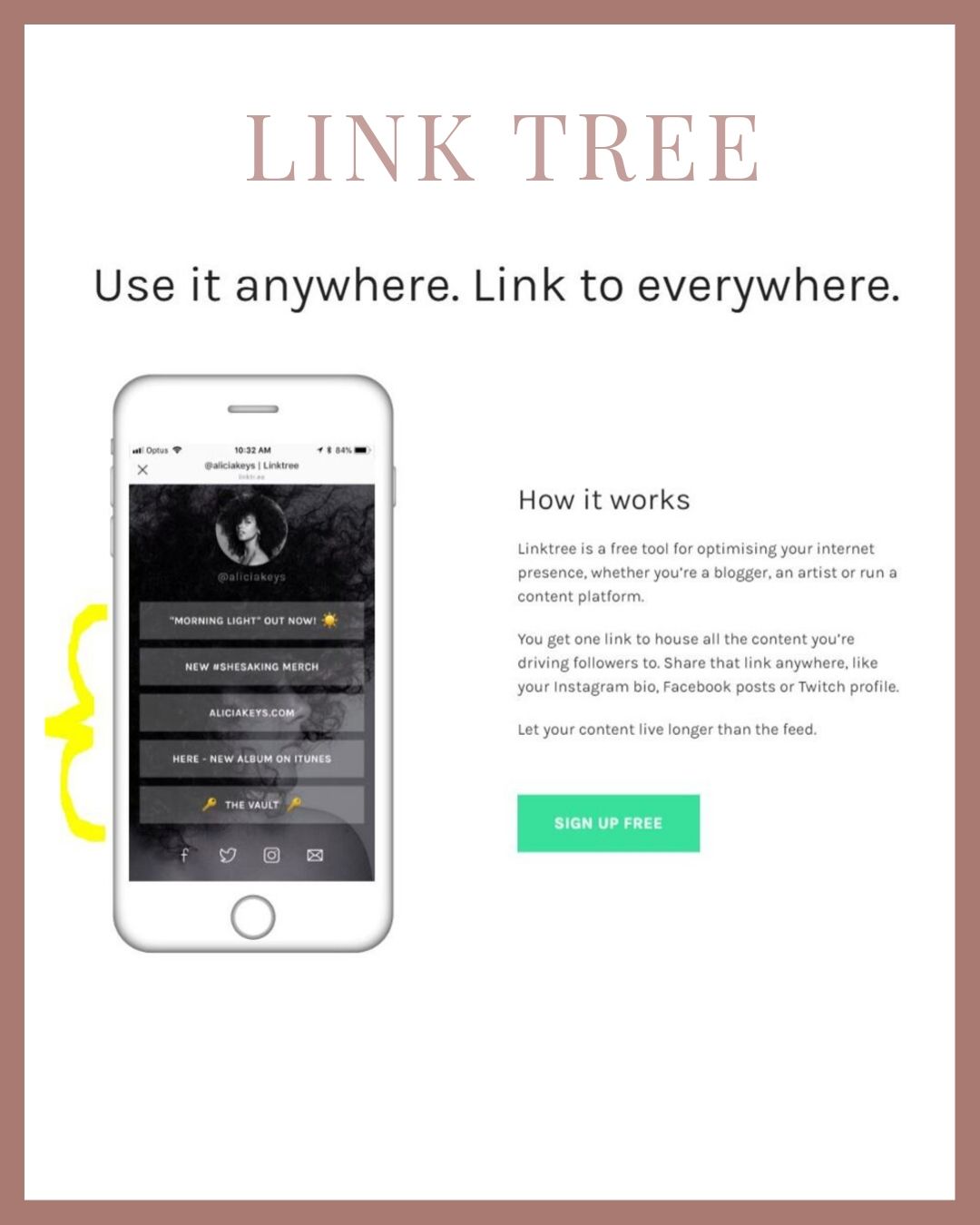 Test and Vary Content Formats
Instagram allows you to share single or multiple images, short videos, and Stories. If you use IGTV, you can also share longer videos and post short previews to them. Varying the type of content that you post helps to keep your Instagram engaging and interesting for new viewers.
Videos are one of the most engaging types of content you can use on any social platform. Stories are also very useful, allowing you to post something for just 24 hours, so your followers need to look at it as soon as possible to avoid missing it. Varied content makes your account look more interesting and worthy of a follow.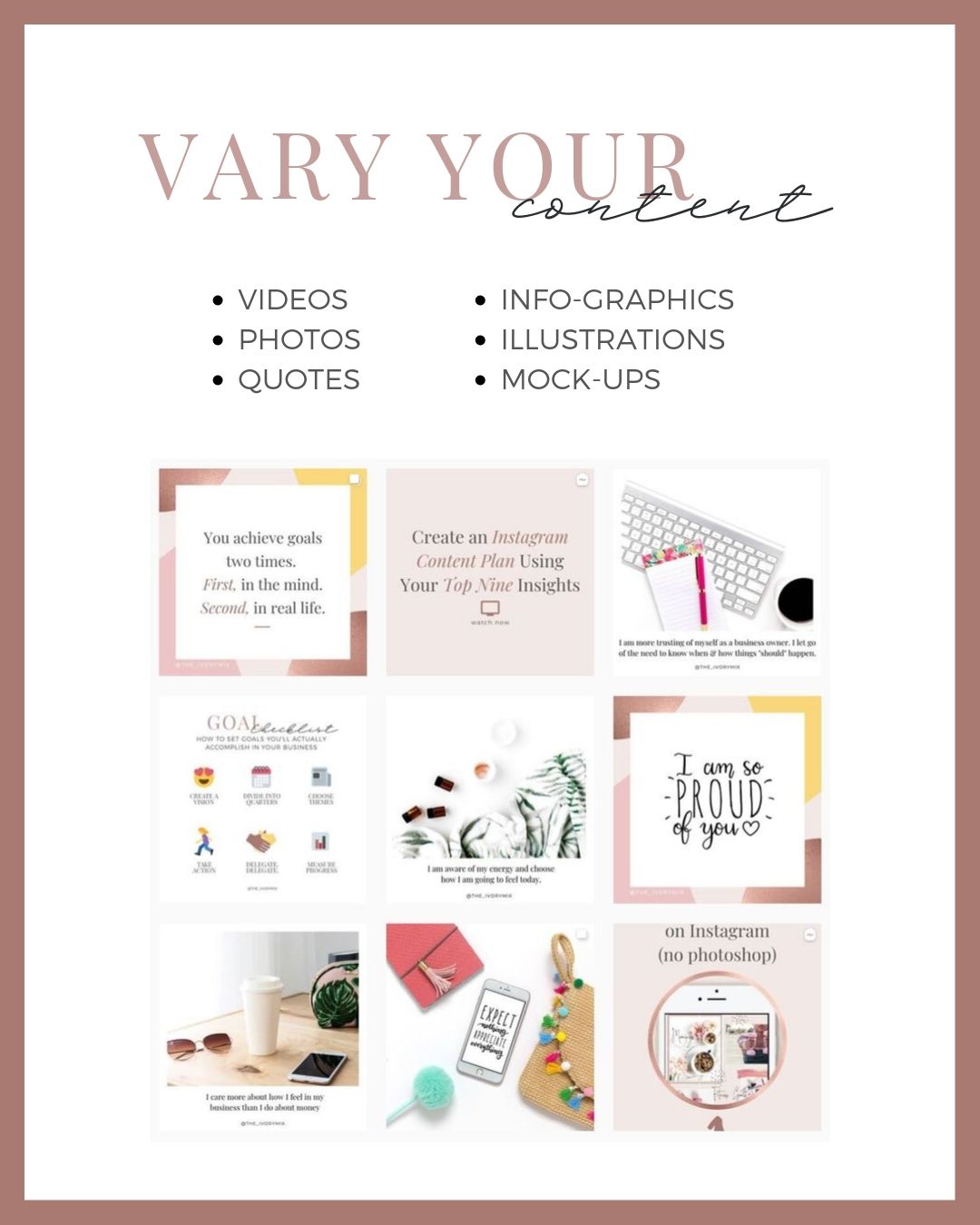 Post Regularly
Posting daily is what I aim to do, because if I can find just 5 minutes of my day to share something of value with my audience, then I've considered it a success for the day. The goal for me is to connect so I spend at least 1 minute posting something to my stories, like a behind the scenes.
Regularly posting on the platform is vital if you want to increase your followers with an ideal audience.
If someone takes a look at your account and sees that there's not much there or you post sporadically, they might decide you're not worth following. Posting regularly also helps you to get more of your posts into hashtags and general searches. The more you post, the more likely your posts are to be seen. If you want to make regular posts, you should create a calendar to help you or use a scheduling tool, like Tailwind, the Plann APP, or Preview App
By scheduling your posts, you can ensure you will post often and always have content to post.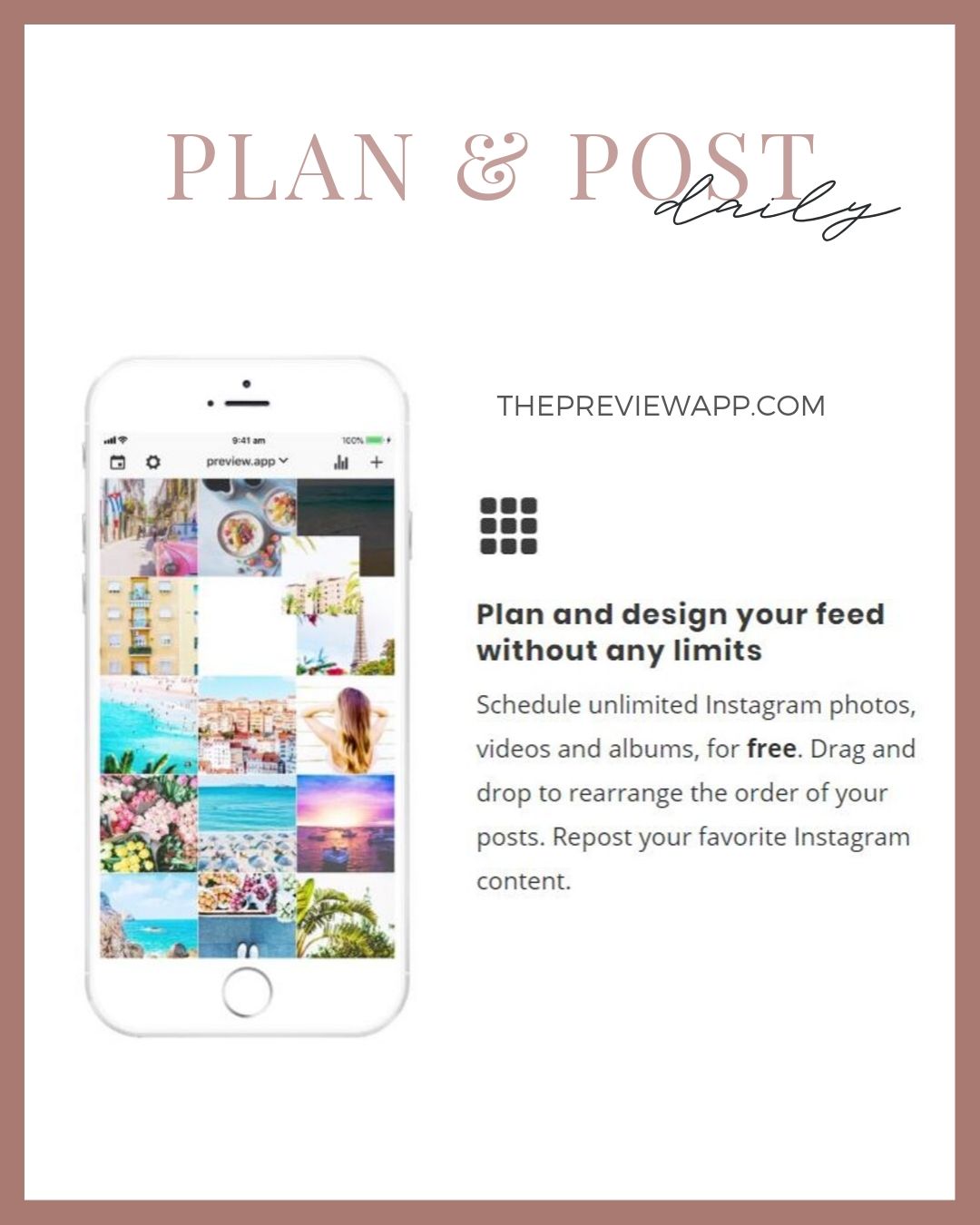 Track Down the Best Hashtags 
Your use of hashtags is key to finding your followers. If you can use the most relevant hashtags to your photo and mix it with a few popular hashtags, you'll be able to find people who are definitely interested in what you have.
You can find new hashtags that are relevant using various tools such as this Instagram hashtag finder. This helps you to keep mixing things up so you don't get stuck using the same hashtags again and again. If you stick to the same hashtags all the time, you might find that you start to get less engagement on your posts. Make sure you find and use new relevant hashtags regularly so you can keep finding new followers.
Related Post: How to find the best hashtags for your Instagram posts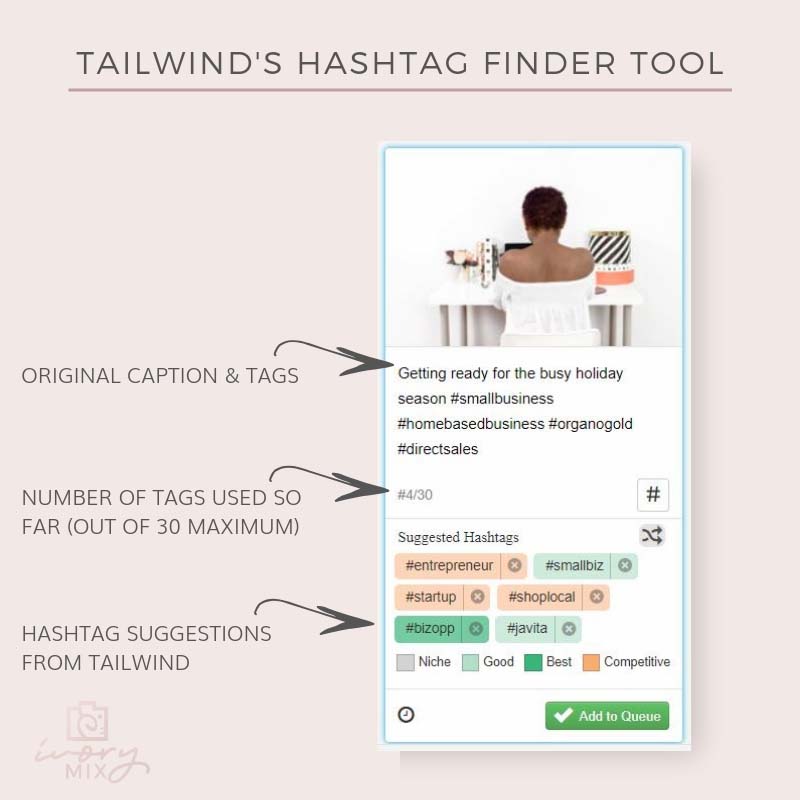 Learn from Insights
Instagram insights can tell you a lot about how you might be able to grow your followers. By looking at the data that Instagram provides you, you can see information like which posts get the most engagement and when they receive the engagement.
On your insights page, when you have a business account, you can sort your latest posts by engagement so you can see what types of post are helping you to reach your goals. You can adjust the available filters to get information about how your posts and performing and which ones are helping you to get more followers and other types of engagement.
Related Post: How to create your best content plan using your top 9 Insights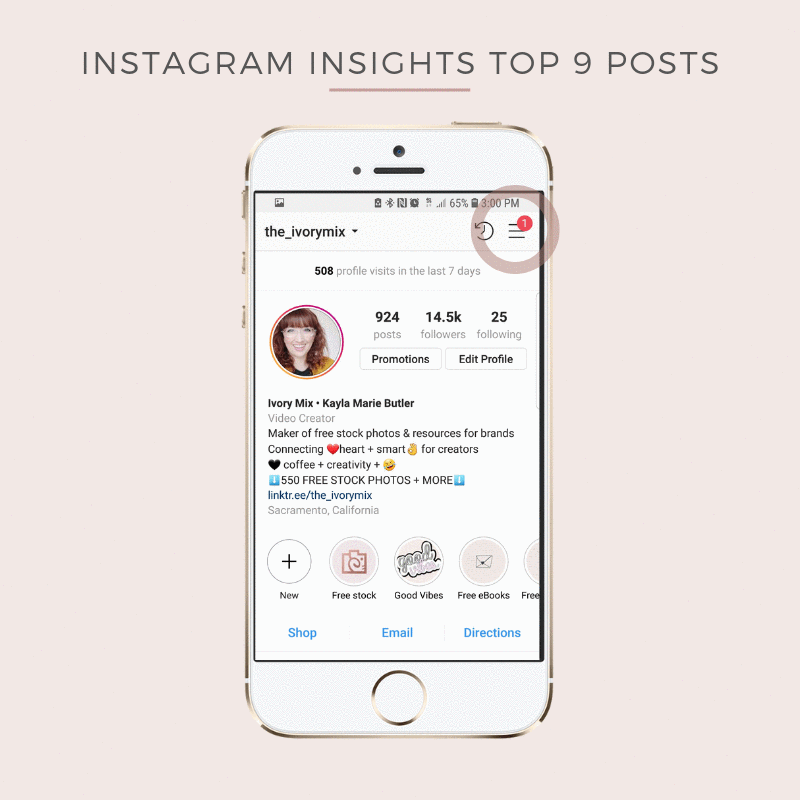 Set Up Cross-promotions
Cross-promoting your business with other people and accounts on Instagram is an excellent way to reach out to a new audience. When you team up with businesses and brands who share similar target audiences to yours, it's beneficial for both you and them. You get to promote your brand to their followers, and they get new exposure from your followers.
Collaborating with another brand or business on Instagram story takeovers is one way to cross-promote. For more on that, check out these 5 Instagram story tips for getting more followers on Instagram.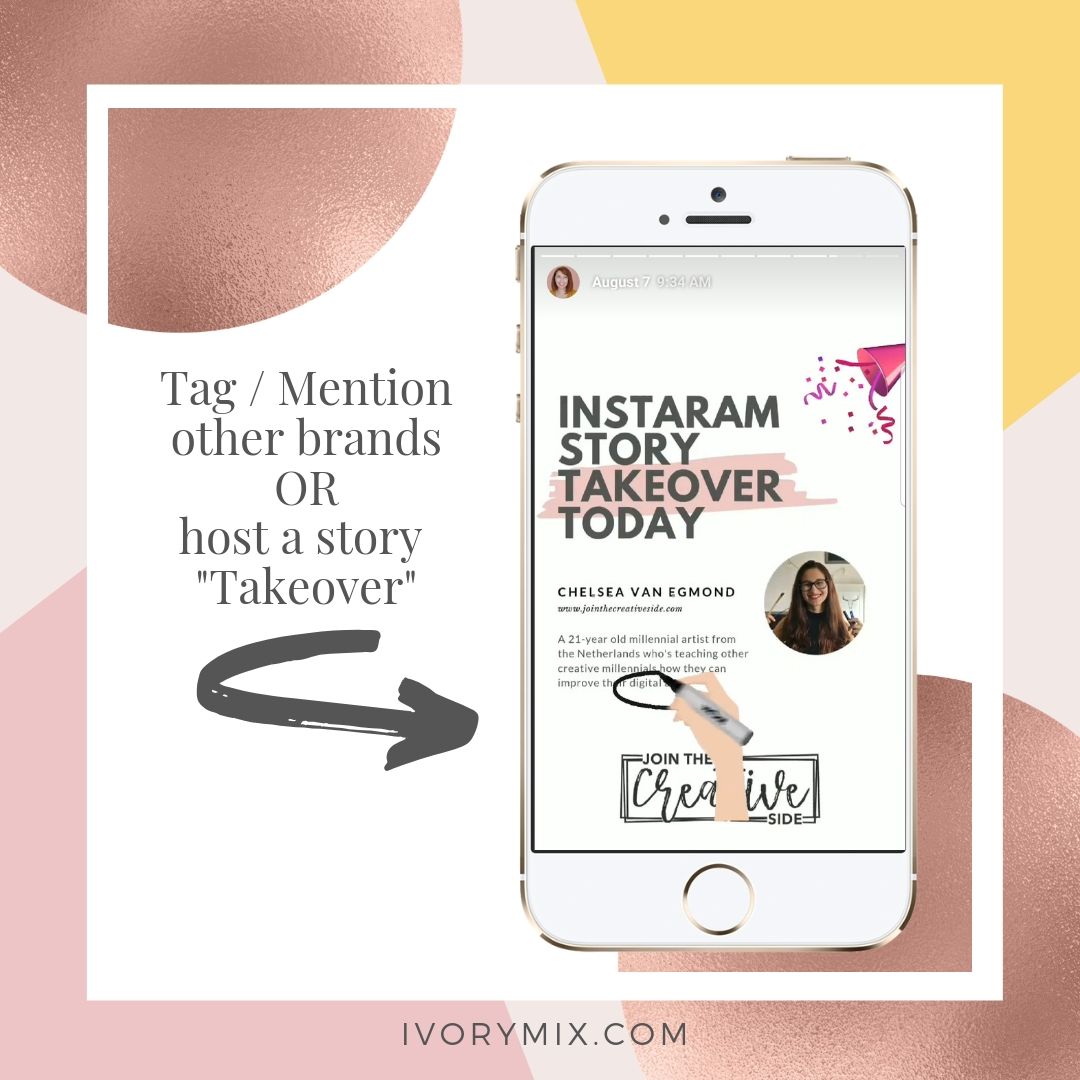 If you choose the right people to work with, it can help to increase your followers and theirs. You might already be working with people who are perfect for cross-promotions.
LOOKING FOR MORE INSTAGRAM TIPS AND TRICKS? HERE ARE SOME OF OUR FAVORITES:

First, make sure you read this blog post about creating 30 days worth of Instagram content here and learn how to create a colorful month of content in as little as 5 minutes.
Plus, check out these Instagram tips: