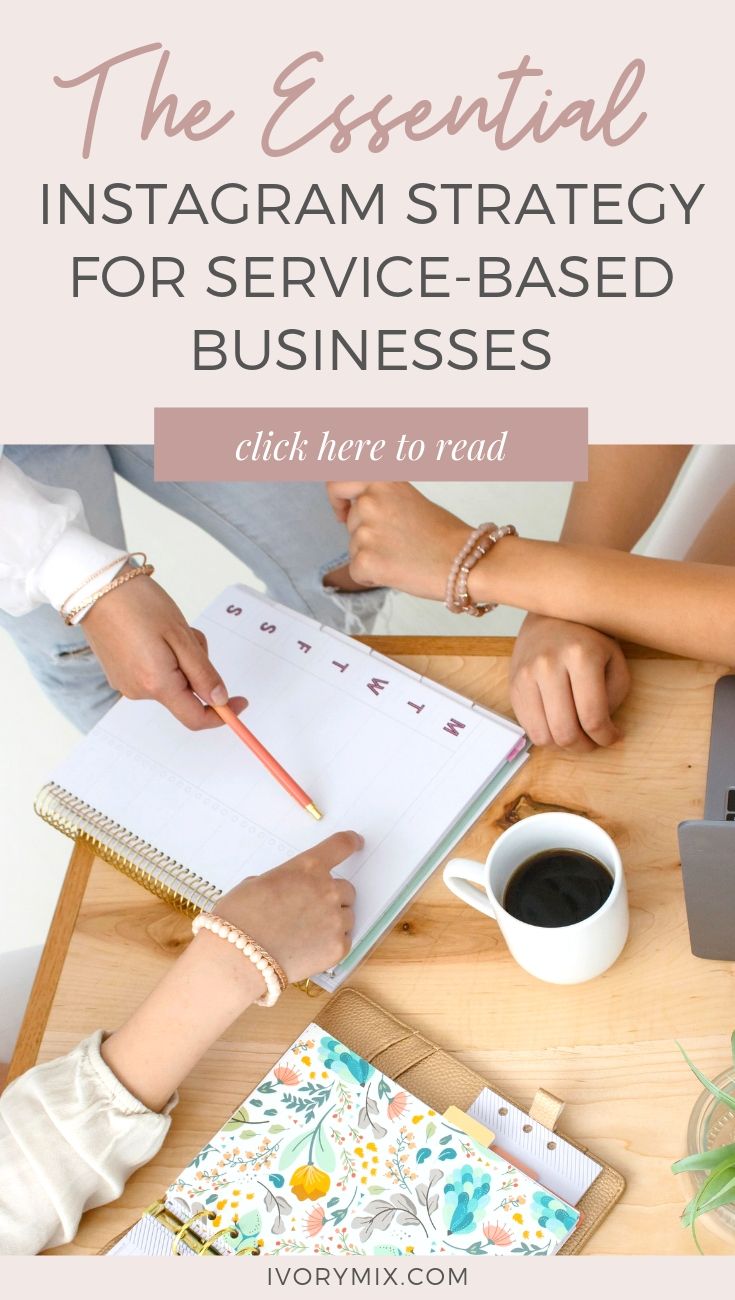 The appeal of Instagram for many of us creative types is that it is a visual medium. We're visual people! Isn't it great to scroll through your feed for connecting with friends and family, gathering feasts of visual inspiration from artists and brands you love, and learning and living vicariously through the images of people you look up to?
Come on, tell me you don't follow Oprah on Instagram?
Being the smart and savvy (did I say creative?) small business owner you are, you already know that Instagram is where it's at for growing, connecting, and scaling your business. So, sure, if you have a fitness coaching business, if you blog about food, or if you are a traveling copywriter and digital nomad, then this whole Instagram thing can be an ideal way to share what you're up to in a visual way.  Done right, it's probably immediately eye-catching and engaging too.
What if you don't know a thing about photography? But, what if your business isn't visual?  What if you have a service based business?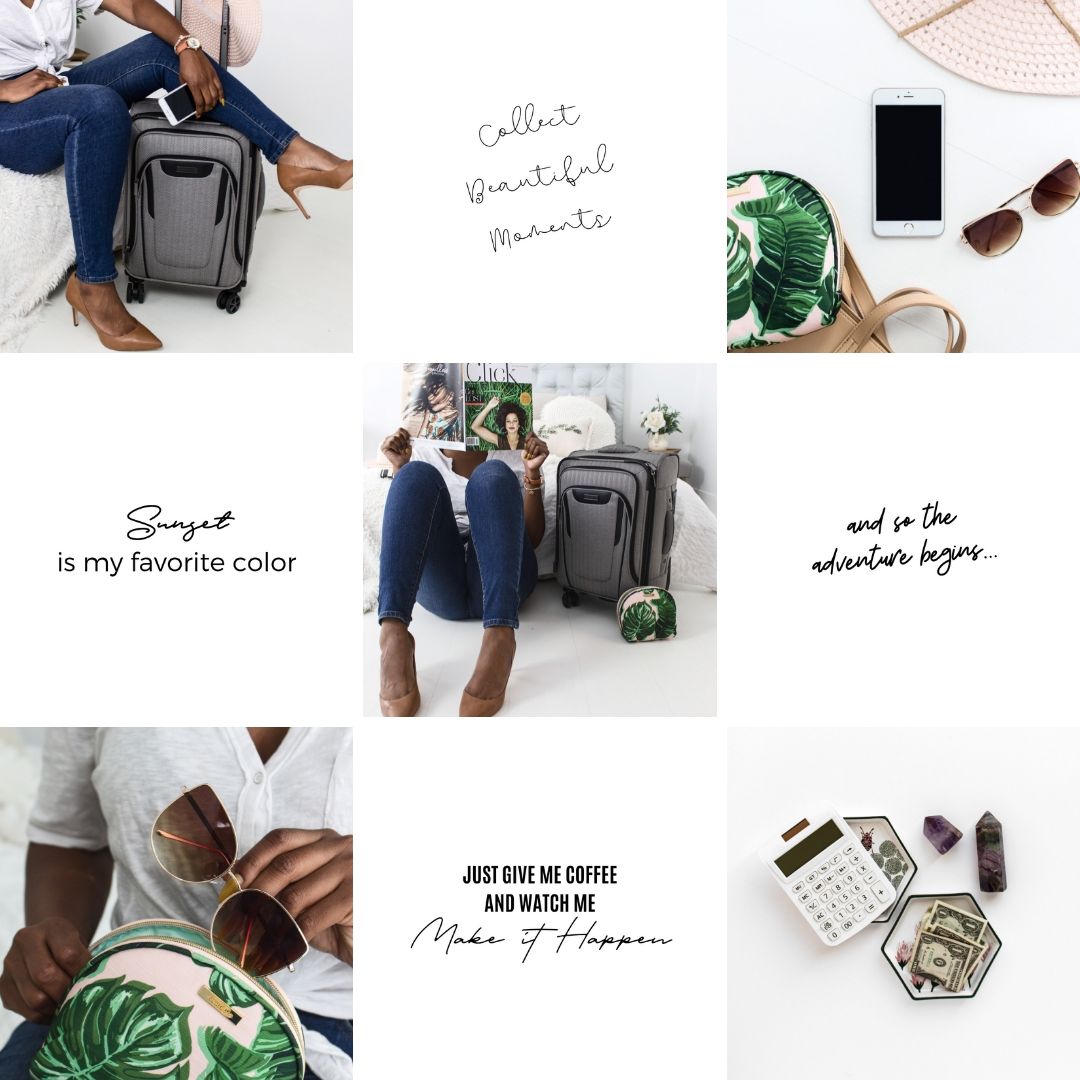 Yes, Service-Based Businesses Can Instagram Too
For some businesses, the visual emphasis isn't as obvious as the ones I mentioned earlier because they're service-based. What's so "visual" and "Instagrammable" about a tax accountant anyway? Or someone with a legal counseling service, or maybe someone who owns a virtual assistant business?
For instance, if you run a virtual assisting business, how can you express what you do "digitally" in a visual way that will be interesting and engaging for your audience?
Do you post facts and figures? Bar charts? Statistics? (Hint: that's a big Nope – No way!)
Likewise, if you are a legal consultant… how can you encourage people to get involved with your Instagram?
Connect the visuals with an emotion
If you own a service-based business, then the first job is to find what it is that your business is really about and what it is that you are really selling:
how does your service or product make people feel?
What are the pain points or fears that drive them to buy from you?
Understanding the emotions your audience and customers feel during their journey is what will allow you to communicate the purpose of your business through images and captions. As an example of a tax accountant, this is a business that ultimately sells peace of mind to people and businesses who support their families.  Therefore, the best way to promote yourself through Instagram might be to share post photos that evoke a sense of the piece, or a familiar image that reminds them of their families and why they are doing what they do with their businesses and finances.
Here's a really good example of that from HR Block on their Instagram account: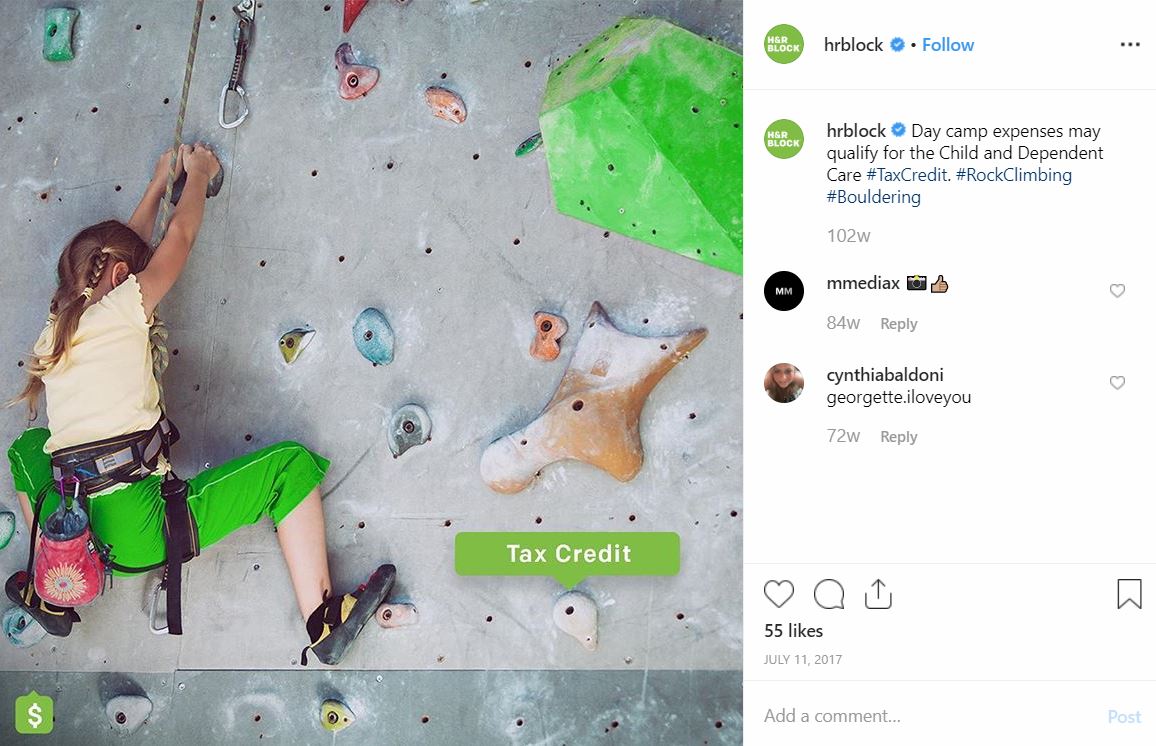 Connect the visuals with stirring captions
I love the word stirring. It can mean so much more than what I do after pouring almond milk in my coffee. Stirring is exactly how I would describe the best strategy for Instagram captions. Especially if you're a service based business.
Stir·ring /ˈstəriNG/ causing great excitement or strong emotion; rousing.
synonyms: exciting, thrilling, action-packed, gripping, riveting, dramatic, rousing, spirited, stimulating, moving, inspiring, inspirational, electrifying, passionate, impassioned, emotive, emotional, emotion-charged, heady, soul-stirring; stem-winding; rareinspiriting, anthemic
A stirring caption not only drives engagement from a riveted audience, but it also builds a story about you and your business. It can build awareness around who you are, your team, what you do and why you do it. It stirs up emotions from your audience who are on the platform to connect with things they love. Not only do they want to connect, if you're reaching the right people, they'll also be dying to hear more from you and learn more about what you do and why you do it.
Let's take a virtual assistant business as an example. If you were a virtual assistant looking to connect with busy small business owners and you just so happen to specialize in social media, then you will definitely want to post images of you, quotes and words that inspire you, and of your organized office space. These visuals this not only give potential clients the sense that you've got your act together and are highly organized  -as a result, it also shows you can bring the same sense of calm and organization to their business and social media.
But wait! What if your social media feed looks great but there's no substance to the captions and nothing stirring those emotions?
How would you caption one of these images below? Really think about it and then skip below the photos to see an example of the types of captions you could be creating.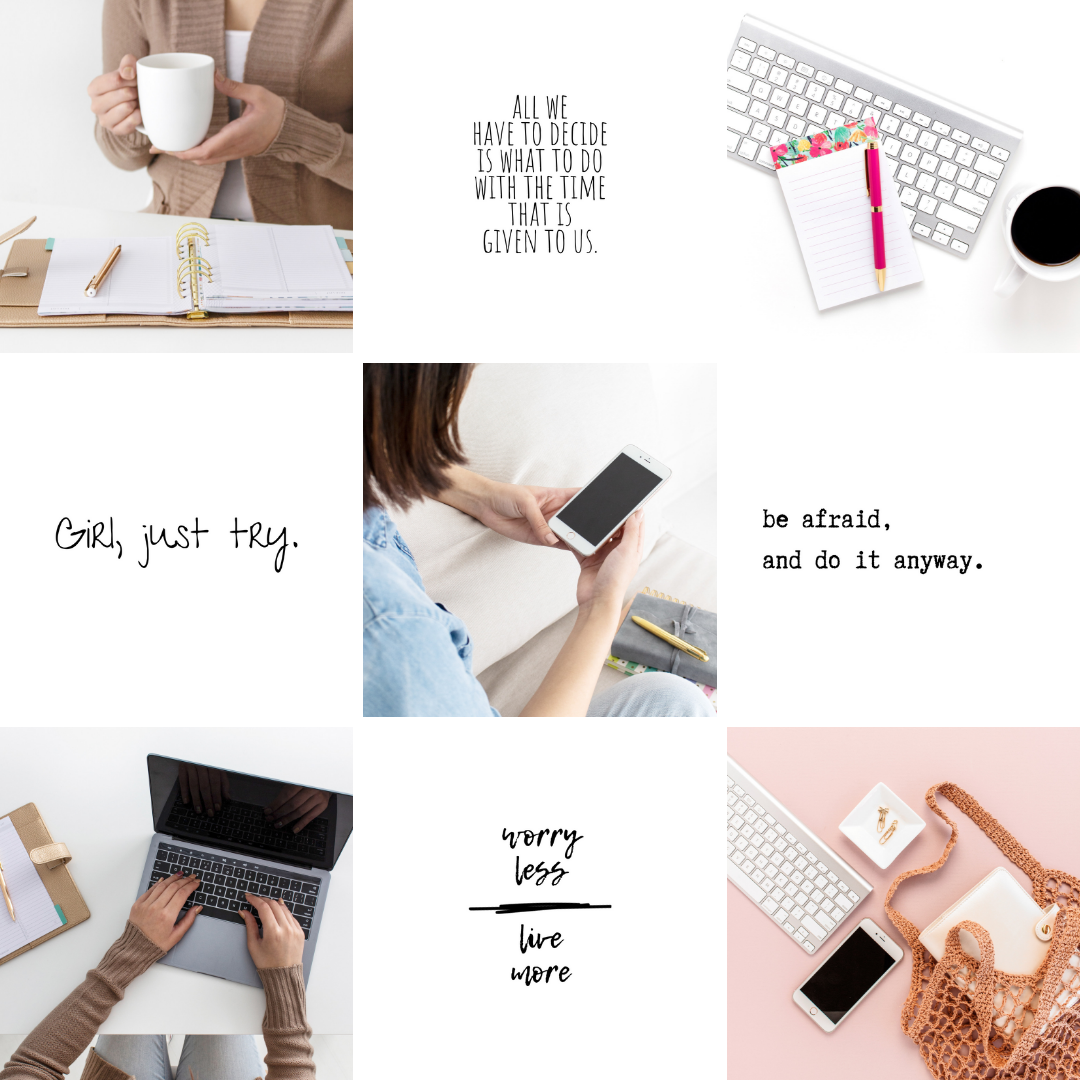 Here's an example of a great caption that a Virtual Assistance might write on any one of the images below: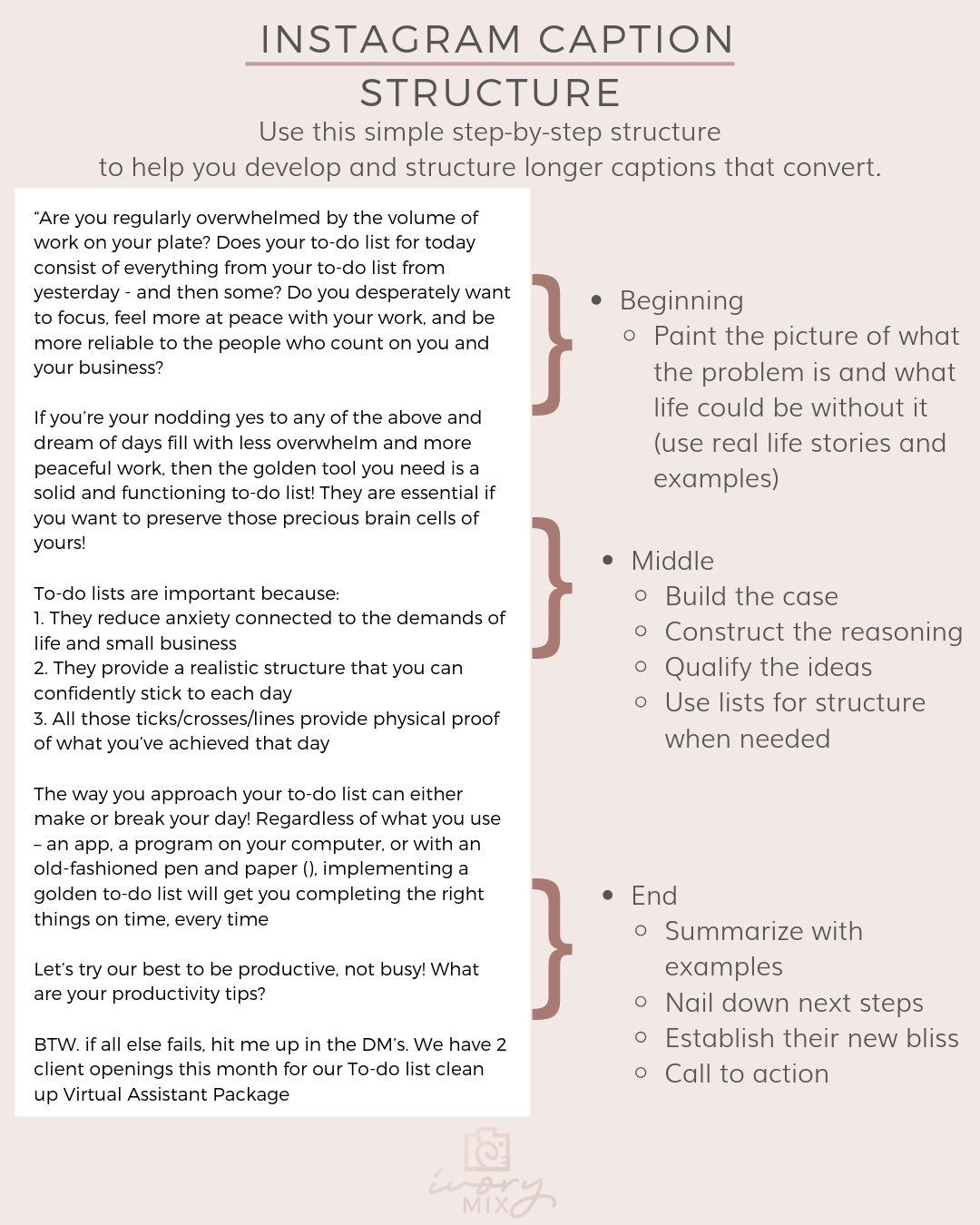 Did you see how this caption above was structured and what it did at the end? This caption hit us right in the gut and straight to the problem. It painted a picture, offered a solution in step-by-step easy to digest form, and also offered a service! Woah.
It's your turn. How many of your last 9 posts on Instagram contain captions that meet the definition of "stirring"?  If you can't say 60% or higher, then you've got some major room for improvement.
For everyday posts on your personal Instagram account, captions can be frivolous or maybe nothing at all. But, if you're wanting to attract the engagement, grow your list of email subscriber, create a following of raving fans, make sales and attract high-paying clients, then you're best Instagram strategy will be to improve your captions – because great images are a given.
Related Post: Instagram Caption Ideas, Tips, and Tricks
You don't need to use long-form captions all the time
The danger (some may see) is that you may go on too long in captions like this and lose your audience, especially if every post has a long caption. Some individuals who follow you won't like longer captions. With this in mind, keep longer captions for 70% of your posts and 30% can be kept shorter, lighter, and fun. It's truly up to you to test how this strategy goes and determine your sweet spot, but it's a mistake to skip this altogether because you think you'll lose followers because your captions are too long.
Behind the scenes
Not all of your Instagram posts in your business have to be long-form captions. It's perfectly okay to tighten it up if you have a busy week.
Speaking of busy weeks, one fantastic technique for generating new content captions is to talk about the bigger picture in your business and for your brand,
Snap a photo of you working on your laptop, or taking photos and tell us what's going on behind the image and why you feel that it resonates with your brand? In fact, try developing a whole series of Instagram captions and photos using this technique. Do them in a way that isn't time specific, so you always have a few in your drafts, ready for publishing at a moment's notice.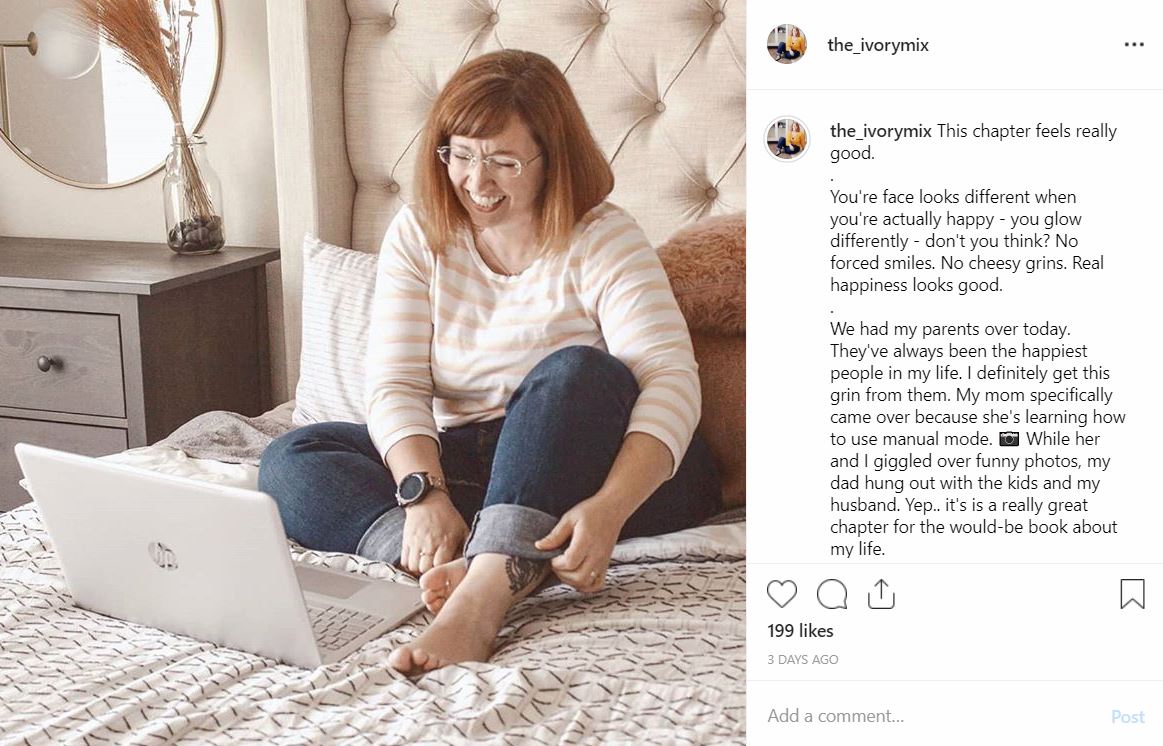 Embrace being interesting (in a way that isn't unprofessional). On Instagram, what's needed most if for you to provide value. For some, that value will be in the connections you make through your captions and your stories. If you can't make connections with your audience on Instagram, then people won't have any motivation to keep consuming your content or see you as a resource to lean on when they need help.
Related Post: how to create a colorful month of content in as little as 5 minutes.
Use stock photography to brand well and save time
There are several things that might be holding you back from fully utilizing the potential of Instagram for your business. For many people, besides the captions, the algorithm, and the hashtags keeping them down, they're also struggling to find the photos.
Let's face it. You may have the best of intentions to post every day, but not having an "on brand" photo to share has stopped you.
You're not alone. Not every business owner has the time or luxury to curate an Instagram feed that matches their visual goals and daily marketing needs. Saving time your business doesn't have to be hard.  If you have zero confidence in your own ability to take artistic looking photos that match the story and brand aesthetic you're going for… then you might find yourself avoiding this particular social platform altogether.
But here's the good news: you can be highly successful on Instagram, have content to post, and do it without taking a single photograph.
This is where our exclusive styled stock photo membership comes in handy. We've created 3000+ unique styled stock photos for female business owners to use on their products, Instagram, Pinterest, and Websites.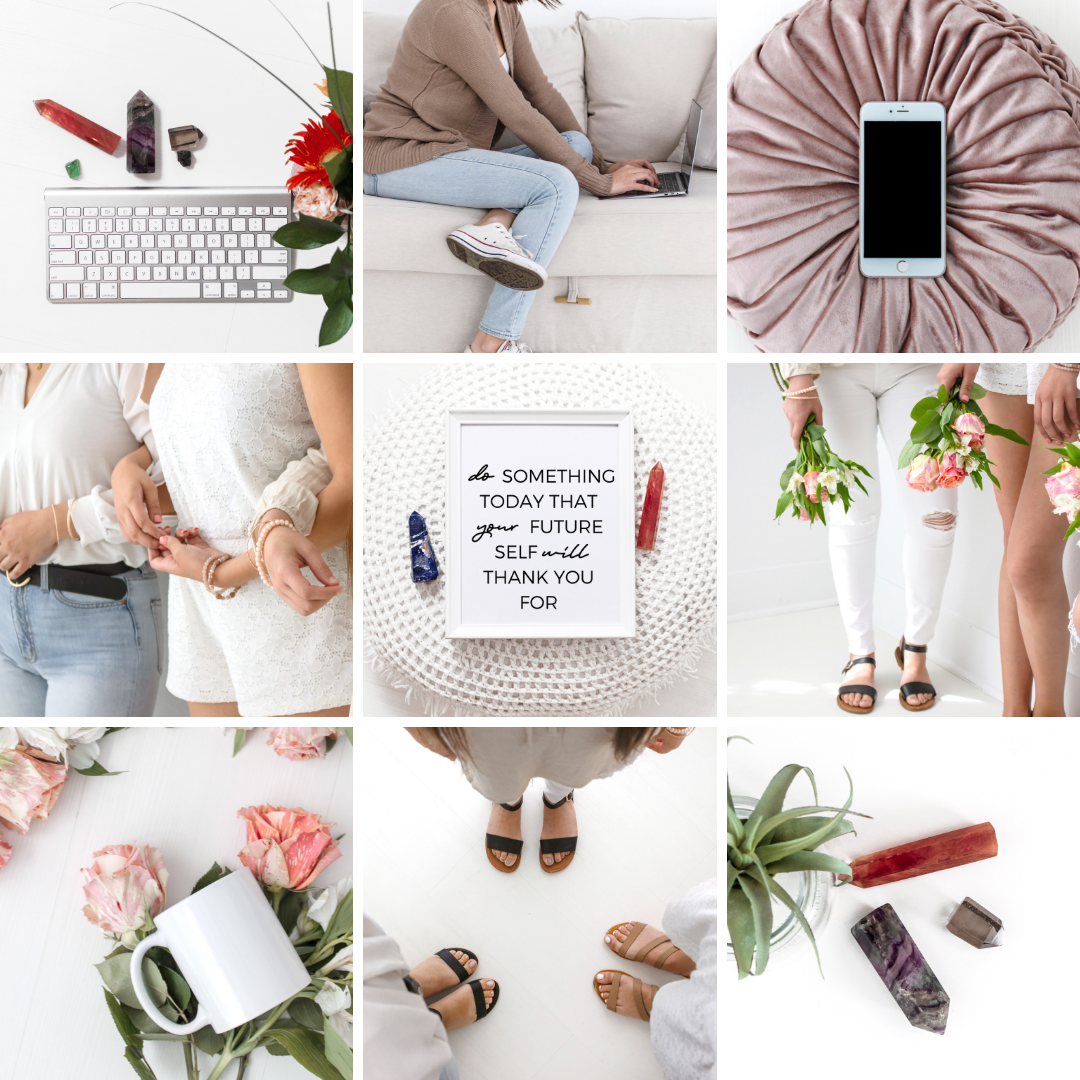 Graphics
Another option for content to share on Instagram is to use quote graphics and digital art. This can help connect the dots for your audience and immediately understand what a post is about and what your brand is about. It has a way of immediately inspiring action as you can see here on BossBabe.inc's Instagram account: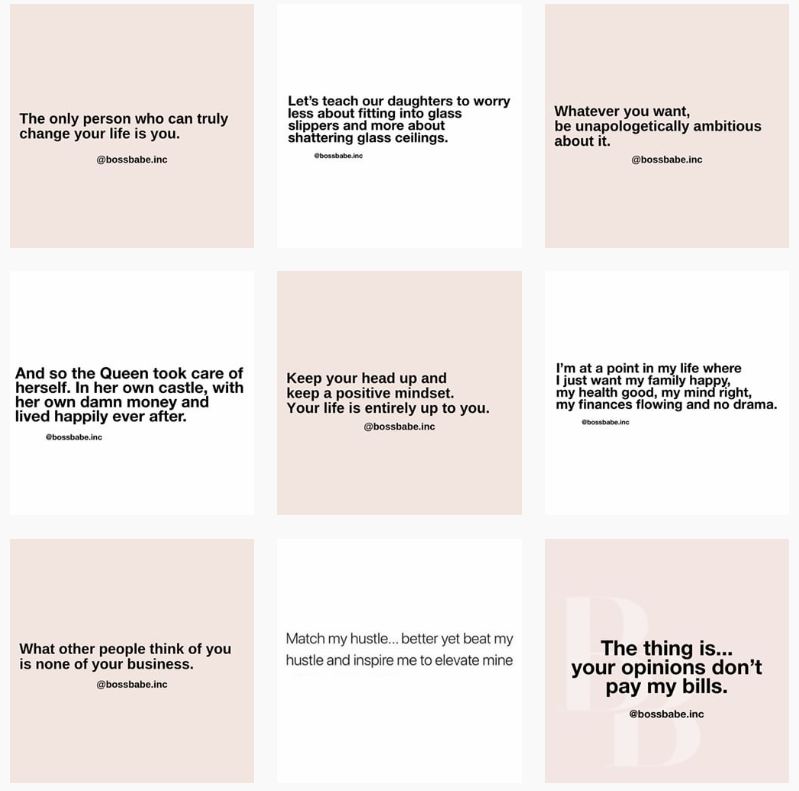 Quotes and graphics work really well in tandem with the photos too. This is why we include 30+ social media graphics every month in the stock photo membership.
LOOKING FOR MORE INSTAGRAM TIPS AND TRICKS? HERE ARE SOME OF OUR FAVORITES:

First, make sure you read this blog post about creating 30 days worth of Instagram content here and learn how to create a colorful month of content in as little as 5 minutes.
Plus, check out these Instagram tips: