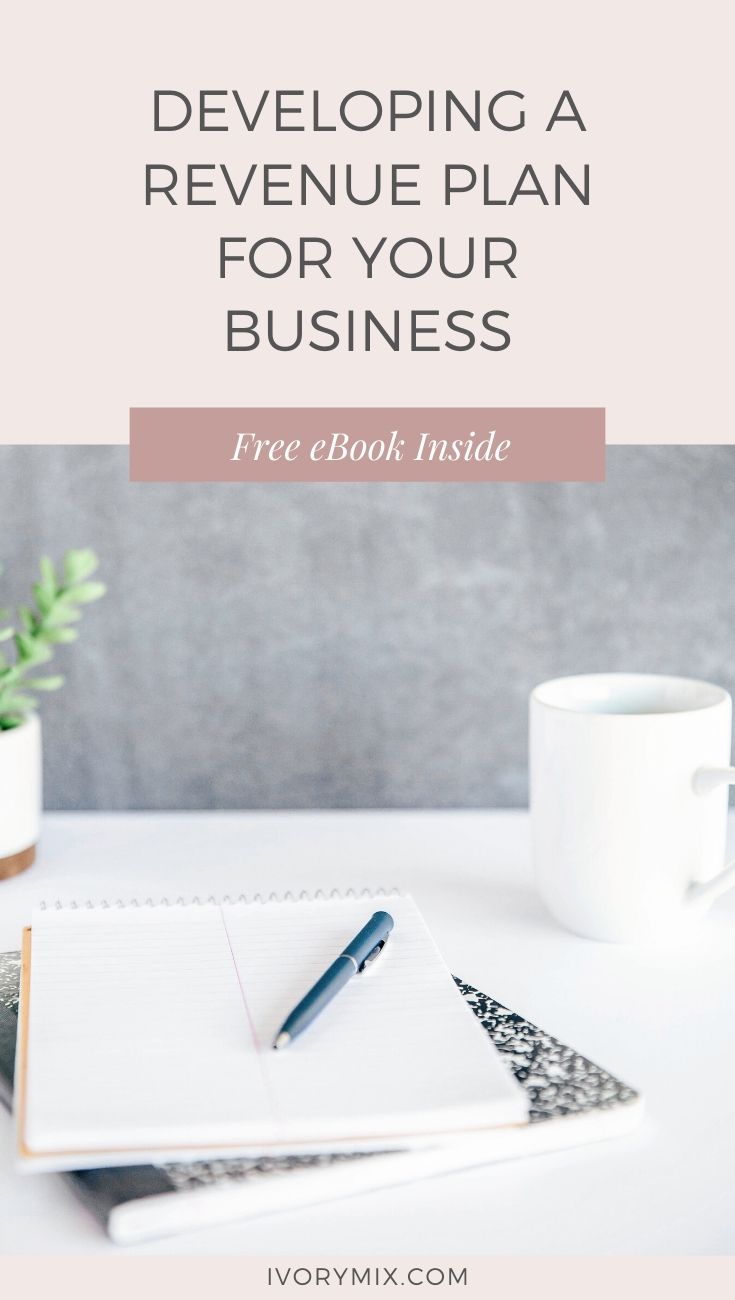 You're passionate about your business, and you love serving your customers. 
But at the end of the day, life is a little (or maybe a LOT) sweeter if your business is actually making money.
With countless hours spent collaborating, creating, and toiling, you deserve to have a clear plan in place to reach your revenue goals and experience success in your business. 
A Revenue Plan – Made Easy
Not a numbers person? No worries!
Breaking down your revenue goals into real-life examples can get you out of calculator-mode and help you envision your business's revenue journey in a new light. 
The following examples are meant to put things into perspective and help you see the possibilities.
Revenue Scenario #1 — How a Product or Service-Based Biz Can Achieve 50k per year
Your Options: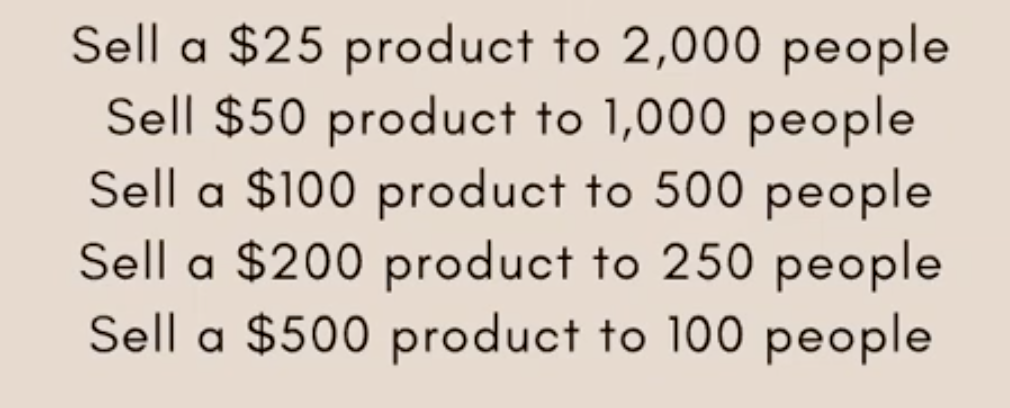 A business like yours, that offers a product or service, is often trying to crack the code on making consistent revenue.
Many times, a service provider trades hours for dollars and struggles to break free of that limiting cycle. Likewise, a product-based business gets stuck in a launch and relaunch pattern. 
Seeing different pathways to revenue in an easy-to-read list like the one above can help to make wise decisions about the types of products or services you offer. 
Should you uplevel your signature service so you don't need to sell as many packages?
Should your signature product include a bonus to justify a higher price point?
Asking hard questions like these are key to building a business that provides a consistent, thriving income. 
Revenue Scenario #2 — How a Membership Site Structure Can Achieve 50k per year 
Your Options: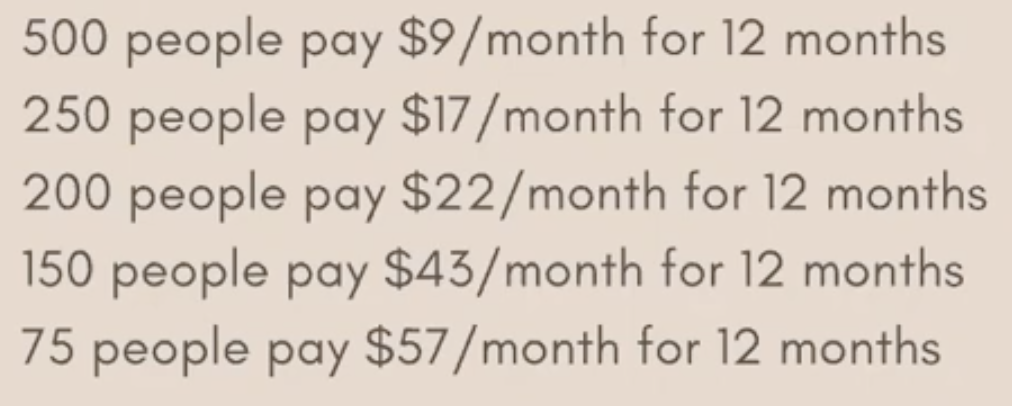 Membership programs generate consistent, reliable revenue. This breakdown can help you adjust your products and offerings to achieve even bigger goals. 
Are you feeling a little more confident? Are things looking more feasible when you put them into perspective like this?
Before You Choose Your Revenue Plan – Know the Numbers
Whenever you formulate a plan, whether it's related to your business or creating a new workout routine, you MUST start by defining your goals. 
Ask yourself:
What am I ultimately trying to accomplish? 
Whether your goals are to:
drive traffic to your website

sell more of your product or offer

or build your list or audience
..you've got to have a firm grasp on the numbers! 
Grow Your Revenue By the Numbers
Remember this: reach more of the right people = you'll reach more of your revenue goals
I talk more in-depth about this here and the 3 things you need to simplify your business growth.
Some questions you might ask yourself are:
Is my email list large enough to reach the number of potential members or customers I need?
How can I increase the value of my membership to justify an increase in price?
Remember that the more people (your ideal customer) who visit your website and subscribe to your email list, means the more sales you'll end up making.
Understanding how many people you really need on your list to hit your sales goal is key to formulating a strong marketing plan. 
The general rule of thumb, to start out with, is that 2% of your email list will end up converting into buyers. Just 2%!
This means marketing and casting your net out WIDE to gain more of the right subscribers is crucial to formulating your revenue roadmap.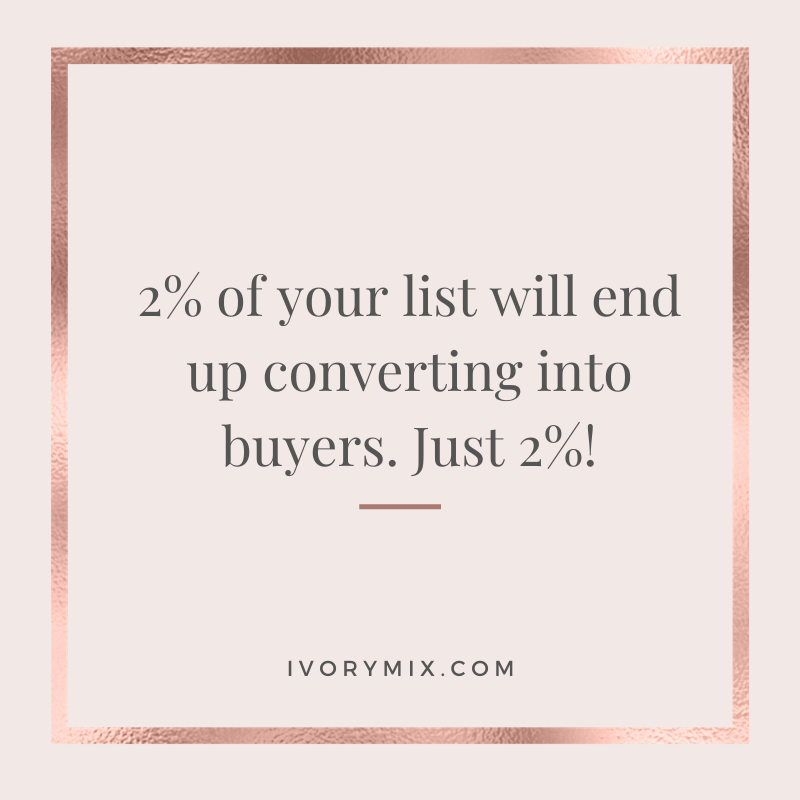 How Smart Marketing Will Help You Reach Your Revenue Goals
Now that you have some free marketing tools –  I want your to know that the job of marketing is to get your audience to give you an easy FULL BODY "YES!" 
One of the best ways to get your audience excited to throw money at you is by offering a transformation! Aim to meet your audience right where they are — in their pain — and promise them your SOLUTION
Show what you have to offer. Show its VALUE, and give PROOF that it actually works. (showing proof is key!)
Your goal in marketing through social media or email is to make the buying decision EASY by making a VERY CLEAR OFFER.
Why does this method work? Because our brains are wired this way! 
Transformation.

The emotional side of our brain responds to the promise that a product will transform our lives in some way. Start with explaining the transformation your product will bring. Acknowledge your audience's pain. 

Value.

As we prove the value of our product to the customer, they learn how it's different from the rest and form an even stronger emotional attachment. 

Proof.

After they're emotionally invested, the reasoning side of their brain decides the product will work when it hears proof. 

Clarity.

Make your HOW TO BUY clear and prominent. Confusion leads to lost opportunities, but a clear pathway to purchasing leads to more sales and more $$$$!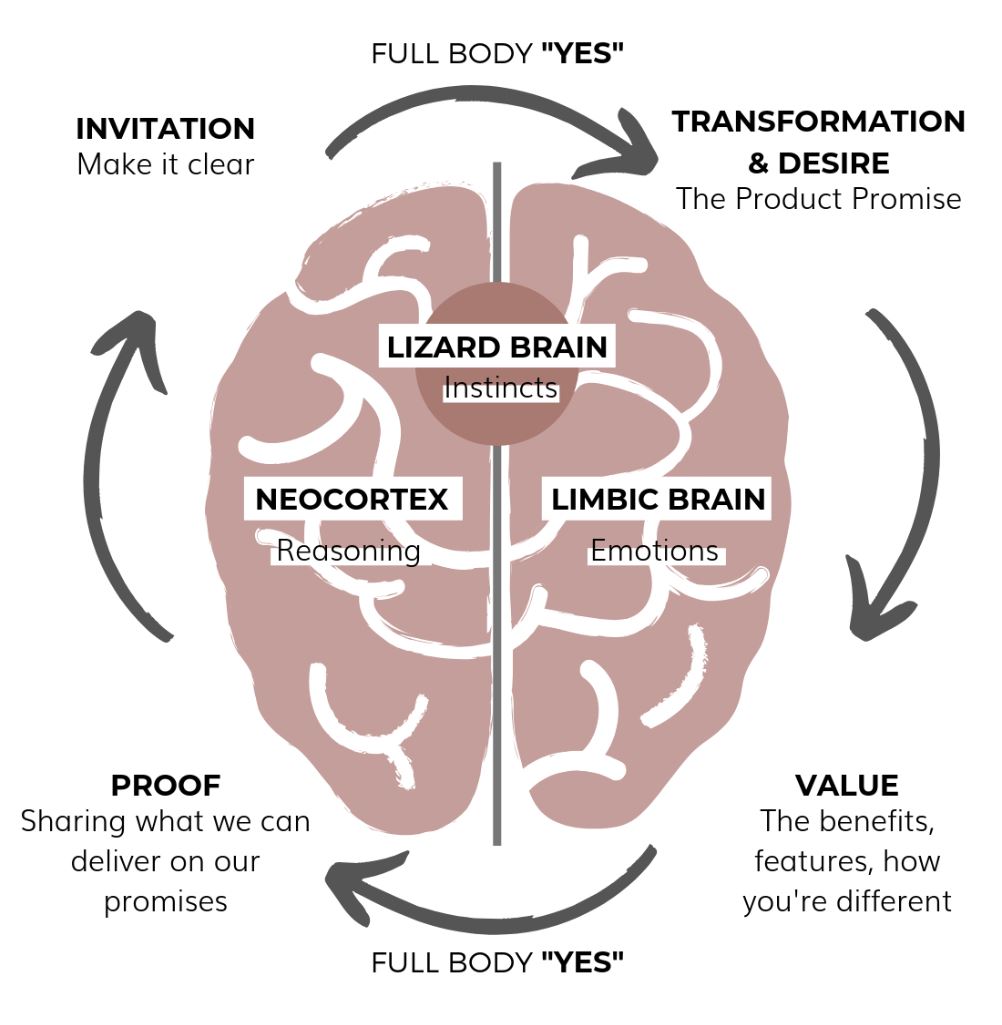 Convert More Sales Using AIDA
Once you've developed your reveue plan, it's time to consider AIDA. This is a marketing framework proven to get results and it stands for:
Awareness.

It's so important to create a buzz around your brand. How and where can you

make people aware of your products? On social media? Ads? Blog posts? How will they begin to trust you as the expert?

Interest:

Beyond just being aware of your product, how are you going to create interest and make people long for what you're offering?

Create urgency by offering limited spots or providing short-term bonuses. 

Decision:

Offer proof and testimonies to convince them. Take their hand and help them make that final decision to purchase.

Action:

Invite your audience to BUY. People will sit on the sidelines until you invite them in a compelling way to take action.

 
These steps help you think through the process of taking your offer and creating a sales funnel to meet your revenue goal!
Want a jump start on creating a digital product this year? Click here to download a free copy of the digital profits and digital products ebook.

LOOKING FOR MORE WAYS TO INCREASE YOUR REVENUE IN 2020? HERE'S YOUR NEXT STEP:
Grab this 6-workshop series and Creative Boss Method and receive: 

All Creative Boss Method Workshops
Brand Strategy Workshop
Pinterest Marketing Workshop
Instagram Marketing Workshop
Creative Boss Revenue Workshop
Systematizing Your Biz Workshop
Scaling Your Biz Workshop
When you purchase the bundle, you'll not only get access to the incredible video workshops, but you'll receive our actionable workbooks.
There are SO MANY goodies in the workbooks to get those revenue goals MET in 2020, including The Revenue Goals Spreadsheet! This tool includes a product pricing calculator where you can enter in how much you WANT to make yearly and see the breakdown of how much that ends up being each month/week/day!. It's included when you purchase the online workshop.
Click here to grab the Creative Boss Method Workshops (available for a limited time)
Check out these Business and revenue tips: