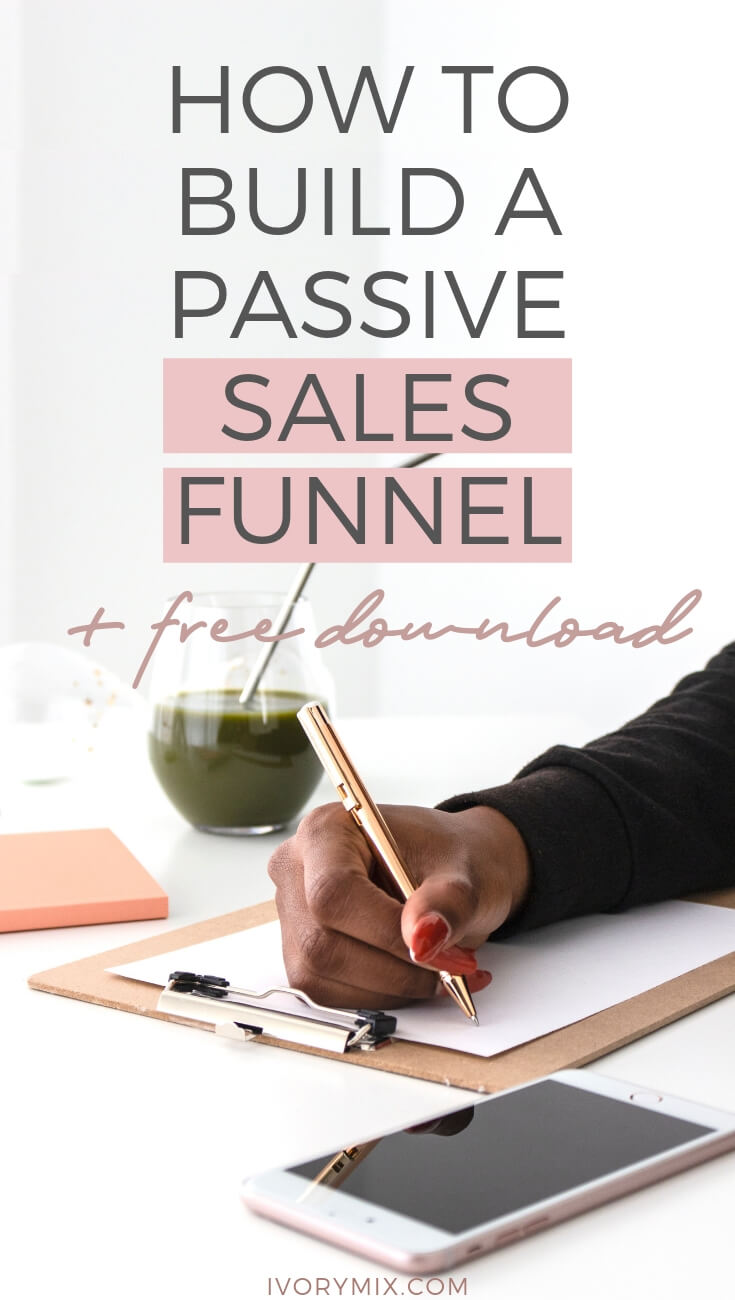 Whether you've known Ivory Mix and I a while, or are new here, there's one thing I don't shy away from and that's sharing so-called "secrets" or massive value for free. It's my MO, what I'm known for, the "queen of free" if you will.
.. and if you are new here – one of the best places to start is with this free downloadable ebook showing you exactly the steps for creating a digital product business.

Are you an Ivory Mix Elite or VIP member? Click here to get this training in an on-demand workshop
How I got started
Back in 2015, I started my online business giving things I made away just to see them used by other creative people online. I laugh at that sentence because back then, it wasn't a business at all.
I couldn't have cared less how much I made from the photos or products I created because it was never and has never been about the money for me. It's always been about having fun and creativity. The fact that this is my full-time business now is just a perk. We'll get to how that happened in a little bit. Keep reading
Creativity is power and that is why people everywhere are yearning to grow a side-hustle or build their own business. In many cases, it's because they're lacking freedom in some way. Sound familiar?
Whether it's creative freedom in your 9 to 5 job, or freedom to make your own schedule, or freedom to be home with your kids, or freedom to take a longer vacation.
The joy that creative freedom brings YOU and ME is why I started my "business" and will always my number 1 motivating factor.
What is a passive sales funnel?
The difference between live launches and passive sales funnels is that a passive funnel can generate sales 24/7/365 without all that stress and panic.
After years of toying around with launches and creating products to sell once or twice a year, I grew very tired of the process. Launching is exhausting and I hated it.
The biggest problem I had with the whole process of LIVE LAUNCHING and LIVE SELLING is that no one tells you that it takes a while to perfect the process and it's not until those final days and hours of your launch that you'll make most of your sales.
The whole process of live launching is stressful and having to wait until the final day of your sale or launch to see if you'll make your goal is bound to give any entrepreneur panic attacks.
That's why for the past 2 years, I've made nearly 90% of my income from passive funnels.
But, Before You Create a Passive Income Funnel – Know Your Why
For me, the demand for more stock photos and specific types of education from my readers eventually became painfully apparent. My inbox and DM's have always been pretty full of special requests. This is the reason I started charging for my stock photos and built the Ivory Mix stock photo membership.
I sit here now writing this, over 4 years after starting, now making multiple-six figures from an online business that I built completely from scratch.
The takeaway from that short story is that you can't start, improve, or have a successful passive income sales funnel without knowing your why.
There's so much more that I could share with you about my process, the details that took me from point A to point B and everything that I've learned along the way. For instance, after figuring out what I really wanted to do, I outsourced most parts of my business that I don't like, I committed myself to work no more than 10 hours a week on my business,  only creating the things I want to create, have full creative freedom, and still make six figures while doing it.
I don't take on projects that don't speak to me and I don't sell out. Period. I simply want to make photos for creative people and teach people how to market and create their own legacy using their own creative freedom.
An example of a passive income funnel
To begin, let's deconstruct a successful sales funnel so you can begin to create your own:
It starts with a front-end offer (sometimes referred to as an OTO one time offer or tripwire offer). Depending on what your goals are, your front-end offer could be a loss leader, meaning that it's priced extremely low in order to get more people into the funnel.
With a loss leader as your front-end product, you're not looking to make the bulk of your profits from the initial offer, but rather through different upsell offers featured throughout the passive sales funnel process.
If you've ever signed up for or purchased a product through our website here, chances are you've been introduced to this type of funnel. You may have seen one of my front-end offers at a price of $10 only to be introduced to multiple offers through the backend, all priced at higher than the front end. Perhaps the funnel looked something like this:
OTO offer: $7 for a mini-course
Upsell offer #1: $14 for a complimentary resource
Upsell offer #2: $27 for access to a full video companion course
Downsell offer #1: In the event, someone didn't purchase the first upsell, you could offer them a smaller product at a lower price.
This is how a basic passive sales funnel works and it can be as simple or as complicated and extensive as you wish. My passive income sales funnels make $10,000+ every month.
With your own low-cost front-end offer, you welcome people into your funnel by making it an easy decision to give your product a chance. As long as you're matching your audience's need with a product, there's a little risk on the customer's part and they're more likely to take advantage of the offer because of its low price point.
What's the benefit of a passive sales funnel?
What if a customer who purchases your low front-end offer never purchases any of your higher-priced backend offers?
It's still a win!
Every customer that enters your funnel becomes part of your base. Sure, they may not be your ideal tribe member, meaning they may not go on to purchase regularly from you, but you're still able to make that connection to test the waters.
Start with a low-priced product
A low-priced first product in your sales funnels merely eliminates the common barriers between your product and a client who just doesn't grasp your concept.
It puts you in a position where you can demonstrate your commitment to producing high-quality products and potentially add a new member to your loyal tribe of buyers.
The objective of a low-priced initial product for your sales funnel is simply:
Get traffic > Build your subscriber base > Convert that traffic into sales > Segment your lists so that you're able to identify tribe members from those who aren't likely to turn into loyal buyers.
You can see an example of a typical sales funnel here: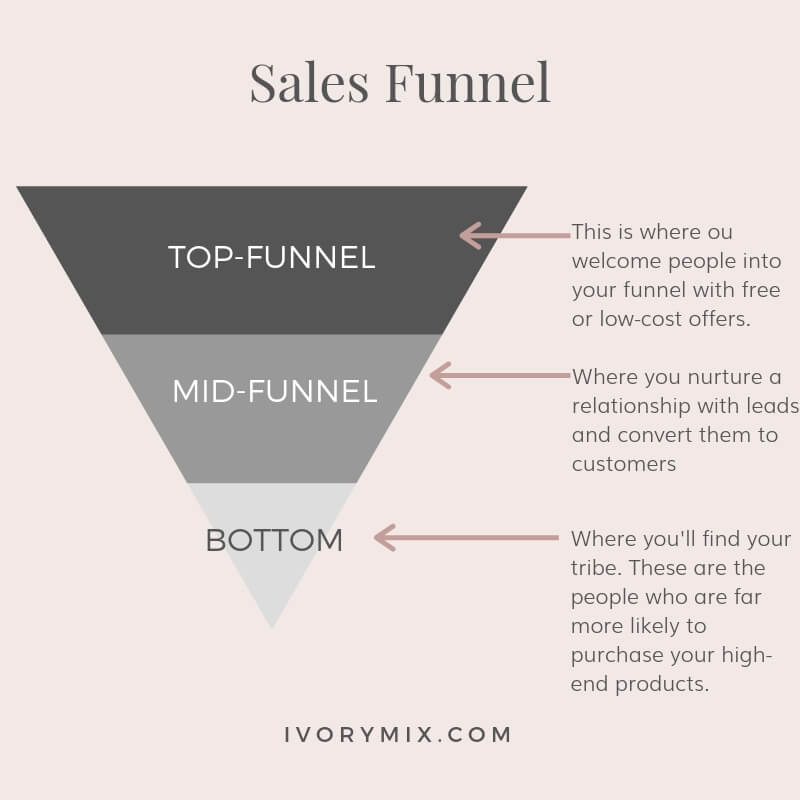 Segment Your Customers and Leads
One of the most important things you can do to tighten up your mid-funnel so you can maximize your profits is to consistently segment your leads.
For example, you are going to have subscribers who are customers and subscribers who are leads. With leads, you haven't yet developed a relationship with them. They might be interested in your offers, but they have yet to act on it. Their relationship with you exists only through your email communication.
With customers, they've already purchased from you already, and have proven to be motivated, active buyers. Your relationship with these people is different from leads because you're able to establish a buying pattern and to demonstrate your ability to provide quality. They are the most valuable subscribers you have. This is why it's critical that you segment your lists.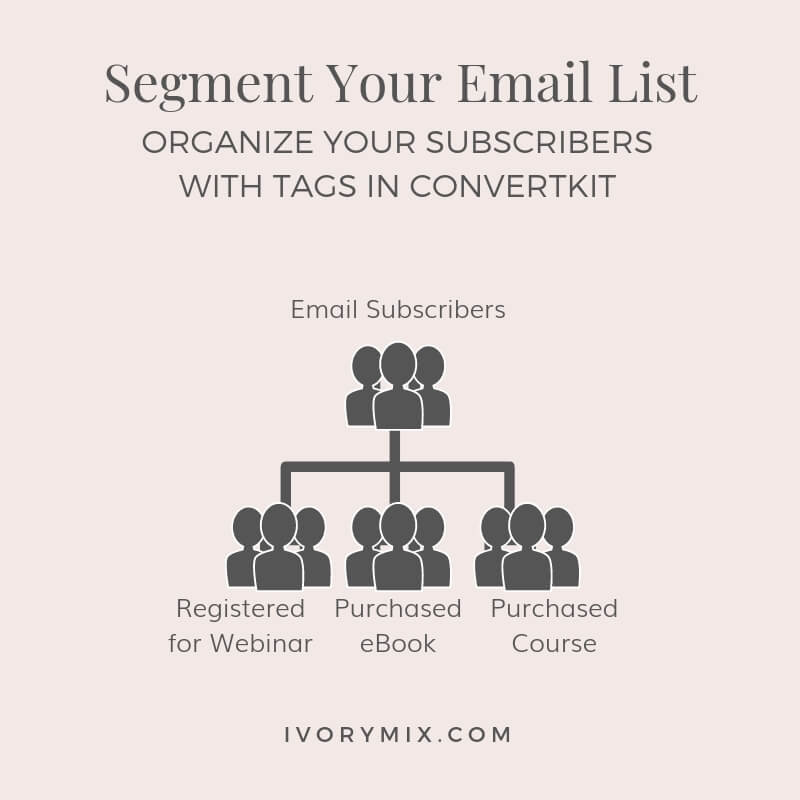 You need to be able to communicate with the two groups separately, as with one you're working on conditioning them to purchase from you, while with the other, you need to nurture a relationship to help get them to that stage in your funnel. Nearly every autoresponder service provides the option to segment your list but I personally use ConvertKit.
The tools for setting up a passive sales funnel.
There are a number of resources you can use to achieve the same results. So, don't get too hung up on this step. Whatever you're comfortable with, use it. Focus on matching your product to your audience because the tools are usually never the issue.
Tools I use:
Alternatives tools:
Click Funnels
DeadlineFunnel
Test your offers
Once you've set up your funnel, it's good to spend most your time testing your opt-in rates, so that you can maximize the number of subscribers while also being able to test a market's overall demand. Remember that it's a lot easier to convince someone to subscribe to your newsletter or grab something free than to purchase a product. So, you'll be able to collect a lot more data based on freebie visitors and blog reader actions and the opt-in of freebies, than even with your sales pages.
Summary
Creating a profitable sales funnel isn't as difficult as you may have thought. The key is to plan every part of your funnel upfront so that you can lay the groundwork towards building a seamless system that moves traffic and converts leads into buyers.
Begin by deciding on what your front-end offer (top) will look like.  What ideas do you have that would influence a visitor into entering your funnel?  Do you want to take advantage of powerful lead magnets that will motivate visitors into subscribing to your mailing list?
Then, think about your mid-funnel.
What kind of offers will you create that will help you further connect with your audience?  How can you demonstrate your commitment to fulfilling your brand promise?
And finally, how can you continue to provide value while starting to inform your audience about your core offer?
Next, spend some time working on the bottom of your sales funnel. This is where you'll make the most money.  Consider different products, courses and services you could offer that will appeal to your audience based on the intel you've gathered during your mid-funnel.
Work in cross-sells whenever possible so that you're actively promoting relevant products that will appeal to your audience.  Study and always be on the lookout for ways you can expand your own funnel.
And above all else, stay consistent!  You should focus on consistently improving your funnel by adding additional content that nurtures a relationship with your customer base.
Don't forget to re-engage leads who may have reached the end of your funnel but have failed to respond to your offers. A lot of the traffic that enters your funnel may not convert, but if you spend time reconnecting with that audience, you'll likely win them over.
What Next?
Ready to get started monetizing and making more sales of your digital products? One of the best places to start is with this free downloadable ebook showing you exactly the steps for creating a digital product business.

ADDITIONAL RESOURCES