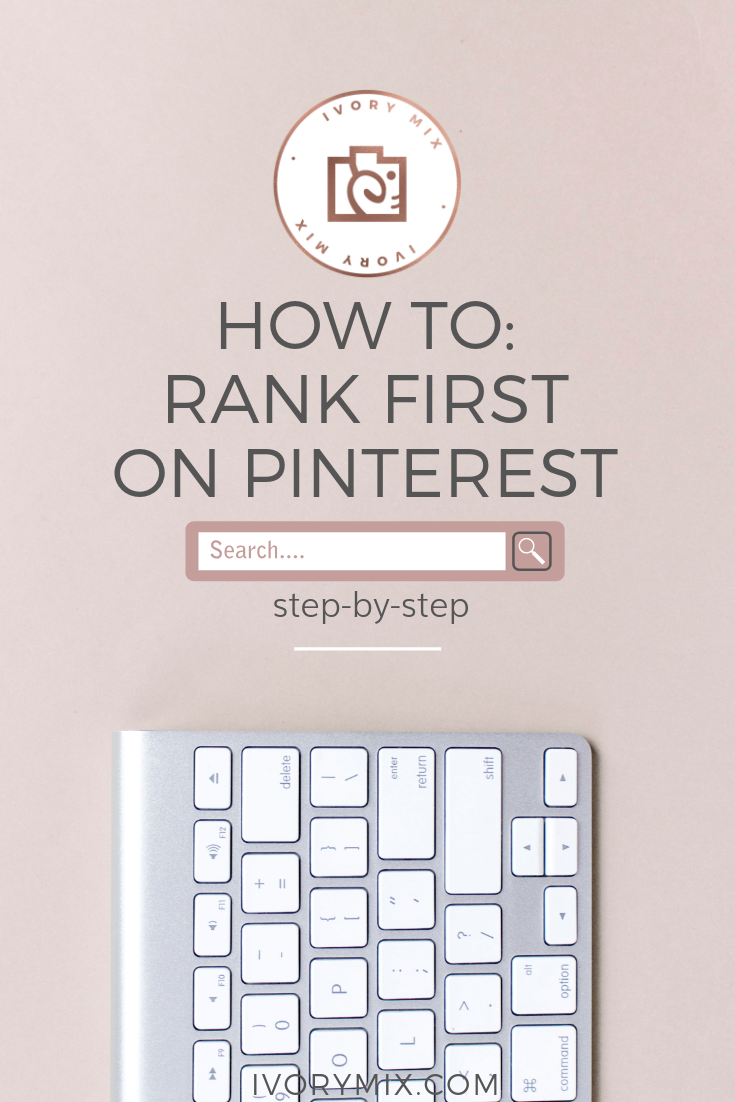 Here's a topic I love, Pinterest. The great thing about Pinterest for your business is that you can unlock a ton of traffic and a flood of leads to your blog and business every single day.
Today, I want to share with you how you can rank number one on Pinterest almost every single time. Before I dive in, let me show you a few results so that you can see exactly how you can duplicate this for your business.
Feel free to skip the read and watch the video here instead:
Here is a snapshot of some of my results showing exactly what I can do with Pinterest. In this snapshot below you can see some of my own results.  You can see that this piece of content ranks in the first row of content for a pretty popular keyword phrase. I wrote this content over a year ago and it's still able to get 200 impressions, clicks, and saves in a 24 hour period.
This isn't just a fluke, this is something I am able to do consistently with my content and when you know exactly what to do overtime on Pinterest, you can improve your results and continue to see results days, weeks, months and years after the content was created.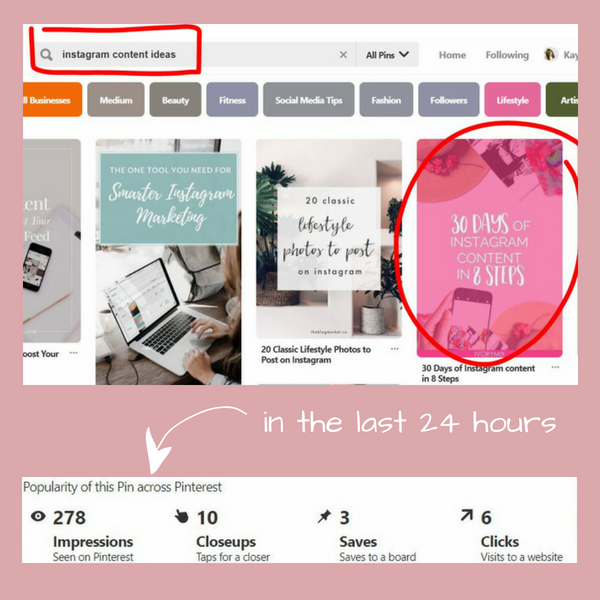 First, Let's Review The anatomy of a Pin that Ranks First
So, what is the anatomy of a pin that ranks 1st on Pinterest? There are really four core components:
#2 – It's tall with a 2:3 ratio.
#3 – It has already gained a lot of popularity (has been pinned, shared, and clicked on)
#4 – It is relevant to a users search with keywords.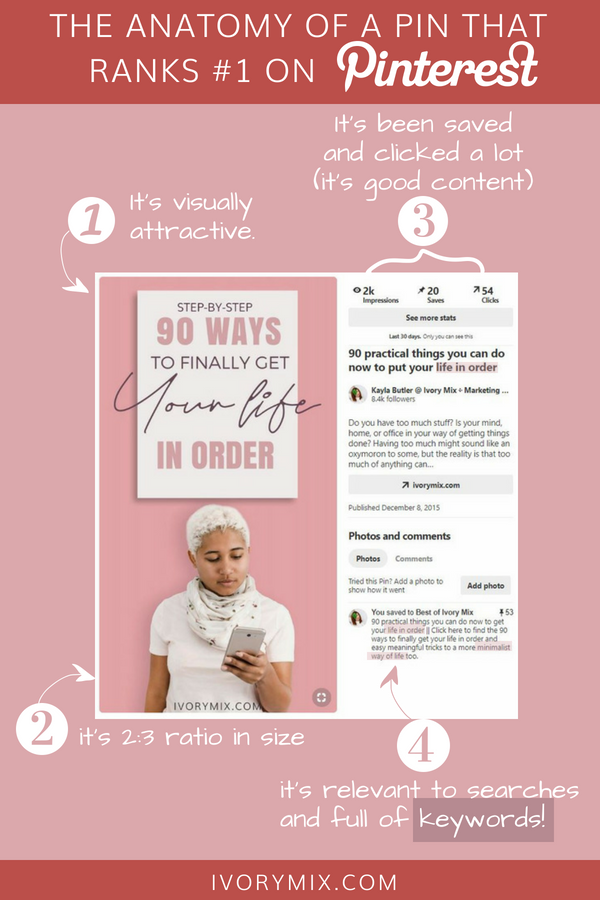 Today, we're specifically going to talk about #4 and how to make a pin relevant and rank based on search results and keywords.
It's no doubt that the higher your search results, the more clicks and the more saves, the more leads the more conversions. Which means it's important that you follow the following process when creating content that you want to rank #1.
What you want to do is understand that you need to know what you're going to need to rank for in order to connect your content with your audience. It should be something that's relative to your business.
Before You Write Any Content, Research Keyword Ideas 
Before you write content for your blog, consider the keywords that you want to rank for in search and plan your content around those. This strategy and concept can apply to both goals of ranking on Google and Pinterest. So, pay attention and take notes!
Here's how you can search for keyword ideas on Pinterest, using the Pinterest search bar
Step 1. Type in words in the Pinterest Search Bar
Step 2. Take note of the keyword variations, like the ones you see in the screenshot below.
Step 3. Continue clicking each one of those colorful suggested words until you have seen and come up with a large number of keyword terms and ideas.
Pinterest has even expanded their suggested search ideas with these colorful blocks of words. When you click on those colorful blocks, those words get added to your search term and new results are shown.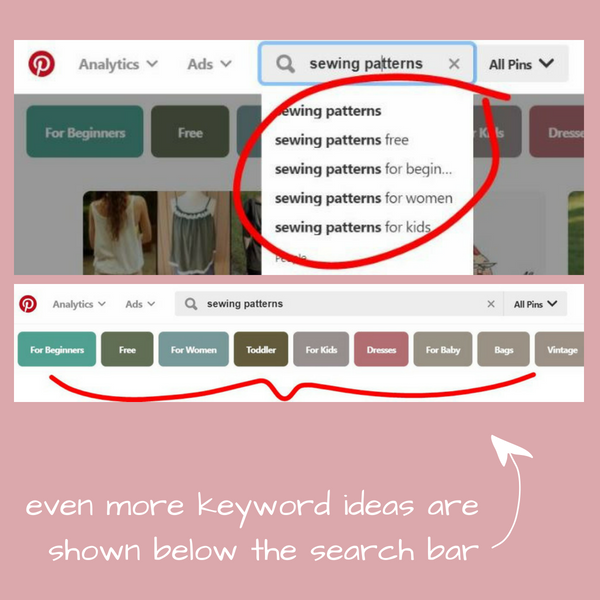 Don't Forget to Save Your New Keyword Ideas (There are Multiple Uses for Them Later)
When doing your search for keywords, keep a notepad open and start keeping a list of keywords and keyword variations. This list of keywords will become handy in the next steps.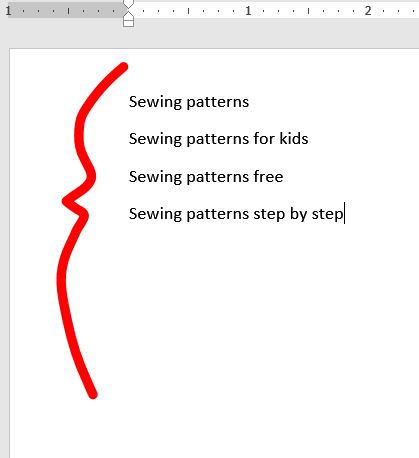 Use the Promoted Pins Keyword Tool To Expand Your Search
This is a secret that not many people know. When creating Promoted pins on Pinterest, you're given an opportunity to do keyword planning in step 2 of 4 (see the screenshot below). This tool is robust and provides more ideas for keywords than a simple search on Pinterest can do.
Keep adding these keywords to a list you can copy and paste by tapping the plus symbol. This list will be used in the next step.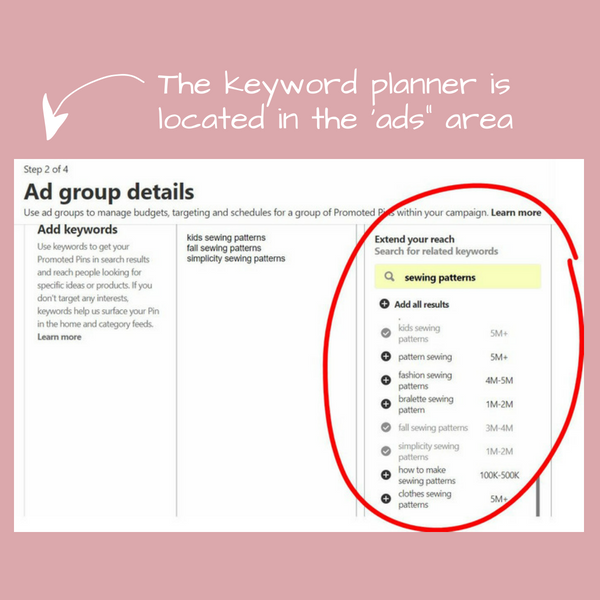 Want more tips? Click here to grab a free copy of this complete guide to Pinterest Marketing.
Use the Keywords to Create and Outline Your Blog and Pin Content
Now that you have a long list of keywords related to your initial idea, you should use this list to guide the type of content you want to create on your blog and on your website.
You can create multiple blog posts for or combine many of the keywords under the same topic.
For instance, you could write an article about the best sewing patterns for little kids OR you could write a blog post about the best free sewing patterns and use "free sewing patterns for kids" as one of your headings inside the blog post.
The opportunities to expand upon these topics are endless.
Use the Keywords to Create Rich Pinterest Pin Descriptions
Adding these keywords into your blog post will help you rank on Google, but remember to add them into the description of your Pinterest Pin too.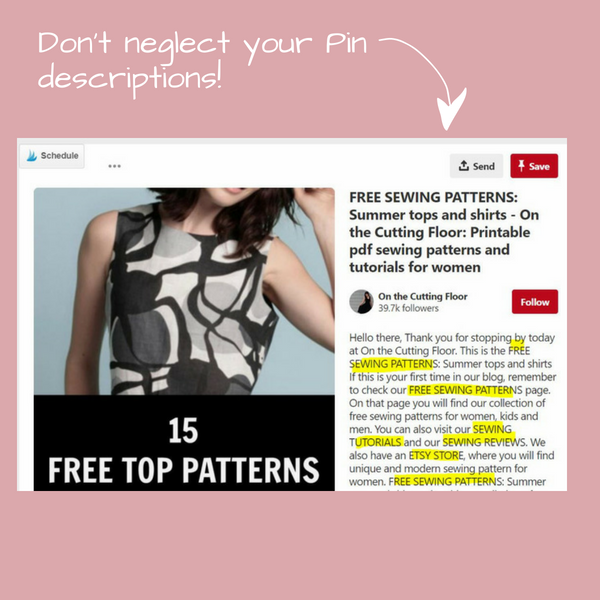 Create Rich Pinterest Board Titles
The thing about keywords on Pinterest is that you can use them in more places than just your content and Pinterest pins to help you rank.
For instance, when you do a search on Pinterest, you can filter your search for more than just pins and can search boards and profiles for those words you typed in.
This means that you can now use those keywords and plan your Pinterest board titles around them as well. These new board titles will be home to your new content and similar content you plan to share with your Pinterest following.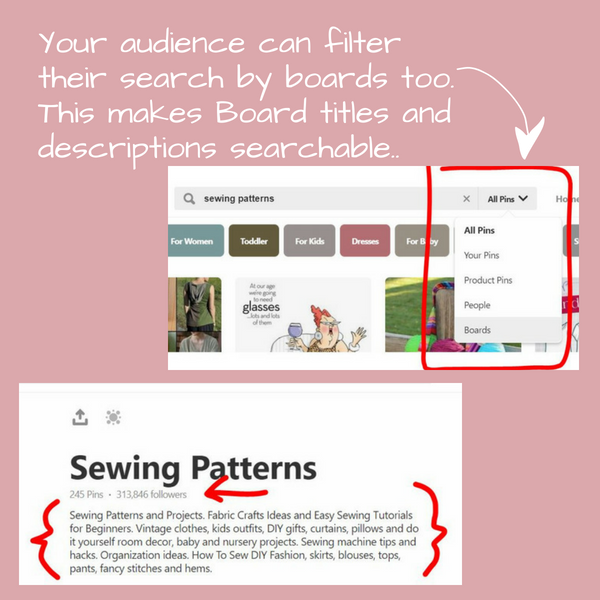 Create Pinterest Board Descriptions too
Don't just stop at adding the keywords to your board title. You should also add those keywords into the description of your Pinterest boards because every word related to those boards you have are now searchable by any user on Pinterest.
The more keywords on your boards, the boards become more relevant to a users search, which gives you a greater chance your board and the pins on your board will rank #1.
Focus on gaining momentum with clicks, saves, and backlinks
The next thing you should do is focus on is sharing your content and getting others to see, save, and click on your content.
The strategies involved in giving your Pins some extra Pinterest juice include having a pin it button your blog, joining group boards, tribes on tailwind, and always emailing your subscribers when you have a new blog post.
You'll get bonus ranking points from Pinterest for having content that gets seen, clicked, and shared which will help you rank higher and higher as your pins gain momentum.
What next?
Want more tips? Click here to grab a free copy of this complete guide to Pinterest Marketing.

LOOKING FOR MORE PINTEREST TIPS? HERE ARE SOME OF OUR BEST BLOG POSTS: