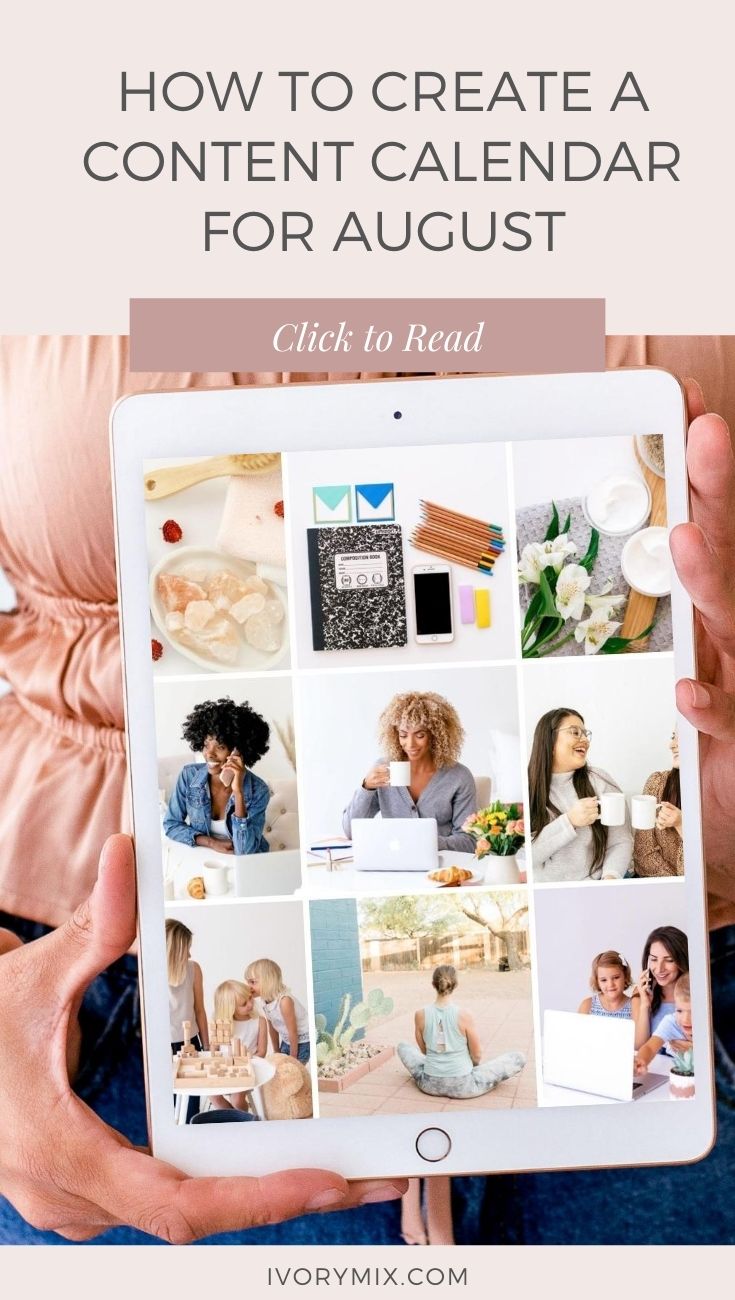 If you're feeling stuck on the hamster wheel of social media content creation, you're not alone. While creating content is essential for keeping your brand visible and top-of-mind with your audience, it can also feel like the task that never ends.
You need an easy solution — a way to map out your monthly social media content quickly without sacrificing hours of your life.
Take heart, my friend, because I've researched and assembled this collection of organized content ideas that are perfect for the month of August, saving you valuable time so you can do what you do best — run your business like a rockstar. 
Your job? Choose the topics and holidays from the following post ideas that will speak to the heart of your target audience — then personalize them to vibe with your unique brand message. It's that easy!
THE MONTH OF AUGUST
Blazing sun, family time, last-minute vacations — August is the month to breathe deep the last days of summer while back-to-school prep looms in the distance. This month is packed full of fun celebrations and observances that will inspire engagement.
From the slightly oddball and obscure holidays to well-known celebrations — we've got your social content covered!
GENERAL THEMES FOR AUGUST
Kick-off giveaways, get to know your audience, and promote sales or blog posts with these general August themes:
End of Summer

Vacation Planning

Back to School

Parenting

Books and Reading
MONTH-LONG CELEBRATIONS AND OBSERVANCES FOR AUGUST
Motivate and encourage your audience by highlighting a few of August's month-long observances. Use these themes in your social posts to build excitement and unity around a cause:
Black Business Month — Do your part to elevate black entrepreneurs by highlighting the black-owned businesses you love, whether in your community or online! 
Family Fun Month — Summer is fleeting and school is just around the corner, so August is the perfect month to prioritize family fun! Whether it's a weekend getaway, a camping trip, or a family game night, encourage families to put down their devices and focus on each other.
Happiness Happens Month —  An entire month of celebrating what makes us happy couldn't come at a better time. Ask your audience what gives them all the warm fuzzies, and encourage them to share those things with others. 
National Back to School Month — August is typically the month students prepare to head back to the classroom. While this year may look a little different according to your area of the country, all moms need support as they decide what avenue of learning will work best for their families. Share advice, funny back-to-school stories, and encouragement for moms and teachers as they navigate this new normal. 
National Sandwich Month — Did you know in the US, the average child eats about 1,500 peanut butter and jelly sandwiches before they graduate high school? This month, share pics of your favorite sammie with your audience and find out what kind they love as well!
National Wellness Month — Inspire your followers to slow down and focus on self-care by sharing your own routines. Encourage your audience to create healthy habits by sharing recipes and participating in wellness and self-care challenges. 
Inside the Ivory Mix membership, we have a variety of stock photos for the holidays listed in this post. All of the images below are selected from the stock photo library and have all been released in 2020. Ivory Mix aims to make content creation as simple as possible for business owners. Simply pair of the images below with a caption to engage your audience.
To find out more about the membership, please click here and to join the waitlist.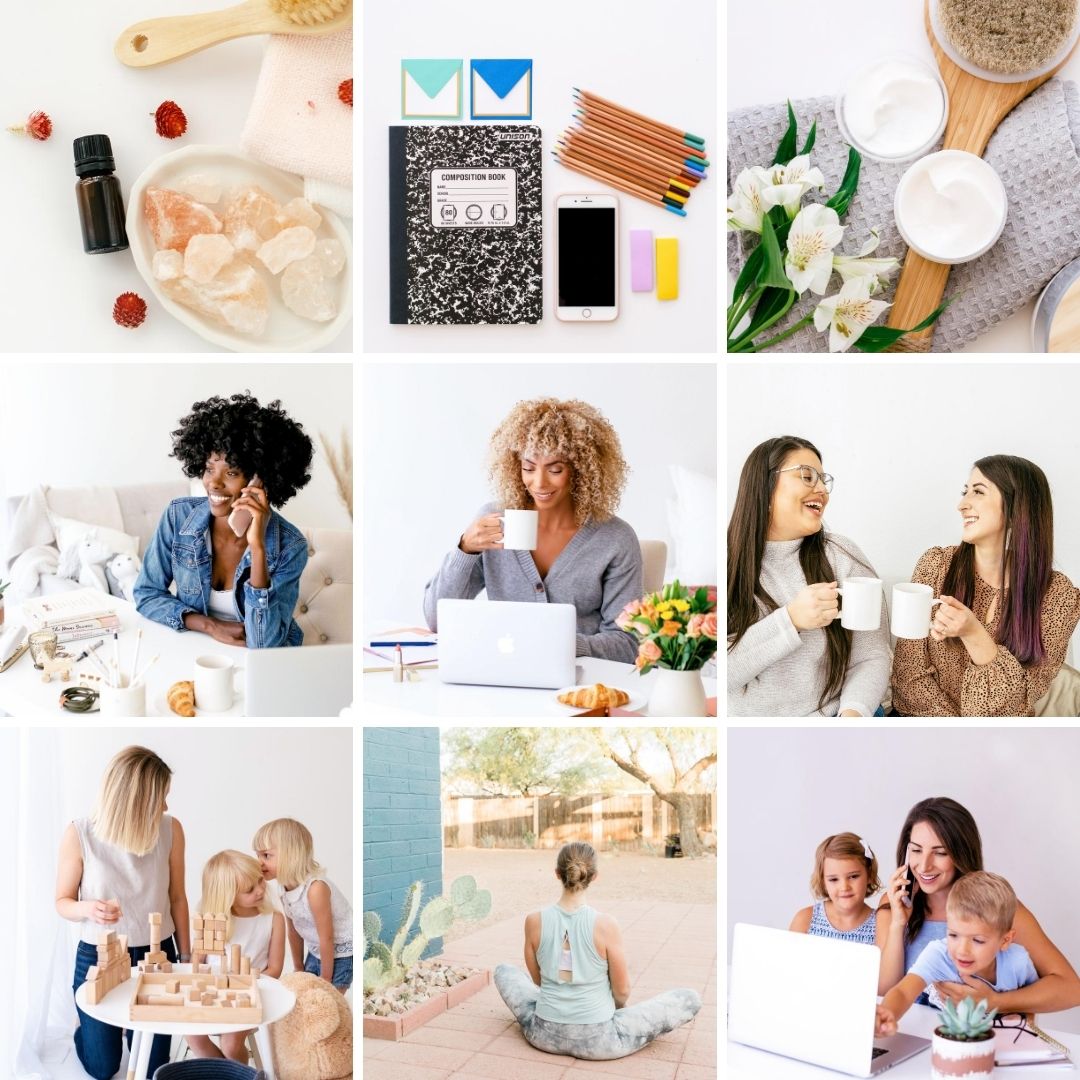 AUGUST WEEKLY THEMES 
Create a week-long post series using one or more of these August themes:
National Simplify Your Life Week

: First Week of August

National Exercise With Your Child Week: August 2 – 8 
National Farmers Market Week: August 2 – 8
National Bargain Hunting Week: August 3 – 9
Elvis Week: August 8 – 16
Safe + Sound Week: August 10 – 16
National Happily Married Husband and Wife Week: August 26 – 31
AUGUST DAILY HOLIDAYS AND HASHTAGS
There's always a reason to celebrate! Scan through this list of daily August holidays, searching for those that will especially resonate with your target audience. Choose the ones that vibe with your brand, and then add your own personalized touch. Infuse a mix of serious and silly days into your calendar to keep your readers engaged and entertained. 
Don't forget to include relevant hashtags with your posts, too! They'll increase your reach so your content is seen by a larger audience.
Respect for Parents Day (1)
#RespectForParentsDay #respectforparentsday #stbra #respect #parents #parenting  #honored #kindred #family
 National Coloring Book Day (2)
#NationalColoringBookDay #coloringbook #coloring #adultcoloringbook #coloringbookforadults #adultcoloring #coloriage #coloringforadults #art #coloringtherapy #colouring #coloringbooks #coloringmasterpiece #coloringaddict #arttherapy #arttherapie #coloringpage #colortherapy 
International Cat Day (8) 
#InternationalCatDay #internationalcatday #catsofinstagram #cats #cat #rumahminimalis #catoftheday  #catstagram #catlover #catlovers #meow #animals #adoptdontshop
National Book Lover's Day (9) 
#NationalBookLoversDay #nationalbookloversday #bookworm #childrensbooks #bibliophile #kidswhoread #storytelling #childrensstories #benefitsofreading #bedtimereading #summerreading #summerhaul #littlebookworm #bookstagrammer #bookstagram  #kidsbookstagram #childrenwhoread #kidsthatread #familiesthatread #readingisfun #bookclub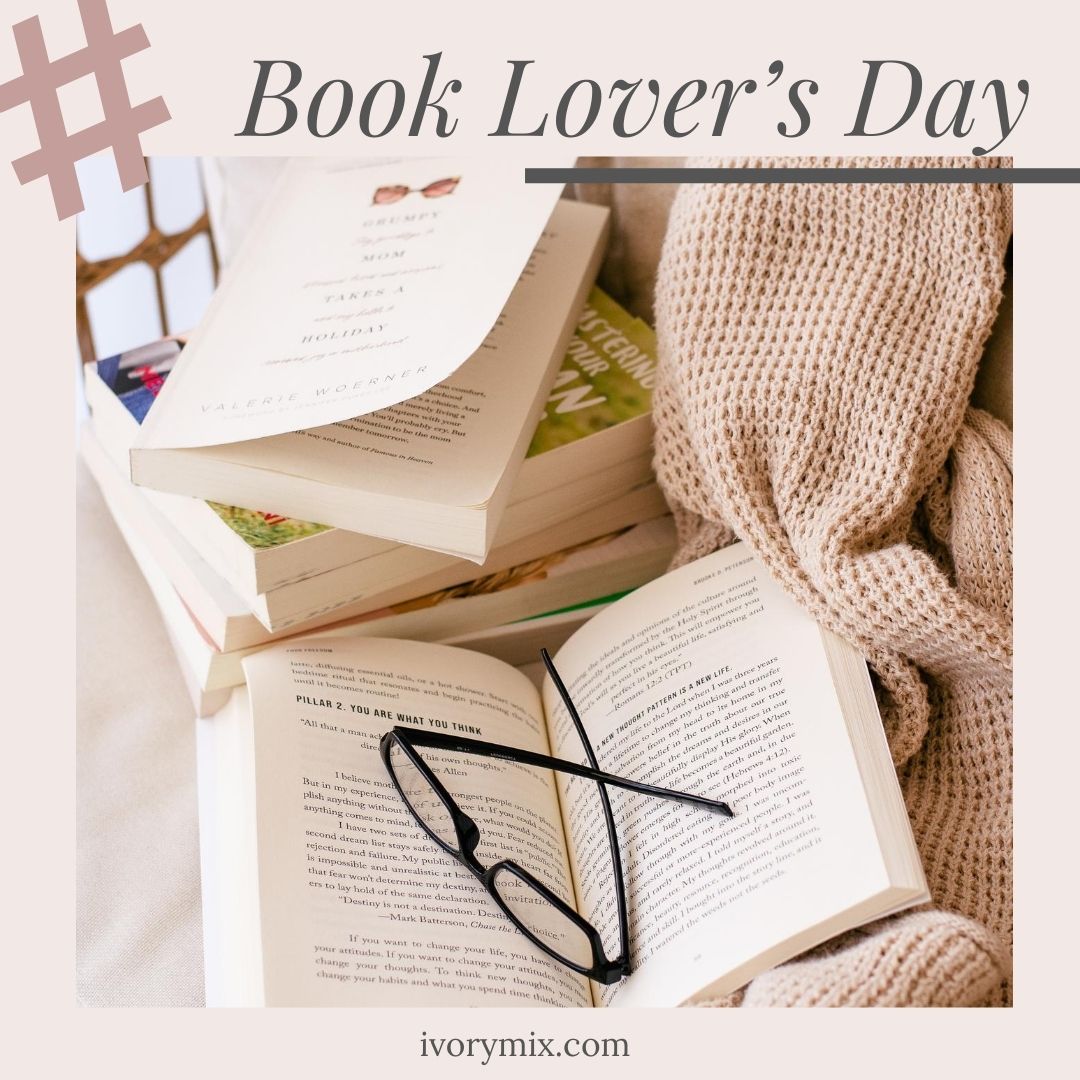 National Lazy Day (10) 
#LazyDay #lazyday #cats #catsofinstagram #cat #instagram #lazy #love #sunday #of #lazysunday #dog #cute #instagood #dogsofinstagram #winter #polishgirl #weekend #selfie #happy #photooftheday #catstagram #chill #relax
National Sons and Daughters Day (11) 
#SonsAndDaughtersDay #son #love #family #baby #babyboy #mom #daughter #father #boy #happy #dad #mother #kids #smile #like #cute #life #k #myson #m #momlife #photography #motherhood #instagood #myboy #instagram #daughter  #babygirl #happy #beautiful #girl #princess  #mygirl #mylove #photooftheday #children #happiness #familytime 
International Youth Day (12) 
#YouthDay #youthday #youth #nationalyouthday #currentaffairs #youthgroup #education  #celebration #knowledgeofself 
National Tell a Joke Day (16) 
#NationalTellAJokeDay #nationaltellajokeday #fridaythoughts  #tourtheplanet  
World Photo Day (19)
#WorldPhotoDay #worldphotoday #photography #world #ig #photo #naturephotography #of #photooftheday #photoshoot #photographers #travelphotography #mobile #mobilephotograpy #nature #streetphotography #portrait #photographer #hub #indianphotography #beautiful #wildlife #worldphoto #picoftheday #foodphotography #beautifulphoto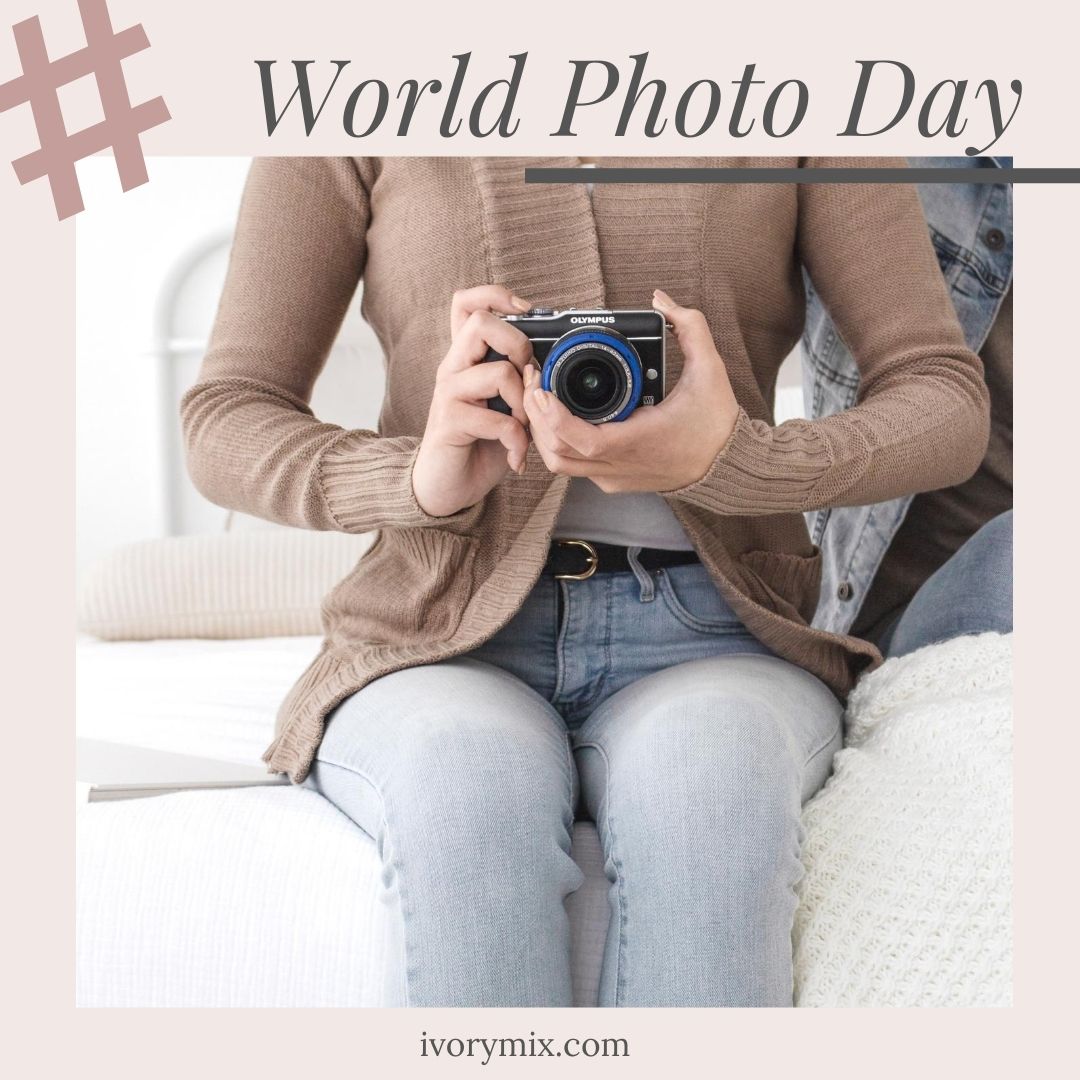 World Humanitarian Day (19)
#WorldHumanitarianDay #worldhumanitarianday #world #champion #justice #truth #changemakers #dosomething #instavolunteers #goforth #loveothers #answerthecall #outreach #loveradically #bethechange #missions #traveltheworld #missiontrip #humanitarianaid #one #bethegood #charity #humanity #worldhealthorganization #unitednations 
National Lemonade Day (20) 
#NationalLemonadeDay #nationallemonadeday #nutrishopusa #teamnutrishop #lemonade #refreshing #fitnessaddict #lemonademouth #lovelemon #bluelemon #purplemonster #lemonandginger #lemonsqueeze 
National Dog Day (26) 
#NationalDogDay #nationaldogday #dogsofinstagram #dogs #dogstagram #adoptdontshop #puppy #dog #tail #scales #to #dogoftheday #puppies #ilovemydog #puppylove #dontbullymybreed #puppiesofinstagram #nationalpuppyday #nybctraining #gooftroop  #fortheloveofdogs #rescuedog #fosterssavelives #fosterwishlist #mypack 
National Women's Equality Day (26) 
#WomensEqualityDay #womensequalityday #equality #equalityforall #women #strongwomen #genderequality  #leadinglady #empoweringwomen #leadingladies #hiddenfigures #follow #womeninleadership #womenintech #womenintechnology #womeninstem #stem #professionalwomen #powerfulwomen 
I know how hard it can be to continue creating relevant content day in and day out for your audience, especially when you're busy growing your business. Use these ideas as a catalyst to get your creative juices flowing!
Here at Ivory Mix we are OBSESSED with simplifying business and making it easier for you to run and grow an online business. All of our content, assets, courses, and workshops inside the membership are aimed to help you create content quickly, grow your e-mail list, and make bank. Click here to learn more about the membership and join the VIP waitlist.
From Styled stock photos for all niches…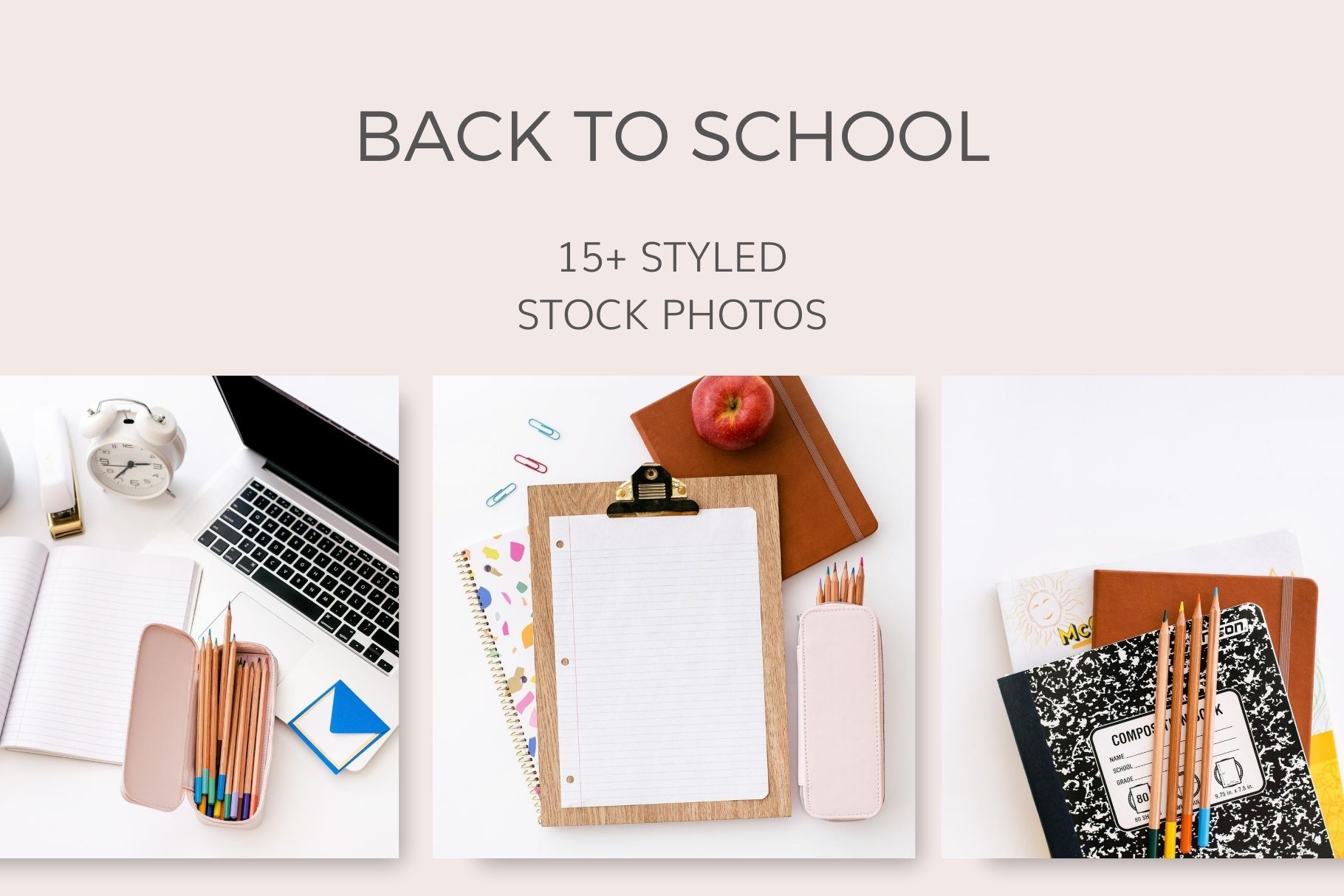 USE THE IVORY MIX, EASY MARKETING PLANNER, TO CREATE CONTENT 10X FASTER
Imagine what it would feel like to have 12 months of content ideas and the captions ready for you to create a new high-converting post each day.
The Easy Marketing Planner allows you to do this quickly and easily.