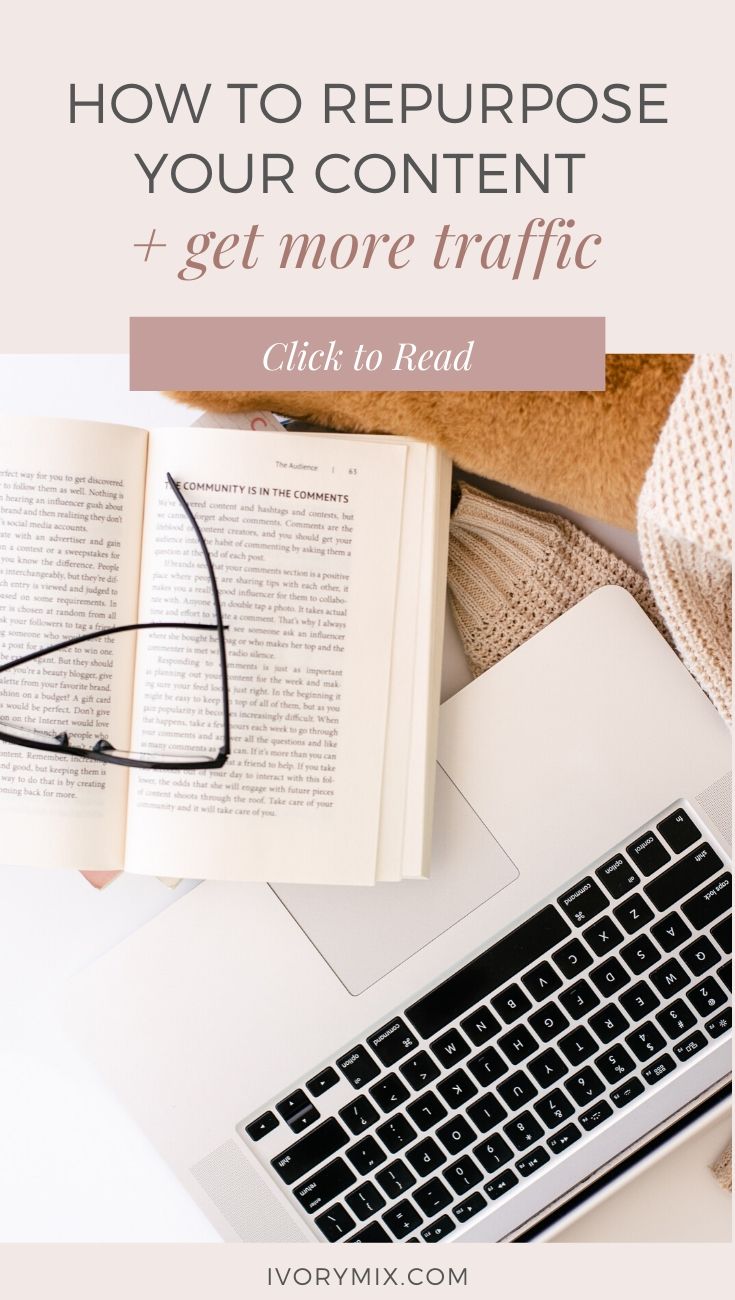 Ever feel trapped on the content-creation hamster wheel as a business owner? 
Creating relevant content for your audience is your number one job, but you can't spend hours a day trapped in the cycle of writing and posting content just to start the process over the next morning. You need a way to reach more people with your content with less effort — and you need it before you lose your ever-loving mind. 
The answer to your struggle? Blog posts are the perfect type of content to break up into bite-sized pieces and repurpose into social media posts and other bits of content. This will result in a ton more visibility for your brand.
We're talking about maximizing your content reach 10 fold. This will allow you to save time, reach more people, and serve your audience better. 
If writing one incredible piece of content and using it to create 10 more pieces sounds like a dream come true, wake up! This post will show you how to make it your reality.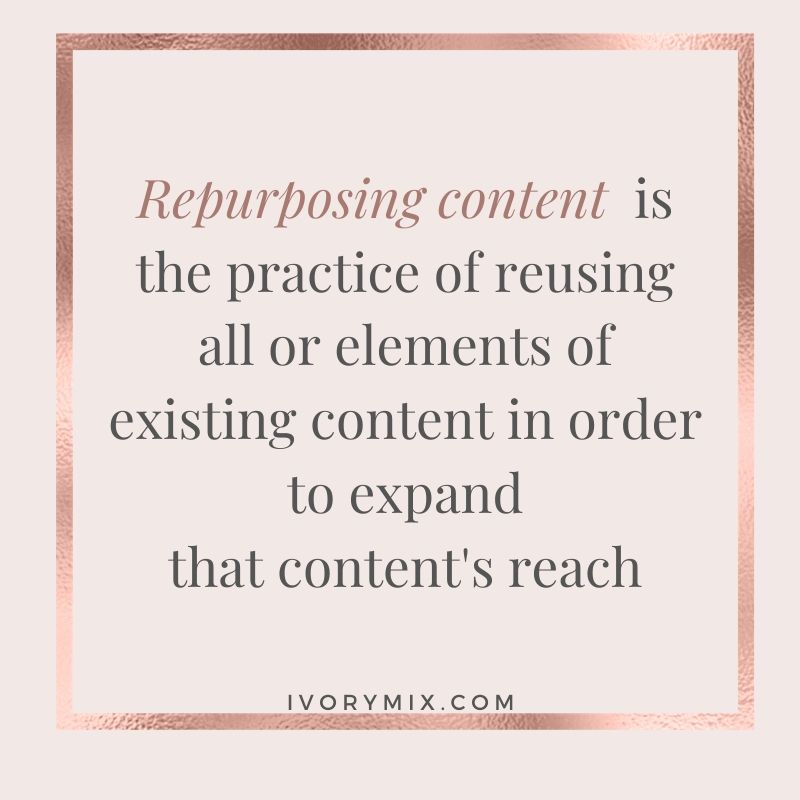 What does repurposing really mean?
Repurposing starts with an original piece of content and reuses that piece to create other content forms. For example, you've written a killer blog post with lots of valuable information. From that original post, you then record a Facebook Live, write a few social media posts, and maybe even create a PDF for your audience to download.
Now, I'm not suggesting you copy and paste the exact same content to multiple places. Content repurposing is all about tweaking the original content to fit the platform you're sharing it on. Obviously, you wouldn't read a blog post verbatim on a Facebook Live. Instead you would rework the post, choosing the parts that work best for the particular platform, and present it in a fresh, relevant way.
Let's recap…
Step one- Create a top-level piece of content (such as a blog, workshop, or a podcast)
Step two- Break it down into smaller pieces of content (such as several Instagram posts, tweets, story highlights, etc)
Waaa-laah! Behold the magic of content repurposing and x10 your content.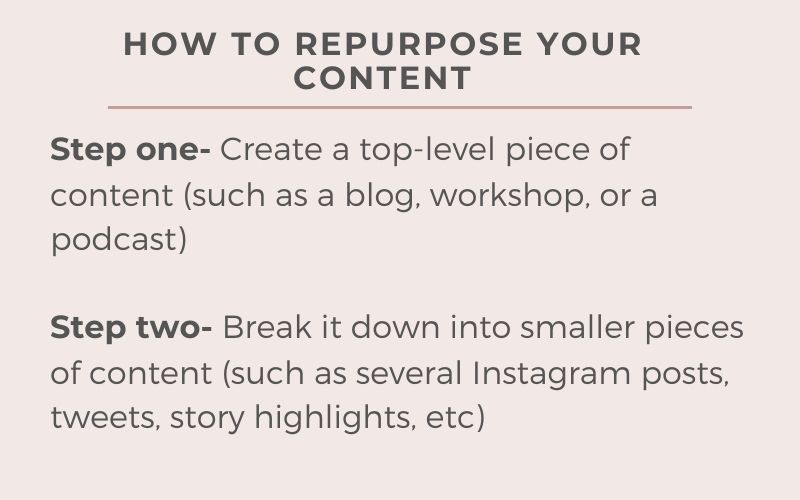 Why should you repurpose your content?
Using content in various ways equals greater visibility. Most people aren't going to see everything you post on every medium, so when you reuse content, you increase your chances for that content to be seen across a wider audience. Getting your words in front of more people is the key to building your brand and expanding your influence.
There are endless systems and strategies out there to guide you in your content repurposing endeavors, and this blog post is going to jump into the different formats you can repurpose your blog posts into.
You'll learn how to :
Repurpose your content perfectly for each social platform

Create content that people will PAY FOR

Take actionable steps NOW to get started
Ready? Let's crush this!
Ten ways to repurposes blog content on social media
Instagram Posts and Stories. In case you didn't know it, your audience is already on Instagram. The platform isn't just for posting aesthetically-pleasing, filtered images anymore. Smart business owners are using Instagram to inspire and engage with their followers, and they are building relationships that are skyrocketing their brands. 
Get in on the Insta-action by taking a blog post and choosing a few key points to highlight on your Instagram platform. Create a visually-appealing graphic, use a few of those emojis we all know and love, and you've got an insta-post!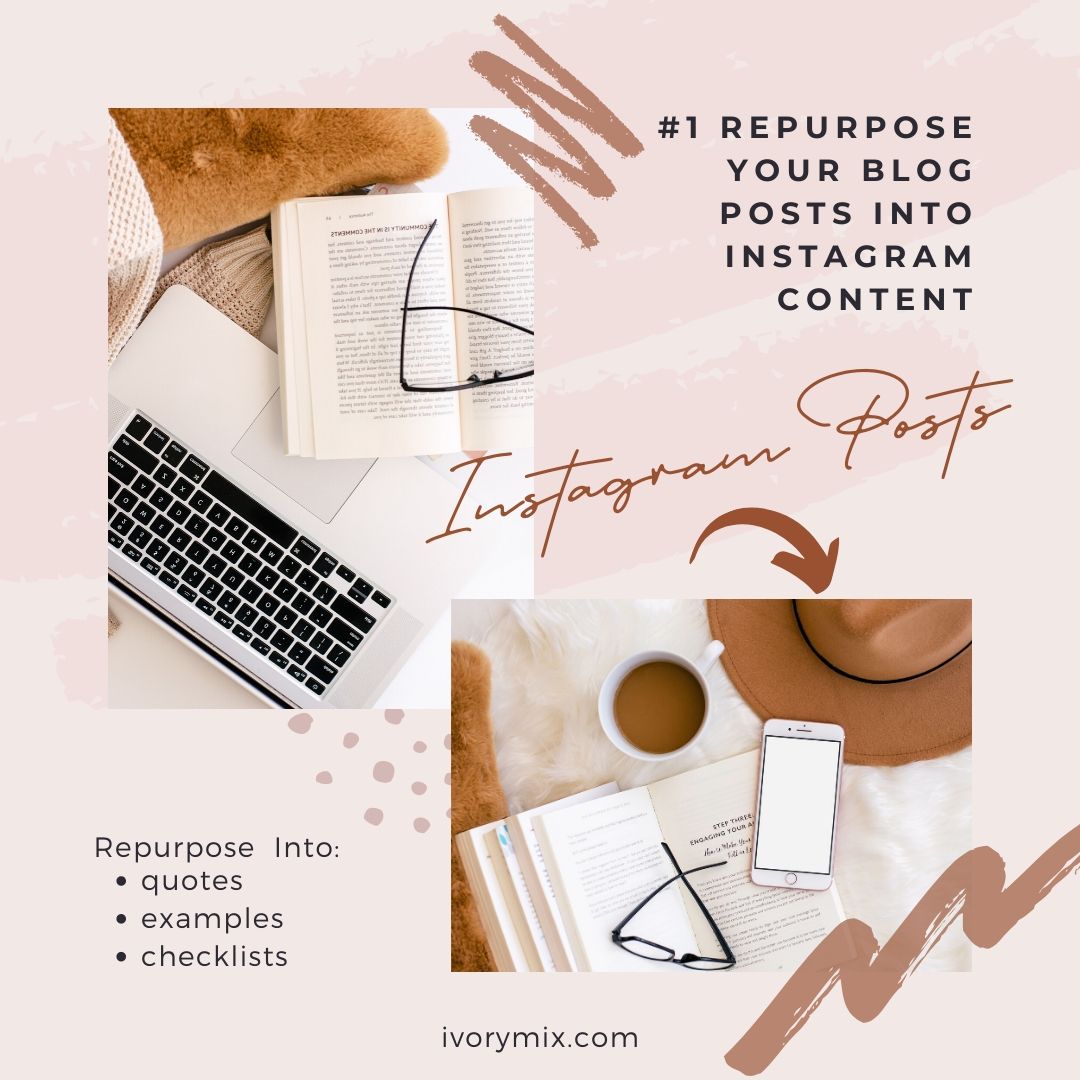 Facebook Lives. Different strokes for different folks. Some members of your audience love to read content while others prefer to watch and listen. A blog post is the perfect script to repurpose into a Facebook Live and capture the attention of the WATCHERS in your audience. This way you can turn the heads of those who may be too busy to stop and read your posts. 
Facebook Lives are different from blog posts because they take on a conversational tone and usually include more interaction and engagement. Don't feel pressured to stick exactly to the script, but use your blog post as a foundation to build upon and just chat it up with your audience!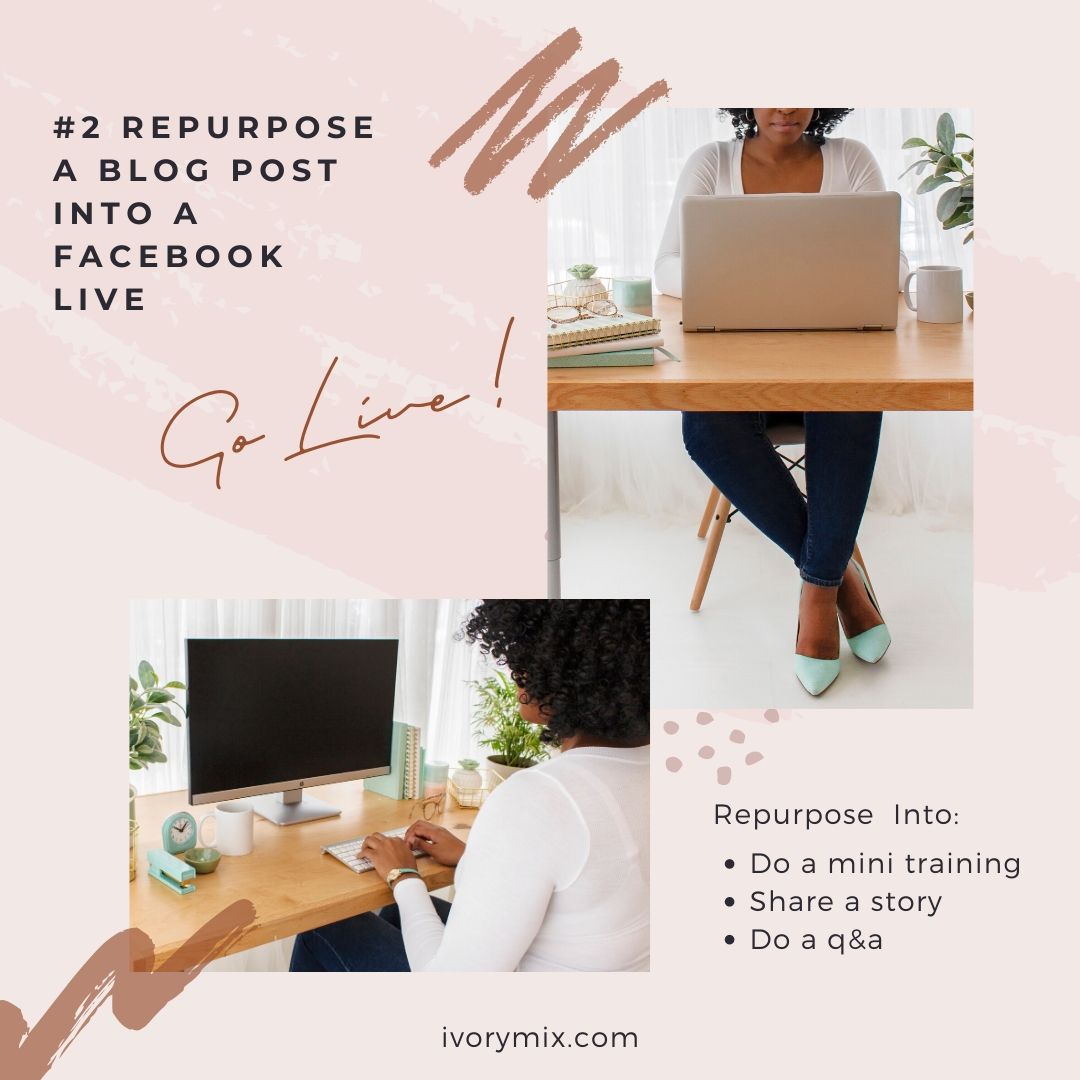 Email your list. Think everyone on your list is reading your blog posts? Sorry to break it to you, but not everyone is! While your email list isn't technically a social media platform, some people are happiest when content is sent straight to their inbox. Repurposing your posts into emails is a great way to reach those loyal email-readers in your audience.
The key? Tweaking the blog post into a readable, easy-to-consume length. Another similar option is to write an email to your list that introduces your post. Attach a link to the actual blog post in the email in hopes that your readers will be enticed to click over to your website.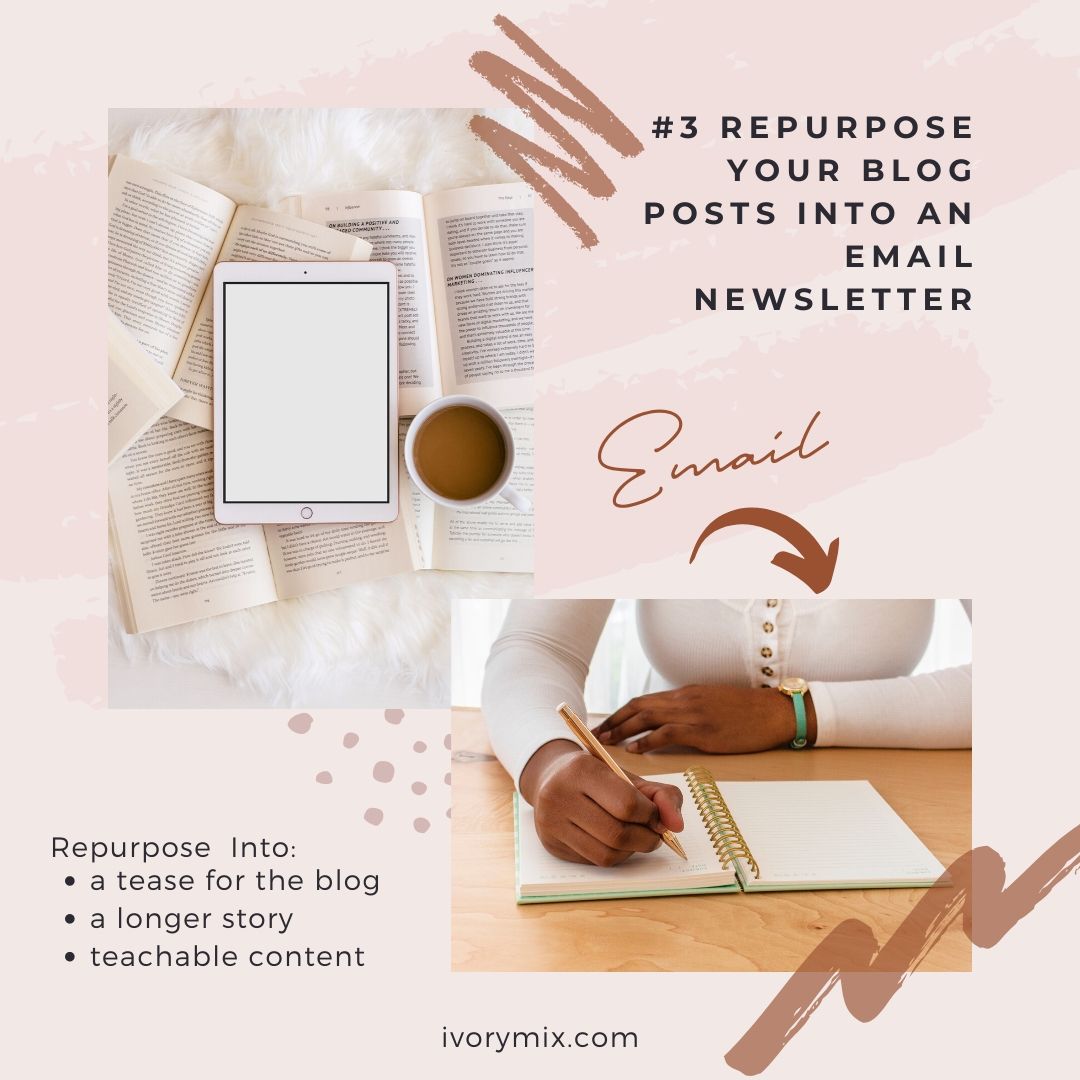 Facebook Posts. Use your blog content to engage on Facebook. This can happen in your groups, in your Facebook stories, in content-rich posts that add real value, and even in your Facebook Ads. 
I'll say it again, the key is to facilitate engagement. Your job is to create content that your audience wants to interact with. Provide ways for readers to get involved in the conversation — by answering questions, adding to the conversation in the comments, and sharing.
YouTube Videos. Don't be intimated here! If you're doing Facebook Lives, you already have the setup to create YouTube videos. You don't need fancy equipment or an incredible backdrop — just good lighting, a decent phone or webcam to record with, and your own killer content.
Start with your blog post and pull out those major themes and key points that your audience needs to hear. From there, create a script, adding in a few personal examples to make it more conversational so that it sounds natural when you're speaking.
Bonus: If you have already created a Facebook Live as part of your re-purposing activities, simply download this video and upload it to YouTube. Simply add a YouTube thumbnail to your video, to ensure your video is on brand and easy for viewers to see what the video is about.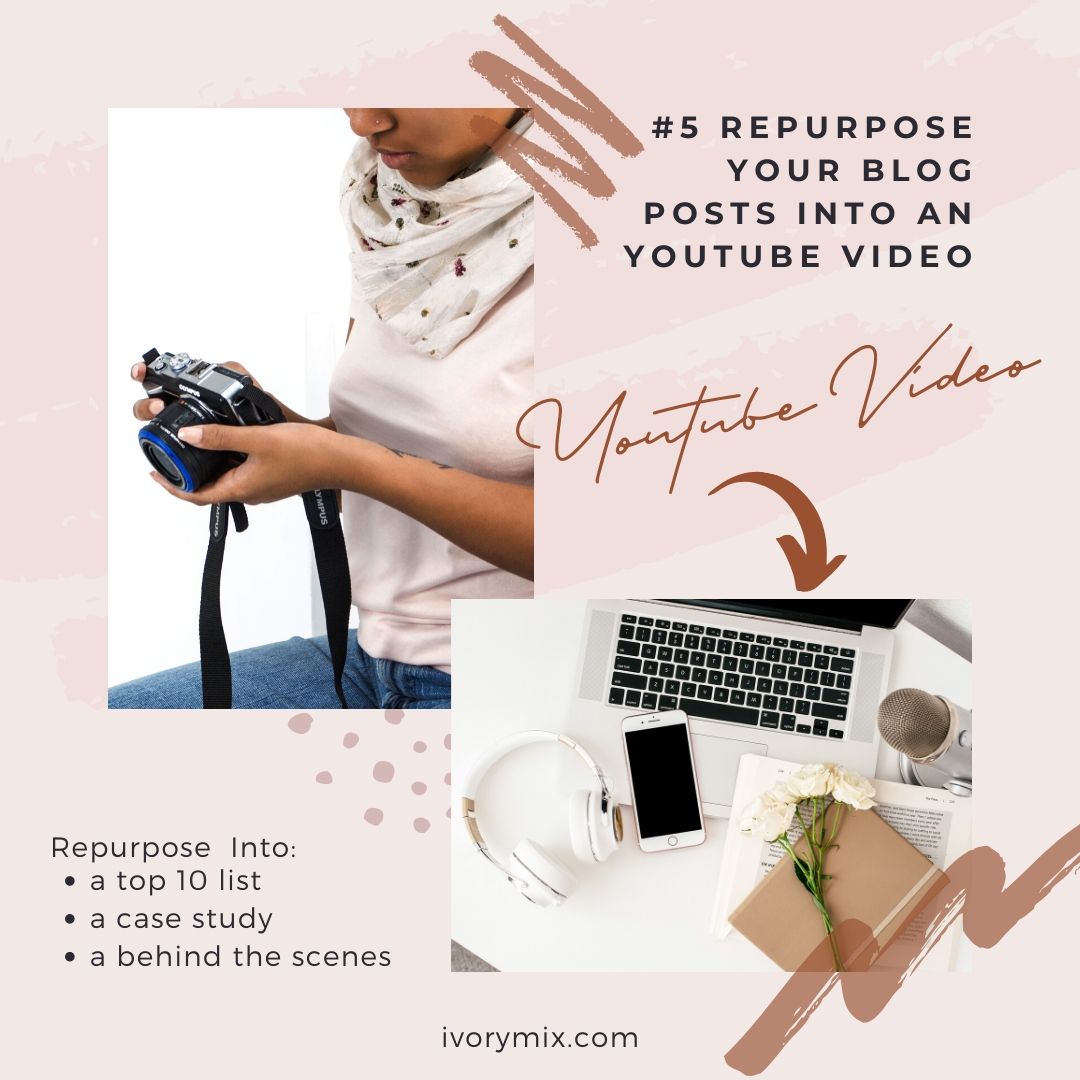 Tweets. Twitter is for sharing brief ideas, tips and quotes, so you can essentially create several tweets from one blog post. Try spreading out your related tweets over several days and provide a link to the blog post to drive traffic back to your blog. Make sure your tweets are thoughtful and pack tons of value, so your audience wants to retweet them.
Snapchat or TikTok. Snapchat and TikTok Apps are the newest place to share bite-sized content in the form of short videos. Similar to an Instagram story, your followers can view your content and then choose to engage with you further through direct message. Snapchat is young and casual, so this platform is best for sharing small pieces of content mixed with personal tid-bits. It's a great way for your audience to get a behind-the-scenes look into your life and biz. 
Linkedin. Build your authority and drive traffic to your LinkedIn profile by reposting your blog post as an 'article' on Linkedin. You'll have to copy and paste the actual content, but it's fairly simple to do! If your blog post is a long-form post, you may want to shorten it a bit to make it more readable. 
Podcasts. Podcasts are a great way to reach people who want to consume content while on the go — whether it be exercising, driving, or cleaning the house. Create an outline from the main points in your blog post and record yourself talking about them! You may think of more to say or specific examples to drive in your point as you talk. Make it conversational and have fun with it! A link to your podcast can be added to your blog so readers have an option to listen on the go.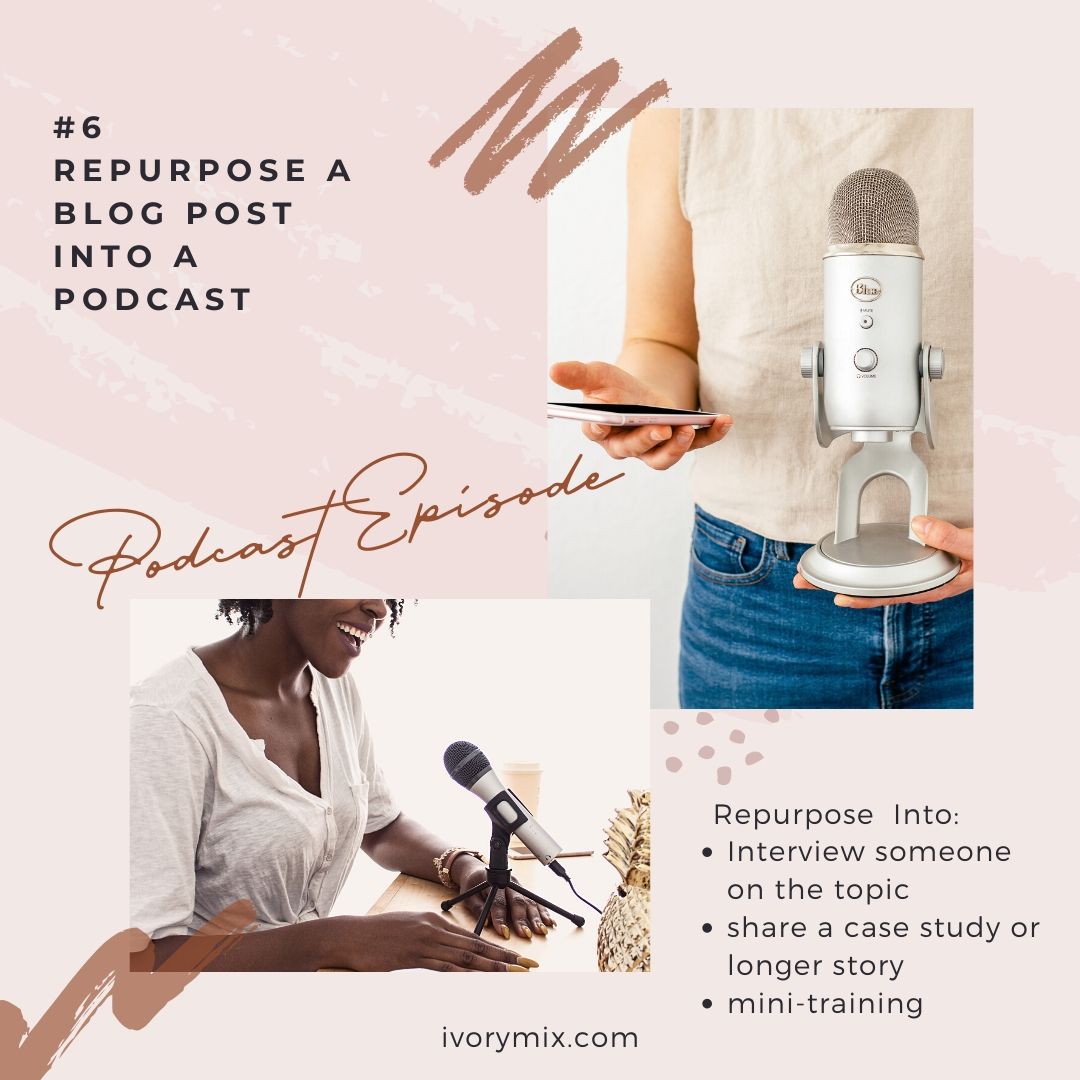 A Paid Online Course. Cha-ching! People pay for ease and convenience. If you're willing to pull together your free content and organize it into a complete system to help your audience accomplish a specific outcome, the result is an online course worth paying for. 
Online courses are probably the BEST way to start making money with content, so don't underestimate this option as a legitimate way to monetize your blog. This is the ultimate goal of content creation, and honey, you're ready to make it happen!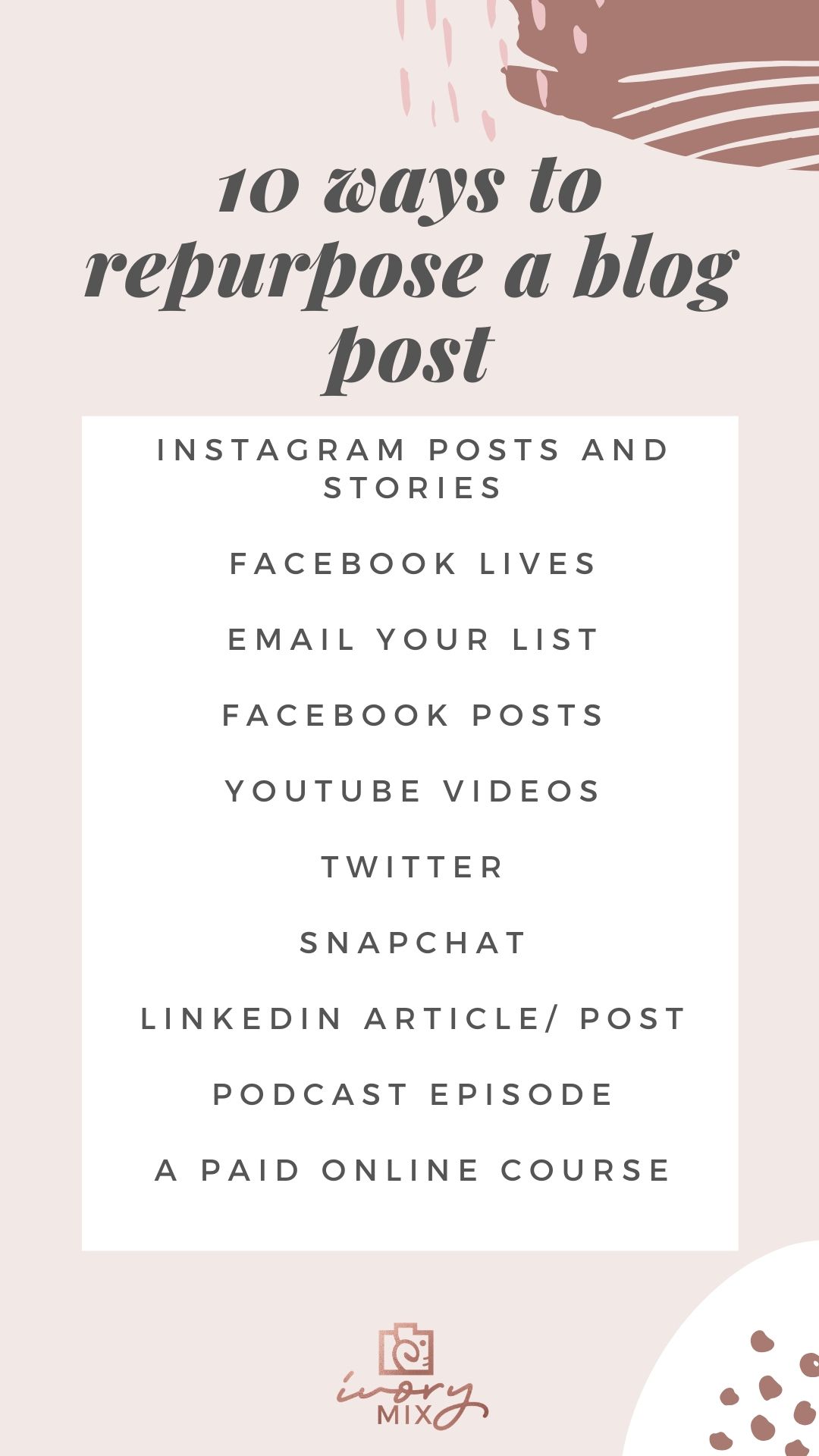 Creating a System to Repurpose Content Easily and Efficiently
If all of this seems daunting, I promise, it doesn't have to be! The best way to repurpose content effectively is to create a system to use when you write your blog posts. While the topic is still fresh in your brain, use a google doc (or get really organized with a spreadsheet) and map out how you will reuse that blog post content. 
Simply organize the spreadsheet with columns to represent each platform

Pull out quotes, tips, and bits of content to share in each space

Use a scheduling tool to schedule the posts to each medium
Taking the extra time to repurpose your content is SO worth the little bit of effort it takes. And bonus? The more you do it, the faster you will get, and soon you'll be a content-repurposing machine!
Ready to jump in? 
Take a look at your older blog posts. Are they still relevant to your audience? If so, begin by recycling and repurposing these posts using the above strategies. 
If you are a newbie and don't have a blog post yet, start with your old social media posts. You may be able to repurpose these gems into newer, fresh content. Tweak them to be current, switch up the graphic, and reuse it on a new social platform to reach a new audience.
USE THE IVORY MIX MEMBERSHIP TO CREATE CONTENT 10X FASTER
Now that you're armed and ready to create killer content for the month of April, don't spend hours and hours slaving away at the keyboard. Learn my system for creating content 10x faster. 
PLUS if you are a VIP member at the Ivory Mix you get access to our Canva templates. Simply place styled stock images from the Ivory Mix library and change the text in these pre-formatted and styled templates to create stunning social media content in a matter of minutes. Click here to learn more about the Ivory Mix membership.

If you are looking to make content creation easier, join a community of online business owners, have training and workshops at the click of a button, then be sure to join the Ivory Mix membership
What's included in the membership?
Access to 4500+ Styled Stock photos (and growing monthly)
Social Quote Graphics
Pre-written "fill-in-blank" Captions that convert
Easy to use Canva Templates
Workshops to help you grow
Get more new content every month
Create click-worthy Pinterest Pins
Easily Batch Instagram content for more traffic
A FREE bonus of unlimited access to all Ivory Mix online courses and trainings (a $800 value).
PLUS, GET THE VIP MEMBER BONUS, EASY MARKETING PLANNER
Imagine what it would feel like to have 12 months of content ideas and the captions ready for you to create a new high-converting post each day.
All VIP Members of Ivory Mix get The Easy Marketing Planner allows you to do this quickly and easily.