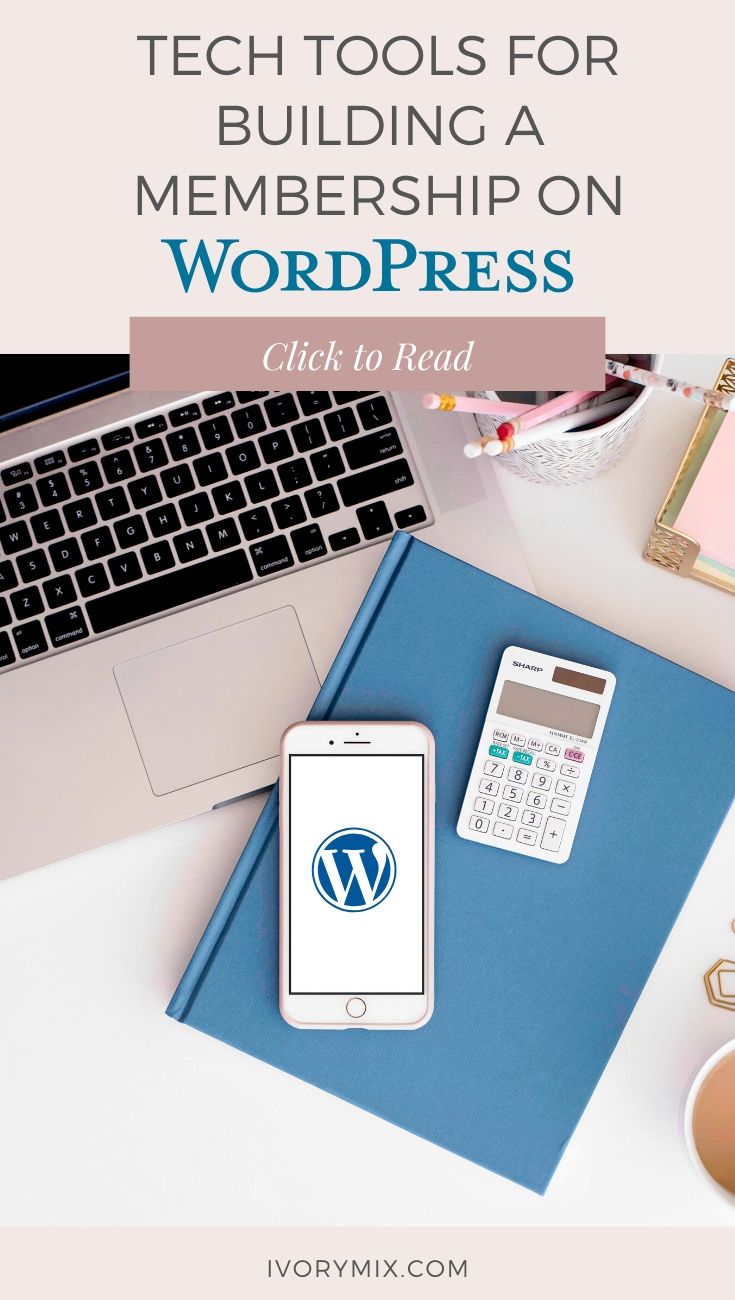 Have you ever dreamed of adding a membership element to your business? 
Maybe you've launched your membership site, and you're searching for the right tools to grow?
When I launched Ivory Mix in 2015, I was working full time and was the sole breadwinner for my family. While I secretly hoped the membership site could someday replace my income, in reality, it started as just a hobby. 
And I couldn't invest a lot of money on a hobby.
I had no choice but to make do with the free tools that were available at the time, so that's what I did! I chose a free WordPress theme + free plugins to start. Slowly, I was able to add more tools that helped me better serve my audience. Within a few years, I built a profitable, sustainable membership site that replaced my full-time income. 
In this post, I'm going to share the backstory of Ivory Mix — the mistakes, missteps and lessons I learned along the way, and I'll walk you through the nuts and bolts of how to build a WordPress Membership Site from the ground up. 
We'll cover:
The Ivory Mix Membership revolution 

The stages of tech I used along the way

The tech and plugins I'm using today

How to simplify your own member onboarding, navigation, and more
The Ivory Mix Membership Revolution 
Soon after Ivory Mix began in late 2015, I found my passion — capturing beautiful stock photos for other bloggers in my network. I decided to create a library of free stock photos that could be accessed by a simple password-protected page. I was using my free WordPress theme hosted by Bluehost, and I sent new members the password to access the images via Mailchimp.
In order to capture more subscribers for my email list, I began using MailMunch — a free popup plugin. I also started running contests using Rewards Fuel and gave away free custom branded stock photo shoots to ignite interest in my products.
Version 1 of our Membership Site on WordPress
By mid-2016, my list was growing. I had a decent following of loyal fans, and I knew it was time to bite the bullet and start investing in paid tools:
WooCommerce. I stuck with WordPress but added WooCommerce to my website to host products. 
Sentry Login. I also added this simple copy and paste provided login form that allowed me to paste the code right onto my page. I could protect those pages so only those who were logged in could access them. (And it was only $5 a month!)
Beaver Builder. I also added Beaver Builder (free!) to create simple sales pages and engaging visual content, but I kept Mailchimp as my email marketing provider. 
Total cost at this point? About $50 a month.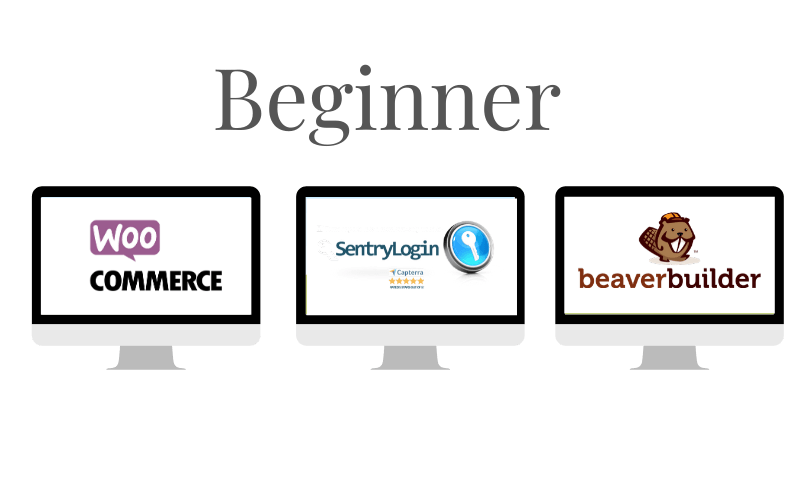 By the time 2017 hit, I was consistently making 4k a month while spending a minimal amount on tools (and still working full time). I had about 400 members each paying $10 a month. 
My marketing plan? It was nonexistent.
I wasn't upselling or down-selling or doing any of the things. By June 2017, I knew it was time to take the leap and do something big. It was time to beautify, simplify, and scale Ivory Mix.
Version 2 of our Membership Site on WordPress
I invested 2k in a full rebrand and website redo, said goodbye to Sentry login, Mailchimp and Beaver Builder, and added some newer tools:
WooCommerce Subscription and Membership. I added WooCommerce Subscription and Membership to the mix so I could have a complete suite of tools that worked together and kept everything in one place. WooCommerce Memberships is a robust membership management that allows you to restrict content and products. The subscription works with Membership to sell your products with recurring payments.
ConvertKit I upgraded my email marketing to ConvertKit which has a tagging and organizing system that made sense to me, plus it connects seamlessly with WooCommerce. 
Thrive Architect. I also upgraded to Thrive Architect to design branded, eye-catching landing pages.
Total cost at this point? About $600 a year.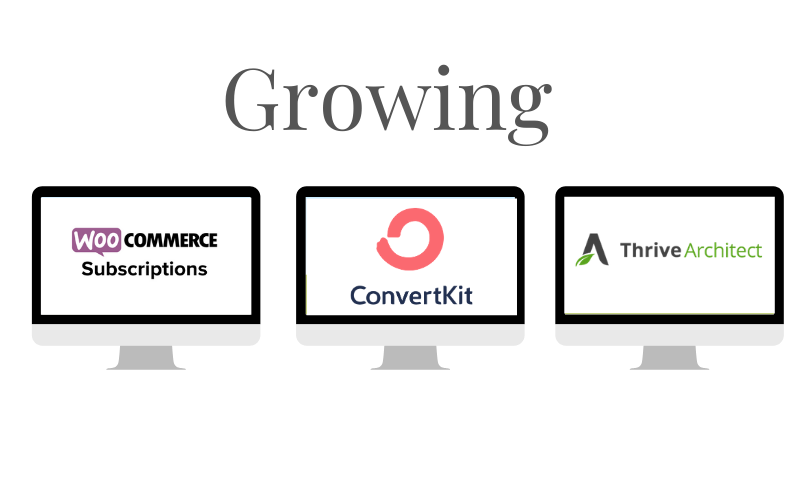 From June to December 2017, my membership really ramped up. I raised my prices and discovered the magic of one-time funnels and live launches. I was actively marketing my products and generating sales like never before. 
And you know what? My revenue doubled! 
In fact, in September of 2017, I was able to QUIT. MY. JOB.
Cue the hallelujah chorus!
After that milestone, the tech I used for my membership stayed about the same for a couple of years. I continued to build funnels and make sure everything was running smoothly for my audience. I stayed laser-focused on providing a high-value platform for my members. 
Version 3 of our membership site on WordPress
In mid-2019, I began strategically growing my team. I hired a regular VA to handle the day today, so I could focus on the bigger picture.
Then, as I entered 2020, I made another BIG change to my tech:
Flywheel. You see, for years I had struggled with a sloooow website. I knew it was time to leave Bluehost for Flywheel (a managed hosting company with incredible uptime). Managed hosting provides support for operating systems and infrastructure, while unmanaged hosting services like Bluehost do not.
Making this switch was the Best. Decision. Ever. My uptime is now superb, and I love the customized attention my website gets with Flywheel.
Thrive In addition to Thrive Architect, I added the Thrive Ultimatum and Thrive Lightbox plugins to boost my marketing efforts. 
WooFunnels (which works with WooCommerce) became my goto for customized checkout pages and creating more upsell and down-sell funnels.
Total cost to run Ivory Mix today? Over $500 a month (a lot of this is due to our photo/file hosting)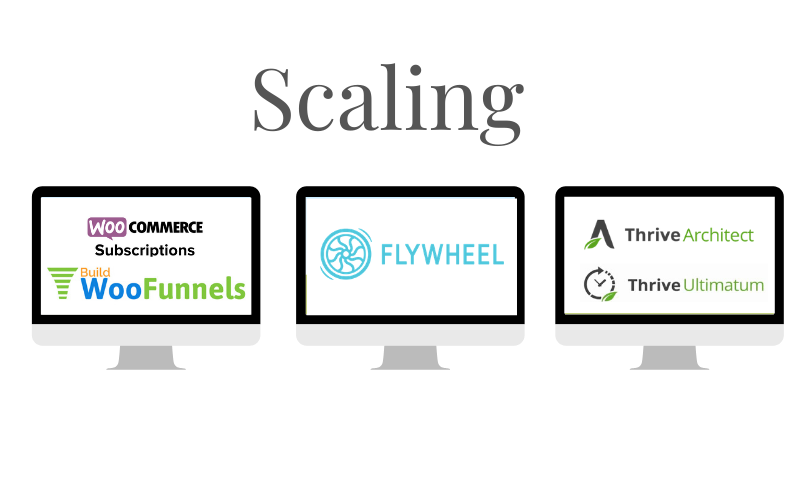 There you have it! These are the tools I've used to get Ivory Mix to where it is today. 
Where can you get started with your own membership on WordPress?
If you're ready to implement these tools and set up your own membership site, the following plan will get you started on the right track. 
One warning though: don't overcomplicate things. 
These four simple elements are the basic components you need to start a membership platform:
A Checkout / Sales Page

A Thank You / Welcome Page

A Member Dashboard / Account Page

Protected Membership Content
If you focus on these four building blocks and work to grow a quality audience and a great membership experience, you're well on your way.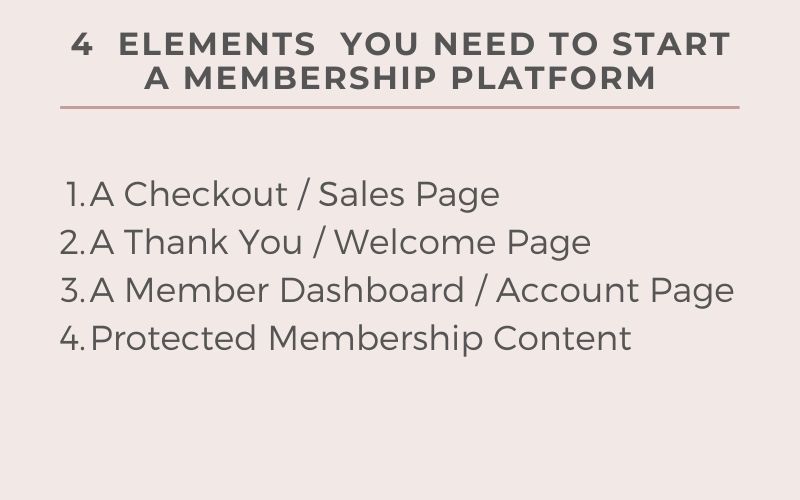 What else do you need to think about when starting a Membership?
Now we're going to dig a little deeper into these components and the tools you need to make them all work together in perfect harmony. Take it slow and concentrate on building these elements one and a time. You'll be up and running in no time!
Email. Every business owner needs a robust email marketing program to stay connected to their audience and sell their products. As a membership site owner, you'll need to connect your email marketing tool to your membership by sending a customized welcome message that kicks things off the experience for new members. My recommendation? Using ConvertKit and WooCommerce to connect seamlessly. 
Sales Pages. Creating killer sales pages are crucial for capturing the attention of potential customers.
Customized checkout pages. We use WooFunnels. For an extra boost, add testimonials! 
Here is a sample of the custom checkout page created by Woo Funnels, which includes testimonials from our members: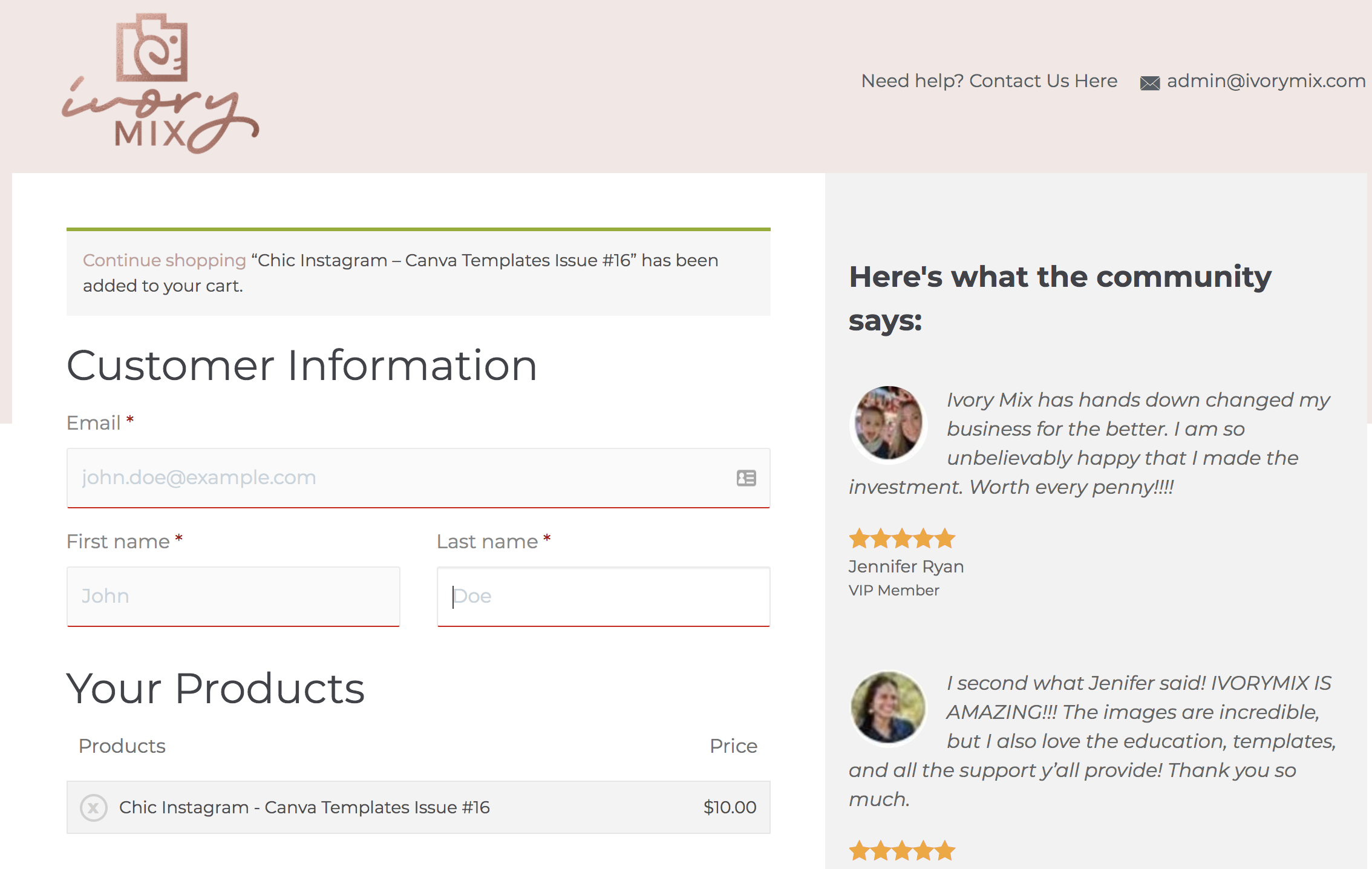 Thank You / Welcome Page. After a new member joins, you'll want to welcome them to the experience with a "thank you for purchasing" page. To build these pages, I recommend Beaver Builder (free) or Thrive Architect (paid). The thank you /welcome is your chance to add a branded element to the membership. You can even add a video to welcome your customer and give them details about the next steps they need to take!
Membership Content. Lock your content for members eyes only easily in the WooCommerce Membership plug-in. This is where you set it all up!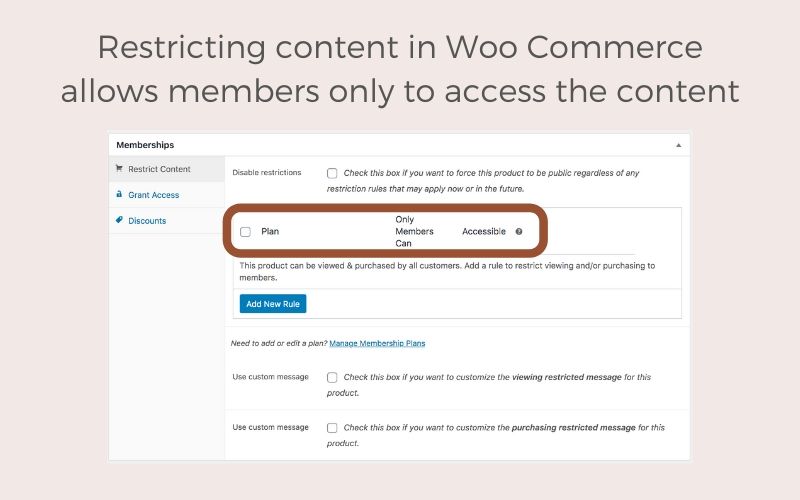 Members-Only Menu. What will appear for members? How will you hide those options from non-members? The IF MENU plugin is a great tool that allows you to hide options for non-members who aren't logged in so it isn't confusing. 
Upsells, Downsells, Order Bumps are also easy peasy when using WooFunnels, as are utilizing abandoned cart sequences and follow-ups to recover your cart.
These tools can also help you stay on top of your numbers by generating reports such as past revenue, best sellers, upcoming sub renewals, affiliate commissions. 
Are there other options outside of WordPress?
While I recommend WordPress for building a membership site, there are other options out there. Kajabi is a popular option, but fair warning – it's not as customizable WordPress. However, it could work for certain types of memberships (like coaching for instance). The pro version runs $399 a month.
Other membership platforms to check out include Member Mouse, Member Press, and Podia. 
One word of caution: Be sure to look at how much these platforms take off the top of your sales. I personally stick with the tools that don't take a percentage!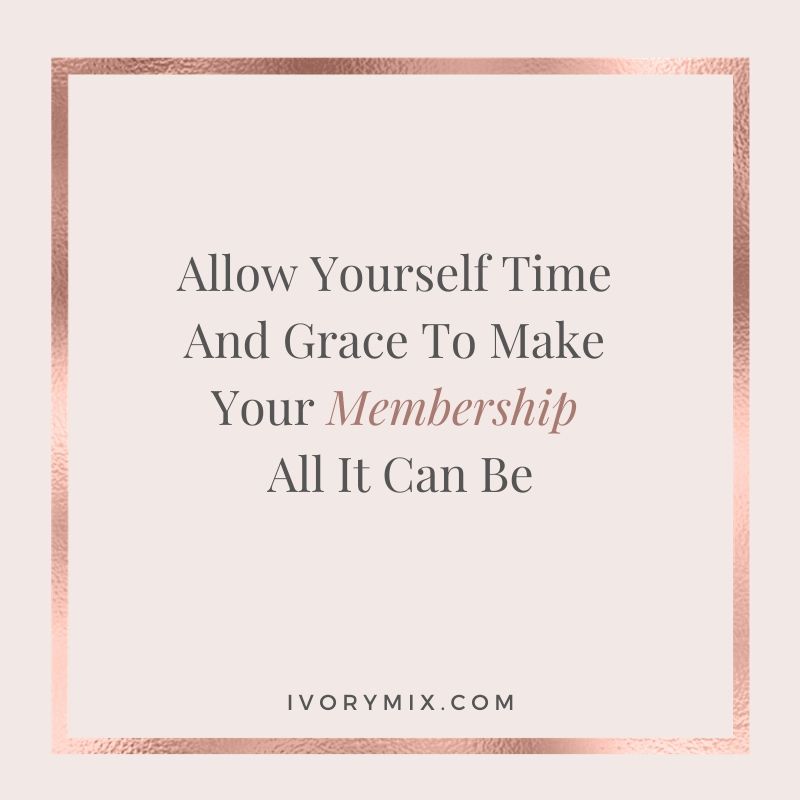 If your dream business includes building a membership site that generates big profits, I'm living proof it's within your reach. By customizing this plan to fit your business, you CAN create a member's journey that will have customers lining up to join. Take it one step at a time, concentrating on making your membership high-value at every turn. And remember, Rome wasn't built in a day. Allow yourself time and grace to make your membership all it can be.