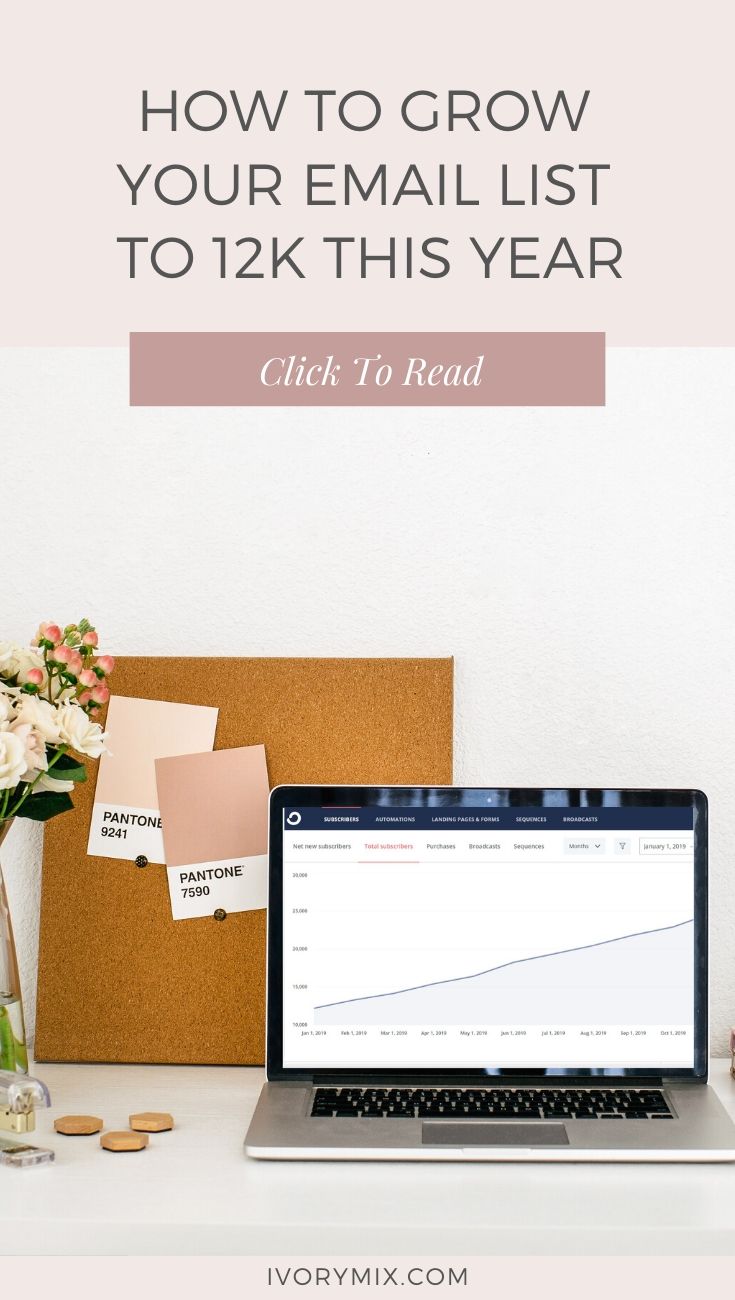 There's no status symbol more coveted in the online business world than thousands of adoring subscribers on your email list. Along with your website, your email list is the only thing you really own.
Pinterest, Facebook, and Instagram could disappear tomorrow, but that list? That baby is all yours.
Why is growing an email list so important? 
It gives you the opportunity to build relationships with your audience in a deeper way

It can be targeted and specific

It sends warm traffic directly to your content and your offers

It gives you an opportunity to learn more about your audience through surveys
If you're ready to massively grow your business this year, here are some quick, fun, and BRILLIANT ways to grow your list to 12k and beyond. Growing a list to this size may seem hella daunting, but when you break the goal down to 34 subscribers per day, it seems a little more achievable, right? That small, daily number of subscribers comes to more than 12,000 when multiplied by 365 days in a year!  Not too shabby. 
Just imagine the impact for a second…
If only 5% of your 12,400 email subscribers purchase your course for $199, that's over $123,000! Cha Ching!
The plan is pretty simple. First, you're going to develop the type of content that converts your followers into email subscribers. Then, you'll turn those skimmers and watchers into action takers. You'll do this by creating a freebie that grows your list for years to come!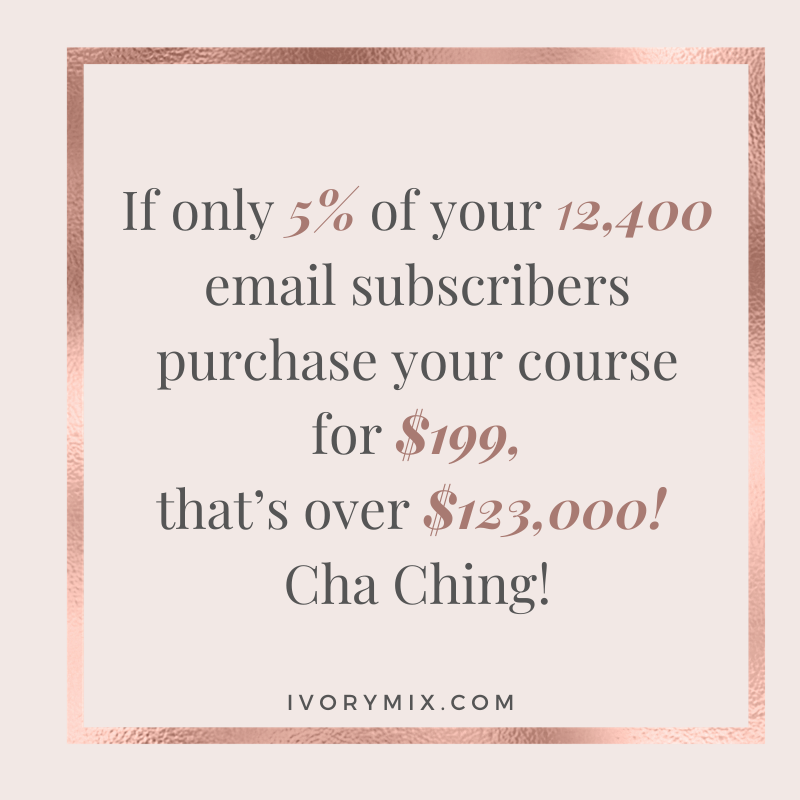 The Path to 12K Email Subscribers
Step 1 — Identify who your ideal subscriber is, and what you do for them
To get into the zone, I like to start with a Transformation Statement. This little tool will help you to better define your ideal subscriber.
The three important details that work together to make your transformation statement are:
Who you serve

How you serve them 

What you do
Then work your answers into a statement that tells your audience who you are:
" I am the person that_______for ____________ in order to _________."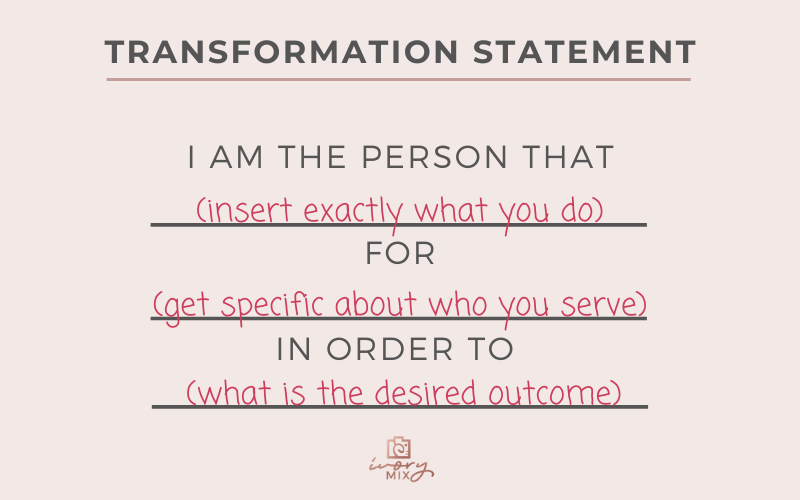 Anytime I create a product, a post, or a freebie, I ask myself if this piece of content is related to my transformation statement. 
Step 2 — Publish Content to Help Your Ideal Subscriber with their goals
This step will help you convert followers and casual readers into raving fans who can't wait to throw their email into your opt-in form.
Start by learning who your audience is right now and speak to them where they are.
Then, learn who they want to be and speak to their goals and desires.
Show them where you can take them and what their life will look like after working with you. 
My hack for finding content topics?
Google Search. Type a question your audience would search for in the google search bar. Then look at the "people also ask" box to generate more content ideas that will also appeal to them.
Pinterest. Search for a pin that would appeal to your ideal audience, and see what else shows up! Scroll through to get more content ideas. Use this method to pinpoint holes in the content your audience is being served. Take it a step further by clicking on a pin that resonates with you and looking at the "more like this" section. This can spark even

more

creativity.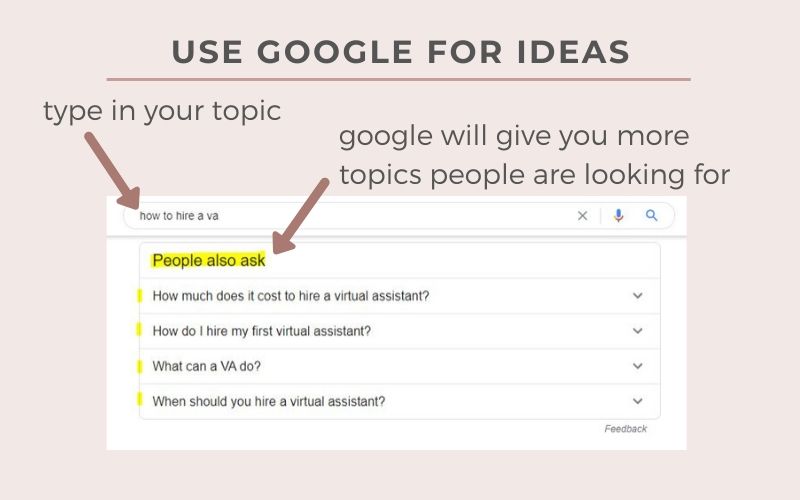 Step 3 — Create a Series Out of Your Content to Drive More Sign Ups on Your List
A series of blog posts is an incredible way to deliver powerful content to your audience in exchange for their email address. Invite them to subscribe and receive specific steps to solve their nagging problems.
Don't have a blog series created yet? Simply start with the idea — ask yourself what problem you can solve for your audience. Don't skimp on this series. Solve the problem from beginning to end for your followers.  
A sample outline for the series could look like: 
Episode one: an intro blog post

Episode two : advanced strategies

Episode three : mistakes to avoid

Episode four : how to audit

Episode five : a relevant product or tool review
You don't have to have the entire series completed before you promote it! Just develop the idea, write the initial welcome email, create an opt in, and start promoting! You can fill in the rest of the content as you go, releasing episodes as you create them. 
Step 4 — Place CTAs Everywhere. 
First, add a link to your opt-in on all of your social media platforms. 
Pin one to the top of your Facebook page

Add one to Instagram with Linktree

Add one to your Pinterest profile
Next, Create a CTA at the top of your website (Check out MailMunch to customize one for free!)
Create a slide-in box for the bottom of your website (also could use MailMunch)
Place CTAs for your freebie at the end of your blog posts using an opt-in form
Craft a compelling CTA within the text of your post's conclusion to draw readers in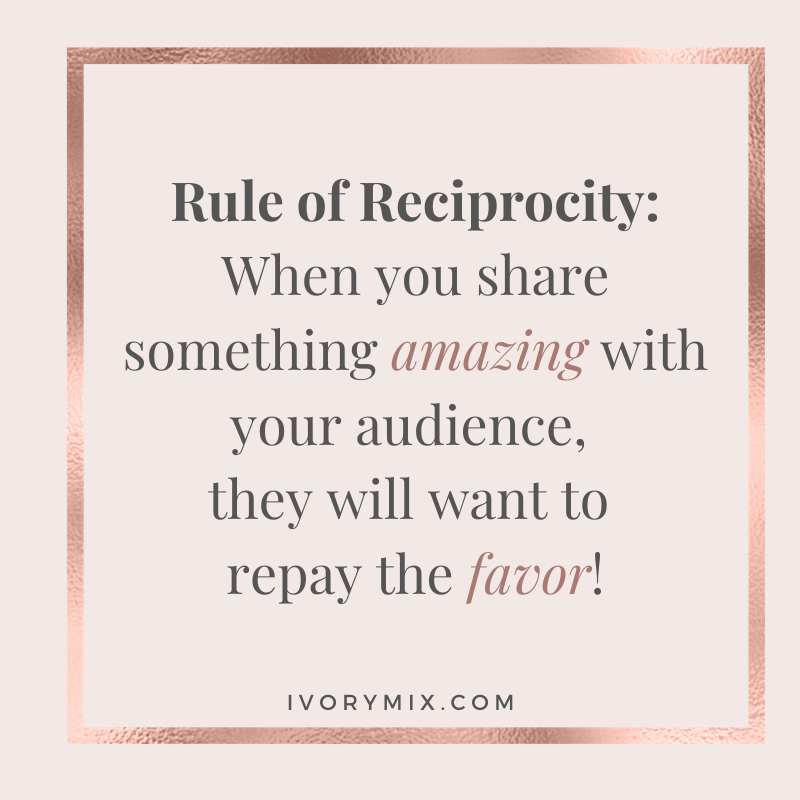 Step 5 — Create an Incredible Freebie and Watch it Sell Itself.
Have you heard of the Rule of Reciprocity? This rule states that when you share something amazing with your audience (delivering the freebie), they will want to repay the favor! 
Use their desire to pay it forward to your advantage — ask them to share your freebie with others who they think would benefit. Your job? To make sure it's worth sharing! This isn't the time to skimp. Give them a meaty sample of what you do.
And please, don't worry that giving away free content will keep people from buying your products. Your audience really does want their hand to be held. They don't want to have to search for all the answers — they want them packaged and delivered by YOU, the expert, in easy-to-digest steps.
Need ideas for your freebie? There are so many options — the sky really is the limit! Some freebies types include: 
Contests or giveaways

Done-for-you content (scripts, templates, checklists — things that save time)

Samples of a product (a page of an ebook or a module in your course)
Click here for a list of 65 lead magnet and freebie ideas
and be sure to grab these 10 email list building assignments
The goal here is to be the hero. Solve their problems. The more value you give away, the more profit you will end up receiving in the long run. Remember, your freebie can be the gateway to introduce a higher-value product such as a webinar, online course, or an ebook, or a coaching program.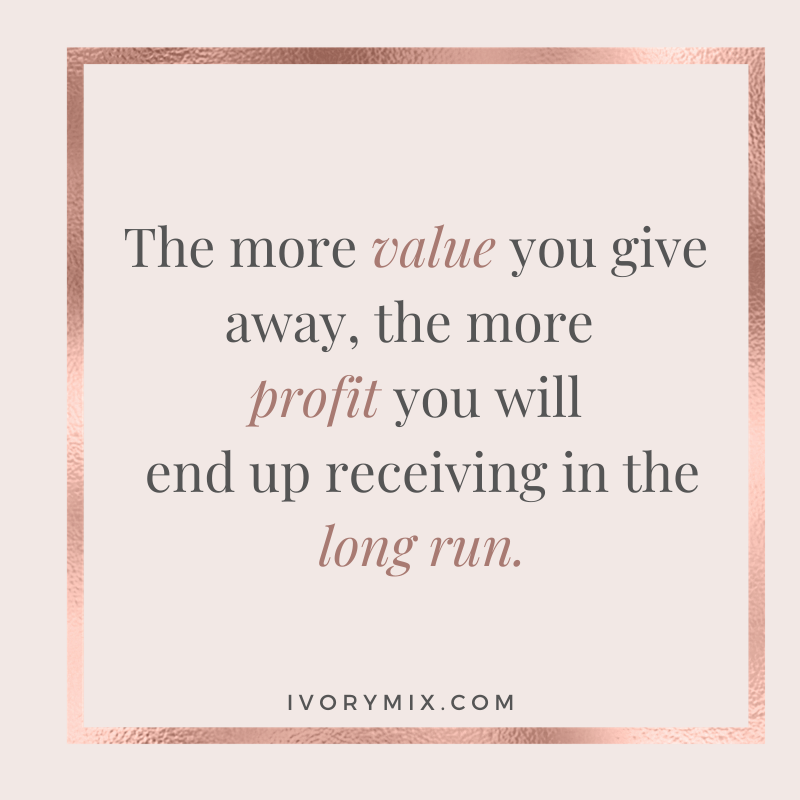 Check out Canva — it's the perfect platform to create a visually-stunning PDF for your freebie!
Plus if you are a VIP member at the Ivory Mix, you have access to range of Canva templates to put your free content into. Whether its a checklist, ebook or presentation slide deck, simply enter your content, change the colors, and add brand elements and your freebie can be created in half the time.
Inside the membership you can find a workshop on creating your ideal lead magnet, to really nail down what you would love to deliver for your audience.
here are the lead magnet templates which you can find inside the Ivory Mix membership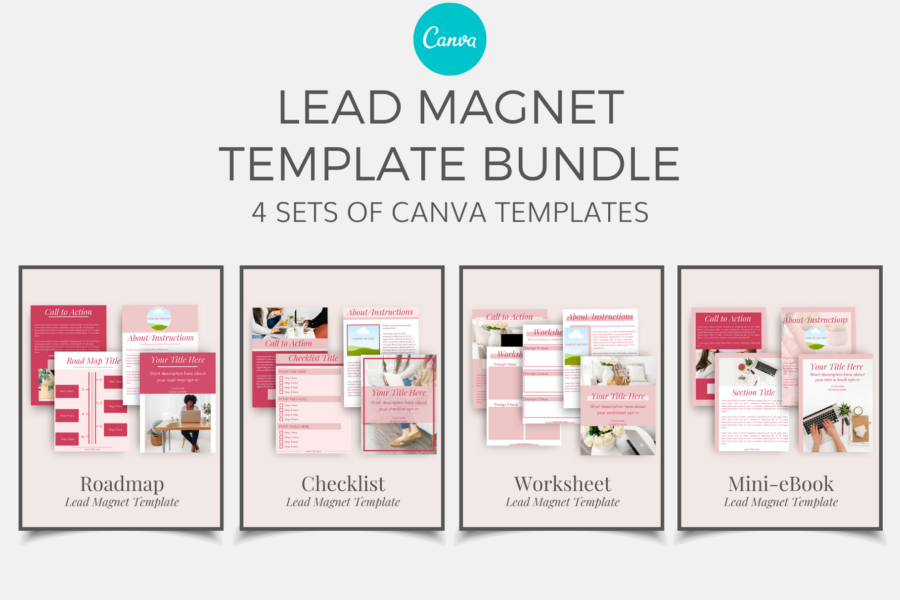 My Story of Freebie Flops and Wins
Confession: my first freebie was a printable, and it was a total flop. I worked really hard on it and was totally deflated when I only snagged a couple of subscribers from my efforts. Why did this happen? Well, because I stopped promoting the dang thing! 
I created it and left it. I didn't put in the time and effort to create content around it and keep my audience interested. 
Fast forward to my next freebie attempt — a bundle of 52 free stock photos, and it was a success! I kept pointing people to it through content that promoted it. It became a well-known part of my brand. 
The lesson to learn? Don't stop talking about your freebie! 
Step 6 – Promote. Promote. Promote.
Now that you have all the pieces in place, it's time to convert your skimmers into active subscribers. To capture their attention (and email addresses), you have to get eyeballs on that amazing freebie you just created! There are so many places to promote it, including:
Podcasts

Guest Blogs

Instagram story takeovers

Facebook lives

Youtube

Host giveaways

Collaborate with others in your industry (host joint lives for example)
Use these styled stock photos to create Insatgrammable mockups of your freebie.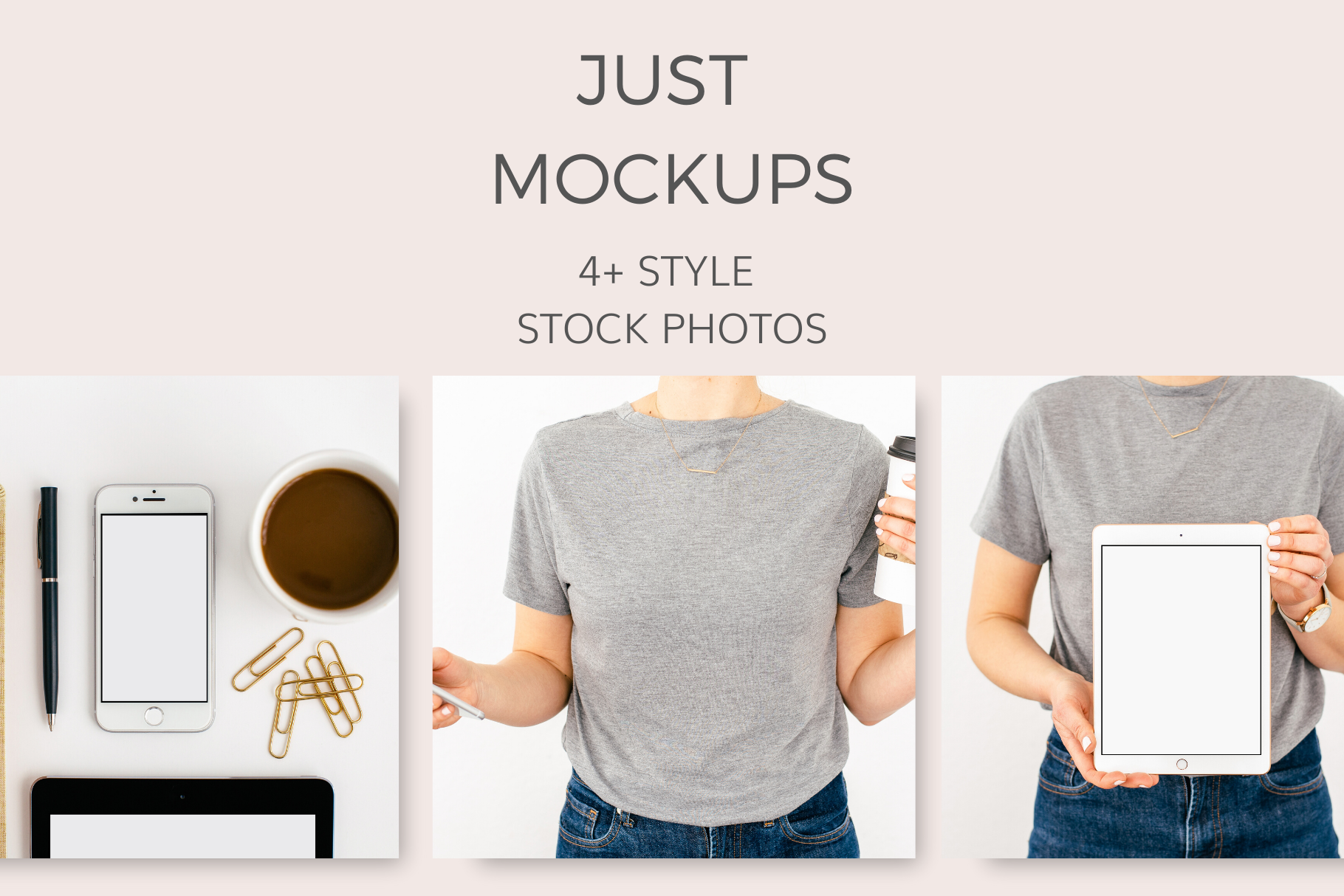 Or you could showcase your ebook in one of the Ivory Mix templates
Follow the steps in this simple plan to develop content that will grow your list and turn skimmers and watchers into action takers and buyers. The potential impact to your bottom line can be a game-changer for your business.
USE THE IVORY MIX MEMBERSHIP TO CREATE YOUR LEAD MAGNETS AND MARKETING FASTER
Now that you're armed and ready to create killer content to grow your email list, don't spend hours and hours slaving away at the keyboard. Learn my system for creating content 10x faster. 
PLUS if you are a VIP member at the Ivory Mix you get access to our Canva templates. Simply place styled stock images from the Ivory Mix library and change the text in these pre-formatted and styled templates to create stunning social media content in a matter of minutes. Click here to learn more about the Ivory Mix membership and join the VIP waitlist.

If you are looking to make content creation easier, join a community of online business owners, have training and workshops at the click of a button, then be sure to join the Ivory Mix membership