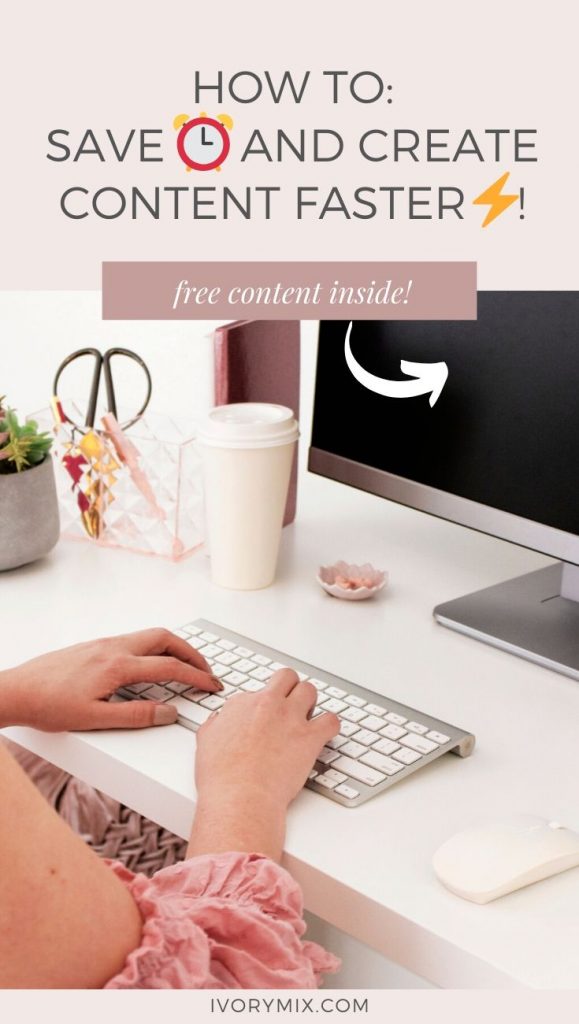 Creating content can be time-consuming and when all you want to do is get to the next level, it can almost be painful!
This blog post is going to help you set a plan and simplify that process.
If you schedule ahead and do a few simple things, it makes it much much easier for you every single time you sit down to create that content.
In fact, with just a few key strategies you can have a month's worth of content created and scheduled out in a small amount of time…
Here are some of my best tips for doing that:
First Important Step: Create a content strategy that attracts, encourages engagement, and converts
Before you can create content super fast, it's important that you know what type of content will serve you and your audience best.
The purpose of your content:
Your content should relate to who your audience is right now (and how you relate)
Your content should align with their goals and who they want to be (and how you relate)
Your content should show how you solve their specific problems (benefits, examples, proof of product or service)
You can take the above 3 types of content and start developing content buckets.
What is a content bucket? Content "buckets" are subjects or topics that your audience or customers need to know about – they might be product-focused, business-focused, or educational.
Take a minute to see how these content buckets work with the purpose of your content
Example of Content Buckets:
Quotes
Infographics
Behind the scenes
Product Features
Humor
Blog posts/videos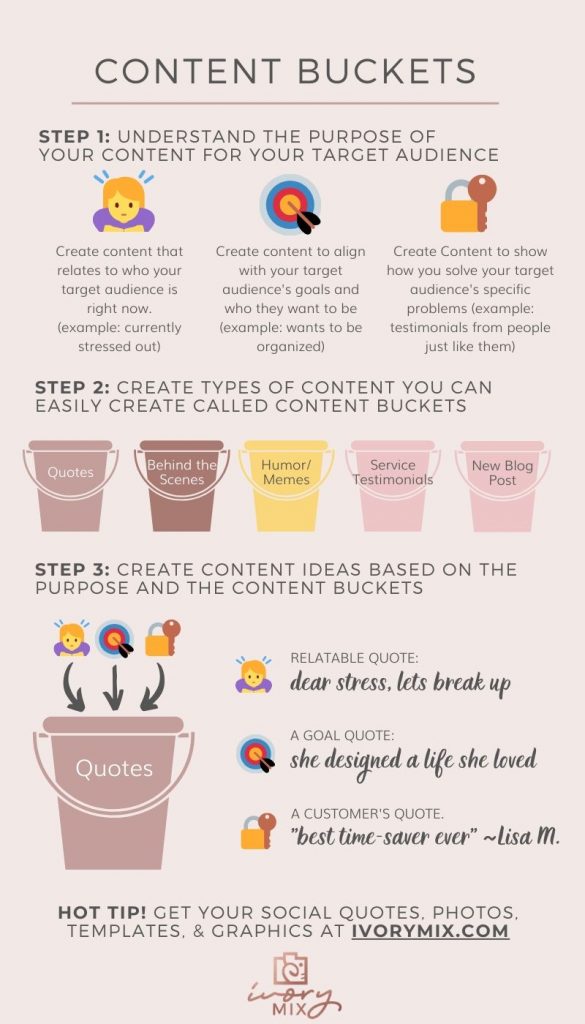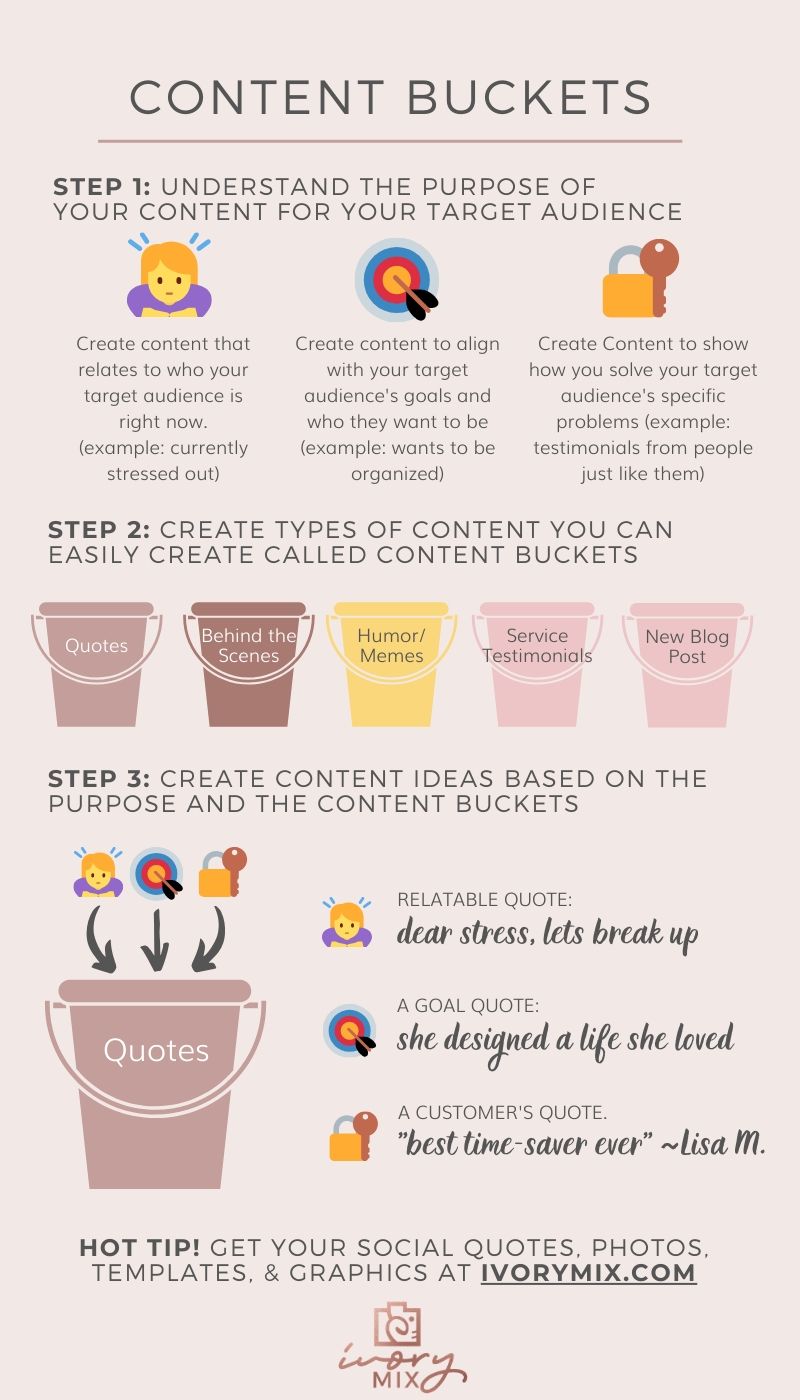 Create and Use templates for Your Content
Once you've got the purpose of your content and have decided on your content buckets, it's time to create visual graphic templates for each of those.
There are 30 new templates made available every month inside of the Ivory Mix Membership. For ease of use, we create these templates for members in Canva (a 100% free tool)
Why spend hours creating a template design, when you are trying to grow your business – not become a designer? Instead, use our templates and just plug and play your text and colors.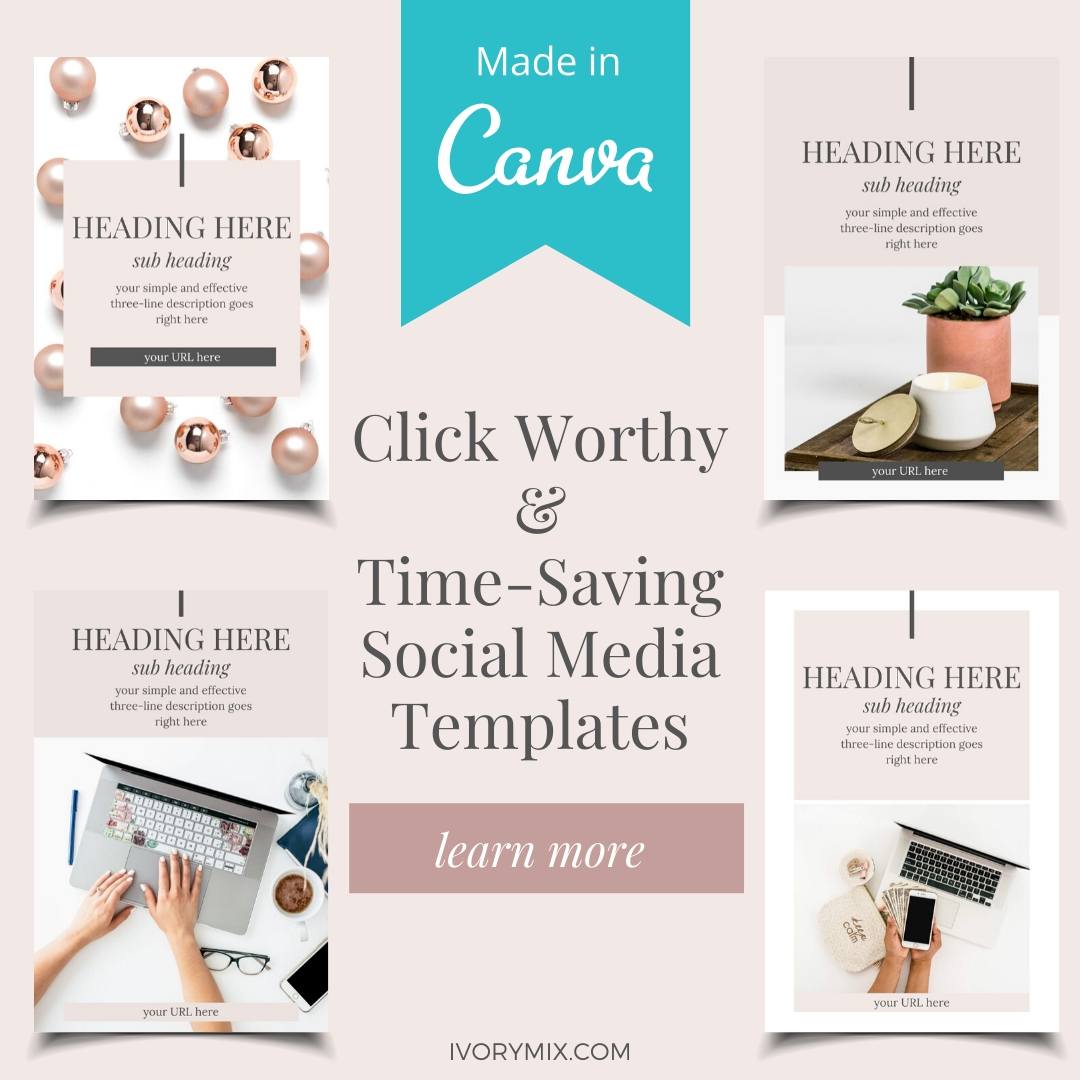 Create Your Content in Batches
So much time is wasted in starting and stopping tasks. If you are going to get into a creative space that results in you creating one social post or video why not create two, or three? or 10-20 images?
It's much easier to create a bunch of content all at once in one sitting than to do them all at separate times.
When you become an Ivory Mix member, you have the stunning tools ready to go.
Ready to save a bunch of time? Click here to finally save yourself time by joining the Ivory Mix VIP membership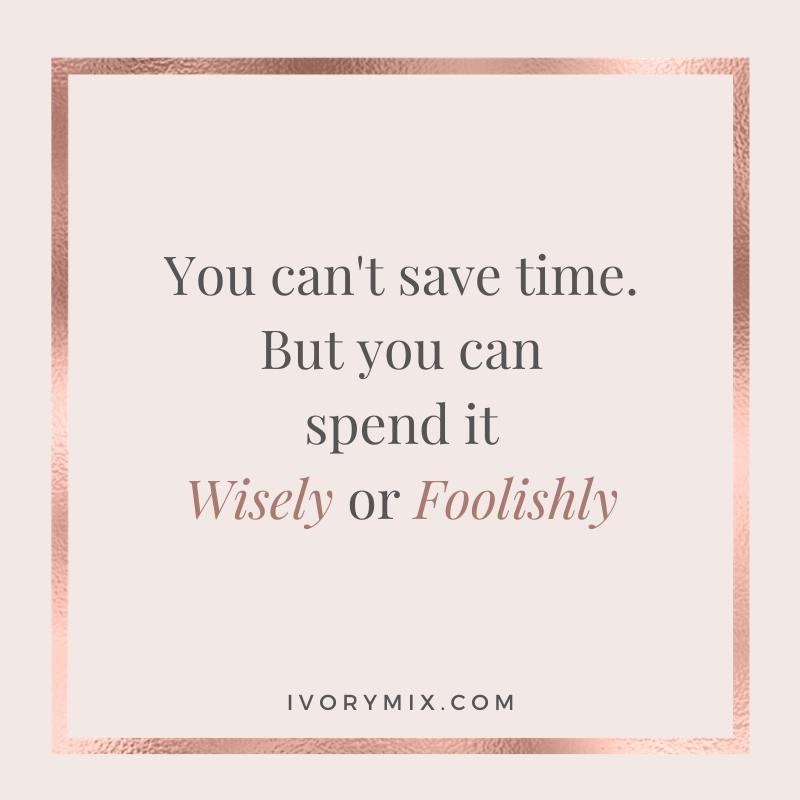 Curate all the easy on-brand visuals
Take a minute or two to download as many on-brand and niche-specific images you can.
Curate anything and everything that fits the kind of visuals you want to publish.
Some people like to take their own photos and make their own graphics, some like to curate UGC (user-generated content you've asked permission to re-share) or some use stock photos or hire a social media manager/photographer/graphic designer to design/curate them.
Most bloggers and small businesses would rather save the time and expense – which is why when you're an Ivory Mix member, in a manner of minutes, you could download 100+ professional stock photos, graphics, templates, and quotes that match your brand, colors, and niche.
Once you've curated those visuals, they're ready to add captions and publish.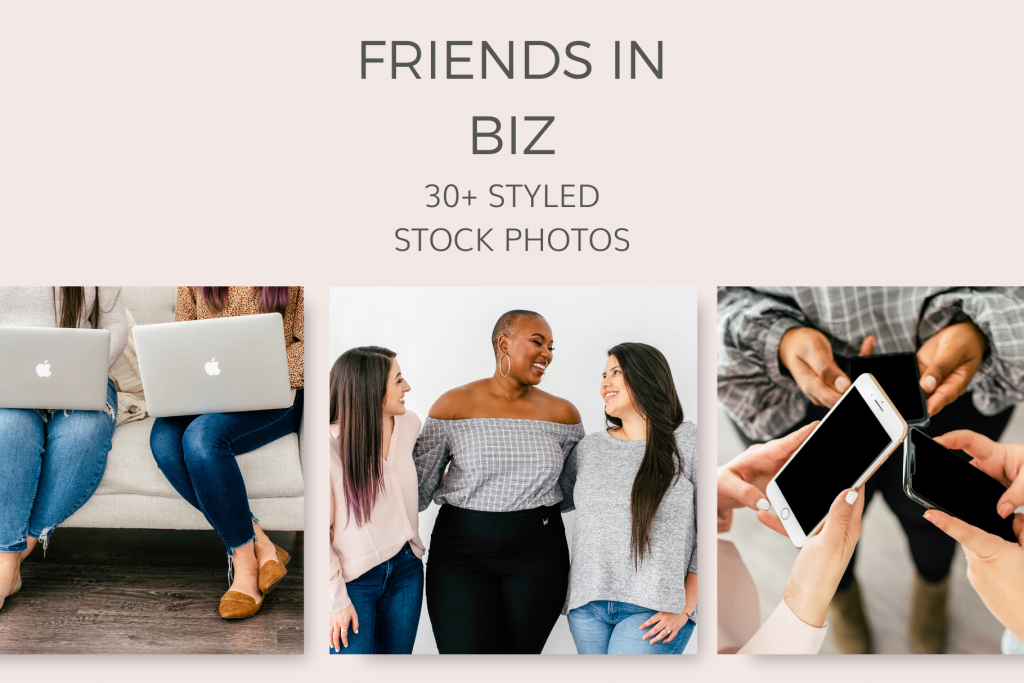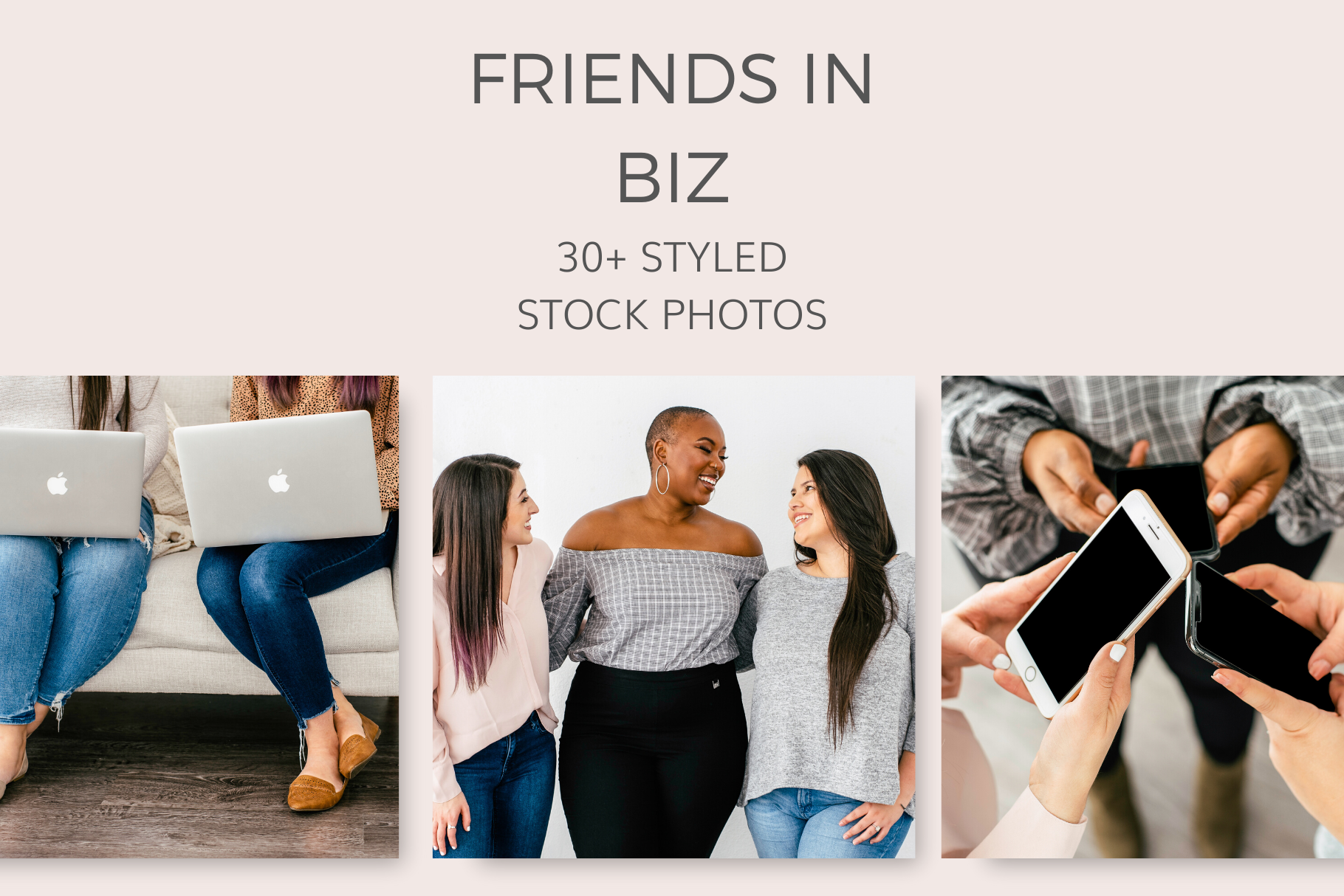 Create content that can be easily consumed (quotes, tips, humor)
Spend some time curating quotes, tips, and humor related to your audience and your niche.
For example, quotes, tips or observational humor are great for engagement, especially on Instagram and Facebook where people are just scrolling through content quickly..
This is one of the reasons we include monthly social quotes according to regular themes for all of the Ivory Mix members.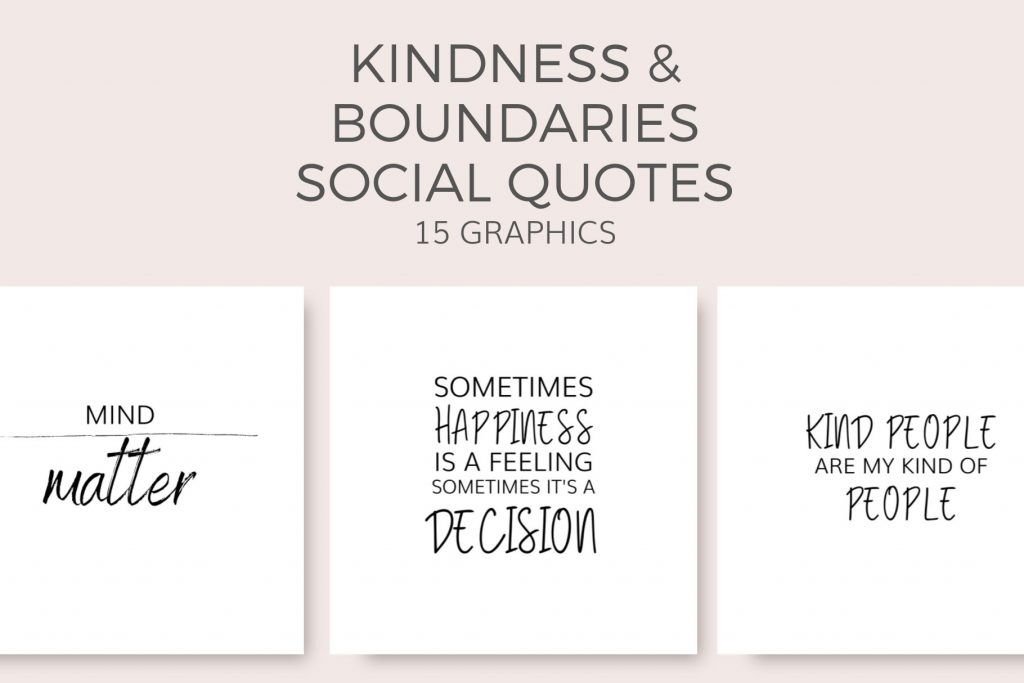 Use meme's and GIF's
Canva added the Giphy app to their pro-level members and I have to say, this amazing feature.
Using Canva and Giphy, you can create some incredibly relevant and engaging content for your audience quickly.
How can you write blog posts and social captions faster?
Sometimes, writing comes easily and you can find yourself in the flow. When you're in the flow of things, don't stop to make corrections. Make improvements last.
However, If you're not in the flow, writing can be painful.
Make sure you have some of your own writing templates for blog posts, emails, and captions
Realize that not every blog post or caption needs to be earth-shaking. It's only important that you aim to be authentic and helpful.
Use a voice-to-text app so you can just talk your way through something
Use Ivory Mix Captions that Convert – these 30 captions every month serve as plug-n-play style captions that can be customized for your niche. They are also designed to prompt engagement and meaningful social interactions from your followers.
More than that though, our captions have been found to be idea starters.
You're creative! So, it's no wonder that all you need sometimes is a little nudge and an idea to send you in your own right direction. These captions that convert do just that and inspire your own creativity.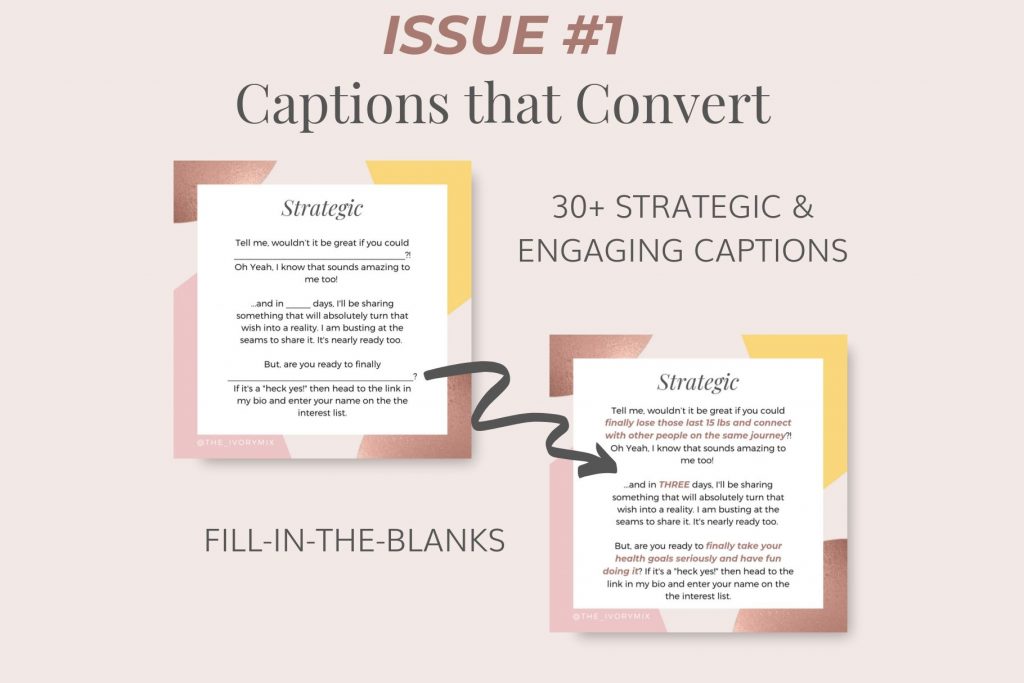 WANT TO GET STARTED BATCH CREATING YOUR NEXT MONTH CONTENT?
Click here to become a member and start downloading collections of Stock photos, Captions, and Canva Templates.

LOOKING FOR MORE TIPS?
Be sure to grab one of our free eBooks to help you with Pinterest or Instagram marketing.