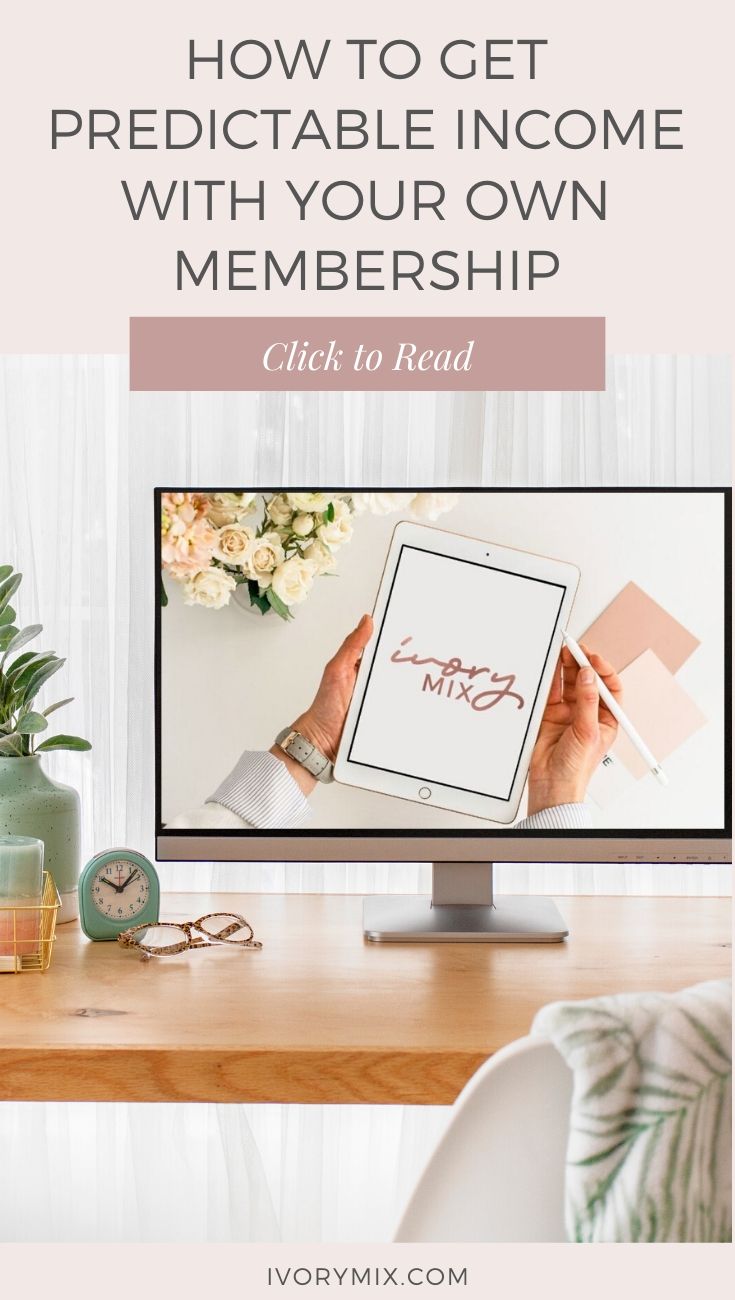 Thinking about creating a membership site to scale your business?
As you probably know, Ivory Mix features a membership component, so this is a topic near and dear to my heart.
I've experienced first hand how a membership program can change the course of an online business.
Today I'm chatting with you CEO to CEO about the ends and outs of the gig.  
What you should know about me is that I started growing my membership site late 2015 (this site you're on now). It wasn't until 2017 that I could take it full time. I've learned a lot over the years and have experienced substantial growth because of it.
That's what I want to share with you today.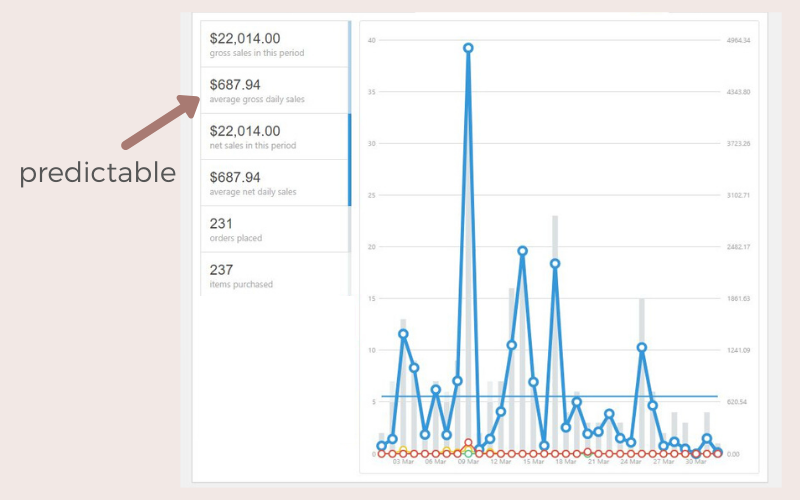 We'll map out how to successfully launch a membership experience that will get your audience excited and turn them into raving fans for your biz!
An effective membership launch boils down to one thing: Strategy. 
First I'm going to share with you two simple yet proven sales strategies I've personally used to grow my membership program to big profits, plus I'll give you the four key ingredients you'll need to reach your goals. 
The Biggest Problem with Memberships (and the Solution).
Before we jump into the sales strategies, it's important to point out one key fact : 
What's the biggest problem with a membership? No one actually WANTS to pay for a membership month after month.
Yup, it's true.
So if that's the case, why are we even talking about this option for our businesses? 
While people don't actually love the thought of paying for something month after month, they will bite the bullet and sign up to make those recurring payments if they know they're going to get the results they crave.
Step 1 – Create an amazing value-packed offer that's a no brainer! 
The solution is to identify what your audience needs and package it in a way that feels like an incredible value.
Create an offer SO good, people will feel like paying a monthly payment is totally worth it. They'll actually be excited to sign up because your membership is packed with so many solutions to solve their problems. It will seem like a no-brainer.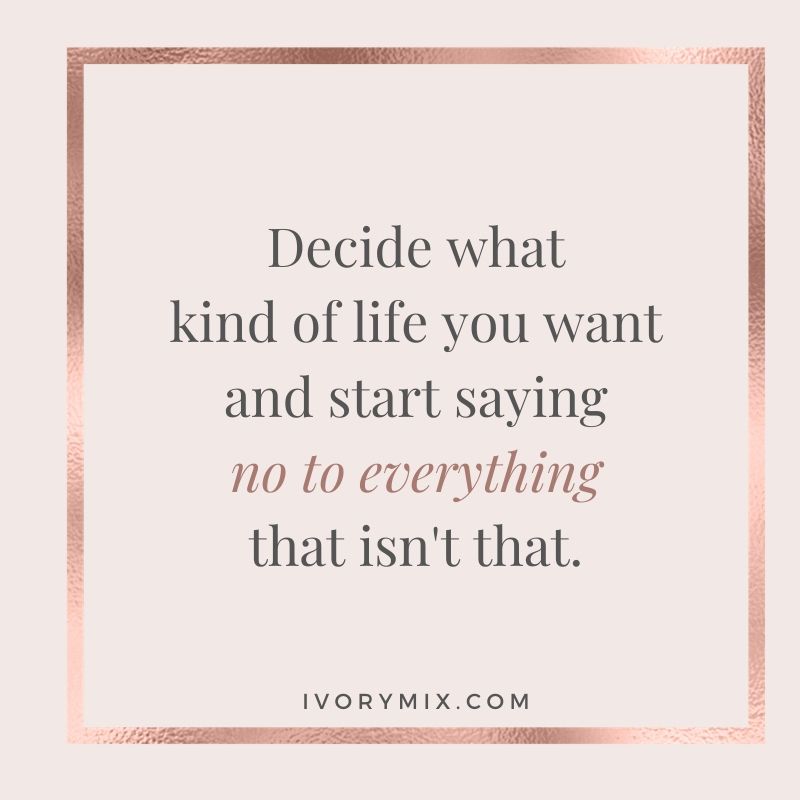 Step 2 – Choose How You'll Sell the Heck Out of Your Membership ( from these two offer methods)
Offer #1 — The Trial Method
This strategy gives your audience the opportunity to test drive the entire membership for a trial. You've probably seen everything from free trials to $30 trails. Obviously, there are some things to consider. 
For instance, does a $1 trial sound crazy? The truth is, if buyers are showing up in your business and engaging with you, they are more than likely wanting to purchase your offerings anyway!
A trial gives them an easy way to say YES. 
With a 7, 14, or 30-day trial, they're able to get a taste of what the membership platform has to offer without being able to consume everything. 
If the trial is offered to a warm audience (such as a solid email list or a great instagram following), you're likely to retain 60-70% of the people who sign up! This is a brilliant way to get people in the door.
Another benefit to this method? You'll gather a good-sized base to pull testimonials from.
PROS to the $1 Trial Strategy

Easy to sell and convey the value
CONS to the $1 Trial Strategy 

Delays revenue

May attract customers who aren't committed to getting results

There's no guarantee members will stick around after trial ends
Even considering the cons, the goal here is to find an audience you can serve who need the outcomes you're able to give in your membership. Despite the setbacks listed above, this method is a great way to draw in those people.
Offer #2: The Included Free Bonus Method
Anyone have childhood memories of a football-shaped phone in your dad's den? 
This phone was sales gimmick used by Sports Illustrated Magazine to try and sell more magazines in the late 80's. "Get the football phone free when you subscribe!"
The now iconic Football Phone was given as a bonus to people who subscribed to the magazine. This tactic ended up being one of the most successful marketing campaigns of all time in America. 
This example is the basis of the Free Bonus Method (aka Football Phone Method) — a comparison between something with a lot of value that's very intriguing and the minimal cost of a membership.
"I can get this super awesome thing/course for $497, OR I can get it for FREE as part of a monthly membership for only $47 a month!"
To make it work, choose a specific topic that resonates with your audience, create a workshop or webinar around that topic to address their pain point, introduce the audience to your solution (a high-value online course with a big price tag.) Then make the sale — offer this incredible course to them for FREE if they enroll in the membership instead of purchasing the course upfront. 
The key to making this work is to identify the actual outcome your audience desires. If you can paint a picture of the person they can become after enrolling in your membership, you'll grow month after month (and that means recurring revenue- yay!) With this method, you don't have to launch as frequently or constantly release new products.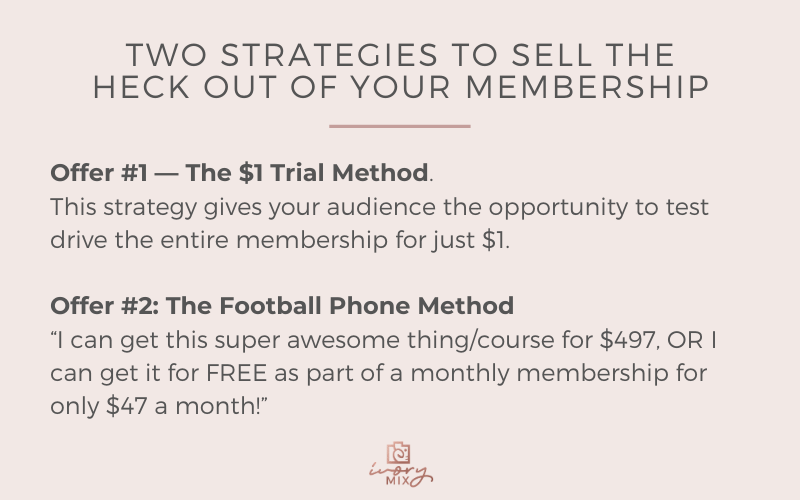 Step 3 – Create a repeatable Membership Enrollment Funnel
This blueprint contains the four key ingredients you'll need to successfully hit your membership goals. 
1) Provide a free experience. This can be a freebie, an ebook, an email series, etc. 
2) Introduce an incredible offer. This could be the $1 membership trial for example combined with a value-packed membership experience. 
3) Overcome objections. Address all of the things that may keep people from signing up.
4) A deadline. Everyone needs a deadline for their decision. Give them 3-7 days to get in on the deal and grab the bonus, then move on!
The combination of these four elements in any membership launch is pure gold and will help you grow a quality program quickly.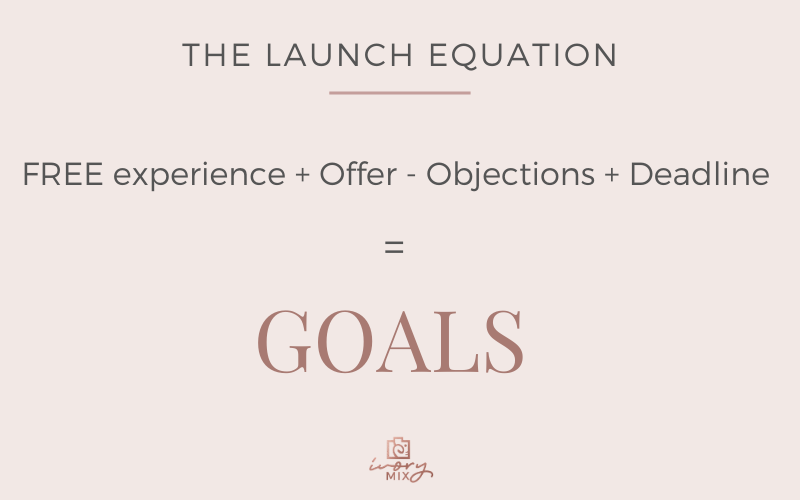 Example of Your Membership Launch Funnel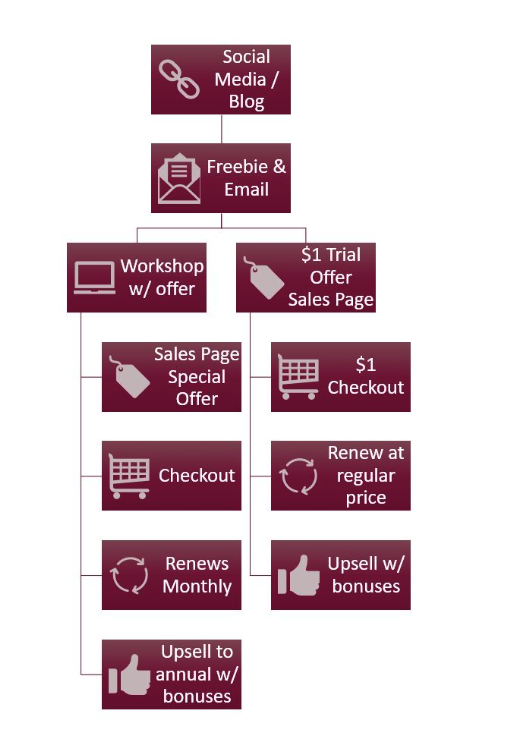 Step 4 – Deliver an Amazing Experience inside of your Monthly Membership
If there's one thing I like to teach and discuss most, it's customer and member experience. There is no marketing budget needed for word of mouth, and the only way to get your members to come back month after month and to do that word of mouth marketing for youm is to deliver amazing service and quality. 
Making sure that you're meeting your member's where they're at in their journey is the key to matching them with the level of products and services they need and want out of your membership.
A successful membership program with recurring renewals should focus on these areas of the member/customer journey: 
Building Trust – ask yourself how you can be 100% consistent with your communications and delivering amazing value.

Delivering Service – ask yourself how you can deliver incredible service, and be responsive to all requests and questions

Delivering Satisfaction – ask how you can OVER deliver. Remember, this will keep them coming back for more.

Creating Loyalty – With repeat use and over-delivering on your promises and products, you'll be sure to have raving fans who are ready to spread the word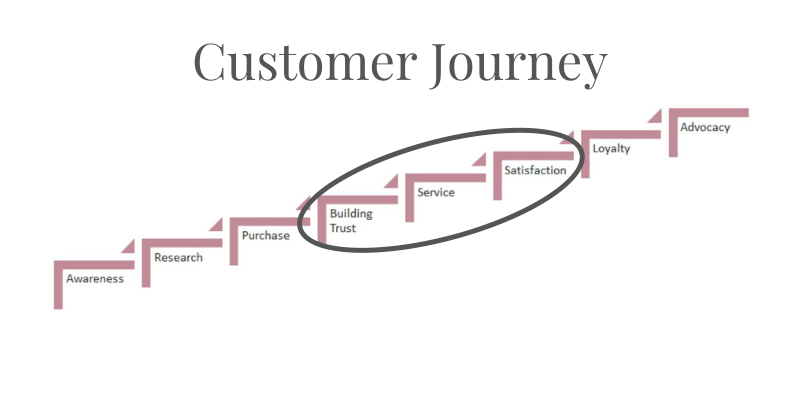 Additional tips to focus on the above areas of the customer journey:
Create a content calendar

Batch creating quality content

Create a success path and check in on your customers

Give opportunity for a quick win

Create community

Give them homework

Create a good email welcoming / onboarding campaign

Share with them the first steps they need to take 

Invite to a private Facebook group

Give shout-outs and showcase members

Reward members

Unlock new things every month

Host meet-ups and live events

Outsource to accomplish all of these!
Here, at Ivory Mix, we love to focus on the customer journey. Members have access to a community via our private Facebook group, members have access to around 60 – 150 new photos each month, members can use our Canva templates to create jaw dropping content for Instagram and Pinterest in a matter of minutes, and we have recently launched the Visionary Awards, a chance for members to win prizes and even arrange their own styled shoot.
On top of this members can access all of the Ivory Mix online courses teaching a range of subjects from Pinterest management to growing an e-mail list. Click here to learn more about the Ivory Mix membership and join the VIP waitlist.
WHAT NEXT? USE THE IVORY MIX MEMBERSHIP TO CREATE YOUR MARKETING, PRODUCTS, AND DIGITAL DOWNLOADS FASTER
Now that you're armed and ready to create a killer plan to grow your own membership website, don't spend hours and hours slaving away at the keyboard. Learn my system for creating content 10x faster. 
PLUS if you are a VIP member at the Ivory Mix you get access to our Canva templates. Simply place styled stock images from the Ivory Mix library and change the text in these pre-formatted and styled templates to create stunning social media content in a matter of minutes. Click here to learn more about the Ivory Mix membership and join the VIP waitlist.

If you are looking to make content creation easier, join a community of online business owners, have training and workshops at the click of a button, then be sure to join the Ivory Mix membership
P.S. wondering what tools we use to host our membership? For Ivory Mix, we use a suite of Woocommerce subscriptions and membership plugins. 🙂 It's been amazing to work with and is highly customizable and compatible with many other options we and features. This makes it perfect to scale the business the way we want.