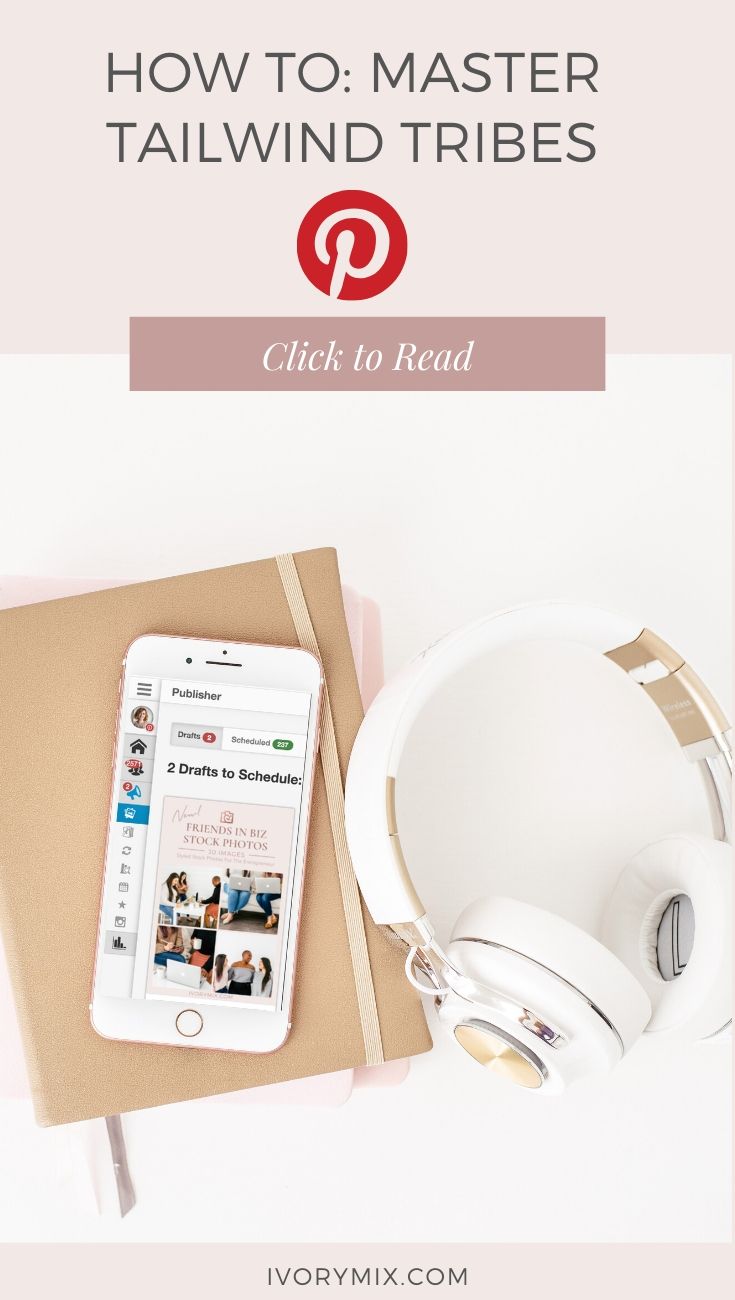 Before we begin making you a Tailwind Tribes Master, let's back up for a second. If you're truly a beginner when it comes to using Pinterest for your business, start with my Guide to Growing a Pinterest Account for Business.
Ivory Mix Elite or VIP member? Log in and get this in a video tutorial.
Likewise, if you've never used Pinterest Group Boards, here's a great overview, including a deep dive into Tailwind SmartLoops (the tool that makes pinning to group boards a piece of cake). 
As you've probably heard, Tailwind is the go-to app for Pinterest scheduling. One of the most powerful features that Tailwind offers are Tailwind Tribes.
Tribes are groups of Pinterest marketers with like-minded interests. They're the best way to discover new content for your Pinterest audience while simultaneously helping your content reach a larger audience. 
How do tribes work? All members post pins that center around a common theme in the tribe, and everyone shares from that supply of quality, niche-focused pins.
Before I send you to Tailwind, you should know that Ivory Mix will get a commission if you use our link to Tailwind and decide you like it enough to purchase the service at no added cost to you of course. 🙂
Get started with a free trial of Tailwind here.
With a basic Tailwind account, one can join up to five Tailwind tribes for free. If you're paying for Tailwind, and you're NOT taking advantage of all that Tailwind Tribes have to offer, I'm here to knock some sense into you! (Or at least nicely convince you to give tribes a whirl.)
*One side note — each tribe has its own set of rules that usually require you to share so many pins, so be sure to follow those guidelines. If you don't, you'll risk being kicked out of the tribe. Owners and admins can see how many pins you've submitted and shared, so do your part to build a community that helps everyone.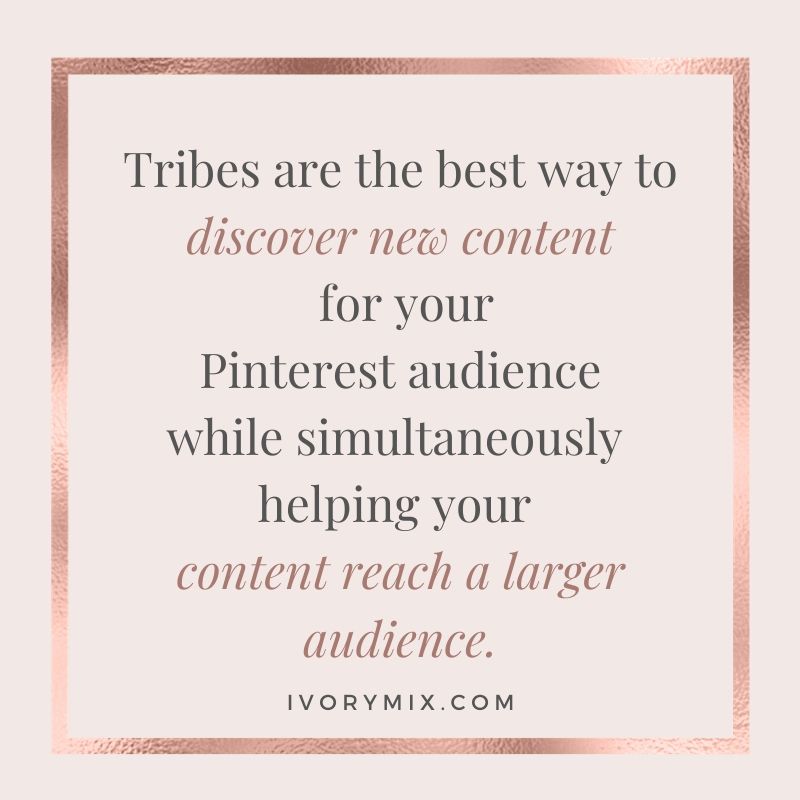 How to Find Relevant Tribes
Tailwind tribes are really a win/win scenario for content creators. Join tribes that are most related to your niche in order to find content your followers will swoon over, and get your own content in front of a larger audience when tribe members share it!
To find a tribe, start on the left-hand side of the Tailwind dashboard and select Tribes. To find a tribe to join, click on the Find a Tribe tab at the top of your screen. This will take you to the search bar. You can search for anything related to your niche, there are so many options!
Are you a knitting blogger? Look for craft tribes, knitting tribes, and creative blogger tribes.
A whole food blogger? Try searching for healthy recipes tribes, wellness blog tribes and food blogger tribes. 
Some tribes simply allow you to click to join, but others will require you to submit a request to the admin. If that is the case, just type a quick note to them to let them know why you think you'd be a good contributor to the tribe.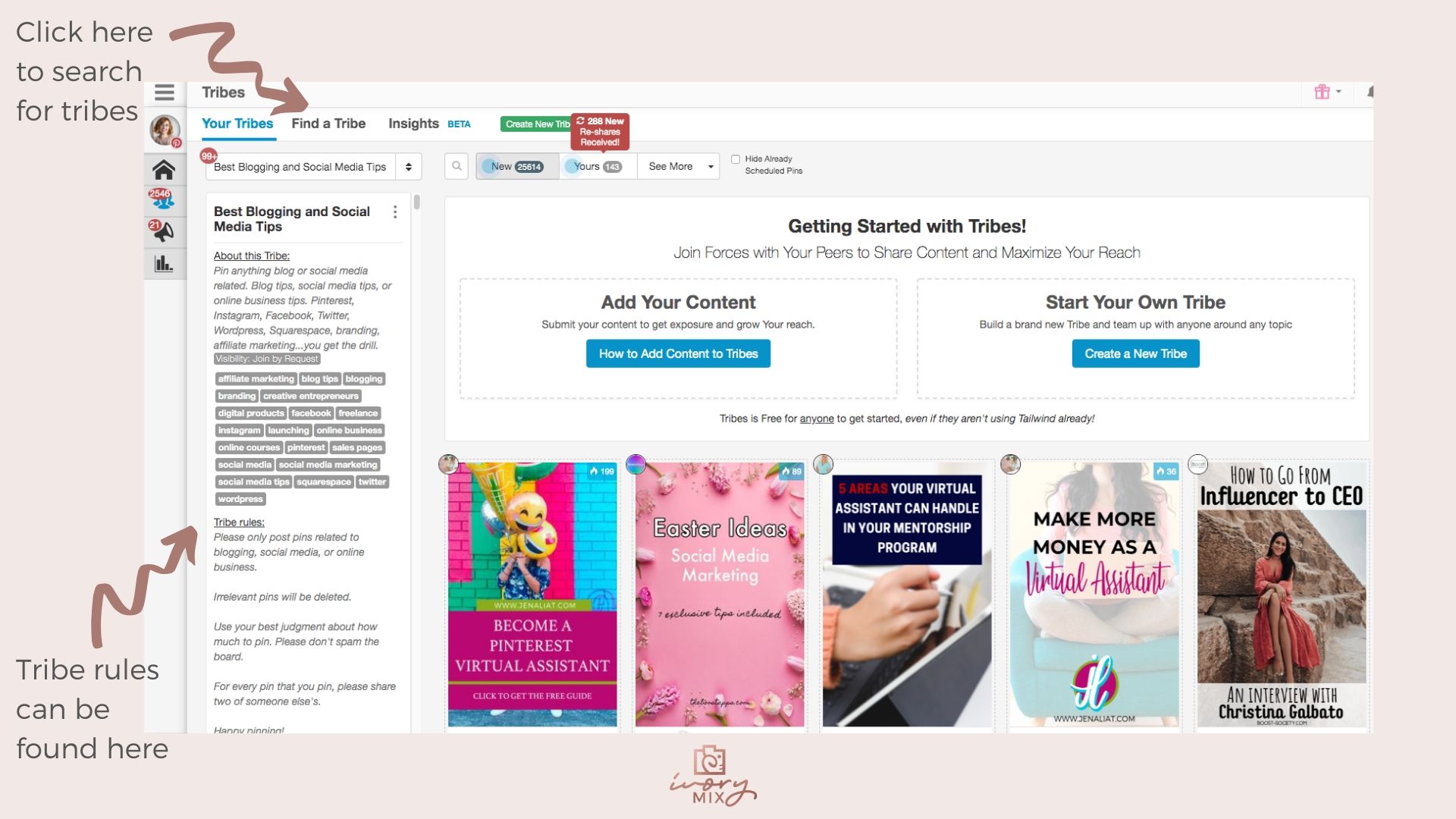 Am I Joining the Right Tribes?
To get the best results, you want to join tribes that are active. If the users are not engaged, this whole quest is really just a waste of your time. After all, the goal is to get other people to share YOUR content with THEIR audience, and therefore grow your audience, so an active tribe is a must. 
The Magic Number
To give you an edge when selecting a tribe, look at the number of members. The very best tribe size to get your content reshared is between 300-600 members. Remember, if the tribe is too active and has a ton of members, your content can easily get overlooked and pushed way down on the board before people even get a chance to see and share it. Likewise, a tiny tribe won't get you the engagement you need to get eyeballs on your precious content.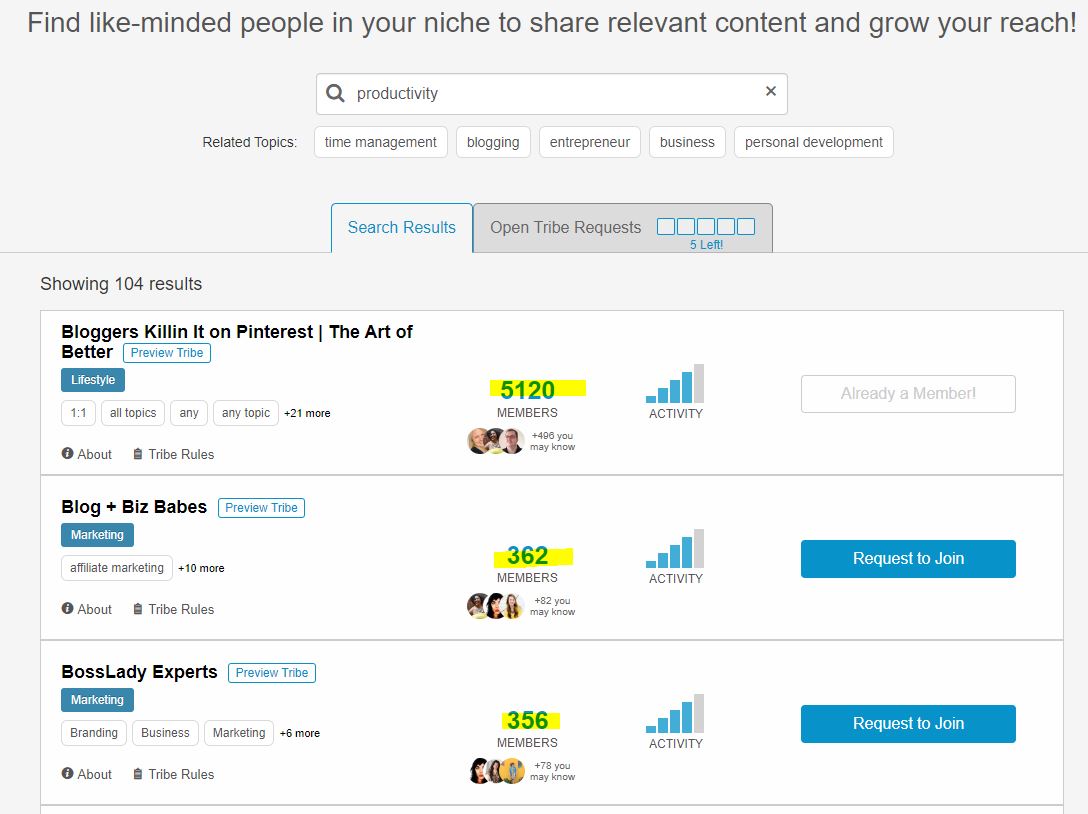 The Activity Bar
The activity bars is another tool to see how engaged the members of the tribe are. I recommended choosing tribes with four or five bars.
The Preview Option
Take a peek inside of a tribe by clicking the little button to the right of the title to preview. The most important thing to note here is the quality of the pins. Are they something you would be excited to share with your audience? 
Take a look at the shares and reshares. In the upper right-hand corner, you can clearly see how many total pins have been shared to the board. Next to that number, you'll see how many reshares have taken place. Notice the ratio — you want to make sure it's at least a 2:1.
Out of the total number of reshares, note the repins. This number shows you how many times someone out there in the tribe members' audience repinned the pin. It probably won't be 1:1, but it would be great to find something as close to that as possible.
Sharing Content
Why share other people's content anyway?  Sharing other people's content increases your credibility as a content source. Using Tailwind Tribes to share content your audience loves to devour makes you both a content creator and a content curator that people want to follow. 
A couple of ways to discover the perfect pins to share with your audience within Tailwind Tribes:
Search for certain keywords in the search bar (located in the menu bar that runs across the top of the screen)

Scroll through the board to see all of the pins that have been shared. NOTE:

If your Tailwind board is getting cluttered, you can simply hover over an image and click the "hide" image to remove that particular image from your view, much like you would your personal inbox. 

Once you find a pin to share, you can edit the description if you like. If you're happy with the pin, click in the "type a board name" bar and choose the boards you'd want to share the pin with. *It's highly recommended to share the pins on multiple boards, but use the interval scheduling option so they aren't added to all of your boards at the same time. 
Now you're ready to share content!
Choose the Pinterest board you'd like to share the pin to

Click the "Use Intervals" button on the lower left

Set the first day and time you'd like the interval to start with

Choose your interval (one-day intervals work great!)

Choose open time slots, optimized, or exact (I recommend letting Tailwind work its magic by choosing "optimized," so the pin gets as many eyes on it as possible.)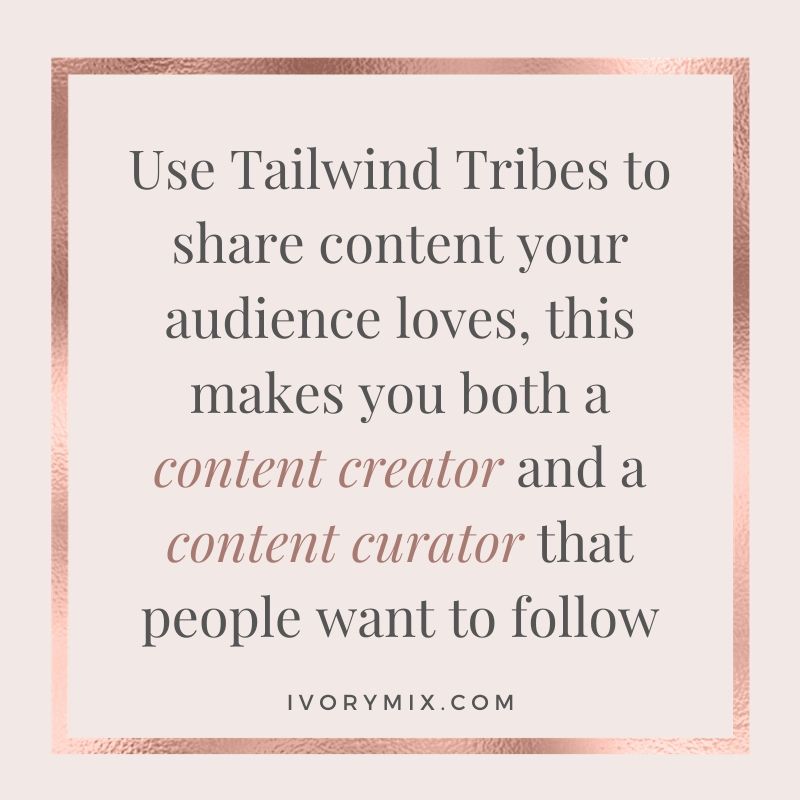 Sharing Your Own Pins
I like to use the Tailwind extension to add my pins straight from Pinterest 
Add the Tailwind extension to your chrome browser

Go to Pinterest and choose the pin you want to add to the tribe

Click the Tailwind icon that will appear in the corner of the pin

In the new window that opens, click "add to tribes"

Choose the tribes you'd like to add the pin to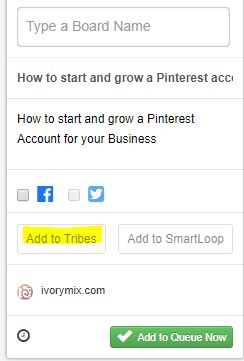 Sharing Content from the Web
If you've stumbled upon a blog post that isn't your own original content, but you know it will resonate with one of your tribes, you can use the Chrome Tailwind extension to share that content to your tribes as well. 
Choose an image from the post and hover over it

Click the Tailwind icon that says "schedule"

A window will pop up. Scroll to the "Add to Tribes" button. 

Select the tribe you'd like to submit it to and click "Add to Tribe"

You can also add this content to your boards in the same window
Tribe Chat
A cool feature that will help you maximize the power of Tailwind Tribes is Tribe Chat. Have a question for a tribe owner? Just hover over their name to send them a direct chat message. 
If you want to reach out to the entire tribe instead, click on the Tribe Chat icon in the lower right corner. Choose the tribe you'd like to talk to, and the chat window pops up! Here you can ask questions, collaborate, and request specific content.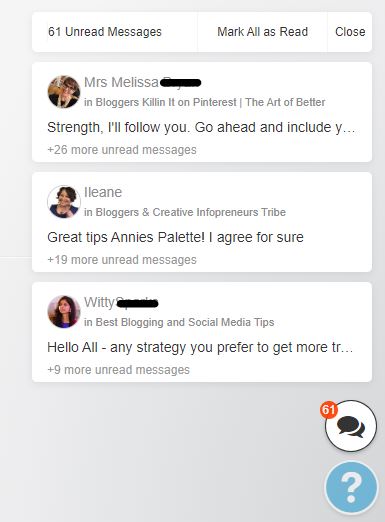 Tailwind Tribes are an incredible tool for finding quality content quickly, making connections with others in your niche, and most of all, driving traffic to your content for the world to see! Don't be afraid to tweak your tribes if you don't feel like you are getting enough value out of them! Give each tribe a month or two and do your part to add and share relevant content. If you aren't experiencing results by then, say buh-bye and give another tribe a whirl!
LOOKING FOR MORE PINTEREST TIPS AND TRICKS?
HERE ARE SOME OF OUR FAVORITES:
Click here to grab a free copy of this complete guide to Pinterest Marketing.

First, make sure you read this blog post about creating 30 days worth of Instagram content here and learn how to create a colorful month of content in as little as 5 minutes.
Plus, check out these Instagram tips: