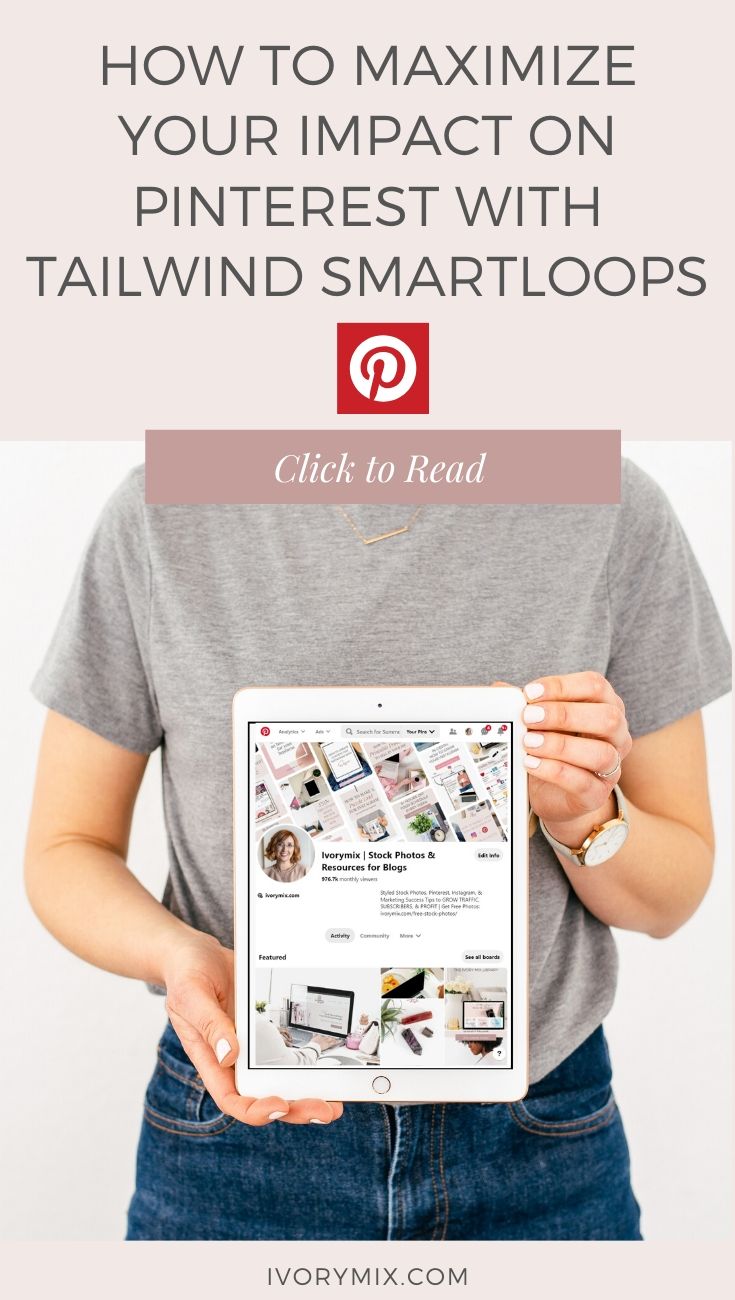 When you're an entrepreneur, automating tasks is EVERYTHING. 
I'm not ashamed to say it's the key to my sanity, especially when it comes to Pinterest. (If you've ever fallen down the rabbit hole of pinning content to your group boards, you know what I'm talking about!) 
While the praises of Pinterest are sung by entrepreneurs everywhere for the platform's ability to generate loads of traffic, it also has the reputation of being an epic time sucker.
We know we need to consistently share our content, but we'd also like to have time to sleep, eat, and see our families on occasion. This is where utilizing the power of Tailwind SmartLoops enters the room. And we all stand up and cheer.
Pinterest Group Boards
Before we dive into Smartloops, let's talk Pinterest Group Boards for a moment. 
If you're not using Pinterest Group boards, you're missing out on an easy opportunity to grow your following. They're an important element to include in your overall Pinterest strategy. 
Group boards have one owner but multiple contributors. They're a place for pinners to come together around a niche topic and share similar content. They work by exposing your content to brand new sets of eyes. If you're able to join active boards with great visibility, your pins have the potential of reaching thousands of new viewers. 
Am I ready for group boards? If you're pinning to at least 20 boards on your account, it's safe to say you're ready to start joining group boards. You just need to make sure you're able to be active enough to benefit the other board members. 
How do I choose Pinterest Group Boards? Choose boards that are centered around your niche and would appeal to your ideal audience. You're looking for boards that boast a good amount of pins, followers, and have quite a few repins. Find group boards by:
Stalking your favorite bloggers or biz owner's Pinterest boards to see what group boards

they

are a part of. 

Visiting

PinGroupie

to search group boards by niche and see their stats including followers, collaborators, and pins. 

Simply using Pinterest's own search bar. Plug your niche into the bar and select the "boards" filter for a list of boards that fit the bill.
Once you narrow in on a few group boards you'd like to join, read the group's description to make sure you're using the right process to request membership. You should be able to find the rules and guidelines there which you can input into Tailwind later to make sure you comply.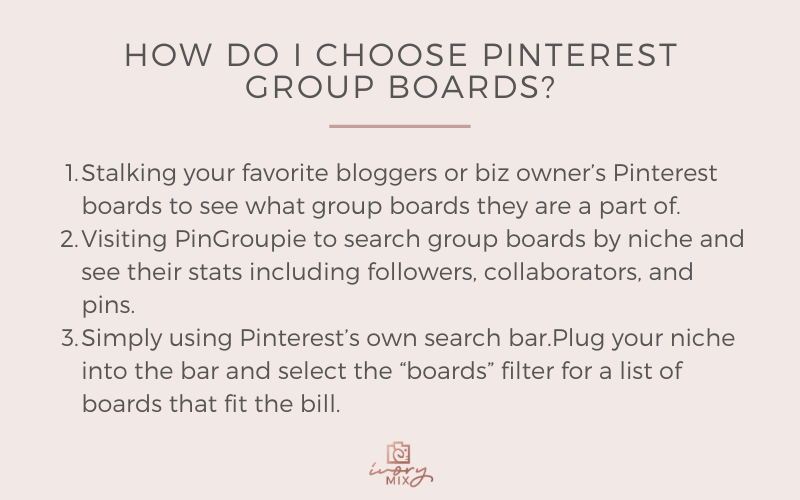 Using Tailwind SmartLoops
Why Should I Loop My Pins with Tailwind? 
Now that you're joining group boards that are relevant to your niche, it's time to form a pinning strategy. 
Pin looping is a way to re-share your pins by scheduling them to post on certain boards on a recurring basis. Looping is the most effective way to keep your content in front of your Pinterest audiences' eyes. 
It's also a great time saver. Cue the hallelujah chorus!
As you bust your tail to create incredible content for your business (and to create visually-appealing Pinterest images to boot), you'll want to make sure you're posting them regularly. Consistency is key.
The sad truth is that your audience won't see every pin you put on Pinterest, so looping is the way to get the most bang for your buck on the platform.  
Tailwind Smartloops makes this possible.
Tailwind is an approved Pinterest Marketing Partner. You won't have to worry about landing in Pinterest jail for accidentally breaking a rule. With Tailwind you can rest assured your account is safe. 
Visual learner? Here's the video tutorial
How to set up Tailwind SmartLoops?
SmartLoop allows you to set up a collection of pins to re-share — these are called Loops. You can create multiple loops with different types of pins. These pins will then be distributed across your Pinterest schedule using Tailwind's incredibly handy SmartScheduler. (SmartScheduler knows when your specific audience is most likely to be on Pinterest! How awesome is that?)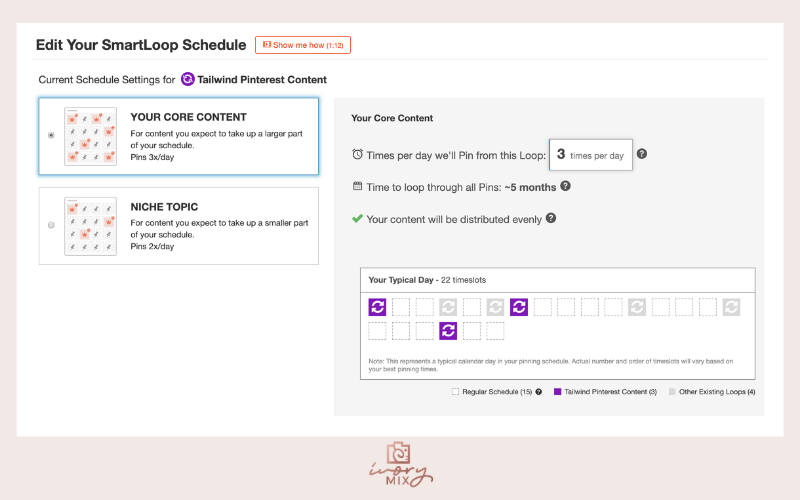 Loops can be set up to contain your most popular evergreen content and season content. 
If you don't already have a Tailwind account, head over and set one up STAT. 
After that's squared away, log into Tailwind and click on the SmartLoop tab.

Under the "Your Loops" section on the left, click the green New Loop button to start.

Choose if the loop is Evergreen (for popular content that works year-round), or Seasonal (for content that you'd only like to post certain times of the year).

Choose a name for your loop that describes the content you'll be pinning. (For instance, "Crockpot Recipes.")

Under the "Default Boards" drop-down, choose what boards you'd like to add your loop too. Here you can select both your boards and the group boards you are a member of.

Click "Next: Add Your Pins" in the lower right corner. This allows you to add existing content to your newly created loop

Now it's time to add pins! This allows you to add existing content to your newly created loop, your newest pins will show at the top, but you can search for specific pins or filter by boards as well. Simply click on all the pins you want to add and then click "Add Pins to Loop."

Customize your pin schedule. In this step, Tailwind will suggest two different schedules. Choose the one that best describes how much of your schedule you'd like this Loop to take up, or set up your own completely customized schedule. 

Once you've chosen, Tailwind automatically creates a SmartSchedule with the best times to pin your pins.

Set up board rules to determine how often pins that you're looping are being shared on certain boards. This is super important for group boards that have strict rules about how and when you can pin.

Click "Finish Loop Setup", and you're done!
Once you've created several SmartLoops, you can see them all displayed along the left side of your SmartLoop dashboard. 
Loops can be paused, edited, or deleted by simply hovering over the loop and choosing the appropriate icon. Pausing will remove all of the loop's pins from your schedule immediately, and they'll stay removed until you restart the loop. 

Click on the loop name to see all of the content within it and to view a summary to see content stats and how well it's performing. You can also edit the individual pins in this section including changing the pin description or add or remove boards from the pin. Pins can be deleted here as well.

Tailwind wants its users to be informed, so they provide individual pin stats within the loop overview. Here you can see how often a pin has been published and how many repins it has received, and remove and edit underperforming pins.
Take a look at the "Your Schedule" section on the right to view the mini-pin icons that give you a lovely visual of your upcoming pin schedule. Note that each loop has a different color assigned to it.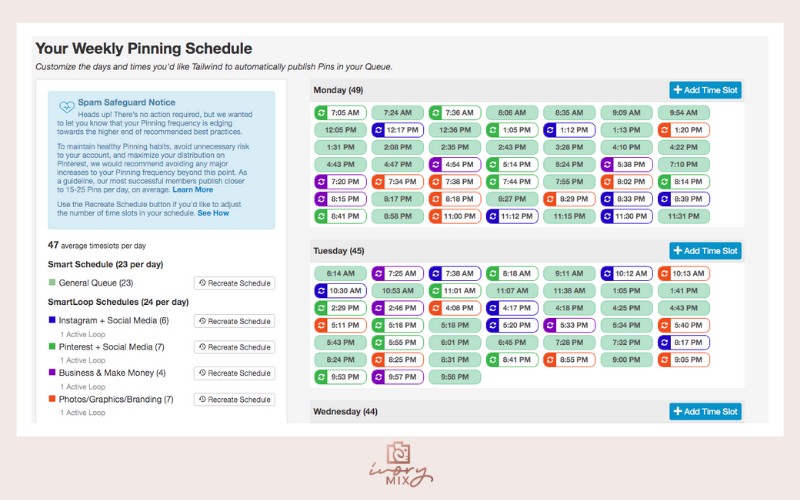 Adding new content to loops and group boards
The next time you next create a pin for your Pinterest account, you can add your pin to both your Pinterest boards and group boards when creating your schedule. Once you have selected the boards you want your content to be shown on you can also add your pin to one of your loops. This will post your content on a recurring basis throughout the boards on your loop.
It's important to use the interval setting when you are publishing your pins. This interval setting will determine at what times your pins will be published on both your boards and group boards. Setting interval times allows your content to be published at staggered times throughout the day/ week, meaning that all of your content isn't posted at once to the platform, making the content look like spam and then affecting your account's performance.
Final Thoughts and Tips for Using SmartLoops
Be sure to avoid pinning one piece of content too often. You don't want to oversaturate your audience, and you can over pin your content and Pinterest may recognize your account as "spam". Tailwind will notify you when you have hit a limit of 50 pins a day, they have recently added a great feature "Spam Safeguard" to protect your account from appearing spammy.

Keep your content relevant and fresh. Pinterest favors fresh pins on the platform. This doesn't mean you have to create double the amount of content. A fresh pin can be the same blog post with a new pinned image. To help you keep your pins as fresh as possible without the overwhelm, the Ivory Mix membership has Canva Pinterest templates, allowing you to create jaw-dropping pins in a matter of minutes.

Remove underperforming pins. No need to let them clutter your schedule!

Check your URL links on older pins. In order to make sure that potential site visitors are not met with "404 page doesn't exist". As you move platforms, or update URL's in your backend make sure they are still linked correctly on Tailwind

Update pin descriptions as needed. Be sure not to include any "clickbait" in your pin description. Phrases like "Click here to see more content" will be recognized as Pinterest as clickbait and the visibility of your pins will be dramatically decreased.
LOOKING FOR MORE PINTEREST TIPS AND TRICKS? HERE ARE SOME OF OUR FAVORITES:

Click here to grab a free copy of this complete guide to Pinterest Marketing.
If you are looking to deepen your knowledge on Pinterest , you can take the entire advanced Pindepth course by Ivory Mix,  but you should know that inside the Ivory Mix membership you can access this advanced course for FREE and all other courses created by Ivory Mix, alongside Pinterest Canva templates, captions that convert, and between 60- 50+ styled stock images released every month. Click here to learn more about the Ivory Mix membership and join the wait list.

Plus, check out these Pinterest blog posts: