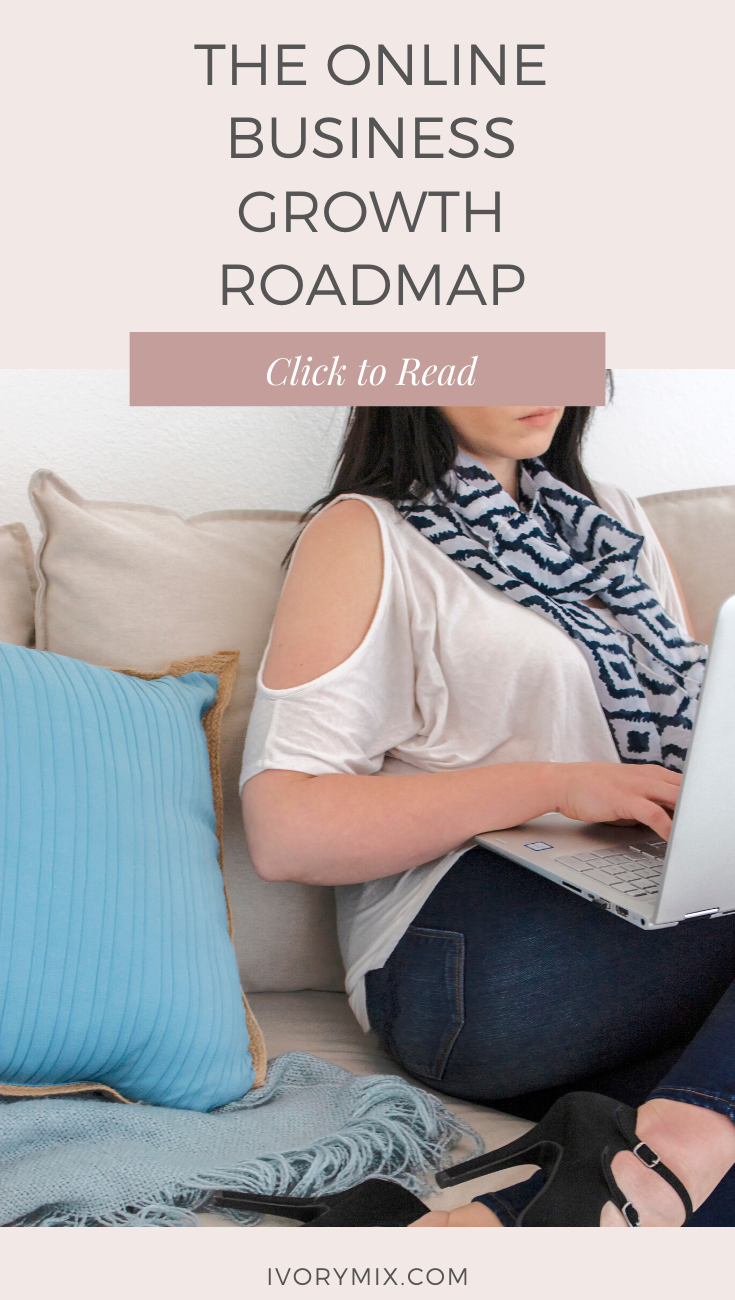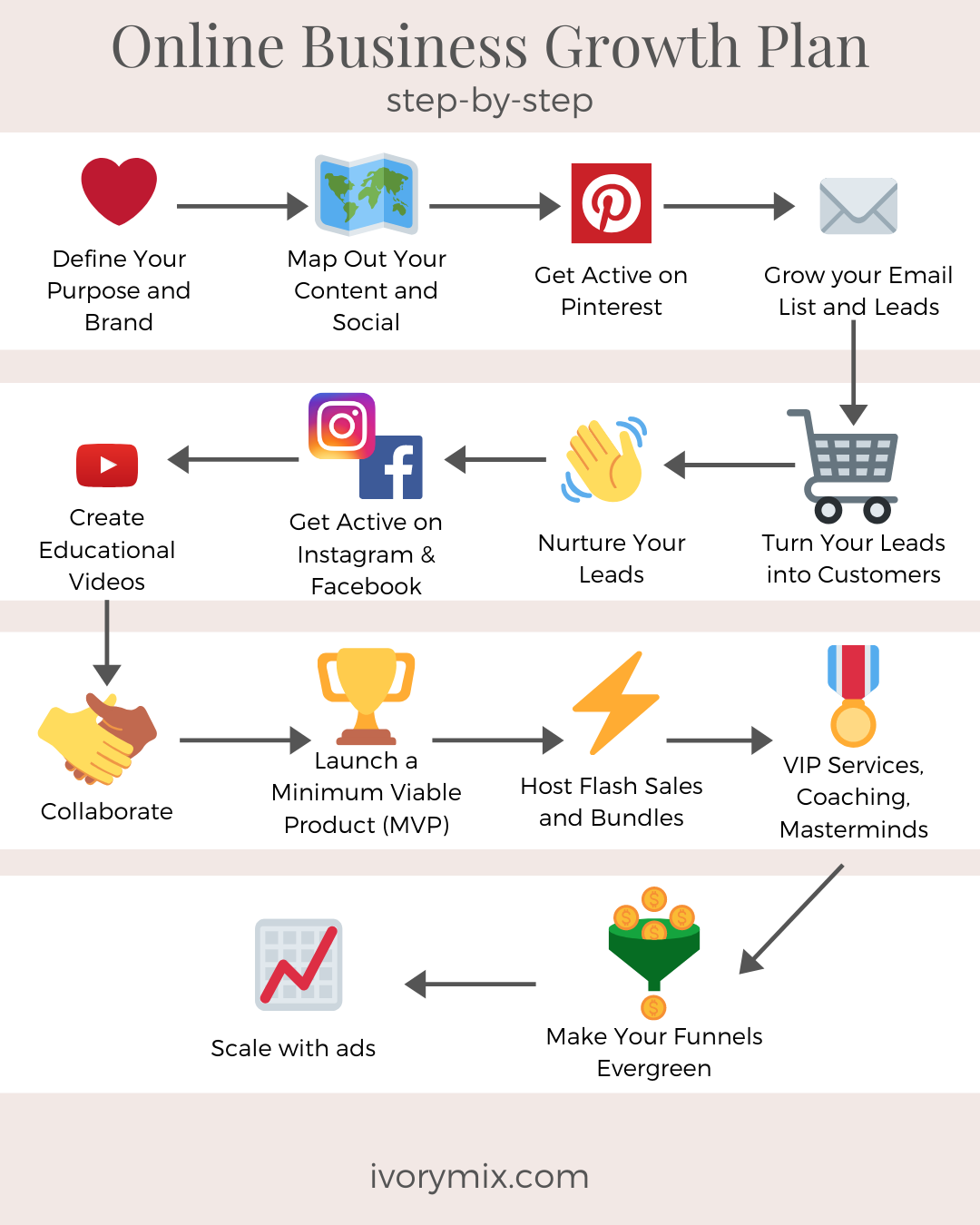 In this blog post, I map the exact steps you need to follow to start making bank in your business and move you from hustle to freedom!
Not only do I showcase the steps you need to take, but I also provide for you links to all other content we have available, so whatever step you are at, you can dig deeper into that topic to start implementing this into your business
Define Your Purpose & Brand
Having a clearly defined brand purpose is what keeps you going when things (inevitably) get difficult. These steps will give you a deeper sense of meaning to everything you do and makes the day-to-day challenges of running a business worth it.
Nail your niche and understand exactly who you serve

Create your transformation statement and place that everywhere

Create your Brand strategy, website, and Visuals

Your Resources:
Map Out Your Content and Social
Creating a content map means developing a specific plan to deliver the right content, to the right people, at the right time. Content mapping takes into account the characteristics of the person who will be consuming the content through all the various different stages they may interact with your brand and business. These steps will help you create a content plan.
Create content buckets that generate the right leads

Blog in those content buckets once a week

Send out a newsletter featuring new content weekly

Post your new content to all social channels and in relevant forums/Facebook Groups

Re-Post your older content again. (older content should not be forgotten!)

Your Resources: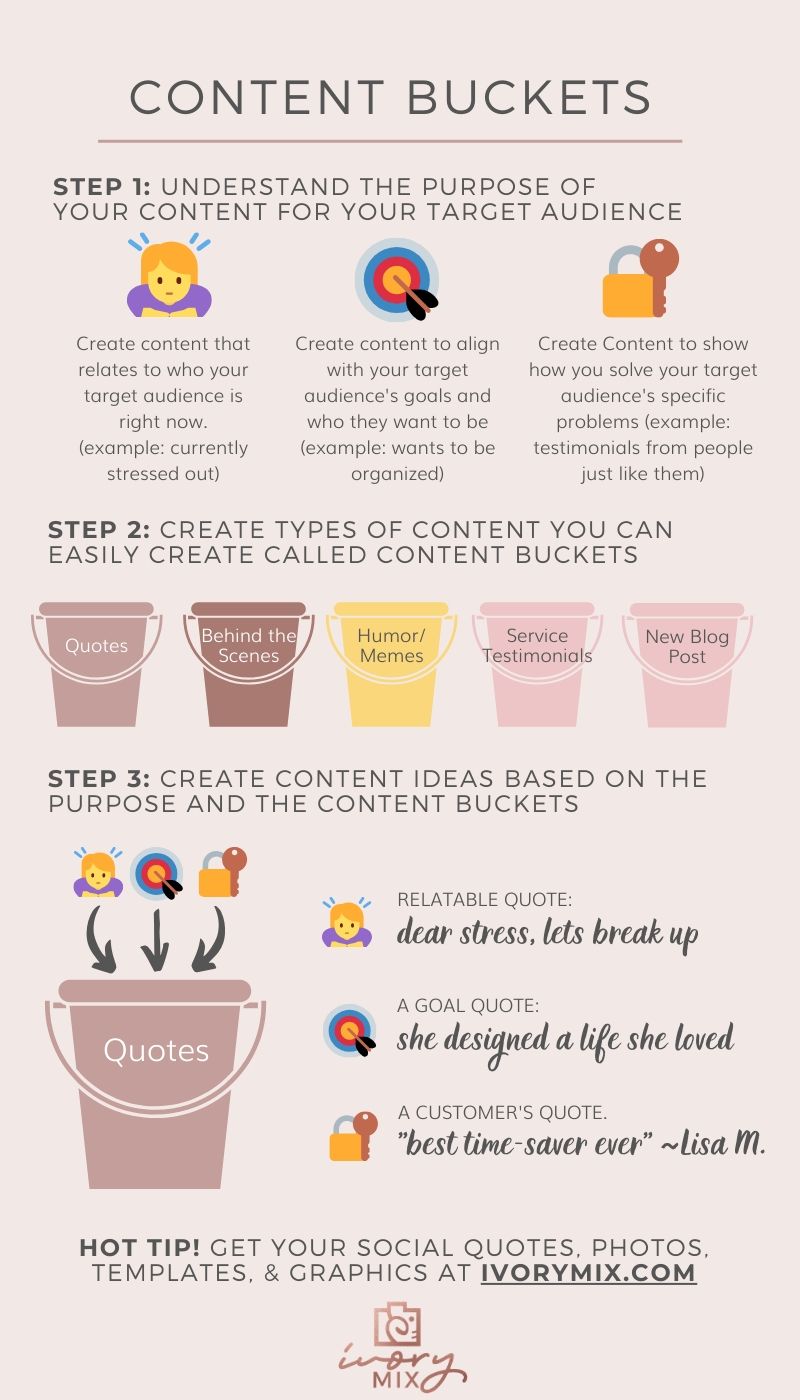 Get Active on Pinterest
One of the most common questions I've been asked by new business owners and bloggers is "where can I get the most traffic when I am just getting started?". The answer is SEO and Pinterest. Learn how to optimize your content for organically reaching your audience on search engines is a valuable exercise. What if I told you that it could bring you leads every day without having to write new content all the time too? It's true. That's why I highly recommend starting with Pinterest.
Share 3 Pinterest pins for every new blog post

SEO optimize your blog posts and Pinterest content

Join and participate on Group Boards and Tailwind Tribes on Pinterest

Your Resources: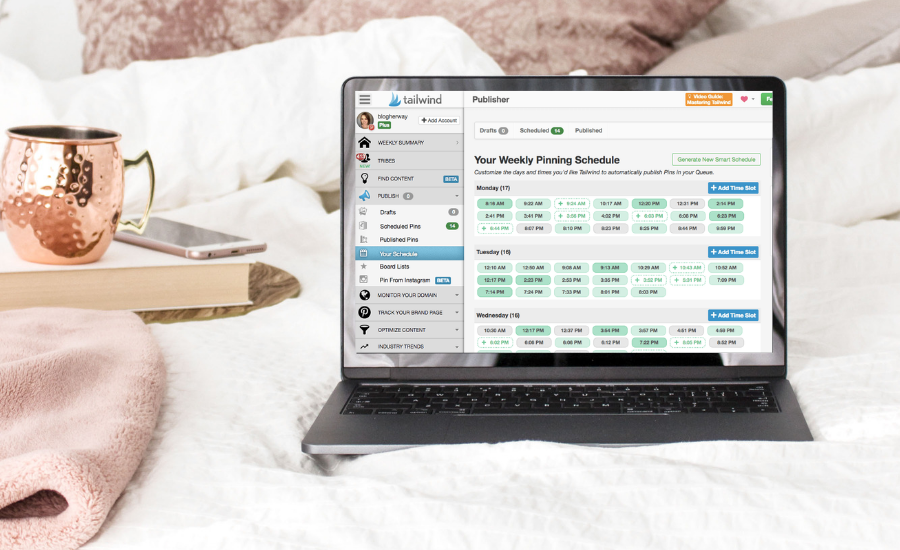 Tip: Use Ivory Mix Pinterest Pin Templates and Stock Photos to create content quickly
Grow your Email List and Generate Leads
An email list isn't just for generating a list of leads. It's your insurance plan! There have been days when Instagram and Facebook have been completely down and unusable. I've also had my Pinterest account (wrongfully) disabled and then re-enabled. Could you imagine what would happen to your business if you put all your effort into growing a following on Instagram and then suddenly have it hacked or disabled?
Don't be that person. Grow your email list! You own that list and no matter what social media does one day, you always have your email list.
Create an epic free resource that is gated (your audience must subscribe for free access)

Place your free resource sign up form on every page of my website 

Link to your freebie form/landing page on every social media account you have

Ivory Mix Resources:
Turn Your Leads into Customers 
New leads are more likely to buy from you within the first few days of being introduced to you. Also, existing customers are more likely to buy from you again. Both of these reasons make this a must-do!
Create a simple One-Time-Offer (OTO is a mini-product with massive value)

Offer your OTO for  $7-$27 on the thank you page after a subscriber signs-up

Offer an Upsell product $27-99 to any customer who buys your OTO

Your Resources:
Nurture Your Leads
The process of lead nurturing helps build a relationship with your leads and customers. It's important to nurture this relationship
Create a nurturing welcome sequence of emails that get automatically sent to new email subscribers

Invite Your subscribers to join your webinar, private Facebook group, and/or Instagram

Send a limited time offer or your core product

Demonstrate the benefits, features, proof it works and give a deadline

Your Resources:
Get Active on Instagram/Facebook
Repurpose your blog posts, freebies, and emails into content for Instagram

Post one thing every day that entertains, educates, inspires, or converts 

Post one story every day

Host LIVE Q&A on Instagram and Facebook (weekly or Monthly)

Your Resources
Tip: Use Ivory Mix Instagram Canva templates and Captions that Convert to create content quickly
Create Videos Positioning You as an Expert
Create 60 second – 10 minutes of educational and inspiring video content 

Use past blog posts and the frequently asked questions of your audience as inspiration for your videos

Post your videos inside blog posts, on YouTube, and on IGTV

Regularly host free workshops and webinars to generate more hype and leads for your product/service (end webinars with a limited offer and buy now call to action)
Collaborate with Other Creators
It's important as you plan to scale and grow, that you utilize your strong network. Partner with like-minded brands and utilize each other's reach to grow your following.
Be seen and heard everywhere

Reach out to podcasts and do guest blogging

Find similar business owners in your niche with similar target audiences to collaborate with

Host giveaways on social media together

Host each other on Instagram Takeovers to generate leads and establish Authority

Your Resources:
I have collaborated with Crystal in 2019 and into 2020 on The Creative Boss Method. We are both photographers who operate in the online space but offer different services and together we have been collaborating on a number of projects.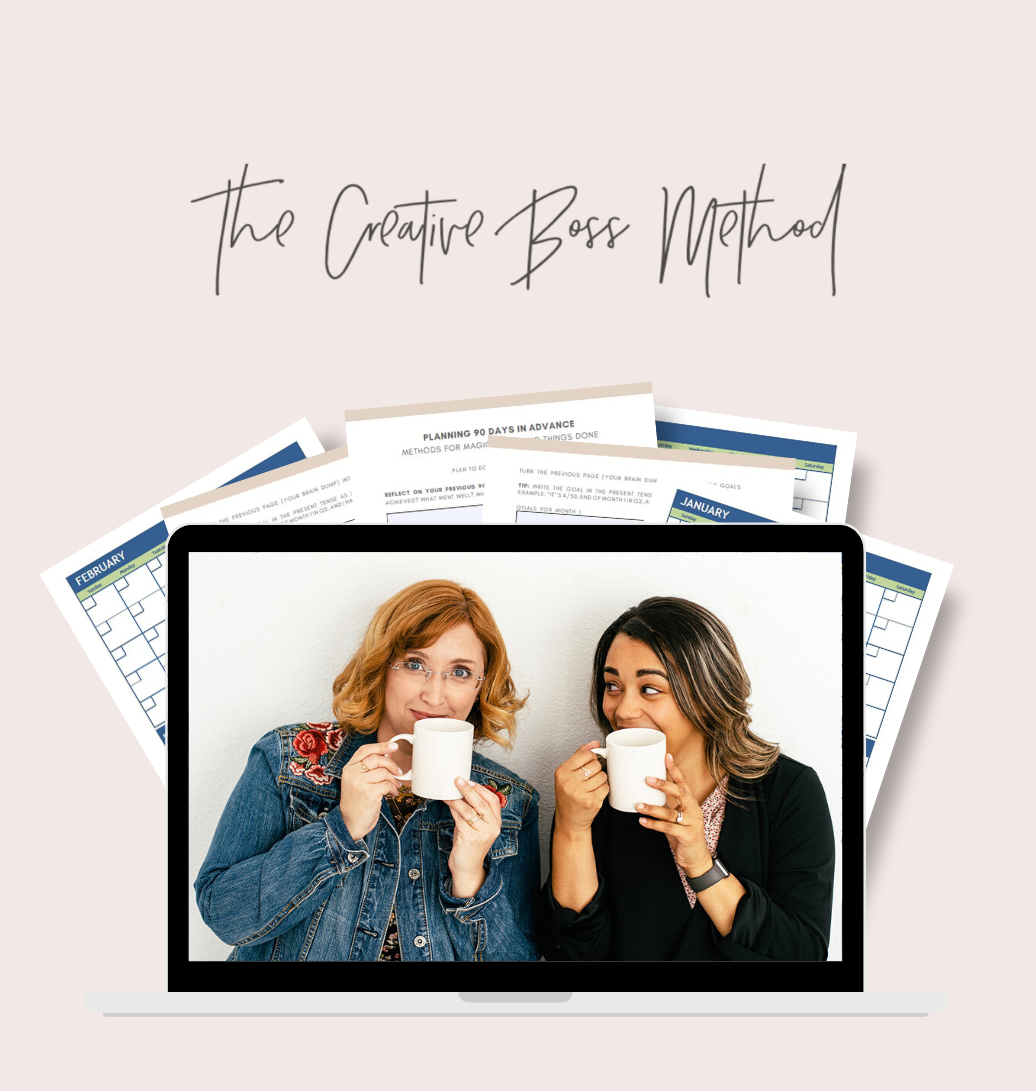 Launch a Minimum Viable Product (MVP)
There is no reason for you to create 100 online courses and 5 ebooks and 3 memberships. You can grow your business with just one product. This has been my method and it's served me well, helped me become an expert go-to resource. Some might argue that having one product to offer makes your life and your customer's life a lot easier.
Create a core product that starts out as the smallest thing you can build that delivers great value to your audience and clients (usually priced at $99-$2000)

Prep for launch and add a waitlist to your sales page and collect new leads

Launch your new offer to your waitlist as a beta launch (discount for testing it out)

Generate proof and testimonials while working with beta clients

Announce the countdown to the official launch everywhere

Continue gathering leads on your waitlist

Launch your new service or product with an open cart date and a close cart date.

Offer limited-time bonuses that expire

Reopen your waitlist and plan/announce your re-launch date

Your Resources
Host Flash Sales & bundles
There's no reason your MVP product can't take on new forms or include new bonuses.  Regularly engaging in special events, partnerships, collaborations, and bundles can really help your audience get more for their money, and it can make sense for you too. Sales and bundles usually have a higher conversion rate. But, definitely consider participating wisely. You do not need to participate in all partnerships or holidays that come your way. Choose what feels best for you and your audience.
Host flash sales and 2-day cart open on holidays, special events

Collaborate with other creators to bundle and offer multiple products at a discount

Bundle your own various smaller products and offers for special bundles and deals
Inside the VIP Ivory Mix membership, I have bundled together all of the styled stock photos, online courses, Canva templates and Captions into one membership package.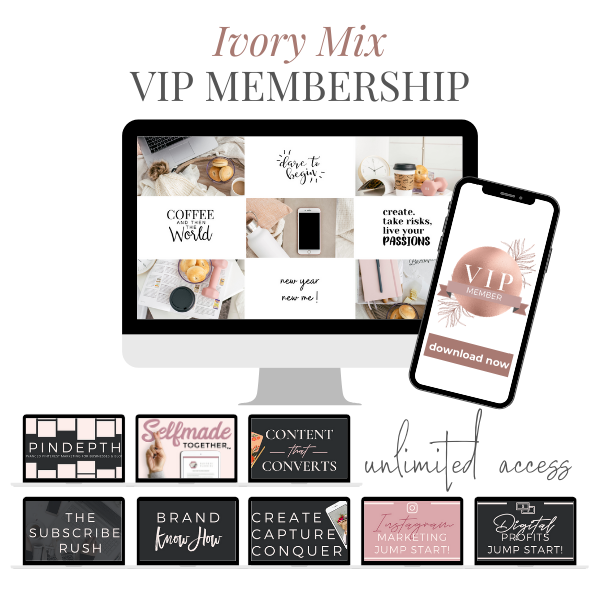 Offer VIP Services, Coaching, Masterminds
Once you've established your MVP, and have perfected your sales funnel and lead generation, it's time to upgrade and upskill your customers into something bigger, better, and juicier. Think of this as your high-end, high-priced offer.
Create high end and high-touch products/services ($1000 and up)

Create one-to-one or one-to-many group coaching programs

Offer this with limited seats on limited days for a higher price point

Make this a natural upsell for clients who bought your MVP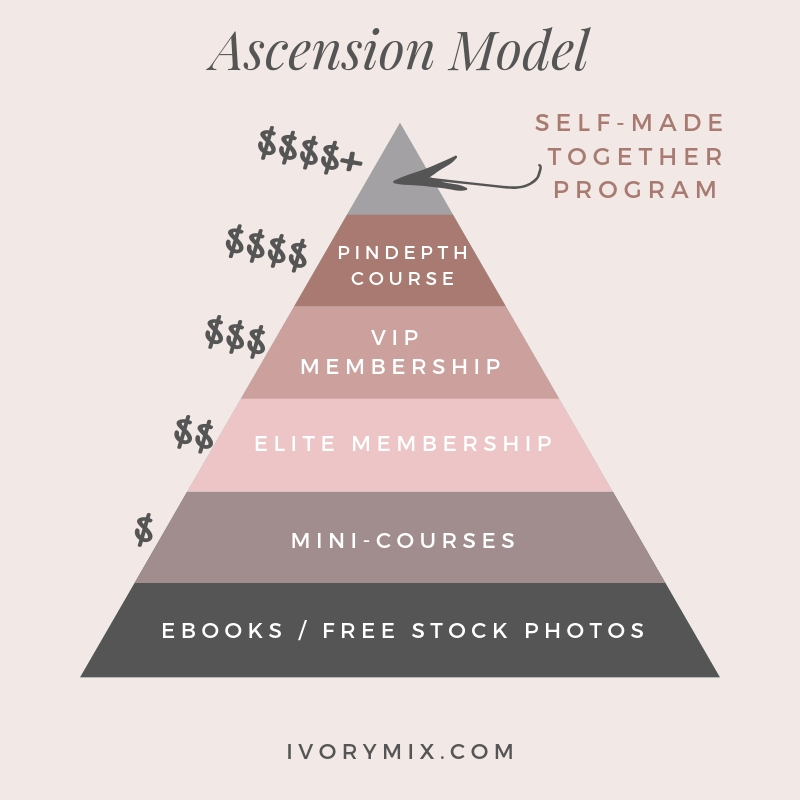 Make Your Funnels Evergreen
Once you've sold your MVP and high-end offers, you should have a good idea of what works and what doesn't for your audience. Take everything you've seen work and create an automated funnel that converts leads into sales automatically.
Using automation, create sales funnels that automatically nurtures leads and sells your MVP and VIP services everyday without having to launch or re-launch
Start Scaling with Ads
When you have consistent leads coming into specific blog posts and landing pages, you can then start creating ads that target "look-a-like" audiences. This means you can scale your business by offering your content and landing pages to people who have similar interest.
This is where you can begin to automate and turn your sales funnels into evergreen sales funnels, and reach new people with ads using content you know will work!
Add the Facebook pixel to your website

Start running ads that grow your leads and sales

For the best results, only target ads towards specific audiences only (start with warm leads – example: run ads to people who have already been to your website)

run ads to content, landing pages, and product offerings you know converts organically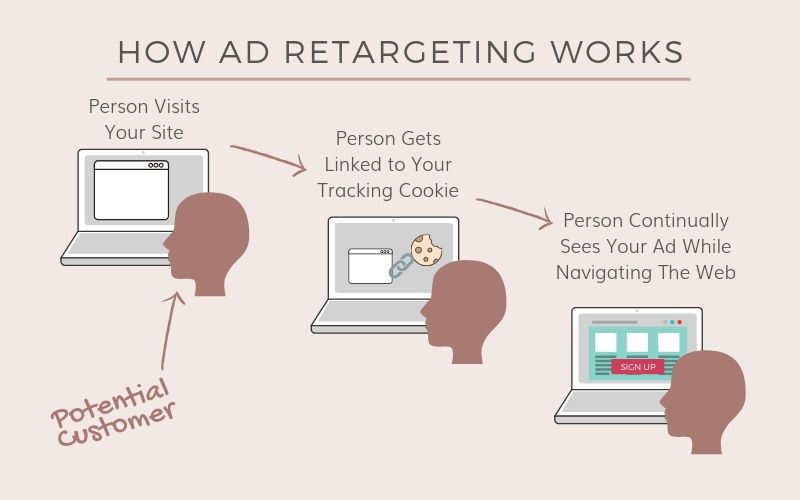 So, there you have it! Did you learn something new? What are you most excited about taking action on.
What Next?
If you are looking to grow your traffic, subscribers, and profit – while also saving time. Be sure to join our community of online business owners in the Ivory Mix VIP Membership.
What's included in the membership?
Access to 4500+ Styled Stock photos (and growing monthly)
Social Quote Graphics
Pre-written "fill-in-blank" Captions that convert
Easy to use Canva Templates
Workshops to help you grow
Get more new content every month
Create click-worthy Pinterest Pins
Easily Batch Instagram content for more traffic
A FREE bonus of unlimited access to all Ivory Mix online courses and trainings (a $700 value).
Click here to sign up for the Ivory Mix membership and join the VIP waitlist.