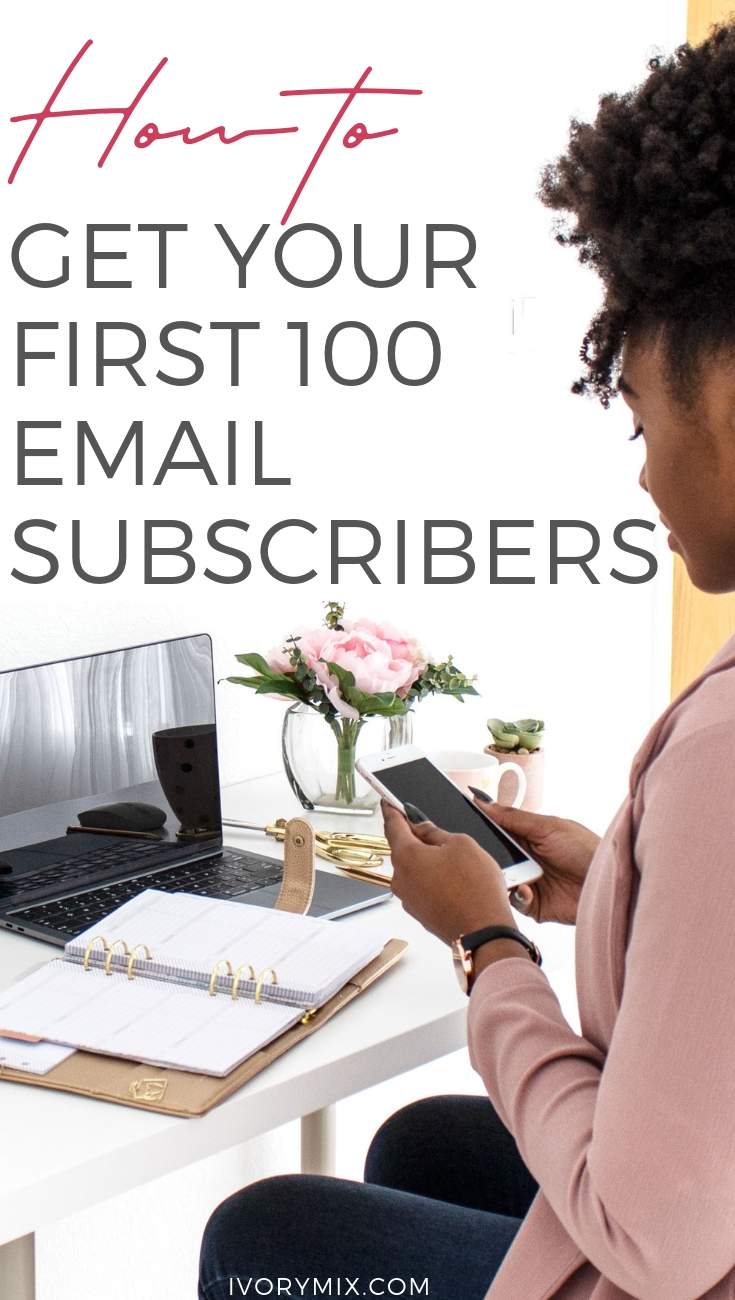 If you want to make a steady income from blogging, then the one thing (besides creating a digital product of your own) that you should focus on is growing your email list and getting your first 100 email subscribers With more than 205 billion emails being sent and received every day, you can see why your business and blog should be taking advantage of this powerful and massive marketing channel. When you're not growing an email list, you are missing out on a highly effective way to reach your target audience.
Why? I go through How I make $1k in a day with my email list here in this article. 
An email list is how you will 1) get traffic regularly 2) gain loyalty and trust 3) make the sale. and getting email subscribers can be done in a number of ways but the recommended method is the implementation of a high-quality content strategy. When people read content that is of a greater and higher quality, they have a much easier time believing that you have the expertise they're looking for ideas and advice in – and they'll have an easier time trusting you.
This trust is what ultimately leads to your audience becoming more willing to join your email list and become an email subscriber.
As you can see here, on Michelle's website, she's included an "as seen on" section to display trusted logo's of other brand's that her readers might be familiar with.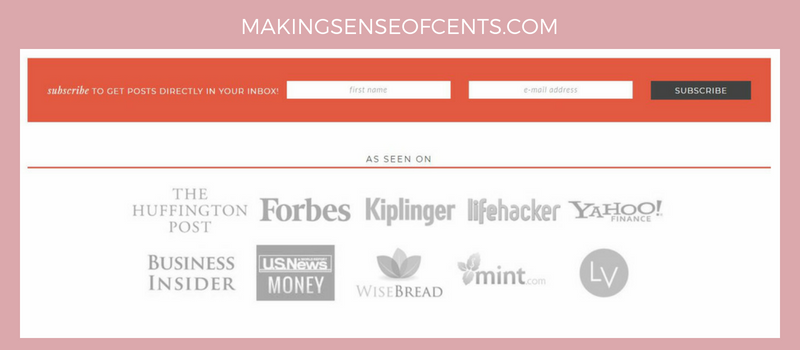 Note: this article contains affiliate links
You can use different formats for your content so it can be in your blogging form, a podcast (audio) or using video. It is actually best to mix this up as much as you can.
How do you Define High-Quality Content?
This is relatively easy to do. It simply has to add value to the reader and this is the first important point. Once they have read your content or watched your video they should have learned something new or learned how to do something that they couldn't do before.
Remember these two key factors of High-Quality content:
Your content should add value to your reader
Your content should be relevant to the niche that you are operating in.
You'll need to create a content plan.
Determine how often per week or month you will publish new content and also come up with a list of titles for content that you really believe will add value. A plan always works better than just making it up as you go along. With a plan, you will never be stuck for ideas because you have already decided what your content will be about.
Related Article: How to create content twice as fast!
Your Lead Magnet Needs to be Amazing
You are not going to get many people that will subscribe to your email list just because your content is great. The most important and most significant way to increase your subscribers is to make the offer to sign up more appealing. While you can improve your content and website aesthetics, like change the colors of your buttons, and improve small factors if you don't have an opt-in that converts, you're wasting your effort. So, you need to focus on giving your target audience what they really want if you want to get more subscribers.
There is a real reluctance these days to part with email addresses because of the spam problem. So you need an incredible and amazing lead magnet to provide the necessary incentive for your visitors to opt in.

Be sure to check out our lead magnet template bundles included in the Ivory Mix Membership.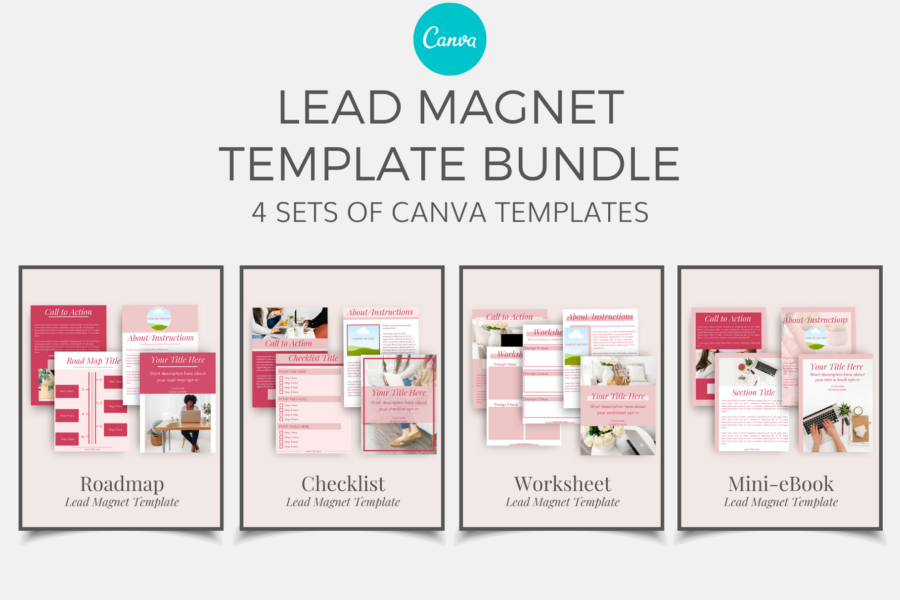 My own opt-in of over 300 stock photos is a good example. I could have chosen to share 10 photos, or even 100. This would have been good or even great.
But I aim for amazing and 350 stock photos are showing a lot of respect for your email and giving amazing value in exchange.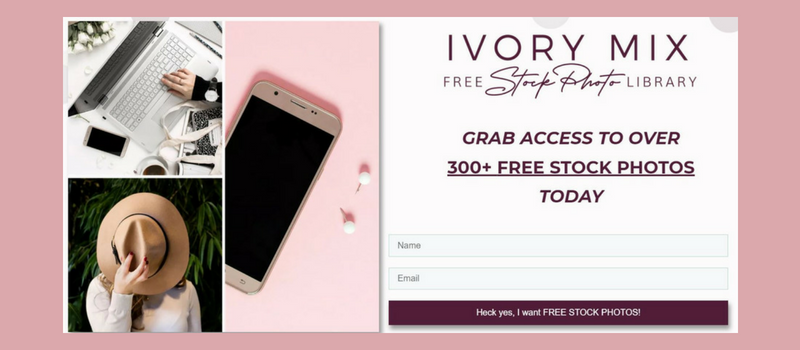 Your lead magnet can be a number of different things but maybe, a better lead magnet is a collection of things.
Related Article: How I make $1k in a day with a new blog post
Turn your great lead magnet into an amazing lead magnet
Take one mini-ebook and turn it into ▶ a "library" of mini written lessons
Take a single printable and turn it into ▶ a "library" of printables
Take a single video tutorial and turn it into ▶ a mini-video course
You get the idea. Think your lead magnet through carefully and ensure that it will add AMAZING value.
Place your amazing lead magnet offer on every page
By now, you've created a website and blog full of relevant and related content. So, placing that one amazing and related lead magnet in multiple locations on your website should be the goal.
Check out this graphic showing that on just one of my pages, a reader sees 's 4 SUBTLE PLACEMENTS of my lead magnet.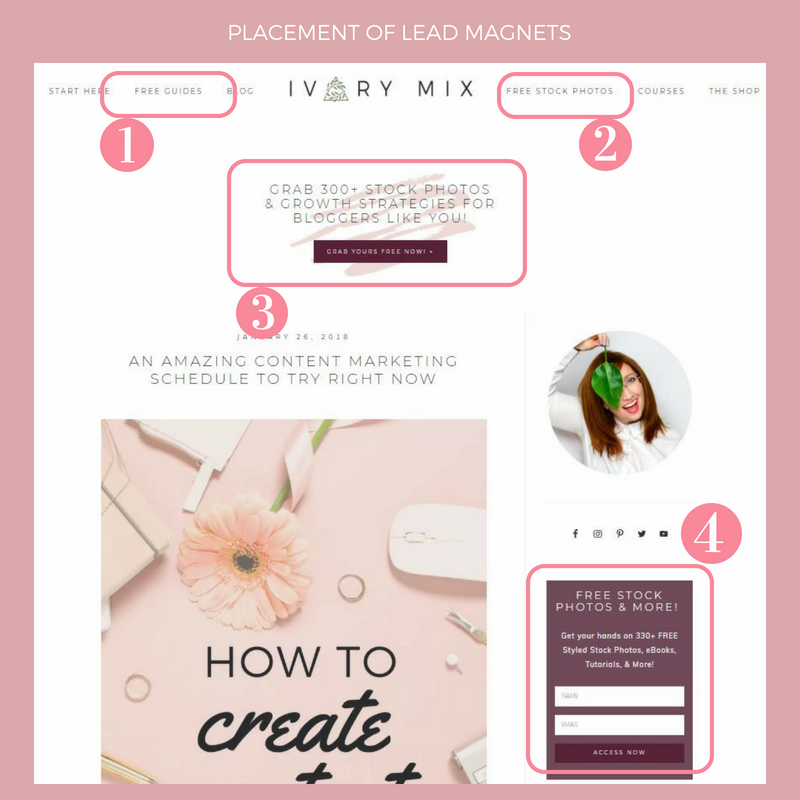 Here's a list of locations to consider that get the most attention:
In your website header
In your navigation menu's
In your sidebar
Inside of your blog posts (depending on the length – insert it multiple times)
At the end of your blog posts
Placing your lead magnet offer in all of these locations do not need to be overwhelming to your audience. You can use a combination of visual's and more subtle techniques like text.
For instance, use graphics in your sidebar to catch your audience's eye, but consider using a subtle clickable link inside of the blog post text. You can create a clickable link that leads to a pop-up using convert kit's opt-in form style called "modal". 
Here are some resources to "technically" start your list building
Make the Process to Sign Up as Easy as Possible
The simpler you make your opt-in form, the more likely someone will be willing to subscribe.  Every step that you can take to make your opt-in form more streamlined and simple will help you increase your subscribers and build your audience. As a result, the fewer steps you have between a consumer being interested and them signing up will help your list grow.
This means, get straight to the point! Don't add lots of unnecessary information. Make it appealing, be really clear about what they're signing up, for and what the benefit is to them
Position Yourself in front of Targeted Traffic (Daily!)
When you are starting out, you'll need targeted traffic that is interested in your niche and type content. Creating content that is never viewed or seen can seem like a total waste of time but keep going! If you're just starting our, getting 10 – 20 visitors a day can be very demoralizing – but keeping at it will pay off. This is what you can do:
Establish the relevant social channels for your brand.
Post something on every social channel every day
Establish your presence on Pinterest and get pinning.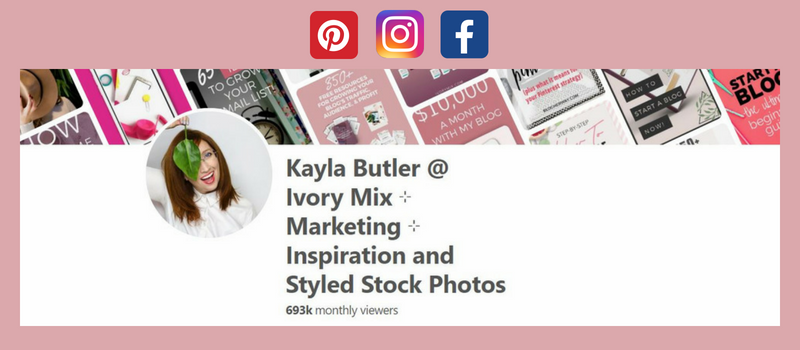 If you don't have a lot of content yet and are wondering how you can possibly have something to post every day, then you should read this tutorial for how to get the absolute most from your content and how to create  13 different pieces of content from one blog post. 
Don't worry about doing them all or being on every social media type. When it comes to getting social, my audience and I enjoy Instagram and Facebook.
Unlike Instagram and Facebook, Pinterest is a search engine and if you want your content to find new readers – it should be on Pinterest! So, get clever with your strategies on Pinterest and start pinning.
Related article: Use these clever strategies to get more traffic from Pinterest.
SUMMARY:
Step 1: Create lots of high-quality, relevant content
Step 2: Create at least one related and amazing lead magnet
Step 3: Place your lead magnet offer on every page of your website
Step 4: Share your content EVERY DAY and get it in front of a targeted audience using social media and Pinterest
What Next?
Click below to grab this free and massive list of ideas for creating a lead magnet.

LOOKING FOR MORE TIPS? CHECK OUT THESE ADDITIONAL BLOG POSTS: