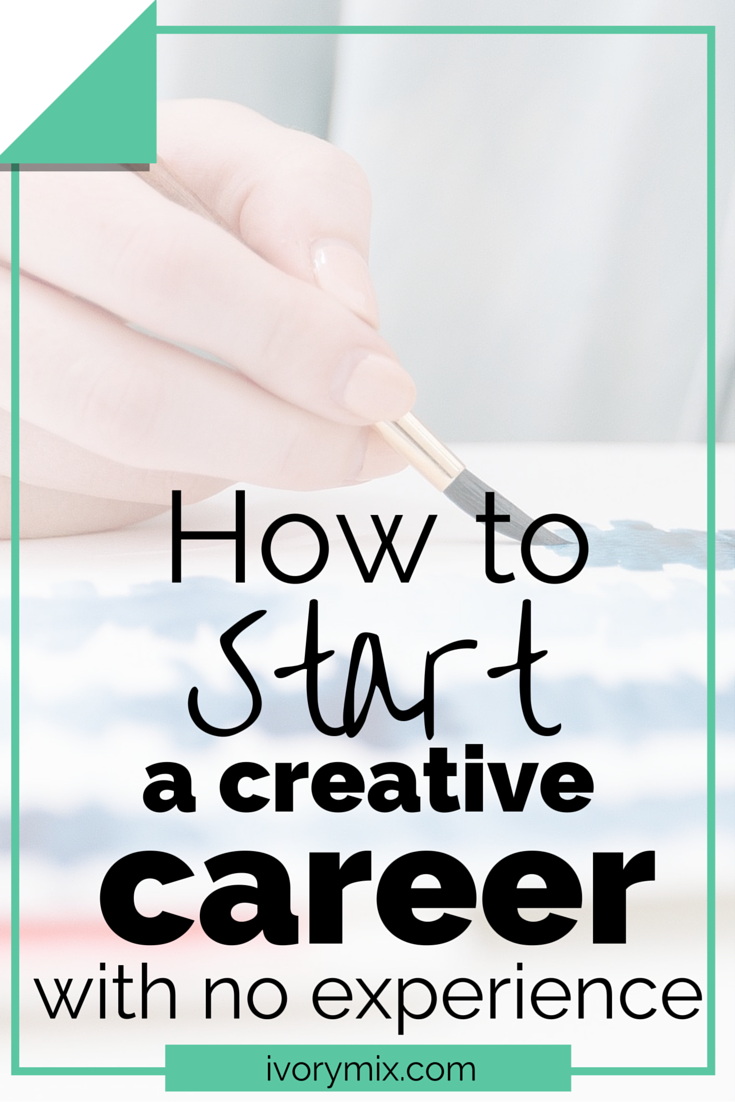 You've been thinking about switching gears and finding your true passion in a creative career but you don't know where to start or how to make this transition without quitting your day job. It's possible that you're a stay at home mom thinking of starting a side job, a full time career lawyer who realizes they fancy photography and writing steamy love novels OR maybe you just woke up on the wrong side of the bed today and your boss is really getting on your last nerve? (ha it happens to the best of us!) However you ended up here and whoever you are, I'm going to try and help you find a first step to starting your next move into a more creative career that is in line with your true passions in life.
So what are some creative career options that don't take that long to learn about and get into quickly? Well, if you're lacking inspiration and need some ideas, here are some creative career options you may not have thought about that are fairly easy to get into. I've even put an asterisks next to the careers I'm intimately familiar with and have done myself (I'm a creativity nerd so there's quite a few I've done!). So if you're interested in these, send me a message and I'd be glad to give you some ideas on where to start because you'll see as you keep reading that you'll want to find people who know about these careers.
Short List of Creative Career Choices
*Home staging / Interior Design
*Photography (portraits / architectural / Journalism / Wedding)
Voice Acting
Makeup Artist
*Graphic Designer / Web Design
*AutoCad Drafting
*Fine artist / Jewelry maker / crafter / ceramic artist
Tattoo Artist
*Color Consultant
Personal Stylist
Chef
App Designer
Digital Illustrator
Writer / Author
Teacher
*Branding / Marketing
First and foremost, let me assure you that what I'm about to tell you isn't going to teach you how quit your day job tomorrow to start one of these careers. No, this won't be done overnight, but there is no reason why you can't make this a 12 month plan! In fact, sign up for free to get the Checklist printable for your next 12 months to get your started on your creative career path.
Like I said, this is going to take some effort on your part. In fact, your might even decide on one direction but find out it's not a good fit and have to start over again on something else. This is just the way life goes. You can't read the future and neither can I. So, here is a taste of the key points (before I dive into them deeper) to starting a creative career when you have no experience and no clue where to begin.
Steps to Starting a Creative Career in 12 months:
Begin by starting some creative hobbies and meet some people who hobby too
Define your true passions and weed out what I like to call "non-starters"
Stalk successful people who are doing what you're trying to do
Focus and measure your massive amounts of learning and personal growth
Network and put yourself out there, in real life and on the interweb
Apply, Interview, Repeat
Side note (don't mind me while I derail for sec)
It's kind of funny that as I write this, our youngest daughter who is 4 years old has decided she wants something to drink (Stick with me here, it's going to get relevant). She's gone through 4 different brightly colored cups and 3 or 4 different beverage options from water to chocolate milk in the last 10 minutes, making it difficult for me to even write but I'm taking note of something pretty key here.
She's obviously really thirsty, or is she? Being the mom of three since 2004, I know a little about why kids do the funny things they do and her reason for choosing so many different varieties of things isn't just about being thirsty and is more about her ferocious curiosity. She isn't trying to make me go mad (although I sometimes think she is). She's just testing the different "waters". She's testing how far I'll go to make her happy, how the different drinks taste in a blue cup, a pink cup, a sparkly pony cup. Ultimately she just wants a drink, but not just any drink, one she's curated herself.
So this leads me to my next point and the connection (see I told you I'd get back on topic!). Why is it that we're encouraged to know exactly what career we want by the age of 18, if not sooner?  We're curious by nature and there's no doubt in my mind that if you're even a bit curious, it likely won't ever stop. You may be one of the few that truly enjoys exactly what they began at a young age, but the likely hood is that you've either changed your career direction once or twice, or at least thought about it….. A LOT.
So, what's a person to do?
Begin with some creative hobbies and meeting some people who hobby too
If you haven't got a hobby yet, I suggest you read this and start brainstorming some ideas. If  you have some kind of a hobby, maybe, sort of, then you should consider turning it into a true passion by checking this out.
If you've got a really great hobby you already enjoy, there's nothing like the magical moment when you meet someone who's into the same things you are and to realize it kind of sucks when you're surrounded by people who don't "get it" either. I recently read a person's quip on Instagram that it takes a certain kill-joy to ruin a knitter's mood when they ask "why didn't you just buy that scarf at target?"
So, please get a hobby and meet some people who like that hobby too. You're going to need a cheering squad and some support!
Define your passions and weed out the "non-starters"
If you've got some hobbies now and are spending lots of time on all of them, you're going to need to make a decision to spend a little more time on a specific hobby. Something that is your true passion. How do you know if something is your true passion? Read this.
What's a non-starter? Something that leads you in a dead end direction. It doesn't start anything for you. These can be hobbies that you enjoy and you certainly can continue doing those things, but if you're truly and honestly looking to start a creative career, you may want to curb those until you've got your new extrmemly passion filled thing pretty well figured out.
Look for successful people (on LinkedIn) who are doing what you're trying to do.
Okay, so this one might be a challenge because it sucks seeing other people do what you want to do. Don't go there into the self pity route. You're simply searching for some people doing what you are doing and realizing that there IS a space for you in this industry. There are 7 billion people in the world and many people from many countries accessing the internet (if building a creative business online is your goal) and millions of companies out there looking to hire people just like you with your interests. Just because someone else is already doing what you want to do doesn't mean you can't either. In fact, you're going to utilize what they've already done as a basic map of ideas for how you can get there too.
What companies did they work for? What was their job title? How long were they there doing that job function? Maybe even consider reaching out. I did this when I was considering a change 10 years ago and I have a feeling that, in general, people are really kind and flattered which makes them more than willing to offer advice and maybe even provide you with another person to contact for a job opportunity.
Focus, Focus, Focus and then measure your massive amounts of learning and personal growth.
This is the stage where you apply yourself to the learning process, set some goals, and focus on your personal growth and measuring how far you've come. As an example, if you would like to start your own company as a Home Stager, you may start by taking an online course. Once you take this online course, it may provide a reasonable goal for opening your business. You'll need to set a date and work backwards to that date. What is it you need to get from step 1 to step 10? Build and outline your growth schedule. If you're wanting to become a graphic designer and start with some beginner courses, enroll in those courses, but don't forget to decide what you're going to do when it's done. Here are my favorite tips for staying actionable and accountable to your own personal goals:
Save money for classes and training (or apply for grants and anything you can get)
Look in your community for FREE classes (great for networking too)
Keep a journal of thoughts, ideas, and hopes
Start a portfolio of everything you do. Good or not.
Don't forget to memorialize the successes on your calendar or in your Journal. Example: Did you meet someone new today? Did you get into that class you've been wanting to take? Write it down so you can remember what you have accomplished.
Put reminders on your calendar for the next step. Don't get to a point and say "now what". If this is happening to you, reach out to people and ask for help in deciding what to do next to get you moving towards your goal.
Tell your closest family members and friends. Get some positive support from only your closest people. Don't tell everyone though, because that's been demonstrated through research that telling people your goals before you achieve them can be counter productive.
Network and put yourself out there, in real life and on the interweb
This can be the toughest part for people looking to change careers, especially for introverts. I can't stress this enough though, you MUST put yourself out there and meet people. I'm not an extrovert, but I am an A-type personality. I take control of my own shiz and don't expect anyone to help me. Ugh! So, networking is real work for me. But, it helps a lot to know the right people! Just a few things I've done over the past 12 months are because of networking (even when I didn't really want to). For instance, I now sit on a board of directors in my industry because I frequent the networking events and got to know the other board members. Last year, because of this board, I got to lend a hand to a bunch of college students build this Zero-Net Energy house. These are just some examples from my own experience, but make your own, meet your tribe, and make some waves.
Apply, Interview, Repeat
So, here you are. You started with a hobby, learned about yourself and what you like, met some people who like those things too, stalked people who have been successful doing it, made the time to focus and learn in a massive way, and networked in the right circles. You should feel confident now to put something's on your resume or apply what you've learned to finally start this creative career change in a strong way. Blast out your refreshed resume and update that LinkedIn page. Try a part time or weekend job. Work for someone else for a little while. Start putting ad's or answering ad's on craigslist and work in the evenings and on the weekends to start. Maybe your creative career change is entrepreneurial and you need to start developing your client base and advertising that you're "in business". Whichever it is, you should be at a place now where you have built up some confidence and now:
Know what you're passionate about
Know people who are also passionate about it (who may know people who are hiring too)
Know a lot about the topic and have developed your skills enough for a resume
Know where people in this industry work and where they started to get there
Know where people in this industry hang out and network (online or in person)
This is no "fake it until you make it" scheme. This is real work that can be done systematically and can help build up your confidence while you get your feet wet in a creative career.
So, get to it and be sure to let me know how it's going. In fact, why don't you tweet about it at #RYMIXERS and get the support you need from fellow rymixer's!