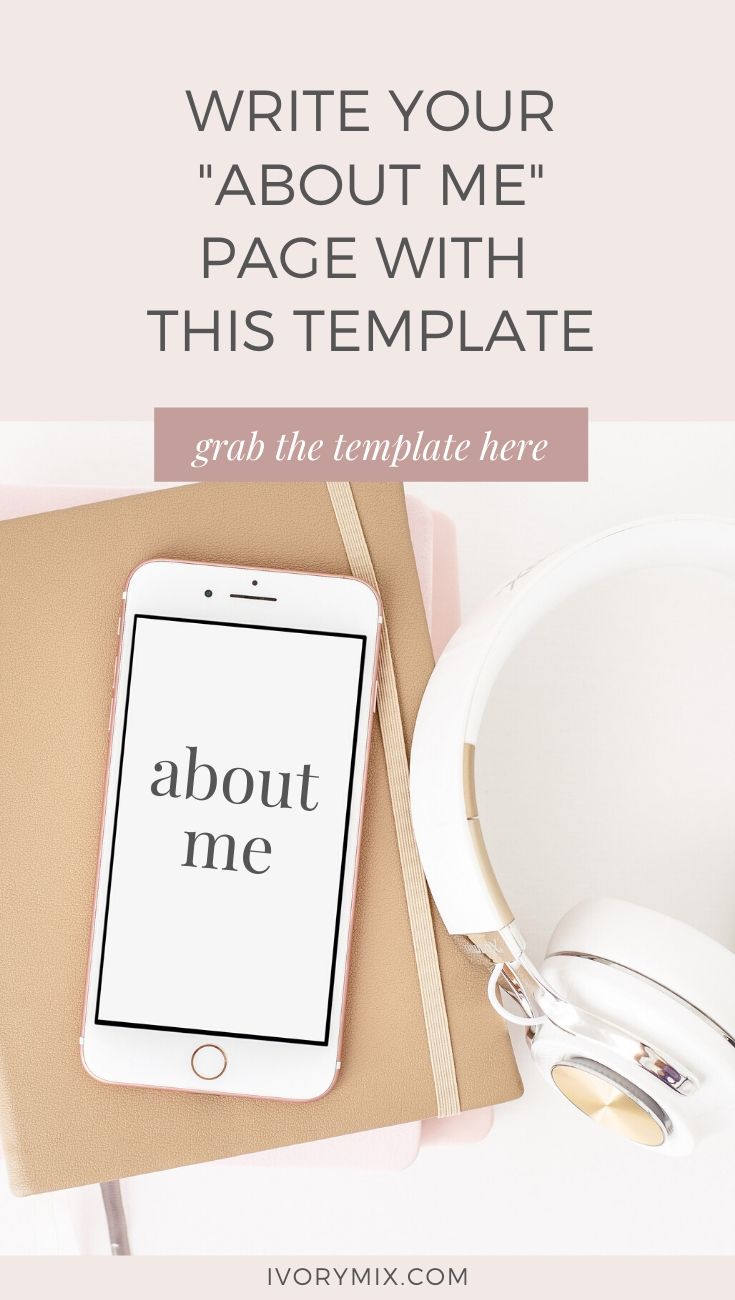 Naturally, you want to tell the world a little 'about' yourself but when you go to type it out, you're drawing a blank.
Being a blogger, multi-passionate, and online business owner can mean a bunch of different things; how do you sum that up and make it matter?
An about page is where people get to know what your brand, business, and you are all about and this template and guide will help you cut out the noise and get straight to the point.
Ready to write your about page!? Let's get started.
Know who you serve
Before you get started writing your "about page", you must know who you're talking to.
How does your ideal reader write? (i.e. Are they funny + spunky, classy + professional, encouraging + sweet?) Write in this way!
Create a list of terms you will use to talk about your reader and ideal client. Get descriptive. For instance, do you serve stay-at-home-moms? Consider what your audience thinks of themselves as – like mom boss?
Get clear about who they are and create list of greetings.
Write a simple but warm greeting to your reader.
Say hello and welcome them in a warm and inviting way. Be creative and be your cute self!
This is going to pique the interest of your readers. They say a first impression is everything, so if you greet them in a way that's uniquely you and consistent with your blog and brand, then you will get the people who get you to stick around.
Tell your reader in a few sentences what your provide.
This is where you get straight to the meat of your blog and tell them, "Hey reader, you wanted blankity-blank, well you've got it!" I don't want you to necessarily use those words, but you get what I'm sayin'!
Why should someone do business with you or read your blog? Try a sentence like, "If you love X, X, and X, you'll feel right at home here."
What will your audience get out from you? Are they going to get fashion inspiration? Business tips and tricks? An encouraging community of supportive women? Let 'em know what they can expect.
Which types of articles and posts do you write? Do you have any awesome series that people should know about? Where should they start?
Why does your business, brand, or blog have credibility? You could list the sites your content has been featured on, talk about how you have X years of experience, OR you can let your readers know that you're still learning, too, but love to share things as you discover them. This one is pretty flexible.
How did you get started? Don't be afraid to be personable here and incorporate how your site came to be. Did you feel inspired after a certain event in your life? Did your passion for your blog's topic start back in third grade? Tell a story!
Tell them how they can benefit from reading and subscribing.
What awesome advice and service do you provide?
Write this a few times until you've narrowed it down to 2-3 sentences because readers don't want to be sold to all day long.
Introduce Yourself and Share Your Unique Value
What value do you give to your readers? This is where you paint a picture of the transformation someone might go through while working with you.
I like to call this the transformation statement.
Here's an example: "I am the styled stock photographer that develops stunning flatlays for busy online business owners in order to help them show up on social media and wow their audience with content that converts"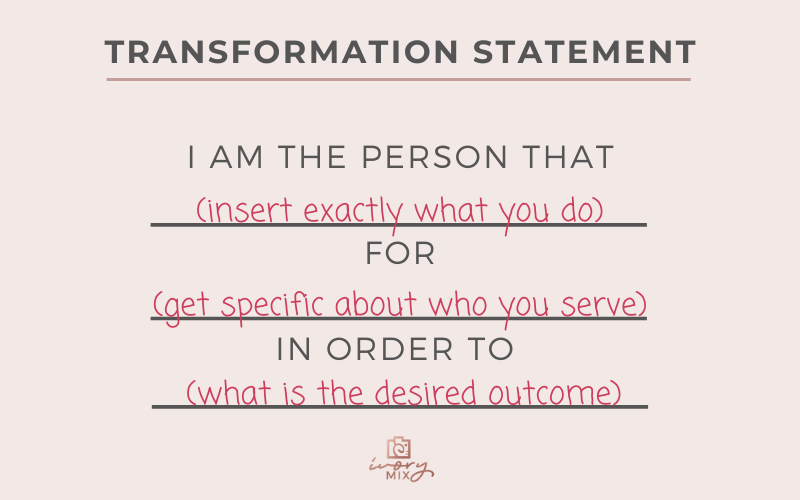 Get personal, add photos, and tell your back story
What are some relatable facts about yourself that you can include in your bio? Are there photos you can add that show you doing your best work? Working with clients? or maybe a photo of you and your family.
Sharing your values, your missing, and what you're all about will help your audience relate to you. These will help your ideal reader connect with you even more.
Don't forget to share your biggest life and business ah-ha moment and what inspired you to create your business or blog (make them laugh, cry, or get mad).
This is the long-winded part. The part where your writing gets to shine. But, it doesn't need to be 5 paragraphs. Just remember that this is why they clicked on the 'about' page. To get to know more about you.
Consider adding things like:
How'd You Get Started In _____? And How'd You Get To Where You Are Today?
What Is The Most Creative Way That Someone Has Used Your Product?
What Is The Best Part Of What You Do?
What Is Your Bucket List?
What's Your Motto For Life?
If You Could Invite 3 People To Dinner, Who Would You Invite? And Why? What Would You Talk About
What Are Your Go-To Apps for ___?
What Is Your Favorite Memory?
What Is The Best Gift You've Ever Received?
Tell and ask your audience What's On Your Current Playlist And What Does Your Playlist Say About You?
You get the idea, be personable and have some fun with this.
Lastly, add a call to action, get your reader to do something!
Last but not least, you need to create a call to action. For example "Want my best photography advice each week? Subscribe to my newsletter! You'll get a free PDF with our top ten photography tips, too!"
Here's a fun template you can use to fill-in-the-blank: "What might it look like to ______ this week? Here's the thing. if you haven't already subscribed __________ you're missing out on _______ for_________!  The best thing? _________! _______ awaits you on the other site! Just click here to sign up and I'll be sending you ______."
Give them something you want them to read, download or subscribe to. If you've done your job right and made them have the "feels" then you're reader is naturally going to want to follow your direction and "read more" or get to the next step.