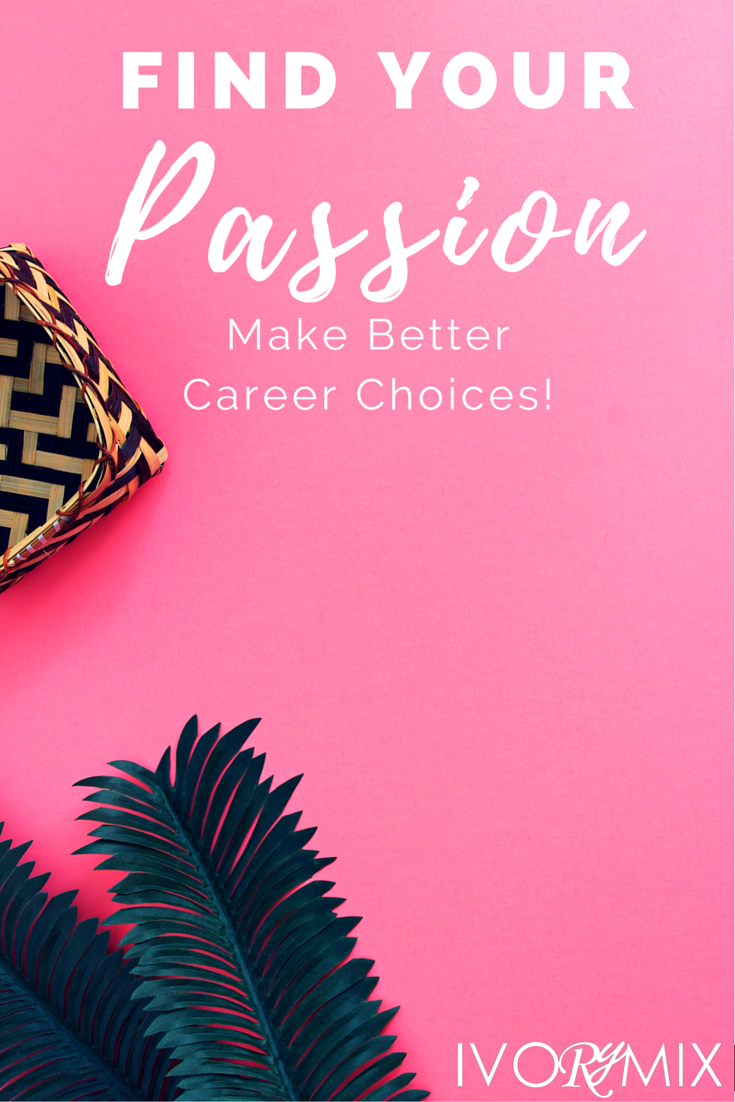 Creative people are everywhere and chances are that you are one of them. When I say creative, I mean that you enjoy dabbling in the creation of things that delight you. It could be that you enjoy writing, sketching, or simply that you enjoy organization and managing projects. Having something in your hands and in front of you that you and only you dreamt up can might make your heart beat a little faster and bring a rosy glow to your radiant face. but..
Does creativity equal passion?
" Are my creative hobbies  my passion?" Nope. Don't worry – this happens a lot. It's possible you have started thinking about making a career change and are looking at your hobbies as a possible start. You may not have thought about this before now so it's understandable that you might think that hobby of yours is your passion. Many people think creativity and passion are the same thing – that they go hand in hand. That's false. Passion, in its essence it is something you can barely control. It comes from a deep place filled with strong emotions. I don't think you get emotional over quilting, just a guess.
As an example, I started out as a child making art of all kinds because I was creative. Turns out though, I just wanted to learn about things, I was curious. Passionately curious. So much so that I drew them, sculpted them, and turned them upside down and painted them purple. I was called the "artsy one" but that wasn't it. They missed the mark. You see, as I grew older I began to realize this creativity and art wasn't necessarily my passion and wasn't going to leave me fulfilled forever. My art and creativity was actually kind of like science experiments. I ended up leaving art behind. Painting and sketching  – oh – those were dead to me (well sort of). I ended up seeking out a DESIGN career. This was where I could examine a problem and solve it with my creations. THIS – YES! THIS was my passion. DESIGN. Once I discovered what it was that filled me with emotion at 15 / 16 years old, I stayed up late into the night sweating over my projects. Moving furniture around in my room all night long..
When career planning, feel empowered to make it all about your passion:
I ended up with a degree in Interior Design and then another in Business, worked my way up a corporate ladder and have managed various levels of multimillion dollar Real Estate Development projects across the United States for high profile clients in places and buildings you know and some you don't. In fact, I'm still doing that (for now), but recently, I've come to another cross roads. My passion has started to dim in this "career" because I feel I've done what I can and have received what I've needed up until this point in my life. (Sound familiar?) I just don't know if I want to settle for what's ahead. I see a corner office overseeing others who create with their passion and that sounds like it sucks! Can you blame me?
So, I started this blog as a way to rediscover the roots of my passion, share my creativity and seek my once found fulfillment. I'm looking for that sweet spot again. The intersection where creativity and passion meet. Where they cross is where I am headed. If this sounds like you at all, keep reading..
"Our deepest fear is not that we are inadequate. Our deepest fear is that we are powerful beyond measure," Quote from Marianne Williamson
I love the quote above because it's true for so many people. When you feel powerless you tend to stop movement in any direction. Don't let fear of failure stop you. Failing means you're trying. Not every passion will equal a viable career option, but there are things out there that make sense. Until you try them, you'll never know.
When career planning, start with where you've been and where you are now to see where you're going:
If you don't feel powerful or haven't found your passion, we need to start the process – NOW. First and foremost, you must realize and trust that you are DAMN good at something and there will be people who find value in it and actually pay you to do it.  It may take some guidance to find that something, but the best place to start is now. If you're a blogger who hasn't found their niche yet, this exercise will be good for you (download the worksheet)
Make two lists:
List #1: Write down things you enjoy doing (as many as you can). Be as specific as possible and remember what you used to do that you stopped because of lack of time or resources (painting, organizing, cooking, writing, body building, volunteering)
List #2: Write down what other people have asked you to do for them or what people pay you to do – your day job for instance. (as many as you can. You don't have to necessarily enjoy these things, but you might and that's great)
Now, find the common items between the List #1 and List #2 and circle those common items. Now, cross anything left that is not circled in List #2.
Congrats! These circled items left over are your passions and one or more of these might make a great blog niche for you! You now know exactly what you are all about. So, now what? Now it's time to hone your skills, practice, become fully engaged in your passion, find learning experiences, find out if its just a hobby or if you could turn this into a full time gig.

Engage and find your purpose:
Enroll yourself in a class and learn more
Find a group on facebook or in your community that is into the same thing
Search for people on social media and the internet who have turned your same passion into a business and follow them, learn from what they've done.
Consider reaching out to one or more of those people specifically for advice
Make time for your passion as many days of the week as you can
Start taking notes mentally or on paper about how you feel when you are doing these things (start a journal)

Are you being fulfilled by what your doing?
Is this naturally taking a front seat on your list of daily to-do's because you're simply addicted to it?
If you find that you are losing track of time and staying up late and getting up early, you just may have found your passion of all passions. Fully engaging in your "thing" will feel almost effortless. It comes natural and the learning process is easy because you suddenly feel like a sponge and a glut for information on your topic. If this is you, then you can move on to the next step. If not, start at the top with another item and go through the process again until you've found it.
Turning your passion into your career:
Start looking for people and places that will pay you for your time while you do this passion (this means network anywhere you can online and in person too)

Write an Ebook to sell on your topic
Start a consulting website / blog
Offer your services to friends and family first and let the word start to spread
Start selling products of yours on Etsy, ebay, amazon, community craft fairs

Don't stop learning and growing. Change is good and staying up-to-date on all things related will make you a pro at what you do.
Lastly, stop doing things that you crossed out on list #2. If it doesn't bring you happiness  – stop doing it, even if people pay you for it.
No amount of money will bring back a second of your time. So don't waste your time.
You need to recognize that although you are good at things that make you money, you don't need to waste your time doing them. Be clear about your objectives and don't let anyone or anything take advantage of your time.
An inspiring list of people who turned passion into their career:
Need ideas and inspiration? Here are some examples of people who have successfully turned their passion into a career that they masterfully crafted just for themselves. There is one common thread you should remember with these example people. Turning passion into a career takes hard work and dedication to yourself. If you truly want to live a life of passion and BE YOURSELF, you will need to work hard and don't stop.
Sophia Amoruso is the 30ish something founder of NastyGal.com who wrote GIRLBOSS. Read more about her and her story here
Les Brown is a motivational speaker who came from being told he was "mentally retarted". He gives me drive on bad days, read more about him here.
Karen Walrond is a former engineer turned speaker, author, and photographer. She's an inspiration that you can read more about here.