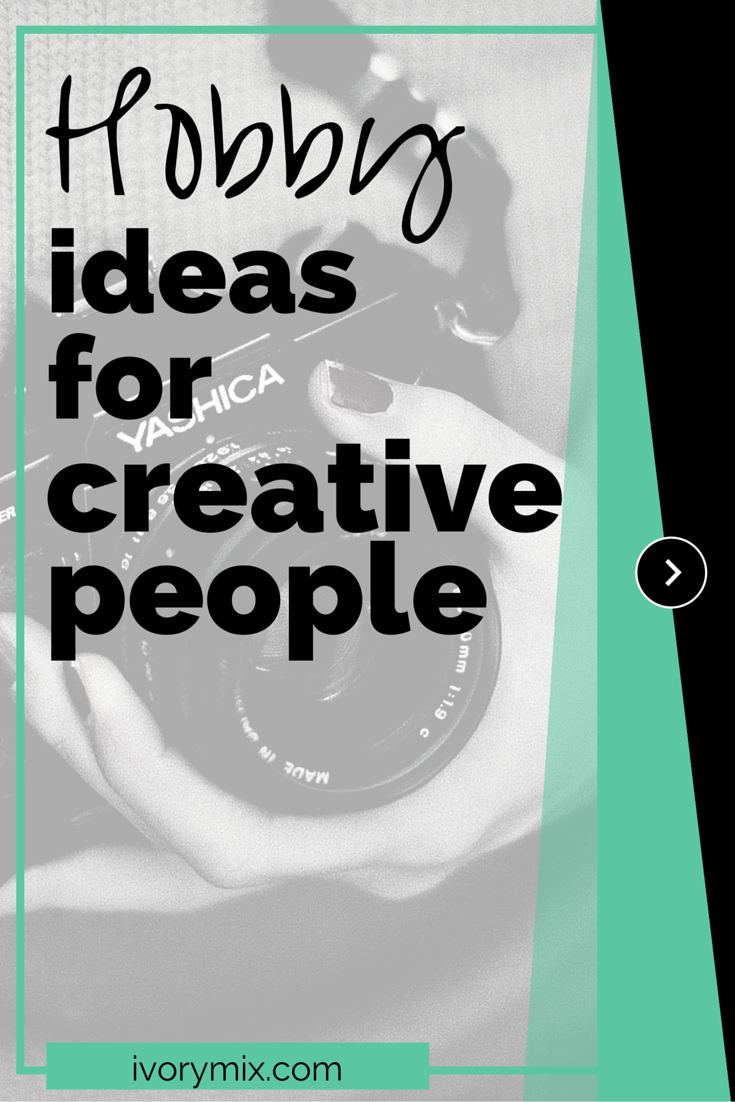 You know people who have hobbies that consume almost all of their spare time? The ones that accomplish so much that it makes you wonder how they got into it in the first place, where did they get their passion, and why do they keep doing it? The knitters who seem to bleed yard, the painters with permanent paint under their figure nails, the marathon runners always icing an injury or always managing to eat more at breakfast than you can all day. The examples of die hard hobbiers goes on and on, but you know the ones I'm talking about. I've always been a hobbier, and I can be a die hard too, but I get bored sometimes. Once I accomplish what I set out to do, I move on to the next new thing to try and just can't muster up the same amount of long term passion for some hobbies as others. Sound familiar?
A hobby doesn't need to be something terribly complex or time consuming, and it doesn't need to be a long term commitment or a badge of honor you wear. It could be as easy as reading books or baking cakes when your inspired. The one thing creative hobbies can always be is an investment in YOU and your dreams. A hobby has a way of helping you focus and become a better version of yourself when you're not hobbying. Here's a list of hobby ideas you may not of thought of and some you may already know intimately.
Hobby Ideas:
Knitting
candle making
scrapbooking
card making
Sewing,
crocheting
Upcycling
quilting,
Poetry, fiction writing, non-fiction writing,
blogging (Here is a good place to start)
calligraphy
Family history mapping
Reading
Model making
Wreath Making (I was inspired to make one)
Painting
Sketching
Metal working and welding
Wood working and whittling
Cooking
Running races
Body Building
Snorkeling
Skiing / Snowboarding
Hiking
Dancing
Karate
Juggling
Camping
Bird Watching
Gardening
Panning for gold
Clay sculpting
paper art, origami, and paper mache
Collections and collecting
Photography
Graphic Arts
Home brewing
Horse riding
DIY crafts
Kayaking, boating, swimming
Jewelry making
If you're having a hard time picking one from the hobby ideas or describing what your current hobbies are, you may not be giving yourself enough "me" time. Hobbies are important – die hard or not. Please remember that one important role you play in life is being YOU. Think about it as you tell someone who you are  when you say, "I'm a mom, an web developer, a wife, a volunteer". Yes, those are things that could make up who you are, and great things too because you're giving back to those you care about. BUT, of those things, what do you do strictly for YOURSELF and that is it? If you're struggling with this, you may want to take a second to examine how you spend your time and how you invest in being YOU for you and nothing but you. Are you giving too much of yourself to others that you have no more time left for hobbies and reflection? Stop that. Here are five key reasons why you need a hobby and should start thinking of hobby ideas – like now.
A hobby brings happiness and energy to your life. Don't pick a hobby you don't love and don't pick something you think you should be doing because it's "good for your career". Do something you are passionate about and that you'll look forward to. Maybe it's as simple as painting your toe nails a different color every few days or going for long walks, or maybe you're an Lawyer by day and artist by night. It doesn't matter how simple, complex, or out of the ordinary it is. You've just got to do it.
A hobby allows you to take a break from the regular everyday demands of life and your "day job". You may love your day job and may have even turned a hobby into a day job, but again I must press that this is an investment in you and your creativity. You can't have and be all those other things you want out of life(even the tings you love and want most) without taking some time to prevent your own eventual burnout. We can burnout on things we love doing. Trust me.
A hobby helps you grow as a person and you'll find yourself learning new things (plus ways to help others too). As a person devoted to yourself and your passions, you'll find yourself getting bored with your hobby if you don't change it up once in a while. You and your passions will continue on an upward path towards happiness while you change and tweak how you spend your hobby time. In the process, you're going to learn new things and grow as a person with a side hobby that may also help others someday too (like knitting scarfs for Christmas donations).
A hobby may help you meet new people with similar interests, which feeds a personal need. Friendships and camaraderie are important to creative self development. So, if you're struggling with the concept of all this alone time while you hobby, I would definitely seek out hobby groups, Facebook groups, forums, and similar groups so that you can feed that essential need for friends and togetherness.
It might even become a second career option for you. If you haven't already done so and made your hobby into your career, but this interests you, there happen to be a ton of people who have made a career out of their passions and hobbies. With the right timing and focus, it can be done, but sometimes – you just shouldn't ruin a good thing. A career option from your hobby might not be a good fit, but if you're in a dead end job and are completely unhappy with your work, a hobby could be a great way to explore your talents, keep you motivated and send you on a new career path and discovering YOU. 
Share some ideas for other hobbies in the comments if you like! – I'd love to hear what you're up to that's just for YOU.
<