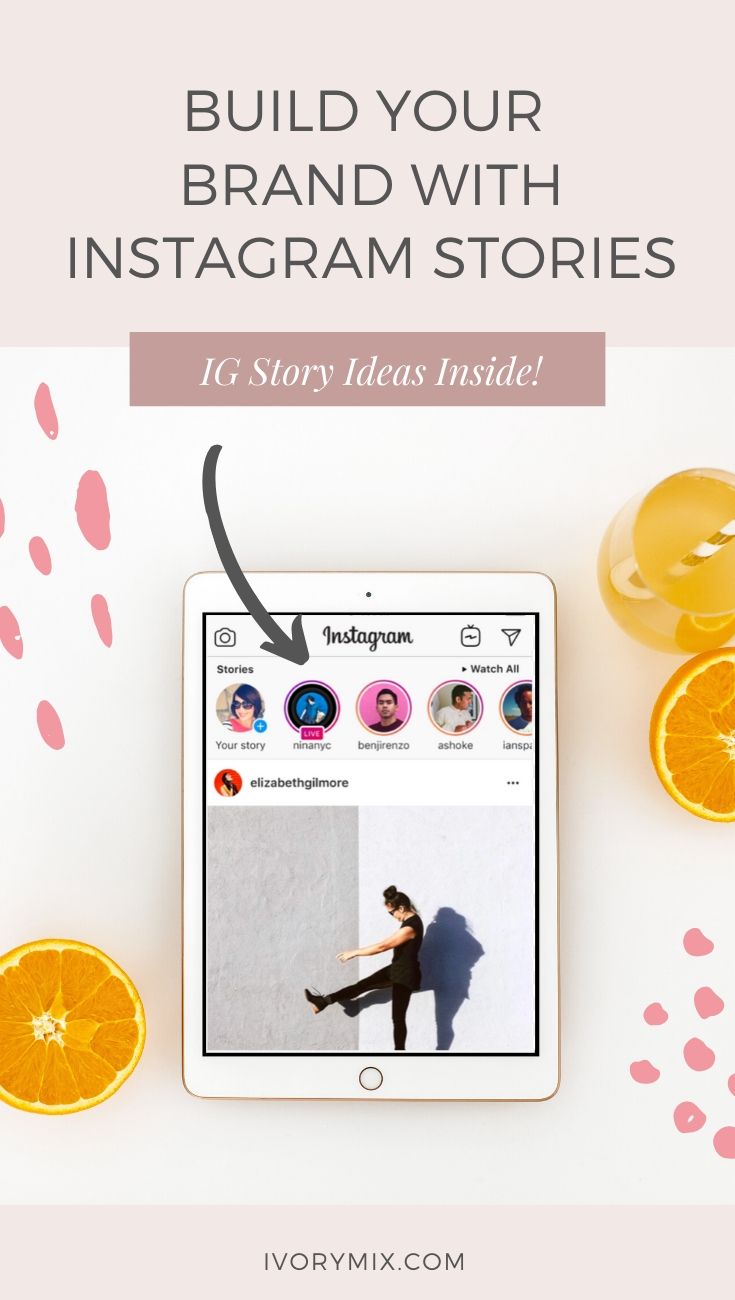 Are you ready to harness the power of Instagram to build your biz empire? 
Instagram is quickly becoming the most important social media app for business owners to master. Especially for brands with a visual component, this social platform has the potential to skyrocket your customer engagement and introduce your biz to the masses. 
With 46% of all engagement on Instagram coming through stories and 400 million users daily watching stories, having an Instagram story strategy is key for growing your business, building an audience, and increasing your revenue.
If you haven't realized the potential business boost Instagram can give your brand, I'm here to walk you through the steps to take your Instagram game from drab to fab.
New to Instagram? Get my free ebook and training and start growing your new Instagram account for business.
Instagram Stories
This crazy powerful feature of Instagram can be found front and center at the top of the user's screen. Instagram stories are the first thing your audience sees when they open the app, and business owners are brilliantly using them to stay visible to their audience. 
Here today and gone tomorrow. Instagram stories are essentially a disappearing montage of photos and videos that are only seen for 24 hours. This makes them perfect for sharing quick, timely bits of information and insights. 
Because they're fast-moving and consumed quickly, the number one goal of a story is to capture a viewer's attention in an instant. If you fail to draw them in, the viewer can simply click to the next story in the lineup, and you've lost the opportunity to connect with them at that moment.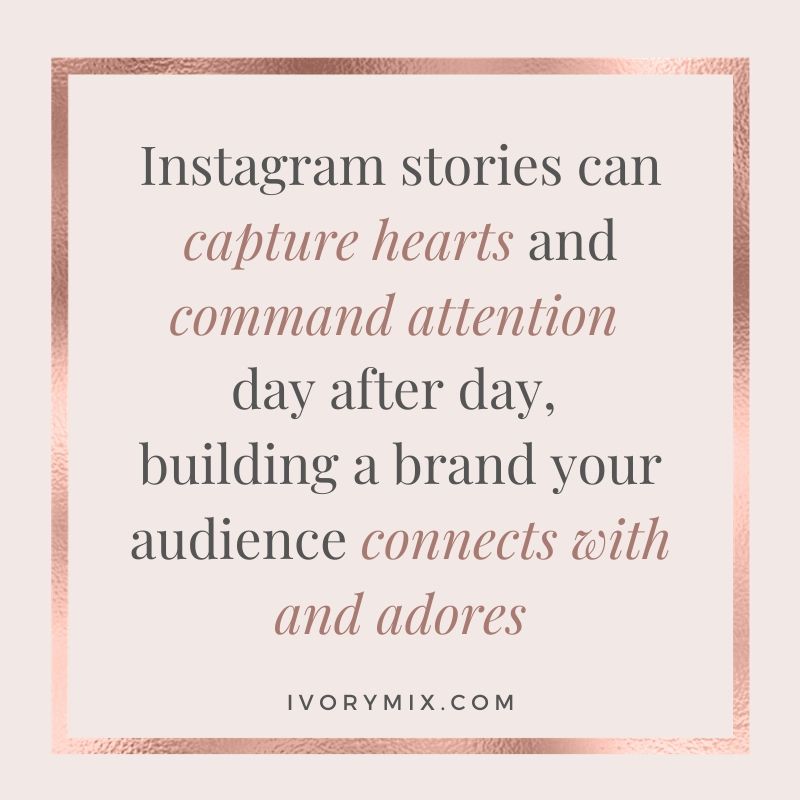 So how can my brand create Instagram stories that glue eyeballs to the screen?
By maximizing the use of key features and staying on brand, your stories can capture hearts and command attention day after day, building a brand your audience connects with and adores.
How to Create an Instagram Story
First things first, before jumping into Instagram Stories and all its advanced features, take time to create your Instagram story strategy. Make sure you're using this feature to promote your brand and build your business effectively. If you're still forming a plan, hop over and read the 5 WAYS AN INSTAGRAM STORY STRATEGY CAN GROW YOUR FOLLOWERS.
To create a story, click the 'add to story' icon from either your main feed or your profile page. This action will open up the story creation screen where you can add features such as filters, boomerang, and other functions to show off your personality and brand vibe. Key elements include:
Images.

Choose images that will grab attention by clicking the tiny square on the lower left-hand corner. 

Text.

Dress up your images by adding text! Create visual interest by changing the color, font, size, and even adding text-shadow. 

Music.

Give your stories a multi-sensory appeal with music! First, create the story, then tap the sticker icon (the smiling square). Click on the music icon, browse for a song, and choose the portion of the song you would like to share. This is a great way to communicate your mood or build excitement. 

Stickers.

On the screen where you found the music icon, you'll also find other icons to add interest to your story. Use these stickers to mention Instagram users, highlight your location, ask a question, add a hashtag, offer a challenge, or add a countdown, poll, or gif.

Boomerang.

A boomerang is a fun, animated gif you can make yourself. This feature captures images and loops them over and over to create a moving picture. Make one by sliding the menu on your story screen along the bottom of your screen to Boomerang. Then tap the button with the infinity symbol, and your camera will instantly begin to click away! Capture a short, smooth action like a jump, a wink, or a tilt of the head.

Face Filters.

That's right, those cute bunny faces you see in your 12-year-old's stories? They are free game to use in your own Instagram stories! If you think your audience would benefit from seeing your silly side, try a few filters on for size.

Video.

This is one of the most effective elements to use in your story. Your audience wants to see your face and connect with you, and videos are a powerful way to accomplish that. Several apps exist for editing videos, including these two favs:

Mojo

is an

app on apple and google play that helps you create vertical storytelling videos. It offers several templates to help you make engaging and visually-appealing stories.
Tezza

makes your Instastories pop with vintage filters that create drool-worthy aesthetics for videos and images.

Posts.

Since stories tend to get more love than the regular Instagram feed, double your impact by sharing your posts in your stories. You can also share other people's posts that would resonate with your audience. Simply open the post, tap the paper airplane icon, and select "add post to your story."
Add Stickers, polls, or questions to your stories to keep followers engaged, but also for market research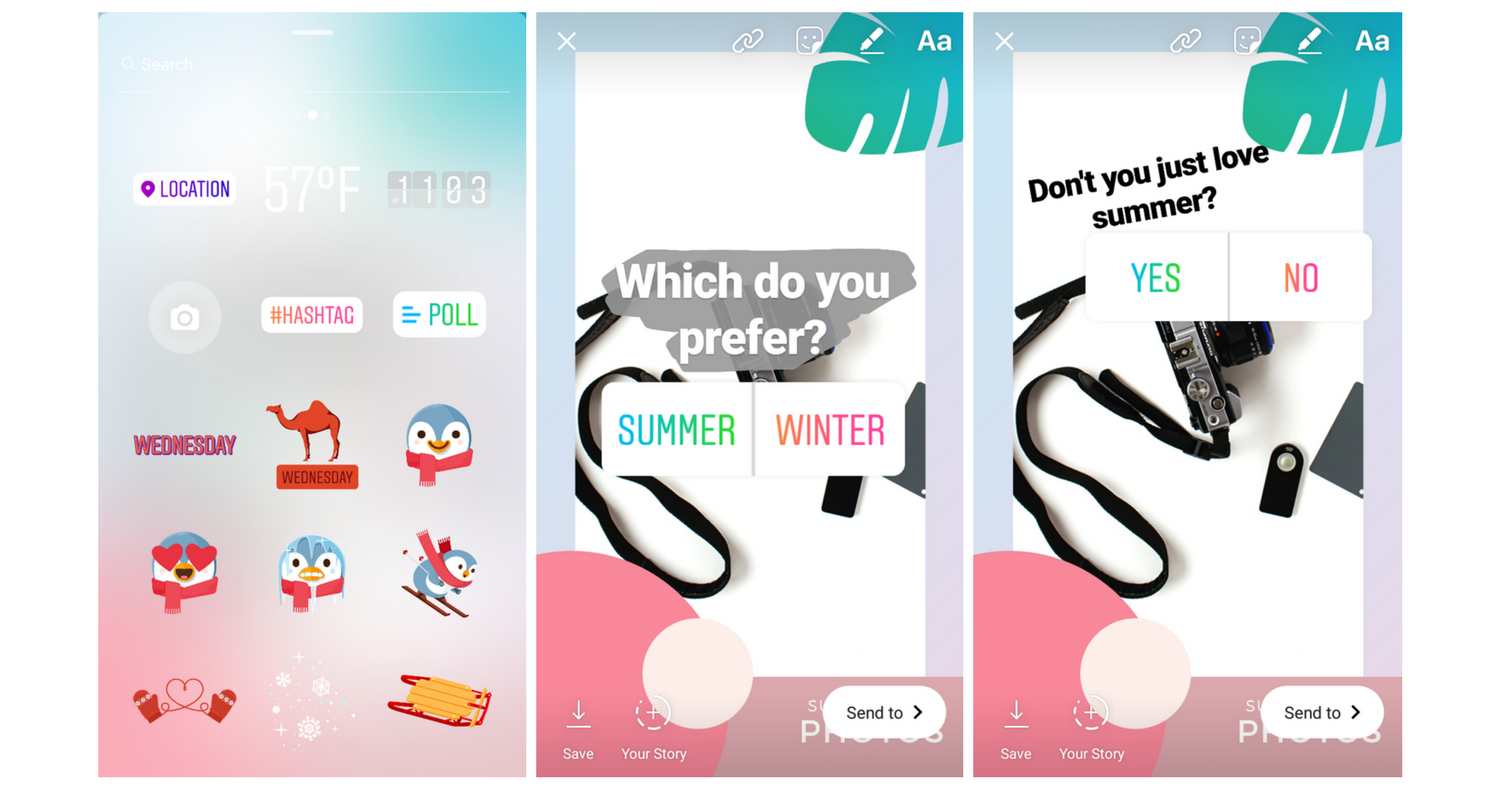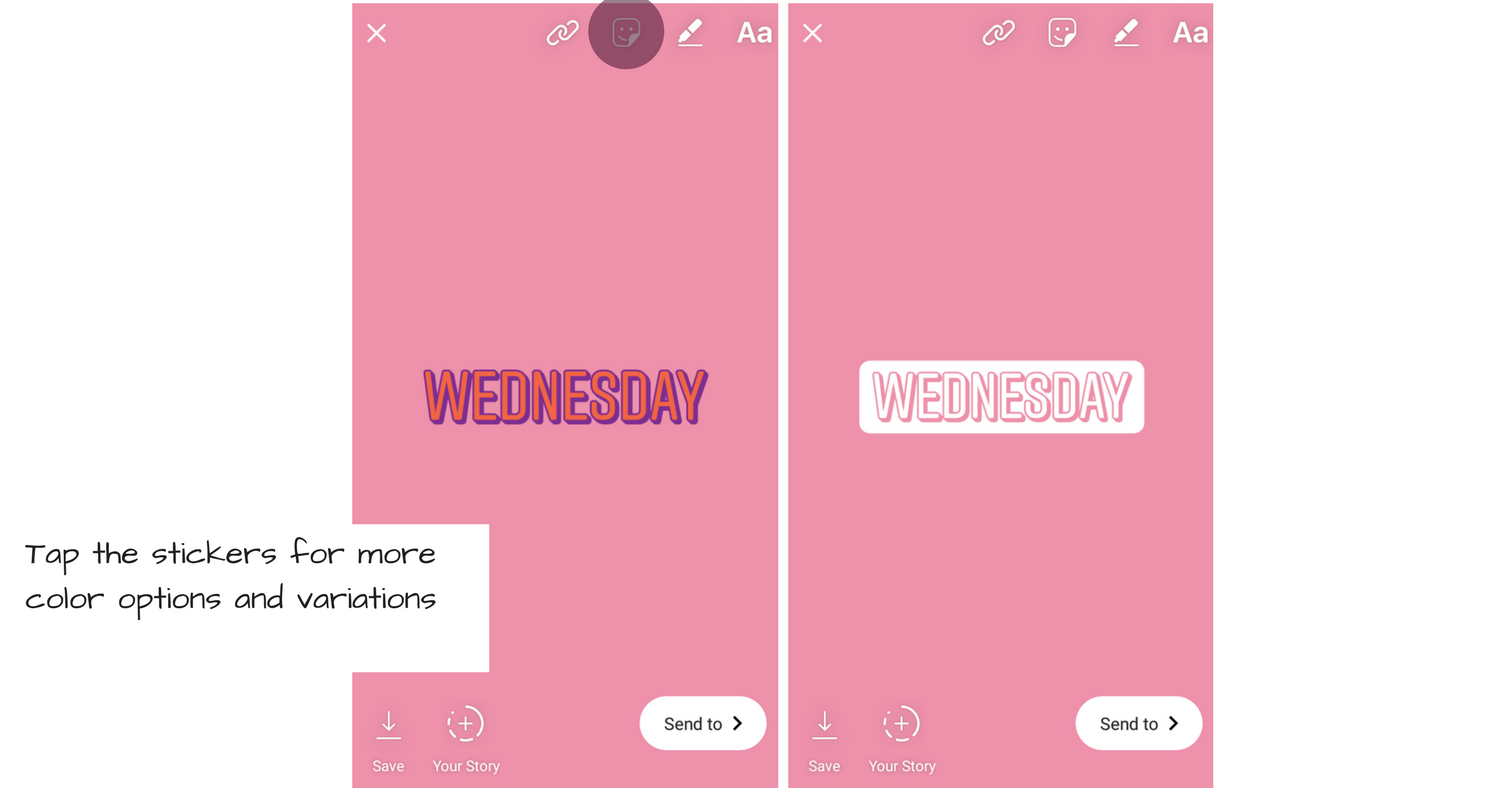 Add text to your Instagram stories to make it clear what your image is about. The style of the text can be changed depending on brand or readability.
Text can be layered to create a depth effect.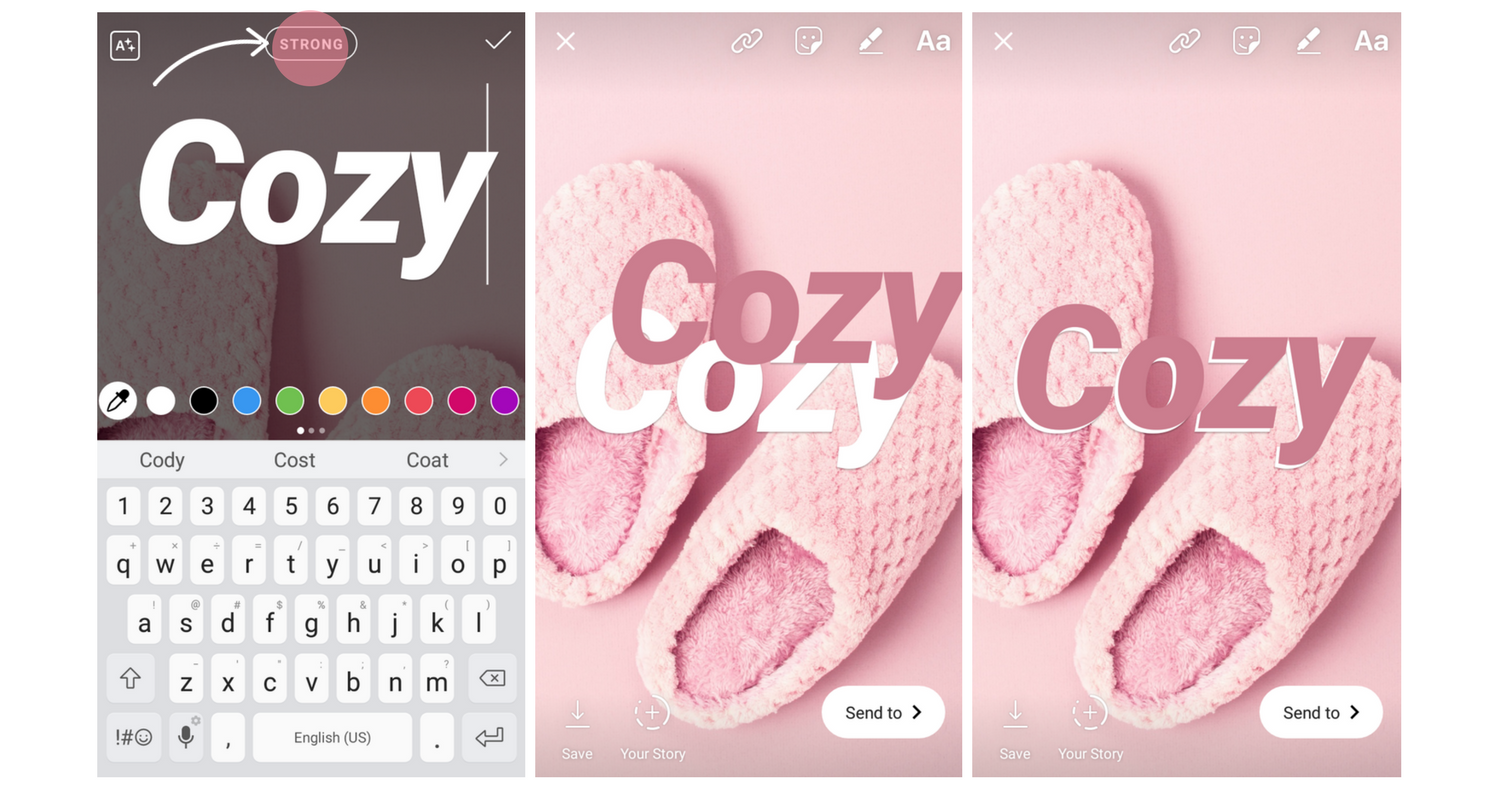 Create multicolored text on your Instagram stories
Want to create some negative space on an image or colour the background of your story post to be a certain color, simply select which effect you would like, blocked or partially transparent and your color to get the desired look.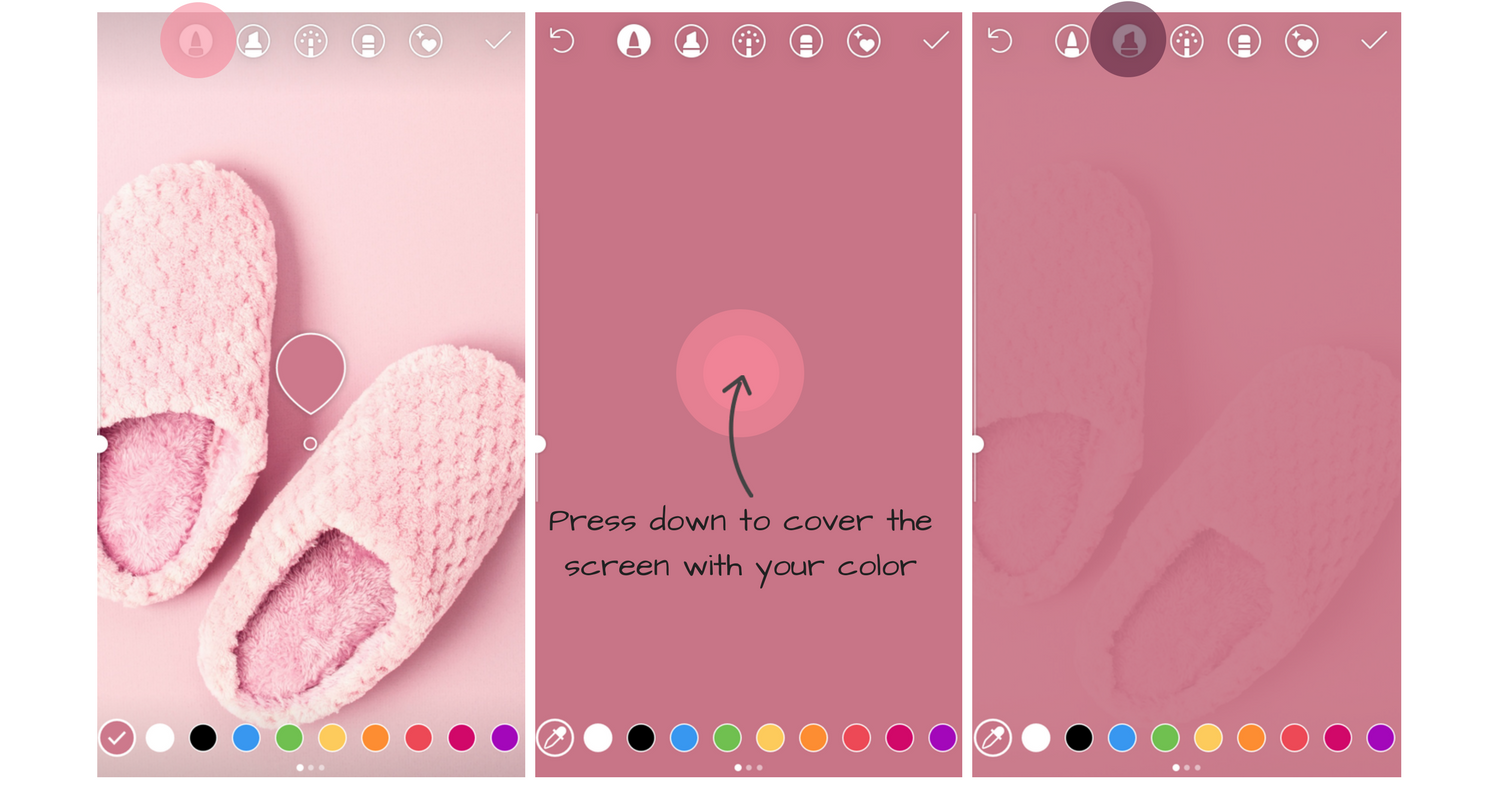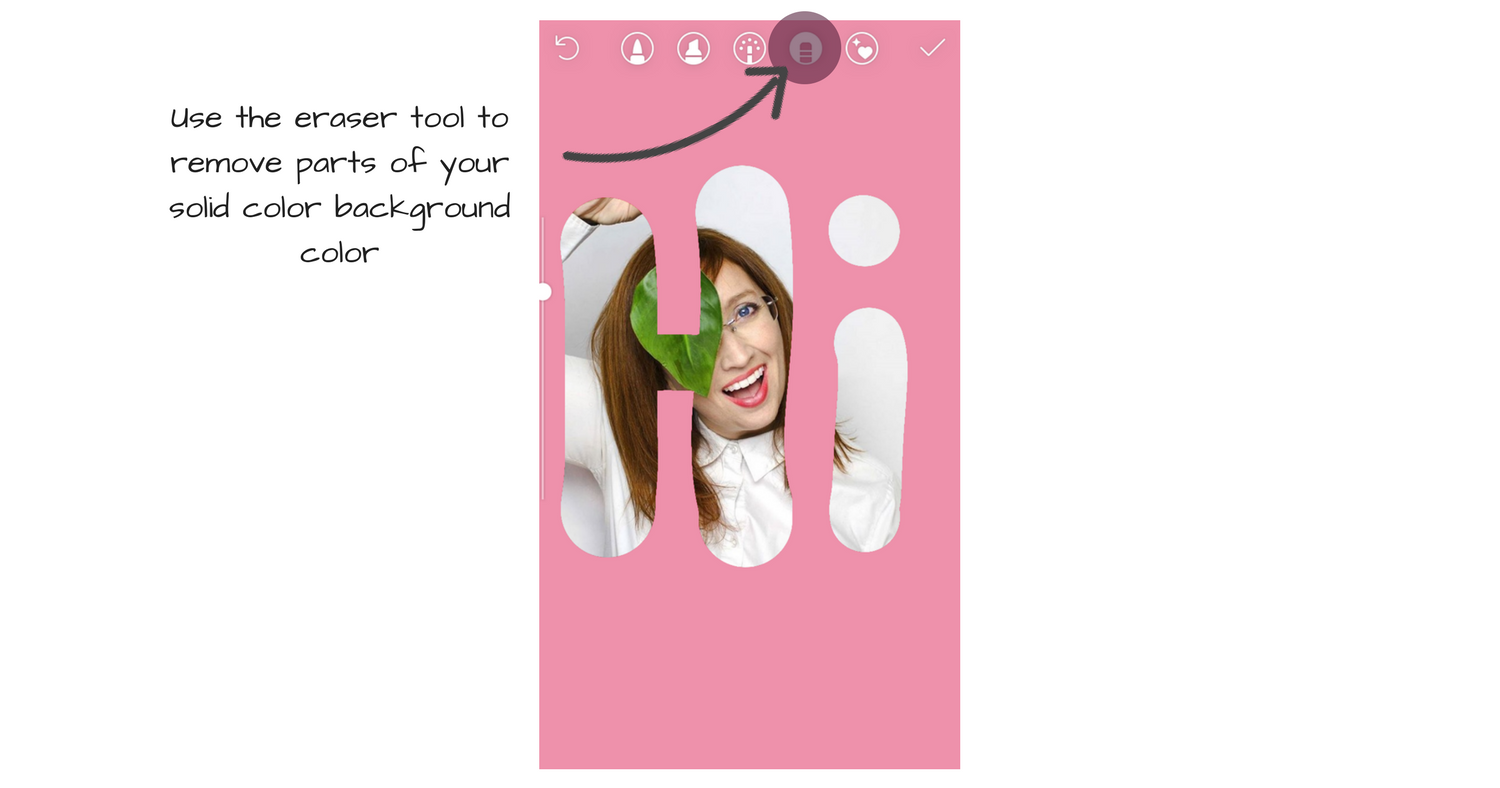 Use Templates for an Easier Way to Create On-Brand Instagram Stories
If you're not careful, Instagram Stories can get messy. But, you can avoid the chaos and mess and create amazing and one-of-a-kind Instagram stories using Canva's collection of free templates and incredible library of graphics, text, and animations.
Click here to try Canva's Instagram Story Templates – always free where you can design custom Instagram stories in 5 minutes.

Need a Template for Video Instagram Stories? Easy! Watch this tutorial using Canva:
What type of content should we be sharing in our Instagram stories?
As snazzy as these features may be, without relevant content to back them up, these elements will just clutter up your audience's stories with little results.
Stories are best used for quick tips, behind-the-scenes views, and sneak-peaks. You can use them as teasers to promote your Instagram posts or create a string of stories to share big-brand news. Just remember, the point is to engage your audience, so make them fun and interactive! Here are some ideas
15 Content Ideas for your Instagram Stories:
Share Tips & Mistakes to Avoid in your niche

Share a step-by-step tutorial
Share a video mini-training
Ask questions and do polls
Share client testimonials
Ask for specific feedback via direct message
Promote contests and giveaways
Share your location and images/videos of that location
Go live to give a training
Go live to share a story
Tease your audience about an upcoming announcement
Create a storyline that follows you on a journey
Share a countdown to an anticipated event
Ask what content your audience would like to see from you
Promote a new or epic blog post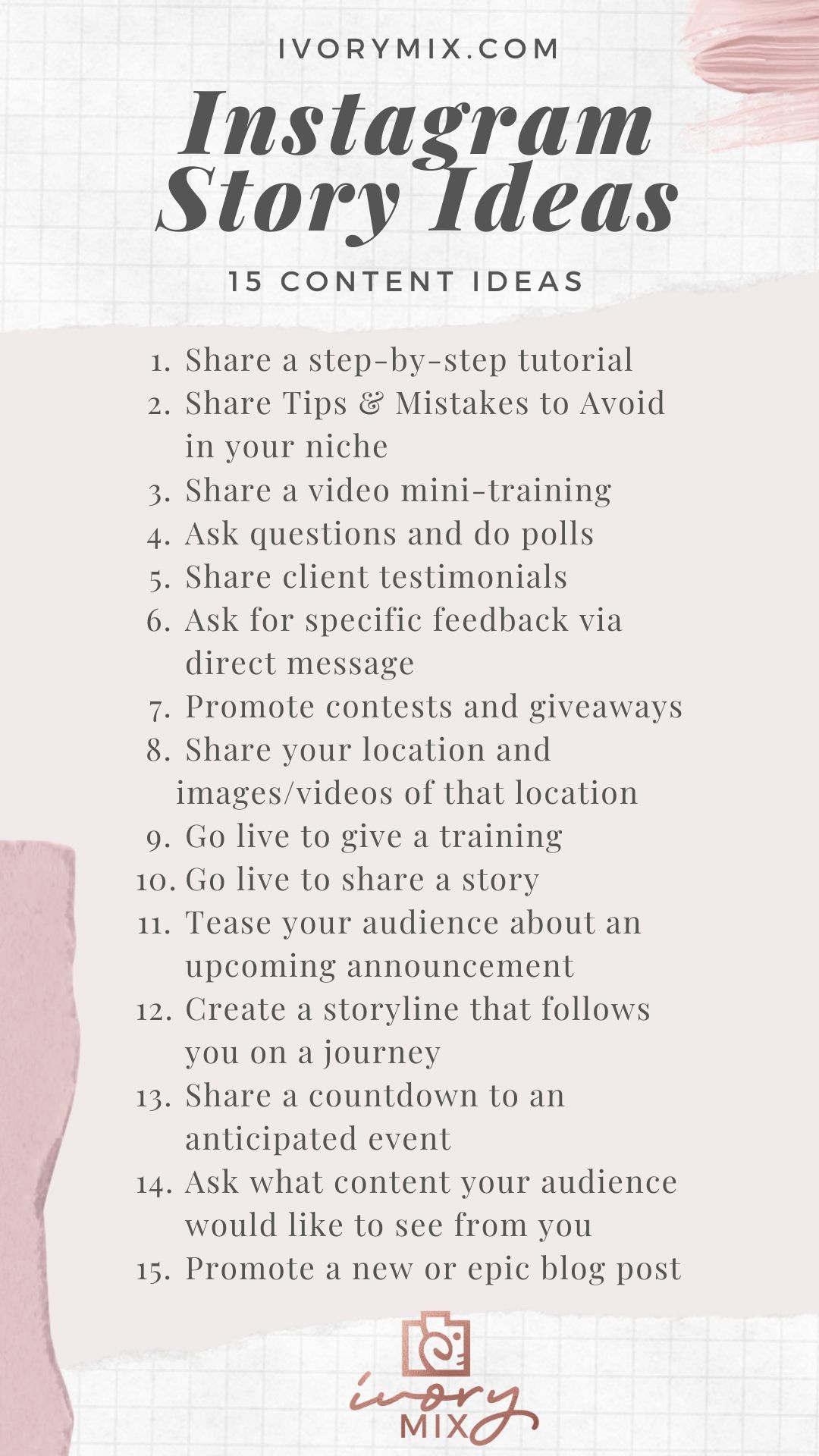 Words of Wisdom. Don't go overboard with stories — a good rule of thumb is to post 4-5 at a time. Try not to fill up your reel with a zillion stories, or your efforts will backfire and cause people to click through quickly, missing important updates.  My motto is, the dashes should never become dots when it comes to posting on Instagram stories. 
Also, keep in mind that stories cannot be arranged in any particular order. They will appear in the order you posted, so post with a plan!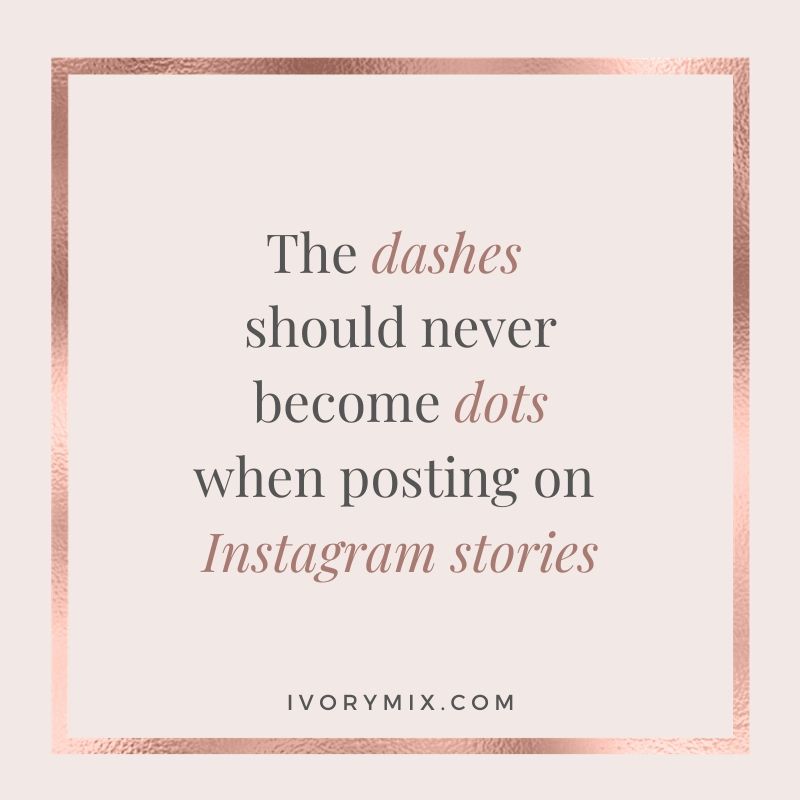 Create Your Core Instagram Highlights
An Instagram Highlight is a saved group of Instagram stories. These stories are bundled and placed in a highlight reel on your profile page. Unlike stories, highlights are permanent and won't disappear unless you delete them.
Don't be tempted to push ALL of your story content into your highlights. Instead, you'll want to be selective and strategic when choosing what makes the cut. 
Share content and information that's evergreen and adds value to your audience. This may include :
Highlight Idea #1: Showcasing your services and products
Having a highlight reel that showcases how people can work with you saves them leaving your Instagram account to find out how to work with you. Think of this highlight reel as the 'services' page on your website, and include the transformation you provide to your clients. The easier it is for people to see what services you offer the better, as this helps shorten the buying process.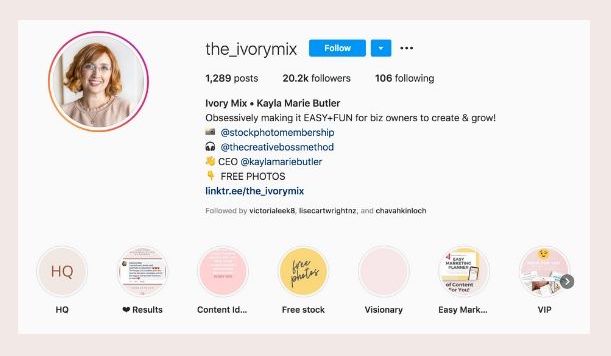 Highlight Idea #2: Introducing yourself/sharing your bio
Make this highlight reel like the 'about me' section on your website, share your story of why you started your business, your passions and your expertise.
Highlight Idea #3: Sharing client testimonials, results and transformations
One of the must-haves when it comes to highlight reels. It's important that when someone lands on your Instagram account that they can see the type of results you achieve for clients, and what your clients say about working with you. This instantly shows profile visitors what they can expect from working with you. Be sure to update this section regularly, as results help you close sales.
Highlight Idea #4: Offering your freebies
Creating a highlight reel for your freebies is a quick way to showcase the different freebies you offer yo your audience, you can easily showcase the benefits of downloading your freebie and whats included. This is an easy way to grow your list as you gain new followers. Remember to add a link to your bio if you don't have the swipe up feature.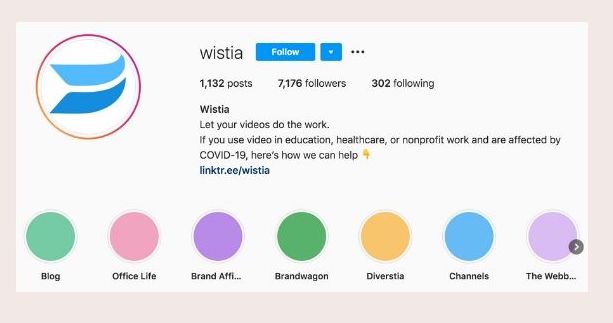 Highlight Idea #5: Promoting events
If you are hosting any events or going to any events, create a highlight reel to document your event. People love to see the behind the scenes of what you are doing in your business and the events you are hosting or attending.
Highlight Idea #6: Adding value with mini trainings
Mini- trainings are a quick way to showcase your expertise and show up as an authority in your niche. Create quick, informative, and action taking training to your audience, giving them some quick wins to implement in order to get results in their business. This quickly build the know, like, and trust factor.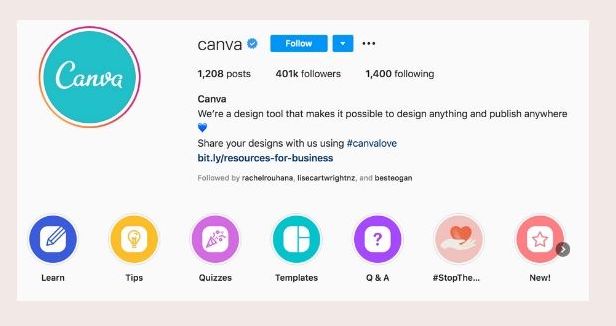 Not sure what to give a mini-training on?
For example, if your brand is about growing your business on Pinterest, you can host a quick tutorial on how to track the metrics in Pinterest e.g. how to see which pins have had the most repins, and click-throughs to a website.
When deciding what to have on your highlight reel the most important thing is to keep your highlights packed with value and to keep your overall brand mission in mind. 
How to Create an Instagram Highlight 
Highlights must be shared to your stories first — you cannot skip this step. If you have Instagram stories that have already expired, you can:
Open your profile

Tap the "new" circle with the + symbol located just under the edit profile bar

Select which stories you would like to feature in your Highlight

Name your Highlight

Tap done!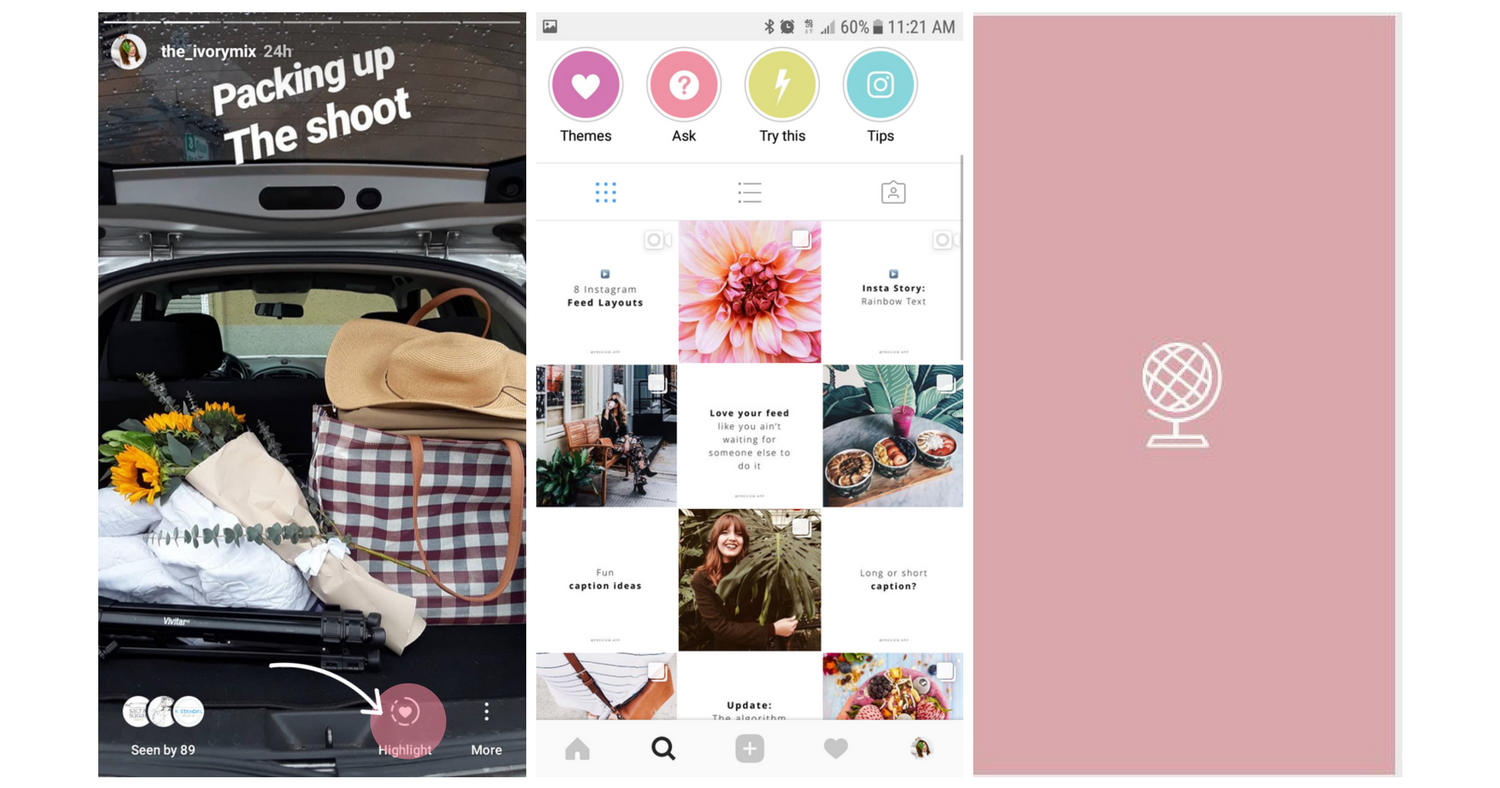 If you want to add a current story to a Highlight, simply click on the story, tap the highlight button (the one with the heart) located in the lower right portion of the screen, and either add it to an existing highlight or create a new one and name it — easy peasy!
A quick heads up —  for a story to be eligible to be added to your Highlights, it must have survived the entire 24-hour story cycle. This means you can't add a story, delete it, and then add it to your highlights. 
Branding Your Instagram Highlights
Customizing your Highlights by creating on-brand covers is the newest way to add brand consistency to your Instagram profile.
Click on the Highlight you would like to edit

Select 'more' in the bottom right corner

Tap edit highlight

Tap edit cover

Select either an already uploaded story as your cover OR tap on the gallery icon to the left to add a new image
As Instagram stories continue to boom in popularity, the opportunity for customer engagement in that arena can mean gold for your business. This marketing tool is one that all business owners should consider utilizing to grow their brand. With unlimited features and functions to explore on the app, the opportunity to create and customize a branded client experience is at your fingertips. 
Canva has some highlight cover templates you can start with that are Free.

Engage with Stories to Start Conversations That Can Make You More Sales
Now you have all the tools to showcases your skills, your personality, and the services or product you offer – its now time to start utilizing stories to help you make more money and sell more in your business.
Instagram stories are the EASIEST way to slide into your ideal clients DMs without being creepy, pushy, or just sending out cold messages.
How do I slide into my ideal clients DM's to make more sales through stories?
First, be sure to follow your ideal clients on Instagram, and f you don't follow them, start today!
Then, set aside 10 mins a day to check out their stories. See what they are up to in their business, what products they are launching, and if they are struggling with anything.
When appropriate, reply to one of their stories with a comment. Make sure you don't just use the 'quick emoji's', leave a thoughtful comment or question on their stories.
Now you are in their DM's, without sending unsolicited messages which they may ignore. celebration dance.
Can you see how engaging with stories removes the need to send messages like "Hey Hun…" or "Hey Girl, I just saw your profile..". You know which ones I mean because you still get them in your inbox and you always feel that someone is only after the sale.
Start building relationships with your ideal client in their DM's.
Offer advice, help, and build rapport with your ideal client. When you believe its the right time, offer a discovery call, a freebie, or tell them about your new launch or services.
Your ideal client might start looking through your highlight reels, at your customer results, and mini-training showcasing your expertise. So, when you do jump on a sales call or close the sale in the DM's they know you are the right fit for their business, and they will have fewer objections to working with you.
It can be that simple to start selling in your Instagram DM's, using stories as an easy connection point and conversation starter.
LOOKING FOR MORE INSTAGRAM TIPS AND TRICKS? HERE ARE SOME OF OUR FAVORITES:
Click here to honestly and authentically grow your Instagram 

First, make sure you read this blog post about creating 30 days worth of Instagram content here and learn how to create a colorful month of content in as little as 5 minutes.
Plus, check out these Instagram tips: