No matter where you are in your entrepreneurship journey, learning how to define your brand values properly is such an important step — especially if you want to create a brand that stands out and connects with your audience. 
If you've been in the entrepreneurship game for a while, you probably already have some brand values. They may be sitting on a Trello board or in a brand guide somewhere (or, if you're old school like me, on a sticky note in a desk drawer). But, if you can't name those values off the top of your head, and if you're not using them in your ongoing messaging and marketing, you're missing out!
If you're newer to the business world, defining your brand values now is not only going to help you make easier, more heart-centred decisions as you grow, but it's also going to help you build the right community and audience for your business.
Convinced? Awesome. I'm going to show you my 5-step method for defining your brand values, and how to use them in your messaging to drive more connection with your dream buyers.
What are brand values?
Let's start with a bit of a recap on brand values. There are a lot of fancy and complicated definitions out there, but essentially your brand values are the beliefs that your business stands for. These are the beliefs that you refer back to anytime you have to make a difficult decision in your business, maybe even without realizing it. 
For example, your brand values might help you decide which type of clients to work with, or what parts of your business you want to outsource. For example, if one of your values is 'authenticity', you might choose to continue writing your own Instagram captions and interact with your Facebook followers yourself, rather than getting your VA to do it.  
Most importantly, though, your brand values underline the story that you tell your audience about your brand. Your values are going to differentiate you from anybody else out there offering similar products or services and give your audience a way to connect with you on a different level. These beliefs make it easier for someone to buy from you instead of someone else because they relate to you based on your shared values.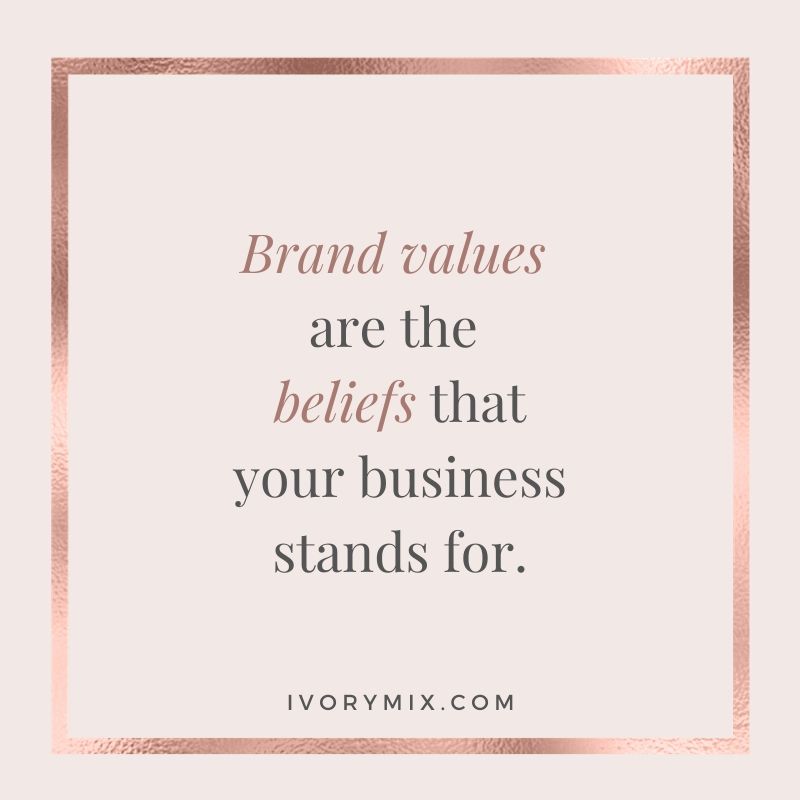 5 STEPS TO DEFINING YOUR BRAND VALUES
"That's all great, Megan… but how do I actually figure out what my brand values are?" Don't worry, I've got you. Defining your brand values takes some soul searching and intentional thinking about the kind of business you want — and that's true whether you're a business newbie or you've been doing this for a while. What does the future look like for you and your business? 
Here are the 5 steps I recommend following when defining your brand values.
1. GET CLEAR ON YOUR PERSONAL VALUES
If you're a solopreneur like me, your brand values and your personal values will have a lot of overlap. After all, you built this business around yourself, the type of life you want, and the people you want to serve — so it makes sense that your brand values be tied to your personal beliefs.
Here are some questions to get you started:
What do you value most in life?

When making a difficult decision, what types of things do you consider?

How do you weigh the pros and cons when making a decision?

What do you think the meaning of life is?

(That's a deep one, I know!)
Make a list of these values and set them aside for now.
2. THINK ABOUT THE EXPERIENCE YOU WANT TO DELIVER
Even though these are your brand values, they're not truly about you in the end. Your brand values need to be tied to the experience or transformation you deliver for your buyers. 
Let's shift gears and think about your clients or customers for a second (or, if you're new to business, the clients or customers you want to have). What kind of service or experience do you want to provide for them? How do you want that experience to make them feel? And what values underline those experiences?
For example, let's say you're a wedding photographer. Maybe it's important to you that your bride and groom feel like the photography was a natural part of their day, and they barely noticed you there with your big camera, snapping away. The brand value that underlines that experience might be harmony, privacy, or balance.
Again, write all of these ideas down and set them aside for now.
3. GO THROUGH A LIST OF BRAND VALUES
I want you to print out a comprehensive list of brand values and speak all of the ones that speak to you. If you don't have a list like that lying around, you can click here to grab the brand value list I created for you.
Don't overthink this exercise, and don't tie yourself to a certain number. Just highlight the values that you feel relate to you, the business you want to have, and the experience you want to deliver. 
If you have a team, you might want to do this exercise with them! Get everyone to circle the values that they feel best to represent your brand and compare notes. Make special note of any commonalities, but also be sure to discuss any major differences. This will help you see where you and your team are on the same page, and where you might need to tweak your messaging and internal systems to better reflect your values.
4. GET SPECIFIC IN DEFINING YOUR BRAND VALUES
I'm going to be honest with you — some brand values are better than others. There are SO many companies out there who use generic values like "excellence", "integrity", "quality", or even "passion". In fact, so many companies use these values that they're basically cliches at this point.
(I mean, I would hope that every brand I interact with values quality, right?!)
Grab the three lists of brand values that you created in steps 1-3 and ask yourself, "Are these brand values as specific as they could be? Do they really speak to the heart of my brand, or could they be used by any [insert what you do here]?"
For example, if you've written down "customer satisfaction" as one of your brand values, I want you to think about what customer satisfaction means to you. Does it mean always responding to customer emails within 24 hours? Maybe your brand value is actually 'speed' or 'dependability'. Does it mean you'll do everything you can to answer someone's question? Your brand value might be 'persistence' or 'understanding'.
Go through each of your lists and scrap anything that sounds too generic. It's going to make step 5 so much easier.
5. CHOOSE 2-4 BRAND VALUES
You probably have a long list of brand values in front of you right now, and that's okay! Your next step is to ruthlessly cut through that list and choose two to four values that most accurately describe your dream business. 
This is hard work, I know, but it's so important. Having any more than four values is going to cause things to be complicated and confusing — both for you and your audience. Not only would it be harder to tell a compelling brand story, because you're trying to share too many messages with your audience, but it's also going to make it harder for you to make value-based, heart-centred decisions.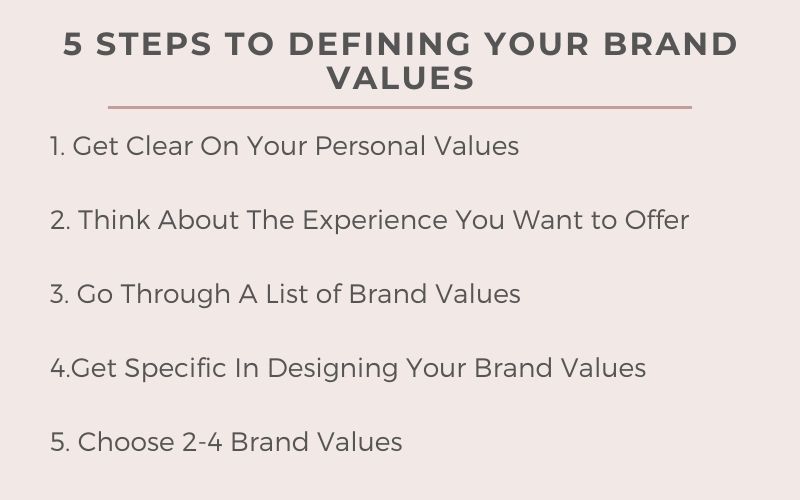 HOW BRAND VALUES INFORM YOUR MESSAGING
Once you've defined those core brand values, it's important to make sure you're using them in your marketing and messaging. After all, your brand values are a fundamental part of your brand story, and the whole point of your brand story is to drive a connection between your business and your audience. So, you need to share them! 
Remember: sharing your values and the more personal sides of your business doesn't have to be a scary thing. People want to buy from people, not businesses. And sharing your values is one of the best ways to show the heart and soul behind your brand.
Here are my tips on how you can start talking about your brand values in your marketing.
ON SOCIAL MEDIA
The next time that you feel stuck on what to share in your next Instagram caption or Facebook post, try talking about the things that are important to you (as a person or brand). 
As you try to decide what parts of your personal story and day-to-day life to share on social media, refer back to your brand values. They can help make that decision SO much easier.
For example, if you decided that one of your brand values is 'knowledge', you can talk about how you build learning into your daily routine. If you value 'freedom', you can talk about what freedom means to you and how you built a freedom-based business.
ON YOUR WEBSITE
I always recommend including your brand values on the about page of your website. All the big corporations do it, so why shouldn't you? You may be a small business, but the impact, reach, and connection you have with your audience is just as important. 
But, don't just simply pop up a bulleted list of your brand values. I want you to give a one to two-line description of what each value means to you.
For example, one of my brand values is purpose, which could mean something different to everyone. So, on my about page, I explain what it means to me: "All actions done with intention, not because some "Top 10" blog post said you should. Strategies guided on best practices yet rooted in your vision, values & goals."
AMONG YOUR TEAM
If you're at a point in your business where you've been able to scale and hire additional team members, don't skip this important step! You want to make sure everyone on your team knows and is fully invested in your brand values. 
Now that doesn't necessarily mean they have to share those values (but it's amazing if they do.) But, they should at least be on the same page as you about your vision and what values underpin it. Especially if they play a role in communicating with your audience — like a copywriter, a graphic designer, or someone who replies to customer emails — this is going to help you build a greater sense of community from the inside out.
Bonus: Work your brand values into your hiring process. Keep them in mind whenever you're hiring someone new for your team, and look for candidates who already align with those core beliefs.
WHAT ARE YOUR BRAND VALUES?
I would love to know what your brand values are and how you use them in your messaging to better connect with your audience. You can let me know in the comments, or connect with me on Instagram @megandawn.taylor. 
And don't forget to grab my list of 200 brand values if you haven't already — it's going to make this whole process a heck of a lot easier. 
Happy connecting, friends!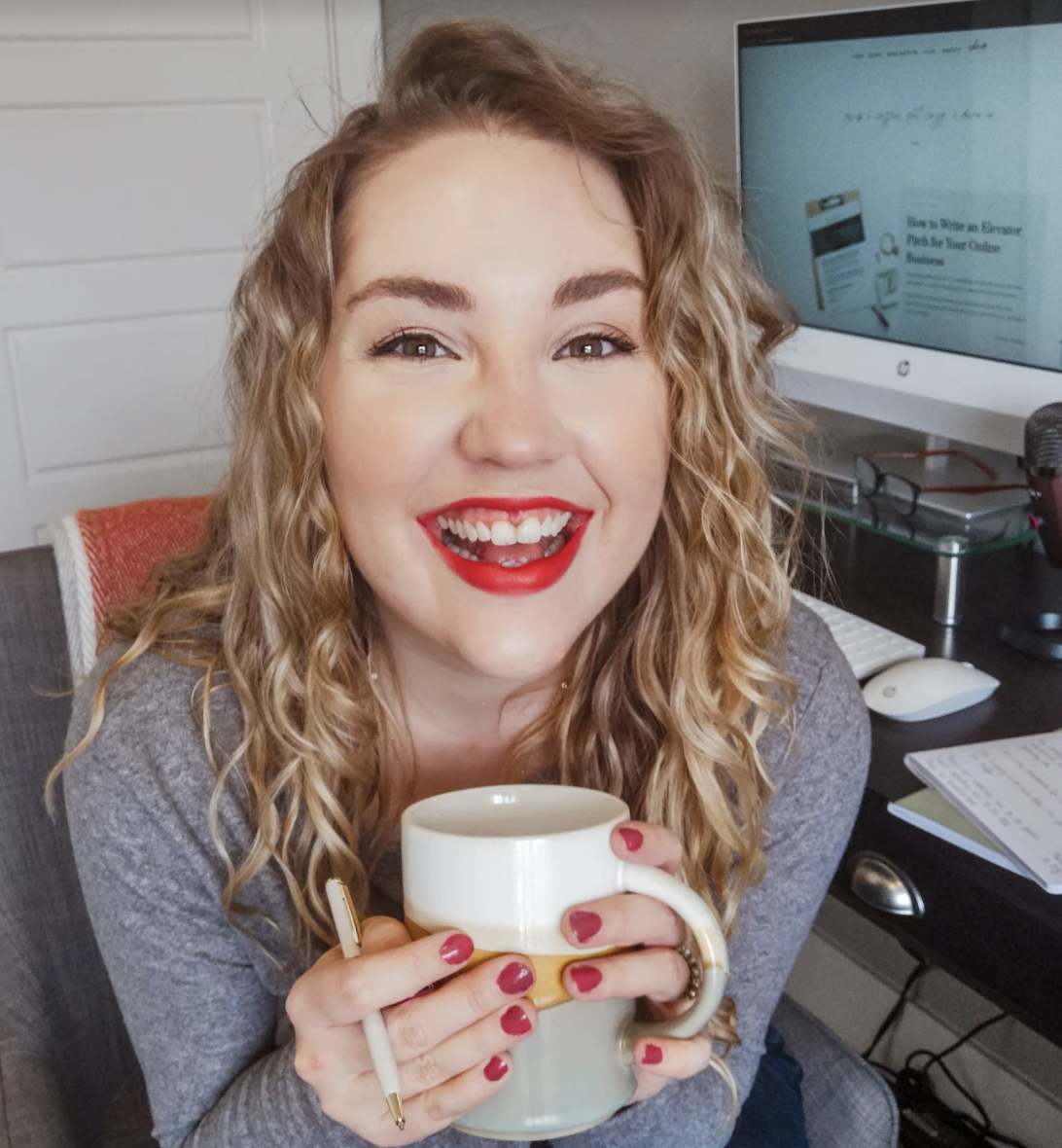 Megan Taylor is a brand strategist and copywriter who helps female online entrepreneurs stop marketing aimlessly and start building real relationships with the people they feel driven to serve. Her specialty is story-led messaging that builds authentic connection – because selling with ease starts with a foundation of the right words and a crystal-clear messaging strategy. Since 2016, she's helped women business owners around the world connect with their dream buyers, so they can have multi-5-figure launches, grow their following and impact, and sell more while working less.