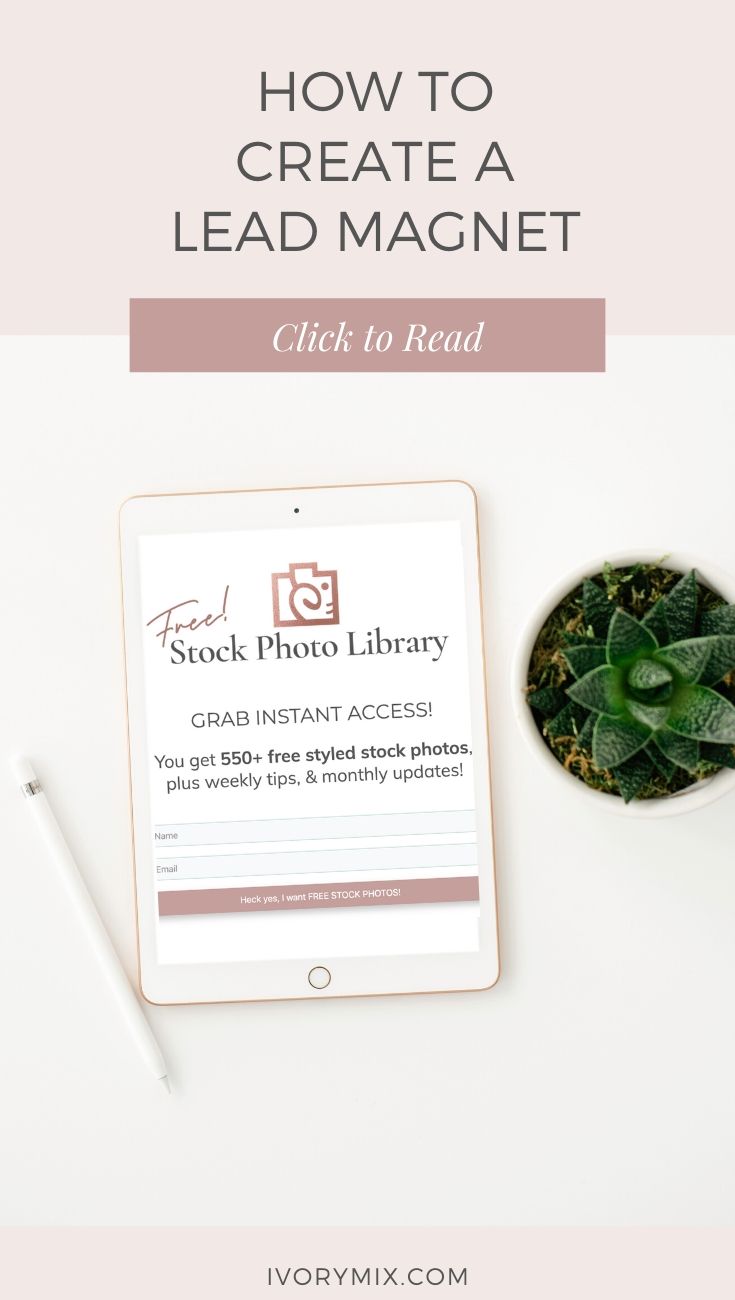 Having a slew of visitors land on your website is great, but if you can't grab their attention and eventually make a sale, what's the point of it all? 
Your audience is out there. Their pain points are driving them crazy, and they're searching high and low for a solution. 
While you know you've got the answers, your audience is probably gonna need some sweet talkin' before they're convinced. 
This is where your lead magnet steps in. 
This tool is used by entrepreneurs to entice website visitors and convert them into paying clients. As you know by now, your email list is the number one asset of your business. To capture your ideal client's attention and collect their email address, you must do a little wooing.  
What is a lead magnet?
A lead magnet is a free piece of content that's used to incentivize your audience to share their email address with you.
The lead magnet may be an eBook, an email series, a free PDF checklist, or a video tutorial — anything that you can provide your audience so they experience a quick win to address their current need. You can experience how a lead magnet works – just Click here to view one of my lead magnets and download the email list building plan.
Whether you're just beginning your quest to build an email list, or you're trying to perfect your lead magnet to better address the needs of your ideal client, this blog post will help you identify your best strategy for creating a lead magnet customers can't resist. 
What's the point of your lead magnet?
To get the best results, you MUST generate the right leads to grow your business. Period.
A lead magnet is the best way to generate a list of leads quickly, easily, and passively. When creating a lead magnet, you want to craft it according to what your ideal clients need. 
The point of your lead magnet? To take a cold lead and turn it into a warm lead. Through this introductory piece of content, your leads will become more aware of who you are and what you stand for. The lead magnet creates interest in your brand and makes customers want to know more about your offerings.
If you already have a lead magnet but aren't getting sales through your email list, you may want to ask yourself if your lead magnet is attracting the right people.
Make the first few steps easy wins. The last few can be more complicated. This will make the user decide if they want to take those tougher last steps alone OR partner with you.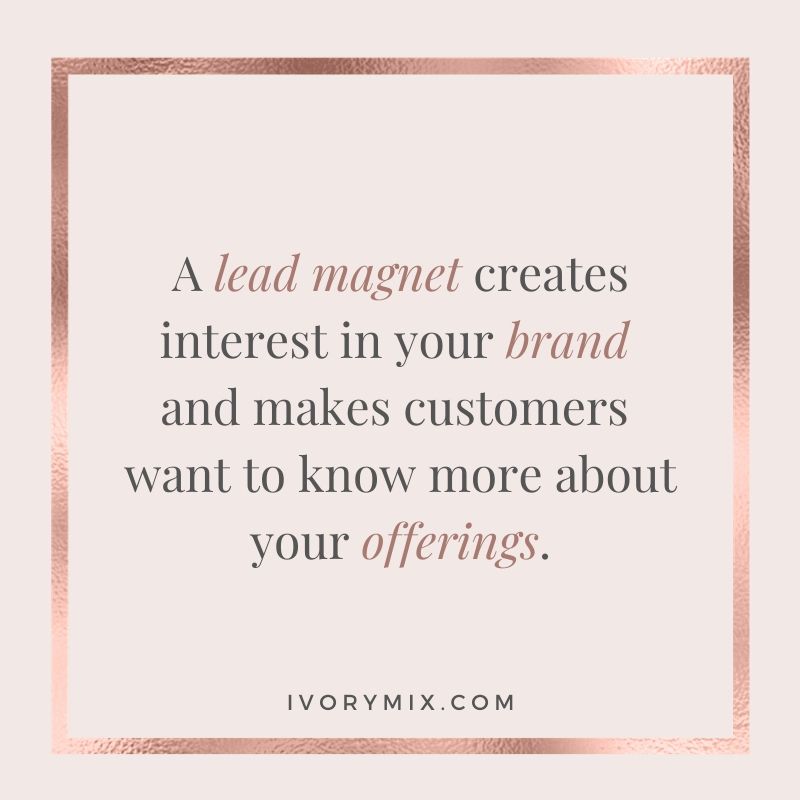 How to choose your lead magnet topic
Have lots of ideas? My advice is to start simple. Pulling this bite-size piece of content together should only take a couple of days. Some questions to ask yourself when choosing a topic include:
What's my core focus?

Am I being specific with this focus?

Is my message speaking to the specific client I want to reach?

Am I using the right language to attract the right person? 

Will this lead magnet feel irresistible? 

Does it solve an easy problem?
Here's an example — If a client's pain point is not making enough sales in their business, a sales coach may create a lead magnet titled: Your Guide to Making 1k in Sales in the Next 5 Days. This lead magnet speaks directly to their frustration and offers a solution with measurable results. Who would be able to resist snatching that freebie up?
Feel Their Pain / Offer a Quick Solution
After you've chosen the general theme of your lead magnet, the next step is to brainstorm your audience's current pain points:
What pain is my audience feeling?

Financial Pain

Productivity Pain

Pain with their Processes

Support Pain

What big benefits can you provide to ease their pain?

What is currently getting in the way of achieving the transformation they desire?
Create your lead magnet to solve these problems for your clients, and they will begin to recognize your expertise and see the value you bring to the table. After you narrow in on the pain points you'll address in your lead magnet, create it using these basic principles:
The Four Main Components of a Successful Lead Magnet
It is specific and tangible

It is results-driven

It has easy wins

It emphasizes the need for your product! 
The last point is the most important…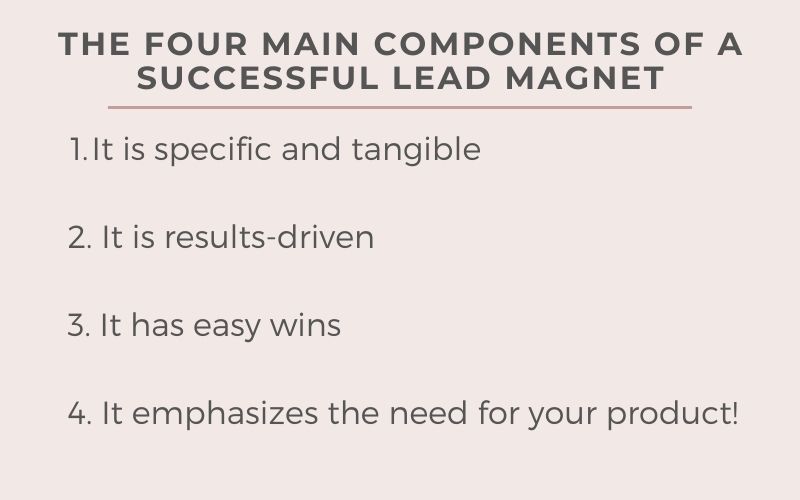 Your lead magnet must ultimately showcase your offerings. If it just contains free information and doesn't emphasize the need for your services or products, it's time to go back to the drawing board. Take a few days and reconsider how you can tweak it to highlight your ability to step in and help your reader.
Test, Test, Test
Test Variations of Your Lead Magnet.

During the creation process, consider creating three variations such as a PDF, a video, and an email series. Ask your audience what delivery method they prefer or see which one they naturally gravitate to. 
Tools for Creating Your Lead Magnet
Email Marketing Platforms. If the point of creating a lead magnet is to gather email addresses to market your biz, you'll want to invest in the right email marketing platform to collect and save those addresses. Most provide landing pages as well for a seamless connection from your form to your email list. These are four of the most well-known and trusted platforms that are widely used in the industry. Explore their features to see which is right for you.
ConvertKit (Free up to 1000 subscribers – we use at Ivory Mix)

Flodesk

MailerLite (free up to 1000 subscribers – we use this for our podcast)

Mailchimp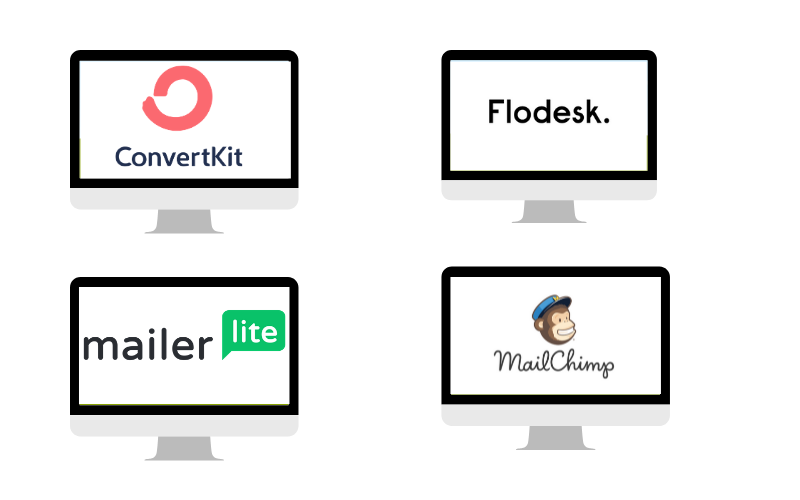 Lead Magnet Creation Tools. Use these tools to create the documents or products you'll share with your audience. 
Ivory Mix Lead Magnet Templates

PDF

Google Docs

Google Sheets

Powerpoint

Loom or Screencast-O-Matic for screen captures
Inside the Ivory Mix membership, you can find Canva templates to help you create a highly converting lead magnet to share with your audience. These templates take the guesswork out of creating a lead magnet and allows you to quickly create a downloadable freebie for your audience.
Click here to learn more about our lead magnets and becoming an Ivory MIS VIP member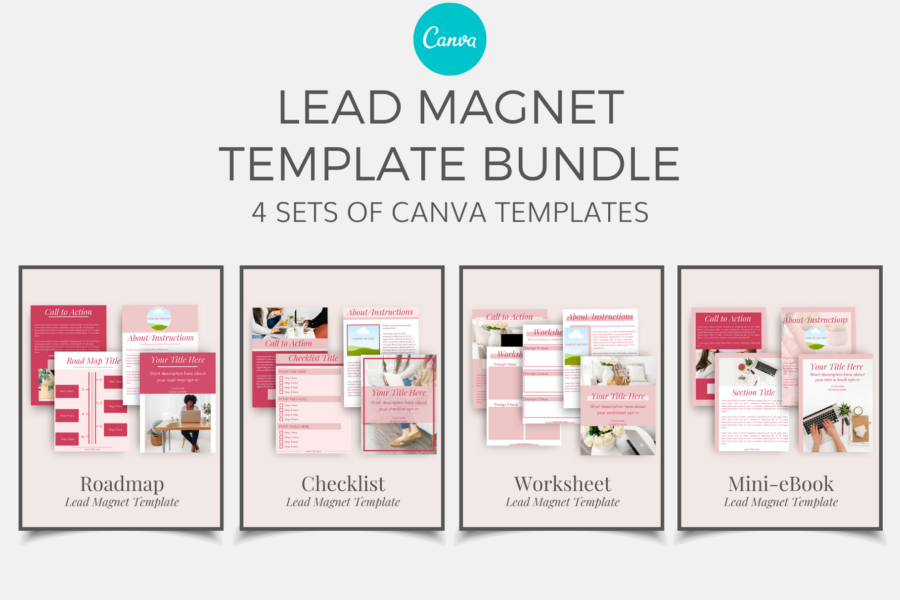 Where Should I Host My Lead Magnet?
Once you've created your lead magnet, you'll need to host it somewhere so your audience can access it. Where largely depends on what type of content it is. 
For PDFs, images, or videos, I recommend

Amazon AWS/S3

. This storage service is incredible! It has all the bells and whistles you need — it's easy to use, secure, and performs well. 

If your freebie is an email series, your email marketing platform is where you'll save your lead magnet. 

Videos are easily hosted on YouTube. Simply create an account, upload your video, and choose the "unlisted" setting option so the video isn't public. Instead, viewers will only be able to access the video from your link. 
A quick warning: I don't recommend hosting on Dropbox or Google Drive unless you expect very low traffic. These platforms can have issues with bandwidth. If you host a file there and too many people try to access the document, you'll risk your account getting flagged and the doc being made unavailable. 
Creating a Landing Page for Your Lead Magnet
A landing page is a gateway for your audience to receive your lead magnet. This page can be hosted on your website or your email marketing platform. It's the page that includes information about your lead magnet and contains the form where the customer will enter their address to receive it!
While this landing page doesn't need as many elements as a regular sales page, you still want to use the language of your audience strategically here. This page is where you'll highlight the transformation your audience longs to achieve when they receive your lead magnet as well as a few other key components:
A powerful headline

Descriptive subheadlines

A quality visual of the product

Social proof, testimonials, and examples of how the product can help others

A call to action

The actual email submission form

A short about me or bio

Disclaimers and policies for your business
Here's an example below. Want to see a lead magnet page in action? Click here.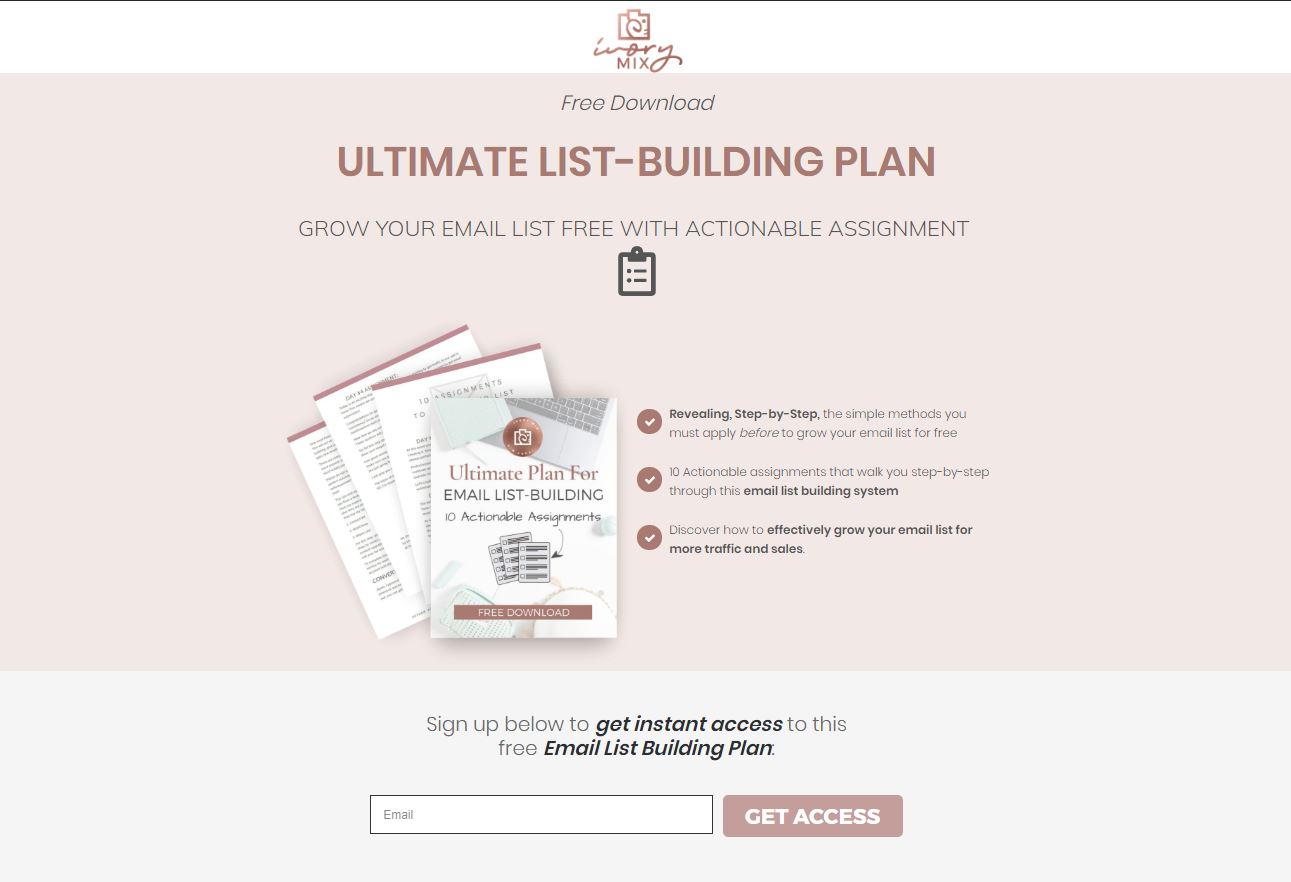 Promoting and Advertising Your Lead Magnet
Once your landing page is crafted, how will you get people to sign up? There are tons of ways to promote your LM, but these surefire ways are a good start.
Promote on blog posts. Add a link to your sign up at the end of your posts and, if applicable, sprinkle links throughout relevant posts as well 

Pin the landing page on Pinterest. When readers are searching for answers to their pain points on Pinterest, your lead magnet will be available for them to download in a click

Send the link to your lead magnet landing page through Instagram DMs

Link the landing page in your email newsletter copy and add a form to the footer of the email as well

Own a Facebook group? When new members request to join, ask if they'd like to receive your lead magnet. With their permission, you can manually enter their email addresses and send it.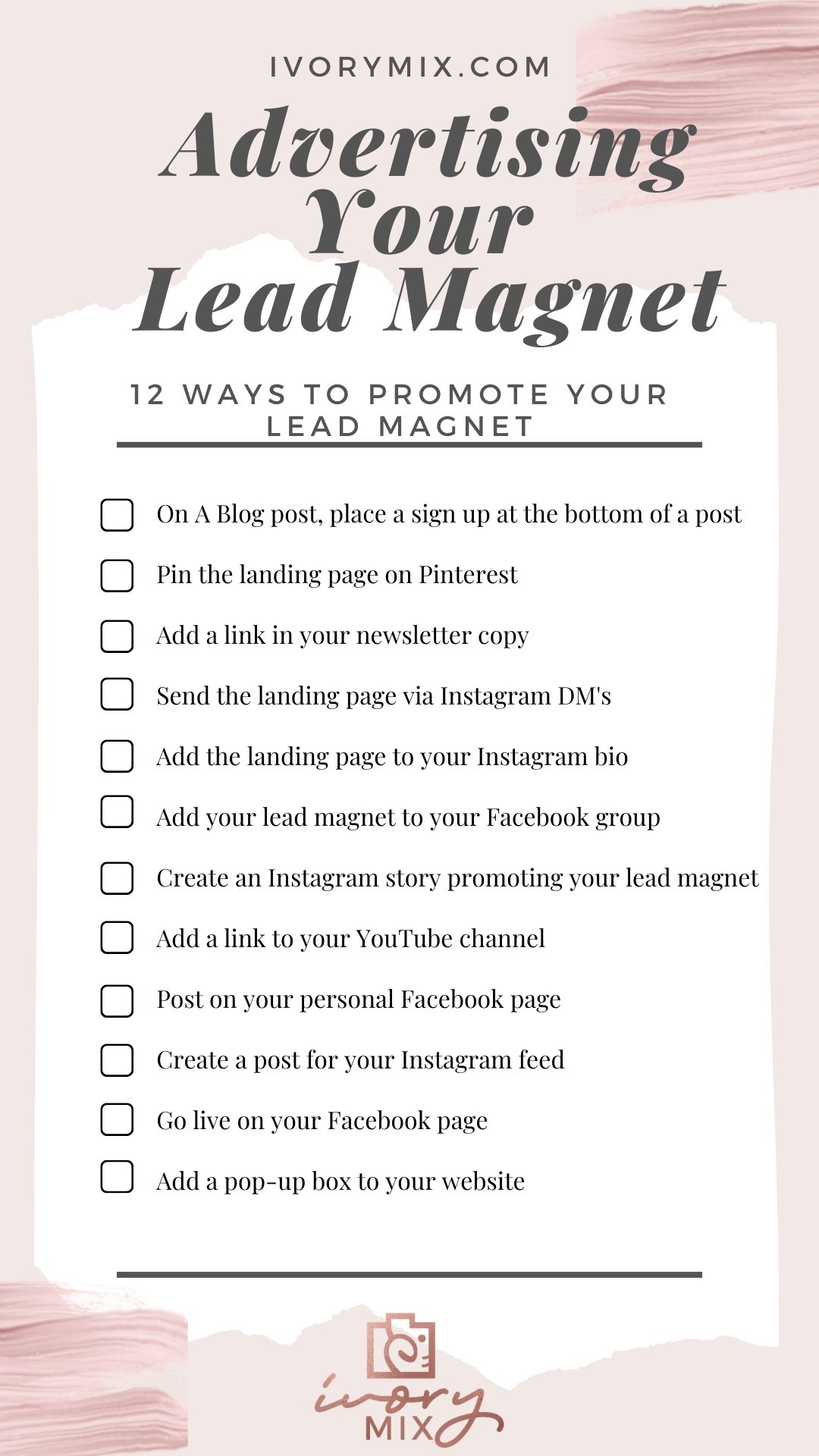 Craving a more customized look for your lead magnet promotion?
The Ivory Mix Membership is packed full of creative tools you can use to promote your lead magnet and make it irresistible to your audience. Showcase your lead magnet in one these ready to post templates.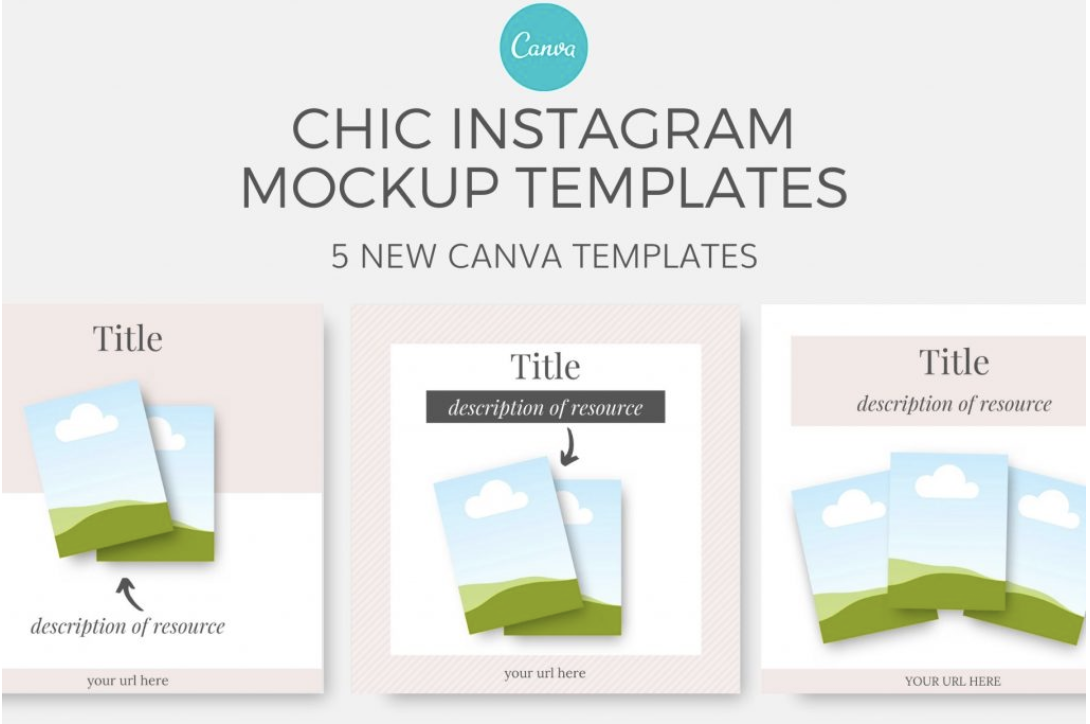 What's the next step?
It's time to take massive action by designing your lead magnet using these tips and tools. Click here to get 65 lead magnet ideas and click here to get 10 actionable assignments for lead magnet growth.
Dig in, pinpoint what your audience really needs, and create the content that will turn passersby into raving fans and hot leads.

Plus, check out these list building tips: