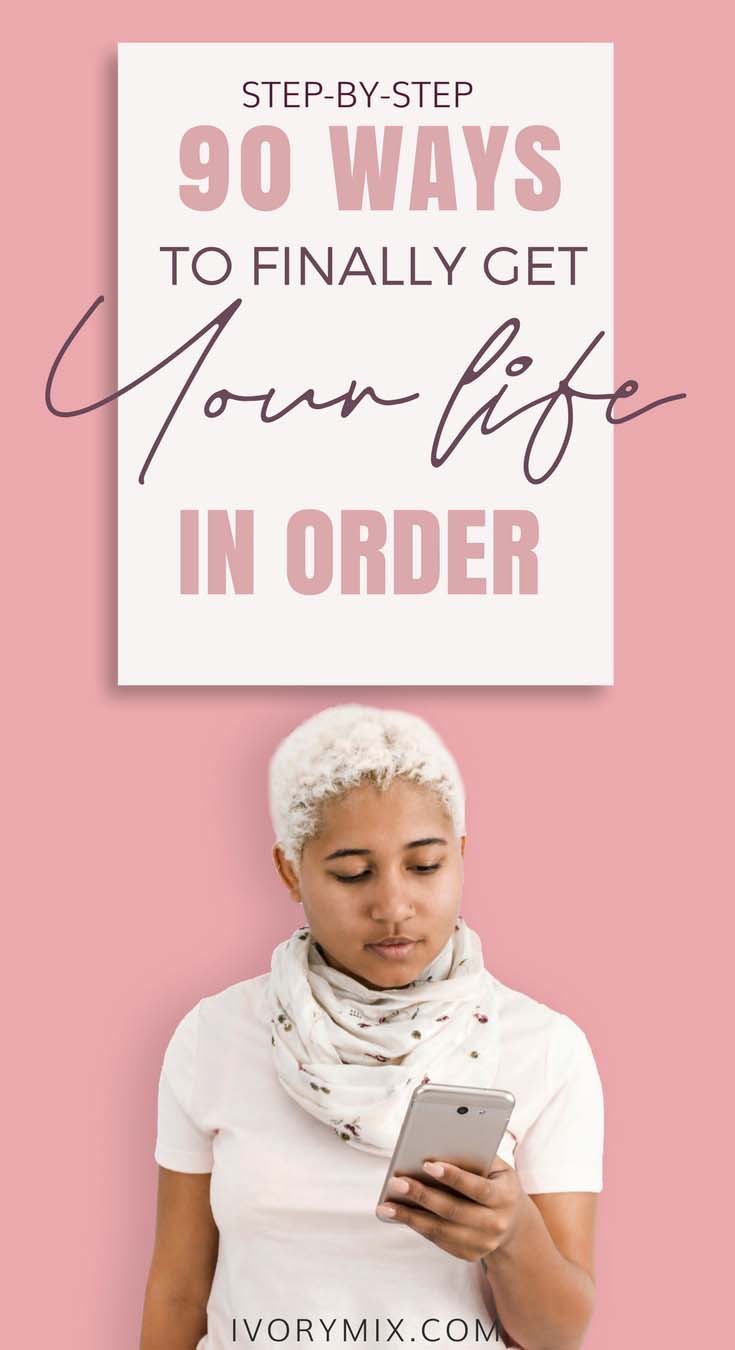 Do you have too much stuff?  Is your mind, home, or office in your way of getting things done? Having too much might sound like an oxymoron to some, but the reality is that too much of anything can be a bad thing.
In fact, this is pretty much the central maxim of minimalism. Which is why I created a list below of the 90 things you can do today to clean up and put order back in your life.
The more you cut back on unnecessary 'stuff' and clutter, the less stress you will have, the freer you become and the more you can appreciate the few items that really matter to you.
As I have grown my own online business (the website you're on now), I have learned that time is precious. I also have a family of 5 and am providing the sole income for us. You can read and learn more about how I do that by clicking here. But the lesson for me in owning a business, running a house, and being the provider is – nothing is easy, but it gets a whole lot easier when things are clean, tidy, put away or there is just less of it all together.
But what is 'too much'? 
Let's Take a look at this short 3-point checklist and let's find out together if you fall into this category of "too-much"…
Point #1 You Dread the Thought of Cleaning Surfaces or Organizing Papers (or even organizing your thoughts)
Isn't it time you dusted the shelf in your bedroom? If the very thought of cleaning or organizing something is starting to make your stomach do summersaults, then you have too much on that surface or too much on your "plate". It should take just a couple of seconds to wipe down a surface or make a list of things to do today.
Point #2 You're Considering Moving Homes or Offices to Fit Your Things In (or "feel more organized")
This is something a lot of us do without a second thought. But if you're looking to rent, lease, or buy an entirely new home or office just to store more of your items, or "start fresh" then this is really something of a worrying sign. You should be able to make the most of what you have.
Point #3 You Have Boxes Under the Bed, on your desk, or on the dresser
This doesn't sound like a big deal but it actually has a big psychological impact on how big and spacious a room feels. It's important to include space in your home or office to let it breathe and this is a very important space that you should prioritize.
The same is true of your to-do list. If you're always pushing items to the bottom of the list, never being financially responsible like saving for emergencies or even a vacation, you'll never be able to truly go anywhere (or on vacation) with that feeling that everything is right with the world.
Ready for a shortcut to a more organized and stress-free life? Click here to download the FREE eBook and 40-page guide.

90 Practical Things You Can Do Now   (Pick as many as you like to get started) 
Clear the junk space in the (name that room)
Clear off the counters in the (name that room)
Set up files for your home office
Clean up you computer files and make it faster
Remove 5 items from your closet and Dresser to donate
Remove 5 items from your costume Jewelry collection to donate
Read a self improvement workbook for 10 minutes like one about How to Be Happy (Or at Least Less Sad)
Pick out a few toys to donate
Pick out 1 reading book to donate then grab these E Zoobooks for the kids
Pick out a pair of shoes to donate
Clear your kitchen food cupboard or expired or unwanted items
Sit down and finally apply for a Full-Time Job
Update your calendar with kid's school activities and other family details
Clear your computer's desktop
Clear out your cookbooks of unwanted one's for donating
Clear out your medicine cabinet
Dump out the junk drawer, toss stuff and organize
Clear out your makeup bag or maybe just get a newer washable & more durable one
Organize your brief case and/or purse
Organize and clean up your wallet
Do the dishes / put away the dishes
Fold laundry for 10 minutes
Start a new load of laundry
Make the beds
Clean all the mirrors in your house
Clean the windows in the (name a room)
Organize your email folders
Add some zen to your office and order some new artwork for your office walls
Clean up your phone and delete unused apps
Clean the microwave
Read a book to your kids
Take out the trash from every room
Vacuum for 10 minutes (use a timer)
Read the news
Check your social media accounts (use a timer)
Play a game with your kids
Write in your gratitude Journal like this one for jotting down your thoughts and self exploration
Make your next physical appointment with your doctor
Make your next teeth cleaning appointment
Make your next optometrist appointment
Make your information safe online with these few steps
Wash your car
Vacuum out your car
Put the car seat fabric cover into the washing machine
Put the car seat fabric cover into the dryer
Put the car seat fabric cover back in your car (pretty important to follow through)
Call a friend or family member
Go for a walk outside
Listen to your favorite music on Amazon Prime with your 30-Day Free Trial
Watch an uplifting video on YouTube
Write down your next grocery list
Write 3 thank you notes and mail them
Plan your kids next birthday party on Pinterest
Unfriend toxic people from your social media pages
Start your life's bucket list
Do 10 minutes of Yoga using  a few of these Yoga poses  (did you know there are 2100 ?!!)
Meditate
Do 2 min. of stretching, 2 min. of squats, and 2 min. of pushups (4 min. of rest spread between)
Clean a toilet
Clean a shower / bathtub
Sweep / Mop in (name a room)
Clean the top of your stove
Clean a shelf in your refrigerator
Pick out old outdoor toys and toss or set aside for donation
Water your plants
Search Netflix for things to add to your "will watch soon" list
Update your checkbook
Take a few pictures of your kids
Email pictures you took to the printers for a future scrapbook
Flip and fluff all couch pillows and cushions
Get out a piece of paper and sketch a still object (examples: Tree, Vase, Flower..)
Start your very first blog in 10 minutes (here are the quick steps)
Dust your ceiling fans (Seriously, have you seen this genius Ceiling Fan Duster ??)
Wipe down all surfaces in (name a room)
Dust out lamp shades (get rid of any dead flies! Ew)
Join an online book club (Ours is geared towards entrepreneurs and bloggers)
Set out your clothes for tomorrows workout
Pick out your outfits for the work week and put them neatly together
Take a shower or how about a nice warm bath with a comfy luxurious tub pillow like this one
Give yourself a 10 minute manicure
Read a chapter of your favorite book
Write down the 3 things you want to accomplish tomorrow
Wipe down and disinfect door knobs in your house
Wipe down baseboards in (name a room)
Make a Pro's / Con's list for that big thing you've been debating
Make a meal plan for the week
Plan your next date night
Contemplate and write down what the next 5 years looks like. What will be different? Will you look into starting a blog and home business like this ours? Anything is possible!
Gather up all your change and start a change jar
Change the batteries in your smoke alarm
Wipe down and disinfect all light switches
Gather up all our donation items and drive to the drop off location to donate
Ready for a shortcut to a more organized and stress-free life? Click here to download the FREE eBook and 40-page guide.

Other Good Habits to Start
As you start developing simple housecleaning and organization habits, you'll notice that your work will get easier and easier. This next set of tips will give you some great ideas for good habits to start
Delegate
Housework can be a huge job. Learn to delegate. Make chore charts for everyone in your house. Even small children can help pick up toys and other things. As you learn that you don't have to do it all, housework will become much easier.
Fill the Sink When You Cook
A good habit to start is filling your sink with hot soapy water every time you start to cook. This way you can "clean as you go." As you get done with each pot or dish, wash it quickly. This makes clean-up a snap.
Spray the Oven
Time for take-out? If there's a day when you're not using your oven, give it a quick spray of oven cleaner and forget about it. The next day, before you turn on your oven, give it a quick wipe down. You'll find that the baked on stuff comes off much easier.
Have a Charity Box
It's a good idea to keep a box or bag in your front closet that you put things you don't need anymore. This really helps get rid of clutter in your home. When the box is full, simply drop it off at your local Goodwill store.
Rinse Your Plate
This may be a small tip, but it can help in big ways. If you simply make it a habit to rinse your plate after dinner (and have all family members do the same), it will make washing them a lot easier. No one likes trying to wash dried food off of dishes.
Tackle the Small Jobs
Housework can be overwhelming. Learn to break it down and tackle the smaller jobs first. As you do, each job will become easier. Also, if you clean the small messes before they get big, it'll be a lot easier to clean up.
Keep Cleaner in the Shower
A great shortcut for cleaning your tub and shower is to keep a bottle of shower cleaner handy. After you take a bath or shower, spray it down. You can take it a step further and keep a squeegee in it as well.
Fast Pick Up Before Bed
If you make it a habit to do a quick pick up before going to bed, it'll really help. You'll find that it's easier to wake up and feel good about the day if even one room is clean.
Line Your Fridge
If you make it a habit to line your fridge shelves with paper towels, it'll make it a lot easier to clean. This will work especially well in the crispers, as the paper towels will soak up any extra wetness.
Take a Trash Bag With You
As you leave the house, make it a habit to take the trash out. This is a simple tip, but why make extra trips if you don't need to? This is also a great job to delegate to a teenager. They're always coming and going anyway.
Here are some quick tips for staying productive
Have fun with this.
Make a goal to do a few or just one of these items each day to find your work-life balance. You'll quickly get organize and start to feel a little better about getting things done!
Looking for more tips? Check out these guides:
Ready for a shortcut to a more organized and stress-free life? Click here to download the FREE eBook and 40-page guide.
Check out this book: The Life-Changing Magic of Tidying Up: The Japanese Art of Decluttering and Organizing 
Check out this master-class: Spark Joy: An Illustrated Master Class on the Art of Organizing and Tidying Up