The holidays are upon us and now is the time when all non-vegans start stressing over what they're going to make for their vegan friends at the dinner party and are starting their search for vegan gifts, vegan recipes, and vegan treats. I'm here to tell all you well-meaning friends and family members of vegans – STOP STRESSING OUT! Breathe a little.
Remember that a vegan usually knows exactly what to eat and what to buy that works for them. So, you're best bet is to just ask them what for ideas. A vegan is used to being asked these types of questions. I can hear you thinking "But, I want to make it a surprise." Hey, I get it. Asking your friend what they want, need, or what they can eat is not dramatic, compelling, or exciting!
Let me remind you of this; many vegans love to share ideas about plant based shopping, cooking, and food with the hope that you may one day feel inspired and curious. However, there are "non-preachy" types who try not to talk about it much at all . They hate making their friends and family members uncomfortable so they may tell you "don't worry about it."
In light of this , I've got the a list to help you shop for vegan gifts and treats. This is going to make your life EASY because almost all of these items are found in standard stores and malls, with just a few suggestions for online shopping. This guide will help you find Vegan Easter gifts, Vegan Christmas gifts, Vegan Stocking Stuffers, Vegan Birthday gifts, Vegan Halloween candy and Vegan Valentine's Day treats.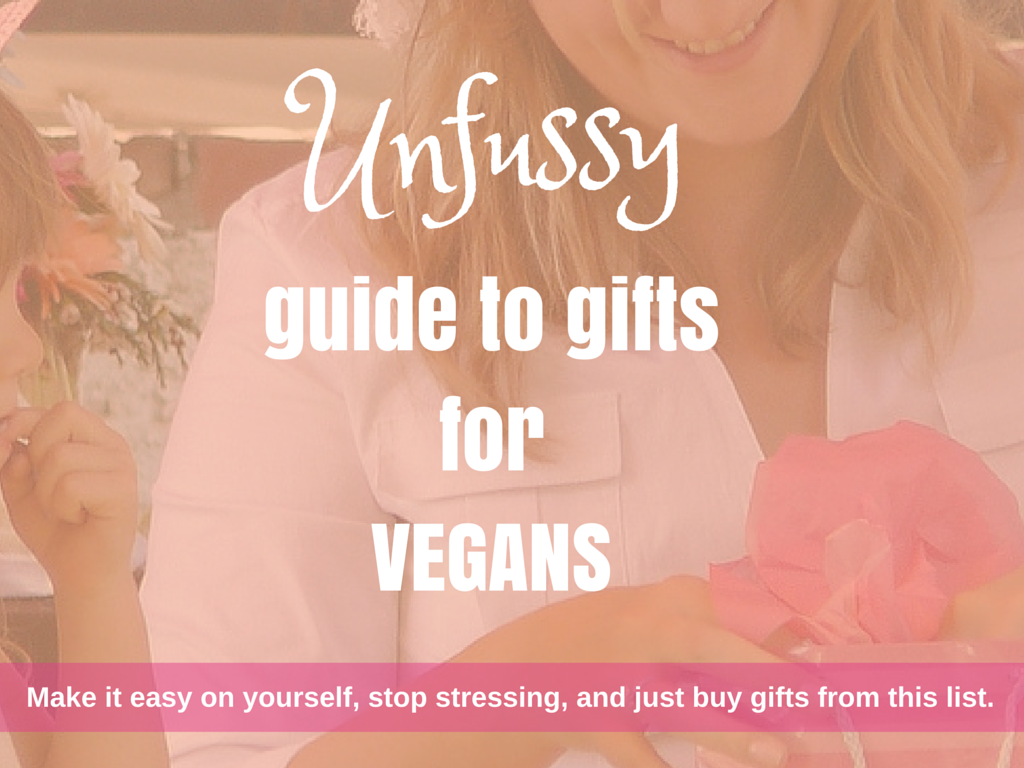 Before we begin, let's cover the two very simple rules for the unfussy guide to gifts for vegans.
Don't shop at specialty stores. This is supposed to be easy – so shop where you would normally shop. To ease the vegan mind, shopping at 'regular' stores instead of specialty stores encourages big retailers to continue and increase their selling of non-animal based products.
Don't wonder off the exact listed items. You'll just complicate your shopping and you may be surprised to find that knock-off brands or products similar to the items listed below can have animal bi-products in them. Don't make a mistake and avoid wondering.
---
THE UNFUSSY GUIDE TO GIFTS FOR VEGANS:
VEGAN GIFT BASKET (food)

include any type of fruit / veggies
any type of wine
Wasa Crispbread (Light Rye and Multi Grain varieties)
Wheat Thins (Fiber Selects, Garden Vegetable, Flatbread Tuscan Herb, Hint of Salt, Multi-Grain, Original, Reduced Fat, Spicy Buffalo, Sundried Tomato & Basil, and Zesty Salsa varieties)
Wheat Thins Toasted Chips (Great Plains Multigrain and Little Italy Roasted Garlic varieties)
Shop Organic has vegan gift basics to buy and have delivered online
Woah Veg has crazy – huge vegan gift baskets, but take note that many of the items in the baskets are available at standard stores.
Vegan Cuts offers baskets and other products
---
VEGAN CANDY AND VEGAN TREATS (great for Vegan Stocking Stuffers, Vegan Easter Baskets, Vegan Halloween Treats and Vegan Valentine's Day gifts)

Mike & Ike's
Twizzlers
Now & Later
Pez
Lemon heads
Hubba Bubba Bubble Gum
Gobstoppers
Cracker Jack
Ritter Sport Dark Chocolate with Marzapan
Chocolove dark chocolate bar
Fruit by the Foot
Ghirardelli Chocolate Double Chocolate Brownie Mix
Ghirardelli Chocolate Intense Dark Twilight Delight
Oreos
Cleo's peanut butter cup
---
VEGAN BAKING and BAKED GOODS

Aunt Jemima Pancake/Waffle Mix (Original and Whole Wheat Blend)
Baker's Baking Chocolate Bar (Unsweetened and Semi-Sweet)
Betty Crocker Bisquick Original Pancake & Baking Mix
Crisco Original No-Stick Cooking Spray
Duncan Hines California Walnut Brownie Mix
Duncan Hines Creamy Home-Style Frosting (Buttercream, Classic Chocolate, Classic Vanilla, Coconut Pecan, Cream Cheese, Dark Chocolate Fudge, Lemon Supreme, and Strawberries 'n Cream)
Duncan Hines Whipped Frosting (Chocolate, Fluffy White, and Vanilla)
Arnold's Carb-Counting Multi-Grain Bread
Arnold's Jewish Rye Bread
Baker's Inn Harvest Multigrain
Cobblestone Mill Kaiser Rolls
Dutch Country Soft Potato Bread
Krispy Kreme Fruit Pies (Apple, Cherry, Peach)
Nana's Cookie Bars (all flavors)
Sunbeam Bread
Thomas Toaster Bagels (Plain)
---
---
VEGAN CLOTHING / SHOES (This should be easy to find. All you need to due is look on the tag for the item you are going to buy. So, what kind of clothing are not vegan)

NO Leather and Suede
NO Wool
NO Silk
NO Goose and Duck Down
---