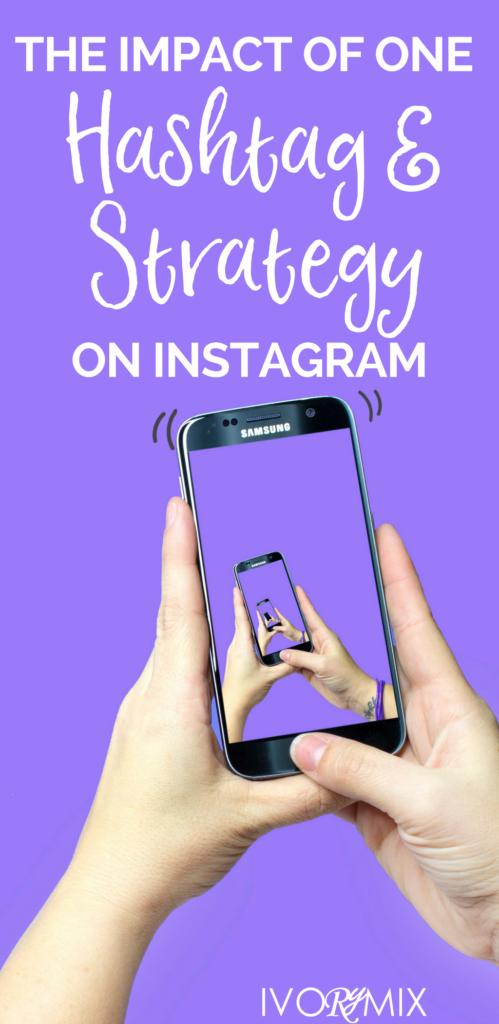 Instagram is a funny place. It's a visually driven social platform that brings people together through the power of relationships, locations, interests, and hashtags.
For a blogger, it can be a confusing place. There are a number of reoccurring questions that seem to come up.
For the basics of starting your Instagram account and branding, visit the post here.
Today, we are addressing two common questions: What hashtags should I use and how to I create a strategy?
What hashtags do I use to reach my audience?
Research. Find someone who is doing your type of social marketing and see what hashtags they use. Click on them and look around. How many times has that hashtag been used and who are the people using that hashtag?
Do they match your target audience? If so, consider this a possible hashtag. If not, let's move on.
The important thing to remember is what hashtags are your audience using? It's not that important to know what other bloggers like you are using if they don't attract your audience.
For instance.. you might be an author looking to engage on Instagram. What do your book readers who are on Instagram also enjoy? It might be more than just books. Do they enjoy shopping on Amazon?
When searching hashtags on Instagram, check out who is ranking at the top for the hashtags and see what other hashtags these folks are using and repeat your research.
Related Post: 10 things successful blogs do on Instagram
How to tell if a tag is right for you?
The number of uses of any particular hashtag in Instagram is under 300,000 and more than 500. If you want to get seen by your target audience, use hashtags that aren't over used but are also used enough that they get searched by your audience.
Why not search for the profiles of people who use the hashtags you are thinking of. Are these the people you want to associate with?
How many hashtags should you use?
The number of hashtags you can use is a maximum of 30 – so that's exactly how many you'll want to use. The more you use, the better you'll be seen and found.
Hashtag ideas:
DIY / Design / Home Bloggers:
#thatsdarling / #ohwowyes / #interiorlovers / #instahome / #homedecor / #diyblogger / #abmlifeiscolorful / #mybeautifulmess / #creativityfound / #makersgunnamake
Creative Bloggers:
#girlbosses / #girlbossparty / #savvybusinessowner / #risingtidesociety / #communityovercompetition / #bandogirlgang / #dontquityourdaydream #flashesofdelight / #entrepreneurlifestyle / #theeverydayproject / #creativepreneur
Lifestyle Posts:
#flashesofdelight / #thehappynow / #livethelittlethings / #pursuepretty / #theeverydayproject / #makeyousmilestyle / #thatsdarling / #photosinbetween / #soloverly / #ihavethisthingwithpink
Quotes:
#wordsofwisdom / #lifelessons / #thoughtoftheday / #positivequotes / #inspiringquotes / #quoteoftheday / #quotestoliveby / #quotesgram / #quotesandsayings / #quotestagram
Coffee/Tea :
#coffeeholic / #coffeeoftheday / #coffeelife / #cupsinframe / #butfirstcoffee / #coffeemovement / #teabreak / #teaonly / #ateacuplove / #teaandseasons
Bright Colors:
#blogtherainbow/ /#dresstherainbow / #candyminimal / #popyacolor / #abmlifeiscolorful / #bandofun / #mycreativebiz / #myunicornlife / #colorhunters / #colorsplurge / #dscolor / #theeverydaygirl /
Flatlay: #fromabove / #onmytable / #tablesituation / #onthetableproject / #flatlaythenation / #flatlayforever / #flatlaystyle / #flatlay / #flatlayoftheday / #hcstyledstock
Daily Hashtags:
#makewavesmonday / #traveltuesday / #womancrushwednesday / #throwbackthursday / #followfriday
Related Post: How to style flatlays for marketing your blog on Instagram
Our recent hashtag experiment & contest
#blogtherainbow
Blog the rainbow is a hashtag we started just 3 weeks ago, and today we have over 500 tags used on Instagram! Amazing!
With this experiment and contest, we set out on a mission to be as colorful and inspiring for bloggers on Instagram as possible.
We also set out to challenge our caption skills, our imagination, and our photography abilities.
I do believe we succeeded!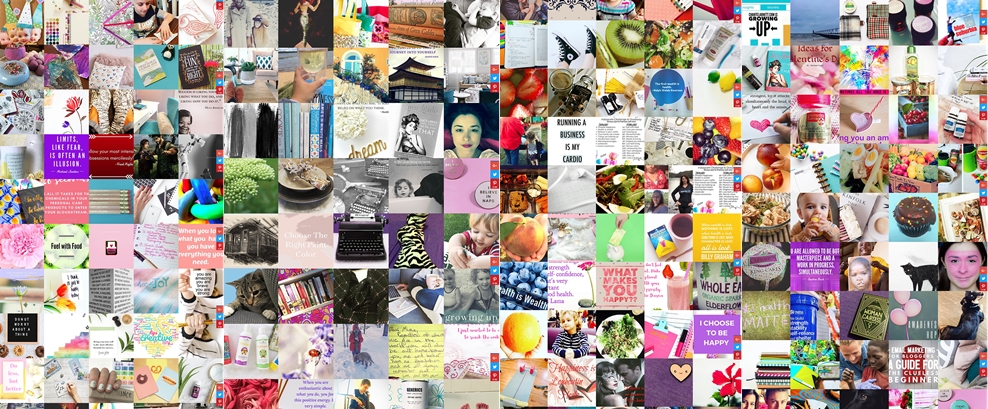 It wasn't all just for giggles, fun and color though. There was a prize involved and today, we have a winner!
Our randomly chosen winner is receiving $100, custom photos for their brand from Ivorymix, and the app, PLANN.
The winner was: Drum roll…… Denise Bertacchi (@stlmotherhood)
Related Post: Ideas for props and photo types for Instagram
What is the power behind one hashtag?
The power of one hashtag and a mission brought people together from around the globe.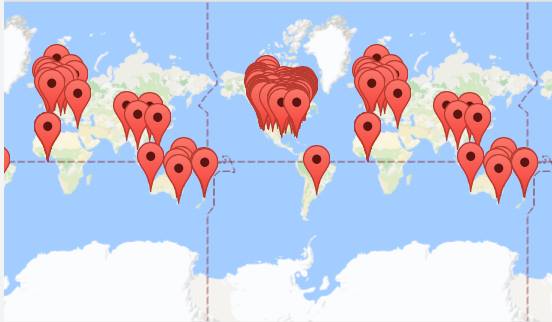 It was the backbone to hundreds of Instagram posts and established a them on many Instagram grids.
We already established that it was the inspiration for captions and the photography skills of these Insta-grammers.
Done thoughtfully, this contest and tag made some bloggers post more frequently, engage with fellow Insta-grammers and receive more comments, followers, and likes than ever before.
Knowing that a single hashtag can have that kind of impact, it's no wonder Instagram allows you 30!
Thirty well used hashtags for every single post, along with a theme and a mission can really change your Instagram feed.
Strategies to Increase Engagement with Your Instagram Profile:
Beyond using just hashtags, what are some other things you can do to increase engagement with your profile?
1. Make a list of some Influencers who have a large following and impact in your niche. Make an effort to comment on their account once a day during this challenge and beyond.
2. Make sure you are commenting back on anyone who comments on your images. Yes, anyone. (even if it seems like an automated comment). Instagram favors images with more comments and will show them to more of your audience when you have more comments, likes, and general engagement.
3. Spend just 15 minutes a day liking and commenting on the images of the brands you follow.
Don't forget to create a Call to Action
When it comes to running a blog and online business, one of the best things we can do for ourselves is get better at generating traffic from social media. It's not enough to post a photo and hope your audience clicks a link in your profile. For all the effort we put into it, it would be nice to see some action. Right?
The thing with Instagram is it's almost entirely all visual. Which means, creating a CTA requires some honest effort and work. In summary, we must….
1. Have a compelling enough image that makes your audience stop to view it.
2. Get your audience to read the full caption and not just the first sentence (unless you keep it short and sweet)
3. Get your audience to actually do something! (like click the link in your profile)
So, what are some things we can do?
Put your products, ideas, and services on display in your photos!
Like when I posted the challenge graphic on my laptop below.
Even if your product isn't physical and is written words on a screen, you can still show it as a finished product or even snap it in the making. Like a photo of you sitting at a desk typing makes a great behind the scenes photos, which people love to see.
Consider using the hashtag #linkinprofile
As you're planning your photos and things to write in your Instagram captions, consider asking your audience a question and encourage them to like or comment too.
Don't be shy. Ask something and see what response you get!
Perhaps your ask is as simple as saying: "For more info on this, check out the link in my profile".
Be a story teller & share your best images and graphics
Telling a story about your brand and sharing images that inspire your audience and display your brand and blog story will increase engagement with your profile.
Determine your objectives going forward
What can Instagram do for your blog and brand that other platforms and media cannot do? Live streaming video or Instagram stories are great for behind the scenes. Can Twitter do that? No! So, recognize and use what Instagram has and does that other platforms don't.
Find which member's of your existing audience is already on Instagram and engage with them specifically.
Decide how to integrate your Instagram into other areas of your website and social strategy. Can you display your grid on your website? Can you integrate a button onto your Facebook page? Yes and Yes!
Some sample clear objectives might be to increase brand awareness,
Showcase your talent.
Increase new and existing customer engagement
Showcase your products and services.
Enhance the things happening and events in your business with behind the scenes, and etc
Incentivize engagement with your brand with a challenge!
Share news, grow a community, connect with influencers and more
Develop your content strategy
Pick a content theme.
Your theme might be all about watercolor one week and donuts the next. Your theme might be a rainbow, or maybe it's all black and white. More importantly, your theme can be a mix of anything you want, but in order to have a strategy, you should start with some sort of theme.
Determine the type of content and the ratio
Write out what you want to share on Monday's, then Tuesdays, and so on. Then create a template grid showing that theme in an easy to use format.
Be flexible but create a schedule and do your best to stick to it.
Whether you want to post once a day or three times a day, set a schedule and give your audience consistency as best as you can
See the example below for a strategy that includes a schedule, a color theme, and a message for each day. You can easily make a template of your own using Canva.
When planning your images for instagram, its important to make sure they are relevant to you, your blog, and your business, but to also keep it a good mixture of promotion and non-promotion. This is important because who wants to be sold to every single day? I've found that simply posting fun pictures and being authentic is enough to get people curious about who you are and will have them clicking on your link without you even asking.
So, when you think about the daily posts, think about what it means to you and your business, but if your audience will find this interesting too.
Enjoy planning your hashtags and Instagram strategy and don't forget!
There are hundreds of free photos available for you to use once you grab your free instant access to our library of stock photos.