Let's face it, a huge part of being successful in blogging and business online is based on the quality of your photos.
Granted, having great photos isn't everything, but you certainly can't expect to make great sweeping strides of success without having some high quality photos, high quality copy writing, and well planned strategies.
Why a blog needs quality photos
For some, writing is their best skill. For others, visuals, and design are their strong suit. Either way, you can't neglect these essential items when growing a business just because you don't have the skills. At the very least, it should be a goal of yours to find resources or outsource it to others so your bases are covered.
But, let me dive deeper into why you really can't just skip the thing you're not that good at.
You only have a few seconds to make a great first impression.
You only have a few seconds to capture someones interest. Be it a catchy headline or a stunning visual on social media. Making a great first impression on Pinterest or Instagram is priceless.
It provides a visual that readers will want to share with others.
Having quality blog photos provides a visual that people will instantly connect with and want to share with their extended friends and circle.
It suddenly brings your intangible digital products, thoughts, and ideas to life.
Without mock ups for paper, picture frames, laptop screens, tablets, or cell phones, your digital products are nearly impossible to preview for potential readers and clients. This is where having photos that you can turn into graphics and share on social media suddenly takes on a whole new meaning.
It gives your audience a preview of the physical products you might sell too.
If you sell any sort of physical products at all, having high resolution photos of them will help to seal the deal. Have you ever thought about buying anything from Ebay but decided against it because the photo quality was bad, even though the price was right? What about buying a product that was overpriced because the photo made it looked well worth every penny? Product photos are important! They truly can make or break your business.
What qualifies as quality photography for blogging?
If you're thinking about your photos a lot lately and wondering if you need to invest a little more time, effort, or money in them, then here's the list of things you'll want to consider before investing energy or money.
High Quality Photos for your blog should:
be clear and in focus (not blurry, fuzzy, or grainy)
be a high resolution
be well-lit (not over or under exposed)
provide a few options with room for text as needed for graphics
provide context and be relevent with the content on your blog
match your branding in color, look, and feel.
After reading that list, are you feeling a bit overwhelmed? Taking your own photos, especially those for your blog and brand, can be quite the undertaking if you aren't slightly design savvy. But, don't fret, because I've got quite a bit of advice still for those who do and those who don't want to take their own photos. So, stick with me!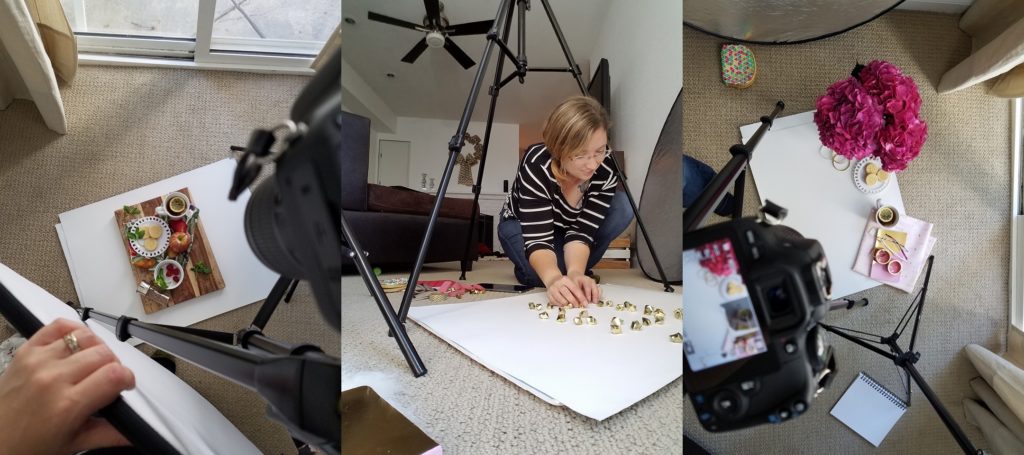 Where do the bloggers get their photos?
Not all successful blogs and websites take their own photos. Have you ever read an article on the Huffington Post? Have you ever noticed that they use stock photography? It's true and yet they're one of the most popular online blog and media outlets. Which means stock photography can still make a blog and business stand out. It's a matter of finding the right photos that help the rest of your great content stand out.
So, for those who don't take their own  where do they get their photos?
They subscribe to a Free Stock Photo Library and resource.
They subscribe to a Stock Photo Membership
They hire a custom brand photographer, like me.
They check out other online photo and graphic shops like Creative Market
or, they simply take their own photos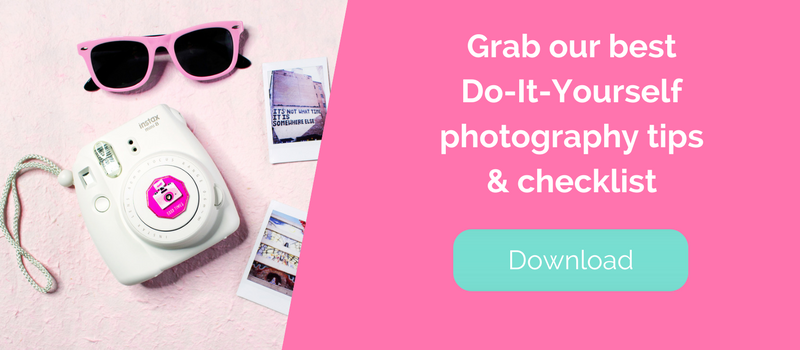 My favorite photography equipment for any beginner
This is not any old DSLR's! First, it's the one I currently use most. Second, I use it most because it's one of the smallest most robust and high quality DSLR's on the market. This makes it super light weight but with all of the bells and whistles you would expect. It even comes with auto-focus features for video, which is perfect for bloggers!
One of the top questions I get about my photography is "how to you take your flat lays?" "What tripod do you have?". Well, here you go. This is the one. It's super sturdy and easy to use. It does come with a higher price tag than you might think, but there's a reason. For your blog, you'll likely use this the most! Which means, it's going to take a beating and the quality of your equipment is just as important as your camera.
This light kit and soft box is perfect for creating a daylight glow on your products when there's no light around outside. The box defuses the light making it seem natural in your photos. I use this a lot!
These umbrella light kits are perfect for taking soft well lit headshots and more. When you struggle with finding the time to take photos, and can't wait for the sun to come up, light kits like these are priceless.
When you are lucky enough and have the time to use natural light, you'll want a few good reflectors by your side to manipulate light and remove shadows from your subjects. For such a small price, this investment is well worth it.
I LOVE my wireless remote!! You might be wondering why you might need one. For one, if you ever want to take a headshot of yourself, this little remote is going to be your key! Plus, touching your camera after you've set up all of your equipment on your tripod can be annoying. It bothers me to have to click the button in order to take the photo. "What if I click the button and I mess up the angle I just set?" This remote eliminates that headache all together.
I can't live without my Adobe Creative Cloud, photoshop, or Lightroom. These programs are essential to crafting, editing, and storing all of my photos beautifully. Plus, for just $10 a month, it pays for itself and with the endless amounts of free tutorials on YouTube out there, it's not difficult to learn how to use either!
*Note that this post includes some affiliated links.*
So, what's your plan? Stock photos, custom made photos, or the DIY route?