It's no real secret that if you're a blogger, you'll be looking for new ways to get traffic and business onto your blog, and Instagram should not be overlooked. Many very successful bloggers-turned-business-owners have leveraged and used Instagram in order to connect with new customers and grow their businesses. 
Besides learning how to style flat lays for Instagram growth here in this blog posts,  many new bloggers don't quite get how someone might go about other ways of gaining traffic and business from Instagram. So, in order to help bloggers create another brand experience on social media, I've outlined the 10 things that successful blogs do on Instagram, for business.
#1 Use a combination of your brand & your (instead of just your name)
One of the first interactions people have with you and your business on Instagram is your name and headline. That's why many savvy small business owners utilize these spaces for unique ways to let new followers know exactly what they do and what they're all about.
There's a tendency for small and growing business owners to use their first and last names, but if your business isn't named after yourself, you most likely should include the name of your business in your headline instead. This will help with your brand recognition.
It would be great if people associate your name with your business's name, but in reality, this takes time to establish. So, it's a safer approach to just go ahead and put your business name in your headline.

#2 The Bio in Your Profile Clearly Explains What You Do
Take Rachel Riltop from the Confused Millennial for instance. She's made sure her profile clearly explains who she is and what she is all about. She is, in fact, a millennial, but she is also a business coach.  This is her purpose and it's explained in her profile description. Utilizing this space by clearly explaining why your Instagram account exists is key. Savvy small business owners want to reach their ideal clients on Instagram and if they get to your profile and can't figure out what you do, how can you make that connection and potential sale with them?
Don't worry – it's not all meant for business though. It's okay to add some fun stuff in their too though – like a quick quip about how you're a coffee addict is just an added bonus and helps people get to know the person behind the scenes.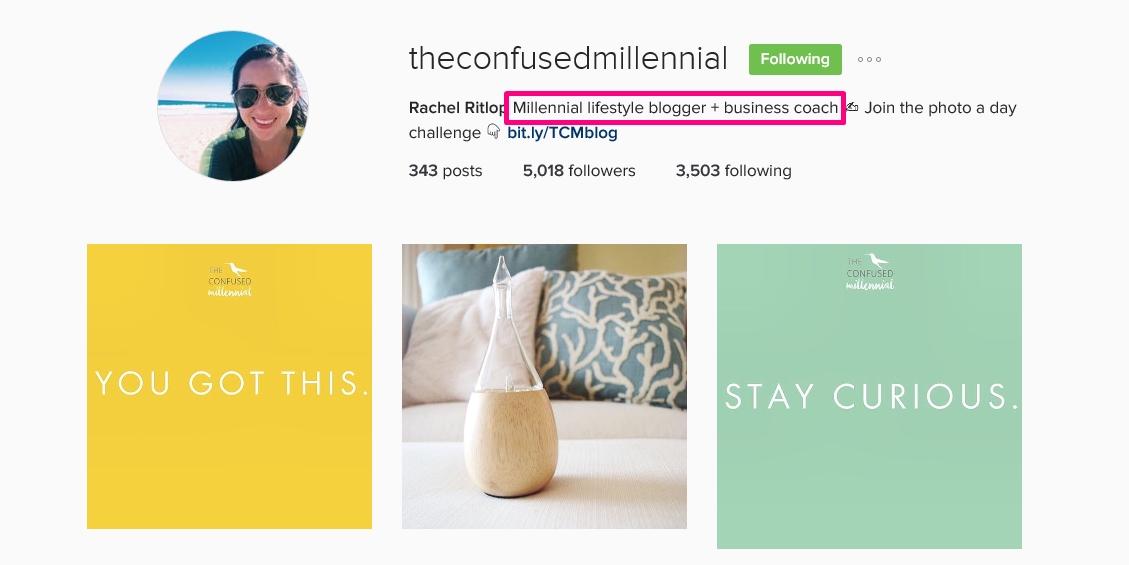 #3 There Is A Call T0 Action
What if you did the above two steps and skipped sharing a link to your website or your product? You'd be wasting your time! It's pretty important to provide a call to action to your followers. In the examples below, you'll see that this could be as simple as a link to your latest blog post or a link to a product or challenge you are currently offering.
Maybe your link is a link to your newsletter subscription.
An interesting idea is to create a custom landing page specifically curated for your Instagram followers. Imagine how awesome that would be?
Either way, you tackle this area of your profile, be sure to send your followers somewhere.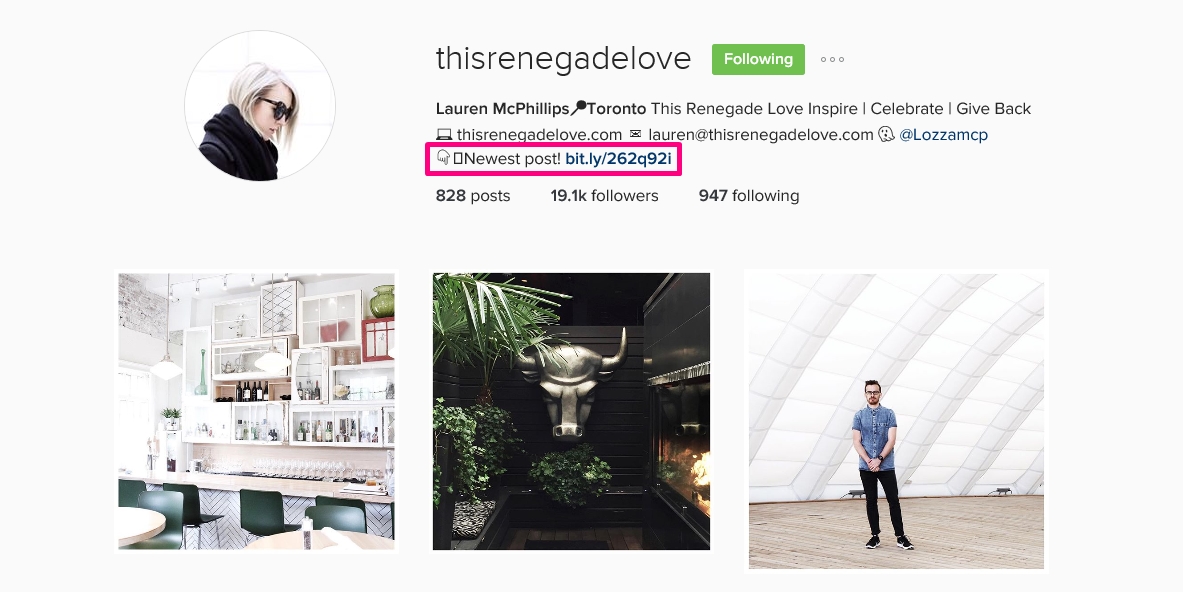 #4 

Post Once A Day 

(No more than 3 times a day)
It's true that most businesses and blogs that do really well stick to one post or as many as three posts a day. That's it. It's not like twitter Pinterest where you get to post 20 – 100 times a day without any issues. Instagram is a more intimate social media and if you're posting more than 3 times, people can get turned off quickly.
That said, staying current with your followers feeds is important so that they get used to seeing you around, recognizing you and what you're all about. Once they start seeing a post from you each day, they'll begin to recognize you and hopefully start loving your posts. When that happens, they'll begin to warm up to other ideas like purchasing your products and services. However, posting any more than 3 times a day is just offensive on Instagram.
If you do plan to post as much as 3 times a day, you shouldn't be posting them back to back either. It would be ideal and less offensive to your followers if you staggered them throughout the day. Morning, noon, and night would suffice.
Even still, just posting once a day seems to be a perfect number for most savvy business owners and they manage to get great results from just one!
#5 Cohesive style & colors
When you see coordinating colors anywhere, you instantly feel better and the world suddenly seems at peace (ok, a bit of drama never killed anyone!). So, having a cohesive style & colors on your Instagram feed (including the same profile picture you use on all social media) is a good idea and will help your audience see that you must really know your stuff and care about your blog.
Really though, these feelings of happiness and calm are why having a color coordinated and aesthetically pleasing Instagram feed is common among small businesses that do well on Instagram. It-in-itself has value and here's why.
♥ Followers and outsiders instantly associate your brand with those colors.
♥ Your brand and business will have an elevated experience on social media.
♥ Your words and actions are instantly validated by the professional appearance of your Instagram (people notice when things are well thought out and cared for – and they like you more for it) Check out Kelly Jane Creative's Instagram to see what I mean!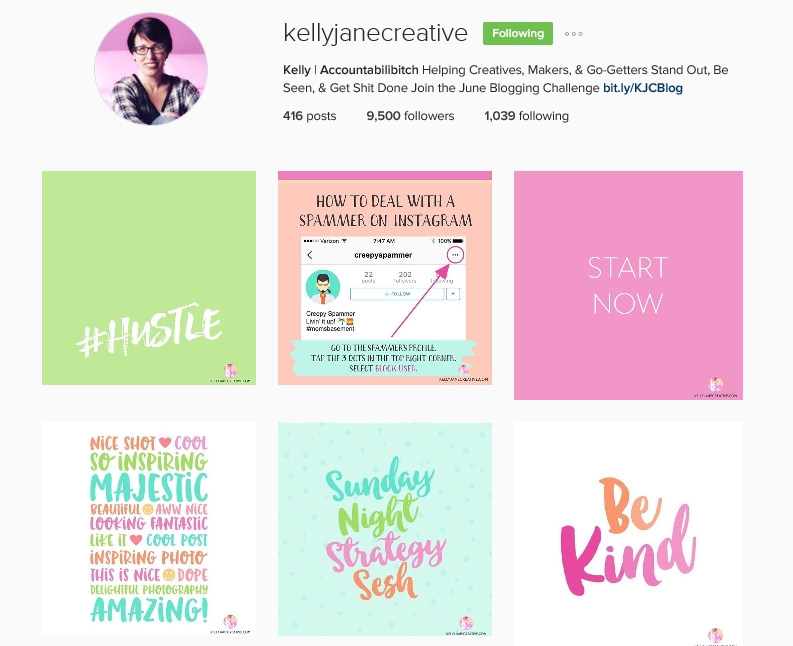 #6 

Varied Images & Content (But still visually connected by color and style)
As you can see in Melyssa's Instagram, she's been using her brand colors, but she also throws colorful lifestyle photos into her mix of Instagram posts. This allows for a new experience for followers every day. It would be rather boring if someone posted the same looking image or quote every day, and for some brands, that might work well, but most successful brands on Instagram that I've seen have varied content and images.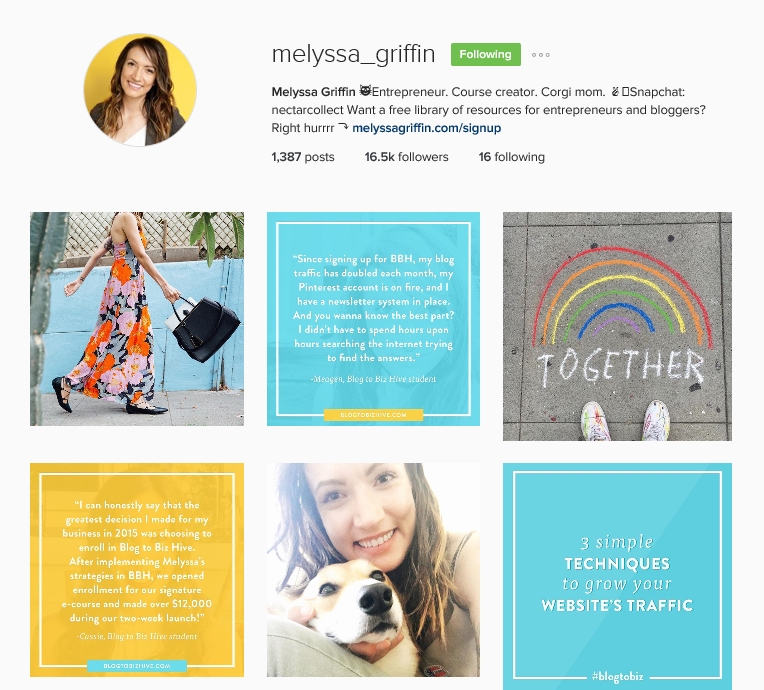 #7 

Use Plenty of Specific Hashtags
I'm sure you're familiar with hashtags, but the most successful brands on Instagram don't just use any hashtags. They usually pull from a list of hashtags that are specific to their type of business.
So, if you want to find like-minded people and new followers, the best advice I can give you is find and use hashtags that are specific to the image you're posting AND your brand. For instance, business coach Cyndie has this super adorable headshot of hers where she is wearing a denim shirt. She's posted many popular lifestyle hashtags AND hashtags for things that relate to her business (coaching).
Changing up the hashtags you use will help you reach new people all the time. If you consistently use the same hashtags and never change them, you'll probably hit a wall and not gain a ton of new followers for long stretches of time.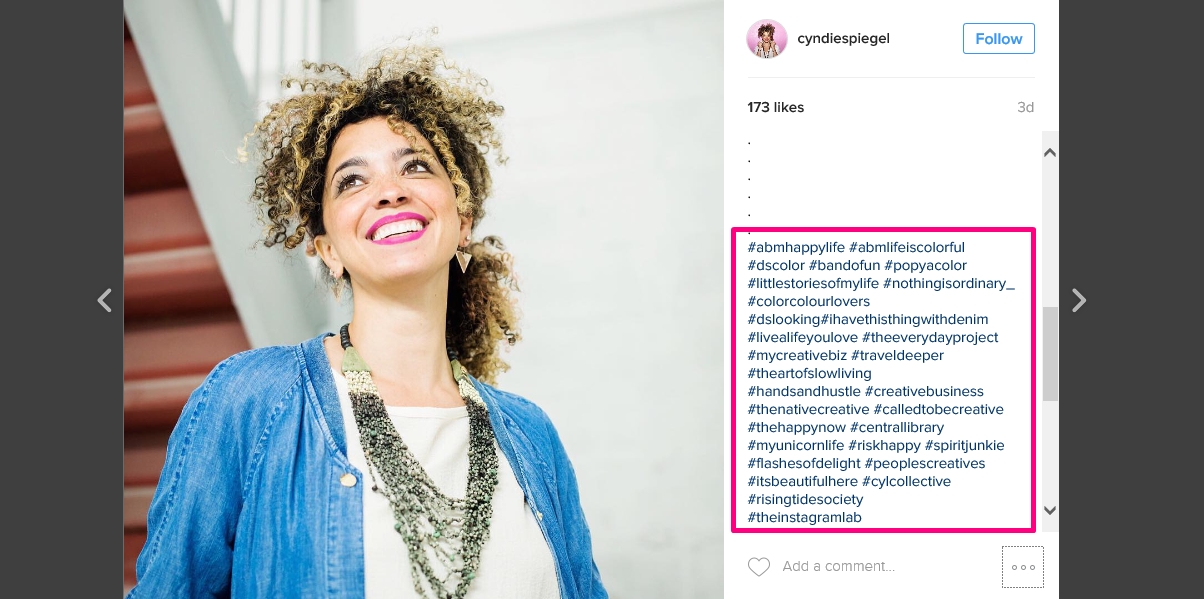 #8 Engage and Comment Every Day
Besides putting hashtags on your posts to attract new followers, you should also be actively searching out people to interact with and engage and comment on profiles of potential customers and clients (or like-minded people). Many businesses and brands tend to like my photos and occasionally leave me a comment. If I've never heard of them before, I will probably click through to read more about who they are (I'm curious and I bet you and the rest of the people on Instagram are too!)
What's the lesson here? If you search out people who use the same hashtags you're using, you should like their photos and leave them friendly and helpful comments.
People want to be noticed and liked. If you're genuine about your interactions, then you just may gain yourself a new follower.
#9 Helpful & Useful Captions For Conversation
Let's go back to that reason why you're on Instagram to begin with. If you're a business and a brand looking for more clients, then you should probably include quality content within your captions. Surprisingly, you have a lot of room to write quite a bit, so make it count. Many businesses, brands, and bloggers aim to help others and inform their followers. Other times, they are giving behind the scenes looks at their business.
Whatever the image is, make sure your caption ALSO adds some kind of value. This will ensure your followers are getting some incentive to keep you around on their Instagram feed and possibly encourage them to click around your profile (all with the hopes that they become a paying client or customer – right?)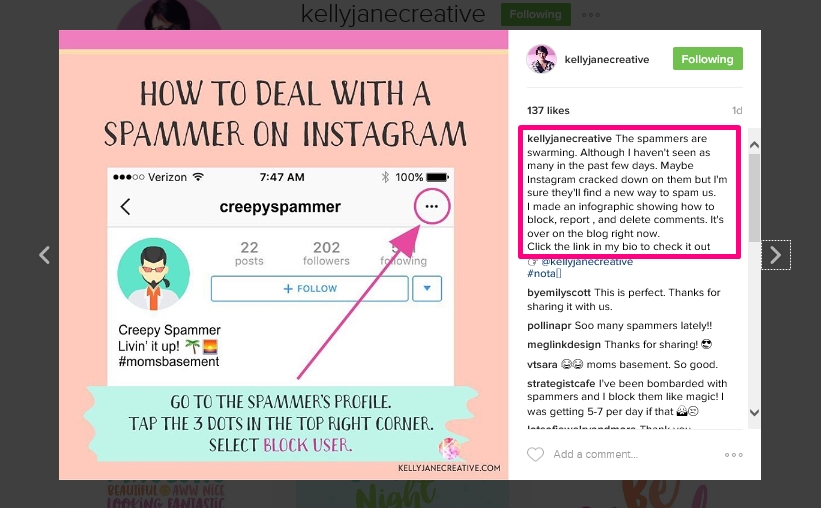 #10 Telling a Brand Story
There are few things that tell stories better than photos. So, use it! Share behind the scenes of your brand and keep people engaged in the making of your products. Selling your products is easy when you PULL your ideal clients into your brand's story. As soon as they feel connected to your story, they'll be more compelled to engage with and support you.
So, use that marketing story (like this one from Sugar and Cloth )and use your behind the scene images and creative process to grow your Instagram and business closer to your customers.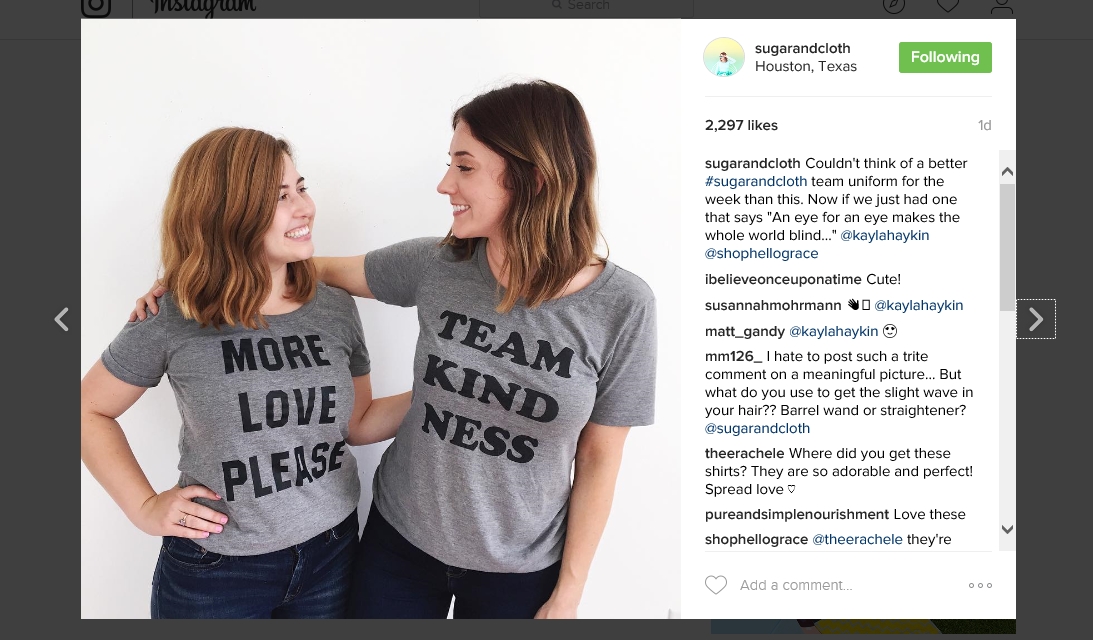 The Conclusion: Elevate your brand on Instagram
The more you pay attention to your branding, hashtags, and making sure to engage with followers – the more you are likely to make a huge impact on your business using Instagram.
Don't be afraid to experiment with ideas, but always remember the end goal with every single image upload and caption written. If the end goal is to sell more products, you should second-guess uploading bad images.
Ready for More Instagram Hacks? Here are some of my favorite top tips:
• How to Hack the Instagram Algorithm for More Engagement
• Styling Flatlays for Instagram Content
• The Best time to post on Instagram for Maximum Engagement
• How to create 30 days of Instagram content in 8 simple steps