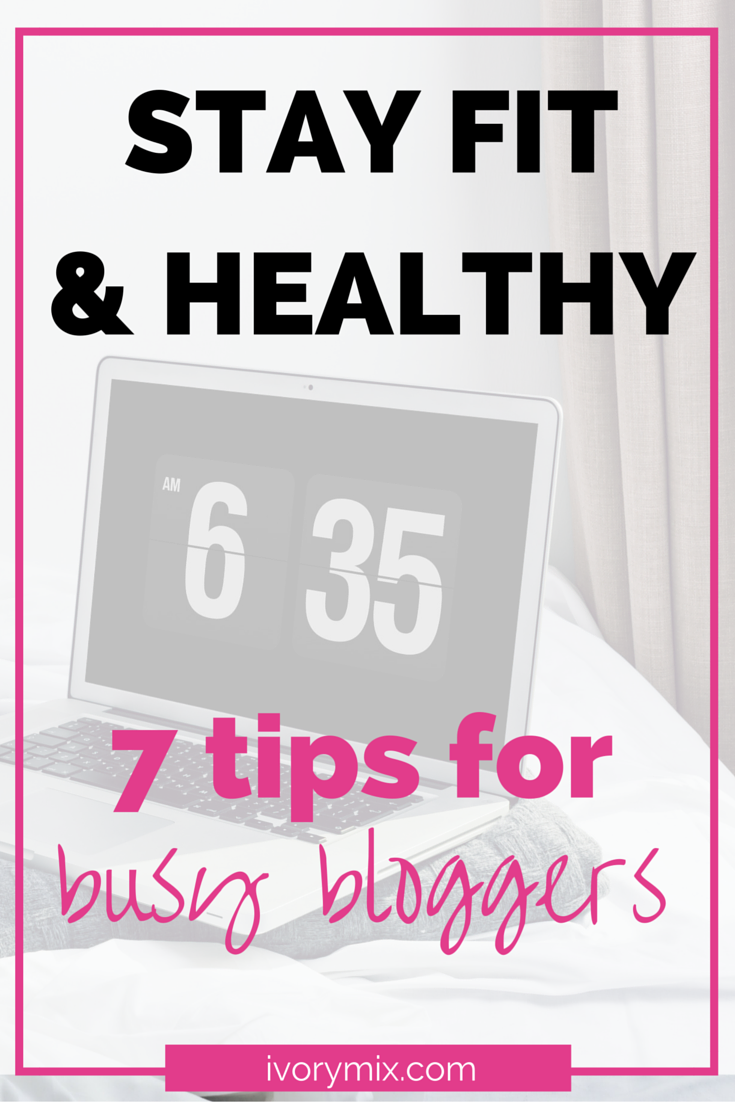 Have you made sacrifices for anything while trying to grow your blog and business? I know finding ways to do it all, like stay fit, can be hard to do when you have a family, a full time career, and a blog you're trying to grow. If you're like me, you've also got school work and a husband in school too (which will be done shortly, thank goodness!!).
I know it's a challenge because I read it all the time from fellow bloggers and business owners, but I feel it too. There was a time when I would go to the gym or work out twice a day! I was on a particular mission then, but these days, it's a struggle just to get in the 3 days I need to feel sane, but I do it.
I do it because its important, it helps balance my mood and it keeps me healthy. Without my health, I wouldn't be able to do many of the things I want to do, and that's just not going to happen on my watch. So, I've made it a priority and I'd like to share how you can make it a priority too. Here are 7 different easy ways you can stay fit, even as a busy blogger.
Make a meal plan  (if you have an editorial calendar, then this should be easy)
Just like creating an editorial calendar, a meal plan puts all the ingredients and meals in a neat little chart and list that is easy to follow. It's actually a little easier than that though, because if you take the time to plan ahead for 1 or 2 weeks, you can just repeat it over an over again. How simple would it be to find meals you like that are low calorie and healthy, and then just repeat it?
In all seriousness, creating a meal plan and knowing how many calories is in each meal will set you up for success in the long run.
Wake up early or stay up later to fit in exercise
Far too often I hear people complain that there aren't enough hours in the day to stay fit, but if you just stayed up 30 minutes later, or woke up 30 minutes earlier, you can fit in a quick workout.
If you're one of the people who already get only 5 hours of sleep a night and need that 30 minutes, then you need to seriously evaluate how you spend your time, especially if your health isn't one of your top 3 priorities.
Make time for a little exercise. You'll thank yourself.
Go for a walk 3 times a week to take blog photos and stay fit
Can't bare to wake up early or stay up late? Then just go for a walk in the middle of the day. Take your phone or camera and plan on stopping for 5 minutes to take a few photos for your blog, twitter, facebook, or instagram and BAM – you're actually multitasking by blogging and exercising at the same time.
In fact, I use my gym time (when on the elliptical) to catch up on Facebook groups and social media. It's a great way to get a few things done at once.
Create a schedule and routine for exercise to stay fit that's easy to follow
Just like creating a meal plan, you should schedule your workouts and know exactly when you'll be breaking that sweat to stay fit! Why?
The reason you want to schedule it is because it becomes an appointment that you have with yourself. Don't start off by breaking those promises and skipping those appointments, but also, be real with yourself. If you have exercised in a while, start slow and only schedule 3 workouts a week. Work your way up to more as you get more consistent and you'll see that you can do this easily with a set schedule.
Create a Pinterest board for healthy meal inspiration and ways to stay fit
Pinterest is by far my favorite tool for saving any and all ideas related to anything particularly ways to stay fit and healthy. What would happen if you created a special board for health and fitness inspiration? If you're like me and in Pinterest everyday, then try and included a health and fitness pin in your mix every day and see what new tips and tricks you learn.
Find a healthy and low calorie meal you can make and create a blog post from it
If you're blog has room for it, why not make healthy meals and recipes one of your categories? Try something new or prep a bunch of meals for the freezer and document it for a blog post. At the very least, it could be a series of photos on your Instagram 🙂
Find an accountability friend on a facebook group for bloggers. They will know exactly what you're going through.
Last but not least, find yourself a friend to help you stay accountable. I'm sure you've heard this before, but people often make recommendations to go to the gym with a friend. I don't know about you, but that doesn't work for me. I find that other people tend to make excuses and it might influence your thinking. You can only count on yourself to make the right choices for your health, but that doesn't mean you should have someone to chat with and bounce thoughts off of.
If you're in need of a buddy that gets your blogging schedule but also understands how hard it is to fit it all in, then consider joining a group of bloggers in a forum or on Facebook. We've actually got one of our own and you can sign up to join us here.