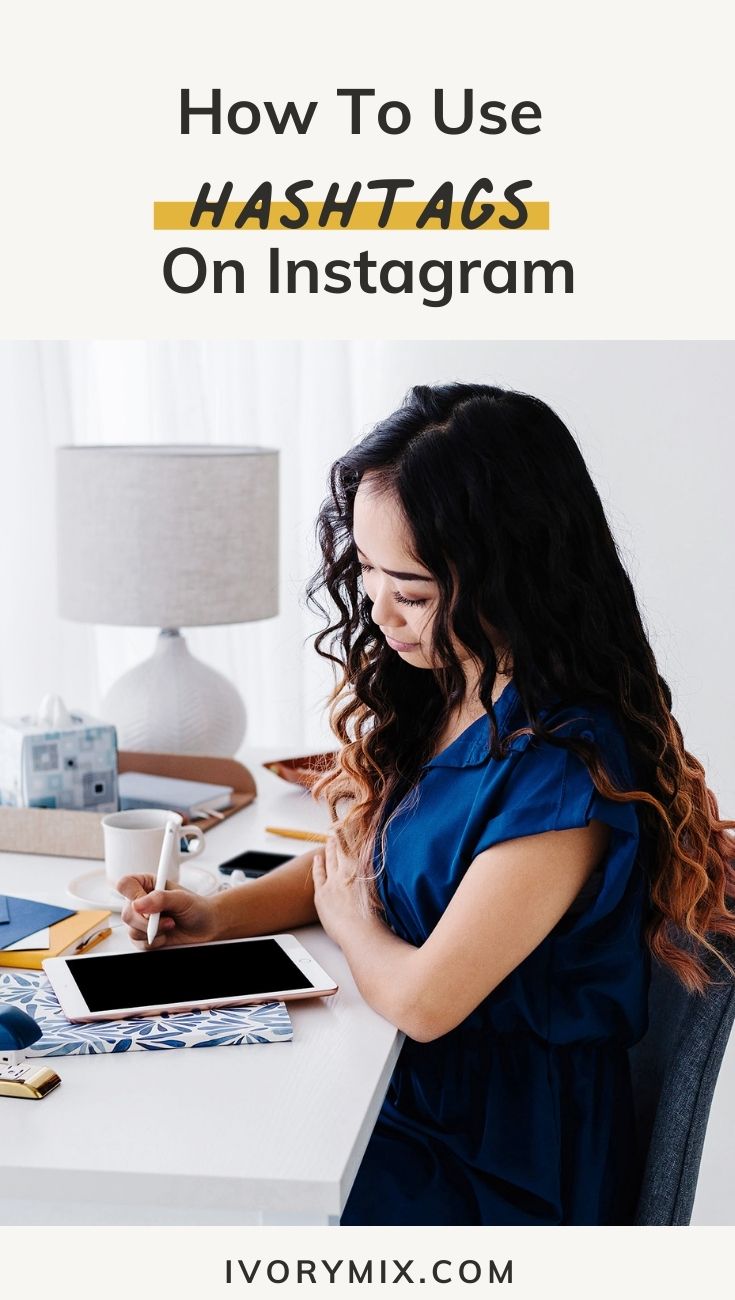 Are you ready to master the hashtag game and grow your Instagram to new levels in 2021? 
If you've heard hashtags are one of the best ways to get your Instagram content seen by more people, you're correct. Since being seen on Instagram is the first step to growing your following and ultimately making more sales for your biz on the platform, mastering hashtags is crucial.
In this post, I'm going to teach you the ins and out of Instagram hashtag use to increase your reach. I'll introduce you to my favorite hashtag tool, share my personal hashtag strategy, and teach you how to implement the same strategy in your own business.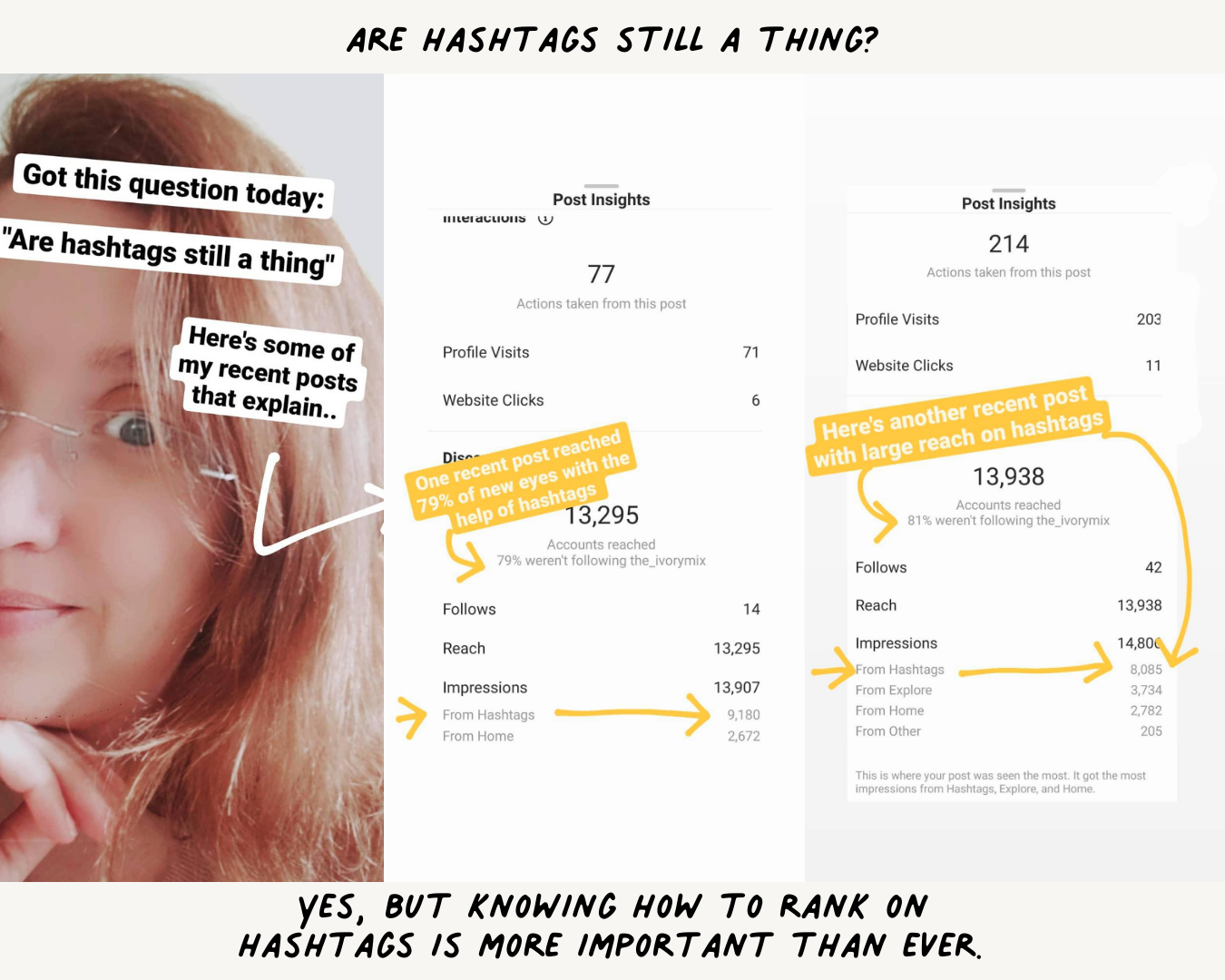 I've experienced incredible results using this hashtag method, and I'm now reaching thousands with my Instagram content.
In the following steps, I'm going to outline my basic hashtag strategy, so you can experience the same biz-changing results I have.
Use All 30 Hashtags
With thirty hashtags allowed on each Instagram post, make sure you're utilizing each one of these little gems to boost your reach. Whether you add them to the actual post or to the first comment, don't let that precious hashtag space go to waste. 
Use My Favorite Hashtag Tool, Flick
When it comes to choosing hashtags, you want to pick ones perfectly related to your niche. I've discovered Flick — an amazing tool that's really helped me improve my hashtag-research process, so I'm using the best tags possible for my ideal audience.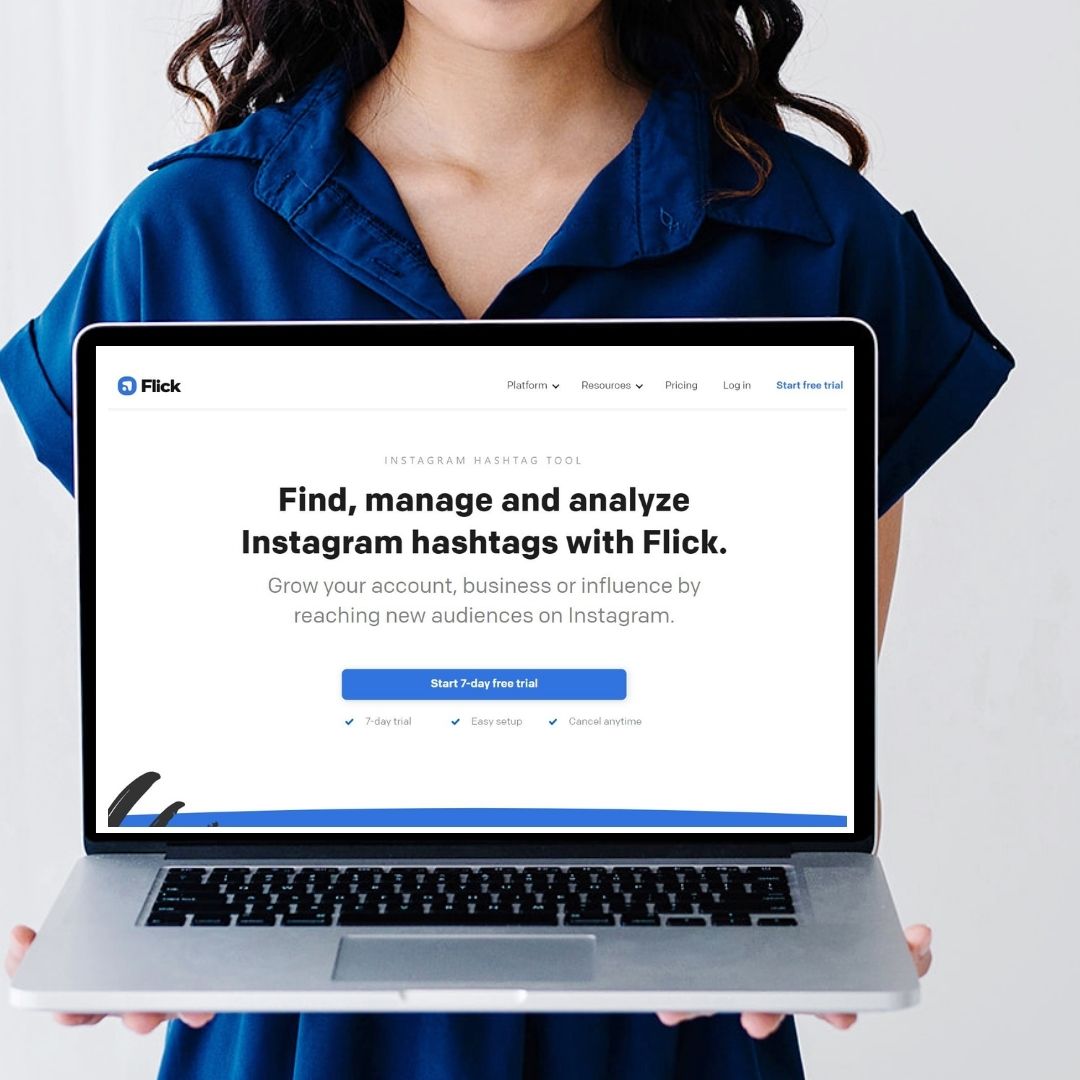 Find Your Best Niche & Subniche Related Hashtags
Before using a tool like Flick, make sure you've well defined your niche. (For example, if you're a wedding photographer, your niche is photography.)
Then begin to narrow down your sub-niche. (In this example, wedding photography).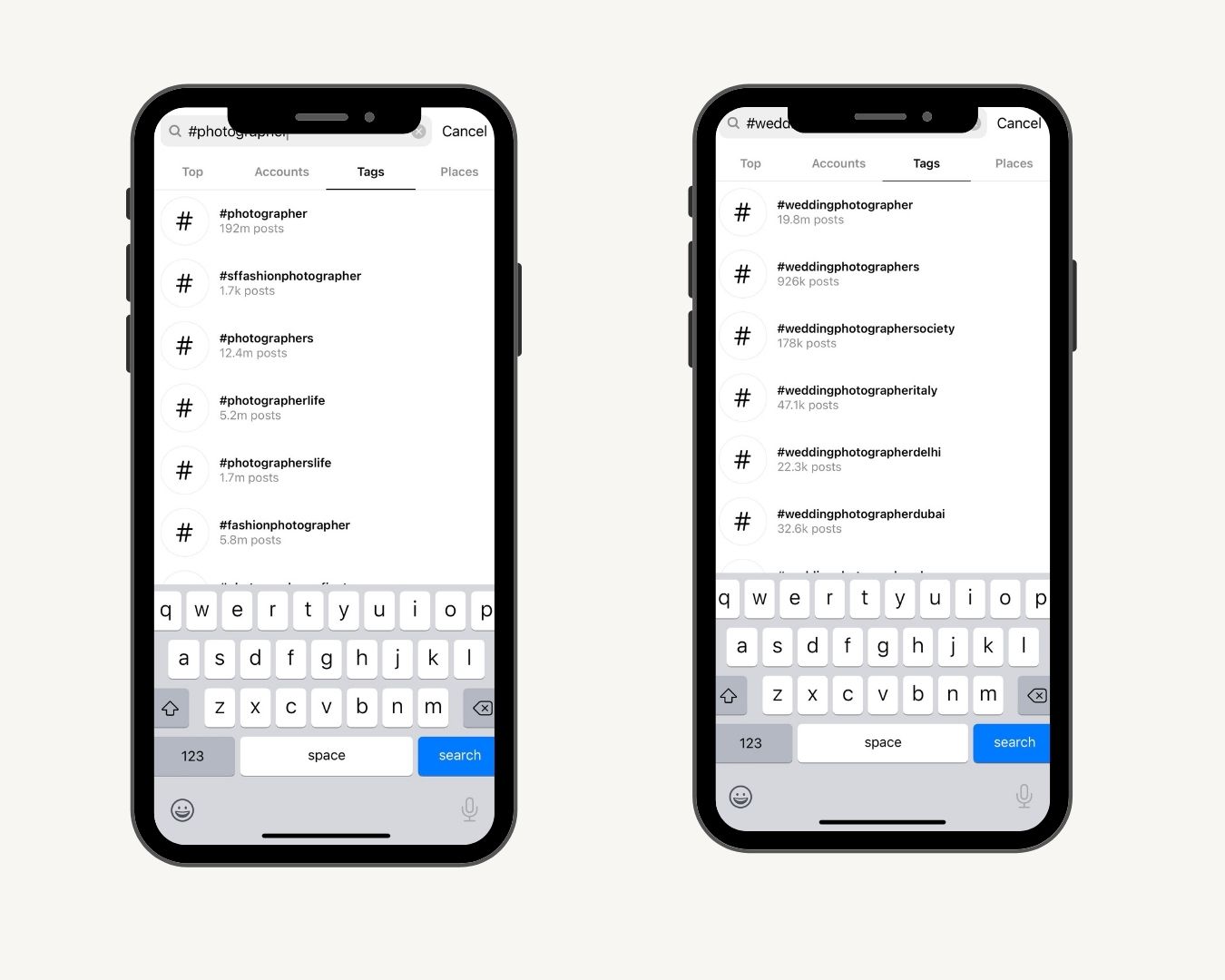 Type your niche or sub-niche into the search feature on Flick, and explore the related hashtags that pop up. Research those related hashtags to see if any will fit your brand and would appeal to your audience, and add them to your list of usable, brand-friendly hashtags.
Bonus? Flick also allows you to run a report to see how your hashtags are ranking, so you know just how you're performing on Instagram.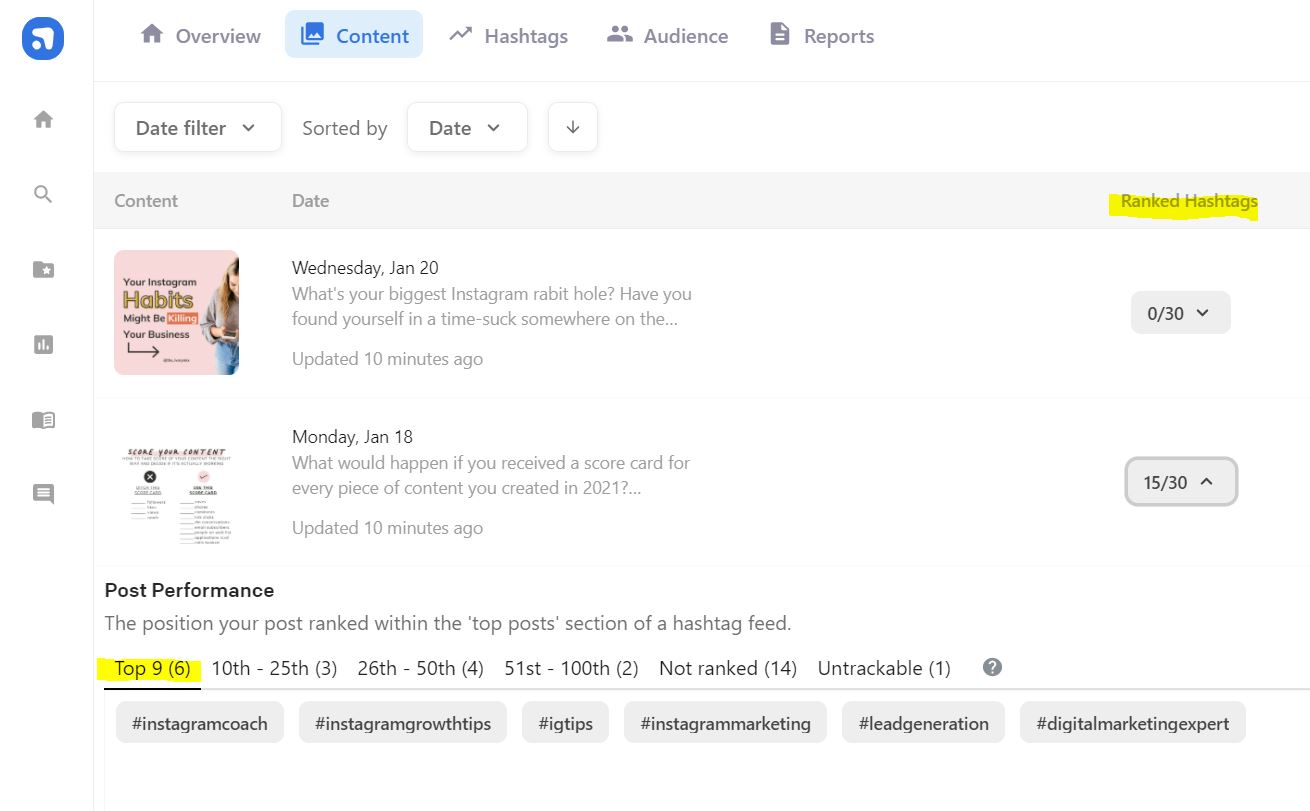 Use Hashtags Your Audience & Community Uses
Who does your audience identify as?
What communities do they hang out in online? 
In the above example, a wedding photographer's ideal audience would be someone who is #newlyengaged or #engaged or an #engagedcouple.
If you were a wedding photographer, you would start with hashtags like these, and then explore even deeper to see what other hashtags come up for that same type of content!
Consider Location Related Hashtags
Some industries may benefit from using their physical location as a part of their hashtag. Explore whether doing this will work for your particular business. This strategy usually works best in larger cities. (#NYCweddingphotographer, for example)
Balance popular hashtags with lesser-used hashtags.
A good hashtag strategy also involves using hashtags with different levels of popularity. You'll see distinct results from different levels, so explore using various ones to find your brand's sweet spot!
Remember SMALL HASHTAGS WORK.. don't believe me? Read this from one of my students and members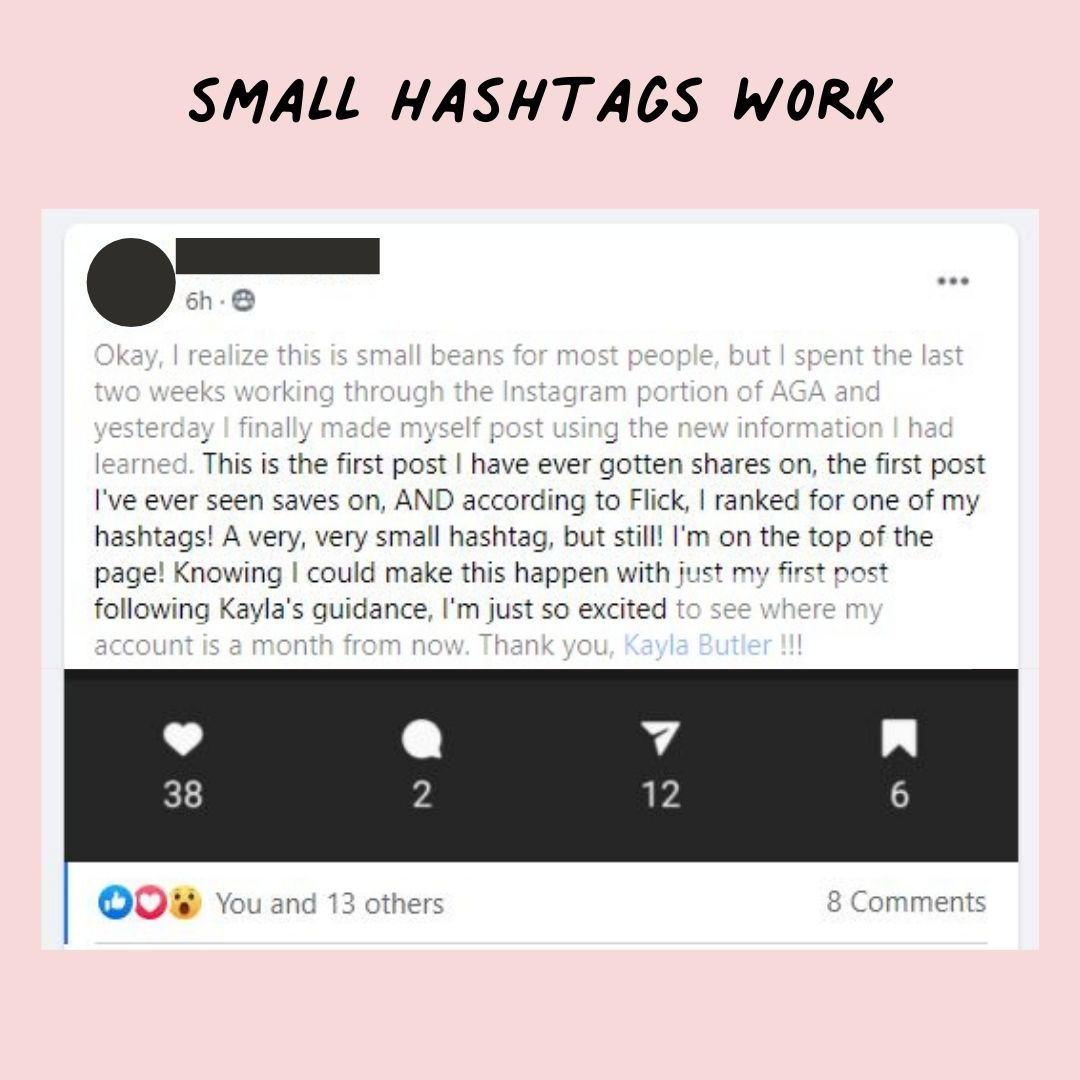 Group your Hashtags Together Based on Average Daily Uses
For my business, I created six categories of hashtags ranging from 50k uses up to 2 million.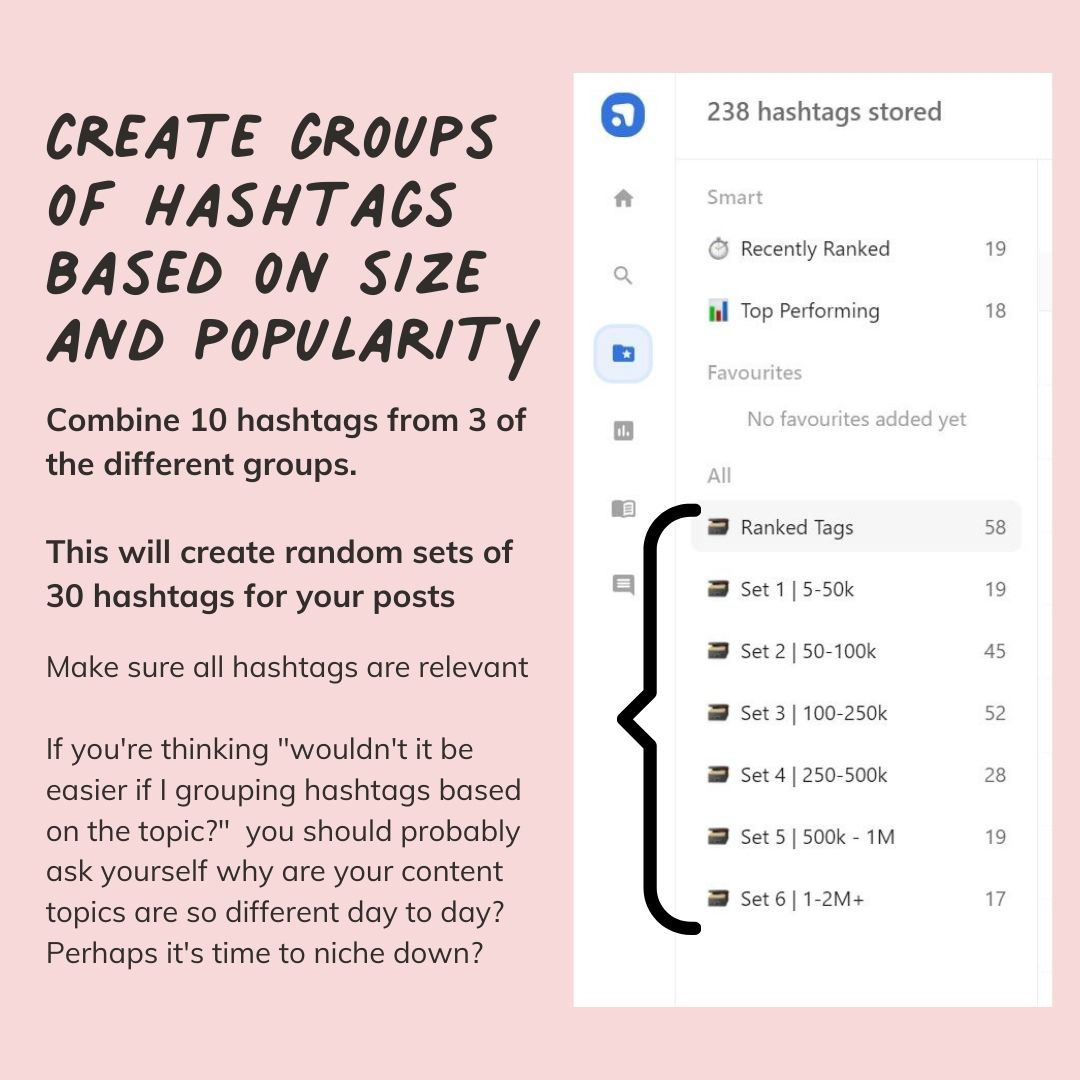 Grab 10 Hashtags from 3 of your groups will = 30 Hashtags
When it's time to post, I pull 3 sets of 10 hashtags from these groups to make sure I'm creating a group of thirty with variety. These hashtags are all related to my niche and sub-niches, and I make sure they match the content well. This helps the Instagram algorithm know who to show my content to.
Tip: Make sure to not use banned hashtags! Bans on certain tags have been put in place to stop spam in its tracks. If you try to use a banned hashtag, a warning will appear below your post. Be sure to familiarize yourself with the current list of banned hashtags to avoid using them by accident. Otherwise, you may have to face the consequence of having your post hidden from your audience.
Creating Content and Hashtag Harmony.
As you're deciding what hashtags to use with your content, make sure to take the time to search for them on Instagram. Note the visuals that are being shared with those hashtags. Within a niche, you'll find most of the time, the content is the same. If your visuals don't fit in with the other visuals that are expected for that hashtag, you might want to rethink your hashtags.
Need content ideas?
Check out the easy marketing planner with 365 content ideas. Remember, the Easy Marketing Planner comes FREE and INCLUDED when you enroll as an Ivory Mix VIP member.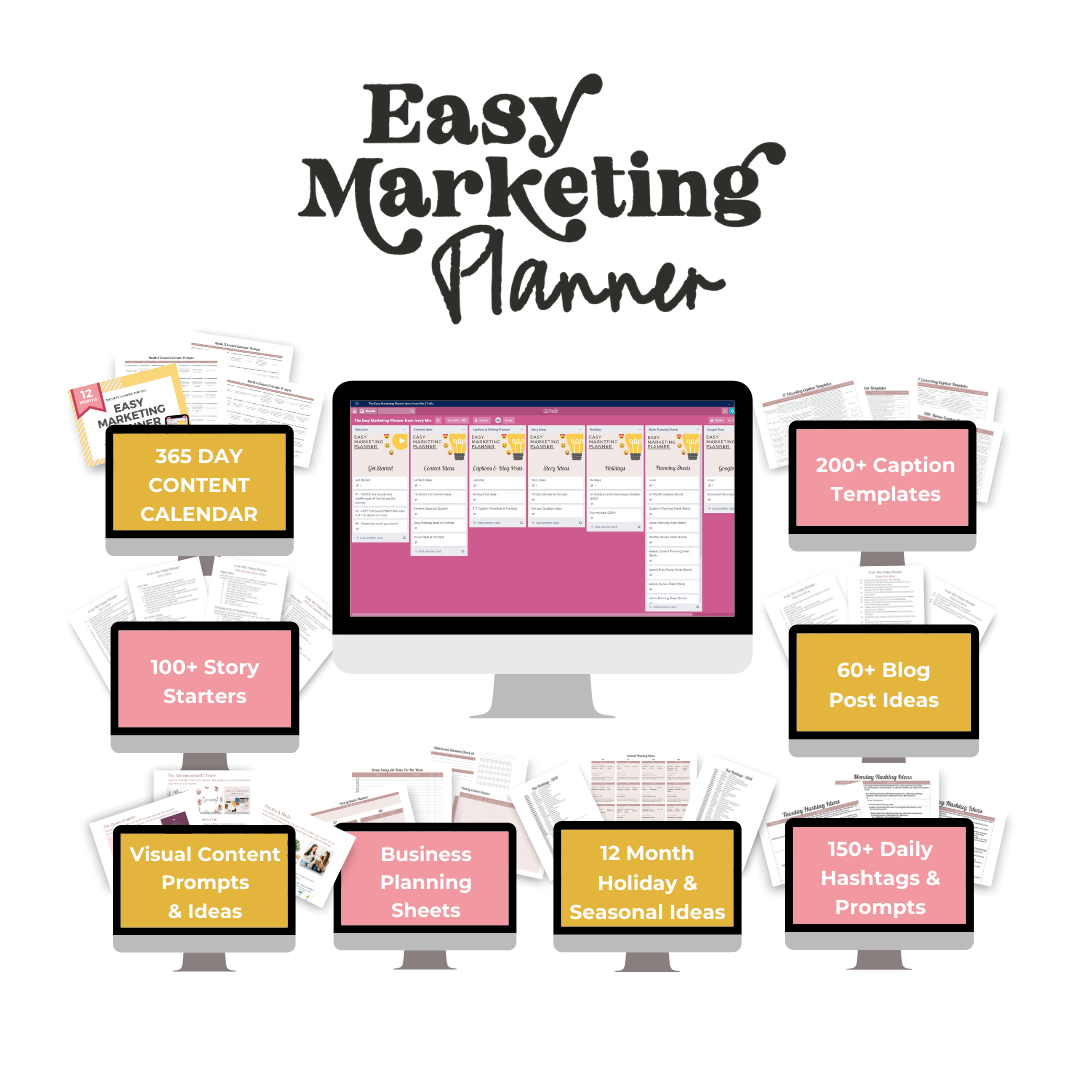 There you have it! Now that you've got a good grasp on the basics of hashtag use and strategy, the next step is to grab my Instagram Post Planner and Content Checklist.