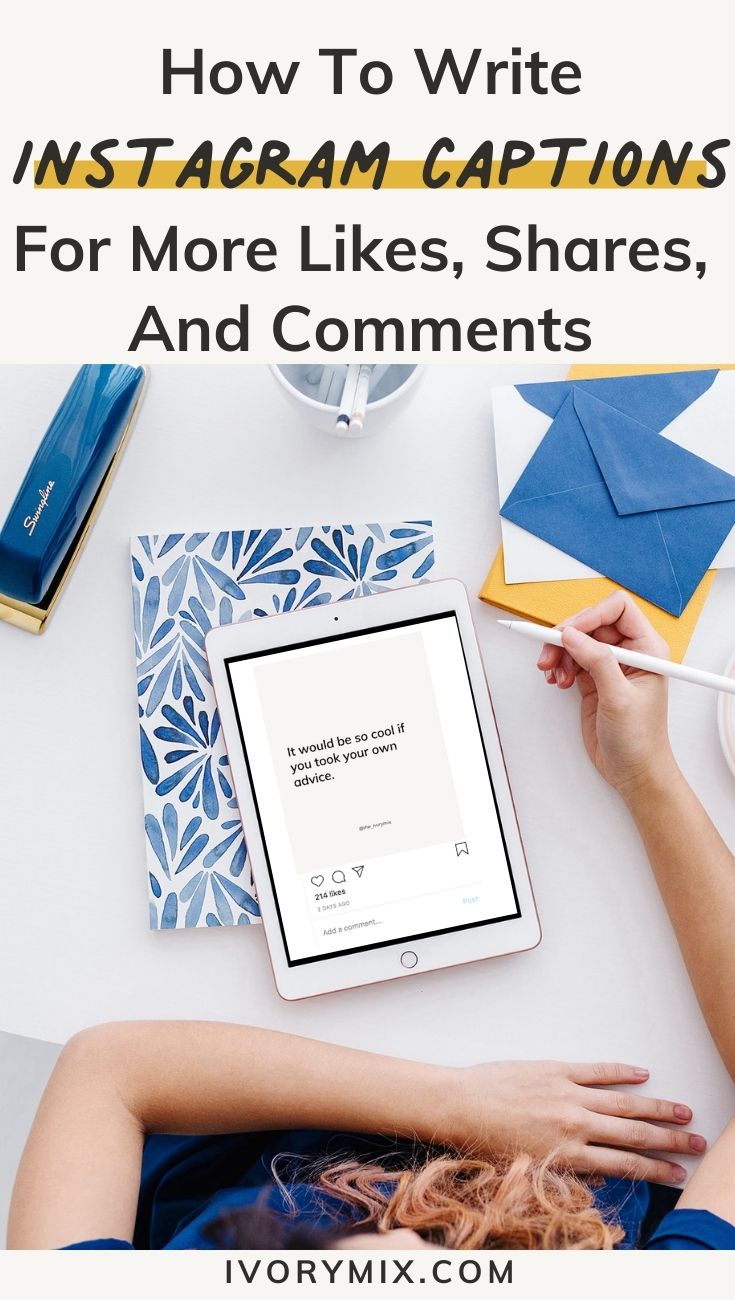 Writing scroll-stopping captions for your Instafeed isn't always easy. 
You may have dazzling visual content, but to really increase engagement and grow your following, better captions for your Instagram content are also a must.
In this blog post, we're going to dive deep into how to structure and write Instagram captions that will give your audience tons of value and help you achieve your specific business goals. 
Caption Length
Before you begin, you'll need to decide if your post requires a long or a short caption. There's no right or wrong answer here — both can work, but you'll need to assess your content goals to choose what post length will work best to achieve your specific goals.
If you want to get more sales or grow your brand, you'll probably benefit from a longer caption because you'll want to add more details about your story, your brand, and your offers.
If your goals are simply to grow your audience and get engagement (such as scoring more likes, shares, and saves), then a shorter caption may be more effective. 
Structuring the Perfect Instagram Caption
Step #1 — Compose a Scroll-Stopping Headline
Whether your caption is long or short, you want to grab the attention of your reader right away. Just like in an email subject line or a blog post title, keep the most important, most enticing info at the very top to draw more eyes to your content and hook your reader.
Step # 2 — Qualify Your Audience -> the most important step most people skip <-
This means to address your audience specifically. For instance, if the intended audience for your post is course creators, make sure they know you're talking to them! You can do this by simply saying, "Are you an online course creator? Well then…(share your content)" or by telling a story and relating it back to your ideal audience. 
Step # 3 — Create the Body of the Content 
Below your headline, create a body paragraph that supports the information in the headline and adds more value for your reader. Here's where you'll tell a story about yourself, your brand, or your ideal follower and lead them to the point where they will make a decision. 
Step #4 — Craft a Clever Call to Action
If the content of your post is the journey, your call to action is the destination — it's where you want your readers to ultimately end up. Before you even begin to create your post, you must have this call to action in mind so your content can point to that goal. The call to action will invite your readers to take the information they've just consumed and do something with it. This call may be to invite them to share the post, to comment, to DM you, to book a call, etc.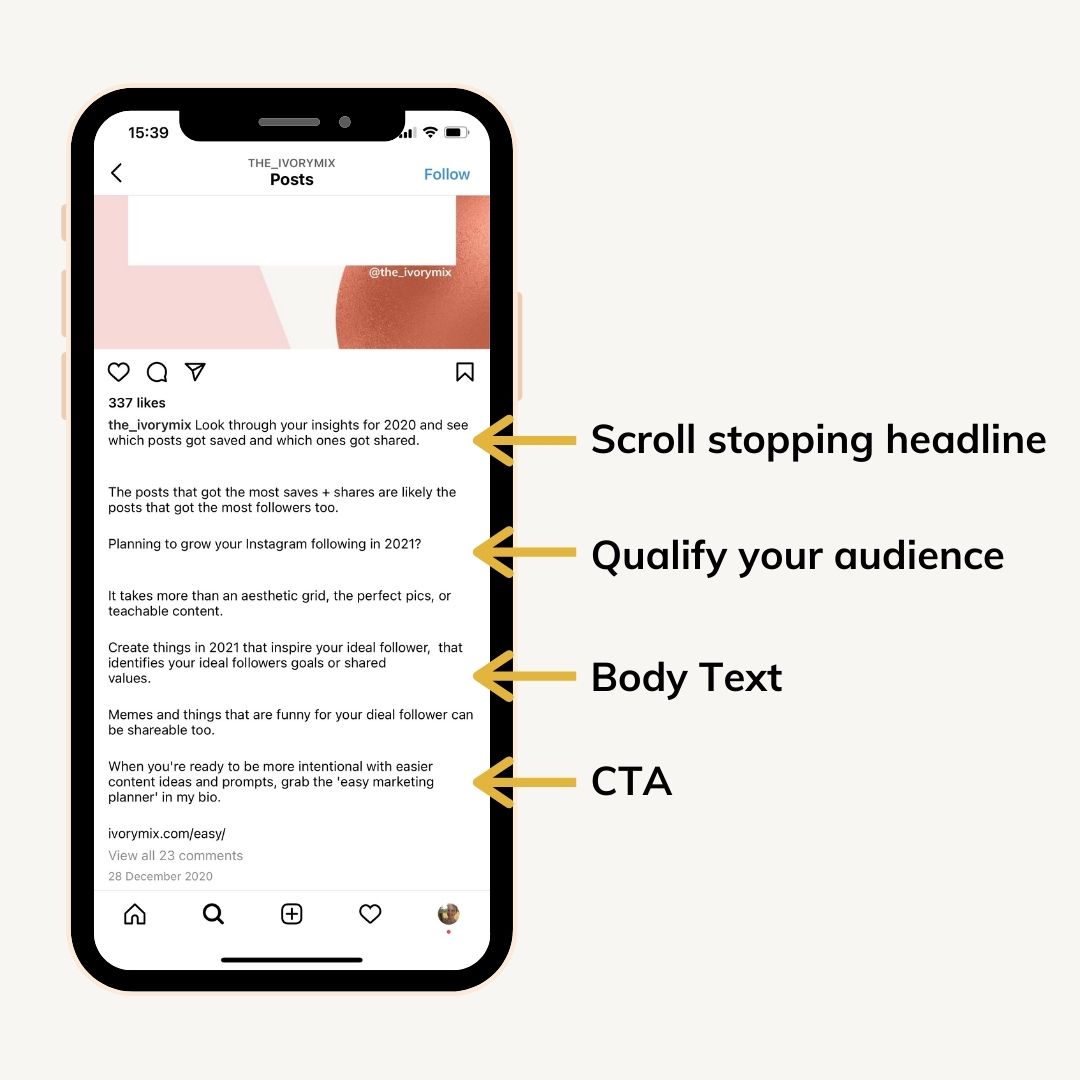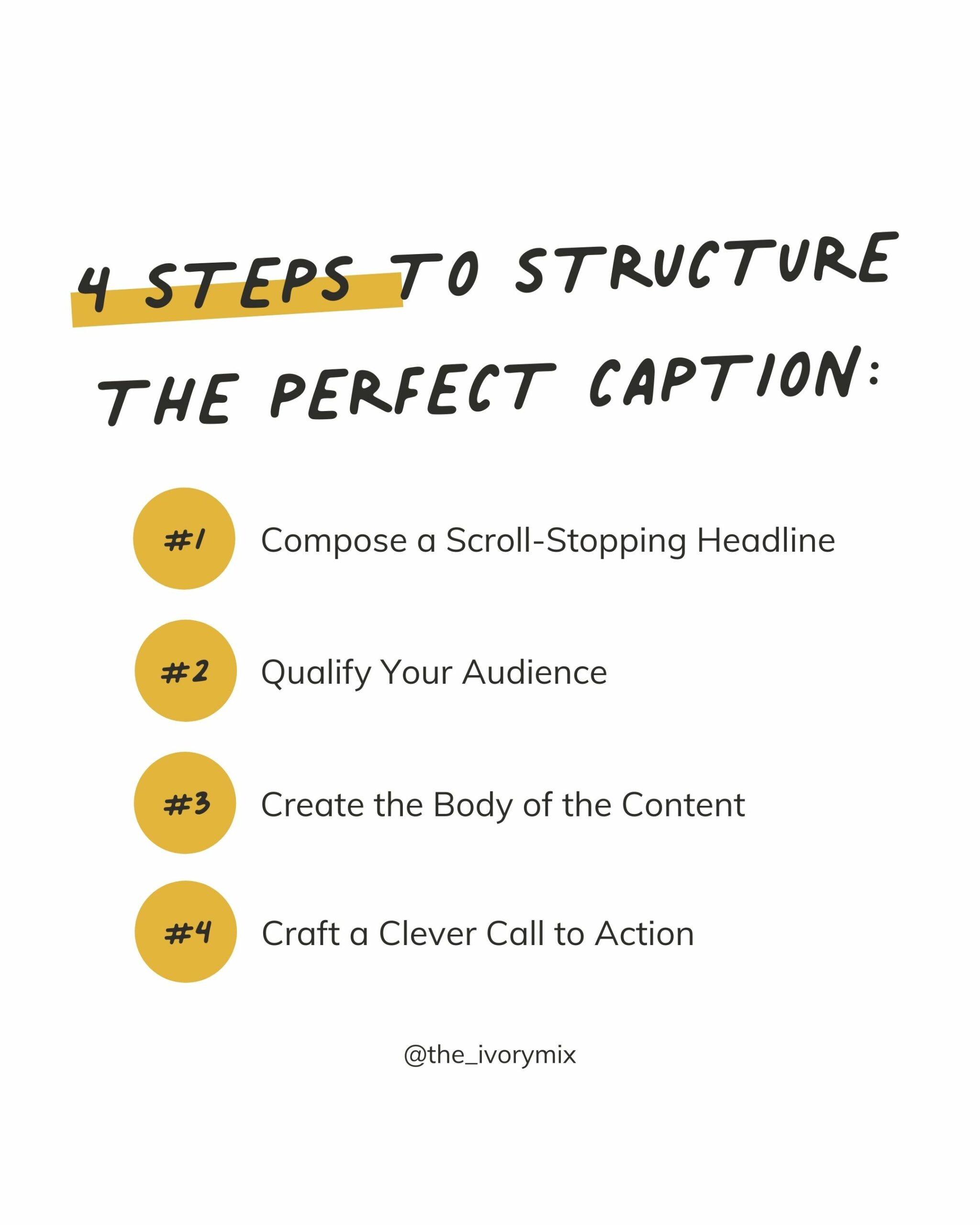 Other Caption Tips
Here are a few bonus tips to help you create stellar captions:
Make sure your content is easy to read
This means it includes lots of spaces, is made up of short sentences, may include bullet points to break up the content, and contains emojis to inject personality into the post. 
Share hashtags
Hashtags can be added to the actual post OR you can add them in the very first comment. Each option works well, it's a personal preference. Do your own hashtag research to ensure you're using the best ones to reach your ideal clients!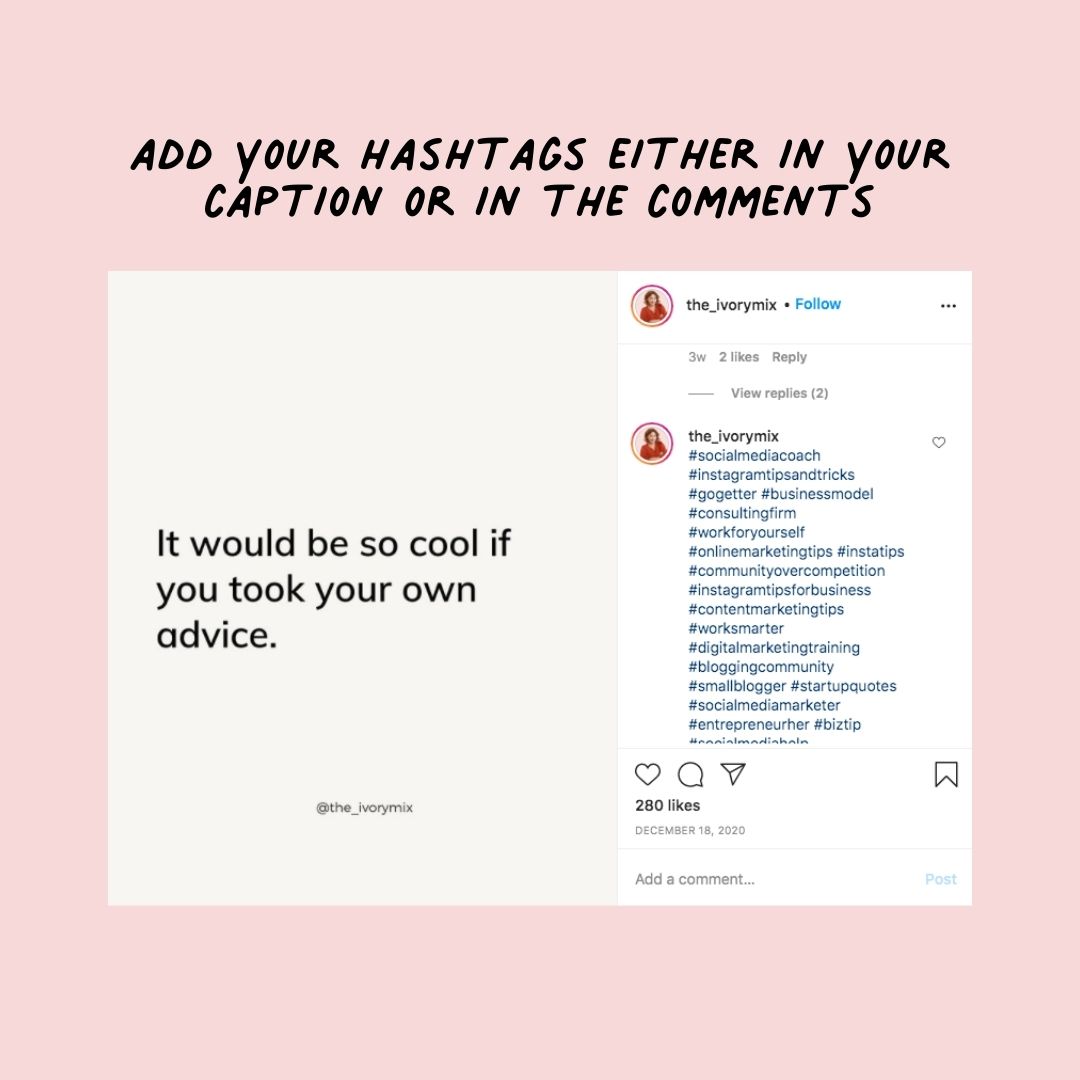 Use @mentions
When another person, brand, or product relates to your content, make sure to @mention them in your post. Doing this helps your content reach more people, helps your followers connect with more resources, and sets you apart as an authority in your industry because you are providing even more value!
Add Instagram Alt text to your images
Did you know you can improve your SEO by adding strategic alt text to your Instagram images just like on your website? This is a great way to add another layer of keywords to your posts for an extra boost!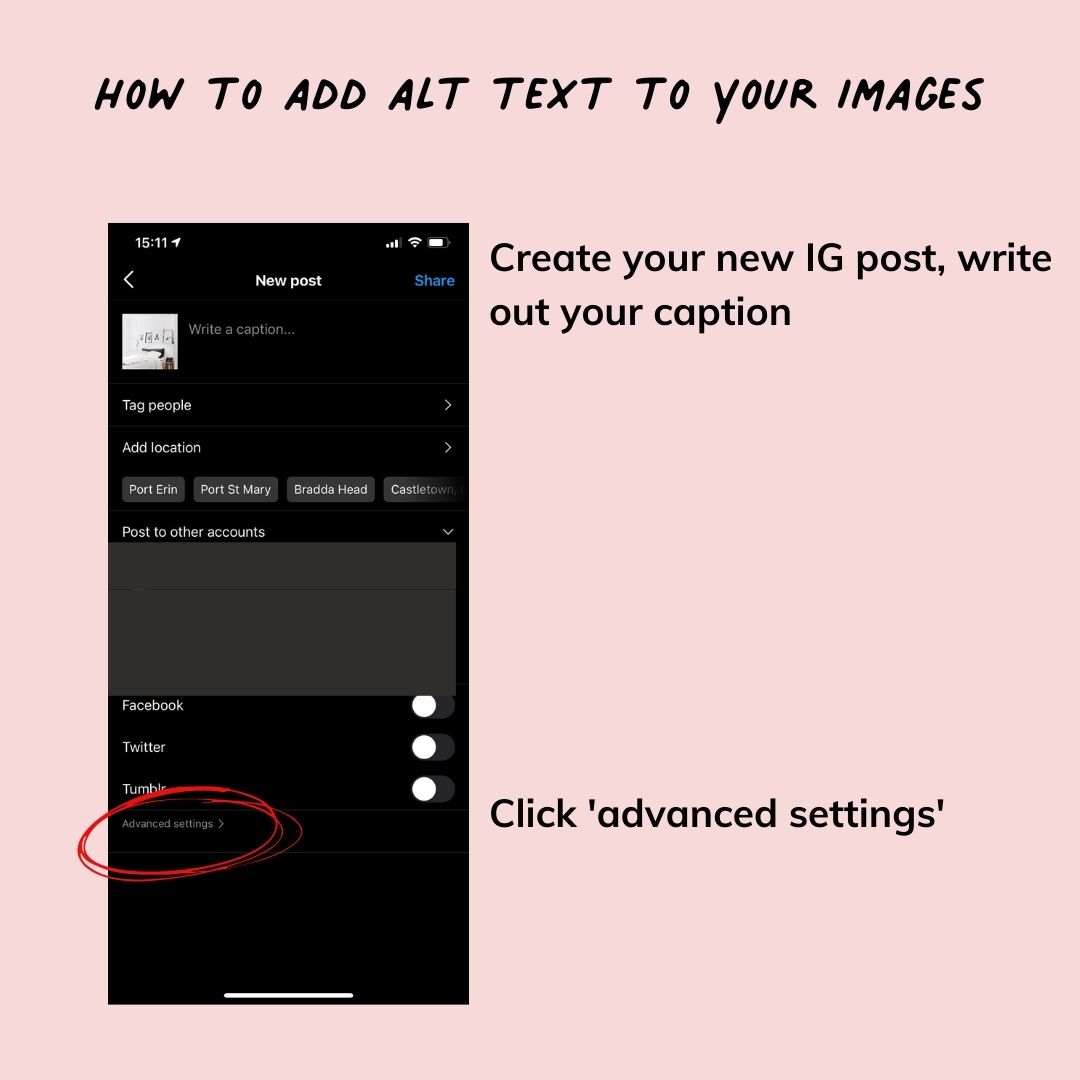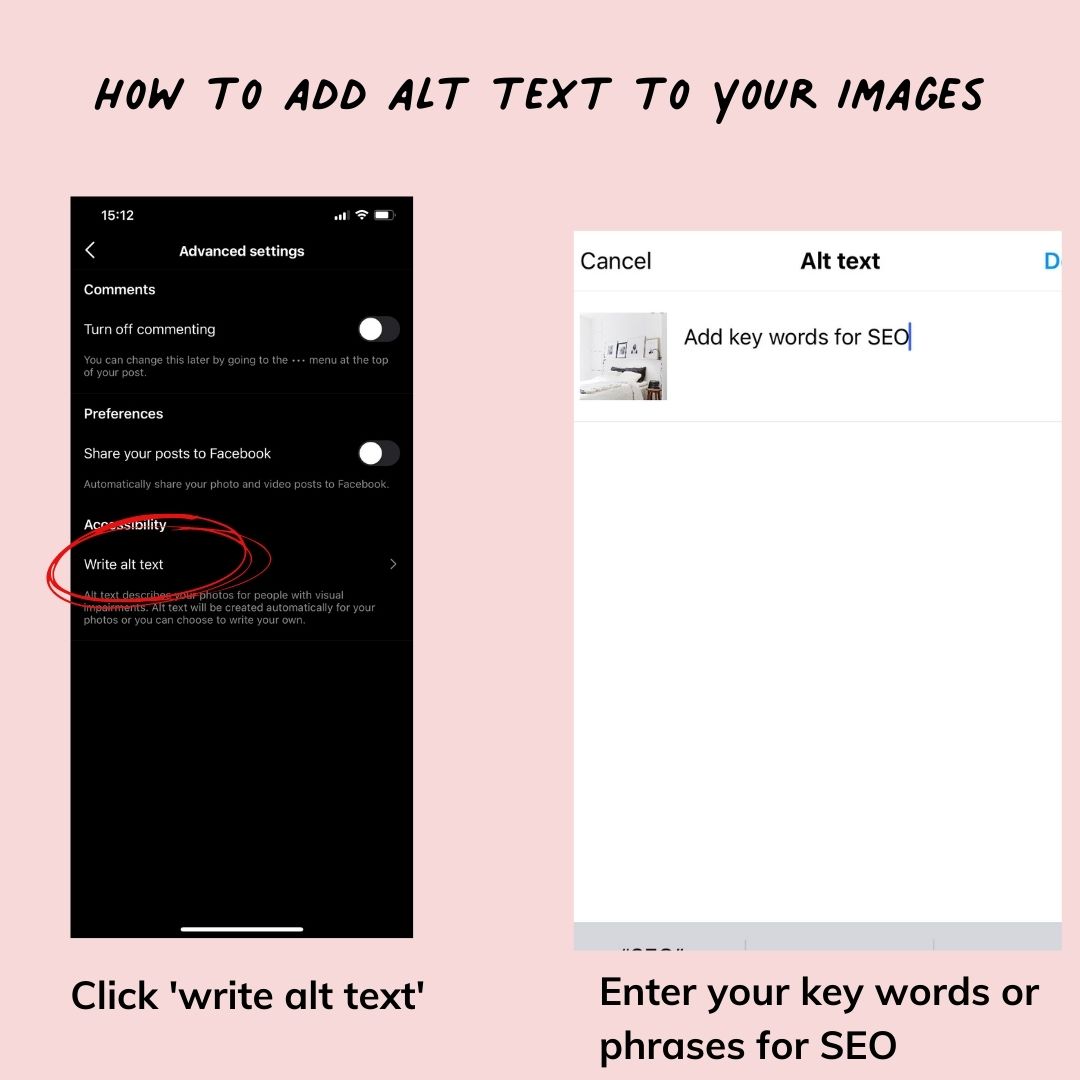 While a captivating photo may be the first thing to catch a scroller's eye on Instagram, the right written content will be what keeps the user locked in and invested and will ultimately transform them into paying customers. 
What Next?
Use the steps and tips in this post to create better Instagram captions that will delight your audience, increase engagement, and create raving fans.
Grab this FREE DOWNLOAD and Instagram Post Planner & Content Checklist to help you easily plan and create content on Instagram.

Looking for more content ideas and caption templates for Instagram? Check out the Ivory Mix membership, where I include 30+ Instagram templates and pre-written captions EACH MONTH just for you! These templates will jumpstart your content planning and will help you create well-written posts for your Instagram account.

KEEP READING
Want to know more about growing your Instagram following with content? Check out these blog posts for further information