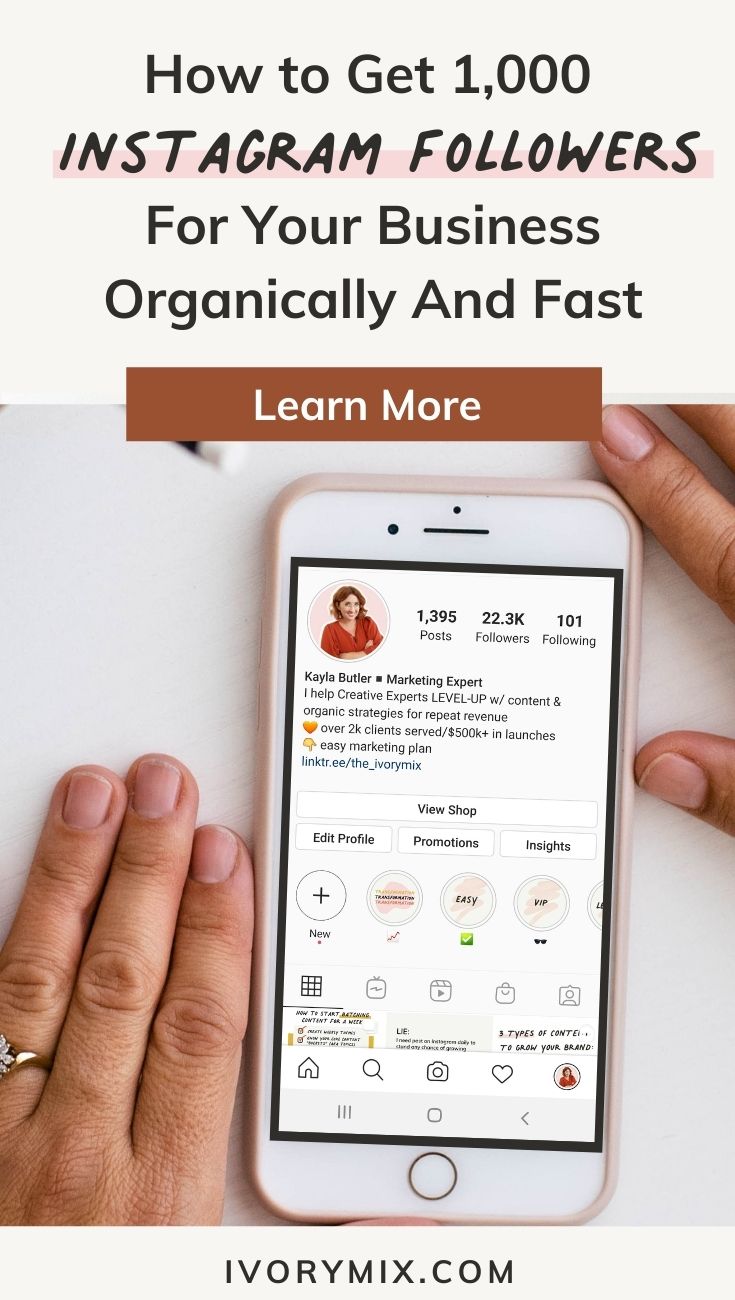 Over the past couple of years, Instagram has become one of the must-have app for entrepreneurs who want to expand their business and reach a new level of engagement with their audience. 
But before you can truly start using Instagram for all that the platform has to offer, you have to build a following of ideal followers for your business who will consume your content. 
In this post, I'm sharing eight steps to quickly build your Instagram audience organically and fast without paid ads. I've proven this process with my own Ivory Mix business Instagram account, and now I'm sharing it with you so you can grow your Instagram following, too!
Here are my eight organic growth tips for getting 1k Instagram followers fast:
1. Understand Your Ideal Client.
Knowing WHO your ideal clients are so you can create a magnetic Instagram account that draws them in is key to a successful Instagram strategy. 
Ask yourself, why is your ideal client on Instagram? Once you understand why they are there, you can better grasp who they follow, what kind of content they regularly engage with, what hashtags they are using, etc. 
The best way to get to the bottom of this is to simply ask. Target a few ideal clients and ask them:
Do they use the platform for business, for social reasons, etc?

What accounts do they follow?

Are they scrolling early in the day or late in the day?
The more you know about their Instagram habits, the better you can reach them on the platform. 
2. Create a Magnetic Profile.
Create a profile that is on-brand and beautiful! Make sure to include these important elements:
An eye-catching headshot

A clear handle that's ideally related to your business name, your name, and/or the keywords you want to be associated

A clear, simple profile name

A comprehensive bio that includes what you do, who you serve, what transformation you produce, and a call to action
Bio: I help _____ with _____ so that they can _____ (what you do, who you serve, and what results you produce)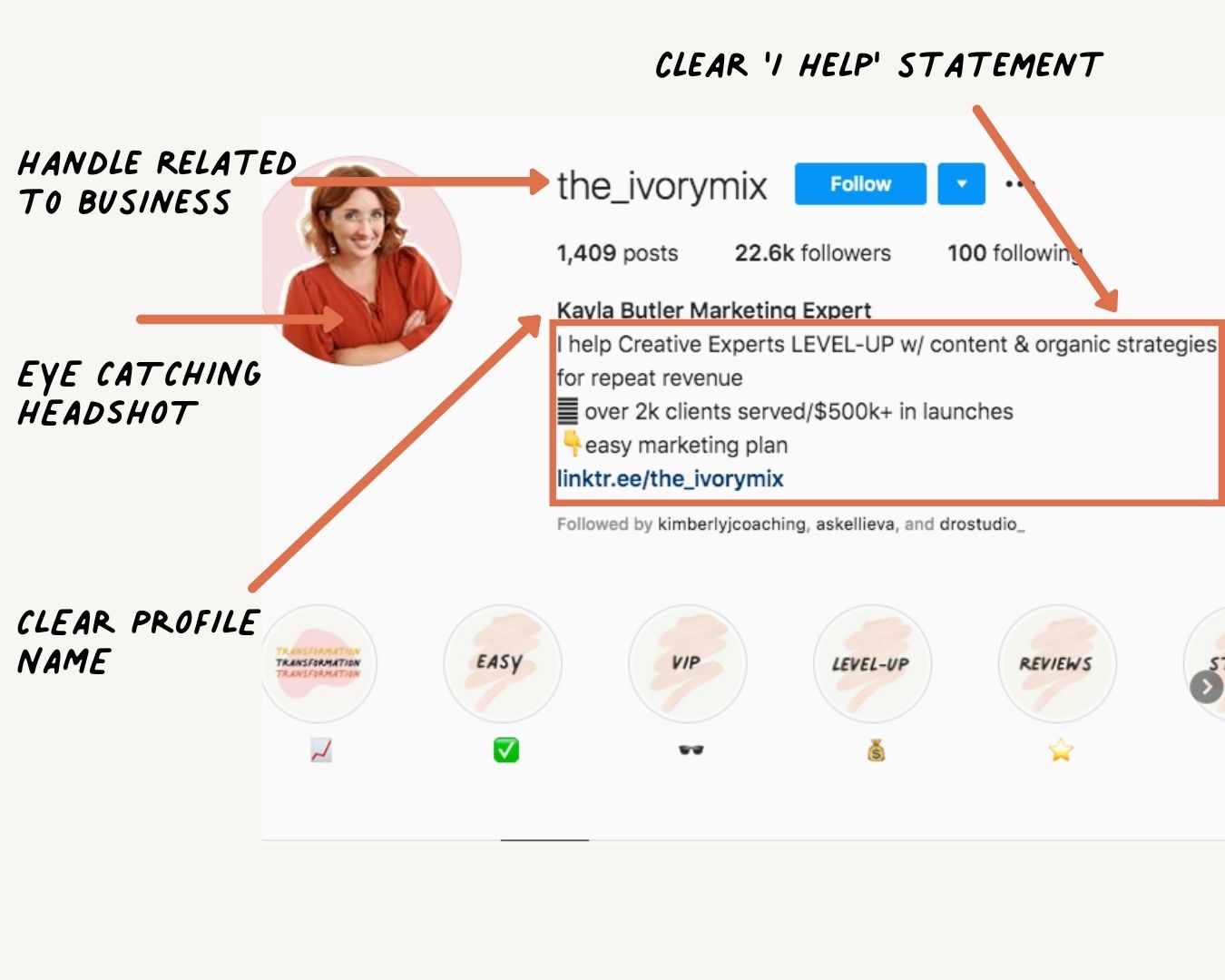 3. Create Compelling Content.
Most content you'll share on Instagram is not for the sole purpose of selling but is created with the purpose of serving your audience. (Yes, selling IS a by-product of serving, but it's not the main goal.) 
Serve your audience's basic desires by engaging with them, having conversations, DMing them, socializing with them, and making them feel heard, seen, and understood.
I've divided the main types of content you can create for your brand into 3 categories:
Content to BRAND. This includes sharing how-tos, expressing your brand values, sharing your brand beliefs, and telling your brand story
Content to SELL. This shares what services you provide, what products you sell, how your offerings get results and any other benefits you deliver to your clients
Content to BUILD YOUR AUDIENCE. This content encourages engagement. This includes things that may go viral, like a funny meme, something that's easily shared and will quickly boost and grow your influence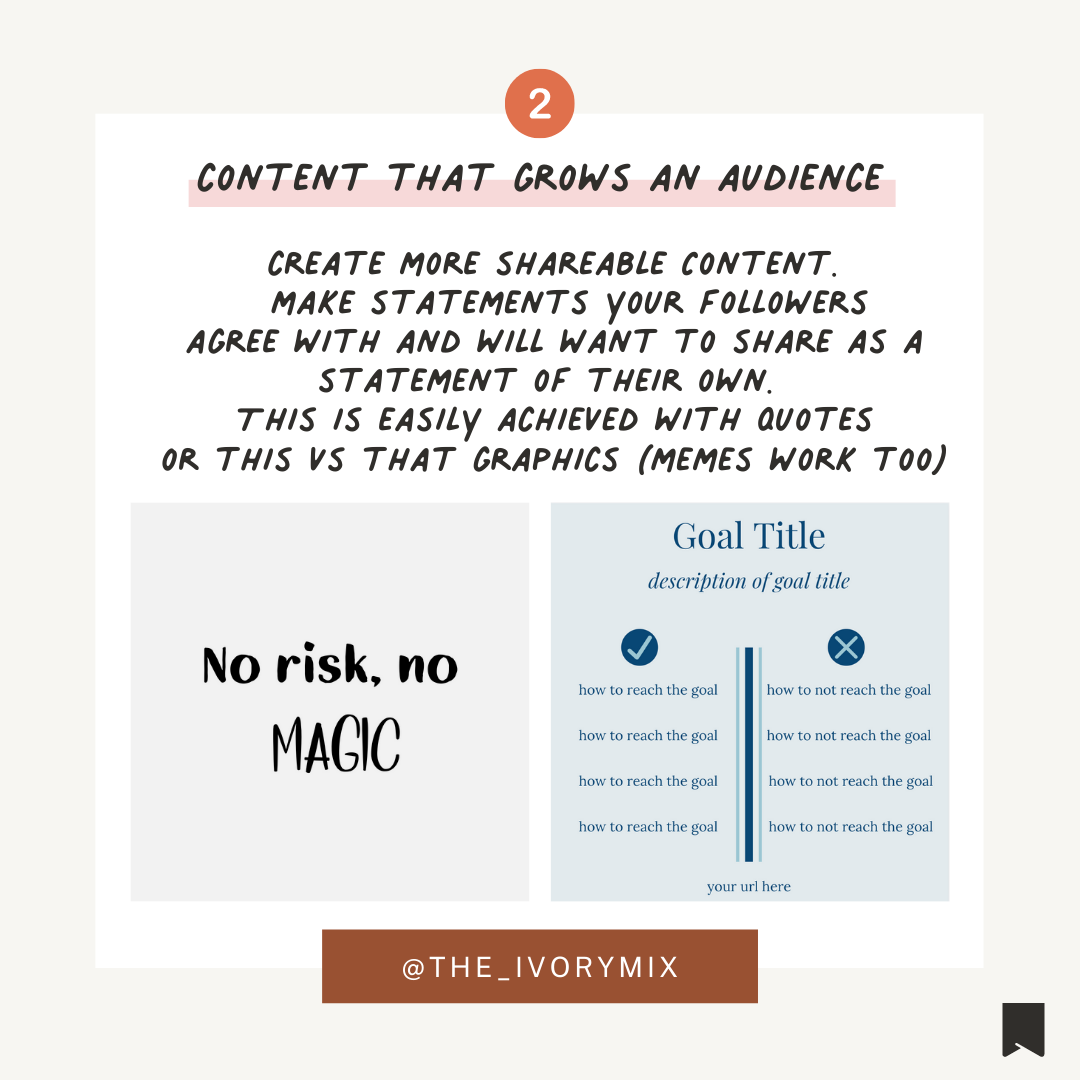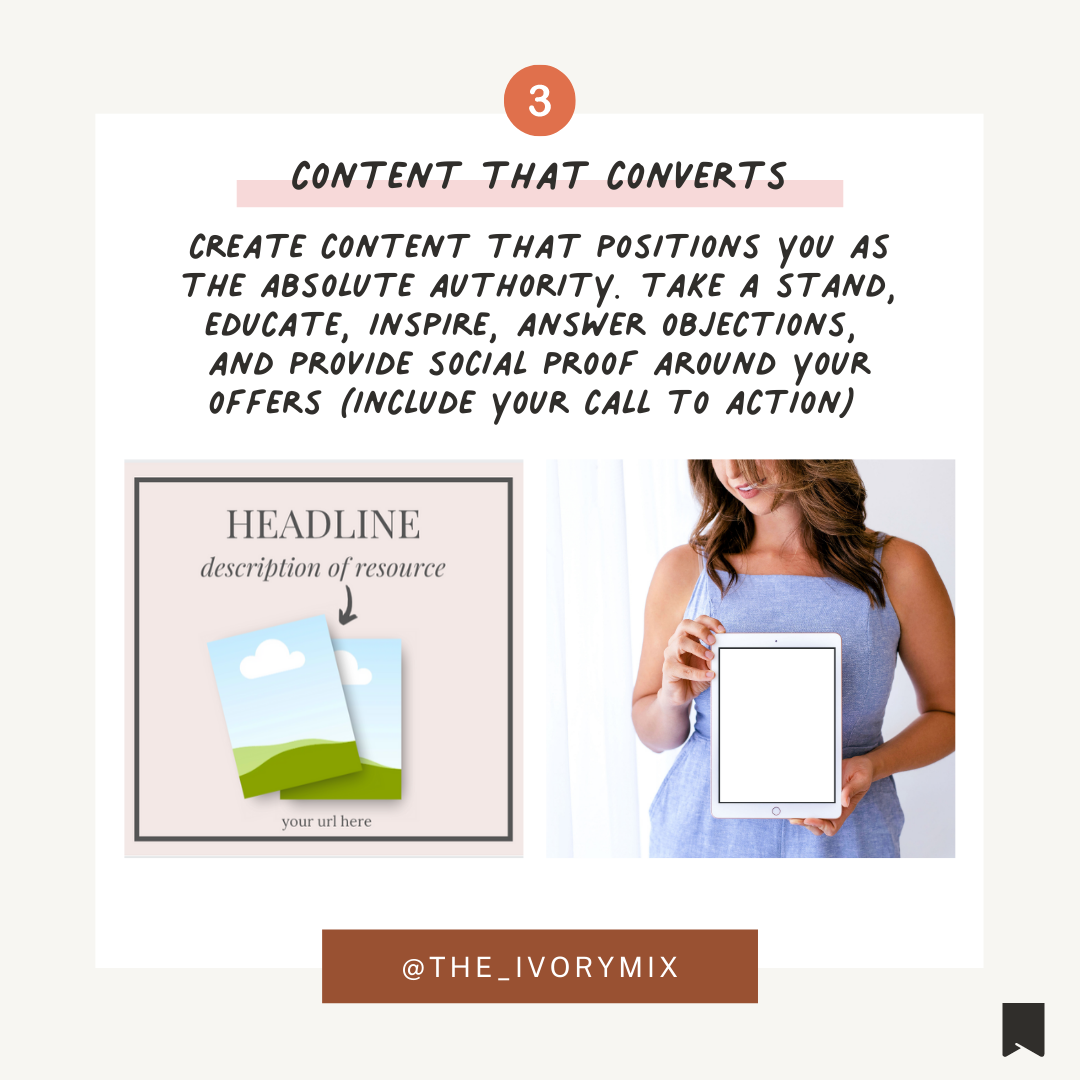 How often should you share content on Instagram?
stories can be shared staggered throughout the day, morning, noon, and night.
new posts on your feed can be shared 3 – 5 times a week
Need help saving time with your photos, canva templates, and captions? Join the Ivory Mix content membership

4. Master the Hashtag Game
With 30 hashtags allowed on each post, you can easily utilize these little gems to boost your reach. Try to use at least 25 hashtags with each post. Create hashtag "buckets" that cover different categories to make sure you're getting the most bang for your buck.
Here are the 5 hashtag buckets I recommend:
5 Industry tags that are popular within your industry

5 Community tags that are popular within your own online community

5 Branded tags specific to your brand (example #ivorymix)

5 Current event tags that are relevant to what's happening now (#Christmas2020)

5 Hashtags related to the actual content itself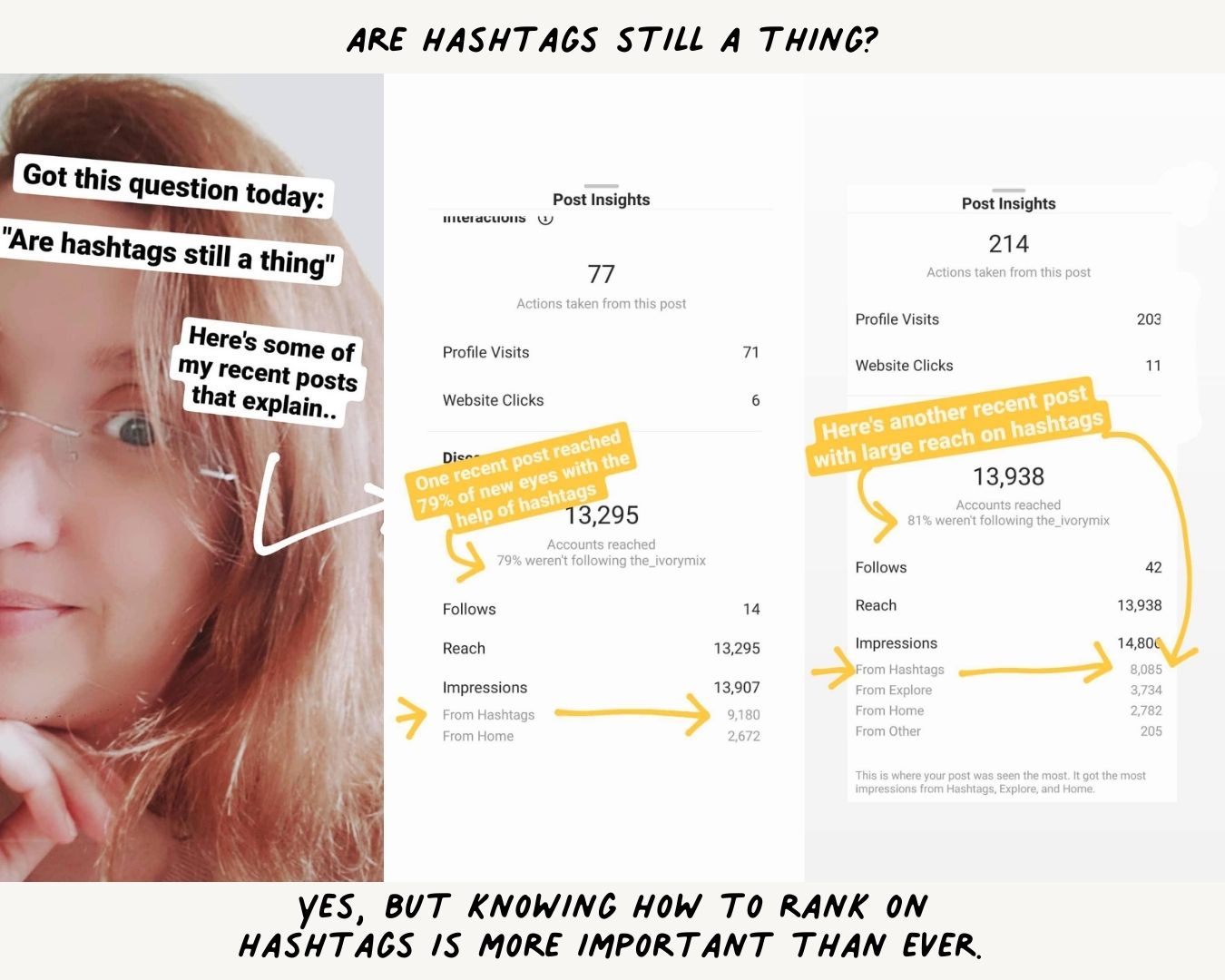 Want to see what hashtags your followers follow?
Check out this trick you may not have known about.
View this post on Instagram
5. Collaborate with Other Content Creators
Discover accounts that have similar audiences, as you and build rapport with those users. Comment on their posts, share their content and tag them. You can also pitch podcasts, do story takeovers, and use other creative methods to collaborate with Instagram accounts and get your content in front of new eyes.
6. Engage with Your Followers
Use Instagram metrics to your advantage by learning how to engage with your audience in the right way. Here's a tip: metrics seem to be affected by the clock. If you get a comment on your post, reply quickly. Once I post something on Instagram, I hang out on the platform for about 20 minutes, so I can quickly engage with those first comments that come through. 
7. Actively Engage with Your Ideal Clients
Look for people who are the perfect ideal clients for you, and start talking! Reply to stories, and post under those popular hashtags. Put yourself out there to gain trust and build authentic relationships. 
You can use this engagement challenge to help. Find these types of people across the platform and leave comments on their content, send dm's and start conversations!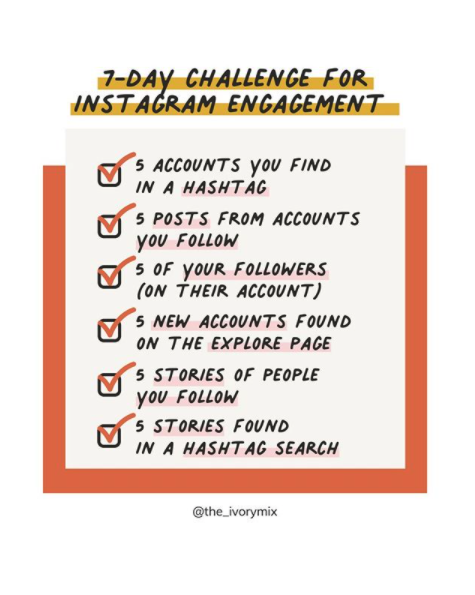 8. Be Consistent
Show up and serve value on a continuous basis to attract clients. Remember, you don't need 10k followers, you only need one ideal client at a time to build a healthy following that expands your brand and brings in sales!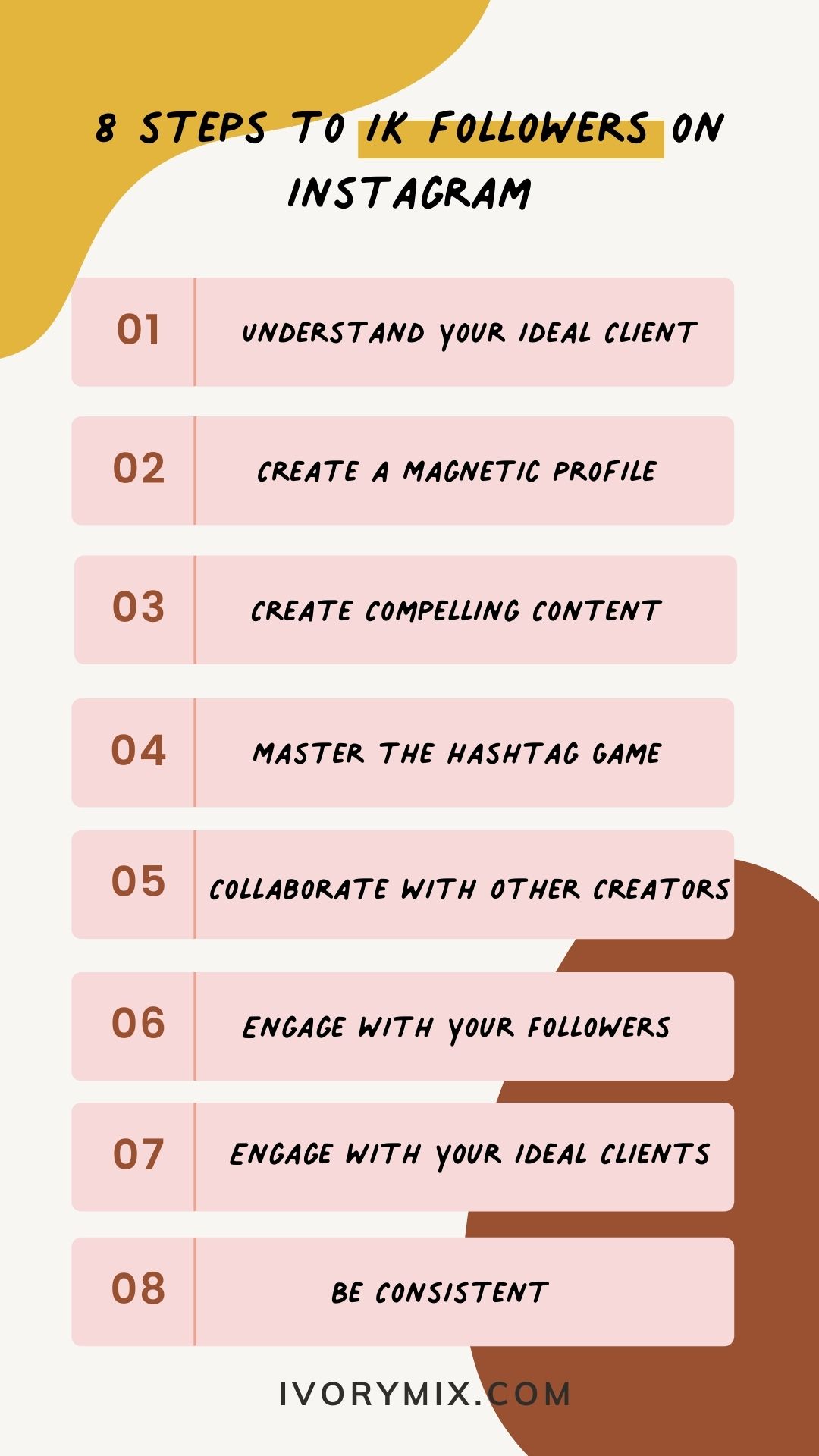 Ready to maximize the power of Instagram for your biz?  Put these organic growth tips into practice to grow your audience, impact, and income.
If you are ready to learn more about how to launch and get more clients with your content, then click below to join my FREE masterclass