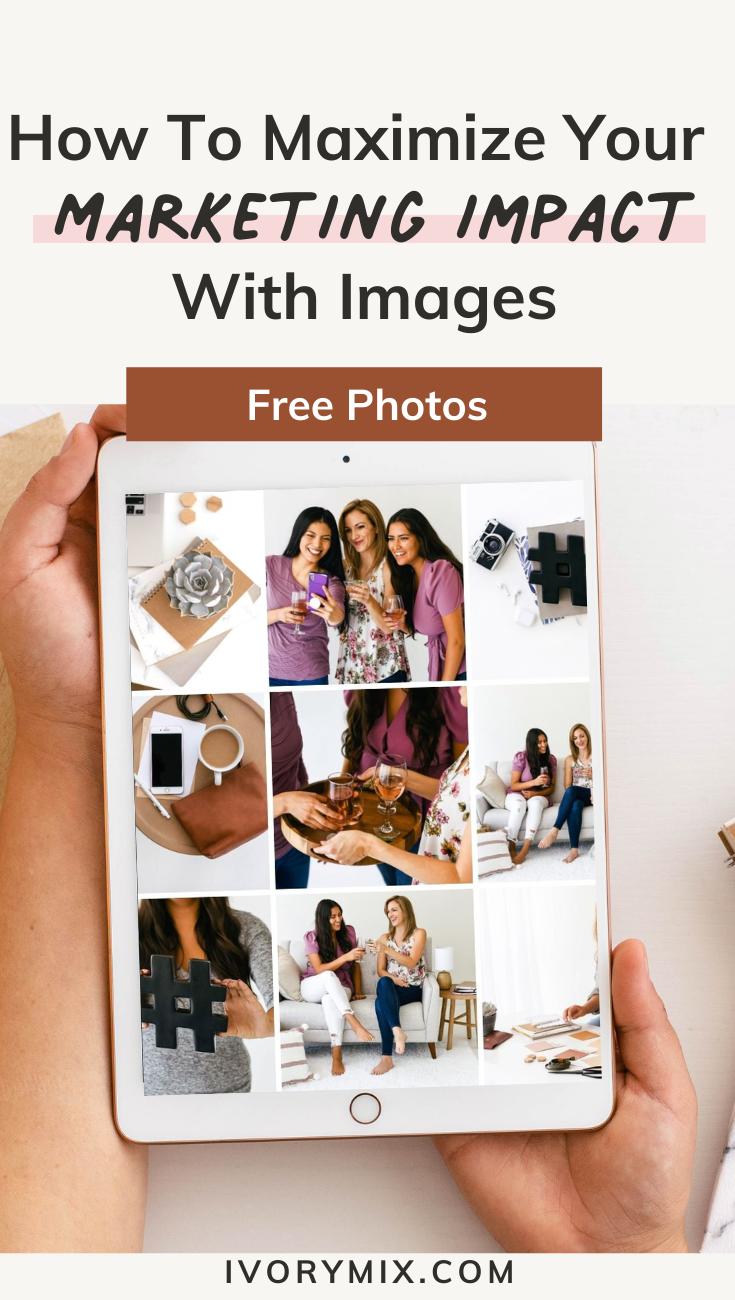 Do you swoon over other entrepreneurs' gorgeous brand images, but when it comes to creating your own, feel like you're stumbling in the dark?
Visuals are crucial for the success of your business. They tell your story and communicate how you're different from your competitors. 
In a visual world, understanding how to use images to build a cohesive, energized brand is everything. 
If you're suffering from a major lack of creativity and need a plan to create visual content for your brand, stick around and read the post or catch this workshop replay (see the video below)
In this post, I'm going to share with you my step-by-step framework for creating a visual brand to knock the socks off your audience. You'll learn how to use stock photos, where to use them, how to save time, and how to tap into your creative side. I'll take you from zero inspiration to a confident creator!
Step #1 — Start with your brand colors
First things first, start with your brand colors. You'll want to narrow down images by choosing ones that feature your specific brand colors.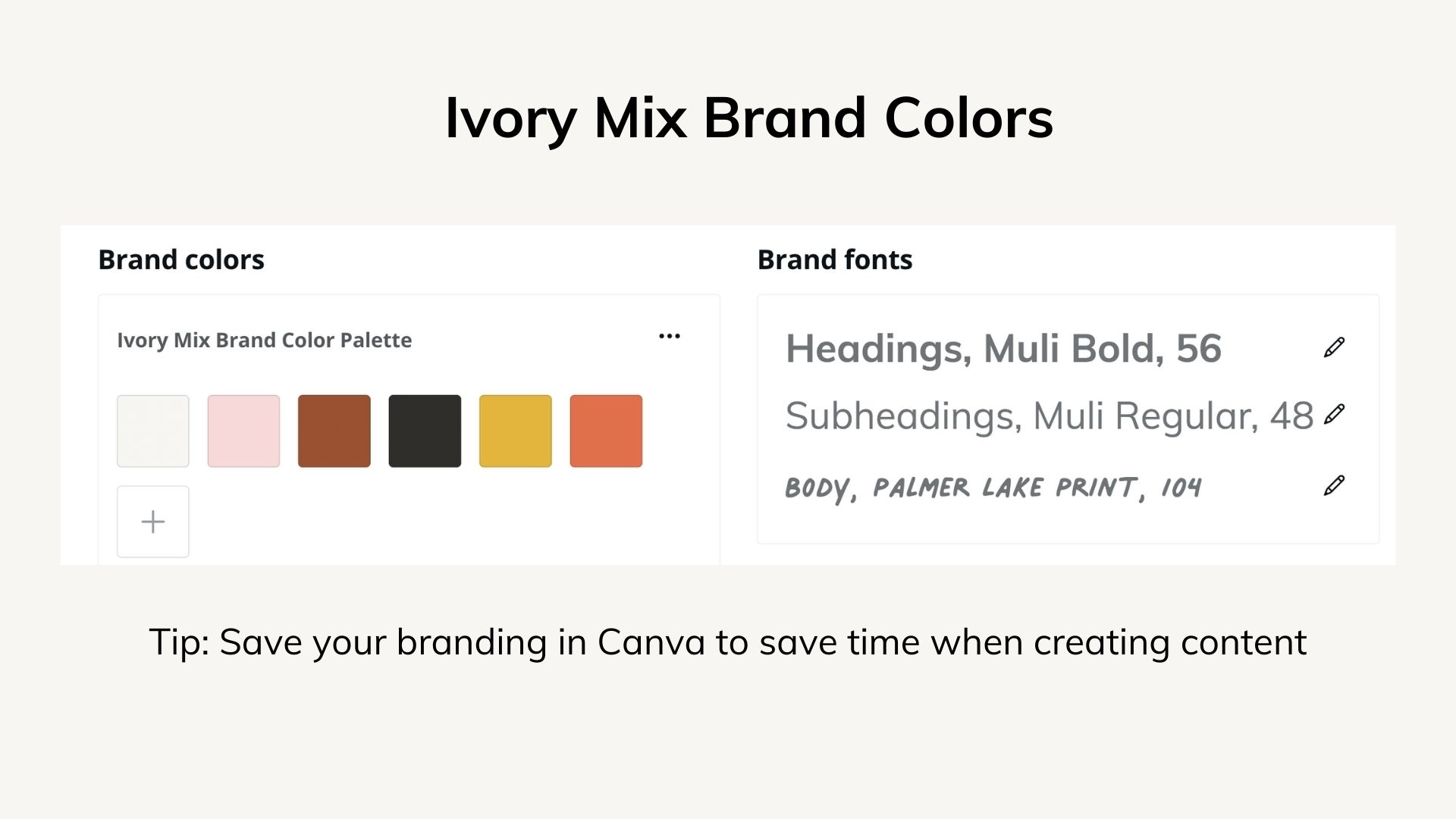 Side Note: If you haven't landed on your brand colors yet, that's ok. In a recent blog post, I took a deep dive into the science of color and how it can help your brand stand out. Check out the post HERE and use the tips to discover the perfect colors to represent your brand and messaging.
Next, choose images that best communicate the content themes you tend to regularly talk about on social media and in your blog while not veering far from your general brand aesthetic. What type of mockups and props would relate to your ideal client? Think about your audience. Are they older, younger, female or male, etc? 
Understand what size and orientation you need for your images according to your target platform. Pinterest, Instagram, Facebook, and your own website will all require different sizes and orientations. 
Here is a quick list of image sizes for social media platforms
Facebook Image Size – 1200 x 628 pixels.
Twitter Image SIze – 900 x 450 pixels.
Instagram Post Size – 1080 x 1080 pixels.
LinkedIn Size – 1350 x 440 pixels.
Pinterest Pin size: 236 pixels x Adjustable Height; 2:3 ratio for vertical pins (recommended)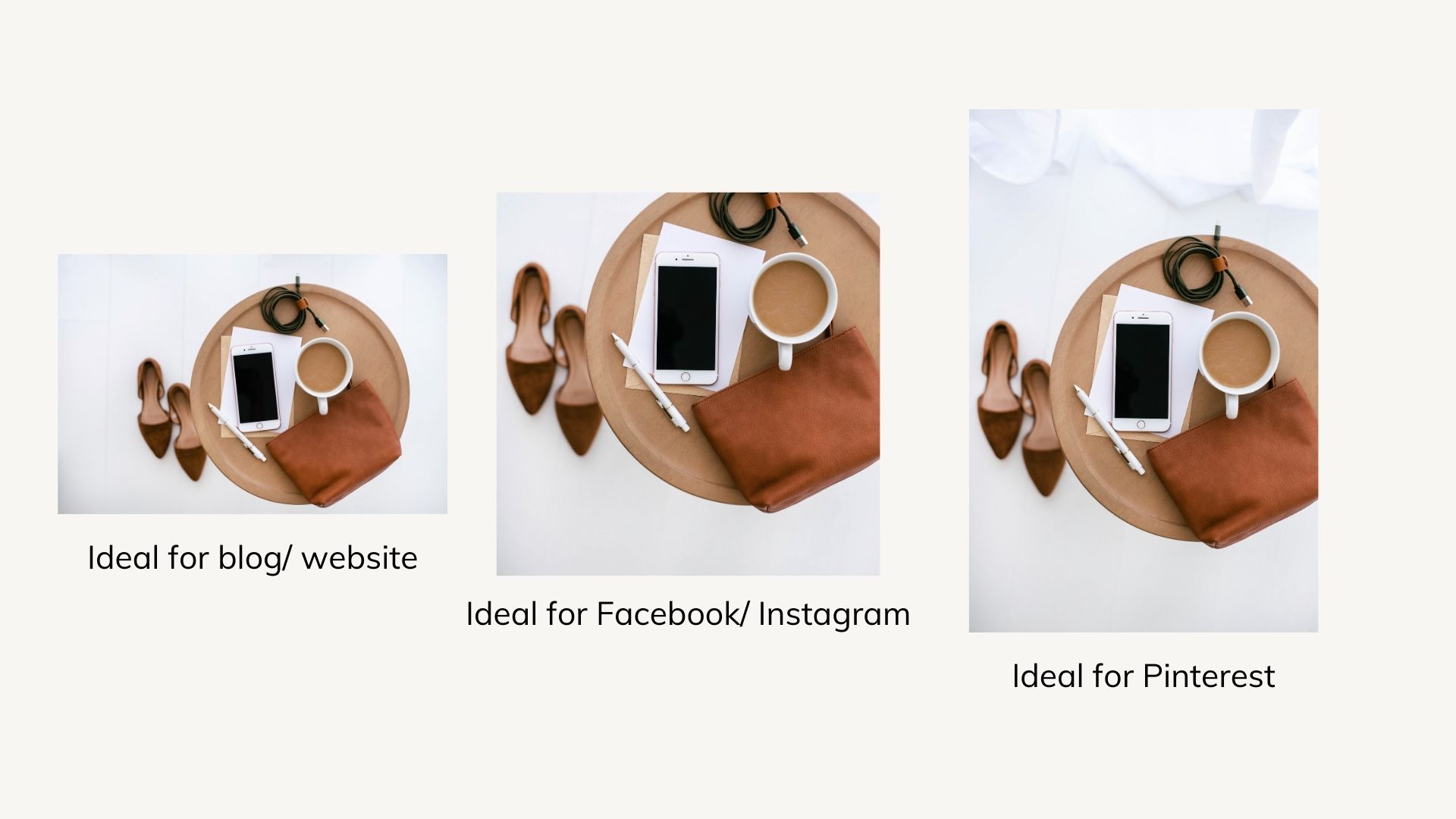 Inside the Ivory Mix membership, we provide three orientations for each image to give you options galore. 
Step #2 — Find More & Better Stock Photos Using the Right Keywords
There are several free and even more paid websites out there with stock photos galore. Of course, paid memberships like our own Ivory Mix Membership offer specially curated images for specific niches. Get creative with your keywords, searching for things relevant to your biz and messaging, such as:
Objects

Colors

People

Places

Angles (such as "Flatlays")

Emotions

Time of day

Seasons

Holidays

Age of audience

Objects related to your business 
The Ivory Mix Membership is your go-to resource for click-worthy images, canva templates, caption starters and so much more. Learn more about the membership and join HERE.

Look for unique images that capture your attention. Then look at other photos in the series or photos from the same photographer so you get a cohesive feel. Start to gather these photos in an image library and pull from them when you're ready! 
Be sure to choose images that gel with photos you already have. For instance, don't choose ones that clash and give off a totally different vibe than your headshots. 
Make sure you gather at least some images with whitespace (or negative space). These types of photos make it easy to create graphics with text overlays.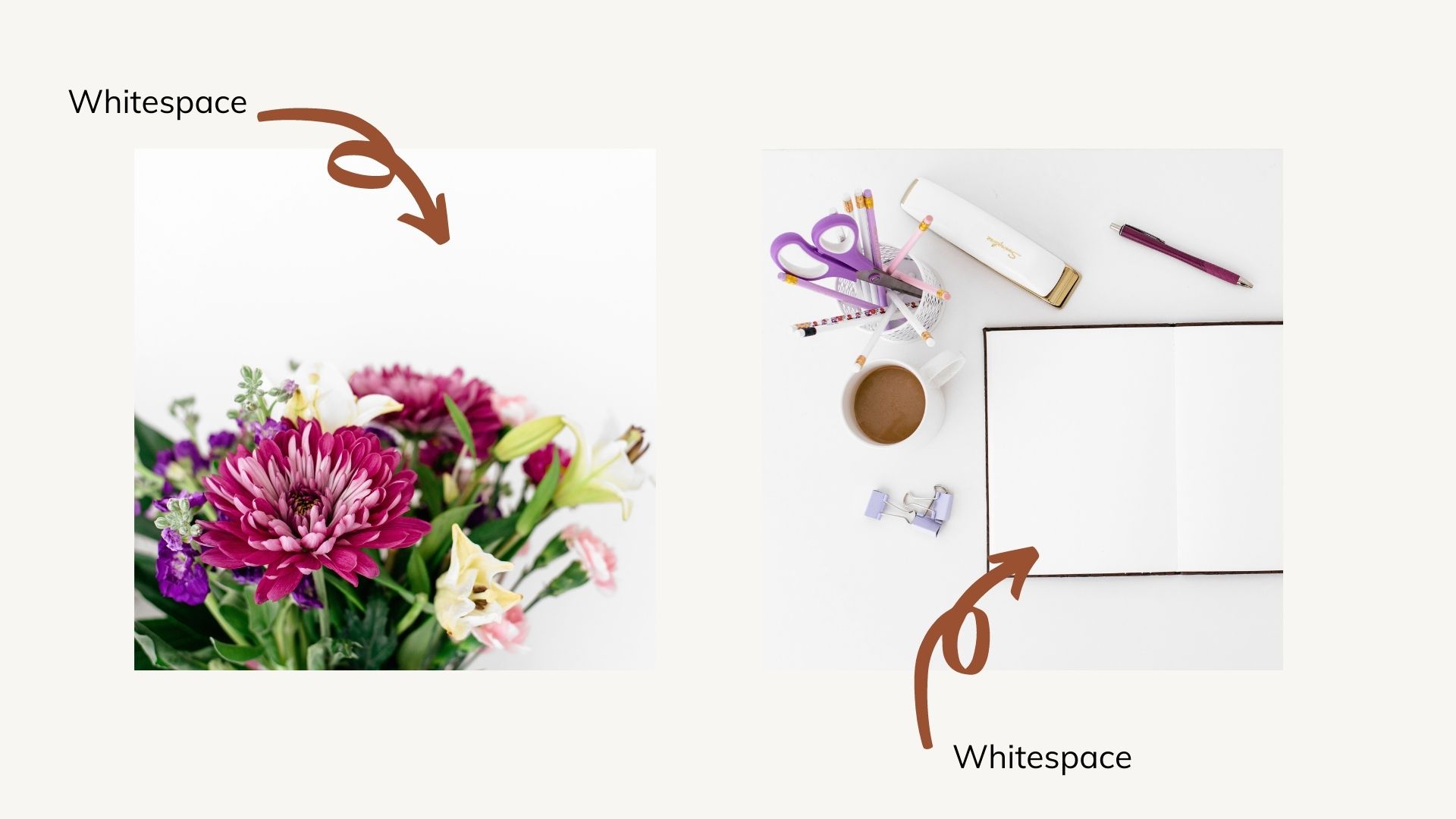 That being said, there are other ways to add text to images that don't have whitespace — I recommend using text boxes and shadows in Canva to give your no-whitespace images lots of pizazz and variety. 
Step #3 — Tell the Right Stories With Your Visuals
Once you have images saved to your library, how do you start using them? One of the best ways to begin is by creating educational content. This type of content helps prove to your audience that you know your stuff. It builds your authority.  
Use images to explain steps in a process or how to do something
Create share-worthy lists for your audience to teach them something new
Design an infographic to explain a complicated issue or help your audience make a decision
Make your audience giggle by creating a funny meme
Inspire by pairing quotes with impactful images
Make testimonials pop by adding text in pretty fonts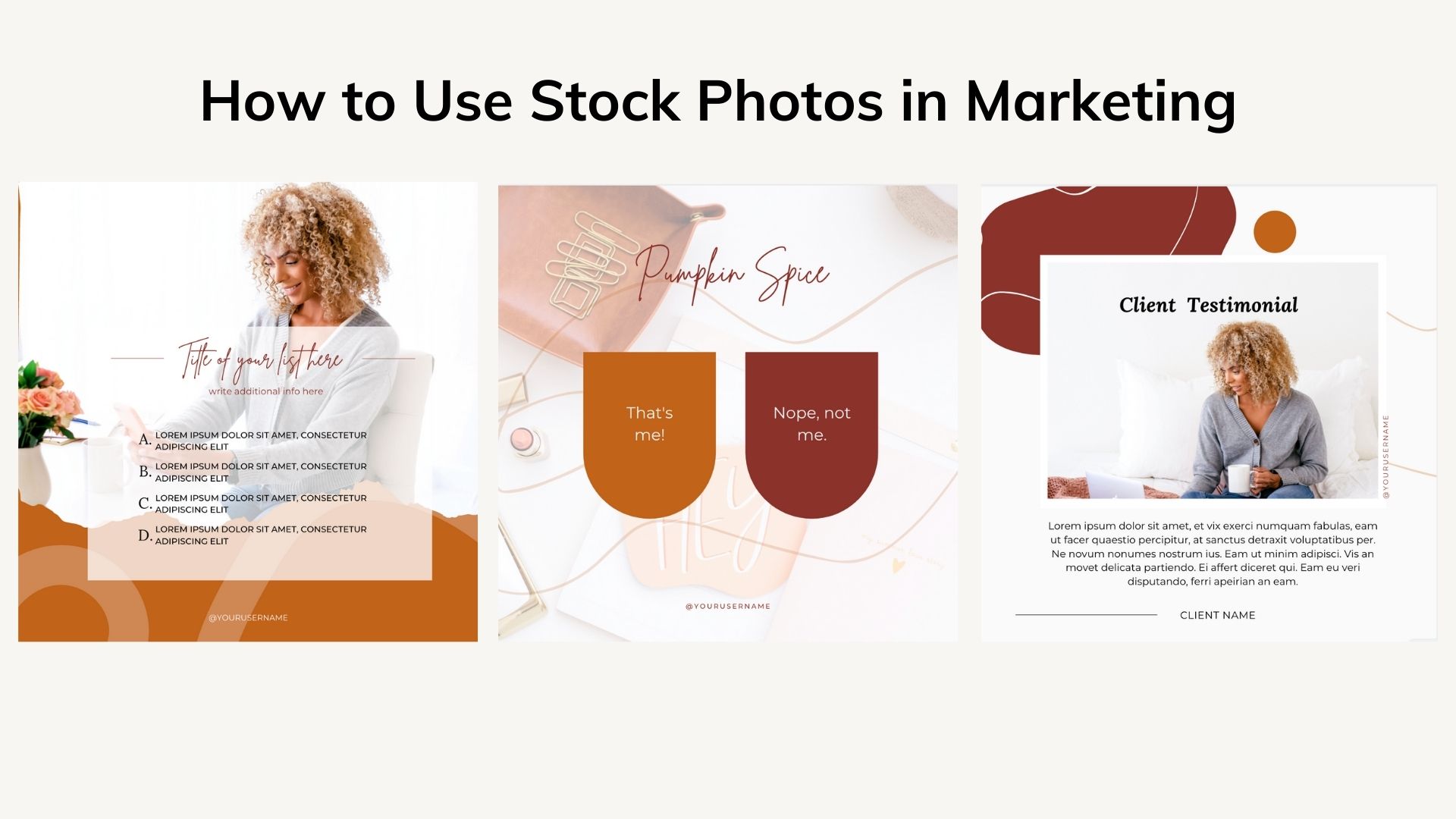 If you are looking for 1 month worth of pre-made Instagram content for your business, then check out Ivory Mix Instagram templates. These templates are designed in such a way, is that all you need to do is add in your content, and you have a month's worth of posts ready in record times. Simply change the colors, fonts to suit your brand.
To purchase these templates and to find out more about Ivory Mix membership click here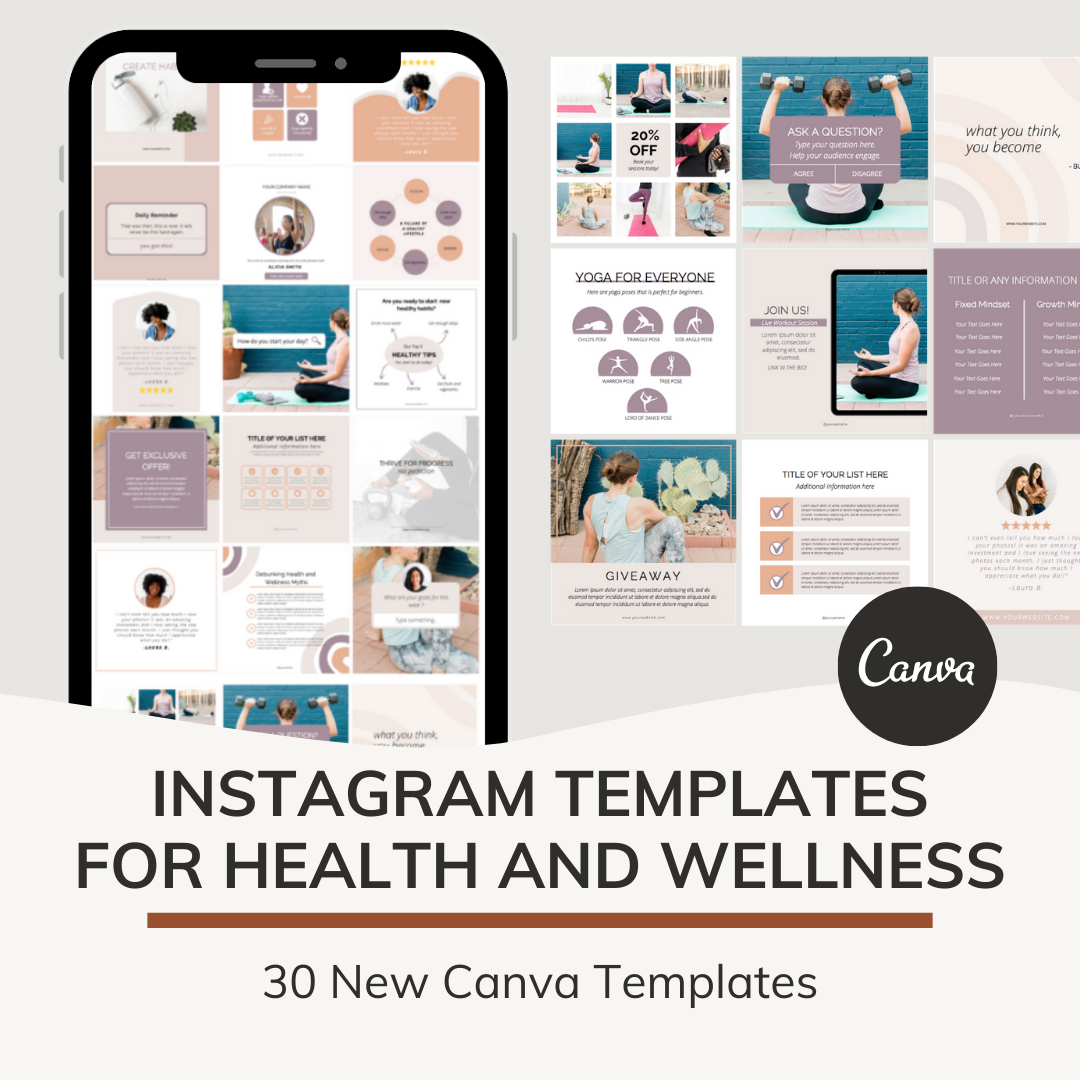 Step #4 — Update Your Website & Business Assets with Stock Photos
We live in a visual world, so branded photos are relevant everywhere in business. They tie your brand together and communicate your vibe and mission. 
Some specific business assets that will be richer and more effective with branded images include:
Your Website

Blog Posts

Landing Pages

Sales Pages

eBooks

Lead Magnets

Webinars and Presentations

Forms and Surveys

Onboarding Material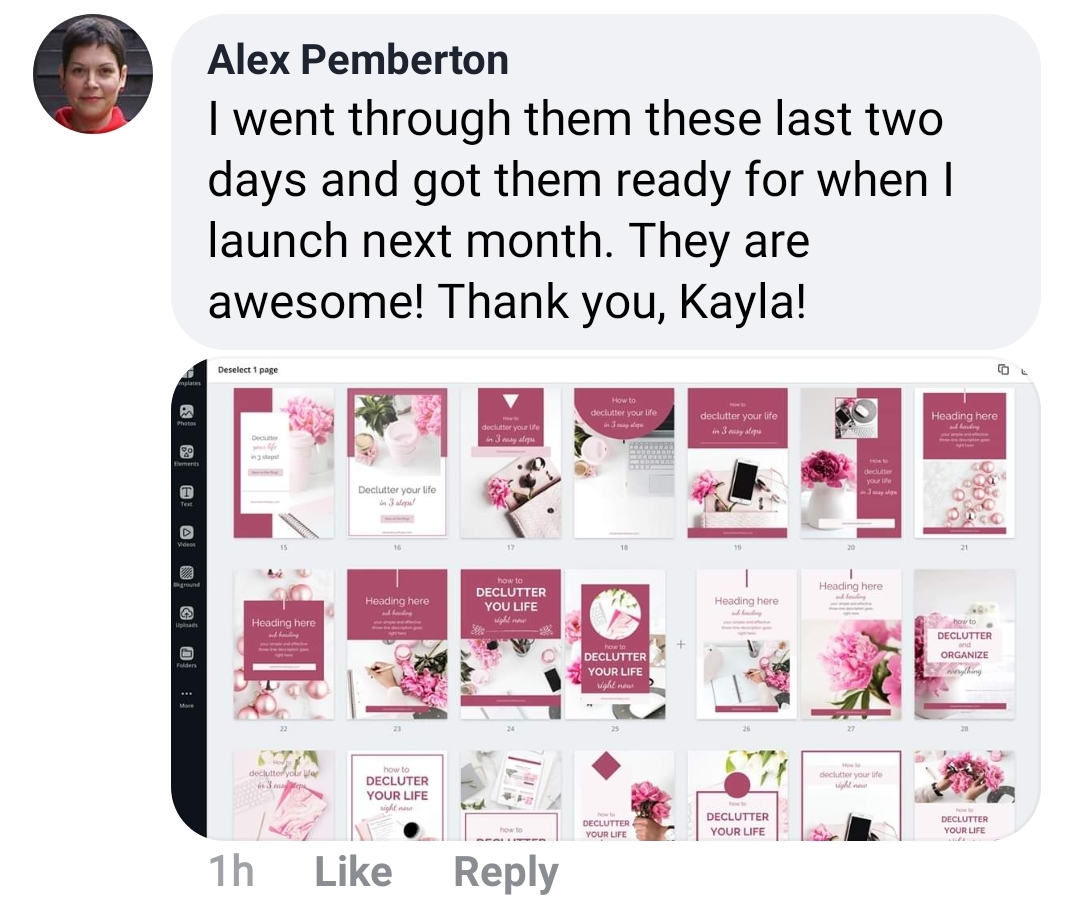 Step #5 — Edit, Improve and Customize Stock Photos for Your Brand
What tools are out there to customize your photos? 
Canva

(Pretty much a MUST for image creation. Thankfully, it's free for the basic edition and only $12 a month for the pro!)

Photoshop & Lightroom CC

(Just $13 a month)

Mobile Apps like Picsart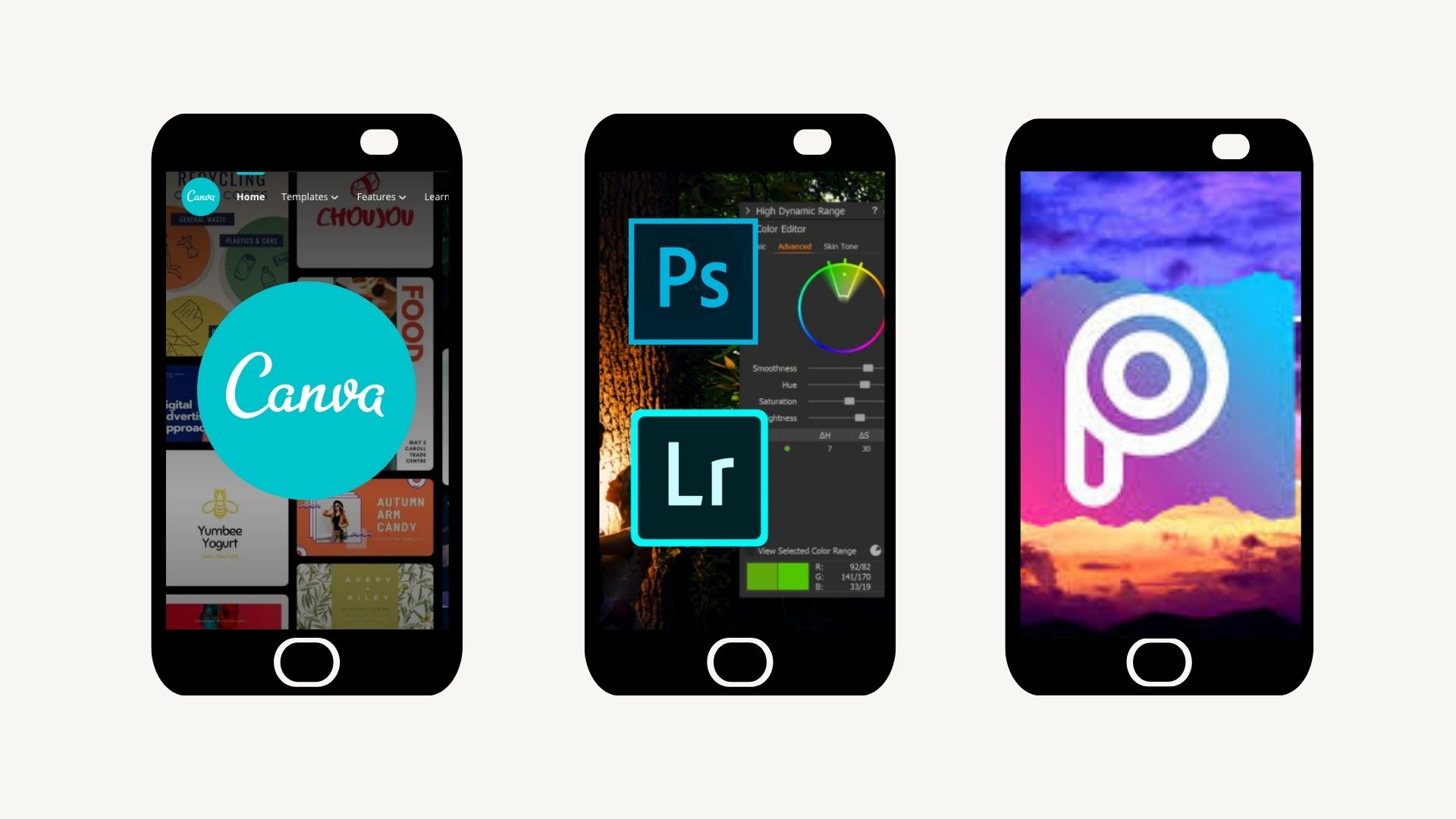 Besides adding text and overlays to stock photos as we've previously discussed, there are a few other tricks and tips you can use in Canva to get more mileage out of your photos. These include :
Flipping a photo to get a different effect

Rotating or zooming into a certain feature of the photo

Adding filters to modify the image's original colors (keeping it on-brand)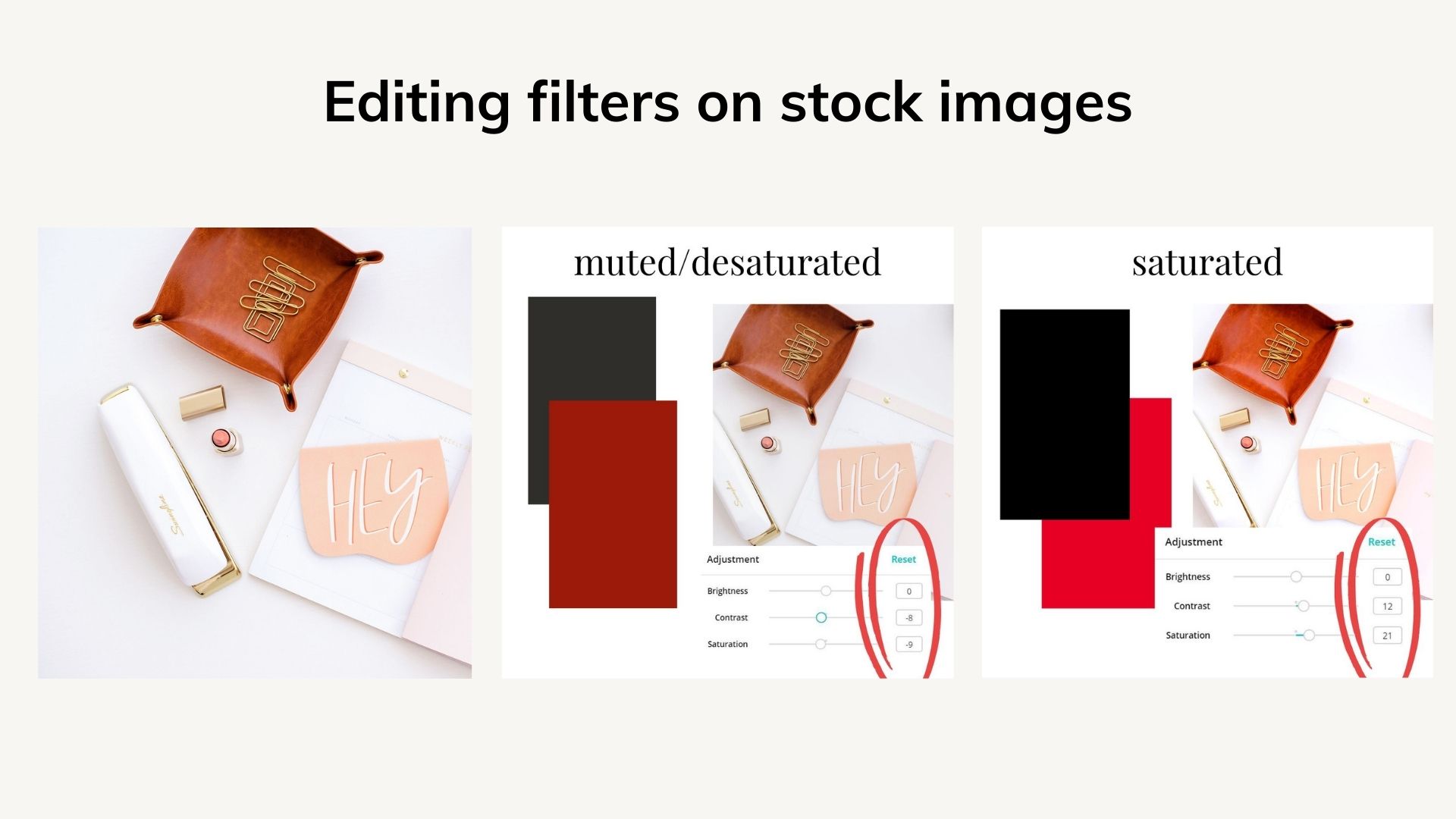 Blurring backgrounds to your images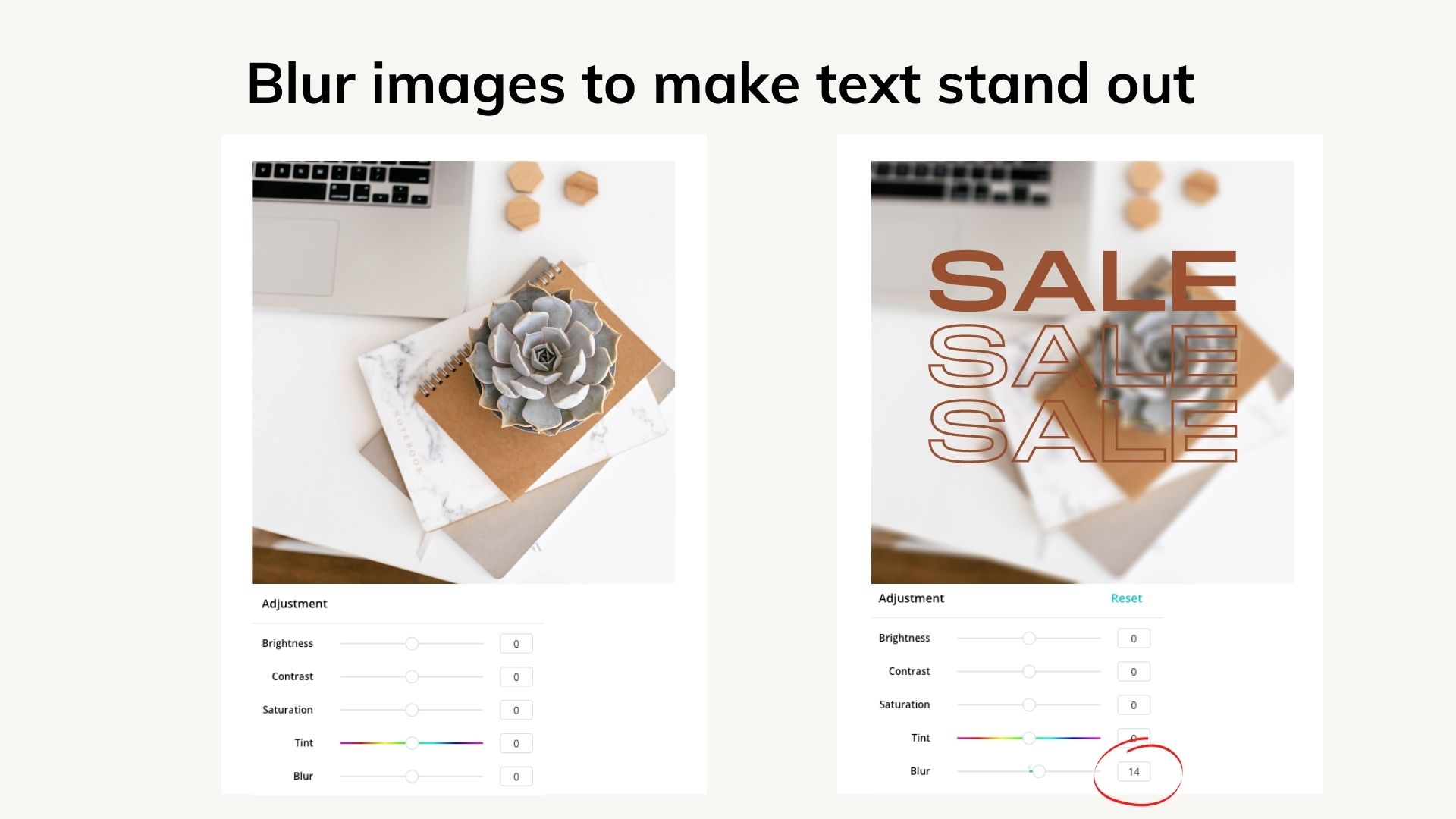 Adding borders to give a sharper, focused feel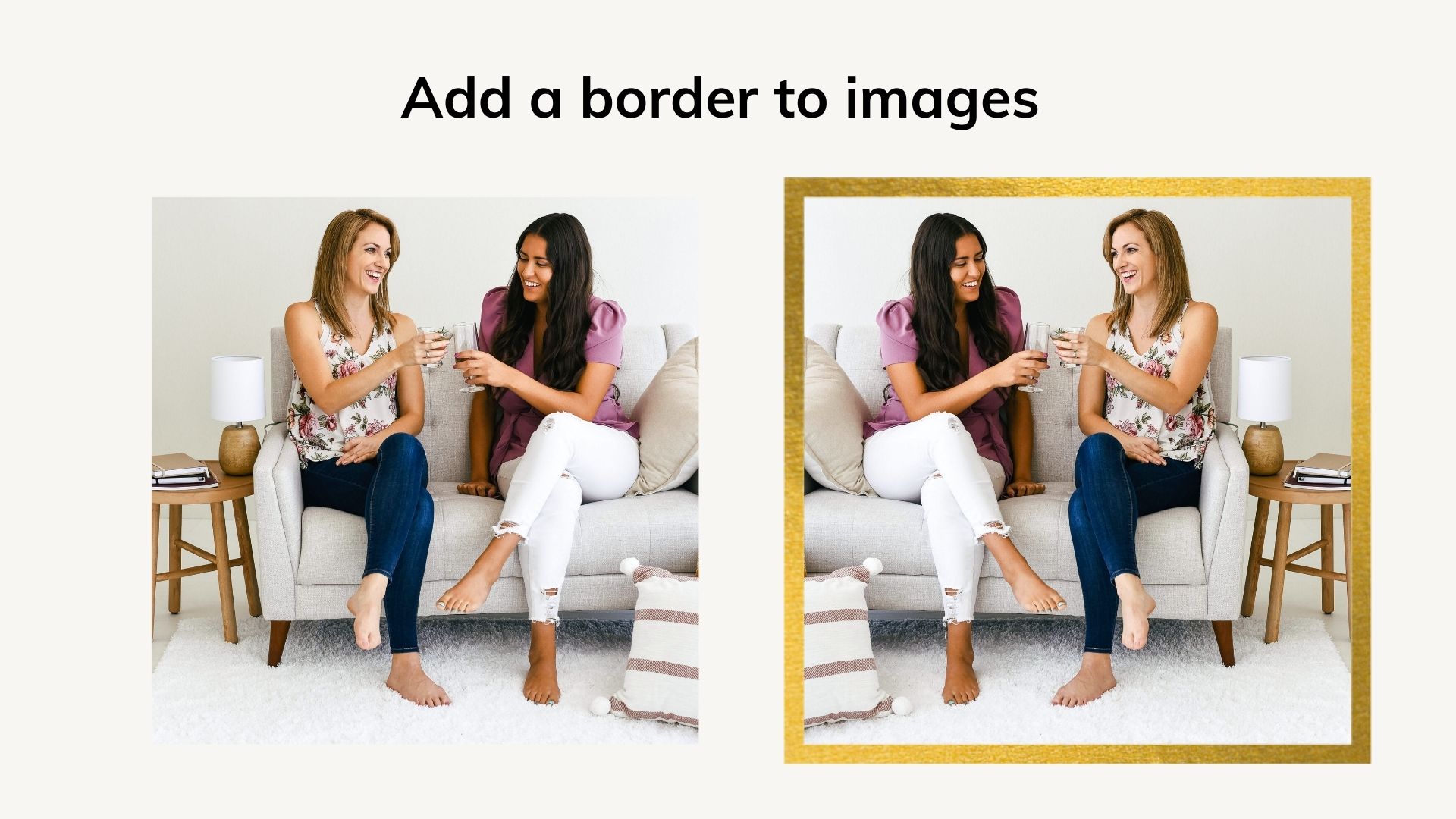 Adding elements and illustrations to give images a fun layer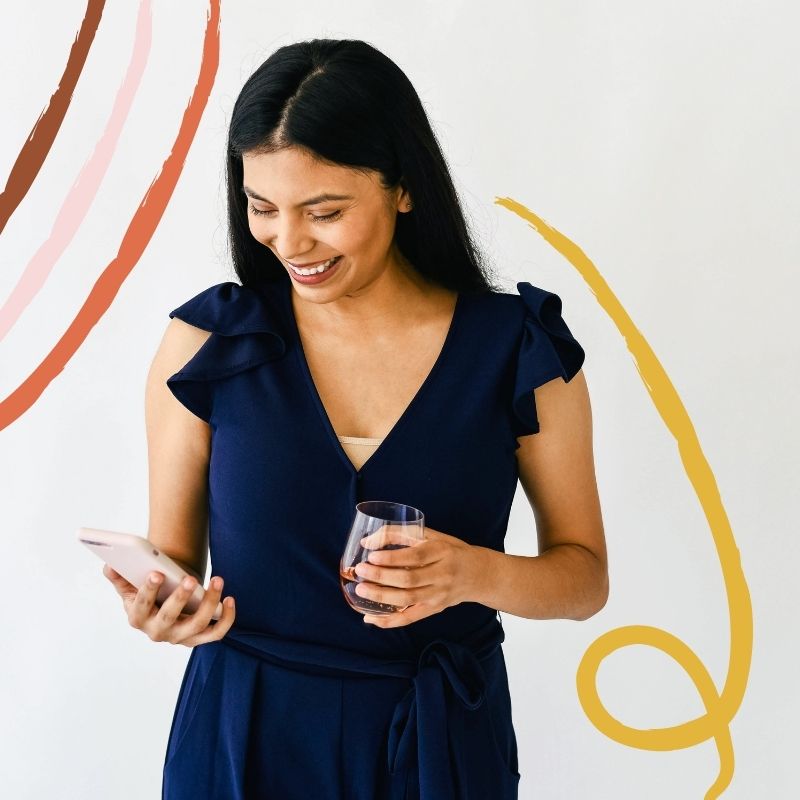 Creating a photo collage to tell a story
Well curated images that share your personality and professionalism are invaluable to your brand.
Are you ready to get started creating on-brand images out of stock photos that will make a big impact when marketing for your biz?
The Ivory Mix Membership is your go-to resource for click-worthy images, canva templates, caption starters and so much more. Learn more about the membership and join HERE.