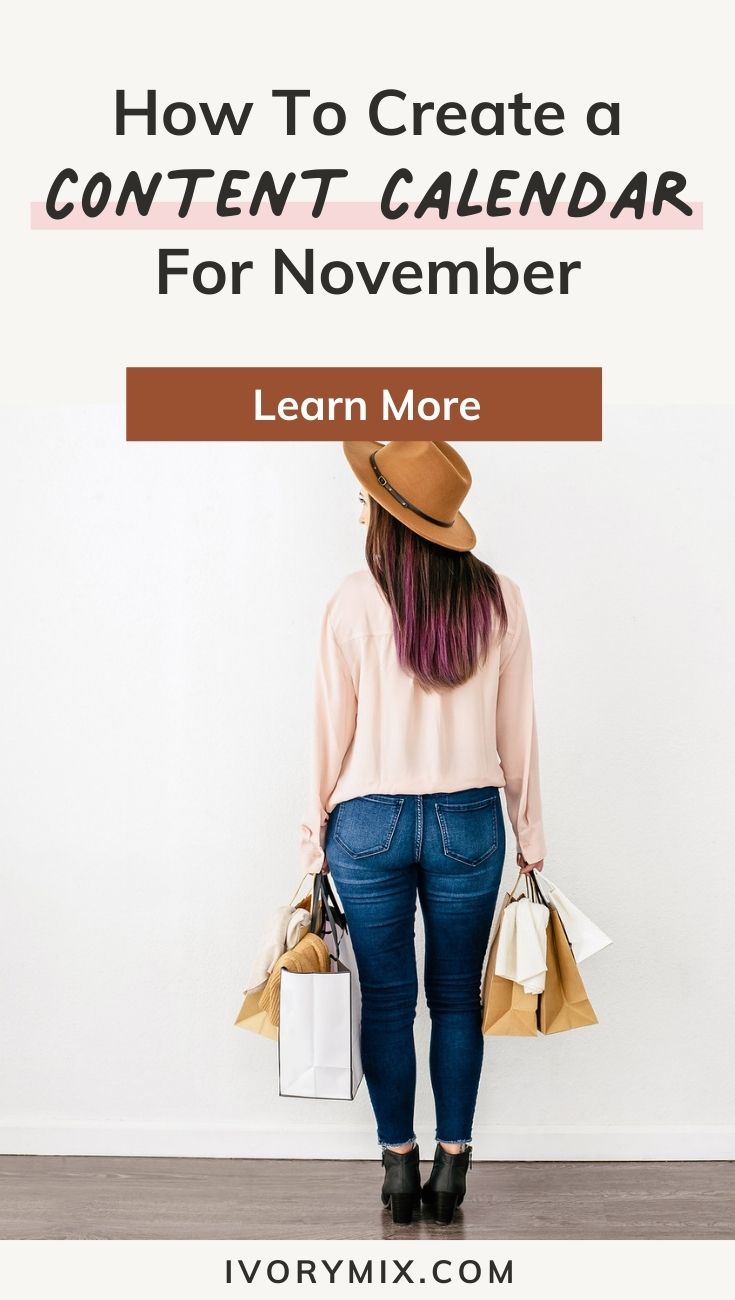 Feeling stuck in the never-ending cycle of content creation? You're not alone. 
We all know if we want to keep our businesses visible, we must be active on social media. But creating content to fill your calendars month after month can feel like the task that never ends.
What you need is a simple solution — a way to map out your monthly social media content quickly without sacrificing hours of your life. And that's just what I've done for you this month! 
I've researched and assembled this collection of content ideas that are perfect for the month of November. From the obscure holidays to well-known celebrations — I've planned your November Content Calendar and saved you countless hours, so you can get on with running your biz. You can thank me later 😉
Your job? To choose the topics from the following list of ideas that will resonate with your specific audience. Then, add your own personal touches, so your content vibes with your unique brand message. 
Inside the Ivory Mix membership, we have a variety of stock photos for the holidays listed in this post. All of the images below are selected from the stock photo library and have all been released in 2020. Ivory Mix aims to make content creation as simple as possible for business owners. Simply pair the images below with a caption to engage your audience.
To find out more about the membership, please click here to join the waitlist.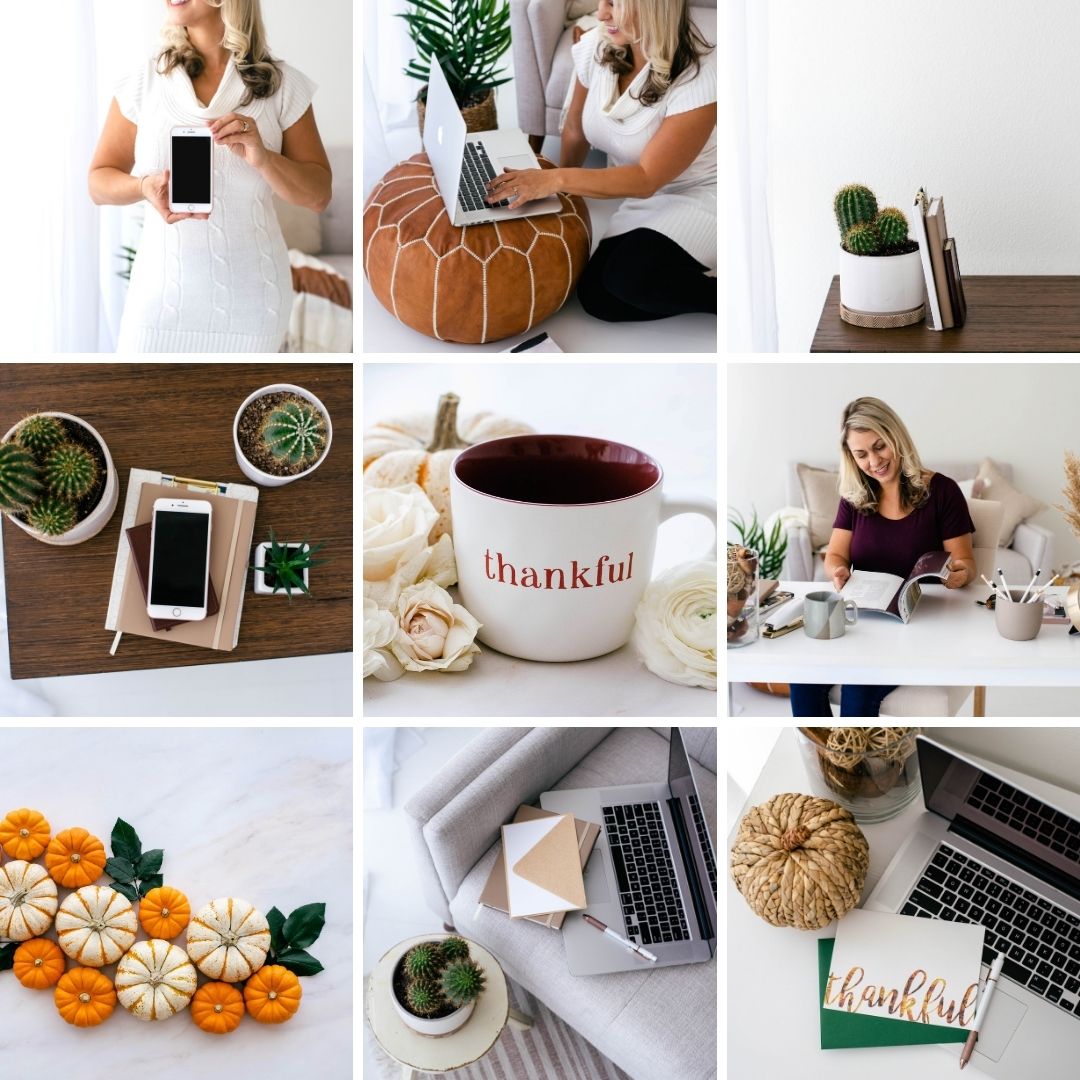 THE MONTH OF NOVEMBER
Fall is quickly fleeting, and before we know it, Thanksgiving will be here. November is a month of transition. It ushers in brisk, cool weather and officially kicks off the holiday season. While November is best known for Thanksgiving, this month also includes All Saints Day, Election Day, Veteran's Day, and much to the shopper's delight, Black Friday and Cyber Monday.
A few general November themes include:
Fall/Winter Fashion

Thankfulness

Baking

Gift Giving

Family

Holiday Decor
I wouldn't be November if we didn't mention Black Friday. November is a hectic month for those with small businesses and businesses looking to make offers for products on Black Friday. Not all small businesses will want to host sales and discounts on Black Friday, but for some small businesses, this is a very lucrative time of year for making large profits in a few short days.
If you are one of those businesses looking to sell an offer on Black Friday, then your social media calendar will probably look very different compared to other months. To help those small businesses plan for November and to help you maximize sales and revenue, here is a sample posting schedule for the month of November.  This calendar will help you plan content which builds your authority, builds your brand, and maps out your sales content.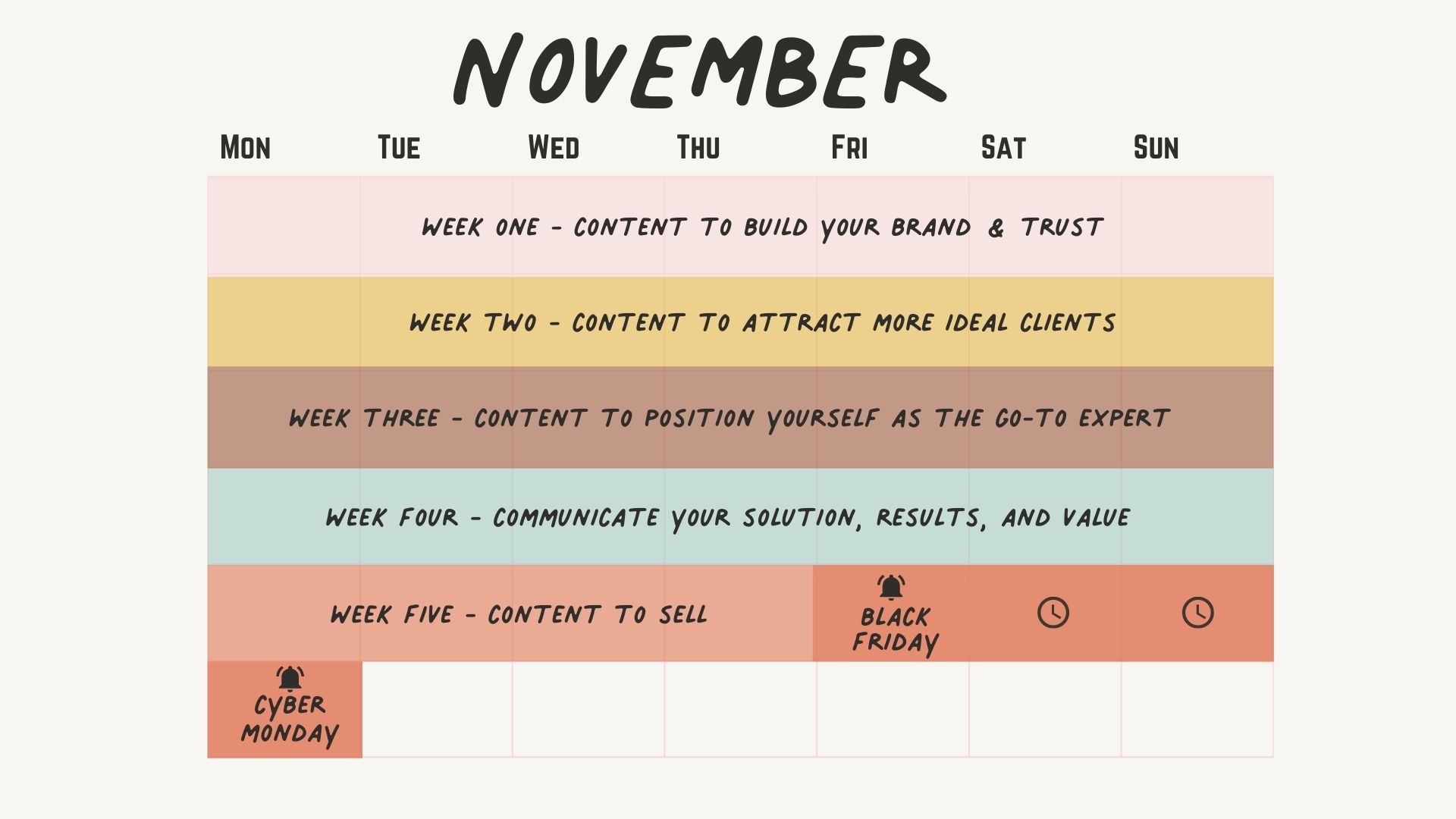 MONTH-LONG CELEBRATIONS AND OBSERVANCES FOR NOVEMBER
November is full of unique celebrations that will delight and help you engage your audience! Highlight a few of November's month-long observances, using these themes to build excitement and community:
American Indian Heritage Month — Shine a light on the diverse cultures and traditions of Native American people in your social posts. 
Family Story Month — November is the month for families to gather. Whether your loved ones will connect in-person or virtually this year, encourage your readers to make time for sharing family history and stories. 
Movember – This month-long event raises awareness for men's health issues such as prostate cancer and mental health.
National Alzheimer's Disease Awareness Month — Bring awareness of this devastating disease to your audience by featuring stories of those affected.
National Entrepreneurship Month — Entrepreneurship is scary, challenging, and exciting. Support the business owners in your audience by offering tips and resources to help them in their journey. 
National Inspirational Role Models Month — Share your role models with your audience, and ask them to share who inspires them. 
National Novel Writing Month — Connect your audience with the organization NaNoWriMo for tools and a community to help them launch and complete their novel.
NOVEMBER WEEKLY THEMES 
Create a post series that spans an entire week with these November themes:

NOVEMBER DAILY HOLIDAYS AND HASHTAGS
There are so many reasons to celebrate in November! Search through this list of November holidays and choose several to highlight on social media. Make them your own by adding your thoughts and experiences to your posts. Mix the serious and the silly to keep your readers entertained and engaged all month long. 
Oh, and don't forget to include relevant hashtags! They will increase the reach and make sure your post appears before a larger audience. 
World Vegan Day (1) 
Share photos of various veggies, post about healthy foods, vegan recipes, meal plans, and share your own creations in the kitchen. 
#WorldVeganDay #healthyfood #realfood #veggies #eatclean#simplemeals #vegan #healthyeating #eeeets #nutrition #fitfood #foodstagram
National Authors Day (1)
Share your favorite author and book titles with your audience. 
#National AuthorsDay #National AuthorsDay2020 #authorlife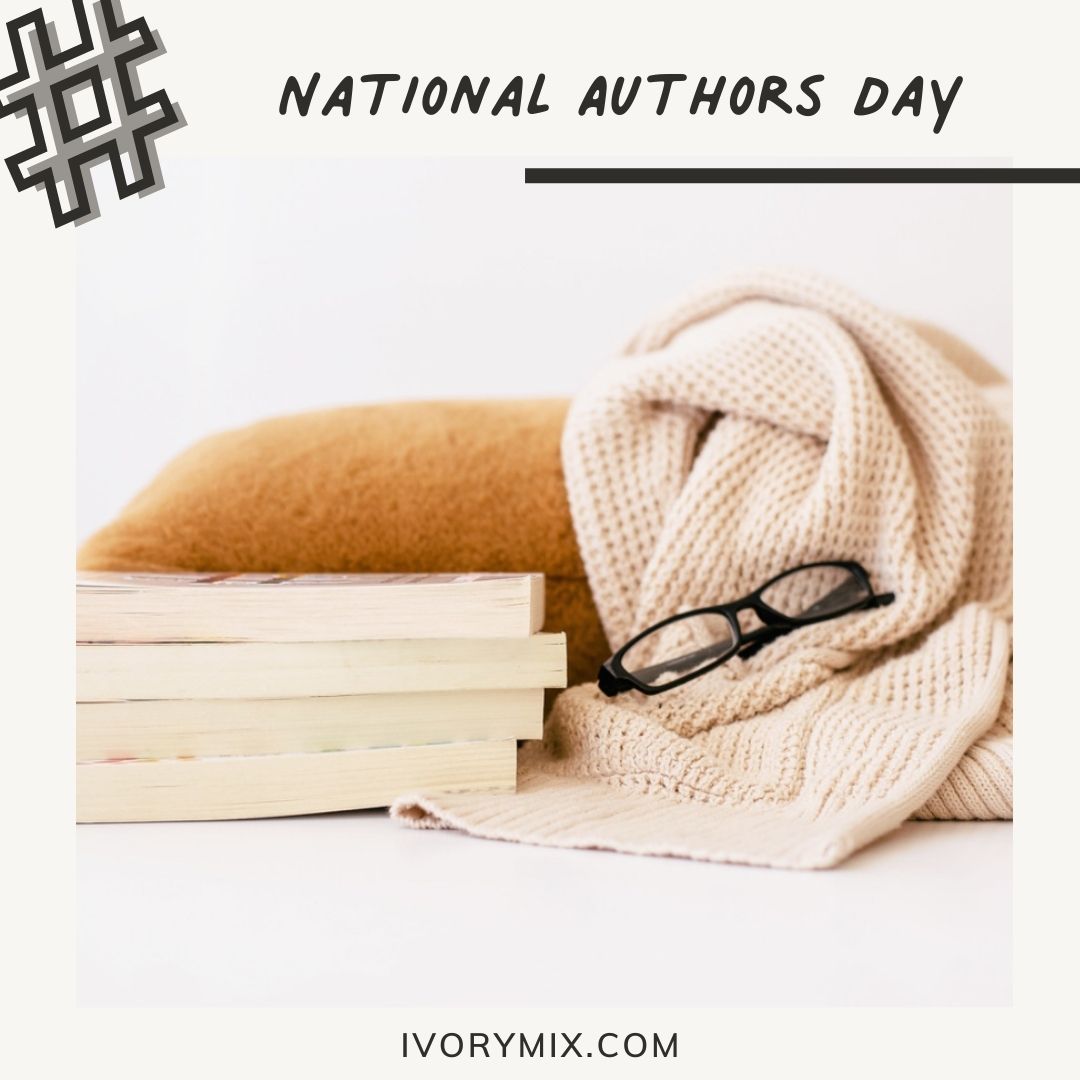 Daylight Savings Time Ends (1)
An extra hour of sleep? Yes, please! Share a photo of a clock or watch and remind your audience to fall back for daylight savings.
#Daylightsavings2020
National Sandwich Day (3) 
Your audience likes to see how you live (and eat) behind the scenes, so share your favorite sandwich. Be sure to include a picture or a recipe, too!
 #nationalsandwichday #nomnom #foodie #sandwich
National Candy Day (4) 
Share a photo and description of your favorite sweet treat.
#nationalcandyday #candy #nomnom #sweeteats #candylover
Veterans Day (11) 
Show some love to the veterans in your online community by wishing them a Happy Veterans Day and highlighting a few of their stories. 
#VeteransDay #veteransday #VeteransDay2020 #hero #heroes
World Kindness Day (13)
Share a graphic of an inspirational or positive quote that encourages kindness.
#WKD #WorldKindnessDay #mentalhealth #bekind
Clean Out Your Refrigerator Day (13)
Inspire your readers to tackle the mess in their fridge by sharing tips and photos of cleaning supplies.  
#CleanOutYourRefridgeratorDay
America Recycles Day (15) 
Share photos and posts that inspire your audience to love our planet by recycling.
#BeRecycled 
World Hello Day (21)
Challenge your audience and yourself to smile and greet at least ten people on World Hello Day!
#WorldHelloDay #hello #bekind #smile
National Cake Day (26)
Share photos and recipes of your favorite cakes and baked goods. 
#NationalCakeDay #cakeday #cake #letthemeatcake #yum
Thanksgiving Day (26)
This holiday offers so many opportunities to engage with your audience — from Thanksgiving recipes to crafts to home decor — the options are endless. Be sure to also share with your reader what you're thankful for this year, and include THEM on your list!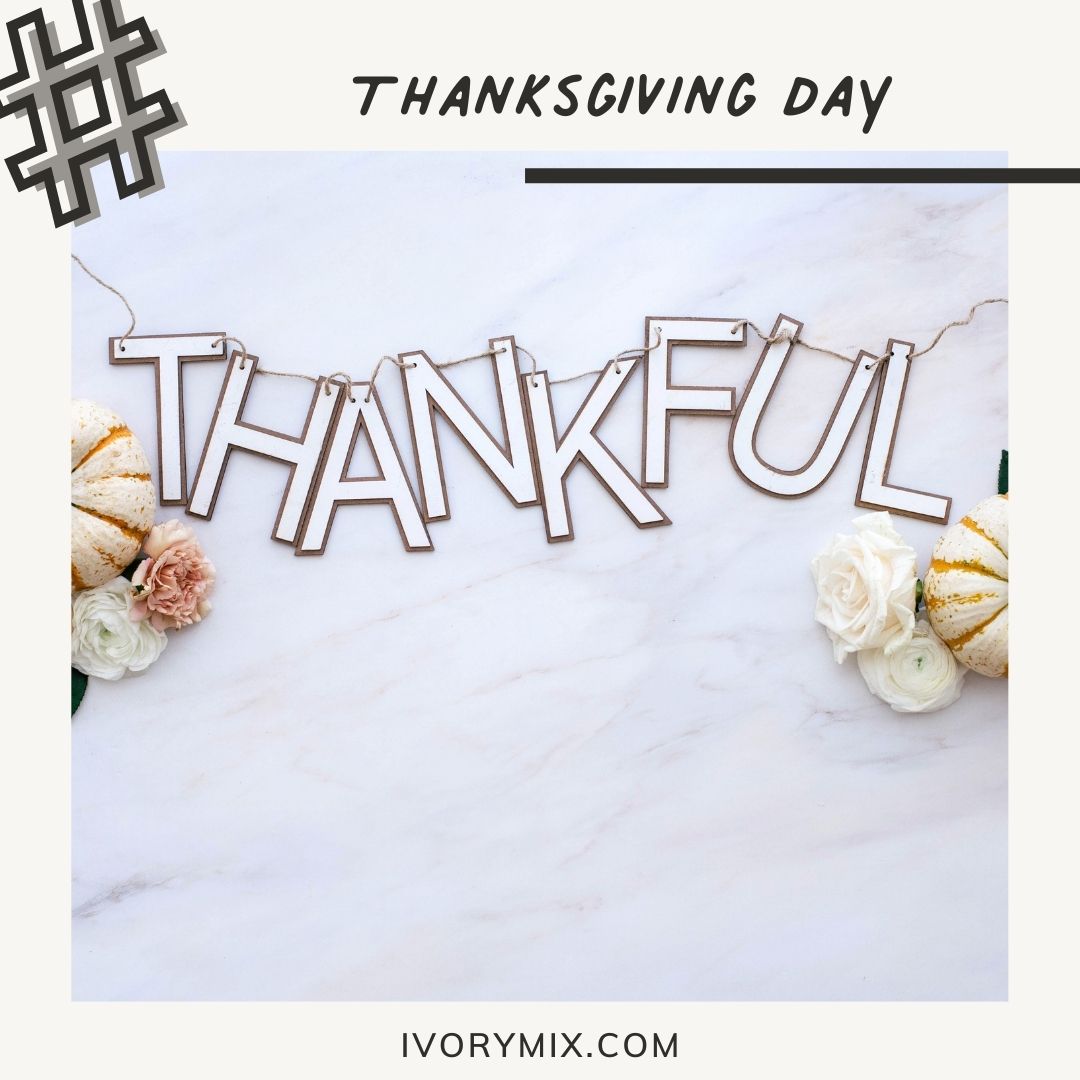 #ThanksgivingDay #Thanksgiving #Thankful 
Black Friday (27)
Black Friday is an informal name for the Friday following Thanksgiving Day, and is a day for sales, promotions and offers, both in shops and for digital products.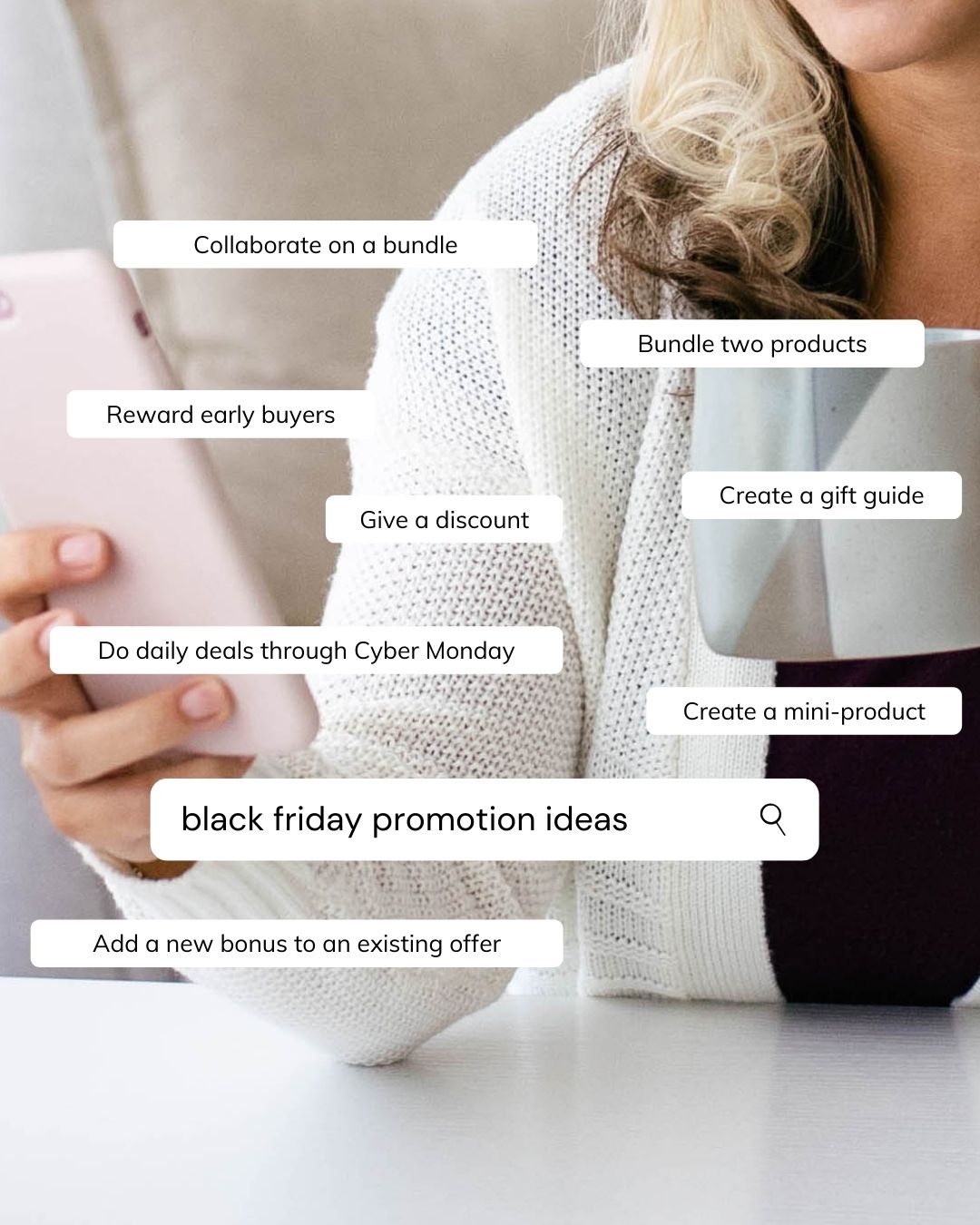 Want to offer your audience something on Black Friday, but not sure what to do and how to execute this for success? Then click here to read the full post on how to launch a Black Friday offer?
Electronic Greeting Card Day (28)
Highlight the vast options of electronic greeting cards and encourage readers to send one with a holiday greeting to a loved one! 
#ElectronicGreetingCardDay
Small Business Saturday (28) 
Tag a local small business and show them some love.
#SmallBusinessSaturday #shopsmall
Cyber Monday (30) 
It's your time to shine! Share your own deals, promotions, and products with your audience. 
#CyberMonday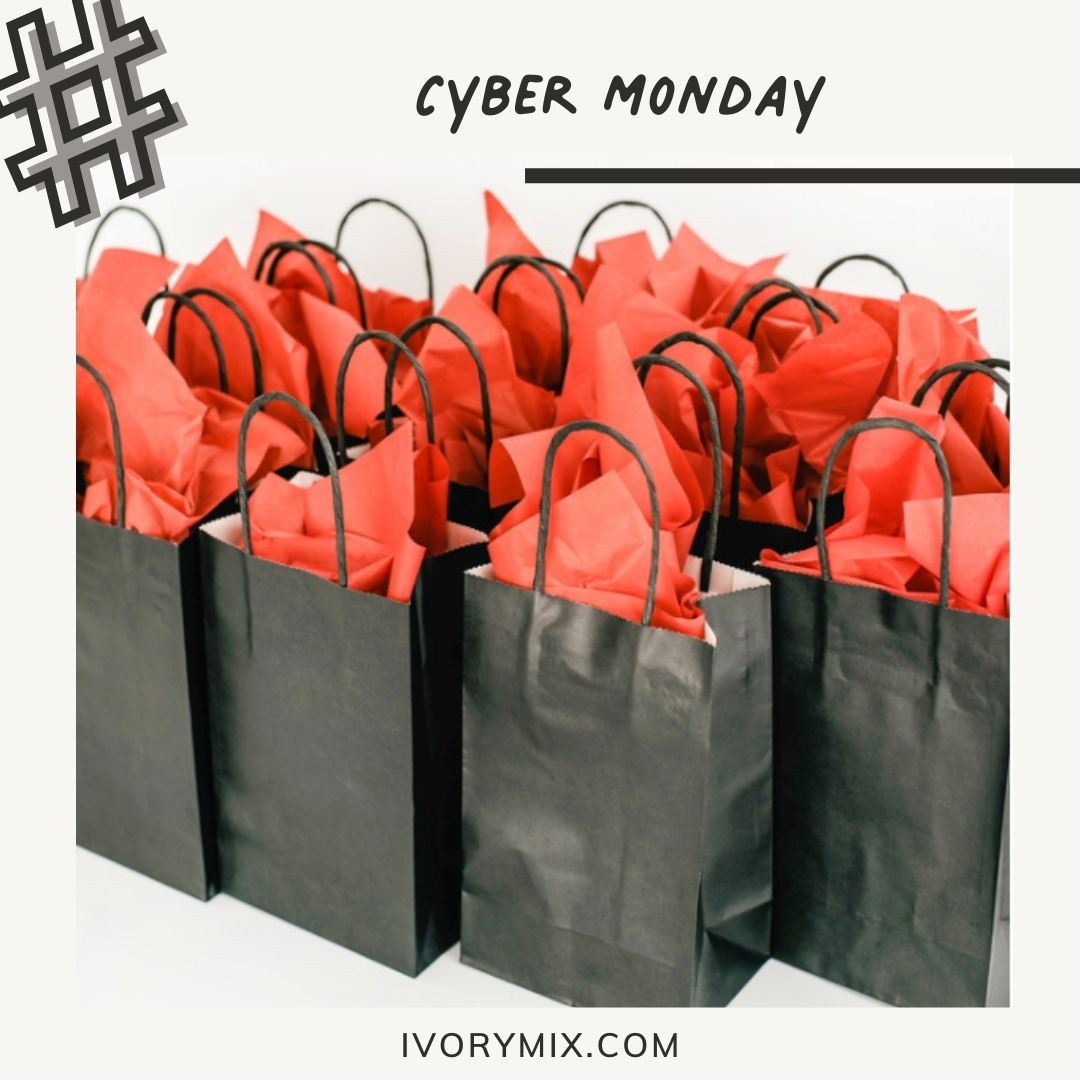 No one said creating relevant content day in and day out would be easy, especially when you're busy growing your business, but I hope these ideas will help get the ball rolling!
Don't overlook one of the most important steps! Adding images to your November social posts by using professional-looking graphics will grab your audience's attention and compel them to click on your content. 
The Ivory Mix Membership is your one-stop-shop for click-worthy images. Learn more about the membership and join the VIP waitlist HERE.
The Easy Marketing Planner allows you to do this quickly and easily.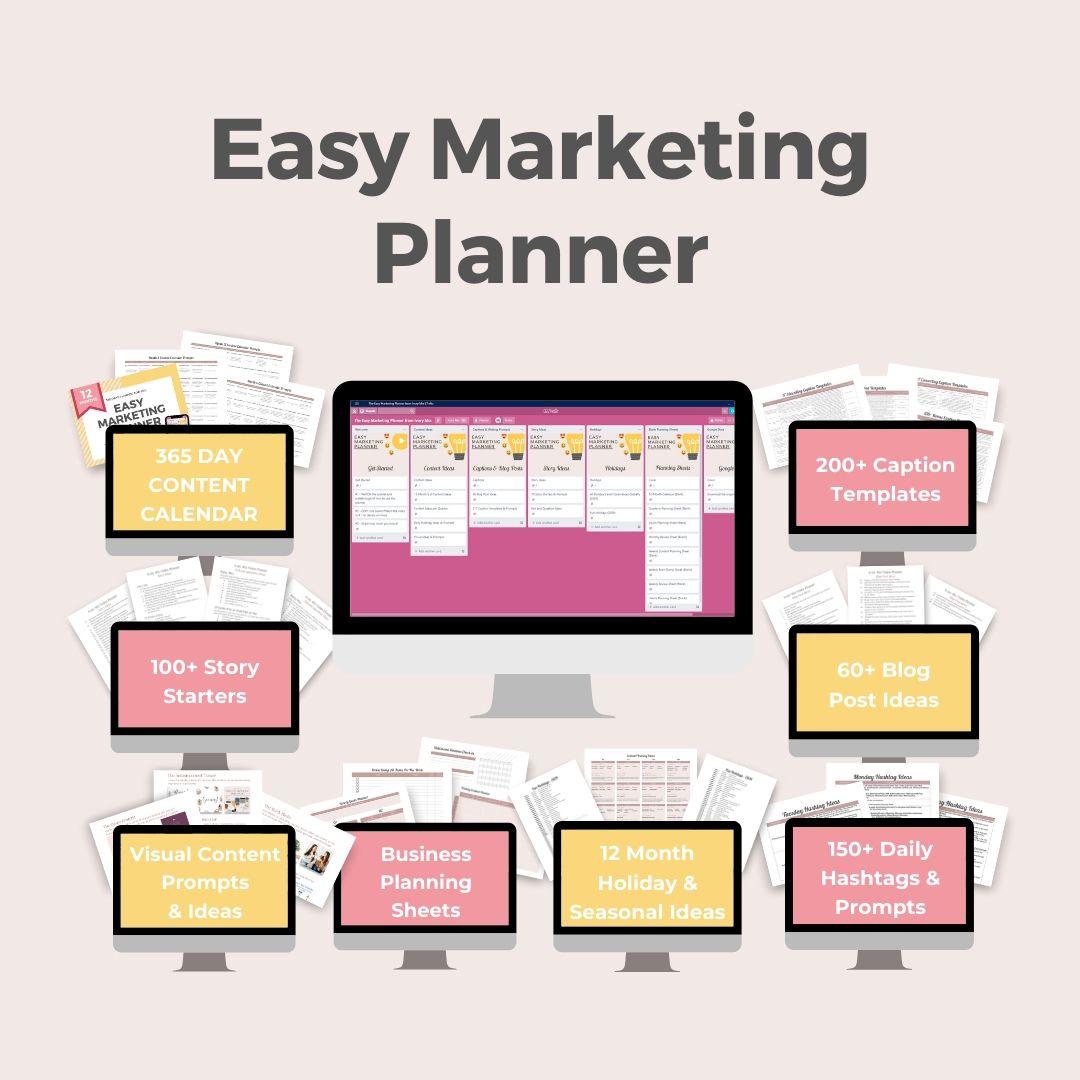 CREATE NOVEMBER CONTENT 10X FASTER WITH THE IVORY MIX MEMBERSHIP 
You've mapped out your November content, so now what? When it comes time to personalize and schedule the posts, don't spend hours at the keyboard trying to reinvent the wheel. Learn my easy system for creating content 10x faster HERE.