Are you stuck creating content ideas and have no idea where to find new ideas so that you can start batch creating content?
In this tutorial, I will be sharing my tips and tricks for creating a year's worth of content ideas that are perfect for your niche and that your audience will love to click, read, or watch.
So if you're ready to batch create content and come up with tons of content ideas, keep reading OR watching this youtube video.
 Okay, so there are different types of content and they're not all created equal, there's evergreen content or longer-form content like blog posts or videos and then there's social media content.
Before we dive into researching content ideas, it's best to sort of compartmentalize those because they're slightly different and I just want to give you some tips around what I do and you can do with them what you will.
But what I like to do is I like to start with my evergreen or my longer-form content that's because it takes a little more effort and it's generally more keyword-friendly and when I'm doing my research, I'm using keywords and so I will research my longer-form content first and then I will help use that to help inform my social media content.
And so I'll take my blogs or my YouTube videos and I will repurpose them into social media content.
Now you can do the reverse is you can research content ideas for social media and then have that inform what kind of content you wanna create on your blog or your YouTube video or you can just do them separately but I don't recommend that if you're just getting started.
So I thought it was important to mention those different types and that distinction so let's get started in researching content.
Start with a place to keep your content ideas (google doc/spreadsheet)
Create a home for all of your content ideas. This process will create a lot of ideas and its great to have a home for all of this research you're doing.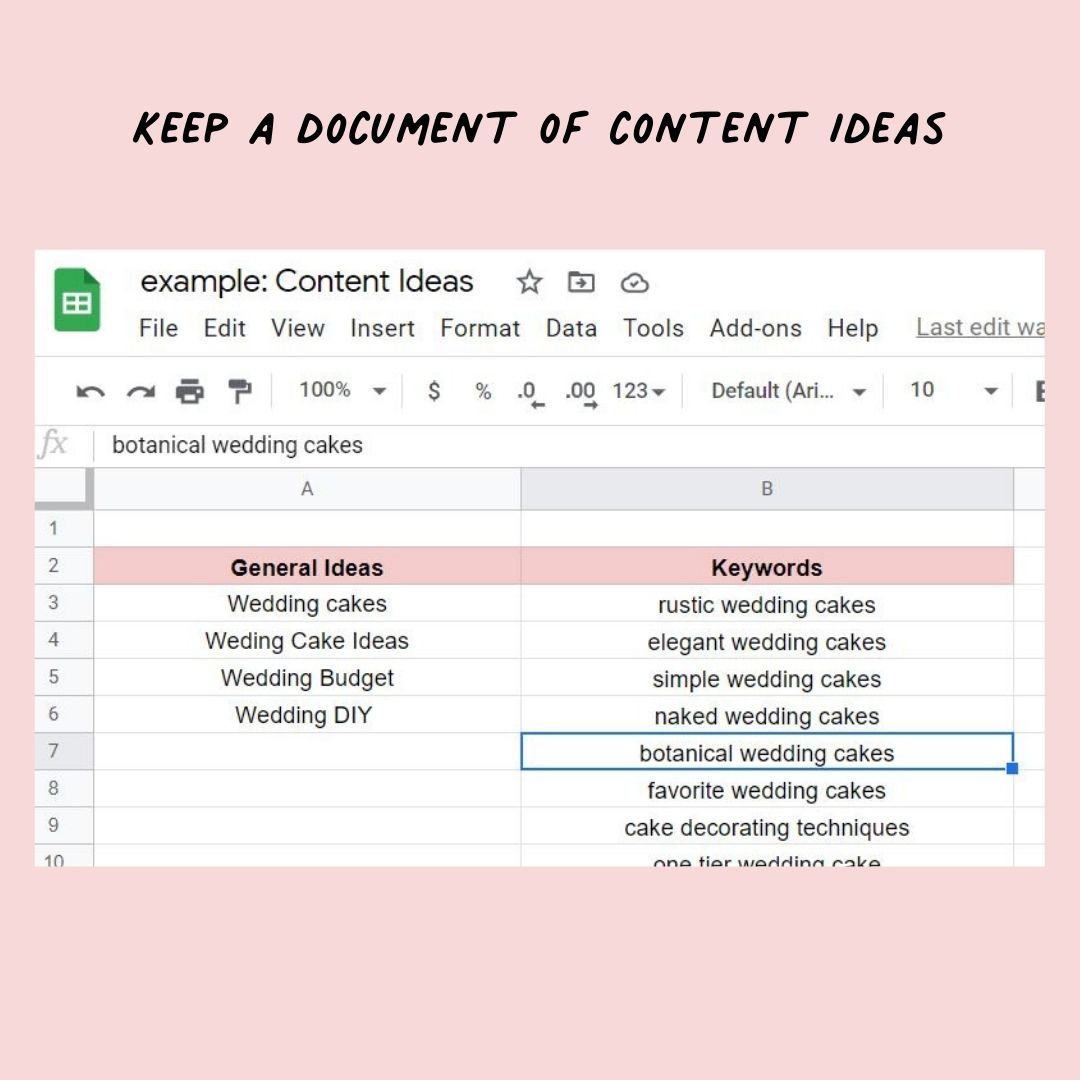 You can simply create a spreadsheet, a google doc, or even a Trello board.
Need content ideas? Check out the easy marketing planner with 365 content ideas. Remember, the Easy Marketing Planner comes FREE and INCLUDED when you enroll as an Ivory Mix VIP member.

Look Through Pinterest Trends for Content Ideas
I love Pinterest for content ideas because there are so many different areas where you can research different types of ideas, what your ideal followers and readers and clients are looking for and so when I'm on Pinterest, I start on Pinterest trends.
Where I like to start is with my niche and understanding who my ideal client is. For the purpose of this example, I'm gonna use a cake designer, a wedding cake bakery, someone along those lines. Their ideal client is gonna be married couples or maybe mothers and fathers of the bride and groom so on and so forth.
On Pinterest trends, you can type in the keywords related to your ideal client, words they use to describe problems or things they're looking for, or maybe your product or your offer.
search keywords
find popular pins
see what's trending in your niche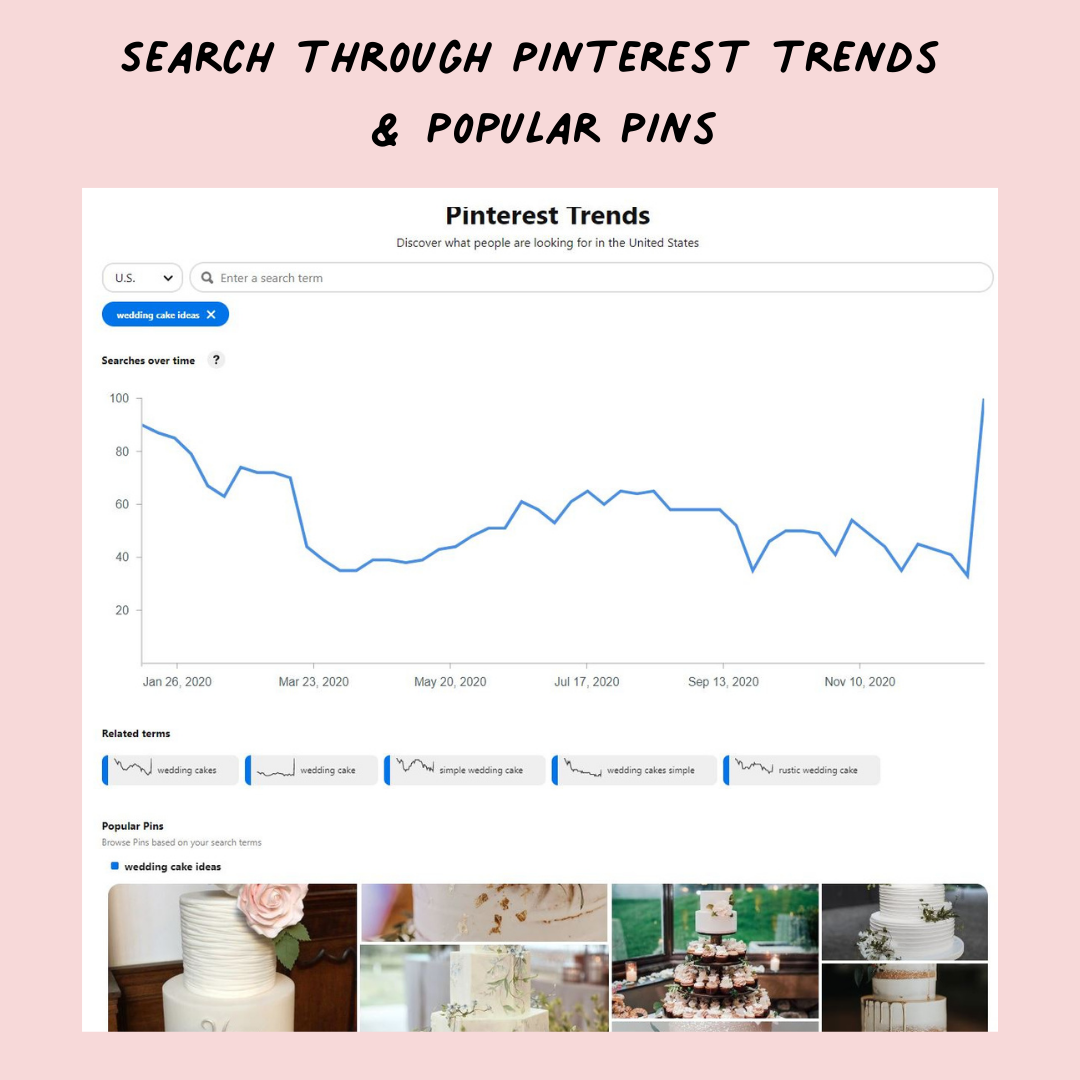 Explore Pinterest Keywords, Boards, and Hashtags
The next thing I'll do is I'll explore keywords in the Pinterest search bar and see what kinds of suggested content comes up
In addition to that, I'll look at and filter my search results by Pinterest boards and I'll look at what Pinterest boards and categories come up. So what I'll do at that point is I'll dive deeper into the content and look for things that I'm interested in and that seemed to come up pretty regularly.
These are gonna be additional keywords that I can put in the search bar or in other areas to dive deeper into. So you can see, as we're doing this research, we're creating a long list of various different ideas and we're only on Pinterest at this point.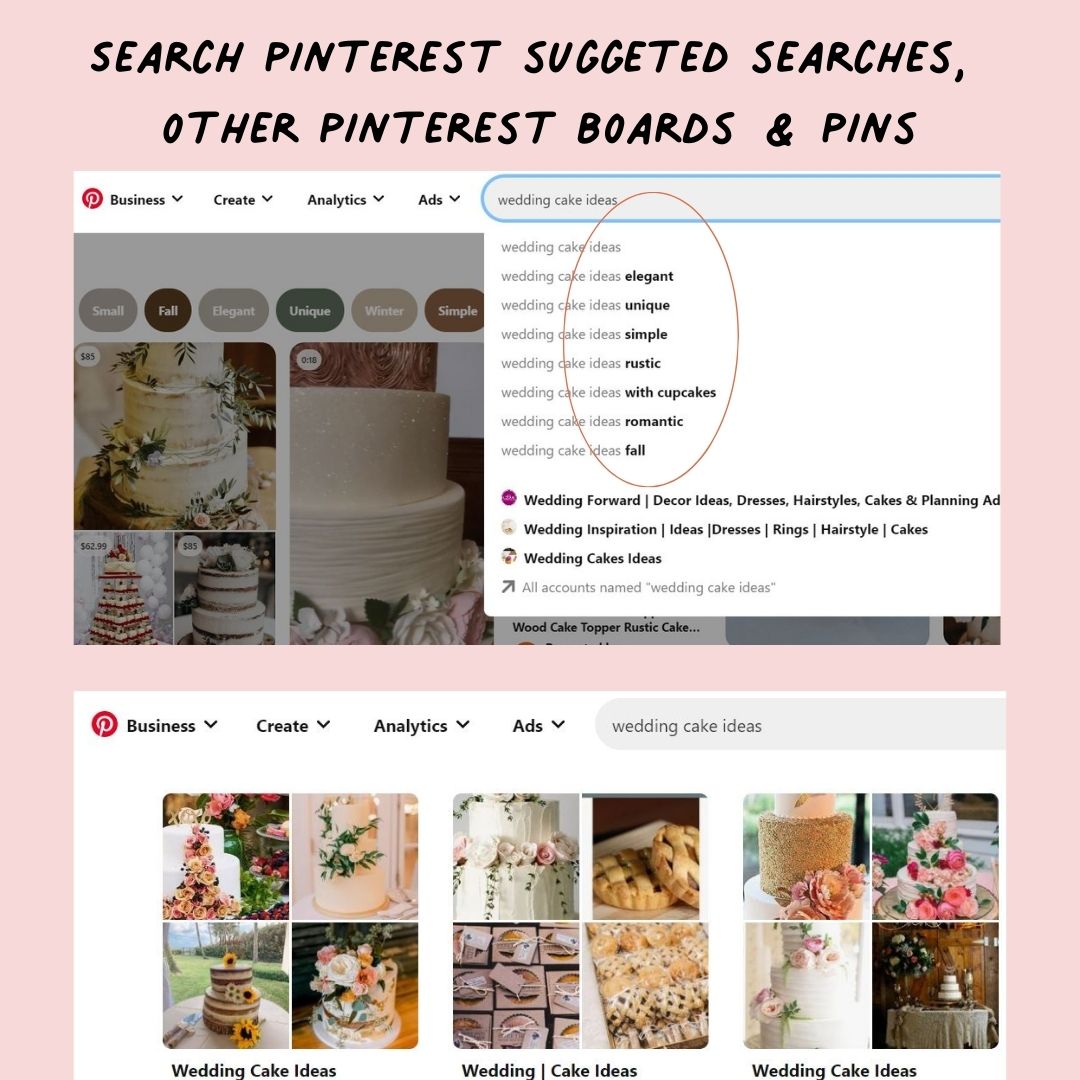 Review YouTube Suggested Videos for Content Ideas
You can also go to YouTube and use the same keyword searches that you did on Pinterest but type them into YouTube. Spend some time checking out what video titles and what video topics come up then go into one of those videos and look at the suggested videos that come up on the right-hand side.
This is a goldmine for additional things that my ideal clients might be interested in. One thing that I do want to note though is, I won't copy this content, I'll just use the topics or the titles to inspire my own content.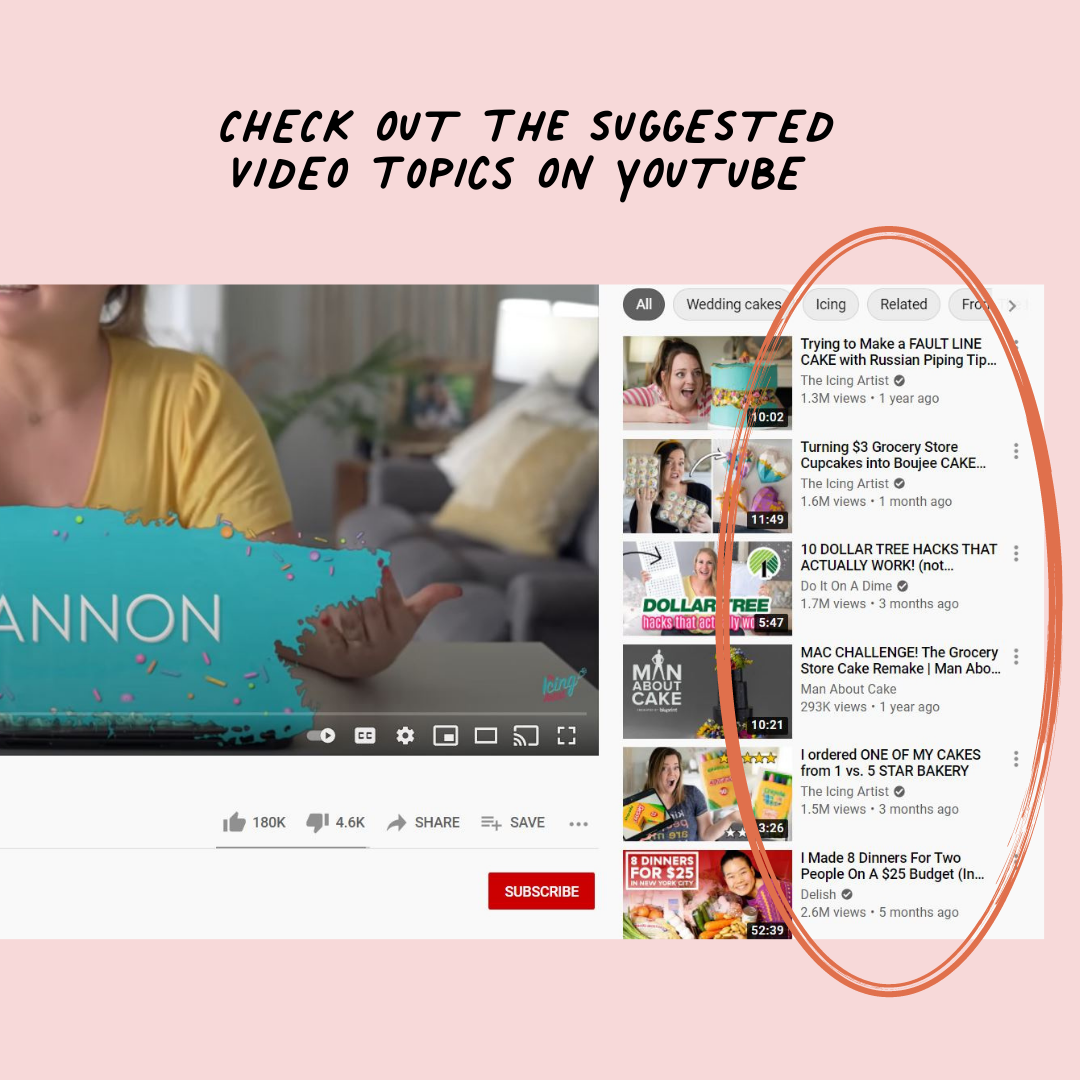 Search Through Instagram Hashtags for Content Ideas
If you're a wedding cake designer and were looking up wedding cake ideas to inspire content, I would just type in hashtag wedding cake and then I would see what suggested hashtags come up underneath that search.
I would look at the content that's being shared.
Look at the content being shared on that hashtag
Look at the comments and questions people are asking
Check out the reels content and IGTV content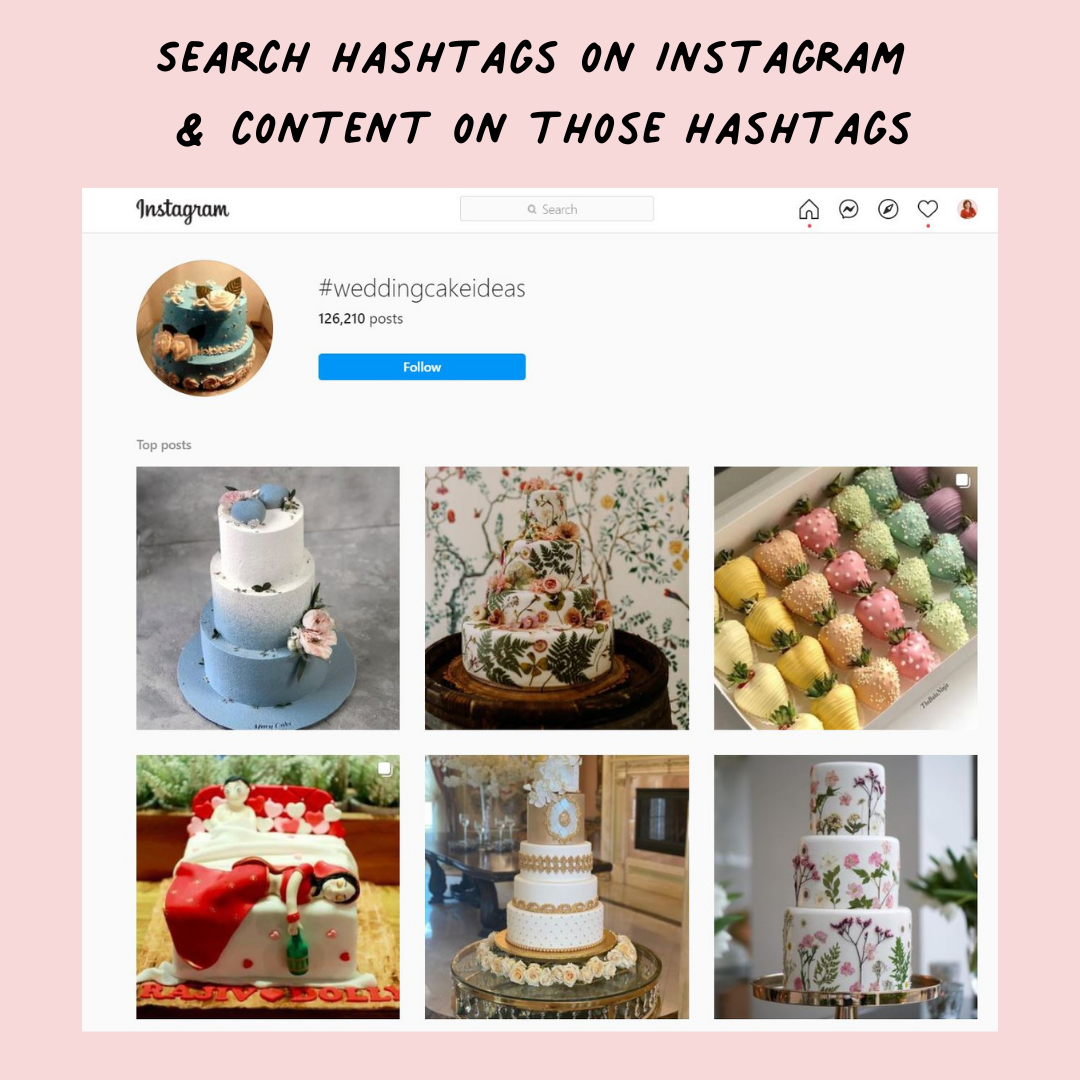 Poll and survey your audience for Content Ideas
Next, if I'm on Instagram I might as well post on my Instagram Stories polls and questions for my own audience to find out a little more about what their questions are and what they're looking for answers on.
Asking questions on Instagram, or even through other social media platforms, will give you tons of ideas and also give you the best ideas because they're coming right from your audience.
Ask questions like:
what issue do you always run into when you____?
Tell me about the last time you ____?
Do you need help with ______ or ______?
Let me know if you want more ____ or ____?
Do Google Searches for Content Ideas
The other place that I will look for content ideas is on Google. I'll just type in the same keywords that I started with on other platforms and I'll type those into Google and I'll see what suggested blog posts and articles come up.
I'll also look at the related questions section and I'll even turn on the tool keywords everywhere which is an extension that I add to my Google Chrome browser, I add that extension to my browser and it turns on additional related questions and related keywords that someone might also search for in Google.
If you type in wedding cake recipes, additional keywords are going to come upon the suggested section when you have the keywords everywhere extension turned on. So again, I would copy all of that and put that into my spreadsheet of different content ideas.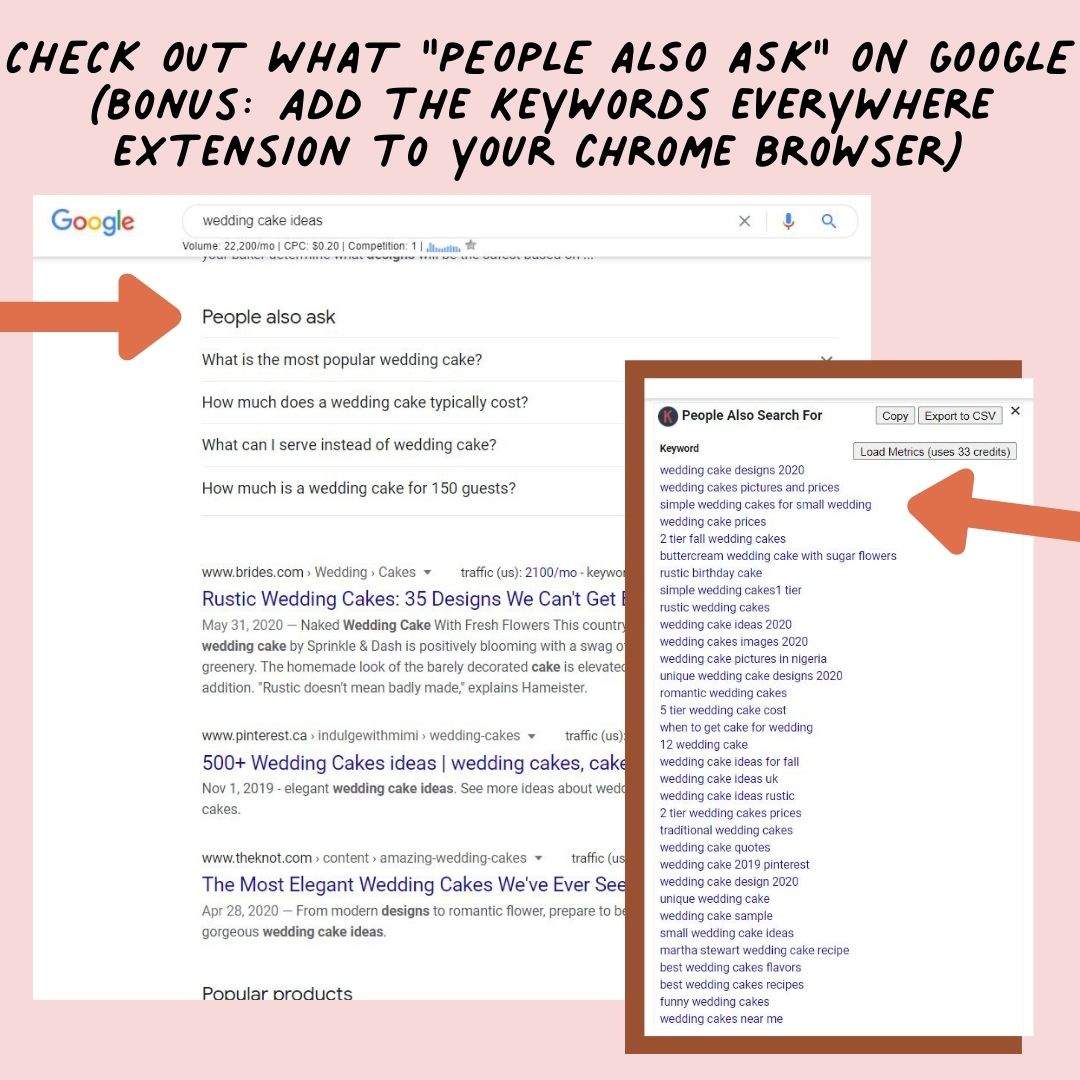 Answer the Public for Content Ideas
Next is a tool called Answer The Public. Answer The Public is completely free but it only gives you a few keyword searches a day but it gives you tons of results and it's completely free.
Type in your keyword and do your search and it'll come up with different suggestions and different things that your audience might be looking for.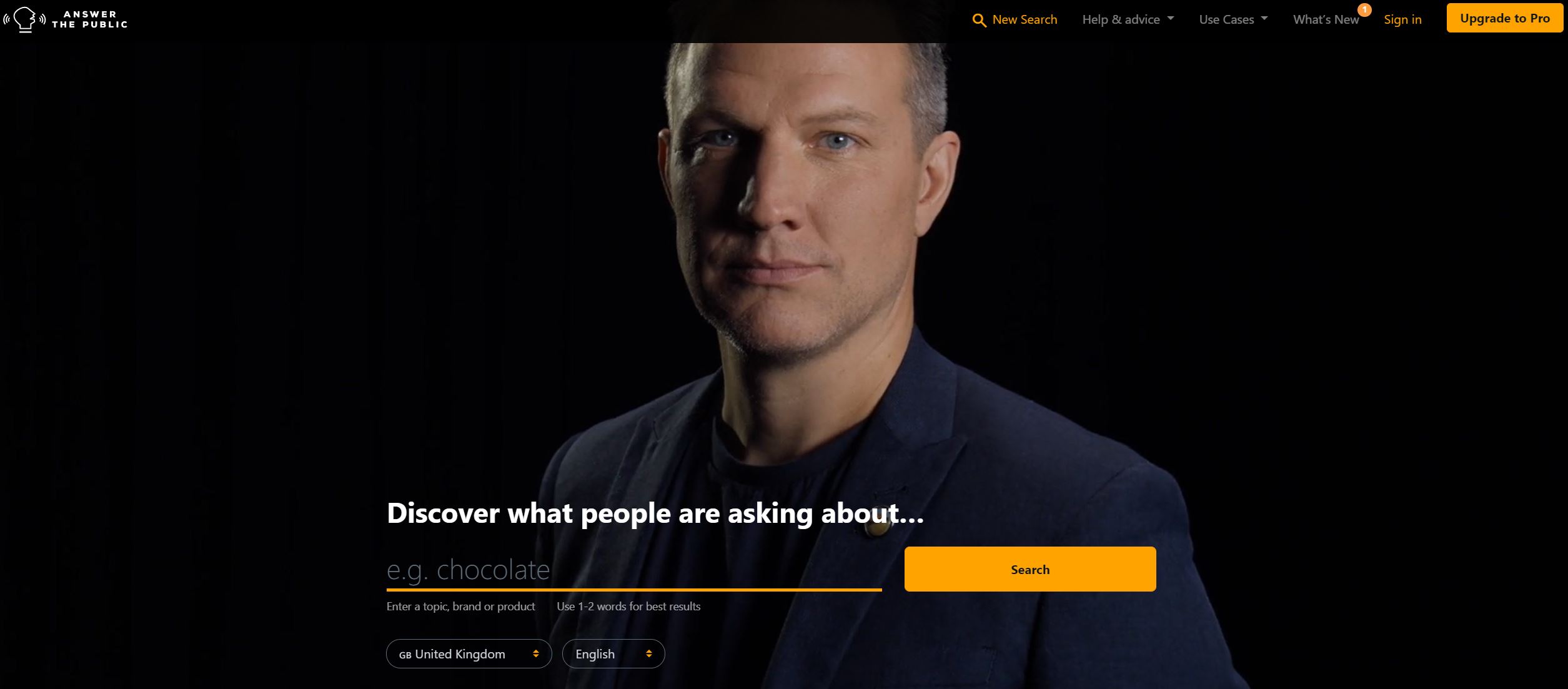 What Next?
So now that you know more about content ideas, I have an Instagram post and content checklist available for you to grab and you can grab it in the link here.