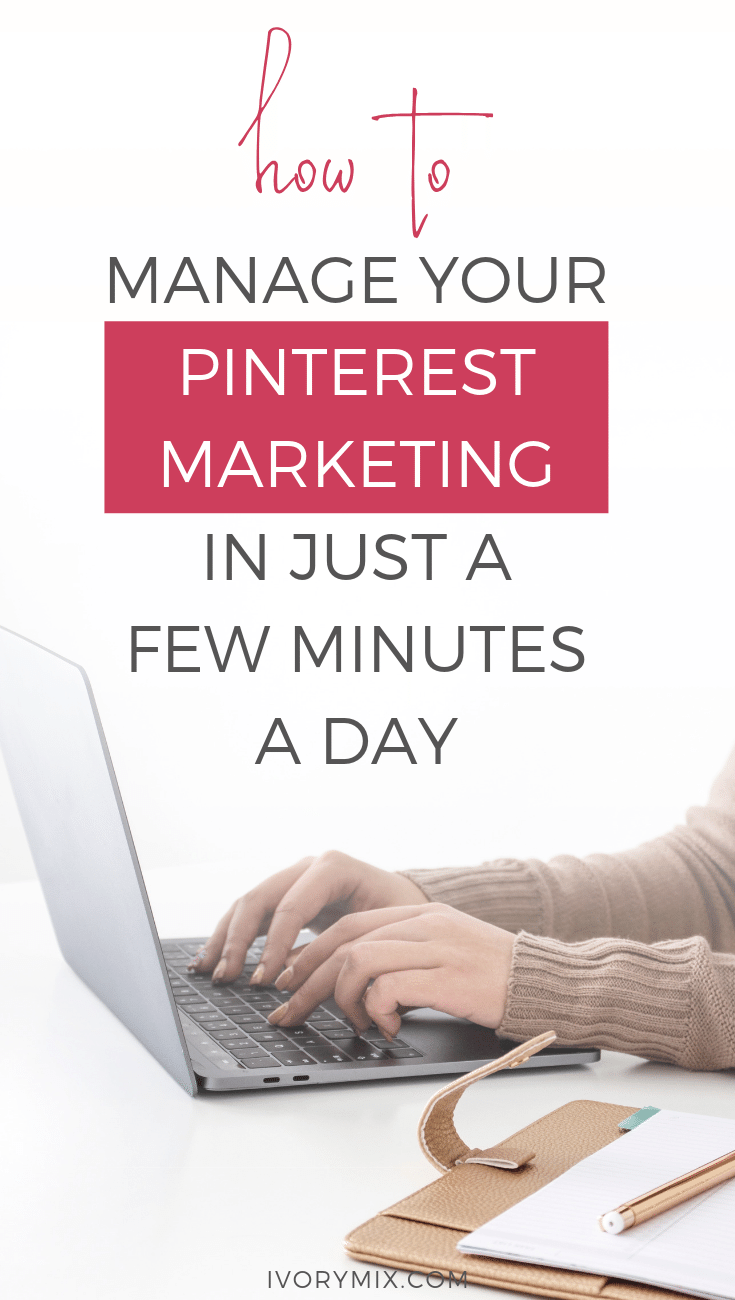 Pinterest is one of the fastest growing social media platforms available. It's a smart and fun way to market. But it can also be overwhelming. It's easy to spend too much time on Pinterest, making your return on investment lower.
To make the best use of Pinterest, you need to pin and repin frequently. But there are strategies to grow your following without spending hours each week on Pinterest.
1. Repin every weekday—
I like to recommend that you pin mostly your content, particularly if you're a verified business account. The reason I give this recommendation is that Pinterest recognizes you as a content creator for their platform, so they want you to share your content! It benefits them and you at the same time and they will show content from your website to your followers first. But, if you're needing to fill your Pinterest pinning schedule with related content, one way to find pins to repin are through Tailwind Tribes.
Overall, it's smart to Dedicate 5 minutes each day for repinning and this task.
Here's a quick video showing how to use Tailwind tribes for free:
2. Schedule pins for weekends—
There are several tools you can use to schedule content for Pinterest, including Tailwind, Viralwoot, and Buffer. You can set up pins to automatically post in as little as five minutes, once you set up a scheduling tool. This can help you get your weekends back so that you can be hands-off and enjoy your time. It's recommended you schedule at least 10 pins across 2 or 3 relevant boards.
HOT TIP: You can also use the native scheduling tool inside of Pinterest. When uploading images and pins into Pinterest, you can choose to publish your Pin immediately or schedule it for a later date.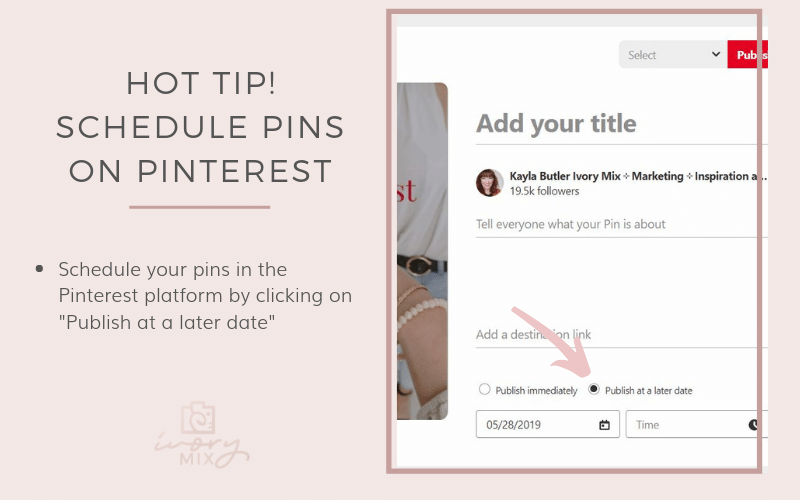 Related Post: 5 Must-Have Pinterest Marketing Tools
3. Collaborate on Group Boards—
No matter what your niche, brands are always looking for more connections. One great way to do this on Pinterest is to contribute to Group Boards in your industry. You'll make connections and also grow your following because when you post and provide great content on Group Boards, pinners on that board will come over to yours to see what other goodies you have. Take 5 minutes a day to search for and apply to new group boards.
Related post: How to find and join group boards
Here is a quick video on how to find group boards:
4. Follow pinners who serve you relevant content—
I've seen recommendations that you should follow 3-5 new pinners each weekday, but be careful! You don't just want to follow anyone. If you're using Pinterest for business, then it would be nice to keep your Pinterest feed all relevant content to your niche and industry. When you follow pinners who share content relevant to you, it now becomes much easier to find useful content to repin for your followers. You'll want to dig a little deeper by looking at their profile to ensure they will consistently add to your niche's primary interests. This should only take 10 minutes per day max. 
5. Create graphics is batches—
Making images for Pinterest can be time-consuming. But by setting aside time each week to make all the graphics you'll need for that week, you'll save so much time! Social media gurus recommend adding a brand new image each weekday. If you use a program like Canva to create all 5 for the week in one sitting, you should be able to complete this task in 30 minutes per week.
HOT TIP: You can add text to your Pinterest images right inside the Pinterest Platform.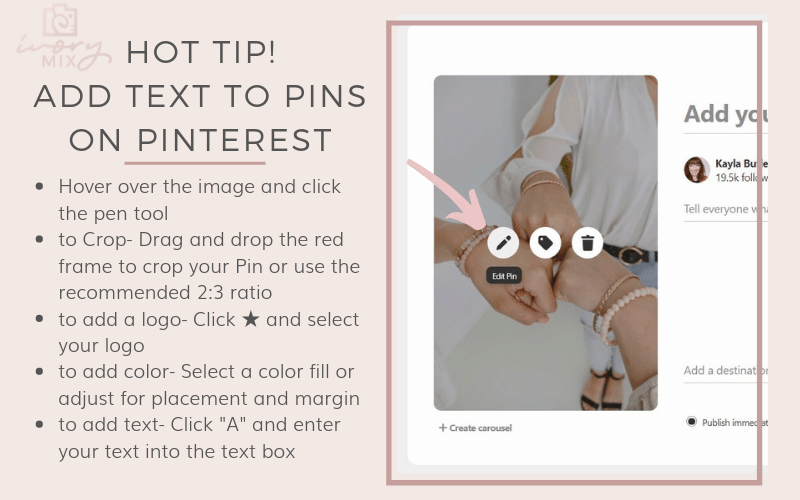 Simply upload an image using the + symbol and then click on the "edit" tool. This will bring up some options like adding text and even adding your logo.
Related Post: How to create 30 days of pins for Pinterest (from only 3 blog posts)
6. Measure Pin Performance —
The strategic marketer knows they need to track and measure their efforts to see what's paying off (and repeat what works!). Which is why it's great that Pinterest gives you analytics to pay attention to. There are different analytics found in the various scheduling tools that you can use to monitor your pin performance too, like Tailwind for instance. This feature may be one way you decide between the different automation tools. Marketing can only do so much for your business if it's not been measured for success. You can complete this task in 30 minutes per week.
Conclusion
If you are looking to save time while also growing your brand recognition, increase authority, break into new audiences, increase site traffic or raise your revenue, you should add Pinterest to your marketing efforts, and the good news is that with these tips above, it won't take all of your time at all!
WANT MORE PINTEREST POINTERS AND BUSINESS TIPS? 
Click here to grab a free copy of this complete guide to Pinterest Marketing.

Be sure to check out the other tips and tricks for Pinterest Marketing on these blog posts: