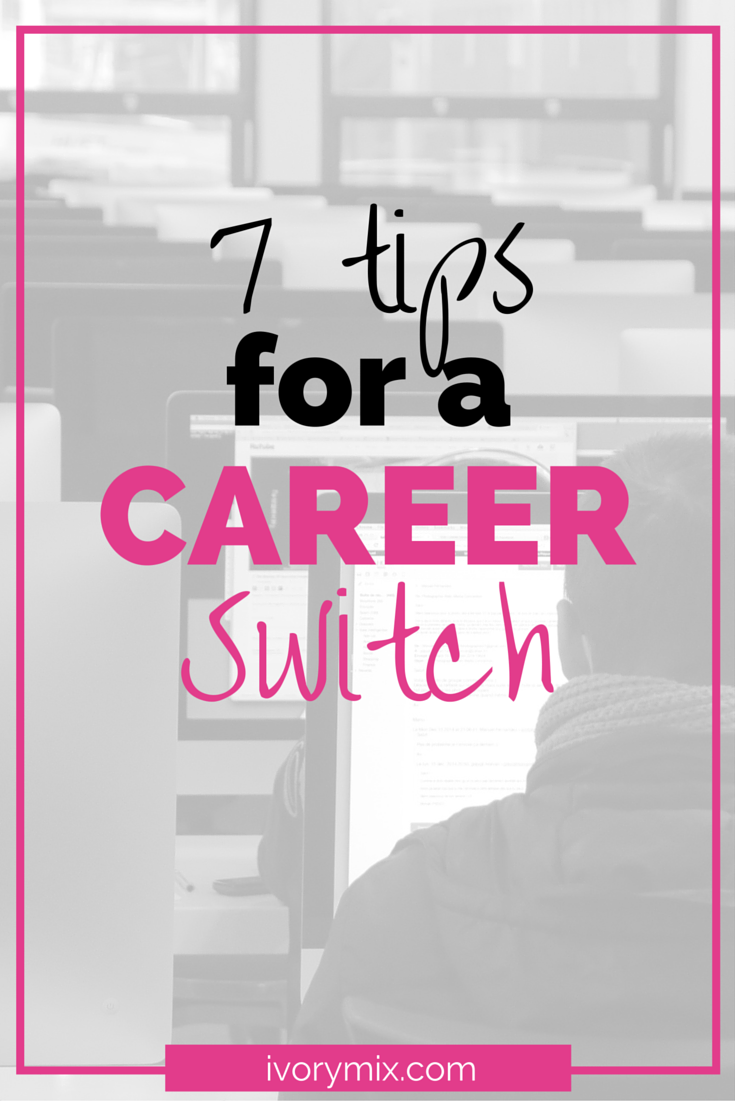 Tired of working that difficult 9 to 5 that is in no way fulfilling? It happens to the best of us. You get going in life, just trying to make a living, and finally one day – you wake up and realize 5, 10, or 20 years has gone by and you haven't made any progress and actual hate to get up in the morning because your job physically makes you ill.
What can you do? Is it too late?
It's never too late to make a change. I've seen people think that it's too late, and another 10 years goes by and they're in the same place they were when they said it's too late. What could have happened for them if they just put in 6 months, 12 months, or 2 years' worth of work to make a change? They could have had as much as 9 ½ years doing something more with their life – that's what!!!
Don't make the mistake of thinking it's too late. If you think you need to make a change, get started – today! Not sure where to start? Here are some 7 tips for making a career switch.
Fix up and fine tune your resume
The first thing you'll want to do when thinking about making a career switch is updating your resume with all of your current skill sets and experience. You'll also want to create up to 4 versions of the same resume. Yes, I said four.
Resumes are not fixed pieces of paper. They can be changed and molded to suit the needs of the job you're looking for. At times while I was looking to switch gears myself, I would have up to 4 versions of the same resume. That's because, just like you, I have experience and skills that could stand alone or be combined together to make sense for a particular position or industry.
So, pull out that old resume and start updating it with everything that is current.
Identify any adaptable skills
Don't underestimate the value of any skills or the combination of any skills. Do you know how to make cold calls? Are you an excellent speaker? Are you great at writing? Could any of those things stand alone or be combined for the position you are looking for?
An example could be that you have retail experience but you want to get a job in a corporate office setting. You could create a resume that speaks very highly about your sales and customer service skills set, and another resume about your organizational skills and responsibility with money, and another that speaks highly about your skills in a fast paced working environment.
Think about how you can combine different skills to fit a specific job opening. Once you identify those similar skills, start combining them for different resumes.
Research the skills of people working in that field
Not sure what would look good on a resume for the industry you're thinking of switching to. Check out LinkedIn and brush up on the skill set and job history of those who are already working where you want to work. This is a great way to identify skills you may already have or areas that you may need to work on.
Don't underestimate the potential for taking a short class to allow for more updates to your resume. In the event that you need an added skill, go ahead and take a class. Once you enroll in a class or a course, you can add that to your resume – even before you finish. Employers will recognize that you are making an effort to learn more.
Use industry buzz words
Find out what the buzz words are for the industry you are thinking of switching to and see how they may apply to your resume. If you're thinking about going into marketing or advertising, examples of industry buzzwords might be "increased engagement" , "responsive design" or "market data".
Volunteer and network
An incredibly easy thing to do to increase your chances of getting a new job in a new industry is by volunteering and networking in the right circles. Find out where people hang out in the industry and start asking questions. Volunteer to sit at a sign-up table at a conference, join an only forum or group board, or go to the next local "mixer".
The key here is to put yourself out there and talk to people who are "in the know". You want to make an industry switch? Get to know your future tribe. An easy place to start is by joining a LinkedIn or Facebook group and start asking questions and engaging with people who know more about the industry than you do.
Be patient
This isn't going to happen overnight, but if you put your mind to it, map out the steps you need to take, and set a goal, you should start making slow and steady progress. Keep your eye on the prize and don't get frustrated.
Be confident
Don't underestimate yourself or your abilities. You have something to offer and can add value. You may need to put in some work, learn some new skills, and hit the pavement, but you can do this.
Be confident and believe in yourself. Once you are doing those things, other people will be confident and believe in you too.
Want some more ideas? Read this for a 12 month plan to get your creative career started without any experience.
Need a resume template? Check out these five unique resumes templates – ready to use now.