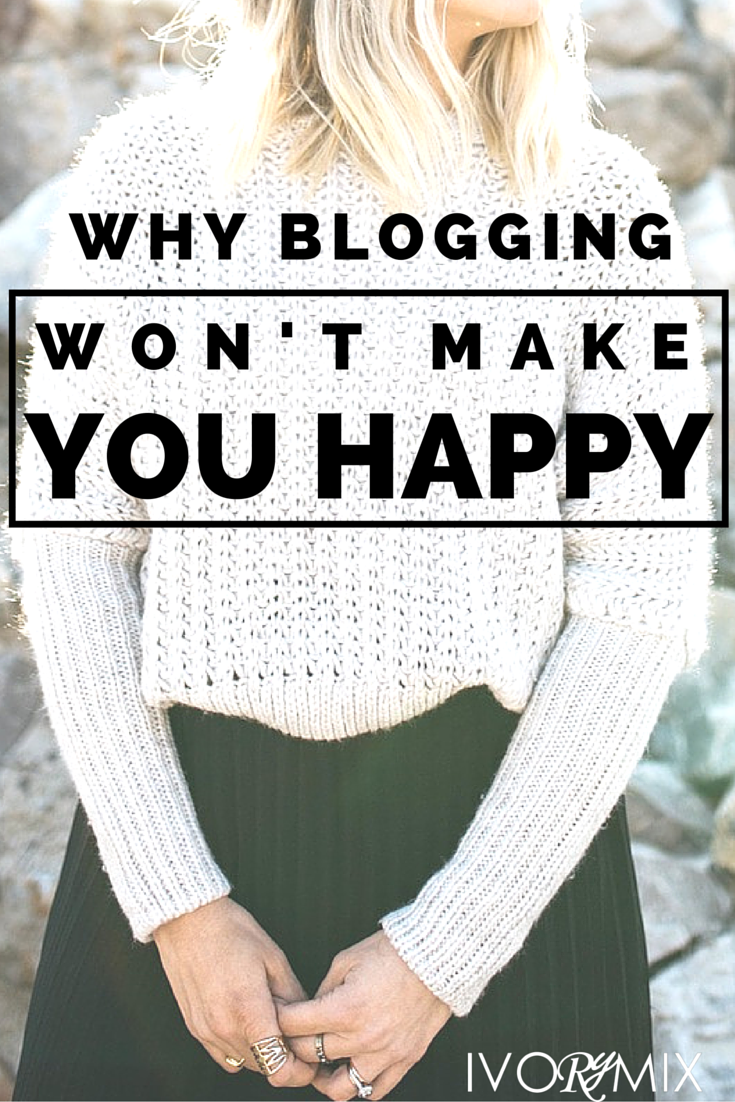 There's something I've learned that needs to be shared with new bloggers or those who are thinking about starting a blog. I've talked with many bloggers and business owners over the last few years and you can even read some of their interviews here. As bloggers, we like to share our stories, trials and triumphs, but what isn't often shared is that the first year of blogging might make you utterly miserable… and here's why.
Blogging is a lot of work (at first)
The first month I started this blog, I was up until 2 am fixing my theme, playing with graphics, and just learning new things. You're going to find that you don't know everything and that there is a ton of stuff to learn if you truly want to make something special with your blog. You might wake up early, go to bed late, use your lunch break at work, and people in your life will start to notice.
I was happy to stay up until 2 am working on my blog, but the next morning I would hate myself. What was I thinking? I had sacrificed sleep and for what? I don't think staying up until 2 am got me much to show for it, but eventually the added time put into the blog did pay off. I started to see massive amounts of improvement with doubled traffic and hundreds of email subscribers in just a few weeks. It didn't happen over night, it made me miserable, but it did eventually pay off.
You're going to do plenty of things you don't like doing
As a new blogger, you're going to be your own copywriter, editor, photographer, graphic designer, web designer, and marketing director. You're going to wear every hat there is – the fun and not so fun things will be your responsibility. If you have the money to spare at the beginning of your blog to hire a virtual assistant, a web designer, and a marketing team – then go for it. However, the chances are that you're a newbie blogger who's learning the ropes and maybe you don't like writing but you love taking pictures and making crafts. Too bad – if you want to have a successful blog and eventually make money with it, you're probably going to have to do some writing (even though it's not your favorite thing to do).
You're going to need to keep that 9 to 5 job
Oh, so you thought you could quit your job? Probably not for the first year. Yep. Successful blogs typically take about 12 months to really take off and start making real money. Occasionally, you might find those who claim it only took 6 months for them to make enough money to quit their day job, but even then it's possible they already had a good following on their social media or they were already freelancing before they began their blog. So, don't be fooled that you can quit anytime soon.
There's no money in it (initially)
Although there are some, many affiliates won't even talk to new bloggers until they have a decent number of website views under their belt. If you're thinking that you can make money with google ad's, you're probably right, but it will likely be just pennies for your first few months. Maybe you're thinking of selling your own handmade or digital products, but unless you have a good number of readers, you're probably not going to make a lot of money for a while. I'm not saying that you can't find affiliates right away or sell your products, and I'm not even saying you need thousands of views to make money, but what I am saying is that you're simply going to try things that won't work and it will suck.
You're going to feel inadequate compared to others
New bloggers usually want to give the whole blogging thing a try at first by using as many free tools there are. In turn, their blogs tend to look like they were free too. That's not actually a bad thing at all. There are many cute themes out there that work just fine. However, your free theme won't be as robust as something that an experience blogger's has, and it might make you feel inadequate. Feelings like this are enough to make people quite blogging all together. It's a shame to because they often quite before they really even start. You'll should be comforted to know that the best bloggers out there probably started with a free theme, just like you. They most likely had no clue what they were doing and they were still able to make something better eventually. This is just part of being a new blogger.
You'll try things and fail
Like I said before, you're going to try lots of new things and you will probably fail a few times. You might pay for a Facebook ad and not get any traffic from it. You might guest blog for someone, write a 3000 word article, and get nothing in return. You might take photos of your next project to put up on your blog and find out they don't look good with your theme. Really, anything and everything can and might go wrong, but still … don't give up.
Blogging costs money
Yep. You're going to buy a domain and a hosting service. Then, you might find an E-book or an online course about social media marketing that you want to take. You'll want to upgrade your blog's theme. You might buy some ad's for Facebook or pay for a premium social media schedule software. You might do all of this BEFORE you make any money at all. The reason you will do this is because that's just what it takes. You can take the slower road and try to make a few bucks to pay for your upgrades, and that's a good idea too. But, if you do that, don't wonder why you're not getting the traffic you thought you would or should. Sometimes getting the results you want means you have to put "Skin in the game" and pay for the upgrades before you make a dime.
You'll realize you actually have to do some selling
Don't like working in sales? Tough, that's what a blogger does if they want to make money. Selling is just part of it, especially at the beginning. There are plenty of ways to sell without coming off like a door to door sales man. So, don't worry about that. You'll just need to learn how to develop your unique blogging voice that doesn't turn people off. The most effective way of doing this is to just simply be genuine. Tell real stories and don't compromise who you are for the dollar. It's definitely icky and not worth it.
Your social media is no longer yours
If you turn your personal social media accounts into your blogging accounts, then consider your social media feed taken over! As soon as you declare yourself a blogger and start sharing blog content, that's all you're going to see from here on out. You thought you could still be on Facebook and communicate with your family and friends? Nope. Probably not. Facebook ad's for another blogger webinar or online boot camp will haunt you. Your Pinterest will be covered in pins for the "Best websites for stock photos". I'm really not even sure there are ways around all of this, besides automating your social media a bit – but still – the blogging community will simply find you and you won't be able to escape it (much).
You won't work out or eat right
Remember when I said that I stayed up until 2 am that first month? Well, I may have stopped staying up late, but it eventually just bled into the daylight hours more, which took away some time that I had previously been giving to the gym and prepping meals. You can't start a blog without building in the time to do it. If you're not careful, you might stop working out and eating right because you've given too much time towards growing your blog and didn't keep enough time for taking care of yourself.
So, why even start a blog?
Because – what if you don't.
Happiness doesn't grow on trees and it doesn't come from money. Even still, you CAN be a happy blogger. You just have to realize that it's not your blog that is going to make you happy. Happiness will be found in the connections you make with people, the pride you have in the work you do, and the joy you feel expressing your true self. Don't sacrifice yourself, your ethics, your health or your time with your family and friends for a blog – but don't quit either.
It will take time to see the results you want. Don't give up and just be happy that you're trying.
Ready to start a blog? Check out the steps to begin here.