My kids are growing up and are now 11, 9, and 4 years old! It wont be long now before our oldest is in high school and driving. Time does fly.. I still remember when she was born and we decorated her nursery in an all care bear theme in soft pinks and blues. Now, she shares a room with her brother because we only have three bedrooms. That's going to change in 2016. Later in 2016, we're going to buy a bigger home so each kid can have their own room. We've been doing a lot of model home shopping lately and we can't get enough of the cute kid rooms for inspiration. One of the cutest rooms I saw recently was a dinosaur bedroom theme. Now, none of my kids are into dinosaurs or want a dinosaur bedroom but I am an Interior Designer at heart. I've used my degree and training for kitchen and bath designs mostly, but I do love good interior design. So, I thought I'd round up some of the best spots to find dinosaur inspired decorations and DIY's for designing your dino-loving child's bedroom. If you're not that into DIY, there are plenty of places to buy dinosaur bedroom accessories and bedding. One day soon, I'll be designing my kids bedrooms – and I can't wait to see what theme or colors they choose.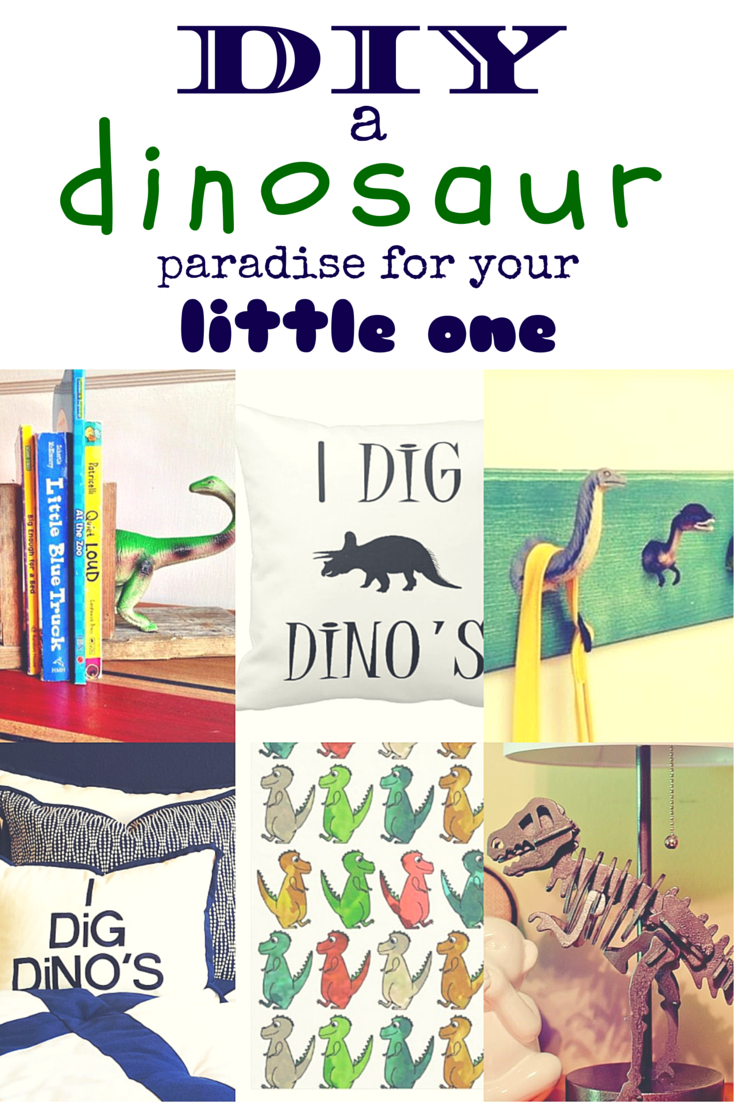 DINOSAUR BEDROOM BOOK ENDS
One of the cutest ideas I stumbled upon for a cute themed dinosaur bedroom was a set of book ends made from reclaimed wood and a dinosaur toy cut in half. You can buy this already made on Etsy here or try your hand at DIY-ing it. With some glue and initiative, I'm sure this DIY would be easy.
HOOKS FOR YOUR KID'S DINOSAUR BEDROOM
Another creative way to DIY your own dinosaur bedroom is to use plastic dinosaurs in your design is by making this wood plank with dino-hooks. I'd suggest spray painting the whole thing in the color scheme of your room. By spray painting it one color, you've instantly increased it's design.
LAMP DIY (LESS THAN $30) FOR YOUR KID'S DINOSAUR BEDROOM
Okay, who doesn't love to go to pottery barn? I know we take our kids in Pottery Barn for Kids just to play with the cool toys and oooo-awww at the décor. More than a dozen times, I've been inspired to re-create a look from pottery barn but being as busy as I am – I just haven't done it. Well, Stephanie over at agrandelife.net made the cutest lamp recreation! She gives step by step instructions for making this work of art yourself.
CREATE YOUR OWN BEDDING FOR YOUR DINOSAUR BEDROOM
I'm SERIOUS when I say that you can create your own bedding. Last night, before I sat down to write this post, I created a zazzle.com account and made my own pillows to sell.
If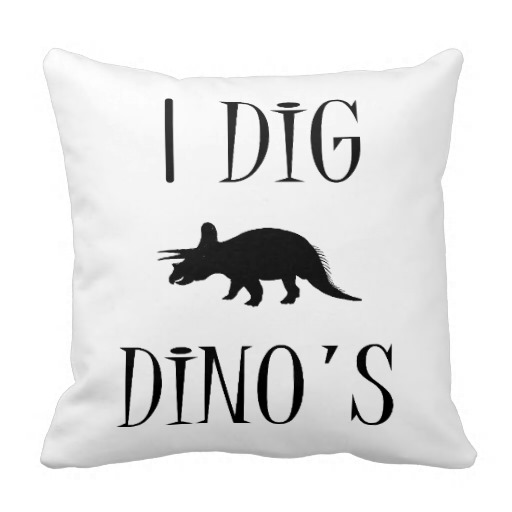 If you're not feeling that creative, there are multiple other locations where you can get dinosaur bedding. Like these two blankets from other zazzle creators.
I just can't get enough of the cute inspired dinosaur bedroom ideas. If you're thinking of decorating your own room using any of these ideas, let me know how it goes and share a photo of your dinosaur bedroom. I'd love to see it.