Many people who start blogging are writers . When I say writers, I mean the first and foremost reason they blog at all is because of the writing. That's much like our next interview with Becky Mollenkamp. Becky is a writer through and through. She is also a successful freelancer who runs a blog and business. She's come to talk about her journey and some of her tips for following through on those blogging dreams.
---
Hi Becky! Thanks so much for agreeing to chat. I know we met through a Facebook group for networking with other bloggers, but for those who haven't been acquainted, can you tell us how you got started in blogging and how long have you been doing this?
I've been a writer since I was a child. I have two degrees in journalism and have worked professionally as a reporter or editor since graduating college 20 years ago (I'm aging myself here). Blogging, on the other hand, is newer for me. In recent years, I've started and stopped my professional blog many times, but I really committed to being consistent a few months ago. While I knew it was important, I struggled with finding my voice. I finally decided to stop writing what I thought I should and instead be authentic and write what gets me excited. Flipping that switch made all the difference.
You have an extensive portfolio on your site with some awesome testimonials. How does your blog help you gain exposure for your services?
My blog is still new, but already it's gaining some traction. It hasn't yet led directly to paying work, but it has already helped me establish new relationships with others in my industry and in complementary fields. That cannot hurt in the long run. My website, however, is critical to my business because it's how many potential clients are first introduced to me after searching my name online. I think having the blog helps those folks see me as an expert in my field and, hopefully, feel more confident and excited about hiring me.
What's been your biggest online "hit"? I mean, what gets you the most traffic and what do you attribute it to?
I had to go look at my analytics to answer this (perhaps I should be paying more attention to this). Again, my new (focused) posts have only been live for a couple of months, but so far the article getting the most hits is "Lessons Learned from Bad Times." I think it's done well because I promoted it heavily because it was my first post for my re-launched blog and because it's a truly authentic and vulnerable bit of writing. I used to be afraid of being so honest in a professional setting, but I got such wonderful feedback that I think I should do more of it.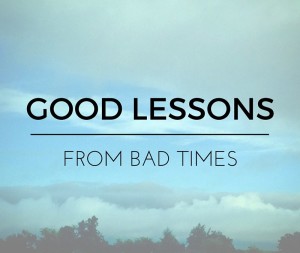 Where does your inspiration come from?
I have a half-dozen Google Alerts set for keywords in my field and start each morning by reading (and sharing on social media) these trend pieces. I'm in several Facebook groups where I also learn a lot and sometimes get good ideas. Pinterest is another favorite resource for finding helpful articles about being a creative entrepreneur (I curate some of the best of what I find on my Pinterest boards). Finally, when I'm really stuck for blog ideas, I go outside. I find that going for a long walk or just sitting in a quiet park really gets my creative juices flowing.
I kind of snooped your instagram account. Are you currently renovating your home? How's that going?
I'm expecting my first child on June 27th so we are getting our house ready for our son. The first step was ripping up all the carpets and refinishing the hardwood floors. I was sanding floors and painting baseboards at 6 months pregnant. Pretty tiring but also empowering! Next up is getting his nursery decorated.
What keeps you busiest during the day?
I am in a constant struggle between needing to buckle down and do client work and wanting to spend more time on networking and business growth. I am probably at 50/50, but need to do a better job of blocking out set times for various tasks so I don't feel this constant pull to go write a blog post or check in with an awesome Facebook group.
For people who are just starting out with their first online blog or online business, what has been your biggest road block you would like to advise people to avoid?
Let go of perfectionism. I waited too long to revamp my website and start my blog because I wanted it all to be perfect. That was a real waste of time. Nothing will ever be perfect! Now I'm learning to be okay with "good enough" and just getting shit done instead of letting half-completed and not-yet-perfect projects pile up.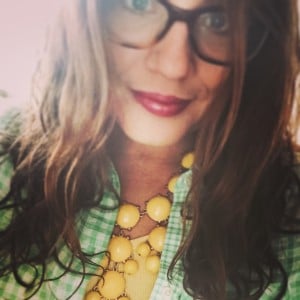 What have been some of your favorite resources you've used to grow your online presence?
I think LinkedIn is really underrated. I work with larger B2Bs and absolutely every professional in that world is on LinkedIn. Other than perhaps my website, it's the first place most potential clients go to find me (not Facebook or Instagram). I keep it very updated, always work on getting my bio right, and share a lot of original and curated content there. Many of my competitors don't utilize LinkedIn to its full potential, which is too bad for them but pretty sweet for me!
Can you tell us something that people might not know about you but that you don't mind sharing?
I'm a pretty open book, so it feels like there's not much anyone doesn't know about me! My favorite book is The Bell Jar by Sylvia Plath, my first job was at Burger King, I have five tattoos and three dogs, and I've never seen Field of Dreams despite living in Iowa (where it was filmed) for 12 years.
What does the future hold for you?
Immediately, getting through a ton of work before my baby comes, followed by (hopefully) three glorious months of maternity leave. I plan to return to work slowly but surely, and double my business in a year. I'd like to continue to focus on content strategy and outsource the content production to others. I'm really excited about the future and feel like I'm on the cusp of something really great.
Last question: What is your favorite blog or business to follow and why?
Honestly, I don't religiously read any particular blog; I find and consume random content through Pinterest, Facebook groups, and Google Alerts. That said, I'm a big fan of Neil Patel for his wealth of content marketing knowledge and Melissa Cassera for her general attitude.
---
If you're craving more and want to connect with Becky, you can check out her blog here, check out her instagram, twitter, or pinterest!